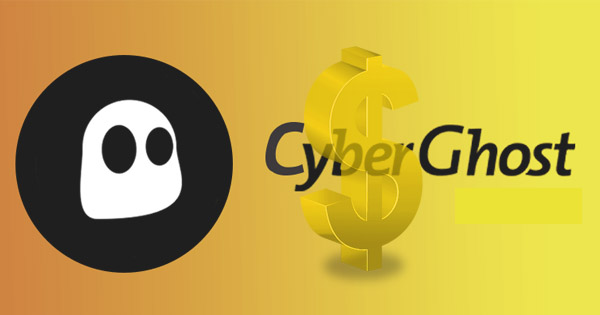 CyberGhost is one of the more well-known and popular VPNs currently available. They've been around since 2004, and used to offer a free version before moving onto fully premium. This allowed them to provide a higher standard of service to all their customers. Despite the jump in price, they have remained one of the most affordable VPN's on the market.
In this pricing review, we'll look at their pricing as well as what you get for the value.
What CyberGhost Offers You
CyberGhost provides all its users with the general suite of VPN features. This includes the ability to unblock geo-restricted websites and content, hide your IP address, carry out torrent downloads safely, and so on.
They also provide a number of other, more specialized features. This includes an automatic kill switch in case the VPN gets disconnected, a private DNS server and IP Leak Protection, along with 256-bit AES Encryption, which is also used by governments and militaries.
You can use Cyberghost on up to 7 different devices at the same time. This is very useful, especially if you share it with friends or family. They have also made it easy to use the VPN on different devices via their app, which can be downloaded on the most common PC and Mobile operating systems.
Finally, they provide all their users with unlimited bandwidth and high connection speeds. They have 3600 servers worldwide. If you find your connection is too slow because of server traffic, you can easily change to another server nearby. It will work perfectly if you want to watch DirectTV abroad for instance.
Is The Price Worth it?
There are several different levels of pricing. All of the features described above are provided regardless of how much you are paying. The pricing plans vary only in length and cost. In this pricing review, we will look at each of their cost tiers.
For the first tier of cost, CyberGhost offers a 1-month subscription. This costs $12.99 per month, which you will be billed monthly. If you only need the VPN for a short time, you could consider this plan. However, it is the most expensive option and does not offer any savings. This plan also has a 14-day money-back guarantee, in case you aren't satisfied with it. Careful, it is the only plan that DOES NOT offer 45 days money-back guarantee. 
The second tier is a 1-year subscription. With this subscription, the monthly fee goes down to $5.99. You make over 45% savings with this plan. Billing is annual, at $71.88 every year. This saves a lot of money compared to the 1-month option, and you can still cancel it. The full refund period for this plan is 45 days.
The next tier is a 2-year subscription. Just like the 1-year subscription, you get better savings on it. You can also get your money back in full in the first 45 days. The 2-year subscription costs $88.56 every two years, or $3.69 monthly.
Finally, the best value for CyberGhost's pricing is their 3-Year subscription plan.
This plan gives you up to 75% savings. It costs only $2.75 monthly, which is very low compared to other similar VPNs. You still get all the available features with this plan. There aren't many other VPNs that can offer up to 3600 servers along with high speeds and privacy at this price point.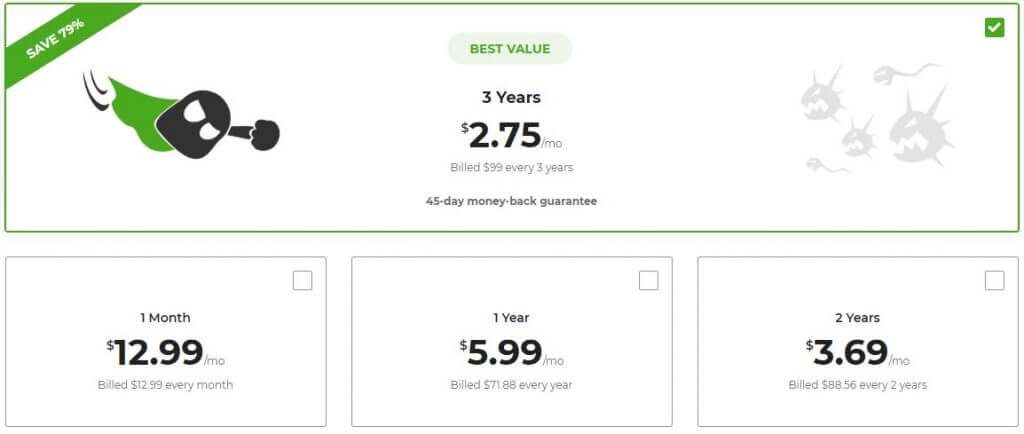 Like other plans, you can also cancel this within 45 days. If you do so, you get a full refund. Since you have a money-back guarantee with no terms or conditions attached, you should definitely try out CyberGhost's 3-year plan. Should you want to watch Sky Go outside of the UK, CyberGhost will be a super good pick !
You can pay using Credit Cards, PayPal or Bitcoin. If you have any trouble with your payment or you happen to be facing any general issue, you can use the 24/7 live support for assistance.
Conclusion
To conclude this pricing review, it is evident that CyberGhost's pricing schemes offer some extremely good deal to the customers. With their 3-year plan, you can get a very good VPN for several years at an extremely competitive cost.
Even if you feel 3 years is too long to stay subscribed to one VPN, you can just try it out their 1-month subscription plan at first.