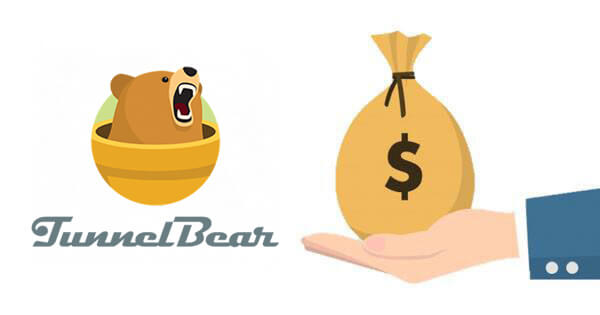 TunnelBear does offer a lot and it has a large following due to this. However, there are some downsides to it. You might have chosen it as your VPN but then come to realize that you would have been better off with a different provider. So, the question we are going to answer today is – how can you cancel TunnelBear's subscription and get a complete refund?
TunnelBear Overview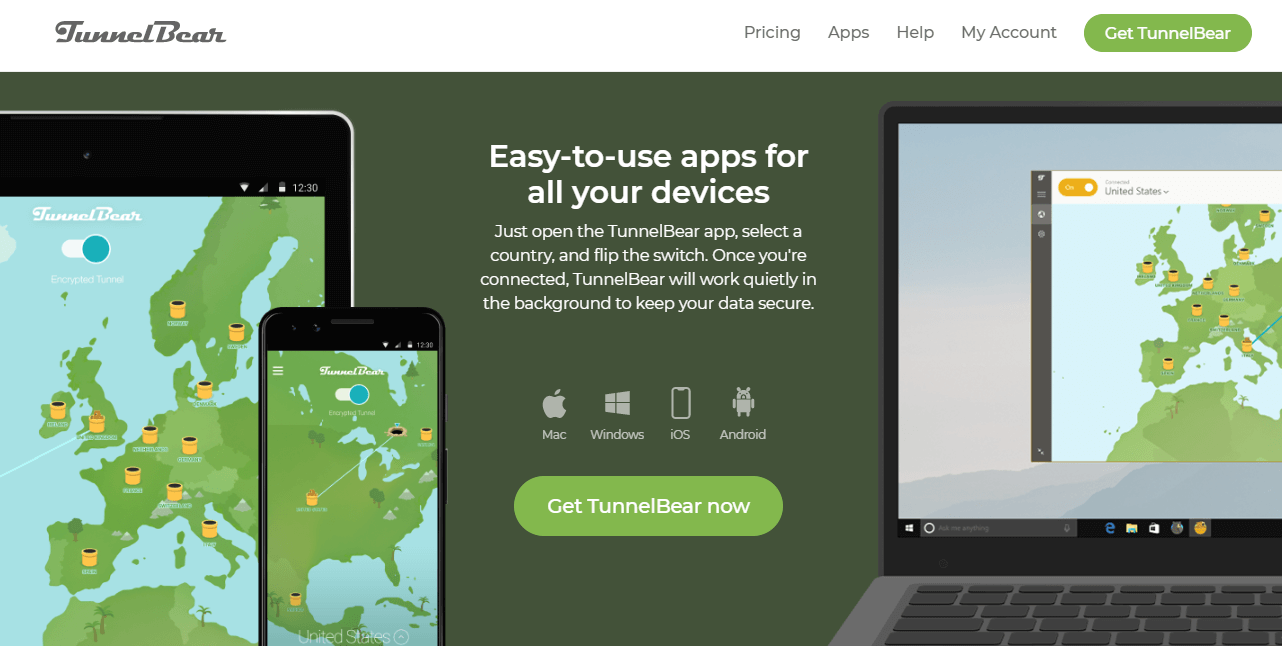 There are some things you'll like about TunnelBear, such as the fact that it offers both a paid and free Virtual Private Network. However, the free version leaves a lot to be desired, as it has plenty of limitations.
You will find speed is not one of the strong points of the provider as it has a limited number of servers. Along with this, servers cannot unblock and stream Netflix or BBC iPlayer.
You can, however, unblock Amazon Prime Video, Hulu, and YouTube, among others.
While it ranks among our favorite VPN providers that are REALLY free, if any of the above has put you off, or you have decided it isn't for you for any other reason, how do you terminate it?
Cancellation Policy
The VPN has a cancellation policy in place and provides you with information about this on the Terms and Service page of its website.

The policy doesn't talk about cancellation but you can at any time. Refunds are a separate entity, which we will talk about further down the article.
How to Cancel TunnelBear's Subscription?
How you terminate the plan is going to depend on whether you purchased it through the provider's website, Google Play, or iTunes.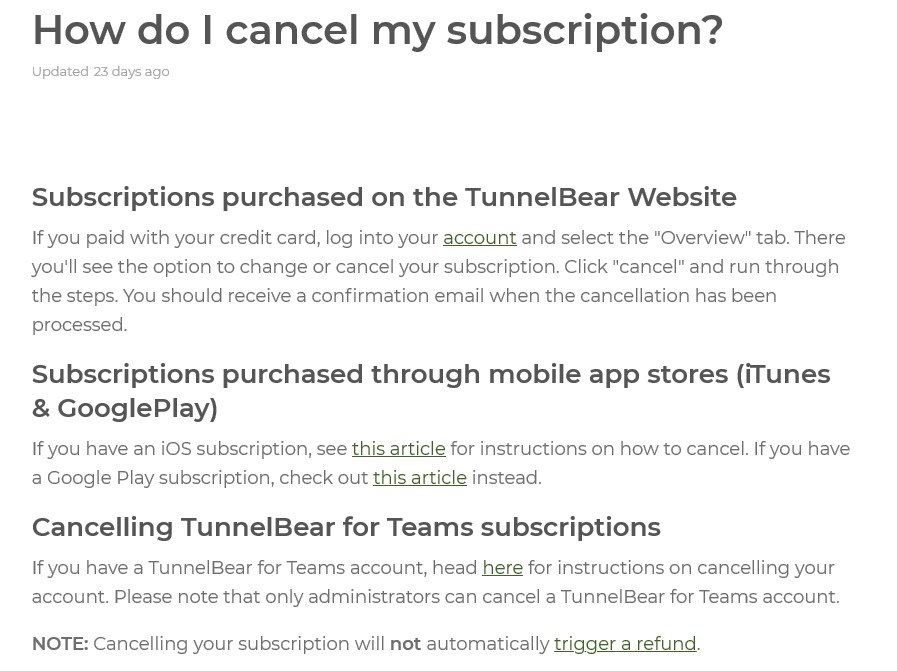 If you do it through the website, you can head over to your account and sign in using your credentials.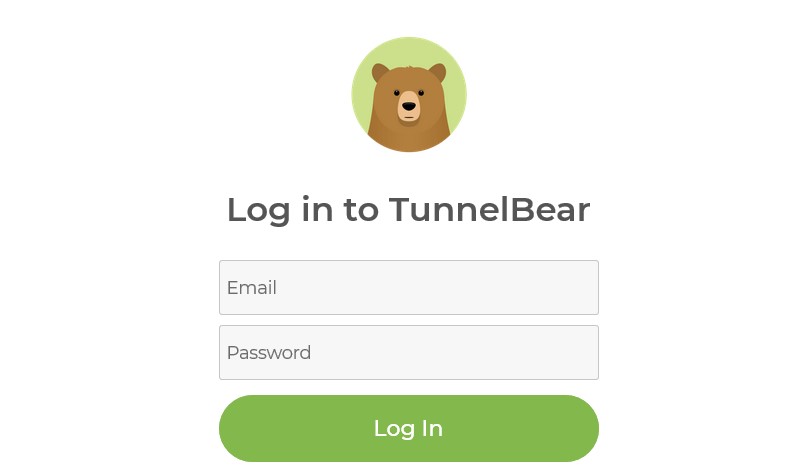 Once logged in go to "Settings" and then under Account, you will see "Account" and a link to manage your account.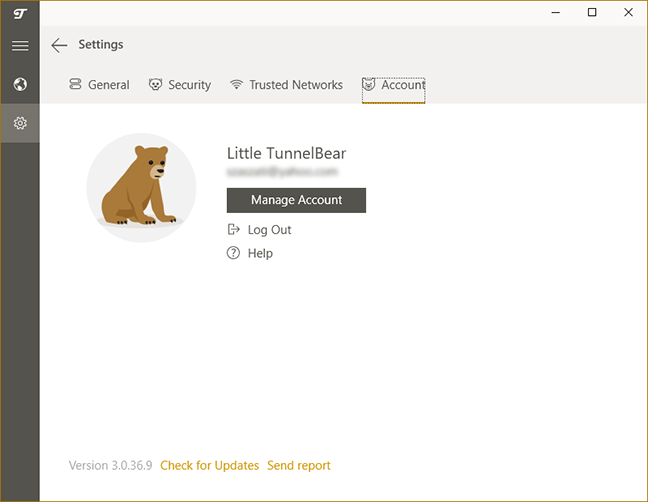 Click on the button and go to the "Overview" tab on the account page. Then click on the "Cancel" button then follow the steps.
Once you have done this, you will get a confirmation email telling you the plan has been canceled.
On Google Play, you can click on "My subscriptions" then "Cancel subscription".
For cancellation on iTunes, go to the "Manage your subscriptions" page and terminate the plan from there.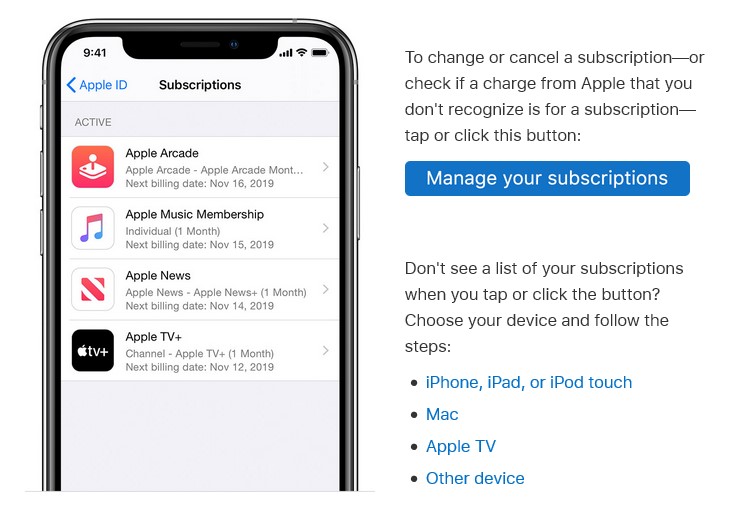 Bear in mind that canceling the plan does not automatically mean you will get a refund.
How to Get a Refund?
Unlike many VPN providers that offer 30 or 40-day money-back guarantees, you do not get any type of guarantee with TunnelBear.
This may be because there is a free version and the provider thinks you should use this to try out the service before committing.
It does say that it may offer a refund but this is on a case-by-case basis. If you do want to apply for your money back, you do need to contact customer support to ask. However, all requests are subject to a review.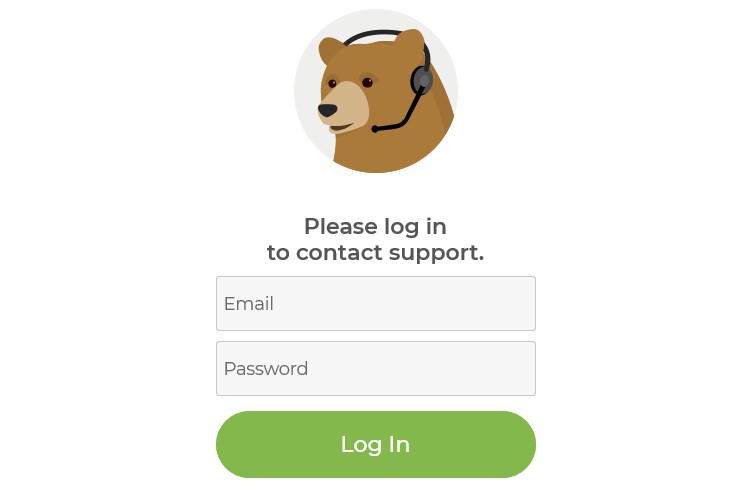 You can do this by logging into the customer service portal.
Alternative VPN Providers to Consider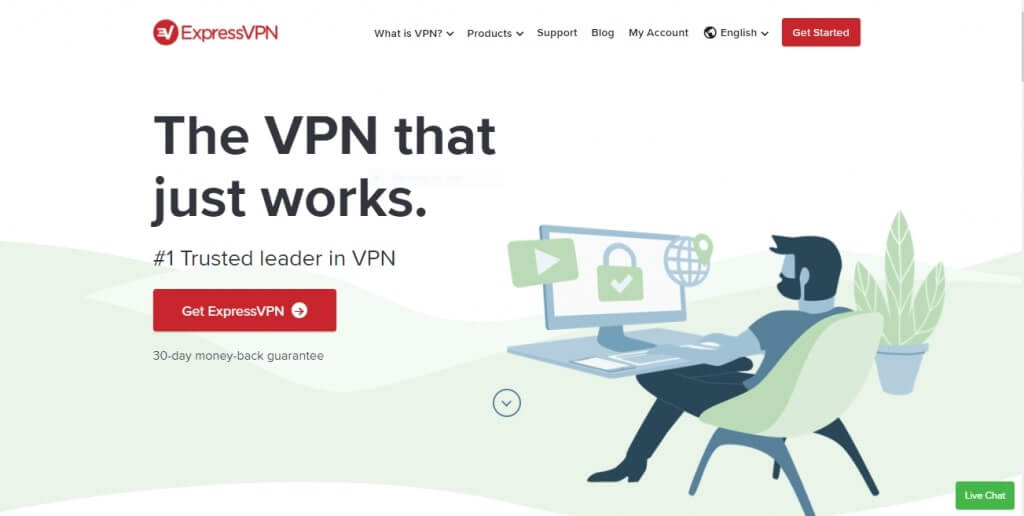 If after canceling your TunnelBear subscription, you're on the lookout for another VPN, you might want to consider the following providers.
ExpressVPN is our number one choice – it is a premium Virtual Private Network offering a great deal for your money. You have nothing to lose with it as it does offer an unconditional 30-day money-back guarantee.
Get our number one choice ExpressVPN now >
You get military-grade encryption, access to thousands of worldwide blazing-fast servers, it supports a wide range of devices, unblocks streaming services, and much more.
NordVPN also offers a great service with plenty of features. This includes the option to connect to first one server then another for double security. And finally, CyberGhost runs its own network of servers, it's packed with security features, can unblock sites, and more.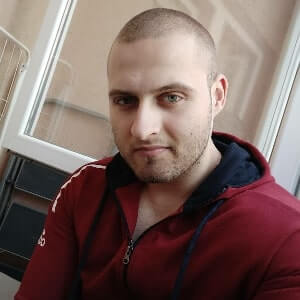 A professional writer with a Master's degree in Mechanical Engineering. Since his youngest age, he loves everything related to internet, technology, fitness, games, and dogs! He joined our team in order to bring his deep knowledge in security services, among which VPN is of course a key component.