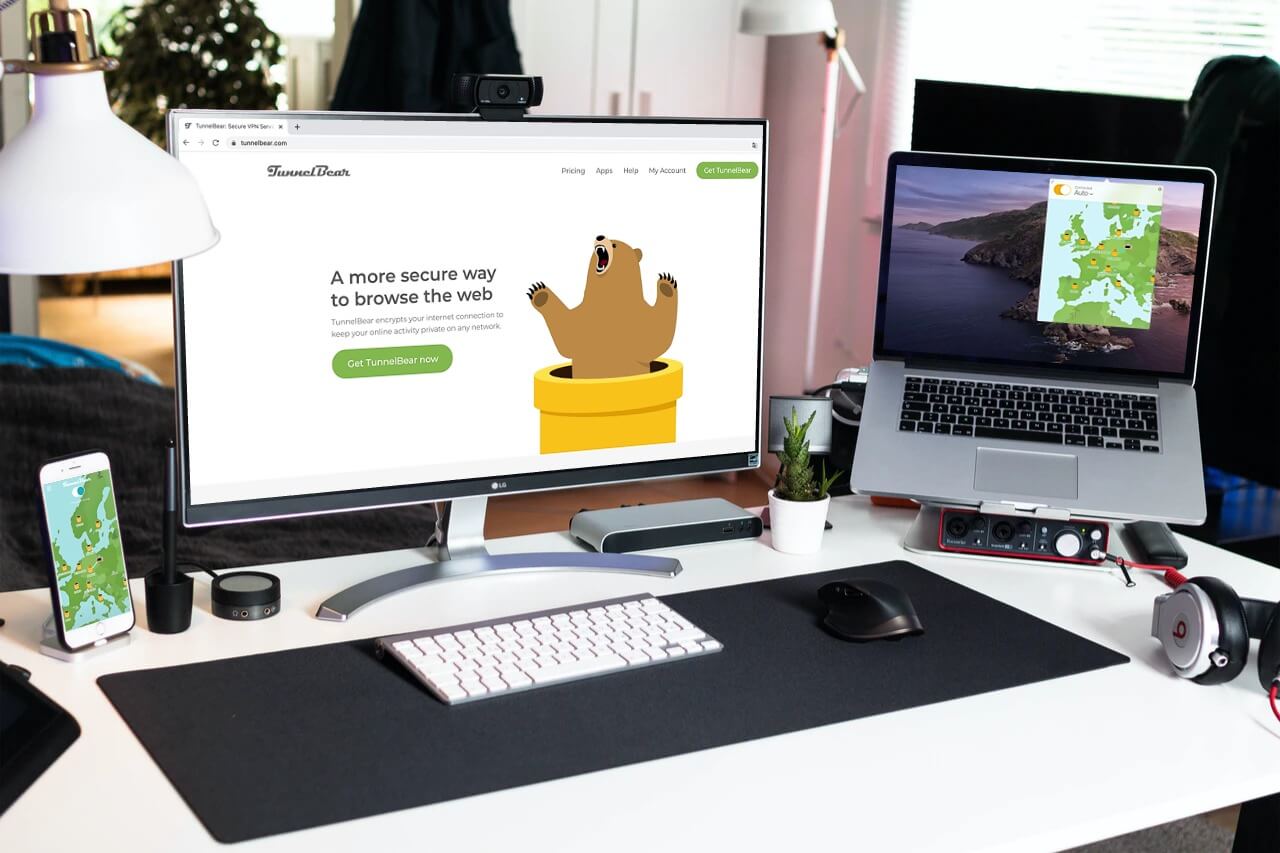 Founded only a few years ago, TunnelBear's rapid growth has been impressive, thanks to its remarkable branding. While it's now also known for its password managing service, its VPN functionality is actually the primary reason it's popular. With that said, we've created this TunnelBear review and test for people curious about its VPN services.
TunnelBear has many strong points – it offers a strong functionality, an easy-to-use interface, a free package, solid security, and more. However, while it offers solid performance in each of those areas we mentioned, we still have many reservations about it.
Among those reservations are its poor client support, slow speed, and hostile jurisdiction. While we're already aware of these shortcomings, there are many people who are still not in 2023.
Thus, we have created this review and test to discuss the upsides and lows of this quite comical VPN provider.
In the end, after reading our detailed insight into this virtual Private Network, you will be able to determine if it's a worthy choice or not.  But before plunging into the detailed review, quickly take a look at the pros and cons of the service below.
STRENGTHS:
Generous free plan
Has a Kill Switch
Nice interface for its app
WEAKNESSES:
Inconsistent speeds
Can't unblock geo-blocked content
Poor client support
A small list of server locations
Canadian jurisdiction (5 Eyes)
TunnelBear ranks #13 out of 104 VPNs tested. Here are the best alternatives :
---
Is it a paid or a free VPN?
TunnelBear has a both a free version and a paid version. However, we don't recommend you to reliably depend on its free version as it comes with a lot of limitations. Whereas, the paid plans are cheap (but not as much as CyberGhost or NordVPN) and are not likely to hurt your pocket.
Performance
Performance is always the number one factor when choosing the ideal VPN for your needs. Therefore, we have evaluated the performance of this provider, hinging our evaluation around its speed and stability.
Speed
To be honest, speed is not a strong suit of TunnelBear, probably due to the limited number of servers. While the developers claim that they have implemented the infrastructure to maximize speed, they are far from the fastest in 2023, according to our test findings.
We know it's normal for a VPN to have a negative effect on your connection speed. Nonetheless, TunnelBear's supposed infrastructure hasn't done anything to reduce the impact. We carried out several tests while compiling this review and the speeds were average at best.
For this reason, it does not appear in our ranking of the best VPN for Kodi, for example.
Without VPN (we were located in London) :

EU Server (France) :


US Server :

Asia Server (Hong Kong) :


Stability
While TunnelBear doesn't offer much in terms of speed, it's highly unlikely to fail you in times of need. It's a very stable service, which guarantees an uptime of 99.9 percent.
This means that you are likely to always find a server to use, depending on your location. Even if you encounter downtimes sometimes, it would probably be due to maintenance.
Streaming
One of the major elements used to determine whether a VPN provider is worth its salt is its streaming capabilities. With that in mind, we put TunnelBear's streaming abilities to test and we got interesting findings.
Netflix

In the past, users used to unblock Netflix's geo-restricted content with literally every VPN they could get their hands on. However, the streaming service started an unending battle with VPN companies a while ago.
Since then, unblocking Netflix has become a huge feat for any VPN.
Unfortunately, it seems that TunnelBear is one of the victims of Netflix's anti-VPN stance. We made many attempts to unblock Netflix using different servers and we failed on each occasion.
While some users have reportedly been able to unblock Netflix with TunnelBear, we advise you to choose a provider like ExpressVPN if unblocking Netflix is your top priority.
BBC iPlayer
Like Netflix, BBC iPlayer is also one of the biggest streaming services in the world in 2023. Sadly, TunnelBear can't unblock it as well, just as it can't unblock Netflix.
Even though some users may claim that they are able to get past BBC iPlayer's restrictions using this service, we deem it extremely unreliable, based on our test findings.
Others?
The provider isn't capable of unblocking Netflix and BBC iPlayer, but you should have better luck with other streaming sites. We were able to successfully unblock streaming sites like Hulu, Youtube, and Amazon Prime Video.
However, while we were able to unblock those sites during our test, we wouldn't be surprised if it fails tomorrow. The provider is just very unreliable when it comes to streaming, as you've already seen in this review.
Security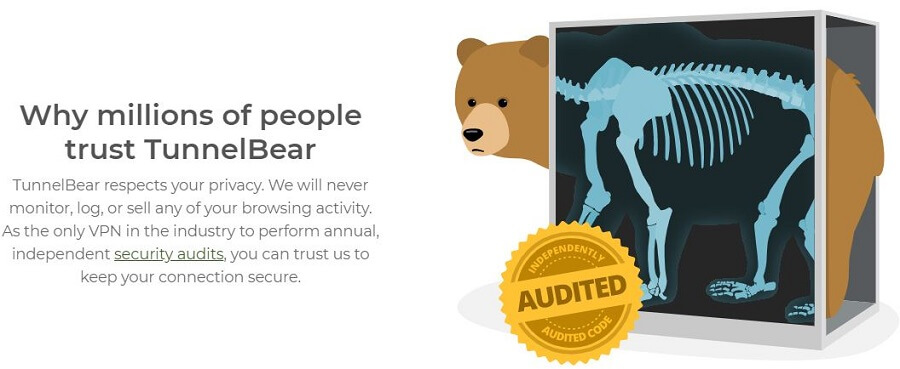 Security is always at the heart of the evaluation of any VPN. For the purpose of this review for TunnelBear, we did a thorough assessment of security systems and our outcomes are interesting.
Where is it based?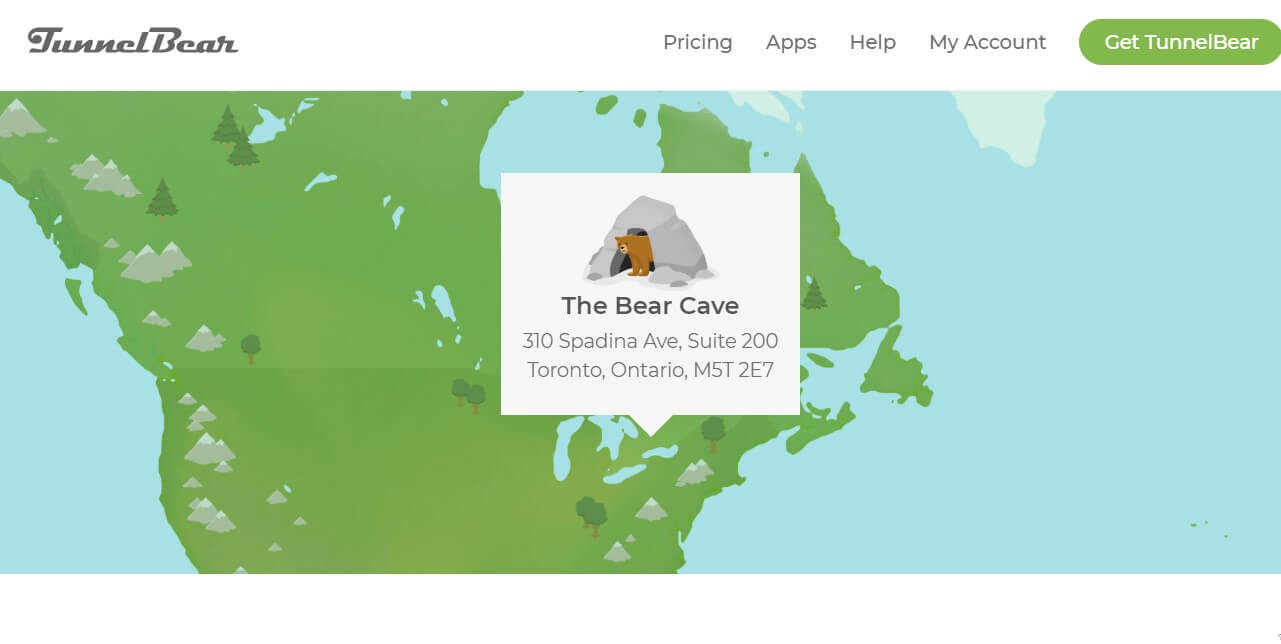 TunnelBear is a Canada-based provider, which means that they are guided by Canadian laws. Under Canadian laws, a VPN provider has to hand over the data of its users to any government agency that comes with a warranty, as we discovered during our test.
However, the fact that they don't keep any log that threatens the privacy of its users should reduce your worries. This means they won't even have anything to hand over if a law enforcement agency comes knocking on their doors.
Nevertheless, the fact that McAfee, which is an American company, has acquired TunnelBear may be another worrying factor. Consequently, it will be subject to a couple of American laws as well.
Meanwhile, it's not a secret how hostile the United States is to VPN companies.
Most VPN users will prefer not to rely on a provider that is based in the United States. This is due to the country's anti-privacy laws that enable users' data to be taken and transferred to third-parties.
Besides, the United States' intelligence agencies like the FBI and NSA have used invasive approaches in the past.
Ultimately, both Canada and the US are members of the Five Eyes. Note that the Five Eyes Alliance includes 5 powerful countries that work together to collect, spy, and share data. The consequence of this is that, if any country that is part of the alliance is spying on you, you're at the mercy of all the 14 countries.
That said, you may have to review your other options if you know you'll engage in sensitive stuff.
Log policy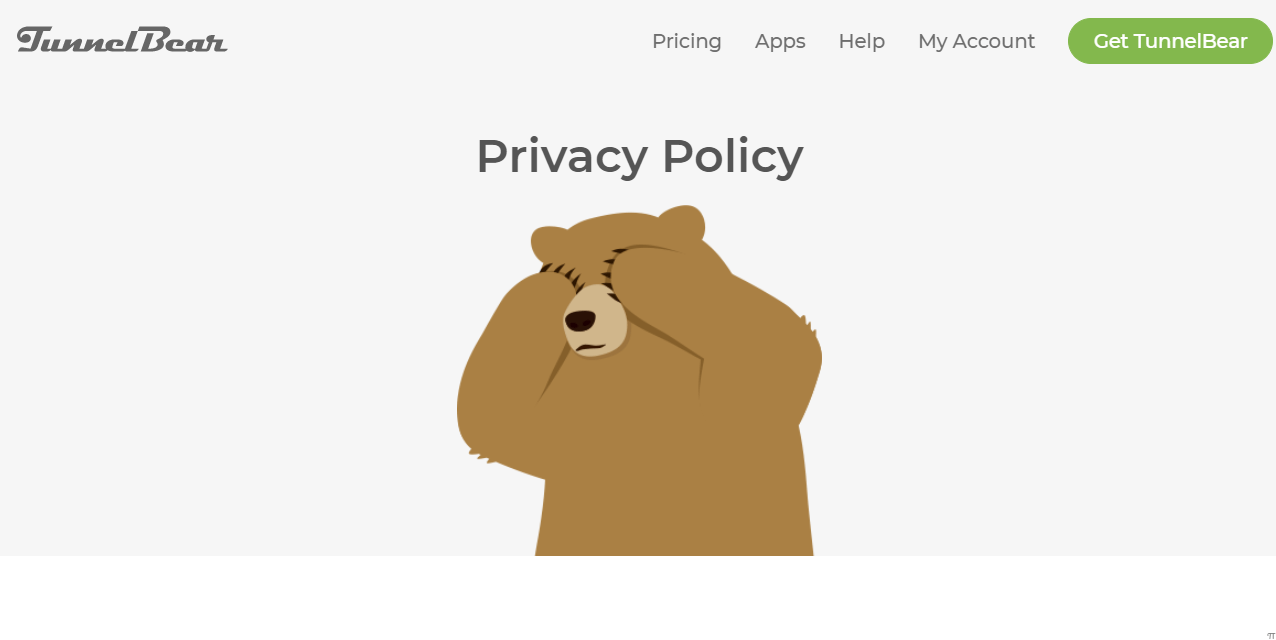 Like most VPN companies, TunnelBear also advertises a stern "zero-logging" policy. Users who review the privacy policy of the company more profoundly as we did during our test, however, will realize that the "zero-logging" policy applies to only certain data.
In the privacy policy, it's stated that the provider doesn't keep logs of your IP addresses and the DNS requests. Moreover, they won't store any data about the websites, services, and apps that you access while connected to the VPN.
That sounds like good news, right? Moving on though, the privacy policy adds that the provider stores data like user names, operating systems, and email addresses.
Moreover, they store the last 4 digits of your card and a log of the amount of data you used.
Bear in mind that this provider is based in Canada – a strong member of the Fourteen Eyes, as we mentioned earlier in this review. Due to this, this isn't the most ideal location to establish a Virtual Private Network.
The truth is that if a surveillance alliance or the government comes knocking, the provider won't have any choice but to hand over any requested data. Plus, given its free option, you can't expect it not to log any info.
After all, when getting a product for free, YOU are the product. In other words, the company earns money on your use, in this case, your personal info or a fraction of it.
Protocols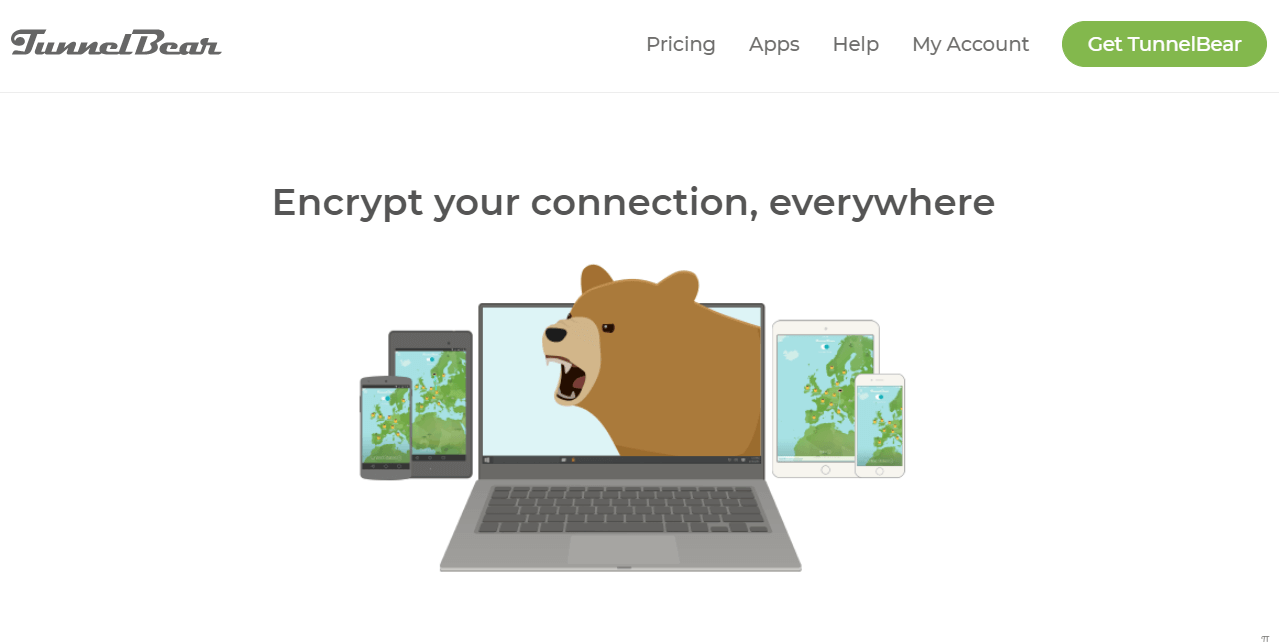 TunnelBear uses the world's most popular VPN protocols – OpenVPN, IKev2, and L2TP/IPsec. While Android devices are able to use the OpenVPN, which is the most popular of them all, iOS devices can only use either IKEv2 or L2TP/IPsec, depending on the one that gives the best performance.
Whereas, macOS and Windows devices can use either IKEv2 or OpenVPN, depending on the one that connects first. However, iOS devices don't naturally use OpenVPN, but there are third-party apps you could download to use the protocol.
For the purpose of this TunnelBear review, we tried this in our test and it worked well.
Many other providers provide the PPTP protocol among others. TunnelBear doesn't.
Although the PPTP is regarded as the easiest one to configure, it is an outdated protocol. Apart from that, it is widely considered to offer the least security. According to the website of the provider, "weaker encryption is not even an option".
In terms of encryption, this provider uses military-grade AES 256-bit encryption by default, which is the strongest encryption that's available. It does data authentication by SHA256 and the handshake encryption is 4,096-bit Die-Hellman on macOS and Windows – and 2,048-bit Die-Hellman on iOS and Android.
Protect your data with strong encryption >
Overall, the provider uses high industry-level encryption that ensures maximum security for your data. The only drawback is that the provider doesn't allow users to change the encryption level.
Protection against leaks
While most providers offer an option to toggle on/off DNS leak protection, this provider doesn't have an option like that. Although that's not because it doesn't plug DNS leaks, it's because TunnelBear knows that plugging DNS leaks shouldn't be an option – it should be compulsory.
DNS leaks are privacy threats that can enable Internet Service Providers to view and monitor the online activity of users. Thus, it's even surprising that some VPN providers make disabling it an option.
TunnelBear protects against DNS leaks, and there are no extra steps needed to enable the protection. As soon as you are connected, all leaks will be plugged and you're secured.
We checked for leaks while writing this review and every test came out positive.
Torrenting
Torrenting is a very popular practice in our online space, so most prospective buyers will be wondering if the provider supports torrenting. With that in mind, we accounted for TunnelBear's torrenting capabilities in our test and review.
Is torrenting allowed?
In the past, this provider was a strict anti-torrenting VPN. While it's believed in some quarters that the service now supports P2P, their website has nothing related to it.
Bear in mind that VPN providers that offer full support for torrenting often advertise it as part of their many features. Most of them even encourage users to use the service for anonymous torrenting.
In addition, the state in their Terms of Service that the distribution of copyright-protected content is not allowed through their service. Meanwhile, many of the files shared during torrenting fall in that category.
Thus, it is safe to declare that TunnelBear isn't an ideal provider for people who want to engage in torrenting. Since torrenting is one of the biggest reasons people use VPNs, this comes as a huge downside.
Is there a Kill Switch?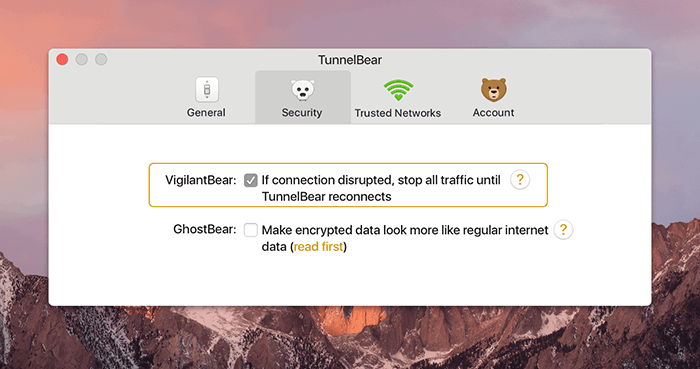 The way TunnelBear is designed is this – if there is a loss in your VPN connection for any reason, it will reconnect automatically as soon as the internet is restored. In those seconds between the disconnection and reconnection, however, your online traffic would be exposed.
Subsequently, anyone monitoring your online activity would easily get everything they need.
However, TunnelBear comes with a feature called VigilantBear, which is widely known as the Kill Switch. The feature is always alert to your VPN connections, and automatically cuts your internet connection when it detects that the VPN connection wants to drop.
This makes sure that you don't send or transmit any data when the VPN connection is down. We saw how this feature works first-hand during our test and it was really impressive.
Bypassing Censorship
While the internet is all about freedom, there are countries in the world that restrict freedom on the Internet. To determine TunnelBear's performance in those countries, we conducted several tests while writing this review.
In censored countries
The application comes with a function called GhostBear. This feature enables you to conceal your VPN connection in the event that somebody, be it your organization's tech department or your ISP, track the data traffic, and block the VPN connection using advanced technology.
GhostBear makes the VPN protocol invisible to the scanning-technology, which is referred to as traffic obfuscation.
Thanks to this feature, you can use the VPN in nations with anti-VPN policies like Iran, the United Arab Emirates, Saudi Arabia, and more. On top of that, it doesn't restrict the other capabilities of the VPN, which makes it convenient to use.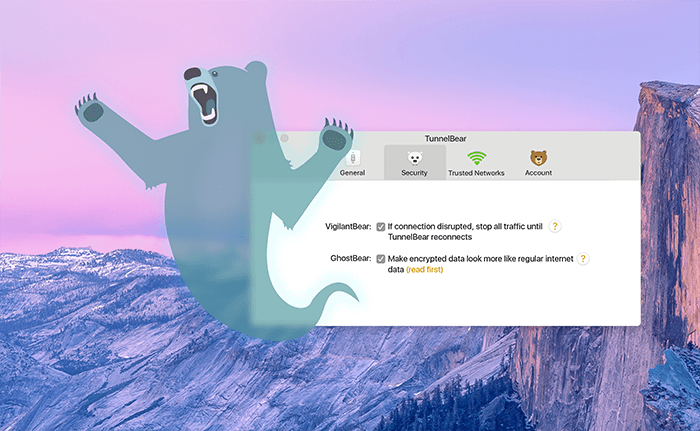 Except for iPhone and iPad, the GhostBear feature is available on every other platform. However, you should not turn it on unnecessarily, as extra encryption usually reduces the connection speed.
It's best to test if the website you want to access is accessible without turning on this setting. So, turn it on only if it isn't.
Despite its obfuscation feature, it doesn't work in China. Aww, that's a shame!
This is probably because of China's state-of-the-art censorship technology that is almost impossible to hide from. If a VPN that works in China is what you're looking for, consider a better alternative like ExpressVPN.
In restricted networks
As we already mentioned up there in the TunnelBear review, this provider comes with a GhostBear feature. This feature allows it to conceal your data traffic from either your firm's tech department or your school authorities.
While bypassing the Great Firewall of China may prove to be too big of a task for the Canadian provider, the GhostBear feature allows it to effectively bypass restricted networks.
Countries and servers
Apart from the server count, it is also important for a VPN to have a good geographical distribution of servers. While there are lots of buyers who don't know this, it's very important.
Due to this, we remembered to account for the details of TunnelBear's servers while writing this review and test.
Countries covered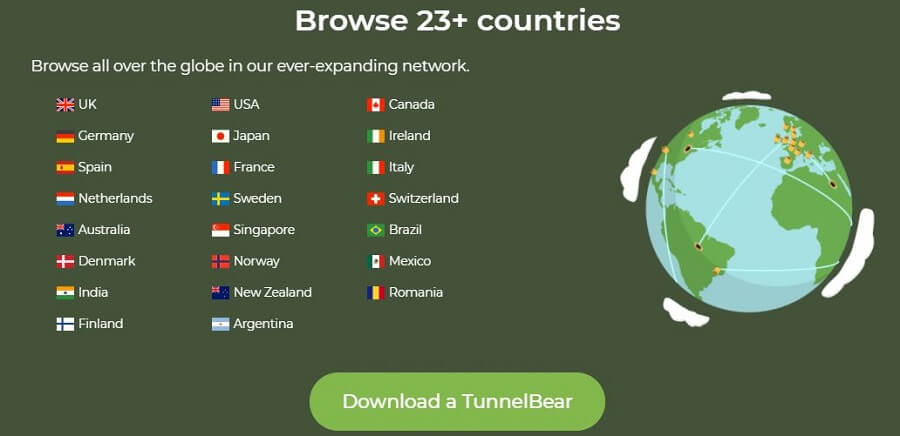 TunnelBear boasts about 1,000 servers spread across 23+ countries across the world in 2023. While that's probably not too bad, it's not competitive with some of the leading providers like NordVPN, ExpressVPN, or HideMyAss and its 190+ countries covered.
As we already noted in the review, the location and number of servers are vital to how effective a VPN is. The more the server locations, the higher your chances of spoofing your real location successfully.
Moreover, geographic diversity means that there are more chances of you finding a server near you, regardless of where you are.
The provider operates servers in Canada and the US, and also in Europe, Japan, Brazil, Australia, Mexico, and Hong Kong.
We know this is not too bad, as we already noted in this review, but with rivals like ExpressVPN and NordVPN covering close to 100 countries and more than 60 countries respectively, this provider is simply not ready to compete in the global scene.
Besides, they don't operate servers in  Africa and the Middle East, and they don't cover much of South America.
Furthermore, there are also some users who like considering which countries their data travels through. Of course, this is only easy to do when a provider uses just physical servers.
This means that, if the provider states Switzerland as the server location, then that's where your data is being transmitted through.
There are, however, numerous VPN providers that use virtual servers for traffic conduction. The meaning of this is that a server may seem to be in Switzerland even though it's in Hong Kong.
While some users may not think much about this, it is a huge cause of concern for some.
Thankfully, the provider uses physical servers only, according to what the company told us while writing this TunnelBear review and test. Therefore, users can be confident that their data is being transmitted exactly where they believe it to be.
Albeit, the provider notes that excessively high demand may compel them to use virtual servers. So, that is another thing you may want to keep in mind as a potential customer.
Servers
TunnelBear doesn't have specialized servers for any activity, which speaks volumes (or lack thereof) about its dedication. And on top of that, the provider doesn't have good streaming performance and doesn't work in China.
Is the lack of specialized servers the reason? Maybe yes, maybe no!
Compatible devices and simultaneous connections
To avoid wasting your money, it's imperative to test the devices that are compatible with the VPN you're looking at. Also, it is important to know the number of simultaneous connections it allows for, especially if you own many devices.
Luckily for you, we will answer both questions in this review.
What device can I use with TunnelBear?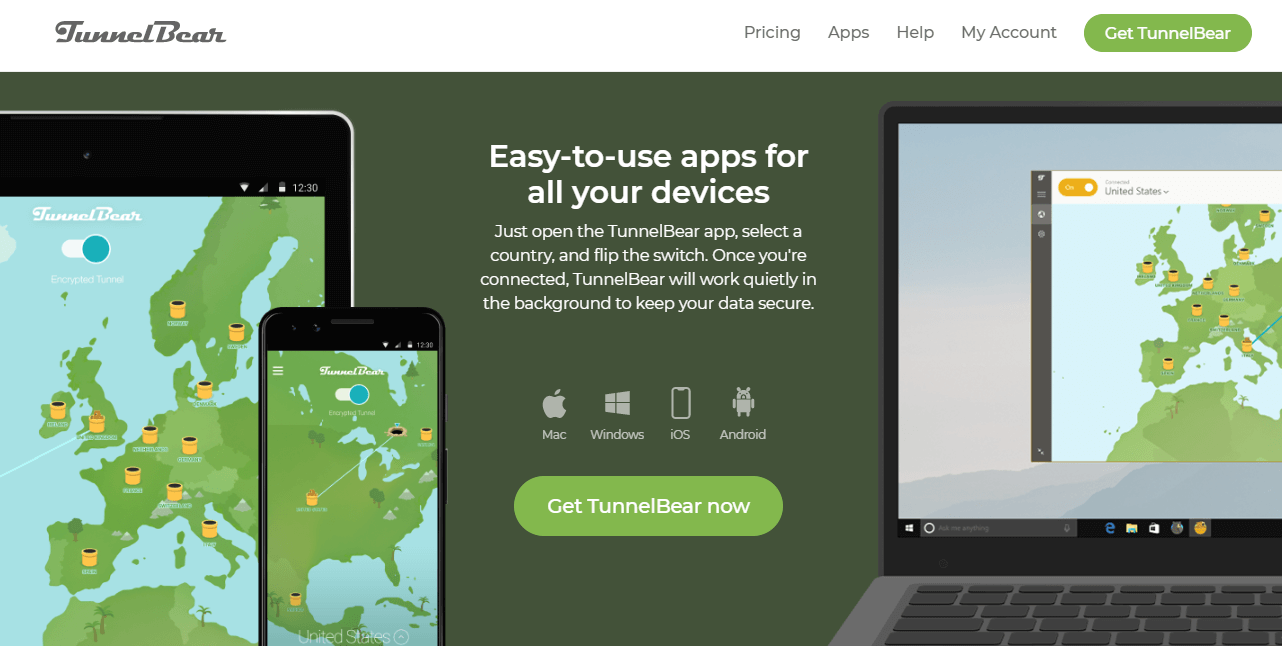 The list of the platforms that this service supports is not long. Apart from having compatible clients for Mac, Windows, iOS, and Android, the VPN only provides limited support for Linux.
It does not support any gaming console, routers, e-readers, Windows mobile devices, or Apple/Android TVs. However, you can download extensions for popular browsers like Firefox, Opera, and Chrome.
While you can install the VPN client for Windows and Mac from the official website of TunnelBear, the Android and iOS applications, as well as the Firefox, Opera, and Chrome extensions can be downloaded from their respective stores.
How many simultaneous connections?
This provider allows you to connect up to 5 devices at the same time. This is the same number of simultaneous connections a big provider like ExpressVPN offers. While there is actually nothing out of the ordinary in this number, it should sufficiently cover all your devices.
You can even allow a couple of your friends or family members to use your account.
Client support
A VPN that's worth its salt must have good client support, you can't argue. Apart from making sure that customers are able to promptly find solutions to their problems, it also gives them some kind of reassurance that their VPN provider will always be there for them.
How to contact it?
We were surprised to learn during our test that TunnelBear uses the traditional email system only for its client support. It doesn't offer any live support or any phone number that you could call for assistance.
Consequently, you will have to wait for hours to get a response to your mail. If the response doesn't resolve your problem fully, then you will have to wait again for several hours.
Is it good?
As you might have even noted in the cons section we highlighted at the beginning of this review, TunnelBear has very poor client support. In fact, the less we talk about the quality of their client support, the better we feel.
Note that this is due to the amount of frustration we had during our test.
If you're looking for great support, you might have to consider subscribing to a provider such as ExpressVPN.
FAQ/tutorials
To give you some respite, it does offer a "Help" section that contains tutorials and answers to some common questions.
However, even that section looks scanty compared to what we found on the sites of providers like ExpressVPN and CyberGhost. To be honest, the Canadian provider doesn't seem to care much about its users, if we are to go by everything we experienced while writing this review and test.
Value for money
The value of money that a VPN gives defines it. In fact, it defines how long it will continue to be in the business. So, does TunnelBear offer sufficient value for money? We will answer this question in this part of the review.
Price comparison

The provider offers four primary plans, which are:
Free
Monthly Plan – $9.99
Annual Plan – $59.88 ($4.99/month)
Three-year Plan – $120 ($3.33/month)
First of all, TunnelBear offers a free service, which although is useful, is extremely limited. Free users are given 500MB of data every month, which is further expanded to 1GB if you tweet about the company.
Discover all the offers available >
However, the paid plans are where things get serious and where every limitation is lifted. The monthly plan costs just $9.99, which is honesty inexpensive. The yearly plan, however, offers a relatively decent value for money, costing an equivalence of $4.99 per month.
Recently, TunnelBear introduced a 3-year plan, which seems cheap at first. But, compare it to NordVPN, which costs just $3.71 for the same plan and you'll see that it's not worth the money.
Means of payment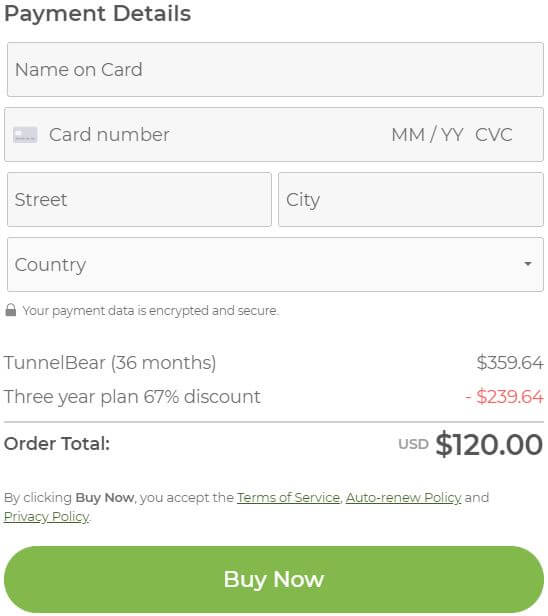 Still wanna buy TunnelBear? In that case, you can only pay with a credit card. No PayPal, no Bitcoin – nothing! In our opinion, this is a very unfriendly practice because many users don't want to disclose their credit card information.
And if you're one of them, you probably won't want to buy this VPN anymore.
Money-back guarantee
There is a 30-day money-back guarantee, but we think they will be forgiven even if there was no guarantee. Apart from a money-back guarantee, the provider also offers a 7-day free trial.
This free trial allows users to test the fully-featured version for free before making any commitment.
If you don't want to use the free trial period, the service also has a free version, which despite being limited, gives you a feel of what to expect.
Any extra?
You're probably wondering if this provider offers any unique feature you may take into account when making your final decision. Well, it offers a couple of unique features, all of which we've included in this part of the TunnelBear review.
GhostBear
Also referred to as "Stealth Mode," GhostBear is an obfuscation technology. Using obfsproxy, this feature disguises or conceals traffic to help users bypass firewalls like the Great Firewall of China.
This makes VPN connection less detectable by ISPs, businesses, and governments. Basically, it makes it look like regular HTTPS traffic.
Bear in mind that disabling the GhostBear function doesn't mean you are less secure. However, it is a great additional feature for users that need to conceal their VPN connection.
Besides, the feature also helps in stopping ISP throttling in regions where OpenVPN traffic is regulated.
In theory, Stealth Mode is capable of slowing your internet traffic down, even though it didn't during our test. However, it is better to only use it if you really have a need for it. For other people, normal OpenVPN UDP will deliver the highest speeds.
TOR Compatibility
Both the TOR browser and VPN have their advantages and disadvantages. If you are looking to make the most of the two, simply combine them. While Tor guarantees 100 percent anonymity, VPN helps spoof your actual location and delivers optimum performance speed.
When combining these two, you can enjoy rock-solid security and even visit the Darkweb. The TOR browser lets you explore the depths of the internet, all while the VPN keeps things anonymous and secure.
SplitBear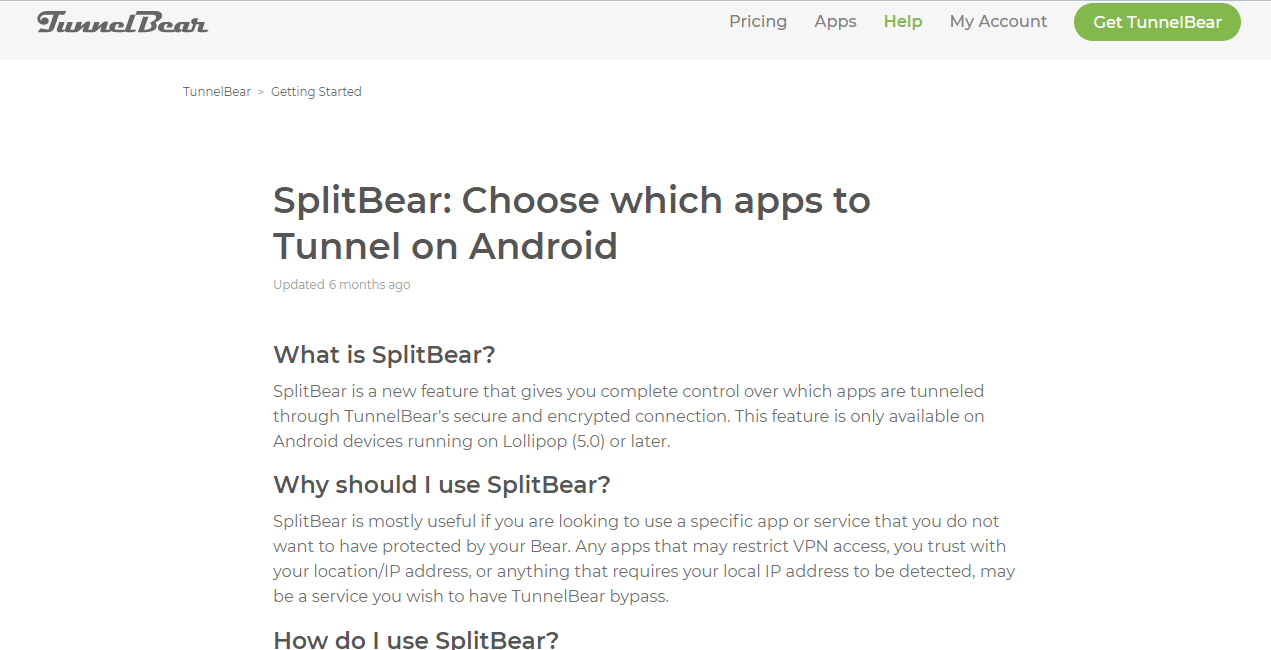 SplitBear is the special name given by the provider to Split Tunneling, which is a feature that allows you to select applications that you don't want to use with a VPN.
The downside is that TunnelBear offers this feature only for Android devices.
If you, however, use this service on an Android device, this feature may come handy if an application refuses to work with a VPN or if a local website does not allow you to change your IP address to a foreign one.
You only need to select the applications and they will get pas the VPN tunnel.
However, you must bear in mind that it leaves those apps with no protection, and neither their traffic nor their IPs nor the things you access through those applications will be concealed. But we used this feature during our test and it was terrific.
Final Thoughts
TunnelBear is a very simple VPN service. While it surely does not support a lot of platforms and is limited on servers and features, it offers a solid platform for your basic needs, especially when it comes to security.
Although it won't give you Netflix access either, it will aid your anonymity online. Besides, it offers a free plan that is a great choice if you are in an emergency situation that requires a VPN connection.
We won't say it's on par with ExpressVPN because it's not. Therefore, if you need a long-term and reliable provider, ExpressVPN is our go-to option.
TunnelBear Review and Test
We appreciated the presence of a free offer and the simplicity of the proposed applications. But ... many things have displeased us, whether in terms of streaming, customer support, speed etc. That's why we remain more than mixed regarding TunnelBear VPN.
Add your review
|
Read reviews and comments

Michael is a talented writer who has dedicated a lot of time into making sure that everyone around the world can use the internet securely. Being an avid traveler, he has acquired a lot of experience while using different VPNs on his travels. When it comes to doing comprehensive "how to tutorials" or testing some VPN functionalities, he's always the best pick ! He's here to help you solve your VPN-related issues.