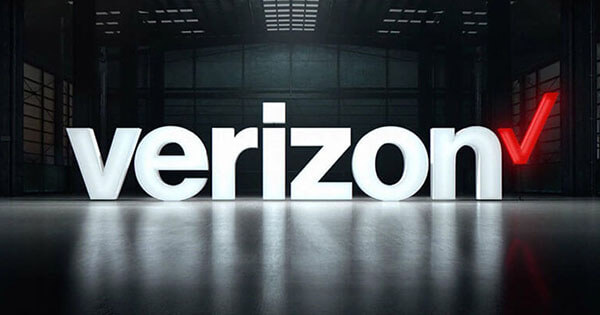 Verizon is just another American broadband provider that you, as an American resident, have at your disposal. But, little did you know, this provider has full legal support in monitoring your online activity and selling that info to third parties. As with every broadband provider, it can also impose bandwidth throttling that can have serious consequences on your web-browsing experience. Our ranking of the best VPNs for Verizon will help you solve the aforementioned issues, so let's talk more about them ASAP!
Why Do I Need a VPN for Verizon?
Before we give you our top picks for this scenario, we need to go over some reasons why you should use a VPN for Verizon. Read carefully what we have to say:
Preventing Bandwidth Throttling

Bandwidth throttling is one of the most infuriating things that can happen when browsing the web or streaming. Actually, many of you have probably experienced it, without even knowing it.
ISPs will perform this action to slow down your internet, preventing you from using big chunks of data. Usually, this occurs when you're either torrenting or streaming, as these are the most bandwidth-hungry activities.
There are many reasons why bandwidth throttling may occur. For example, an ISP will limit your bandwidth when you're watching Netflix, just so you switch to its proprietary streaming service if it has one.
An interesting case, however, happened in 2018, when Verizon imposed a bandwidth limit on the Santa Clara Fire Department. Do you know the reason for that? Simply put, they wanted the department to pay for a more expensive plan, all while fighting against a huge mess in Mendocino Complex.
It's baffling that they can do something like this even to the authorities, despite the situation they found themselves in. With the best VPN out there, Verizon won't be able to do that. It'll obfuscate your IP address, making you invisible to the prying eyes of your ISP, in this case, Verizon.
Stop Verizon from Tracking Your Online Activity
Verizon is master at tracking every step you make online. And no, we're not talking about bandwidth. That is, more or less, benevolent. We're talking about sites you visit, which software you download, your chats, video calls, and so forth.
This is VERY dangerous, especially if you download torrents or stream movies on Popcorn Time. The USA is a strong opponent of torrenting, hence they impose hefty fees for those who oppose that law and violate copyrights
If Verizon catches you torrenting, chances are that you're going to work for a whole month for free, given how big the fines can be. For that reason, you need to use a VPN to browse the web anonymously.
Preventing Third-Parties from Obtaining Your Data
Lastly, this broadband provider is no stranger to selling data to third parties. They know everything you do online, so it's easy to sell that info to advertisers who will bombard you with the ads catered to you.
Did you ever think about it?
How does a particular site know that you need new shoes or a PC? Well, here's your answer!
And don't think that Verizon is the only one doing this. EVERY Internet Service Provider will sell info to third parties and monitor your online activity. A Virtual Private Network will come in handy, giving you the ability to change your IP, thus making it impossible to track you online.
Best VPNs for Verizon
With everything we learned today, it's time to give you our top VPN providers to preserve privacy when using Verizon or Verizon Fios. Beware that you can use your VPN on a router as all of these providers listed below support this functionality.
1. ExpressVPN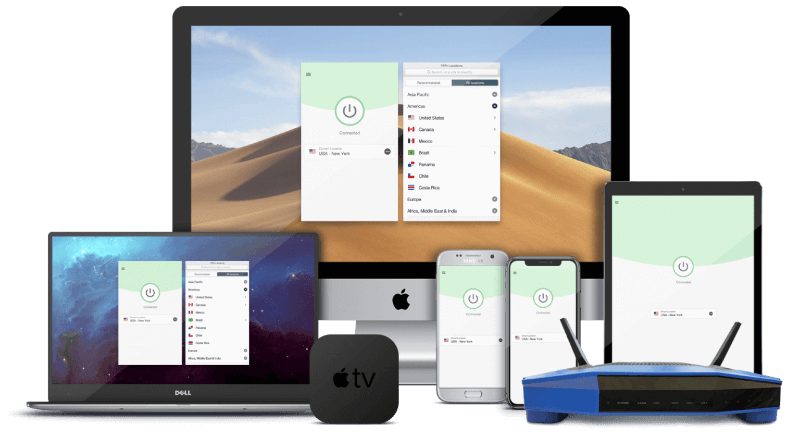 ExpressVPN is a champ when it comes to security and privacy. This provider even has an external audit from PwC, which confirms that all of the servers are safe and secure at all times. The provider packs a huge server network of 3,000+ servers in 94 countries around the globe.
These servers are the fastest on the market, offering you a near-perfect experience. What we like about ExpressVPN is that it uses 256-bit AES encryption, which is impossible to crack. For a more secure connection, a kill switch will prevent your IP or DNS from leaking. That's crucial in this case.
While connected to a VPN server, Verizon won't be able to track your activity or impose bandwidth throttling. Furthermore, you can unblock sites like Netflix, Hulu, or HBO GO, and enjoy a fantastic streaming experience if you want.
You'll like that it offers 5 simultaneous connections, as well. This means that you can protect 5 devices at the same time, wherever you're located. There's 24/7 support available through live chat, that will help you solve any potential issues on the way.
As an icing on the cake, there's a 49% discount and 3 months free for a 12-month subscription plan. Who said that ExpressVPN isn't affordable?! Now, it is.
Get ExpressVPN to avoid troubles with Verizon >
2. NordVPN

NordVPN has all the tools of the trade for keeping you safe and secure online. This provider is from Panama, and from there, it governs 5,600+ servers in 60 countries. All of the servers use 256-bit encryption, accompanied by rock-solid IP and DNS leak protection.
For additional security, NordVPN added some really neat features. One of them is Double VPN, which routes your connection through two different servers, practically making it impossible for Verizon to track you. There are obfuscated servers, too, which further enhance your privacy but also allow you to bypass censorship.
To make things better, NordVPN includes NordLynx (WireGuard fork), OpenVPN, and IKEv2 protocols. All of them offer superior security that will hide you from the prying eyes. Performance-wise, the provider can pride itself on having fast speeds and the ability to unblock streaming platforms.
Offering 6 simultaneous connections and unlimited bandwidth, this is one of the best VPNs for the price.
Protect Your Privacy With NordVPN >
3. CyberGhost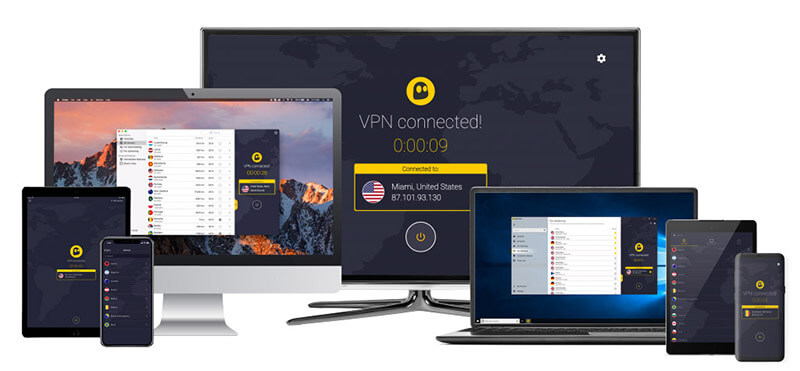 A perfect money-saving option would be CyberGhost. This is a provider that gives you premium service for a much lower price than its competition. Is it any worse? No. In fact, it's on par with the likes of NordVPN, both in terms of security and performance.
CyberGhost provides amazing speeds for streaming and torrenting, all while keeping you anonymous online. It's a provider from Romania, so it keeps a clear zero-logging policy. This is the advantage of being outside the 14 Eyes jurisdiction.
Apart from that, military-grade encryption protects your connection, so much so, that Verizon will smash into the impenetrable wall once it tries to track you. Unlike ExpressVPN, it offers a kill switch for every platform, which will make you feel secure at every given moment.
The addition of an ad-blocker is what you'll surely like, as well as dedicated servers for streaming and torrenting. If you go for a 3-year plan, CyberGhost will be the cheapest, and on top of that, you get a 45-day money-back guarantee.
Get it now for Windows, macOS, iOS, or Android, and enjoy impeccable security and fast speeds!
Enjoy Privacy With CyberGhost >
Are Free VPNs Good for Verizon?
Free VPNs are, without a doubt, a very bad option for pretty much every purpose online. Sure, you'll save some money here and there, but you're taking huge risks in other departments. One of them is your privacy.
You see, free providers must earn revenue somehow, so they often collect your personal info and sell it to third parties – similar to what Verizon does. Not to mention that they're simply poor performers.
Apart from snail-like speeds, you also won't get the ability to unblock streaming platforms or enjoy torrenting, due to limited bandwidth. In many cases, they offer weaker encryption, as well.
Needless to say, free Virtual Private Networks aren't as secure and safe as the premium ones. They don't have enough "firepower" to keep you secure and anonymous online, which will open the doors for Verizon to sneak in.
In short, we do NOT recommend free VPN providers for Verizon. If you, for some reason, don't like the providers we listed above, you can go for IPVanish, for example. Our IPVanish review for 2023 is here, so read it before buying from this provider.
Verdict
To put things into perspective, you should always use a Virtual Private Network if you've signed a deal with Verizon. Now, we don't want to roast or scold this company for keeping logs and selling them. In fact, every ISP will do so, and this company is just another statistic.
Regardless of the Internet Service Provider, you're using, we always recommend using a VPN for the reasons mentioned above. If you care even the slightest about your privacy, you'll know that this service will help you a lot.
We recommend ExpressVPN if you want to pull yourself out of Verizon's claws and enjoy privacy and security online. Don't forget its 49% discount AND a 30-day money-back guarantee that makes this premium provider all the more affordable!
Quentin is the co-founder of the-bestvpn.com. With several experiences as a System and Network Engineer, he is very knowledgeable when it comes to VPN, cybersecurity and the risks of using the Internet nowadays.