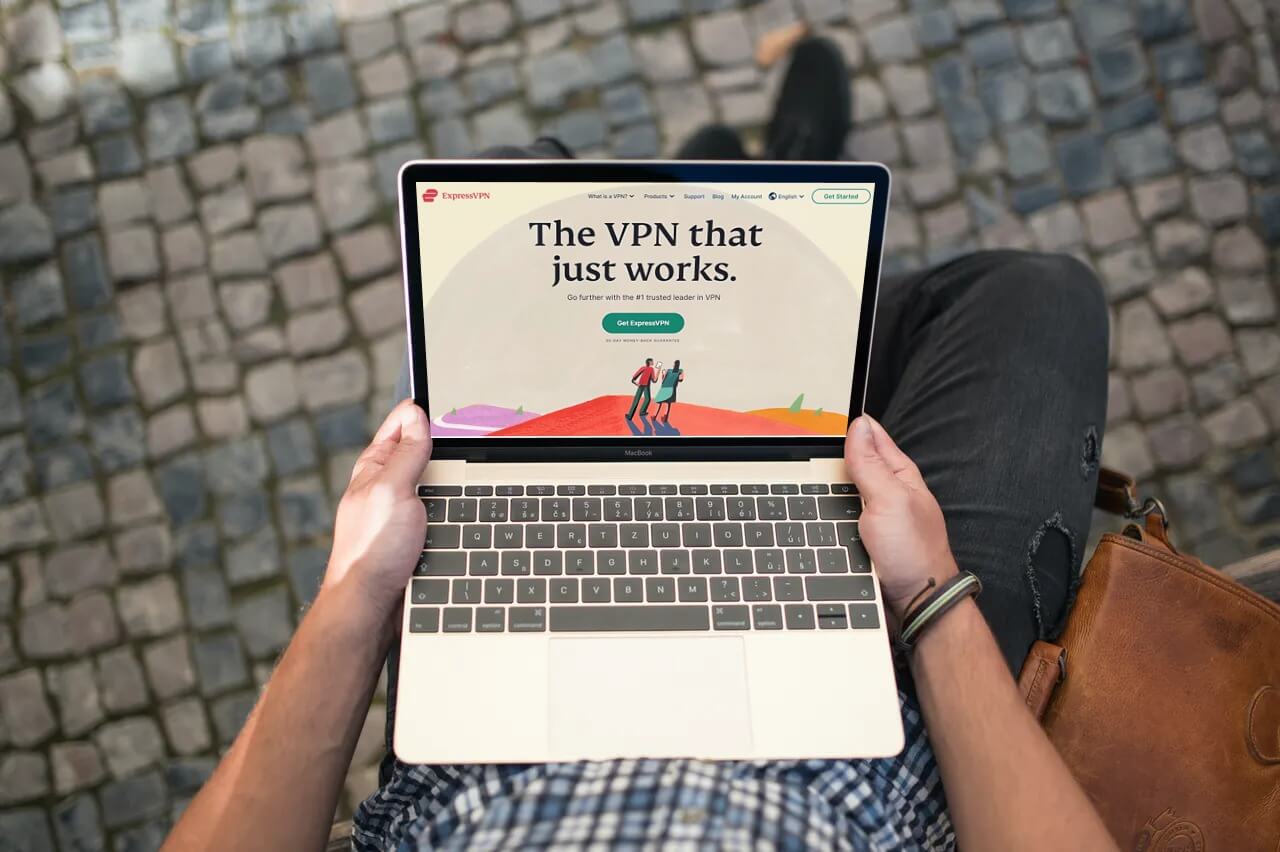 Modern VPNs are stuffed with different features and functionalities that make them as secure as possible. One of such features is split tunneling. This feature lets you take full control of how you access certain websites and apps, making it easy to bypass geo-restrictions or use local sites safely. In this article, we're going to talk more about the best VPNs with split tunneling but also learn about what it is and how it functions.
Best VPNs With Split Tunneling
To save your time, we're going to give you what you came for right away. However, if you're interested in finding out more about this handy feature, we recommend staying with us after our list. Without further ado, here are our top 3 picks that offer this feature.
List of the best VPN with Split Tunneling feature (2023) :
ExpressVPN
Surfshark
CyberGhost
1. ExpressVPN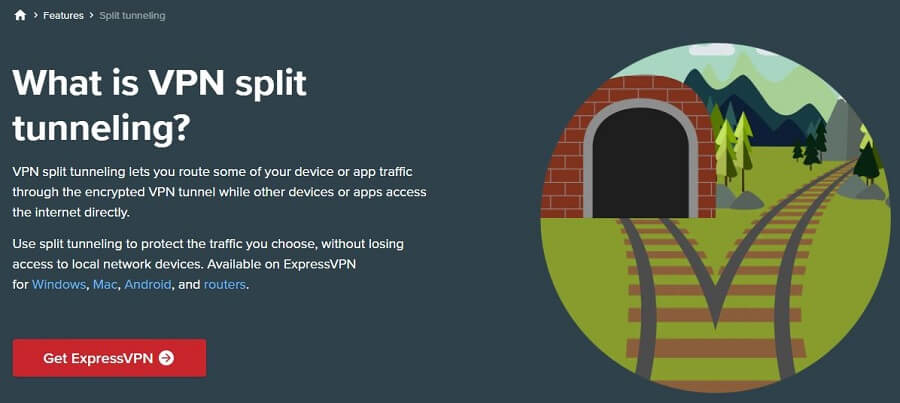 ExpressVPN has easily the best split tunneling implementation we've ever seen. This feature here is also available when you install the provider on your router, letting you have an impact on certain devices connected to it.
But, first things first, let's see how the Split Tunneling works on this VPN provider. By enabling this feature, you can select to route all the traffic through a VPN or exclude some of the traffic. Moreover, this applies not only to your browser but to other apps as well.
For instance, you can select Google Chrome traffic to go through the VPN network, while your games can use your native IP. Or perhaps, you can exclude your mobile banking app, to avoid being detected by your local bank as if you were from another country.
The thing that makes ExpressVPN the top choice in this regard is its router support. ExpressVPN gives you the app for your router, where you have the option to implement split tunneling on another level. To put it simply, you can select which devices in your home will pass through the VPN network, and which won't.
This feature will list all the devices that had contact with your network, so you can sort them out easily. Security-wise, ExpressVPN packs 256-bit AES encryption and an automatic kill switch.
Plus, it's currently the fastest provider on the market, letting you enjoy streaming, browsing, and torrenting to your heart's contempt. ExpressVPN has 3,000+ servers in 94 countries and is available on every platform. Needless to say, its split tunneling feature can be used on any device, for ultimate protection!
Oh, we nearly forgot the fact that it offers a 49% discount and 3 months free for an annual plan. If you plan to get it, now is the right chance! Freel free to read our in-depth review of ExpressVPN service here.
Enjoy Split Tunneling With ExpressVPN >
2. Surfshark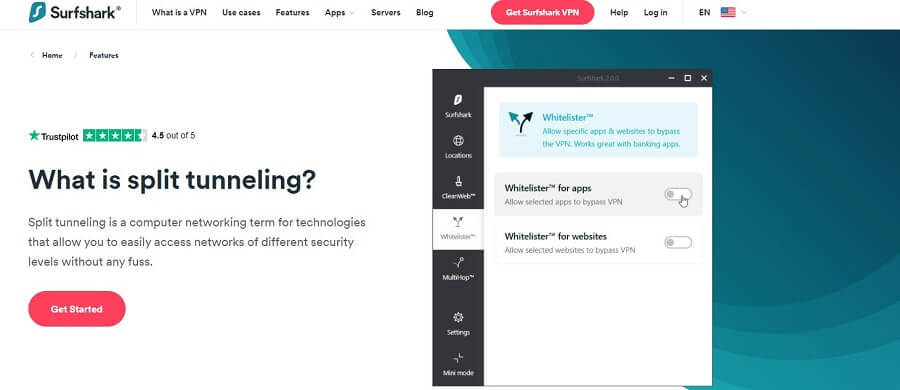 Surfshark is a very cheap provider that packs quite a punch for the price. Although many free providers aren't up to the task, this one throws these misconceptions to the river and turns another page.
Split tunneling in Surfshark's VPN app is very easy to use, regardless of the app we're talking about. It's available on iOS, Android, Windows, macOS, Linux, and even routers. Unlike ExpressVPN, this provider offers this feature only in-app, which isn't bad.
You'll easily find it by the name of Whitelister. Whitelister lets you choose which apps will go through the VPN network, which will bypass it, and which websites will be included/excluded. This way, you can make your online bank website use your native IP, while the Netflix catalog will utilize a VPN connection.
Surfshark makes this feature work wonderfully thanks to rock-solid security and lots of servers. 256-bit encryption plays a major role, while its kill switch will prevent accidental IP/DNS leaks. The server network of 1,700+ servers isn't very large but for the price, it's more than enough.
The provider is great for all purposes, including torrenting, browsing, and streaming. You can watch tennis, football, or basketball live on stream, or access Netflix, HBO GO, and Hulu catalogs any time you want.
All in all, it's such a great and affordable choice for this purpose!
Use Split Tunneling on Surfshark VPN >
3. CyberGhost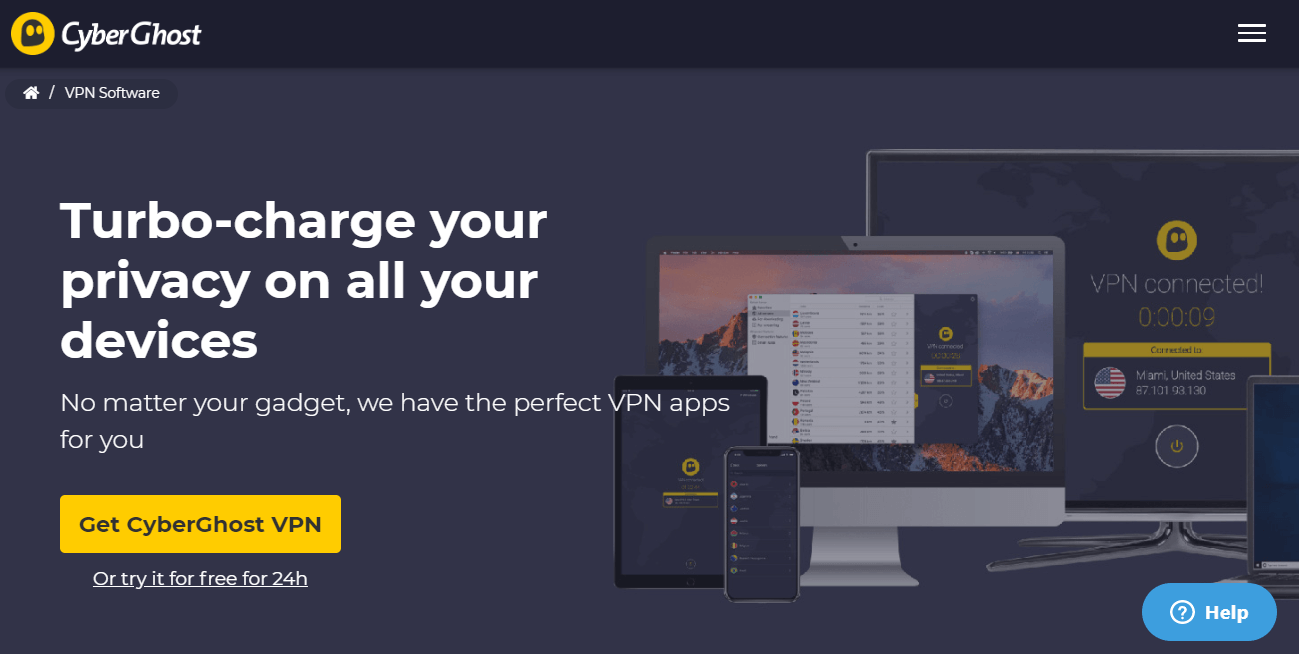 CyberGhost is the largest provider out there, with 7,000+ servers in 90+ countries. It's not all about the size, they say, and it's sometimes true. The provider is jam-packed with different features, one of which is called Smart Rules. In other words, it's a fancy name for split tunneling.
Sure, this isn't the best VPN with split tunneling but this feature really works well… to an extent. You see, this feature typically applies to different apps and websites. However, in CyberGhost, you can only exclude certain websites, which is great if you're a PC user.
Mobile users will want it to apply to the apps as well since almost everything on mobile phones functions through them. Nevertheless, Smart Rules work great and will let you include and/or exclude the websites you want or don't want to go through the VPN tunnel.
CyberGhost offers dedicated servers on top of that, and they're great for torrenting and streaming. By default, the provider uses OpenVPN as its main protocol, but you can switch to IKEv2 if this one fails to meet your expectations.
Last but not least, we're talking about an extremely affordable provider. Bear in mind that it uses military-grade encryption and offers apps for ALL devices. And if we take int account its 24/7 support, which is super-responsive, there's no better VPN for the price.
We recommend its 3-year plan that comes with a 45-day money-back guarantee, should you decide to buy it.
Use CyberGhost's Split Tunneling Feature >
What is Split Tunneling? How Does It Work?
Split tunneling is a feature that allows you to split your traffic into two parts, hence the word split tunneling. When you turn on the VPN and connect to the server, your traffic goes through the so-called VPN tunnel.
In that case, your connection is encrypted and you can browse the web anonymously.
This is great for bypassing geo-restrictions, for instance, as you can connect to the server in another country. Split tunneling allows you to choose which app or websites will use your VPN connection, and which apps/websites will not. The latter will use your native IP instead, with no encryption and tunneling.
Now, the question is – why should you route one part of your traffic through your native IP, and not that secure VPN tunnel?
Well, there are a few reasons for that. One of the most common reasons is to access your local bank account. If you access it from a foreign IP, it will deem you a hacker or intruder and will lock you out of your profile, preventing you from withdrawing money.
Another reason is to avoid sacrificing speeds. A VPN will always reduce your speeds by a tiny margin at a cost of superb security. But, if you don't want that, you can choose the site or app which will not use it, and you'll enjoy your native internet speeds.
A classic use of split tunneling is to stream foreign platforms while accessing your local shopping site. On one side, you can watch Netflix US through your fake IP, all while you buy groceries from the local retailer's website using your native IP.
All you need to do is prevent the particular site or app from using your VPN connection and you'll always visit them using your native IP, even if you're connected to a VPN server.
Best VPN with Split Tunneling feature: FAQ
To make it easier to grasp the concept of this feature, let's answer some of the most commonly asked questions about it.
Is split tunneling safe?
Yes, it's pretty safe, as long as you're aware of the consequences of unencrypted browsing.
Can I use split tunneling on a single website?
Yes, you can use it on a single website or multiple websites, depending on your choice. You can, for example, make Facebook go through the VPN tunnel, while your PayPal or local bank account uses your native IP.
How do I use split tunneling?
Using the split tunneling feature depends on the VPN app. Usually, you need to access the Settings menu where you'll find this option. Then, you have the option to add the websites/apps you want to include or exclude, after which the VPN automatically applies the new settings.
Do free VPNs offer split tunneling?
No. Free VPNs are very limited feature-wise and they rarely if ever include split tunneling. After all, we don't recommend free VPNs because of their lack of security, speeds, and privacy, so don't use them, even if they offer this feature.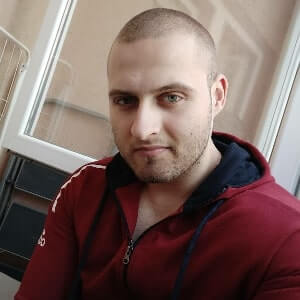 A professional writer with a Master's degree in Mechanical Engineering. Since his youngest age, he loves everything related to internet, technology, fitness, games, and dogs! He joined our team in order to bring his deep knowledge in security services, among which VPN is of course a key component.