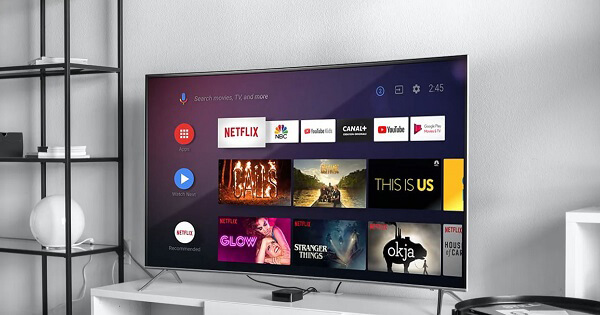 Since the inception of smartphones, people have wanted to transfer the experience to bigger screens. Computers existed but having a smartphone system on your TV is a completely different ballgame. With that incentive, Smart TVs emerged, usually coming with Android, iOS, or Fire operating systems. To be able to take full advantage of your Smart TV, having a VPN is necessary. It will unblock every geo-restricted content, allowing you to enjoy your favorite show, movie, or sports event.
How to Setup a VPN on Your Smart TV?
Before we give you our list of the best VPNs for Smart TV, we need to see how to properly set up the provider. Setting up this software can be quite different, depending on which Smart TV you have. Android TVs are very easy to operate, as they function as a smartphone.
The same can be said for Fire TV, which is another platform that directly supports VPNs.
However, Apple TV, won't support this service directly, so you must use Smart DNS… which is not a VPN. In other words, to install the provider's app, you must use either an Android or Fire TV. In the first case, you'll use Google Play and in the other, Amazon Store to download the respective apps.
Here's our step-by-step guide on how to setup correctly your VPN on a Smart TV:
Sign up for a Virtual Private Network of your choice. We recommend ExpressVPN, as it right now the best and the fastest VPN out there.
Download the VPN app from Google Play/Amazon Store.
Once it downloads, open the app and type in the credentials you provided when signing up.
At the home screen, open the server list which you can find under the connection button.
Choose the server you want and connect to it using the same button.
Open the app or visit the geo-restricted website. It should be unblocked.
That was our guide related to how to connect Smart TV to VPN. It applies to Android and Fire OS. Apple TV users will have to go the other route, one of which is to use Smart DNS. We don't recommend doing so, as Smart DNS isn't safe and secure.
What you can do is protect your router with a VPN instead and then, connect the TV to that router. ExpressVPN has a guide on how to do it, and since it's our recommended choice, we'll leave it here for you to see.
Which TV Models Support a VPN?
Every tech-related brand you know pretty much has its own version of a Smart TV. Here are some of the most popular Smart TV manufacturers:
Sony
LG
Samsung
Toshiba
JVC
Philips
Hisense
Panasonic
Samsung's Smart TVs are of exceptional quality, yet they're not the easiest ones to connect to a VPN. The reason being is because they're not Android-based, so you can't directly install the app on them. One of the ways to fix this problem is to protect your router.
On the other side, you can easily get a VPN for LG Smart TV, which comes with an Android operating system. We can also mention Sony, which has very quality Android Smart TVs.
As long as your TV has Android or Fire OS installed, our guide from above will always work. Otherwise, you'll have to either use Smart DNS or connect to your router.
Best VPNs for Smart TV – Top 3 Picks for 2023
We promised that we'll give you a few providers for your Smart TV, so let's do it without wasting any time:
1. ExpressVPN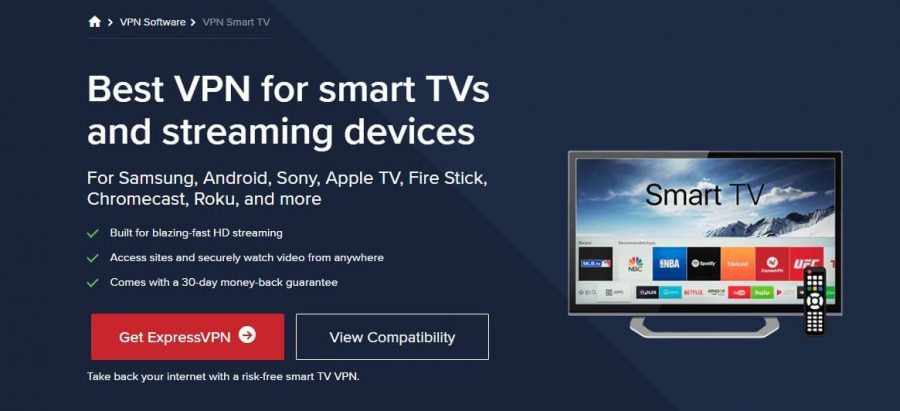 ExpressVPN is our recommended option and overall, the best provider on the market. It has 3,000+ servers in 94 countries, making it a perfect provider for bypassing geo-restrictions. You're probably using your Smart TV for apps like Netflix, Hulu, or Amazon Prime Video.
In that case, ExpressVPN will indeed help.
This provider unblocks all of the aforementioned platforms and is a great VPN for Roku as well. The good thing is that it's the fastest on the market, meaning that streaming will be buttery-smooth.
Connecting ExpressVPN to a router is possible, in which scenario it will protect up to 16 or 32 devices simultaneously, depending on your router. For security, the provider employs 256-bit AES encryption and a kill switch.
You get 5 simultaneous connections on a single account, plus 24/7 customer support available through live chat. All in all, ExpressVPN nails it in every aspect and we can't recommend it enough. Get it and if you don't like it, you can use a 30-day money-back period – but you won't need it, don't fret!
Enjoy Your Smart TV Fully With ExpressVPN >
2. NordVPN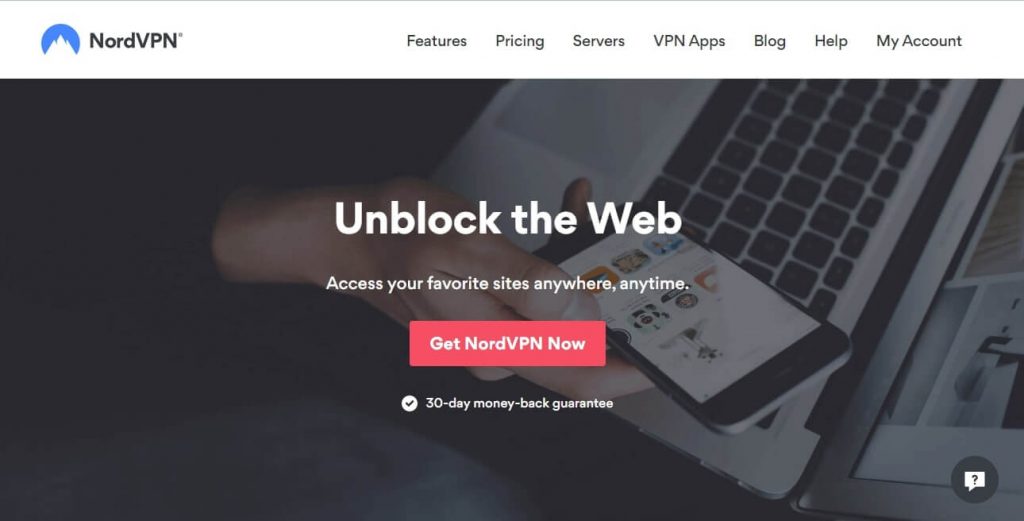 If you want to unblock streaming sites, enjoy movies, or free MotoGP streaming, look no further than NordVPN. This provider works on Android Smart TV like a charm and is also a great VPN for Samsung Smart TV. That is if you connect it to your router.
NordVPN packs quite a punch with its server base – 5,600+ servers in 59 countries. Moreover, you get impeccable security and blazing-fast speeds that will leave you all but indifferent. Our tests showed that it works with all the major streaming platforms.
Netflix US, Hulu, or Sling TV – they'll all be at your palm's reach, regardless of your location. NordVPN uses military-grade encryption for protection, and a zero-logging policy is in place.
A new NordLynx protocol is also released, granting superb geo-restrictions bypassing and enhanced security.
Those with multiple Smart TVs can now relax, as NordVPN allows up to 6 simultaneous connections. Should you buy it, you can enjoy some of the most amazing features, such as Double VPN, obfuscated servers, CyberSec, and many more.
3. CyberGhost

Last but not least, we want to present to you CyberGhost. This is a go-to for money-savers out there. CyberGhost comes with whopping 7,000+ servers in 94 countries, and as such, it's the largest provider on the market. But is it any good?
Sure!
The provider has, among these servers, dedicated servers for streaming. You can utilize them for platforms like BBC iPlayer, Netflix, Hulu, Disney+, and so forth. Just connect to the server and unblock the platform – simple as that.
We like CyberGhost's apps due to their intuitiveness, and for the price, you get amazing device support. Apart from Smart TV, CyberGhost works on smartphones, tablets, computers, and routers. Speed-wise, it's really fast, almost like ExpressVPN.
In some cases, it beats NordVPN, too.
Being from Romania, the provider has a no-log policy accompanied by security features such as 256-bit encryption, kill switch, and an ad-blocker. If you're thinking of buying it, we recommend its 3-year plan. It will give you 2 months FREE and a 45-day money-back guarantee.
Enjoy Watching Favorite Shows With CyberGhost >
FAQ
To wrap things up, here are the answers to some of the frequently asked questions related to this topic:
❓ Can I install a VPN on Samsung Smart TV?
Samsung Smart TVs can use a VPN but not directly. Since these TVs don't use Android or Fire OS as an operating system, you'll have to first protect your router with a VPN, and then, connect the TV to your router.
This way, you can take advantage of this service fully on a Samsung Smart TV.
? How to connect Smart TV to a VPN?
It's very simple. If you have an Android or Fire TV, visit the Google Play or Amazon Store, find the VPN you want, and download it. Then, open the app, subscribe to the provider, connect to the server you want, and enjoy watching blocked content.
? Can you put a VPN on an LG Smart TV?
Yes, LG Smart TV supports VPN apps since it's based on Android. As we said, open the Google Play Store and find the app you want. Download it and use it as if you would use it on your smartphone.
⚠️ What are the advantages of having a VPN on a Smart TV?
With a VPN like ExpressVPN on your Smart TV, you will be able to access any program/show and streaming platform. This also applies to catalogs for Netflix, Amazon Prime Video, Hulu, HBO Go, and much more.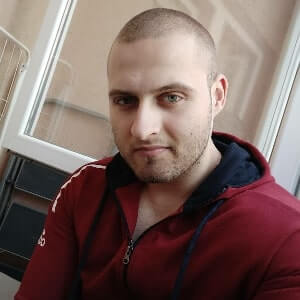 A professional writer with a Master's degree in Mechanical Engineering. Since his youngest age, he loves everything related to internet, technology, fitness, games, and dogs! He joined our team in order to bring his deep knowledge in security services, among which VPN is of course a key component.