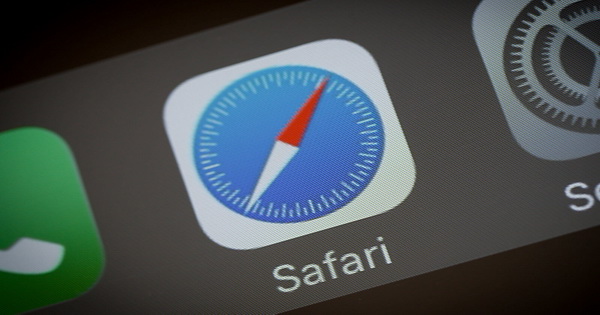 If you have an iOS or macOS device, chances are that you will use the Safari web browser. While Apple devices are generally more secure than any other devices, it does not hurt to add in extra security by taking extra precautions. One way of protecting yourself is by using a VPN. So, what is the best VPN to use on Safari? Let us take a look.
Finding an extension may be more difficult than you first imagined. Apple is a tough company for developers, as it does not support many third-party extensions, including VPNs.
However, some good providers out there cover iOS and macOS devices. ExpressVPN and NordVPN are two very good choices, along with CyberGhost. So, let's start first with why you might want to use this kind of service.
Why You Should Use a VPN Extension?
A VPN or Virtual Private Network is an extremely powerful tool to provide online protection, but it offers so much more.
Stop cybercriminals from finding your location
If you browse the internet without protection, anyone with a little knowledge can find your IP address along with other information. Cybercriminals know your location and could use that to find more information about you.
A Virtual Private Network masks your IP address while giving you an alternative one.
Remain anonymous to your ISP
Along with this, websites can gather information about you, along with monitoring your browsing activity. Besides, your ISP knows everything that you do online, including any downloads, what websites you visit, and more.
Bypass geo-restrictions
If you go outside of your own country, you are faced with geo-restrictions when you want to stream content from your home country. Using a VPN will allow you to unblock YouTube videos, Netflix, and many more streaming platforms you can browse on Safari.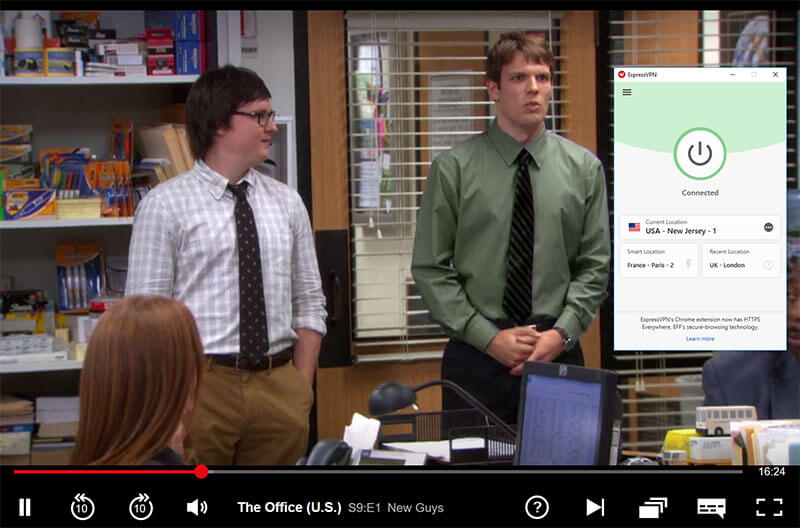 Overcome censorship
If you visit countries with high censorship, such as China, Russia, or the UAE, you will find many websites are blocked. These typically include the Google range of apps, Facebook, WhatsApp, Twitter, and more.
You can use a Virtual Private Network to overcome censorship and access websites wherever you are in the world.
Save money on flights and hotels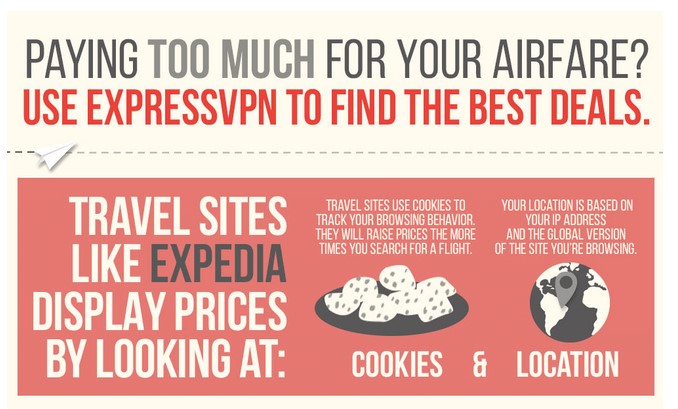 This type of service can also be useful if you compare hotels and flights online.
Simply choose a server in a country with a lower cost of living than your own and head to your favorite comparison site. You might be surprised as to how much you will be able to save.
Top 3 Best VPN Extension for Safari
Now let's look at our choice of the top three VPNs usable and working on Safari. We are putting ExpressVPN in the top position, as it is a leading provider all-round, followed by NordVPN and CyberGhost.
1. ExpressVPN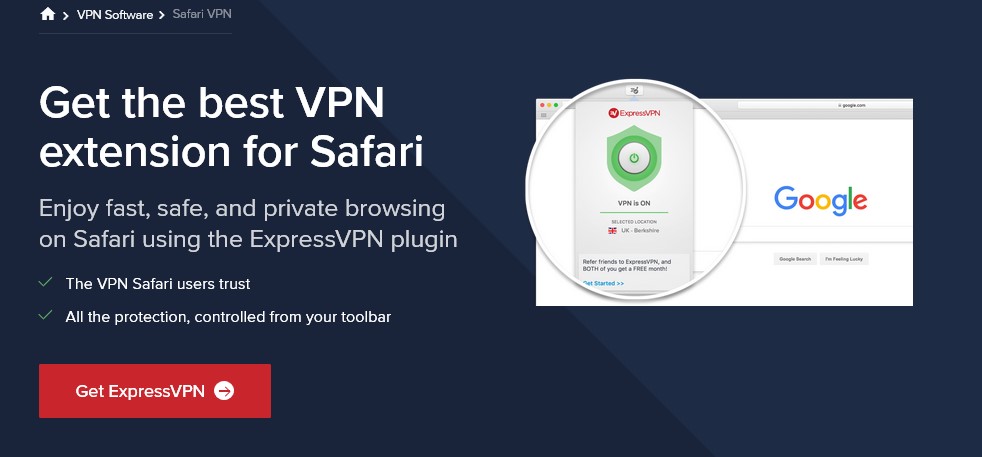 ExpressVPN is always our first choice when considering a Virtual Private Network. The provider is constantly working to provide the best plugins for browsers. At the moment, this VPN offers an amazing Safari extension for all iOS and macOS users.
In the meantime, you can install a full-fledged app for iOS or macOS and it is easy to setup. Having an extension is not needed.
With ExpressVPN, you get access to more than 160 locations and 3,000 servers in more than 94 countries around the world. This makes it a great choice for those who want to unblock and stream in HD in countries where geo-restrictions apply.
ExpressVPN offers great savings of 49% on yearly plans, with 3 months free. Alternatively, you can choose to pay monthly or every six months.
Security is top-notch as military-grade encryption is offered, ensuring your information remains secure all the time.
The provider also offers a Kill Switch. This stops traffic from going outside of the encrypted tunnel if the connection drops. DNS leak protection is also included in plans for added security to stop your ISP, hackers, and cybercriminals from seeing what you do online.
Get ExpressVPN for macOS and iOS now >
2. NordVPN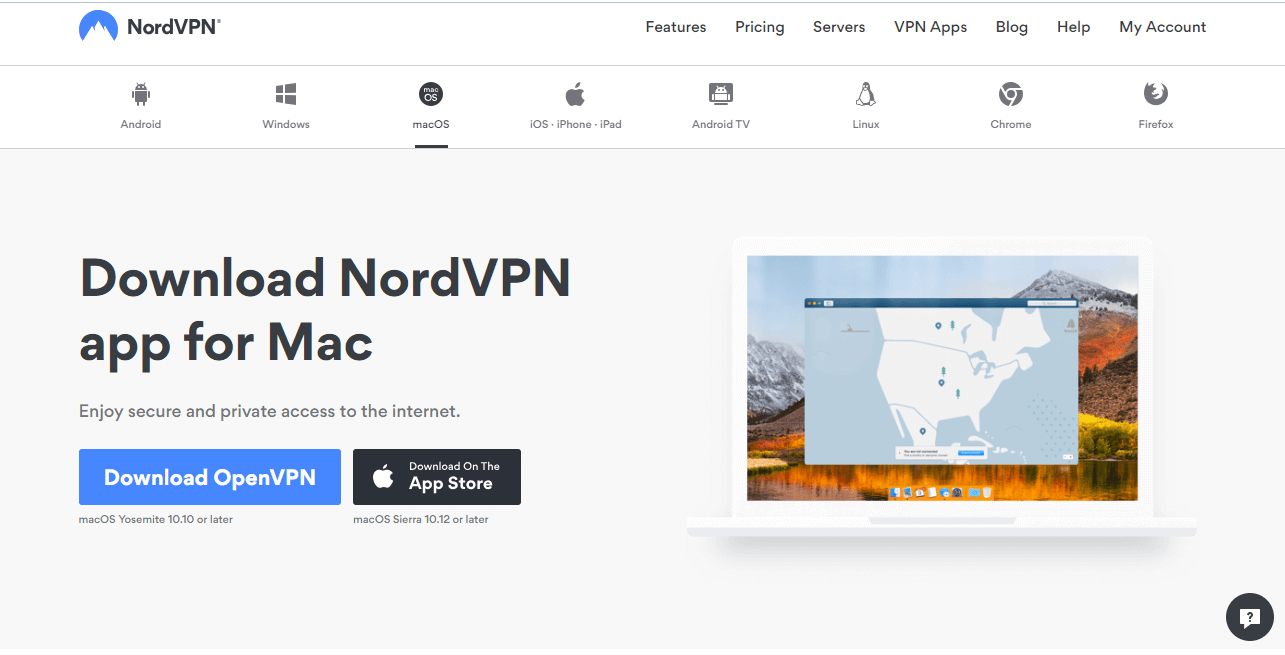 NordVPN doesn't provide the opportunity to add an extension on Safari but you can still use the service by installing an app on your Mac or iOS device. By doing so, you have full protection whether using the browser or outside of it.
With NordVPN, you can remain secure online whether you are using the web browser on your Mac or iOS device or using another app or program.
The provider offers a Double VPN which allows you to remain secure by first connecting to one server and then another.
Another benefit of installing an app on your device is you get access to CyberSec. This is a security suite providing you with better performance. It works by blocking dangerous websites to protect against cyber threats or phishing scams.
It also helps you to avoid botnet control and block ads.
NordVPN also offers military-grade encryption ensuring your private data remains just that, even outside of the web browser.
Install NordVPN on macOS and iOS devices now >
3. CyberGhost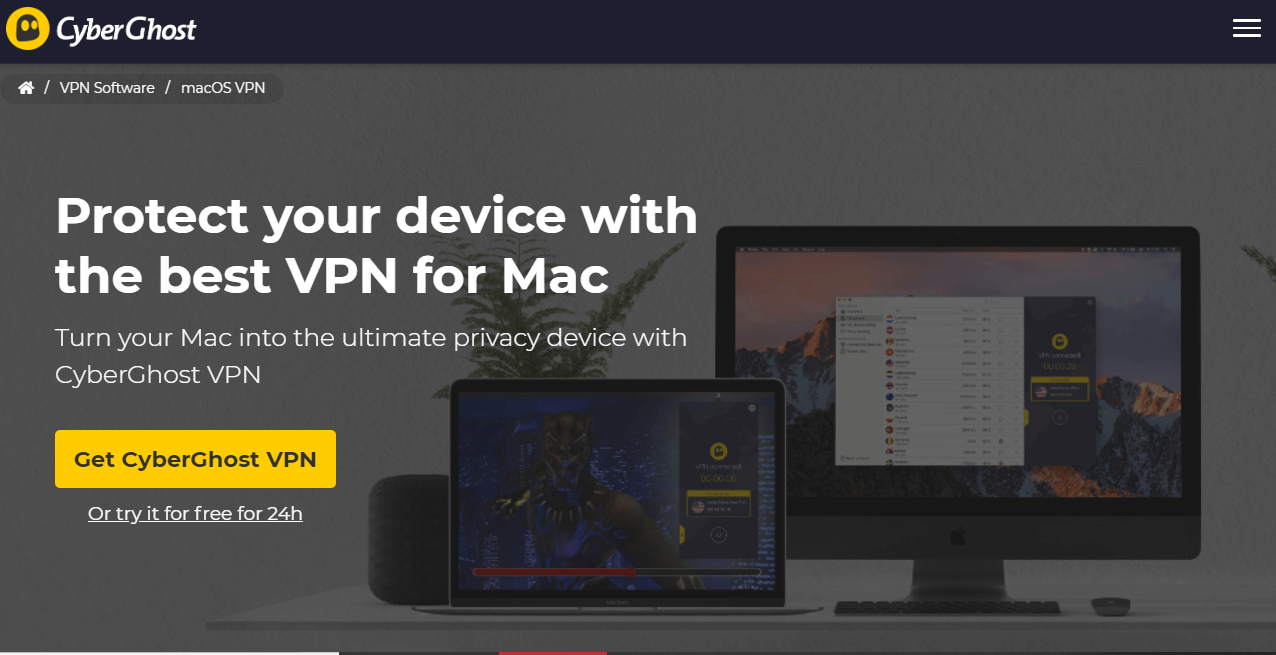 CyberGhost does not offer a plugin on the Apple browser. However, it does offer apps for iOS and macOS. Using one of the 7,000 servers offered by the provider it is easy to hide your IP. By replacing your IP address, you remain anonymous.
CyberGhost uses 256-bit military-grade encryption so hackers and cybercriminals cannot gain access to your personal information.
As you have installed the app on your macOS or iOS device, you have the security not only when browsing the internet but also when using any other app or program.
Mask your IP address with CyberGhost now >
How to Use Extensions?
Now that you know the best VPN to use on Safari, let's look at how to install and use it.
Add an extension
Open your web browser and click on "Safari" in the top menu or "Extensions" depending on the version of the browser you are using.
Browse for available extensions.
Click on the button to install the extension.
Using it
To take advantage of the plugin and use it with the browser, all you have to do is open the browser. Plugins generally install an icon on the bar that can be used to easily choose a server, as in the case of ExpressVPN.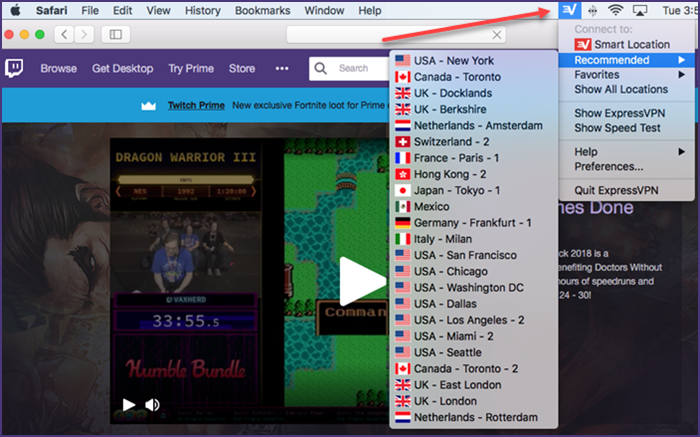 Now, when you send information over the connection, it is encrypted and secure. However, if you want full protection, including for browsing the internet, you might want to consider installing an app on your Mac or iOS device.
Installing an app on macOS or iOS device
If you decide not to use a plugin for the browser, you can set up an app on your iOS or macOS device as follows:
Sign up with a provider and choose a plan.
Download the app to your iOS or Mac device.
Install and launch the app.
Choose a server and connect to that server.
Browse the internet in total security and anonymity.
The Difference Between an Extension and a Full-Blown VPN
It is important to bear in mind that there is a difference between using an extension for your web browser and a full-blown Virtual Private Network.
If you are only relying on the plugin, the only protection offered is applied to the traffic within your browser. 
However, it does not provide you with encryption and security for any other apps or programs you might use. If you want protection outside of the web browser, you need to install apps on iOS or macOS devices you want to use and run them in the background.
Can I Use a Free VPN on Safari?
There are providers out there offering free VPNs and extensions and you might be tempted to consider using one of these. Providers such as this include ZenMate and HolaVPN.
However, you might want to think again as free ones do not offer the best VPN extension for Safari. If the provider is not charging for the service, it has to get money back somehow, and generally, this is by selling your data.
Free ones also cannot offer the same level of security and anonymity that paid providers do, not to mention the huge amount of servers. So, can you actually use them? YES. Do we recommend them? NO.
In Summary
So, you now know the best VPN extension for Safari, along with some of the best providers on the market.
You can of course use a plugin for the web browser and it will protect you when browsing the internet. However, a better approach might be to download and install an app directly on your Mac or iPhone.
By doing so, you have protection not only when using the web browser, but also when using any other app or program.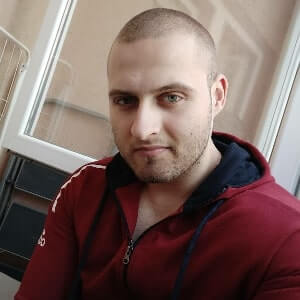 A professional writer with a Master's degree in Mechanical Engineering. Since his youngest age, he loves everything related to internet, technology, fitness, games, and dogs! He joined our team in order to bring his deep knowledge in security services, among which VPN is of course a key component.