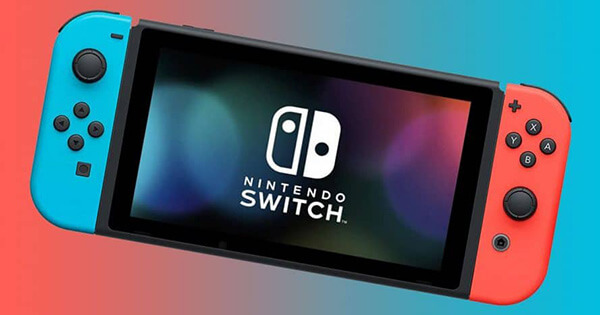 Nintendo Switch is a very popular portable gaming console that often comes with imposing game support. Despite its superiority on the market, you still need a quality VPN to enhance your user experience. In our guide below, we'll give you our top 3 VPNs for Nintendo Switch but also talk about the reasons for using them for this purpose. Let's give our gamer readers something to look forward to!
Best VPNs for Nintendo Switch – Complete Ranking
To save a little bit of your time, we decided to pump out our top VPN picks for Nintendo Switch right away. If you're having trouble with bandwidth throttling or geo-restrictions, have a look at the list of the best providers for this scenario.
List of the best VPN to use on Nintendo Switch (2023):
ExpressVPN
CyberGhost
NordVPN
Surfshark
Private Internet Access
1. ExpressVPN – the best option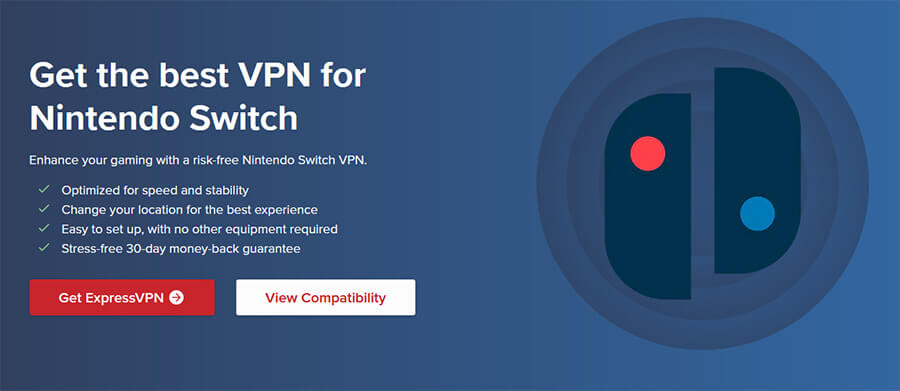 ExpressVPN is the best pick for gamers in 2023, and also the best option to use with your Nintendo Switch. This provider is known for insanely-fast speeds, which translate over to each server, granting a lag-free gaming experience. Speaking of servers, the provider comes with 3,000+ of them in 94 countries, which is a very impressive number.
Apart from being so large, ExpressVPN can take pride in being the most secure on the market. As we always say, quantity is always less important than quality! Therefore, ExpressVPN uses 256-bit AES encryption to secure your connection. By the way, it's the last word of technology.
Moreover, gamers will enjoy a Kill Switch that will cut the internet connection if VPN connection breaks. Coupled with reliable IP/DNS leak protection, your online security will never be questioned.
Another great thing is the vast choice of protocols. Gamers will like OpenVPN for speeds and security, but if you like, you can go for IKEv2 or IPSec protocols. ExpressVPN is a champ at unblocking geo-restricted sites, so streaming Netflix and HBO GO will be a piece of cake.
Also, your Nintendo Switch store will be available from abroad, should you connect to the respective server. Protecting multiple devices is quite easy given that ExpressVPN offers up to 5 simultaneous connections.
With its 24/7 customer support, this is a complete product, fulfilling all the bells and whistles. Lastly, a 49% discount is in place, and it applies to the annual plan, where you get 3 months free.
Enjoy Gaming on Nintendo Switch With ExpressVPN >
2. CyberGhost – really good pricing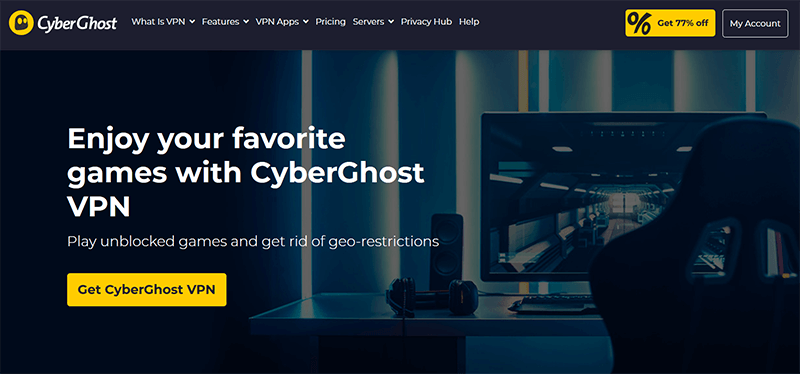 If the previous provider is a bit more expensive for you, CyberGhost is a great option. This affordable VPN is a great option for Nintendo Switch users thanks to its reliability and security. For the start, you get 6,000+ servers in 90 countries around the globe, which is the largest server network around.
These servers are quite good, offering substantial speeds and stability for endless nights of gaming. To make things better, there are dedicated servers as well. Although they don't benefit gaming directly, you get P2P servers, should you want to snatch some games for free.
Streaming servers make their appearance, too, giving you the ability to unblock platforms like Netflix, Disney+, and DAZN easily. One thing where CyberGhost exceeds is its jurisdiction – Romania. It's far from the 14 Eyes, granting complete privacy.
In fact, the provider maintains a clear zero-logging policy! Privacy here comes with a plethora of different security features. These include a Kill Switch, military-grade encryption, IP/DNS leak protection, and OpenVPN support.
CyberGhost supports pretty much all devices, including routers. Routers are essential for Nintendo Switch, as this is the only way to protect your gaming console. Now that we touched on devices, you'll get 7 simultaneous connections which should be more than enough.
Accompanying its affordable price, there's 24/7 support for fixing potential issues. Last but not least, CyberGhost is extremely cheap with its 3-year plan. If you're in a dire need of a VPN for Nintendo Switch in 2023, this is our recommendation.
Play Your Favorite Games on Switch With CyberGhost VPN >
3. NordVPN – good security and easy-to-use app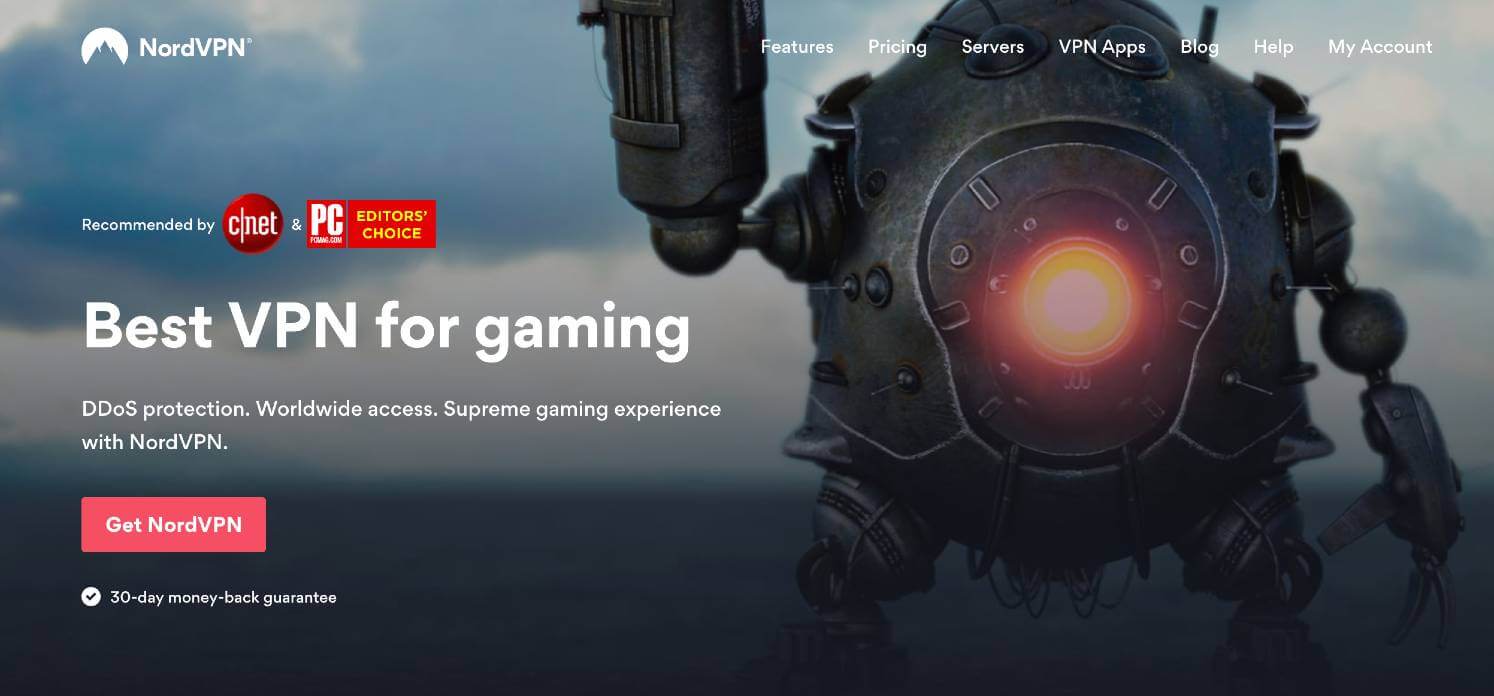 NordVPN is for many the best VPN on the market. For us, it's a provider that will let you enjoy all the benefits of having a VPN while gaming. And for this purpose, that's all you need… Okay, maybe a few more things!
If you need fast speeds, NordVPN is here to bring them right to your doorstep. Each of the 5,600+ servers in 60 countries is blazing-fast, letting you get rid of annoying lags and glitches. Downloading games will also be quick, which will come in handy if you're not very patient.
We know that gamers are often targets of DDoS attacks. However, NordVPN will successfully fend them off thanks to impeccable security and privacy. There's 256-bit encryption that works in conjunction with a super-secure kill switch.
For added security, NordVPN introduced a new protocol called NordLynx. It delivers much faster connection speeds, all while keeping things as secure as possible. Gamers from China will be happy to use obfuscated servers if they smash right into the Great Firewall.
Also, there are Double VPN servers that you can use to add a bonus layer of encryption to your connection. If that's not enough, an ad-blocker is here to block all the annoying ads and trackers, leaving you at peace while browsing the web.
NordVPN comes with 6 simultaneous connections and unlimited bandwidth. Having in mind its affordable price, you get pretty reasonable performance. Oh, we nearly forgot – there's a 30-day money-back guarantee if you don't like to use this VPN on your Nintendo Switch. What a deal, huh?!
Enjoy Lag-Free Gaming on Switch With NordVPN >
Why You Should Use a VPN for Nintendo Switch?
Now that we determined which VPN is the best for your needs, we need to see why it's applicable to your Nintendo Switch. It may sound a bit odd to use this service on a gaming platform, but there are some issues that can be rectified only this way.
Some of them are:
ISP Throttling
ISP throttling is a problem we've all went through. But, many people fail to recognize when that's happening, even if it's in front of their eyes. Basically, your ISP (Internet Service Provider) will slow down your internet intentionally when you're performing bandwidth-hungry activities.
This happens during streaming, torrenting, or just downloading bigger files. Have you noticed that your streams are all of a sudden stuttery or your games lag like crazy? This may be your case!
Remember that ISP sees your every step online, hence it can slow down your internet whenever it deems fit. To avoid this problem, our suggestion is to use the best VPN on Nintendo Switch. It will hide you from the prying eyes, making it impossible to impose such bandwidth restrictions.
Geo-Restrictions
Geo-restrictions are very annoying and they're around the internet like the plague. The Nintendo Switch store is full of different games but some of them might not be available in your country. This also happens with iOS or Google Play.
In that case, you might not be able to find the game you want, making you think it's unavailable altogether. However, the game isn't available in your country, and with a VPN, you can easily solve this issue.
It allows you to connect to a foreign server and access a different version of the store. Needless to say, you'll find more games, download the one you want, and get back to smashing games!
Online Security
If you play games online on your Nintendo Switch, you're exposing yourself to everyone. As a result, everyone can see your IP address, which compromises your privacy. With your IP exposed, players around you can initiate DDoS attacks that will cripple your network and throw you out of the game.
The worst thing about your exposure is that you get NO privacy! Your ISP can see your activities, and so can the government. Avoiding these issues with a VPN is possible due to its obfuscation technology.
It hides your IP address, assigns you a new one, making you invisible to potential perpetrators. This way, you can enjoy your gaming or browsing sessions safely and securely at any moment.
How to Setup a VPN on Switch?
Nintendo Switch is, as we said, strictly a gaming console. This means that you're limited only to games and you can't install VPN software. The only way to protect this device is to install a Virtual Private Network on your router.
Not all providers have this functionality, which is why we recommend ExpressVPN.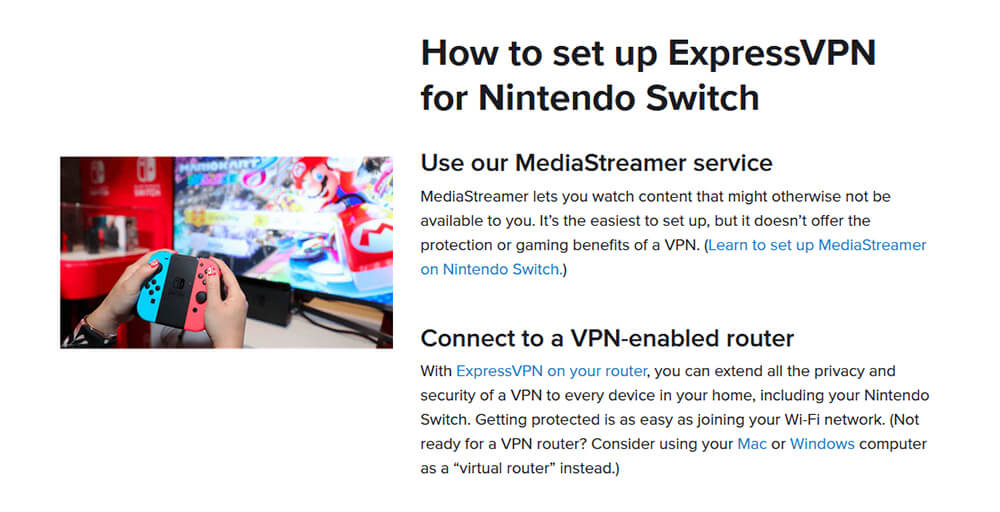 Its router support is outstanding, allowing you to utilize basically any router you have. Depending on your router, setting up a VPN on your Nintendo Switch might be different. Luckily, ExpressVPN includes a step-by-step guide on how to do so. Just check out their website by clicking on the link above.
Once you connect the VPN to your router, connect your Nintendo Switch to it, and you'll be able to enjoy all the benefits of this service.
Should I Use a Free VPN for Nintendo Switch?
Free VPNs are never a good deal, despite costing exactly zero dollars.
Passionate gamers can't do anything with bandwidth limitations, which free VPNs, unfortunately, offer. Usually, you'll get from 500 MB to 10 GB a month, and that's all but enough for hours-long gaming sessions.
Not to mention really slow speeds that will induce lags and stutters from the moment you spawn into the game. Above all, security fanatics will have many reasons to worry. Free providers collect your personal information, selling it to third parties afterward.
This ruins your privacy and exposes you to anyone who wants to get your information. Essentially, this is the opposite of what a VPN for Nintendo Switch should do, and that's already a good reason to avoid these providers altogether.
Our suggestion is to buy ExpressVPN and forget about all the trivial issues like these. If it's a bit more expensive for you, though, we recommend CyberGhost and its cheap 3-year plan.
We can guarantee that these providers will be very beneficial for your beloved Switch console, so get one of them and enjoy gaming!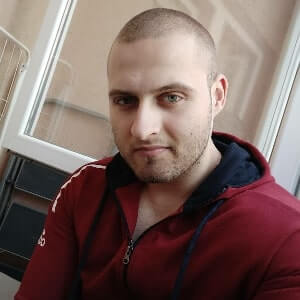 A professional writer with a Master's degree in Mechanical Engineering. Since his youngest age, he loves everything related to internet, technology, fitness, games, and dogs! He joined our team in order to bring his deep knowledge in security services, among which VPN is of course a key component.