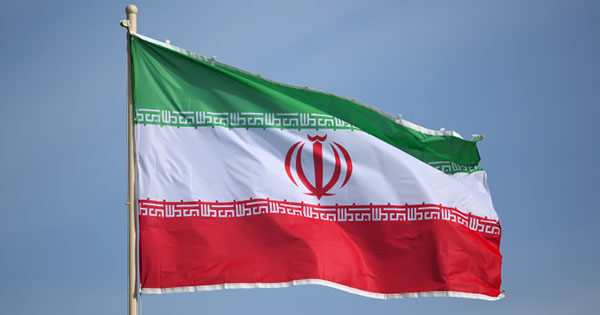 The internet represents an evolutionary discovery that changed the world (mainly) for the better. But, Iran, a country with the most sophisticated laws regarding internet access, will not agree with this. For almost a decade, this country has sharpened its strict rules. With the Iranian government using speed throttling and website blockages, Iran residents are all but free to access the internet. In a country like Iran, using the best VPN is a must, even for the mundane, basic activities.
Best VPNs with Servers in Iran
Many think that countries like Iran don't have any VPN servers. However, providers are unstoppable, having their servers in almost every country on the planet. What are the best providers with servers in Iran, then?
Here is our top pick:
CyberGhost: The provider has more than 7,000 servers around the globe (this includes 24 servers in Iran) and as such, it's the largest provider in the world. It offers good browsing and torrenting speeds, as well as a zero-logs policy, great for enhancing security.
Installing a VPN for using it in Iran is like a walk in the park on a beautiful sunny day. You pay the subscription, install the respective app, and start browsing the internet anonymously.
Why People in Iran Use a VPN?
With the government's grip strengthening around internet privacy in Iran, its residents are forced to use a VPN. Luckily, this choice can give you peace of mind during your sleepless nights spent browsing or gaming.
Here's why people in this country use this type of solution:
Avoid Harsh Punishments by the Government
If you're an average user who likes spending time on social media websites or gaming, you're in for a "treat". It is one of those countries that are against the internet, although we're living in the 21st century.
But, not everyone can enjoy scrolling through the Instagram homepage for the 20th time today.
Nevertheless, Iran will punish you even if you only access content that's "unacceptable" by the government. Whether you're just a tourist or a resident, you'll suffer the same fate.
Posting comments is also dangerous, as you can end up in jail or pay a hefty fee.
Furthermore, the country blocks access to almost every social media website such as Twitter, Instagram, or Facebook. The reason for this is that the residents can't access content deemed inappropriate by the government.
Of course, Iran takes care of this by monitoring users' traffic, so that your internet activity is "acceptable". As we know, this will mostly prevent hackers from attacking and stealing data but at this point, it's the law of diminishing returns.
Access Geo-Restricted Content and Websites
When it comes to accessing geo-restricted content and websites, not all VPNs will be good to use in Iran. As you might have guessed it, Iran is one of the best examples of a restricted country. As we speak, the country has blocked half of the most popular websites in the world.
Of 500 of them, it's 50%, which translates to 250 websites. That's not a small number, considering that many social media websites are under this umbrella. If you're traveling there, be ready for this.
To make things worse, laws regarding internet access in this country are often changing.
This means that some websites can be blocked and for some, these blocks might be lifted. The fact that you can't access social media shouldn't worry you, though. Accessing blogs that speak against the government can get you into some serious trouble!
Luckily, the best VPN can fix all of this. The advantages of a VPN are often used for Kodi and many other streaming websites.
Increasing Freedom of Expression
Journalists in Iran are in turmoil when it comes to freely expressing their thoughts. If you're a journalist and you're traveling to this country, for your own good, please use a VPN.
This will help you protect your privacy and give you freedom of expression.
The Best VPNs for People Living in Iran
Before going in-depth about our favorite providers, let's see what to look for in a VPN for Iran:
Outstanding security features and protocols
Ability to bypass a huge number of geo-restricted websites
Support for all the main platforms and operating systems
Here are our top picks:
ExpressVPN
CyberGhost
NordVPN
Let's take a close look at each of them.
1. ExpressVPN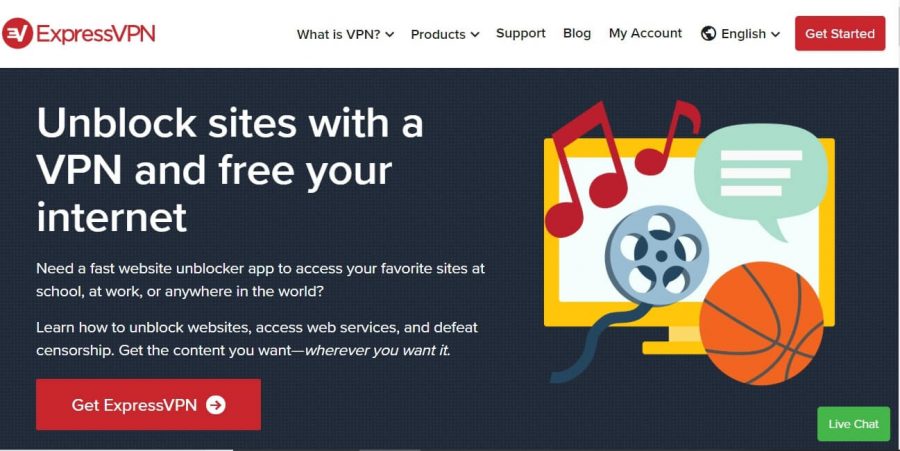 Staying under the government's radar is very easy with ExpressVPN. With their military-grade AES 256-bit encryption, it allows you to stay safe and secure all the time.
The provider also offers a Split Tunneling feature. This allows you to send some of your traffic through encrypted channels and some through unsecured ones.
Speed-wise, you know who's the champ, right? Of course – it's ExpressVPN. You can now enjoy streaming Ultra HD content and torrenting thanks to P2P support on every server.
The zero-log policy is here and won't keep any internet activity on the servers.
You can also now cover all your devices easily by choosing a VPN for a router, such as this one. ExpressVPN has a 49% discount and 3 months free for an annual subscription plan.
Given their 30-day money-back period, you can try it and get your money back if you don't like it.
PROS:
Very strong security
No-log provider
The best option to bypass censorship
Good speeds
24/7 client support
Easy-to-use application
---
2. CyberGhost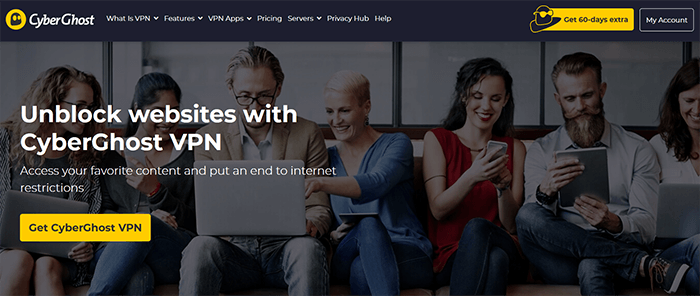 CyberGhost goes guns-blazing with its features. For the start, it's a very fast VPN provider in Iran, just a tad behind ExpressVPN. These speeds allow you to work with huge chunks of data, whether it's downloading games or just watching 4K or 8K videos on YouTube.
Since it has 7,000+ servers worldwide, you won't have any problems connecting to servers in the country (there are 24 available at the time we are writing this article!). These servers support P2P, as well as DNS, and IP leak protection.
This is crucial for staying anonymous, thus avoiding gross punishments from the government.
CyberGhost is compatible with all major platforms – Linux, Windows, Android, iOS, and Mac. Speaking of Mac, we've tested many VPNs for Mac and you can find our favorites here.
PROS:
7 simultaneous connections
45-day money-back guarantee
Kill Switch function
No-log policy
Unblocks Netflix USA
CONS:
Adblocker is not very effective
Doesn't work in China
---
3. NordVPN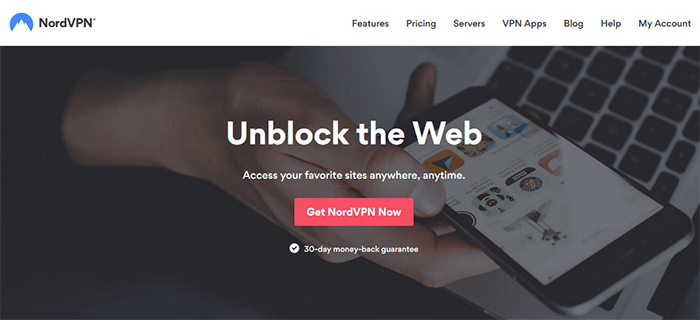 People in Iran will love NordVPN more than their holy bread! Boasting a powerful 256-bit AES encryption and kill-switch, it's as secure as a tank against bullets. To make things even better, the provider supports obfuscation, which is mandatory in this country.
The provider uses Obfsproxy to obfuscate your internet activity and although it's a bit complex to set up for the first time, it's very efficient. Speed-wise, it's a bit slower than CyberGhost but users rarely complain about it.
It's still enough for every average internet user.
In terms of pricing, NordVPN is very affordable, making it a choice for both newcomers and experienced users. If you want the best price-to-performance ratio, your choice is obvious!
PROS:
Affordable long-term plans
Decent speeds
Company based in Panama
Strong privacy features
Servers for P2P
CONS:
Expensive short-term plans
---
Summary
Browsing the internet in Iran can be like dodging bullets in Matrix – it seems easy but it's dangerous. However, a Virtual Private Network is here to remedy this situation. Our favorite provider is definitely ExpressVPN.
This provider has everything you need for day-to-day use. Fast torrenting speeds, unbreakable security, and zero-logs policy. You can't ask for more!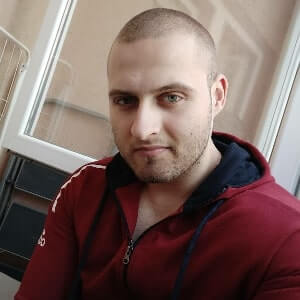 A professional writer with a Master's degree in Mechanical Engineering. Since his youngest age, he loves everything related to internet, technology, fitness, games, and dogs! He joined our team in order to bring his deep knowledge in security services, among which VPN is of course a key component.