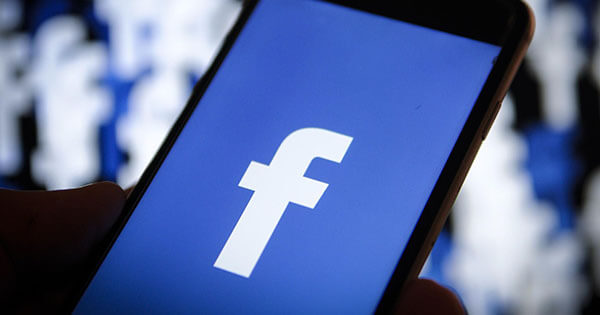 There has probably been at least one time when you wanted to log onto a certain website and watch your favorite show only to find out it is region-restricted. This is quite common and doesn't only happen with streaming and torrenting platforms. Believe it or not, Facebook, the most popular social network in the world, is banned in quite a few countries, including China. This is why you need to use the best VPN for Facebook!

Censored websites are, in most cases, a thing of politics, which is why finding out how to bypass this can be quite tricky. Still, there is a simple solution that can help you bypass most geo-blocks. What is that? It is called a Virtual Private Network.
Even if the social network is not banned in your region, there are many reasons why you might want to use a VPN.
Advantages of a VPN for Facebook
Before we get into what the best VPN for Facebook is, we wanted to discuss why installing one is a good decision in the first place. As you may or may not know, a Virtual Private Network is made to fill the needs of an average user to have more privacy and security while browsing the world wide web.
How a VPN basically works is by concealing your real IP address and allowing you to connect via a server that is outside of your country.
The result of this is that you can access the websites that were once geo-restricted, as well as communicate and share files without having to worry that it will be monitored by hackers, your ISP, or governmental agencies.
Better performances and complete anonymity
Additionally, apart from contributing to confidentiality, you are also getting other benefits. This includes a better overall performance given the unlimited bandwidth and speed.
Now that we have covered the basics, let's take a look at how a VPN can help you with Facebook specifically.
If you want to browse the internet anonymously then a VPN is the perfect choice for you. The thing is that logging on to your Facebook account through a VPN server will keep your email and password away from potential hackers.
Think of it as a Google Chrome incognito mode, but much safer thanks to the encryption a Virtual Private Network offers.
Block trackers and ads
This is not the only benefit of anonymity as a good service will also block trackers and ads thus making your browsing experience more enjoyable.
If you have ever used the social network, you have more than likely experienced its intrusive ad policy. Just a few minutes before you logged in, you searched for the best espresso machine.
Now, on your Facebook news feed, a number of ads related to those same machines pop out. This is something that you will not have to deal with if you install a VPN.
Change your IP address
Along with this, in case you wanted to change your IP address and keep it away from people looking to find your location, you're going to be fine with a Virtual Private Network. Also, sharing and communicating through Facebook chat is going to be much safer.
Why? Because none of your communications or files can be intercepted.
As most of us know, Facebook is blocked in China. While there are numerous petitions inside the country to resolve the issue, we don't see happening any time soon.
Still, it is nothing to worry about – if you are in China and you want to get back to your Facebook account, just make sure that the VPN provider you are using is reliable and offers geo-restrictions bypassing.
Best VPN Options for Facebook
To help you reap all these benefits and not get tricked into using an unreliable service, we have prepared a review of three of the best VPN providers for Facebook. Let's take a look.
#1 ExpressVPN
Whether you are experienced with this kind of service or not, you have probably heard of ExpressVPN. It is considered to be the best on the market, but how true is that? The company itself proclaims as "the most successful VPN provider of 2023/2021".

Locations
Situated in the British Virgin Islands, this company proclaims to offer optimal security and enjoyable browsing speeds. It offers more than 3,000 servers in over 90 different countries. Because of this, it is one of the more versatile providers on the market.
Also, one of the things that separate it from most competitors is that you can stream Netflix, Hulu, Prime, and BBC with confidence. But how does it rate for using Facebook?
Speed
First and foremost we have to consider the speed drop. After doing some tests, we concluded that the decrease in speed logging onto the closest server was just 3%. On the other hand, the one that is at the biggest distance from our location led to a decrease of 30%, which is still quite impressive.
Encryption
Thus, we can say with confidence that ExpressVPN might as well be the fastest provider on the market. As for encryption, it is military-grade (much like with NordVPN) and the security key is changed every time you log.
256-bit AES encryption ensures that both you as the sender and your friend/family member on the social network will be avoiding tracking and hacking. It is completely friendly in terms of the no-logs policy.
This is because the British Virgin Islands don't comply with the surveillance.
Operating Systems
Also, ExpressVPN is compatible with six different operating systems including Android, Windows, macOS, iOS, Linux, and FireTV.
On the other hand, we have to express our concern with the fact that it doesn't include an ad-blocker. This means you will need to use a separate one to have a smooth Facebook experience.
Other than that, there is not much to say against it. As a provider offering a great privacy policy, good encryption, and fast servers you are sure to enjoy it!
#2 NordVPN
Next up we have NordVPN, which is ranked high among the most reputable services that you can find.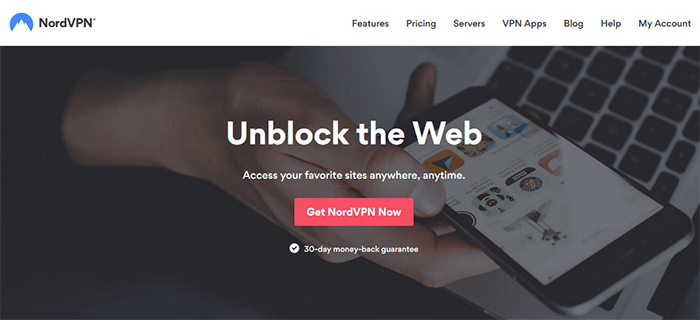 Locations
Starting off with where the provider is based, Panama is an excellent location. It is a region known for regulations that are friendly for the consumer/user when it comes to data storage and logging.
There is one thing that NordVPN is the best at and that is global coverage. We are talking about a whopping 5,500+ servers in over 59 different countries, which is more than enough to satisfy anyone's needs.
Protocols
Whether you are looking to unblock Netflix and Facebook, or use a torrenting platform, this provider will allow you to do so. Highlighted by OpenVPN and NordLynx as the two major protocols, it also offers military-grade encryption that comes in form of 256-bit AES encryption.
On top of all that, the service itself is user-friendly and compatible with all five main operating systems: Android, Windows, macOS, iOS, and Linux.
Streaming
The first thing that we love about this provider is that it features SmartDNS which is responsible for instant-action streaming.
This is just what you need if you are looking to spend time on Netflix using the US, UK, and Brazil catalogs, or scroll through your Facebook videos without any buffering issues. It is probably the most reliable service for China.
Speed
Talking about speed, it all depends on what option do you decide on. If you go for Quick Connect, chances are your Download and Upload speed will not be decreased by more than 5% by the server you have connected to.
On the other hand, if you decide to connect to a server that is far away (for example from the UK to Australia) expect a larger drop (up to 50%). Read our review of NordVPN here to learn more about this.
Privacy
Talking about the privacy you get with this provider, it is quite satisfying. The best thing is that Panama doesn't comply with the Fourteen Eyes alliance and that makes the zero-logs policy possible. Still, consider that your payment details for buying the NordVPN service will be stored (date, time, and location).
It also has CyberSec and a Kill Switch that are of huge importance in terms of blocking ads and trackers (for Facebook and other apps).
Lastly is the question of whether NordVPN is worth the somewhat higher price or not. Additionally, there are many discounts during the holiday season. And their 30-day refund policy is great. This is why we believe NordVPN is one of the best you can get with your money!
#3 CyberGhost
Last but not least on our list of the best VPN for Facebook is CyberGhost. This provider proclaims to be one of the most affordable providers on the market.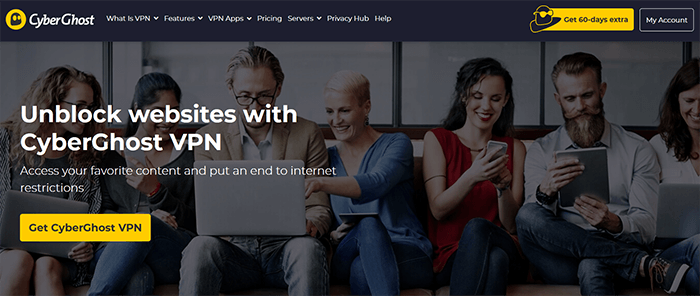 Locations
Situated in Romania, it allows connection to more than 6,800 servers in around 90 countries. Very similar to ExpressVPN, it is compatible with most streaming platforms. Plus, accessing Netflix from a US-server should be quite easy.
Speed
In terms of how it works with Facebook, we want to start with speed. Once again, we were impressed by the results. Trying out different servers, the speed decrease was not something to worry about (just a few Mbps).
Additionally, CyberGhost is unique for the Data Compression feature that it allows. You can increase the server speed by compressing images or videos sent through the session.
Privacy
Much like the aforementioned two providers, it does stick to a strict no-zero policy. This is possible because it is not a part of the Fourteen Eyes alliance.
Also, with the 256-bit AES encryption and the CyberGhost transparency report available to everyone, you can be quite confident about your browsing activities being kept private and secure.
Lastly, it does have an ad-blocker, which is a huge plus for any Facebook user!
Conclusion
There is no doubt that accessing Facebook through a VPN server has many advantages.
Other than an ad-free experience, you will avoid your browsing activities being tracked and potentially hacked. If you are looking to get the best overall performance in terms of reliability, accessibility, and privacy, then go for ExpressVPN.
NordVPN is another great provider that is highlighted by its very impressive server speeds. As our third option, we have chosen CyberGhost. We consider this VPN as the best value provider on the market (given its low price and smooth performance).
Whichever you choose, you will not go wrong!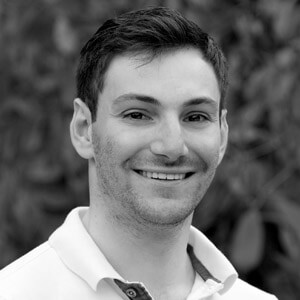 Flo is the founder of the-bestvpn.com. Really concerned about security on internet, he decided to create this website in order to help everyone find the best VPN. He's got a Business School background and now is 100% dedicated to keeping his website alive.