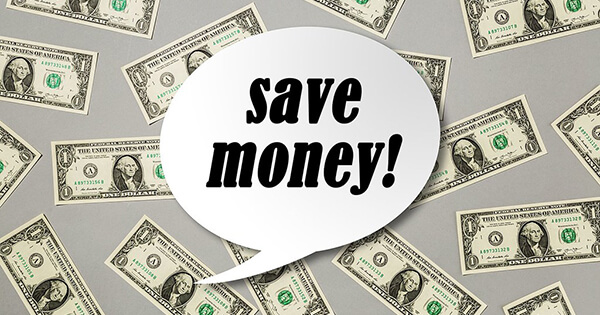 It's always time for some cool gifts – for yourself or your family. A proper gift doesn't always have to be in a physical form. It can be software that you love or that will help you in some way. Our advice is to get a good, reliable Virtual Private Network for enhancing your internet browsing. You can get very good value for money with some offers, so we suggest you stay with us until the end. We will share with you the best deals, coupon codes, reductions regarding VPN services.

Best VPN Discounts and Deals for Huge Money Savings
Before we start, let's get something out of the way. In this list, we're looking mainly at long-term plans! This is the cheapest way of getting into VPNs and it's what most users decide for.
If you're ready to save some and start browsing the internet safely, here are our top choices of VPN deals and promotions for 2023!
1. ExpressVPN (49% off a 1-year plan + 3 months free)

ExpressVPN is among our favorite providers. It delivers stunning speed, whether you're just browsing the internet, watching movies, or downloading torrents. This provider has all it needs to impress even the pickiest users.
With its plethora of security protocols and strict zero-log privacy, it's the VPN to use for staying anonymous all the time. Not all VPN providers work when you want to unblock Disney+ abroad, for example.
However, this one can unblock every website you want.
They have over 3,000 servers in more than 94 countries, keeping you covered wherever you are. As for the price, ExpressVPN offers a 49% discount for the one-year plan, so you'll pay $6.67 a month (and you'll get 3 months of subscription for free).
You should know that the original price is $12.95… so the discount offered is definitely impressive!
2. CyberGhost (83% off for a 3-year plan + 3 months free)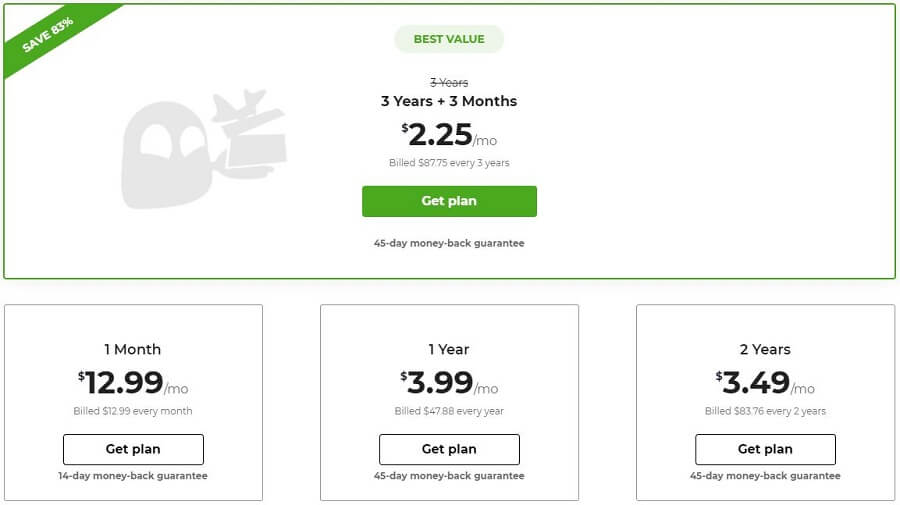 If you want to save a huge amount of cash without having to use a coupon code, you should take a look at CyberGhost's offerings.
It's a user-friendly provider that has more than 7,000 servers+ worldwide, covering almost the entire planet. They are well-known for their stable, reliable, and fast connections, making them among the top choices for most users.
CyberGhost can unblock every website, thus easily passing geo-restrictions. Netflix users will be very happy to know that they can stream their favorite shows wherever they are.
But, what about their pricing? Well, this is where things start to become interesting.
The provider offers you a very cheap three-year plan with only $2.25 a month! This translates to a whopping 83% discount, which is one of the best promotions on our list of the best VPN deals of 2023.
Moreover, if you get this deal, you get 3 months completely FREE. So, for this price, you get a total of 39 months of subscription.
CyberGhost's generosity doesn't end here. They also give you a 45-day money-back guarantee, so you have nothing to lose.
3. NordVPN (68% discount off a 2-year plan)

NordVPN is one of the largest VPN providers on the planet. We've known this provider for its affordability and numerous discounts throughout the year. This time, things are the same. NordVPN comes with a polished, intuitive interface, and a vast array of premium-grade features.
For the start, they have a Double VPN feature that makes your browsing far more secure. This feature filters your traffic through two servers, making it impossible to trace. Furthermore, the zero-log policy means that your data is never saved on NordVPN's servers.
Security-wise, this is one of the best providers at the moment. But they're also among the best discount-wise. Their generous 68% deal lowers the price to $3.71 a month for a two-year plan. 
And you don't even have to enter a coupon code to benefit from it! You just have to click on the button below 😉
4. Surfshark (81% off a 2-year plan)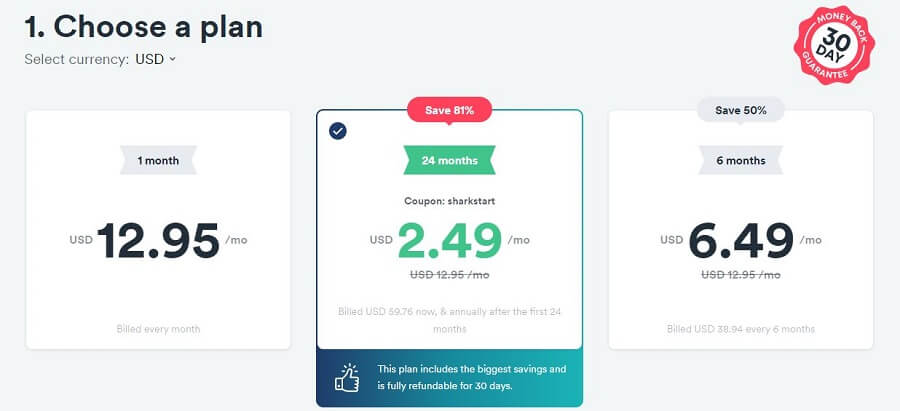 Surfshark is an ever-growing provider that ticks all the right boxes. Although it's not the biggest, their 1,700+ servers in 63 countries are more than enough for most users. Thanks to its P2P support, your torrenting activities will be secure, allowing you to enjoy your favorite content whenever you want.
But, it doesn't end just on torrenting. You can unblock Netflix, Hulu, ESPN, CBS, and many other websites. Speed-wise, Surfshark didn't disappoint us. They offer unlimited bandwidth, just like the providers mentioned above.
Now, what about their discount?
Well, the provider offers you 81% off, giving you their services for $2.49 a month in a 2-year plan. If you want a six-month plan, you'll have to pay $6.49, which is still fairly cheap.
There's a 30-day money-back guarantee, so you won't lose a single penny or dollar.
Regarding coupon code for this VPN offer, there is one but it normally applies automatically (if needed, the code is: sharkstart).
5. IPVanish (73% off a 1-year plan + 250 GB SugarSync Cloud Storage)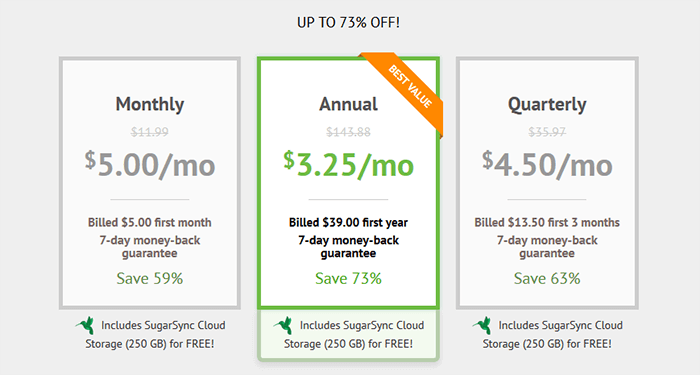 IPVanish is among the oldest Virtual Private Network providers. They're still here for many reasons. The first one is reliability. It's all about keeping you anonymous on the internet, boasting a wide choice of VPN protocols.
On top of that, there's AES 256-bit Encryption, used by the government and military.
With over 1,500 servers in 75+ locations, the provider offers a lot to choose from. All servers support P2P, meaning that they're great for torrenting. Even a service this cheap can help you further save money!
You might want to read this article which explains how to save money on flight tickets using a VPN.
IPVanish usually costs $11.99 a month. But, due to their 73% discount, this price has fallen to $3.25 a month for a one-year plan.
They also offer two more promotions – a three-month plan at $4.50 a month and a monthly plan at $5 a month. Beware that the provider gives you a 30-day money-back period, so you can get a refund if you don't like it.
6. HideMyAss (75% off a 3-year plan)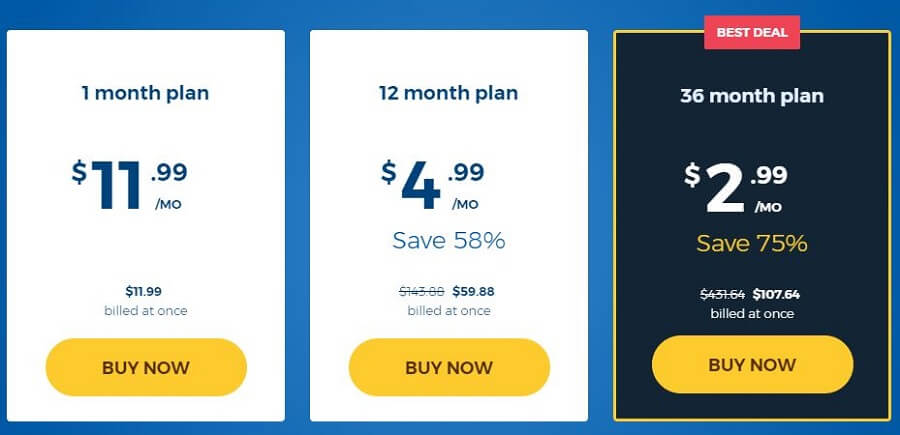 Although its name is funny and amusing, this provider is very serious when it comes to doing business. HMA has servers all around the globe. It has more than 1,100 servers in 190+ countries.
The provider is great at unblocking geo-restricted content and websites like Hulu, BBC iPlayer, and Netflix. Movie and TV shows addicts are probably clicking on the button below at this moment.
In terms of security, HideMyAss will really hide your ass, whether it's good or not. Boasting super-secure AES-256 Encryption and OpenVPN support, the provider shines like your metallic car paint.
Although it stores some minimal data, we still see HMA as one of the safest VPNs on the market.
Now, we all know why you came here – for the savings and deals. At the moment, you can get a 3-year plan for $2.99 a month, which is the most affordable one.
A one-year plan will cost you $4.99, while the monthly plan costs $11.990 a month. You can read our full review of HideMyAss here to know even more about him.
7. ProtonVPN (34% off a 2-year plan)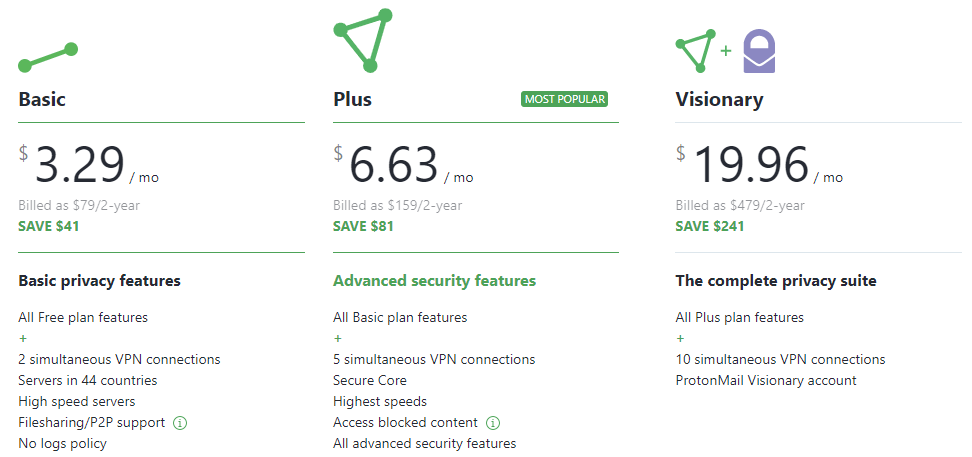 ProtonVPN is based in Switzerland and is great for European users. They're well-known for their drastic security measures that repel even the most stubborn hackers. The provider is equipped with Secure Core servers that remarkably hide your IP address, preventing anyone from tracking you.
Furthermore, you can see the strict zero-log policy on the provider's website, meaning that they store zero data about you. Although they aren't the fastest, we still value that the users are secure when using it.
After all, many of us use a VPN for these purposes – security and privacy.
ProtonVPN offers a 33% discount for their 2-year plan, dropping the price to $3.29 a month for the Basic subscription. This subscription lets you connect two devices simultaneously, whereas the Plus one gives you 5. It costs $6.63 a month and comes with a couple more premium features.
8. PureVPN (40% off a 1-year plan)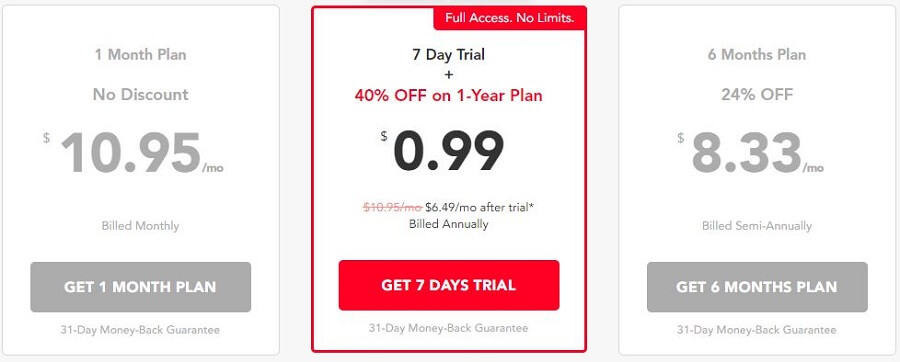 Have you heard about the Great Firewall of China? Well, this is one of the best VPNs to defeat it. PureVPN comes from Hong Kong and it's a great provider for unblocking almost any website.
Those who are using a Virtual Private Network for this purpose will be more than happy with it.
Boasting an easy-to-use interface, it lets you access any website with ease in a secure fashion. Speaking of security, there's a zero-log policy which means that your data isn't stored on any server.
It's a perfect combination of high security and speed, that many tech-enthusiasts are searching for.
To put the icing on the cake, it's also one of the cheapest VPNs on the list. So there are definitely big deals and promos available!
For a 1-year plan, PureVPN charges you only $0.99 a month during a trial run. After this, the plan costs $6.49 a month. This is a 40% discount. Even their yearly plan is heavily discounted at $6.49 a month.
All of this is accompanied by their 31-day test-drive period.
9. VyprVPN (81% off a 2-year plan)

VyprVPN is another provider based in Switzerland that cruises like Dodge Viper. The provider has more than 700 servers worldwide scattered through 70+ locations. Like most VPNs, this one can unblock some of the favorite geo-restricted websites, including BBC iPlayer, Netflix, and Hulu.
All of the servers support P2P, meaning that your torrenting also gets a bump in terms of security. VyprVPN is great at extending its heap of premium features to other devices.
You can connect up to 5 devices on a single account, making all your internet-browsing endeavors successful.
The provider has a delicious deal for some tasty money savings. Offering an 81% discount, you get a 2-year plan for $2.5 a month. A one-year plan is now $3.75 a month, while a monthly plan is $12.95.
But, we don't suggest getting a monthly plan, as it's the most expensive deal of all.
10. PrivateVPN (73% discount for a 15-month plan)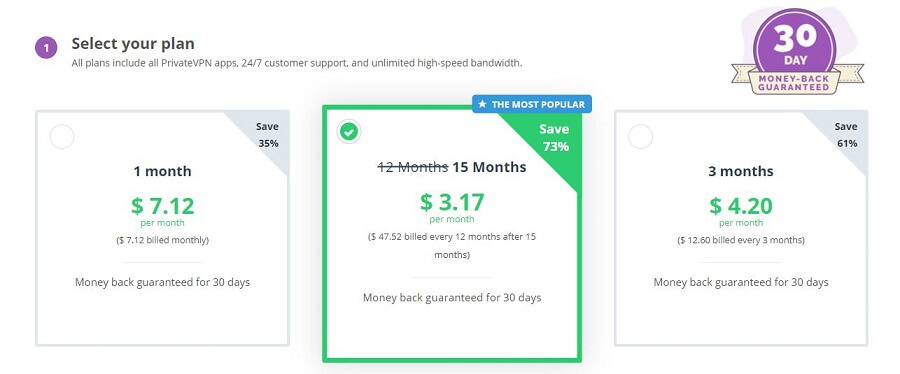 PrivateVPN comes with howitzer-like 2048-bit encryption that makes it impossible for anyone to track your internet activity. This is the highlight of the provider that makes it unique, as most VPNs only give you 256-bit encryption.
Although they have only 100+ servers in 59 countries, the connection is always stable. The speeds are also great, allowing you to stream 4K content or download huge games using BitTorrent. Beware that not all servers support P2P but there's a list on their website that shows you the supported ones.
Now, let's discuss business. The cheapest of PrivateVPN's plans is the 1-year one, and you get 3 months free. It comes at $3.17 a month or $47.52, billed annually (73% discount).
Even a three-month plan is affordable, costing $4.20 a month, with a monthly plan being $7.12.
The provider even offers a 7-day free trial, so you can get a taste of their humongous features and see if it has its place in our best VPN deals article.
11. ZenMate (85% off a 3-year plan)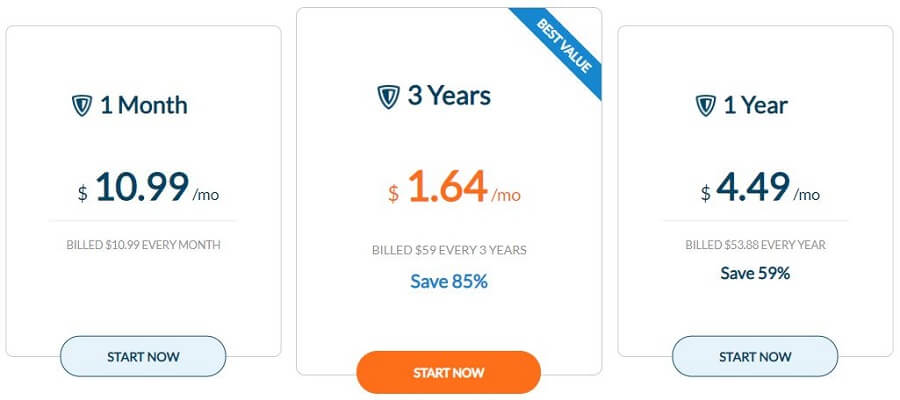 ZenMate can be your best mate that makes you feel like you're in Zen. Isn't browsing the internet anonymously considered similar to Zen, after all? Although not the best providers in the world, it comes with more than 3,200 servers in 74 countries.
The reason many people have doubts about ZenMate is that it's based in Germany. As many of you know, Germany is a part of the 14 Eyes, making it a bad location for VPN providers. This implies that crafting a 100% zero-log policy is impossible.
However, it's generous when it comes to security. It comes with a kill-switch and OpenVPN protocol, letting you enjoy your streaming and torrenting. Priced modestly, ZenMate's discounts and promotions are sweet as a watermelon in the summer.
For a 3-year plan, you're going to pay $1.64 a month, which is the best value offered and a very good deal overall.
Their yearly plan costs $4.49 a month, while the monthly plan comes at $10.99. However, we recommend getting the first one because you're going to slightly overpay the other two plans.
12. Private Internet Access (78% off a 2-year plan)

Let's continue this article by presenting you with the best VPN deals and coupon codes for 2023, one of which is Private Internet Access.
It is a provider that explains everything you need in its name. A VPN is here to give you private access to the internet, spiced up with some additional features. It has thousands of servers in 74 countries, all supporting P2P file sharing.
For added convenience, the provider lets you connect 10 devices simultaneously. This allows you to enjoy its benefits on all your devices. It also won't throttle your speeds, as they offer unlimited bandwidth.
Needless to say, a zero-log policy is present, so the provider doesn't keep any traffic logs.
PIA is very cheap, given its premium-grade features. The most they offer is a two-year plan at $2.59 a month. There's also a 12-month plan at $4.16 a month, and a monthly plan at $11.95, which is a bit expensive.
Just to remind you. The longer your plan is, the cheaper it is every month, so it's best to get a two-year plan in this case.
Visit Private Internet Access now >
13. Hide.me (61% discount for a 2-year plan + 2 months free)

Hide.me is a VPN provider that's been overshadowed by some of the top providers in the world. However, this doesn't mean it's subpar – on the contrary, it's one of the fastest VPNs at the moment.
Having more than 1,400 servers in 57 locations, Hide.me provides reliable, stable, and fast connections.
We like that it has a very simple interface, that even dummies will grasp within minutes. The provider also has numerous helpful guides on its website, as well as 24/7 customer support.
If you want a nice balance of all the cutting-edge features, this is a provider to go to.
In terms of pricing, this isn't the cheapest provider even with promotions on its VPN subscriptions. They offer a 2-year plan for $4.99 a month, plus 2 months FREE. There's even a one-year plan at $8.32a month, including a monthly plan for $12.95.
If you want to get a subscription, this is Hide.me at its cheapest.
14. FastestVPN (96% off a Lifetime plan, 92% discount for a 3-year plan)

Many of us have dreamed of getting a 100% discount on our favorite piece of tech or software. But, FastestVPN is here to make your dreams exactly 96% true. You've understood it well – FastestVPN offers a monstrous 96% discount until the new year!
The provider has numerous qualities you would like in a VPN that offers good deals. Unlimited bandwidth, P2P servers, 256-bit AES encryption, and much more. We also like that you get free malware protection, which goes hand-to-hand with a service like this.
Interestingly, the provider has one plan called Lifetime Plan and it costs $20 with the discount in place. Aside from that, there's a 3-year plan for $1.11 a month, as well as an annual plan for $2.49 a month.
These are discounted by 92.5%
However, this isn't the fastest VPN and you can't unblock Netflix if that's important to you. Just so you know before you give your money and benefit from its promotions.
15. VPNHub (75% off a 3-year plan)

VPNHub has a logo that resembles a logo of another website. If you know what website we're talking about, shame on you! All jokes aside, this is a VPN provider you probably didn't know of.
That's because it's a new provider which popularity saw a significant bump since its inception.
Unlike FastestVPN, this one allows you to unblock many geo-restricted websites. This includes Netflix, as well. It manages to tick almost every feature you would want from a VPN. It's fast, secure, and allows you to surf the internet anonymously.
On top of that, it's available for all major platforms – Android, iOS, Windows, and Mac.
They have a huge 75% discount on their 3-year plan, costing $3.49 a month. The 2-year plan costs $4.99 a month, and an annual plan comes at $6.99 with a 50% discount.
We don't recommend getting a monthly plan, as it's $13.99, which is more expensive even than ExpressVPN.
Summary
Here are all the best VPN deals, promos, and coupon codes for 2023!
Although this article was a lengthy read, we suggest you visit every provider's website and carefully choose your next provider. A year or a couple of years isn't a small period. Use it wisely by choosing the good one.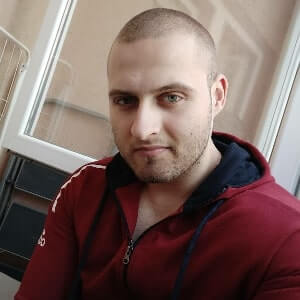 A professional writer with a Master's degree in Mechanical Engineering. Since his youngest age, he loves everything related to internet, technology, fitness, games, and dogs! He joined our team in order to bring his deep knowledge in security services, among which VPN is of course a key component.