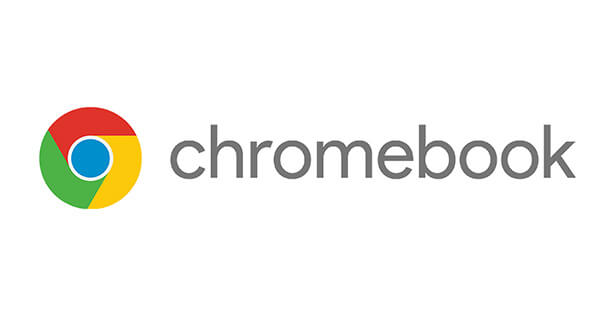 Chrome OS has proven to be a lightweight, simple-to-use, and reliable operating system. Many users claim that it's safe and secure, but as with iOS, that applies only offline. When going online, numerous threats lurk around the corner, so it's better to have proper protection. For this reason, we've come up with a list of the top 3 VPNs for Chromebook. Let's talk more about them and see why using this service is a very smart move.
Best VPNs for Chromebook in 2023
To make sure your security is never endangered online, we do our best to provide protection. With our in-depth reviews and analysis, we came to the conclusion that these 3 providers work best with Chromebook:
1. ExpressVPN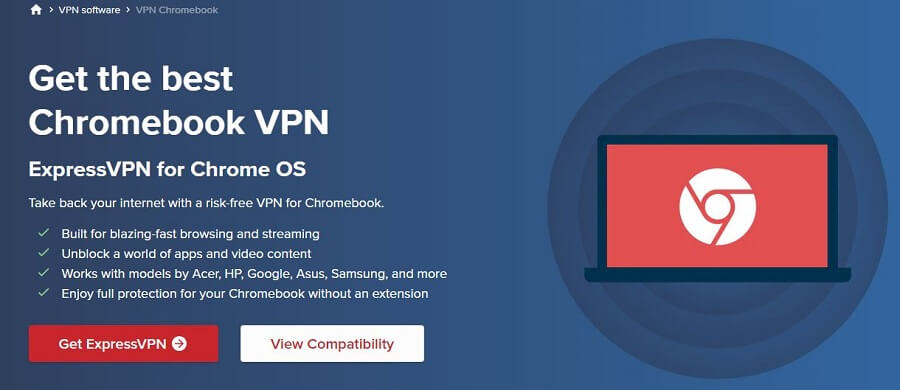 ExpressVPN is the best VPN provider for Chromebook on the market, both in terms of performance and security. What makes it a very good choice is its overwhelming device support. You can install it on Windows, iOS, Android, Mac, and of course, Chromebook.
Apart from these platforms, ExpressVPN is available on Fire TV and routers, too, making it convenient to protect every device in your home. Speaking of convenience, it allows you to connect to any of its 3,000+ servers easily.
Just click on the connection button and you're done. Doing so will engage ExpressVPN's security measures, such as 256-bit AES encryption and a kill switch. Chromebook users will appreciate IP/DNS leak protection that allows for supreme privacy all the time.
ExpressVPN is based in the British Virgin Islands, and as such, holds an audited zero-logging policy. This means that no logs are stored, preventing anyone from snooping around your back. Moreover, the provider is great for streaming.
You'll enjoy Netflix, Hulu, and Disney+, at the highest possible resolutions. This is due to blazing-fast speeds that make streaming a breeze. For the price, this is a very good provider. Unlimited bandwidth is mandatory, and 5 simultaneous connections will definitely come in handy.
Should you decide to buy it, be aware of its 49% discount and 3 months free for an annual plan. The same exact plan comes with a 30-day money-back guarantee, making it easy to get a refund if you're not satisfied.
Get the VPN from ExpressVPN for your Chromebook >
2. CyberGhost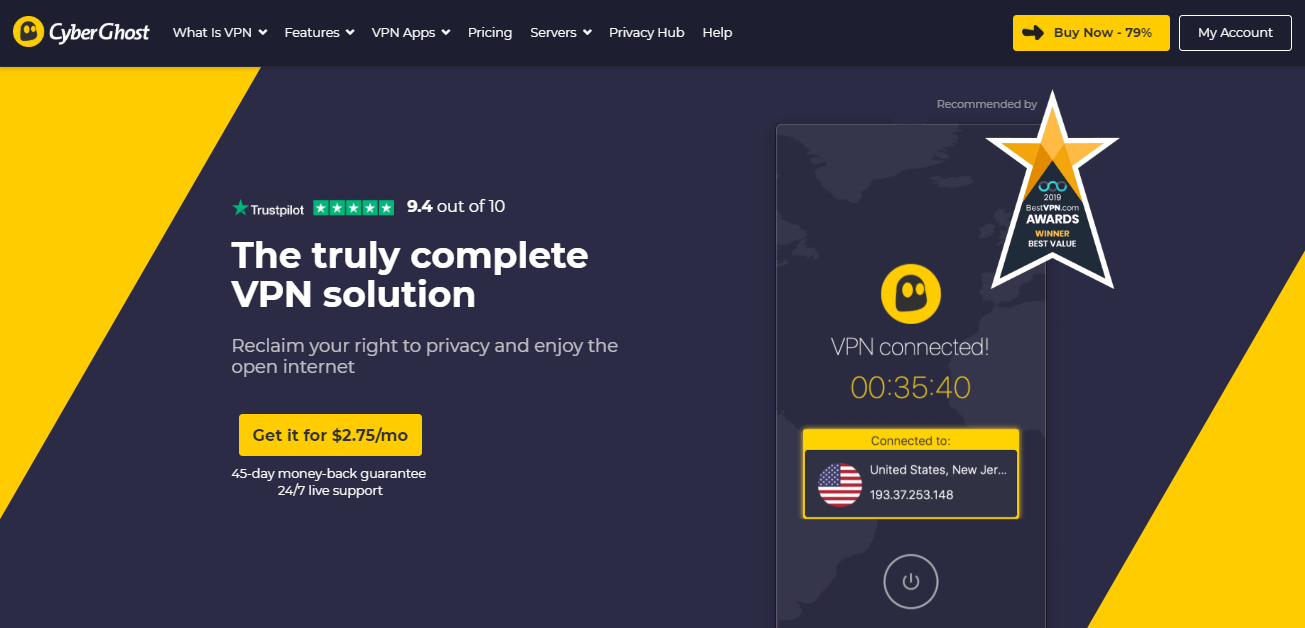 If you want a cheap, yet reliable VPN usable on Chromebook, look no further than CyberGhost. This provider is on the market for quite some time, only to boost its performance and quality in the past couple of years. 7,000+ servers in 90 countries are just the tip of the iceberg, though!
To make things better, it has great support for Chromebook and Chrome OS, with a dead-simple installation. Its apps are known for intuitive interfaces that many users appreciate, especially those who just got started with VPNs.
CyberGhost comes with dedicated servers, some of which are for streaming, and others for torrenting. They work flawlessly and provide substantial performance for day-to-day use. Linux and iOS users will be able to use WireGuard, as well, and improve an already-perfect product.
Security-wise, the provider won't disappoint you. State-of-the-art encryption keeps your connection intact, while the kill switch acts as a means of IP/DNS leak protection. Furthermore, there's a reliable ad-blocker for blocking annoying ads, trackers, and malware, for cleaner and faster-loading pages.
Are you streaming on your Chromebook? In that case, its streaming servers will unblock BBC iPlayer, Prime Video, and Netflix if you want. And when you switch to your PC, you can always engage in P2P activities thanks to thousands of P2P-friendly servers.
Last but not least, there are 7 simultaneous connections on a single account. Coupled with a really cheap price and a 45-day money-back guarantee, finding a better deal is a hard task.
Get CyberGhost to use it on Chromebook >
3. NordVPN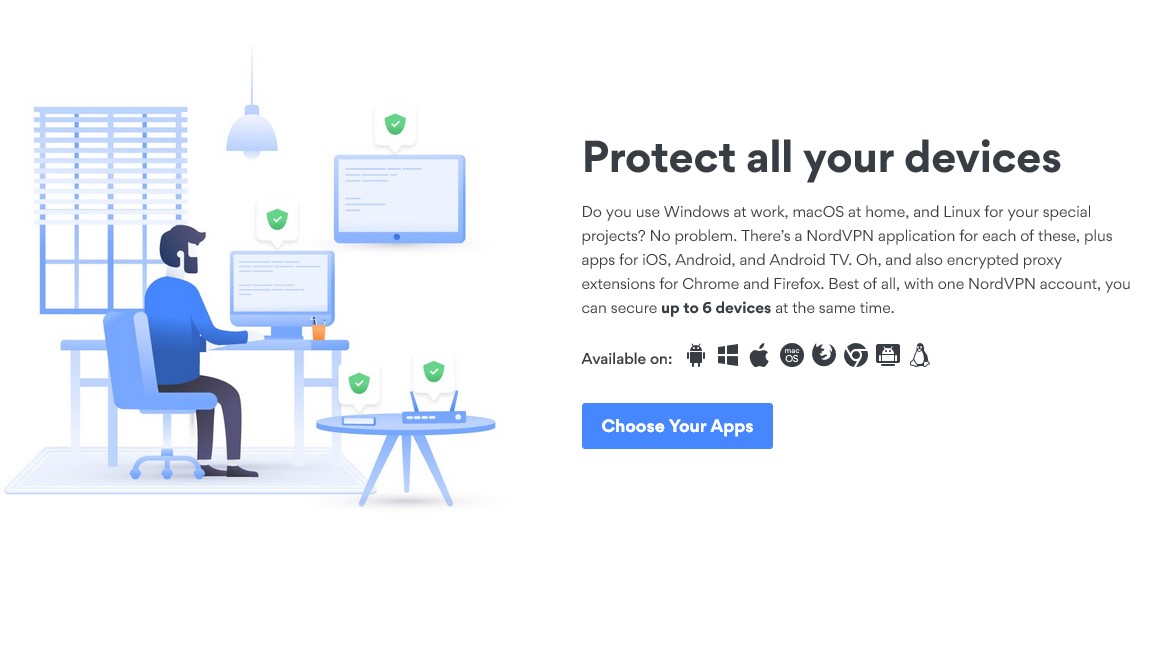 NordVPN comes with a multitude of security features that make it one of the best VPN Chromebook apps in 2023. Actually, the provider comes with lots of apps for different platforms, to make its services prominent on each front.
Needless to say, Windows, iOS, and Android are included, and so are routers, for securing every device in your household. To add more variety, NordVPN included 5,600+ servers in 60 countries that will successfully bypass geo-restrictions.
You can forget about not being able to watch Netflix or MMA matches on DAZN. Also, Chrome OS users can use obfuscated servers, should they encounter censorship problems. These servers work well in China, which is a truly remarkable fact.
Ad-blocker is, once again, here, and it comes in the form of CyberSec. It's a bit fancy name but the feature works… well, fancy! NordVPN's security is, simply put, impenetrable, thanks to 256-bit AES encryption and a kill switch.
Since it's a Panamanian provider, a zero-log policy is in place. It has been re-audited by PwC this year, meaning that it's trustworthy and genuine. The last thing to mention is its NordLynx protocol, based on WireGuard.
It works really well and drastically improves performance. With 6 simultaneous connections and unlimited bandwidth for browsing, NordVPN is a great deal to struck. Thankfully, you can get a huge discount if you smash the button below!
Why You Should Use a VPN for Chromebook?
When you're browsing the web, you expose yourself to many risks that you aren't aware of. Many people fail to grasp the importance of cybersecurity, which is why we promote many quality VPNs.
So, why you should equip your Chromebook with the best VPN possible? Read below to find out:
Avoid (Government) Surveillance
Whenever you go online, your ISP knows exactly what you're doing and what you've done. Crazy, isn't it? This means that someone constantly looms over your shoulder, inspecting and limiting your online freedom.
ISP stands for Internet Service Provider and this is the company that gives you your internet access. While doing so, the company knows every site you visit, with whom you're chatting, and what you're downloading from the internet.
Some countries are pretty dangerous and punish even the slightest inappropriate act online. You can comment on a certain post, upload a certain video, or visit a particular site, which can get you into trouble.
Avoiding surveillance and other problems that come with it is very simple, though. By using a VPN on Chromebook, you hide your IP address, making you invisible to the prying eyes of hackers, ISPs, and the government.
Thanks to its encryption and IP/DNS leak protection, no one will be able to get in your trails. This is essential for internet freedom and privacy that many people long for.
Bypass Geo-Restrictions
The internet is full of geo-restrictions and frankly, that can be annoying as hell! Geo-restricitons are restrictions based on your location that seem unavoidable. For instance, you're in Germany and you want to access the American catalog of Netflix. Or you're from the USA and you want to watch shows on BBC iPlayer.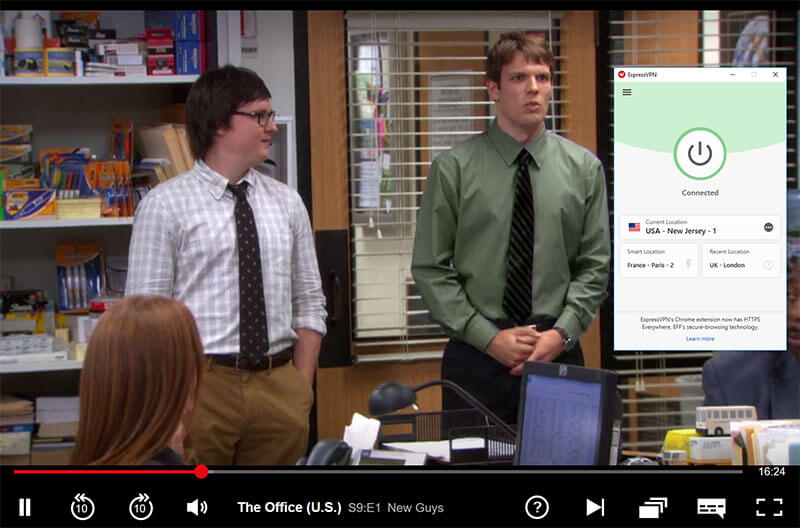 You can't do so because BBC iPlayer is available for UK users only. However, a VPN lets you change your online location and access the site in a blink of an eye. The only thing you need to do is connect to the server in another country, which will give you a new IP address.
The same can be said for the opposite situation. Those who travel can't access local content or a bank account without this service. Instead, they need to connect to the server in their country to be able to watch local shows, movies, or listen to the news.
Stay Safe on Public Wi-Fi Networks
Public Wi-Fi networks are a cesspool of hackers and suspicious people that seem oblivious. Just think about it. Public routers are huge and usually allow for a massive amount of connections. It can be 32 or 64 simultaneous users, in your local cafe, restaurant, and hotel.
A few years ago, we had a case in Argentina, where one politician got hacked during his stay in Starbucks. He connected to a Wi-Fi router there, giving the hackers a leeway to steal his personal data on the spot.
This can happen to you as well, even if you're not famous! They can steal your personal info, credit card data, and so forth. Preventing this is simple, and can be done with a VPN.
Once you connect to a Wi-Fi network with your Chromebook, turn the VPN on immediately. This will obfuscate your real IP and assign you a new one, making it impossible for hackers to track your steps.
How to Set Up a VPN on Chromebook?
The joy of using a Chromebook is that it comes with Chrome OS. And now, Chrome OS is made by Google, the same gigantic company that stands behind Android. Android and Chrome OS are very similar and both of them have the access to the Google Play Store.
On the Google Play Store, you'll find all of the VPN apps we mentioned above, and if you know how to use a phone, you know how to download them. Simply type the name of the app you want, click Install when you find it, and you're done.
Another option is to configure your connection with the OpenVPN app. This is a rather complex solution for new users, so we don't advise you to do it. Our suggestion is to get ExpressVPN which you can easily find on Google Play.
Install it, connect to any of the servers, and enjoy fast speeds and impeccable security!
Get a huge discount on ExpressVPN Now >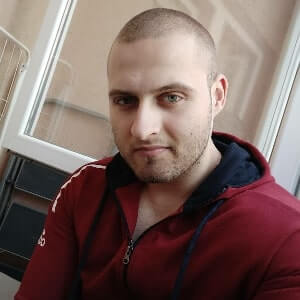 A professional writer with a Master's degree in Mechanical Engineering. Since his youngest age, he loves everything related to internet, technology, fitness, games, and dogs! He joined our team in order to bring his deep knowledge in security services, among which VPN is of course a key component.