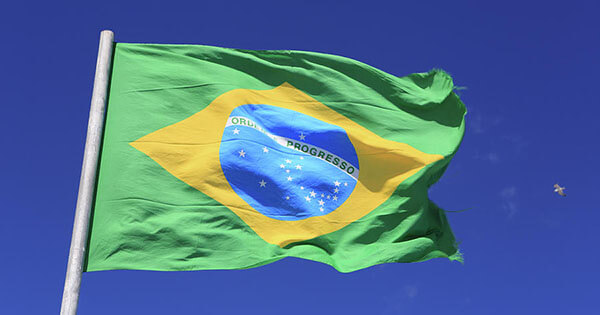 When it comes to safety, Brazil isn't among the top countries in the world. However, when it comes to free internet access, the country isn't as harsh as many South American countries. Brazil is the largest country on the aforementioned continent, and as such, the internet plays a crucial role in connecting people within and outside of the country. Although some messaging apps like WhatsApp are blocked, Brazil residents can use a VPN to access it. A VPN brings many benefits for this country, making us come up with the list.
Best VPNs with Servers in Brazil
Traveling around the world without your favorite shows from Brazil is a hard thing to do. Luckily, if you have a Virtual Private Network, you'll never have to worry about this. Here are the best providers with servers in this country:
ExpressVPN: ExpressVPN is a premium provider with no corners cut in terms of performance. They have 2 high-speed servers in Brazil, packing all the necessary security protocols for troubleless internet browsing.
CyberGhost: the provider has 14 servers in Sao Paulo. Aside from that, this provider has more than 7,000 servers worldwide, making it one of the biggest and most reliable.
NordVPN: NordVPN offers military-grade security at an affordable price. In this country, the provider has 26 physical servers, which promises some fast speeds and stable connections.
Whether you're from Brazil or not, using a VPN is like a piece of cake. When you buy a subscription, you only need to install the respective app and start enjoying numerous benefits.
Why People in Brazil Use a VPN?
If you're worried about your privacy and security, a VPN will reduce all those worries to zero. Here's why you need a good, reliable provider in Brazil.
Accessing Geo-Restricted Websites
Let's face it – geo-restrictions are present in every country on the planet. For example, many American citizens want to watch US TV when they are abroad. Without a VPN, this isn't possible.
Every country has its set of limitations that are usually more annoying than useful. In Iran, for example, even the most popular social media websites are blocked.
In this country, however, this isn't the case. Still, those who like watching US Netflix or BBC iPlayer should know that you can't access them without the best VPN, at least in Brazil.
And if you're out of this country and want to watch Globo TV or any other channel, a Virtual Private Network is required.
A classic example of geo-restriction is this country's banking system. If your bank detects that you're accessing it from an IP outside of the country, your account can be temporarily blocked.
Or perhaps you want to access your PayPal account back home. With a VPN for Brazil, you can "pretend" that you're home and fix the issue.
Avoid Government's Monitoring
If you think you're living free, we implore you to think again. Just imagine someone looking at your search history every day. Well, there, the government can do that.
The country's law orders your ISPs to provide your IP address upon request. So, if you're doing something that they think is suspicious, your IP could be handed to the government.
The reality is that almost every government monitors internet activity. And although it's not very strict in Brazil, you want to protect your privacy with a VPN.
Torrenting
This country doesn't have a strict policy when it comes to torrenting. Many people from Brazil download copyrighted material freely, and only in rare cases, someone gets punished.
But, internet laws are often changing, as the internet itself, so you must take necessary precautions.
When using a VPN for torrenting, though, you want to make sure that there's no bandwidth limit, to avoid throttling. If you need a VPN for torrenting, you could check our list of best torrent sites here.
Stay Safe When Using Public Wi-Fi Networks
Cybercrime isn't a strange phenomenon in this country. Although not the worst in that regard, it's still among the top countries for hacker attacks. Of course, the main targets are public spaces, cafes, and restaurants. In Argentina, for example, Starbucks was a common target for hackers.
This is because public networks are often unprotected, making it easy for hackers to sweep through a lot of data. With a VPN, this is unlikely to happen.
The Best VPNs for People Living in Brazil
Every provider offers a different set of features for different purposes. For this country, here's what features you should look for:
Ability to bypass geo-restrictions
Strong security features and zero-logs policy
Fast torrenting (download/upload) speeds
Compatibility with the main platforms
With that in mind, here are our top picks:
ExpressVPN
CyberGhost
NordVPN
Let's see the reviews for these 3 providers:
1. ExpressVPN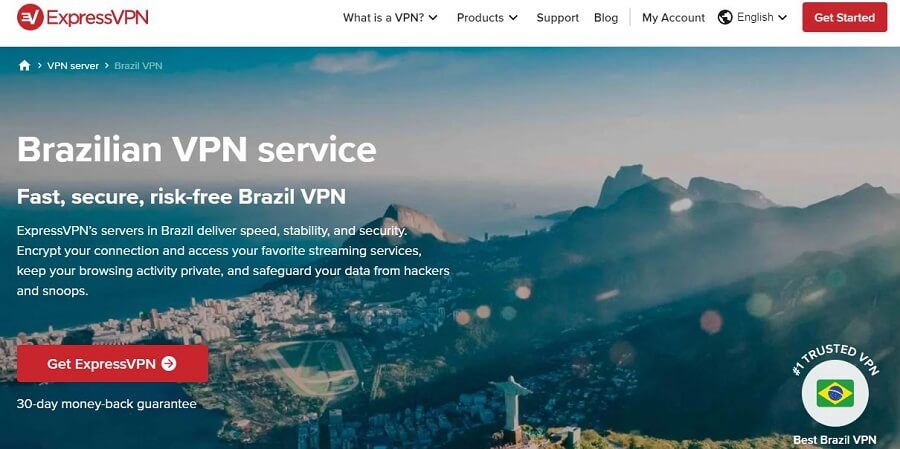 ExpressVPN is a champion when it comes to sheer speed but there's another thing that makes it special – bypassing geo-blocks. People who want to unblock Netflix, HBO, Hulu, or any other streaming website can use this one.
It's known to easily bypass even the toughest blocks.
Feature-wise, there's a rich palette. For the start, ExpressVPN has more than 3,000 servers in 94+ countries. There's no bandwidth limit, so you can enjoy your torrenting, as there's support for P2P on all servers.
Of course, the provider offers a strict zero-log policy, so they don't keep your search history. That is also one of the big reasons why it is THE best VPN to use in Brazil.
Yes, even the kinky ones, you pervert! Jokes aside, ExpressVPN is one of a kind, a truly remarkable provider. At the moment, you can get their 12-month subscription and 3 months at a 49% discount.
With the 30-day money-back period, you'll get your money back if you don't like it.
PROS:
Strong encryption
Split tunneling
Great applications
No-logs provider
Excellent speeds
24/7 live chat support
---
2. CyberGhost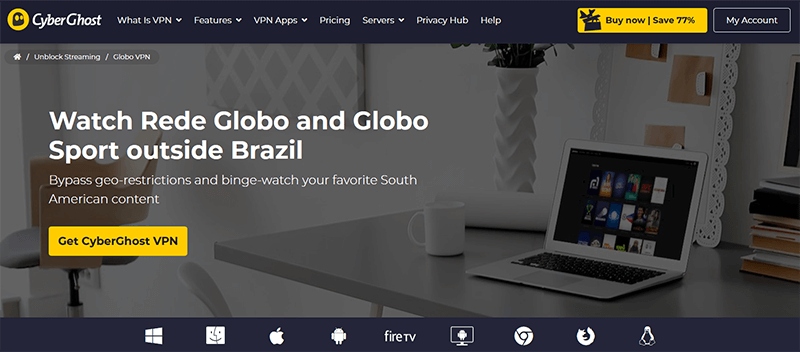 CyberGhost is a Romanian giant that sports 7,000+ servers around the world. For those not willing to spend much on a VPN, this is a budget-friendly solution. It also gives you unlimited bandwidth, great for your 'Netflix & Chill' sessions or torrenting.
In terms of security, there's AES 256-bit encryption, kill-switch, as well as DNS leak protection. CyberGhost even has a special Public Wi-Fi Protection feature, so you can access these networks safely while in Brazil.
Like ExpressVPN, CyberGhost is also generous. They offer a 45-day money-back guarantee, as well as a 7-day free trial for Android and iOS.
PROS:
Servers optimized for P2P and streaming
7 simultaneous connections
Can unblock Netflix easily
Competitive prices
Live chat support
CONS:
Adblocker is not working properly
Does not work in China
---
3. NordVPN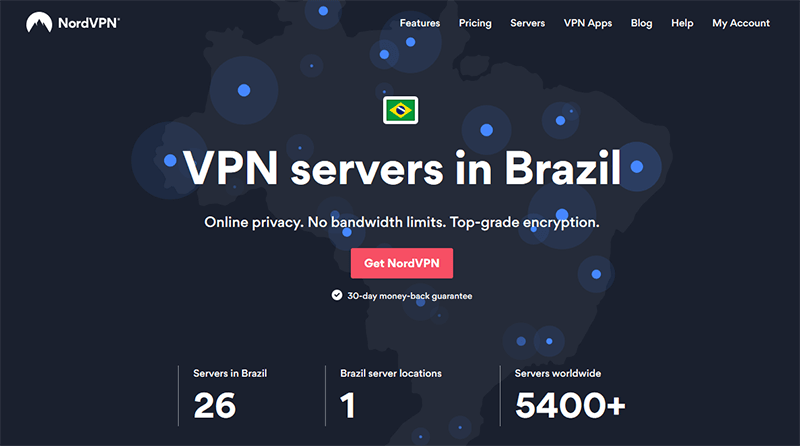 NordVPN is often a choice for many newcomers. If you're just starting your VPN journey, you could consider either Surfshark or NordVPN which are both really great VPN providers. But, this provider is slightly better for Brazil, thus we decided to go with it.
They have more than 5,400 servers worldwide so you aren't locked to one country only. You can access your favorite Netflix shows or some sports events on ESPN with ease. NordVPN also offers Double VPN protection, as well as an almighty zero-log policy.
Since you can connect up to 6 devices simultaneously, you can enjoy its features without reservation. And if you don't like it, you have a 30-day money-back guarantee, so no one is forcing you to buy it unwillingly.
PROS:
Very good privacy features
Large server network
Verified no-logs provider
Company based in Panama
CONS:
Expensive short-term plans
---
Summary
Enjoying free, anonymous internet browsing is bliss. The problem is, many people won't pay a few dollars a month but they'll gladly buy cigarettes. For a silly price, you get more than what you paid for, which is the case with ExpressVPN, our top VPN choice for Brazil.
With all the top-end features, ranging from high speeds to impenetrable security, this is your best bet for staying off the grid in this country.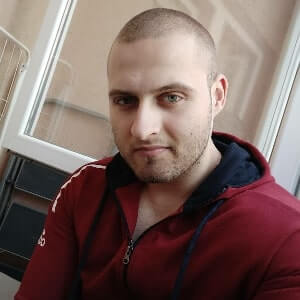 A professional writer with a Master's degree in Mechanical Engineering. Since his youngest age, he loves everything related to internet, technology, fitness, games, and dogs! He joined our team in order to bring his deep knowledge in security services, among which VPN is of course a key component.