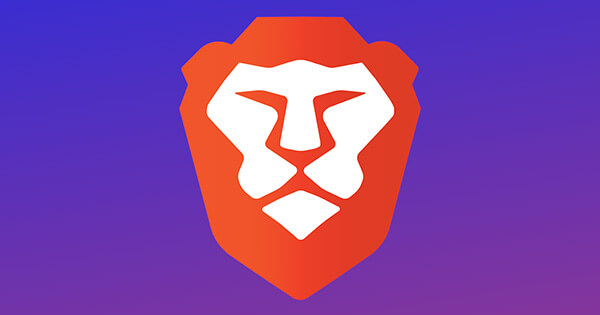 In the past few years, many web browsers emerged, with a goal to replace well-known Chrome and Mozilla counterparts. The reasons for that lie in security and privacy, which these two browsers fail to provide. Brave Browser, on the other hand, promises to deliver what these two lack. But, unfortunately, this browser alone isn't enough for complete privacy and security. That's why a good VPN for Brave Browser will come in handy.
Best Brave Browser VPN (2023)
To save your time, we decided to put our best picks right at the start. Now, if you're interested in reasons why using a VPN with Brave browse is smart, we suggest staying along for the ride. Without further ado, here are our best picks:
1. ExpressVPN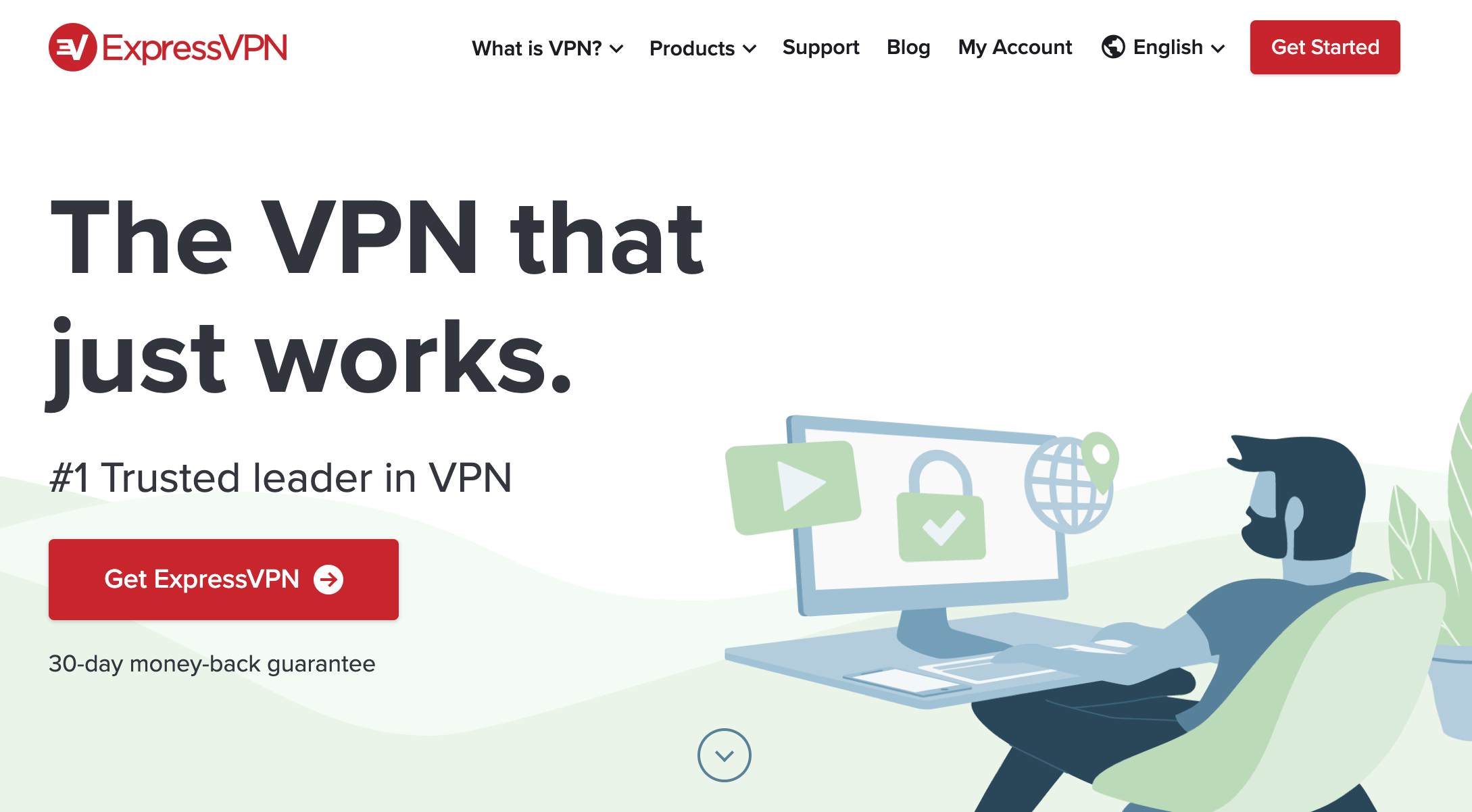 ExpressVPN is known for many features, one of which is impeccable security. The provider has a VPN extension for browser, albeit, only for Mozilla and Chrome. Brave Browser, on the other hand, doesn't support extensions but that's not a problem.
First of all, ExpressVPN comes with 3,000+ servers in 94 countries. This is great for bypassing geo-restrictions and unblocking sites. Moreover, it's currently the fastest provider on the market, so you won't have problems with loading times and sky-high ping.
One thing that makes it special is military-grade encryption. For privacy and security, this is a must-have. Users who use this browser will be happy that there's a kill switch as well, preventing any accidental IP or DNS leaks, and preserving your privacy.
Being from the British Virgin Islands, ExpressVPN is able to maintain a zero-logging policy. Recently it's been re-audited by PwC, ensuring maximum trustworthiness. Furthermore, the provider is available on every major platform, including smartphones, macOS, Linux, and Windows.
This will give you the freedom to access the internet from any device, using both your Brave Browser and ExpressVPN. In terms of pricing, this isn't the cheapest VPN solution, let's just say that. However, you get 5 simultaneous connections, 24/7 support, and unlimited bandwidth.
The only downside is the lack of an ad-blocker, which Brave includes, so you'll get no shortage of that. Lastly, ExpressVPN is on a 49% discount and 3 months free for an annual plan, making it very affordable for both new and experienced users.
Enjoy Brave Browser With ExpressVPN >
2. CyberGhost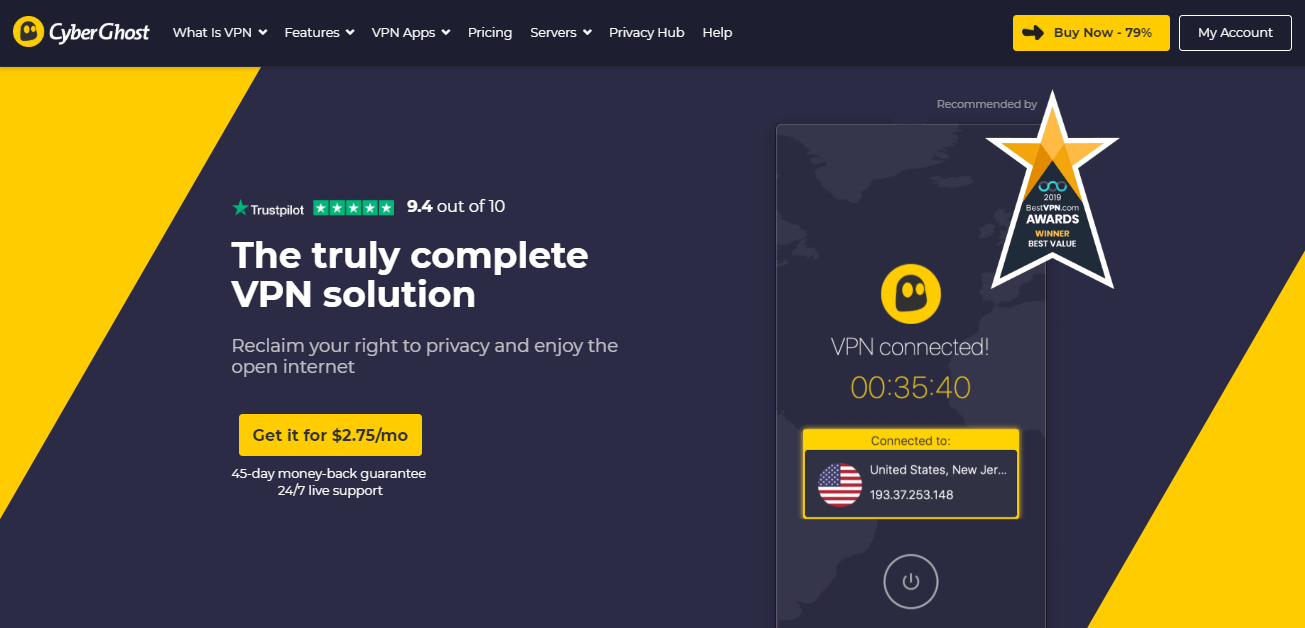 CyberGhost VPN works really well with Brave Browser and on top of that, it's the best cheap option. We don't know how it is to live in Romania, but this Romanian provider definitely nails it price-wise. For the money you pay, you definitely get more than you should.
And don't get us wrong – that's how it's supposed to be! The provider has an enormous server network of 6,000 servers in 90 countries, which is the largest you can get. Also, there are dedicated servers for streaming and torrenting, should you want to do any of these activities.
Why is CyberGhost a perfect solution for Brave? Simply put, because of its security features. It encrypts your connection with military-grade encryption and uses a reliable kill switch. IP/DNS leak protection is also here, so you won't have to worry about accidental exposure.
The Romanian jurisdiction is perhaps the best one for a VPN service usable with Brave browser. It's outside the 14 Eyes, hence CyberGhost isn't obligated to share anything with the government. Nor it has to share anything given that it has a zero-logging policy. Combined with Brave, it's a perfect recipe for privacy and security.
Much like ExpressVPN, you can install CyberGhost on pretty much every platform. With its 24/7 support available through live chat, you won't face an issue that you can't fix. If you're going to get it, we recommend its 3-year plan that yields the highest discounts.
The great thing is that there's a 45-day money-back guarantee, as well! CyberGhost is a prime example of how a cheap VPN can be outstanding, and so is Surfshark VPN, which also represents a great alternative to this provider.
Stay Anonymous Online With CyberGhost >
3. NordVPN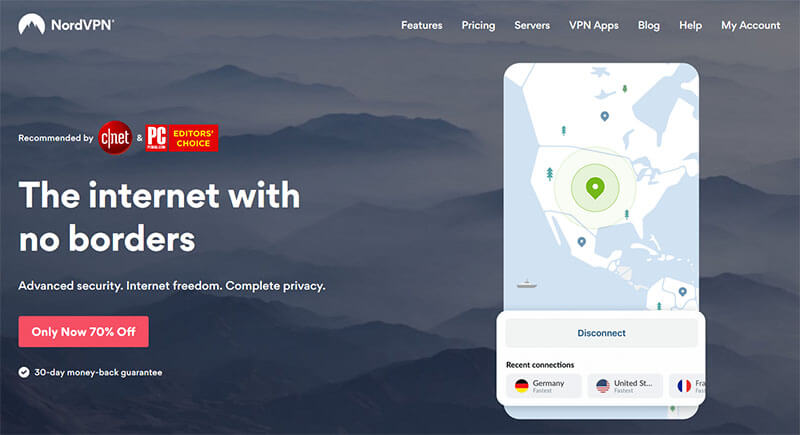 You don't need to Google-search for ages to realize what NordVPN is. It's one of the top Brave VPNs around, both in terms of sheer performance and security. Although it's mainly security-oriented, NordVPN has many features to distinguish it from its strong competition.
One of these features is NordLynx, a brand new security protocol. It has faster connection speeds and stronger security, further amplifying an already-great VPN experience. To top it all up, the provider uses 256-bit encryption as its main security feature.
In terms of server count, there are 5,600+ servers in 60 countries, which is impressive. Not as impressive as CyberGhost, but far more than ExpressVPN. Brave Browser users will be happy to know that NordVPN has a zero-logging policy.
Coupled with obfuscated servers and Double VPN, the provider has all you need for staying safe and bypassing censorship online. Those who love streaming can now unblock Netflix US, Disney+, or Hulu, while torrenting users can enjoy a plethora of P2P servers.
NordVPN has very intuitive apps for all major platforms. We prefer the PC app, but iOS and Android apps are amazing, too. This isn't a free VPN, let's make it clear. However, its price is very affordable for what you really get.
Plus, if you go for a 2-year plan, you get a 30-day money-back guarantee and a huge discount. Not to mention all the standard features like live chat support, unlimited bandwidth, and router compatibility. Even if you're a demanding user, this will surely make you happy!
Get NordVPN for Brave Browser >
Why You Should Use a VPN for Brave Browser?
Brave Browser advertises itself as being much more secure than your ordinary browsers, such as Opera, Mozilla, Chrome, and Edge. And to some extent, that's completely true. But, we have to make a parallel here.
People often say that iOS, Linux, Android, and macOS systems are safer than Windows. That is truly the case. Windows users need to battle with viruses, while all the aforementioned platforms can't be infected.
As soon as you connect to the internet, though, things start to change. Browsing the web is NEVER safe, regardless of your platform or web browser. Remember that Brave Browser is only a BROWSER and not an app that protects your whole network, so don't rely too much on it.
Here's why Brave browser should be used in conjunction with the best VPN possible:
A VPN Offers Complete Protection
We appreciate what Brave Browser brought to the table. It's awesome. You get an ad-blocker, tracker blocker, and other security features. BUT, that's only if you access the internet with this app. What about your other connections? They're, logically, unsafe.
For instance, you can connect to an insecure Wi-Fi network, and even if you're using Brave, someone can track you and hack into your device. Moreover, you can't hide from your ISP when using it, hence you're still under surveillance and your privacy is still, more or less, endangered.
The best VPNs listed in this article about Brave Browser will offer you complete, 360-degree protection for your entire network. Once you connect to it, every inbound and outbound connection is encrypted, leaving no room for others to snoop in behind your back.
This is possible due to military-grade encryption and a kill switch that effectively prevents any potential IP/DNS leaks.
Bypassing Geo-Restricitons
Recently, Opera included a VPN-like feature in its browser, to help you take advantage of this service. After we tested it, we concluded it's not worth a shot, as it only works within the browser and is more like a proxy than a true VPN.
Well, Brave Browser doesn't have anything similar, so it's even more inferior in terms of bypassing geo-restrictions. Sure, it'll be much safer, but don't expect to unblock Netflix or watch 10Play from abroad with it.
The best VPN from our list and ranking will allow you to do so. All you have to do is connect to the server in the respective country, open Brave, and enjoy your favorite geo-restricted platforms. This way, you get the best of both worlds AND the ability to unblock sites.
Engaging in P2P Activities Outside Brave Browser
Users who do a lot of torrenting won't have a single benefit from Brave. When you open any torrent site and download a particular torrent file, the browser will "cover-up" your activity. Don't forget that the "real" download starts within your torrent client.
And this is where Brave Browser can't do anything because it's outside its realm of possibilities. Your BitTorrent connection will remain unencrypted, exposing it to the prying eyes of your Internet Service Provider.
Preventing this is possible with a VPN because it hides your IP address altogether, so you can do whatever you want online with no surveillance.
Summary
In the end, the question is – do we recommend Brave Browser? Yes, we do. It's a fantastic browser that will be a perfect Chrome replacement in terms of privacy. But, as it is just a browser, it has its limits that you need to be aware of.
The best-case scenario is combining Brave browser with a premium VPN, such as ExpressVPN. Only then you'll be able to enjoy your privacy and security to a full extent. Don't forget about the big discounts that these providers offer, which should make them more affordable and save a lot of your money.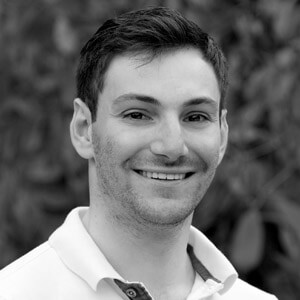 Flo is the founder of the-bestvpn.com. Really concerned about security on internet, he decided to create this website in order to help everyone find the best VPN. He's got a Business School background and now is 100% dedicated to keeping his website alive.