If you want to remain anonymous while streaming and playing online games,  you should search for a proper VPN. The thing is, many providers offer expensive services without a free trial. That is why we have decided to review TunnelBear, which does have a free plan that is close to their paid subscription. However, it doesn't offer all the same server locations and is limited in terms of data transfer. While this VPN carries potential when it comes to encryption, protocols, and compatibility, it is seriously lacking in most high-end aspects.
Thus, we have decided to help you make an educated decision by discussing the disadvantages of subscribing to TunnelBear. We will also talk through a few relevant substitutes.
Why Can TunnelBear Be Disappointing?
It is a fact that any VPN on the market comes with its cons. Anyone that is hoping to get safe and secure browsing without flaws should think again.
Still, most of the leading providers aren't lacking in the aspects that affect overall performance. Unfortunately, we found this to be the case with both the free and the paid plan of TunnelBear. Let's take a look.
Weakness #1: Canadian Jurisdiction
It doesn't matter if a VPN can bypass restrictions or allow unlimited torrenting if you will suffer legal consequences at the end of the day.
While this service claims a strict no-log policy, the fact that it is based in Canada certainly is not ideal when it comes to jurisdiction.
Yes, this country has data retention laws that are a bit more customer-friendly than those in the US. However, that doesn't change the fact that it is still a member of the Five Eyes alliance.
Thus, if the authorities in the UK, the US, New Zealand, Australia, or Canada ask for your private info, TunnelBear will be obliged to provide everything that they have.
Frankly, substitutes like NordVPN or ExpressVPN ensure that your info will never end up in the hands of local authorities or foreign governments.
Weakness #2: Slow Servers

Among the most important aspects for any VPN out there is the speed that it can put out. Any service that is going to hide your IP address and encrypt communication will slow down your internet connection. That's a fact!
Unfortunately, most providers aren't able to ensure stable and reliable connectivity once this happens. TunnelBear is among these.
In addition to its limited server park, we didn't have a good experience testing out a couple of their locations.
First, we connected to their server in London. While it is rather close to our primary location, we experienced a 50% speed drop in both download and upload. At least the ping stayed in a fair range, being set at 35 ms.
Our second test session was aimed at the New York server, and the results were even more dramatic here. Our speed went down by 70%, while the ping was at 150 ms.
Last but not least, we wanted to try the server that seemingly carried good potential – Hong Kong. We were saddened to find out that it is almost unusable. We experienced a speed drop of 90% for download and 80% for upload, as well as an enormous ping that was over 300 ms.
Weakness #3: Blocked Netflix
If you have ever used a VPN before, then you are aware of the issues that even the leading names have with unblocking Netflix. This wasn't always the case, though.
Before 2016, it was quite common for a provider to unblock Netflix and other streaming catalogs across the globe. Then, in that year, these platforms declared war.
Today, just a few providers, including ExpressVPN and CyberGhost can do this without any issues. Bearing this in mind, we didn't have high expectations. TunnelBear is quite limited both in terms of connectivity and the number of locations that are offered.
Unfortunately, we were right.
Trying out both their UK and US servers, we encountered nothing but a streaming error. The same happened when we logged on to the local Canadian server. Therefore, it is certainly not the optimal choice if you were hoping to stream HD and enjoy foreign TV content.
Weakness #4: Doesn't Support a Router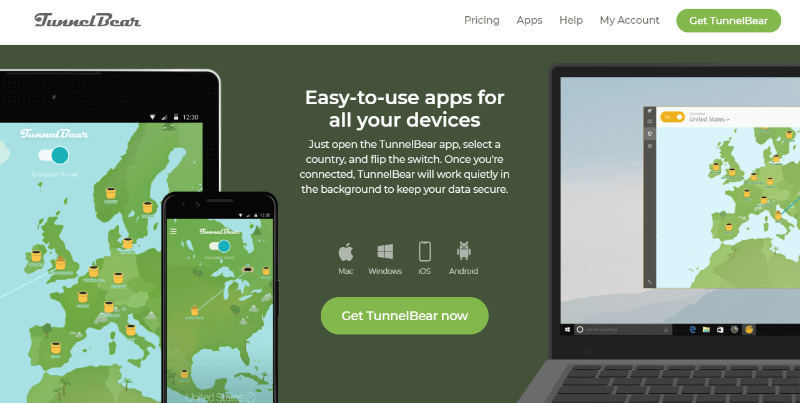 A VPN that can be installed on a router is a worthy choice for a couple of reasons. First, this will allow you to improve the tunneling protocols, as well as the offered encryption.
On the other hand, you will get to connect with more simultaneous devices than what was originally offered. However, it doesn't seem that TunnelBear allows this to happen.
We also contacted their customer support and found that you can't install their software on any type of router.
Weakness #5: Free Plan is Very Limited
You shouldn't expect any kind of optimal performance when it comes to free providers.
In fact, in most cases, these free providers turn a profit by selling your browsing data to third parties.
However, the fact that TunnelBear offers just 500 MB per 30 days means that it works more as a free trial than a proper, true, free VPN. Keep in mind that this amount of data transfer will not be enough for any kind of streaming, much less torrenting or playing online games.
Weakness #6: Limited Server Park
Looking at Reddit, you can see most users highlighting the fact that this provider offers only 22 locations as the main disadvantage. Indeed, this is a huge problem.
Not only is global coverage not present, but even those servers that are available aren't performing at an optimal level. We are looking at locations set in Europe, the US, Canada, and Asia.
While this may sound good, the fact that VPNs including CyberGhost, ExpressVPN, and NordVPN have 5 or 10 times more than this is quite dramatic.
Favorite Alternatives to TunnelBear: 3 Paid Providers
Given the aforementioned traits for TunnelBear, it is clear that it may disappoint more than one even though it has a free offer. Still, although this VPN provider may not allow optimal performance, that doesn't mean that you should be putting out the white flag just yet.
We know a couple of relevant replacements that allow good speeds, have global servers and provide effective customer service.
They also ensure that you will stay 100% anonymous through your experience.
ExpressVPN: The Best Alternative to TunnelBear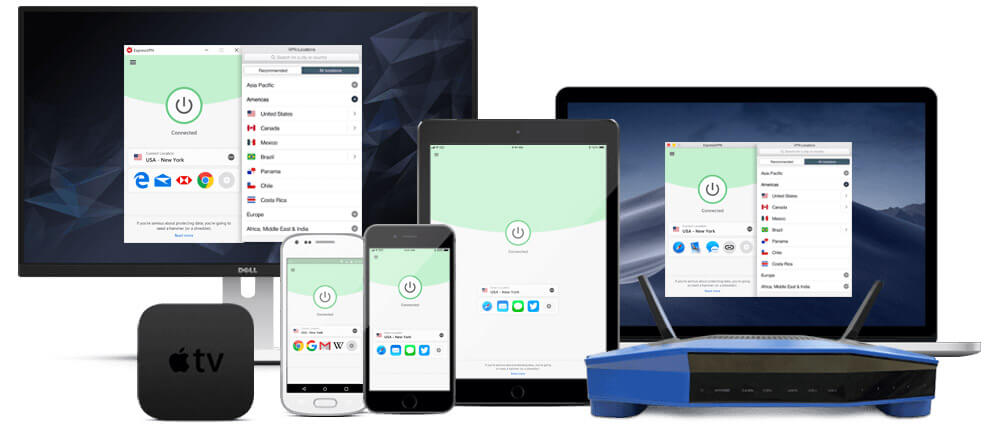 Talking about the leading names in the industry, it is hard not to mention ExpressVPN.
First and foremost, it is a provider that offers more than 3,000 locations in 90+ different countries. This is huge compared to what TunnelBear has in store.
The main reason why we love this provider is because of its ability to bypass geo-restrictions. Not only will you be able to access content in Russia, Saudi Arabia, and China, but you can also work your way through Brazil's restrictions.
Additionally, this VPN is quite effective if you are an Australian citizen and you are currently out of the country. It will keep you from missing out on the local content. Apart from this, ExpressVPN is known for its great speeds that are far ahead of TunnelBear.
Thus, the greatest drop that you can experience is in the range of 15%. That is only if you are connecting to the servers that are far away, including Hong Kong, India, and Australia.
CyberGhost: A Great Replacement for TunnelBear, Particularly for Device Compatibility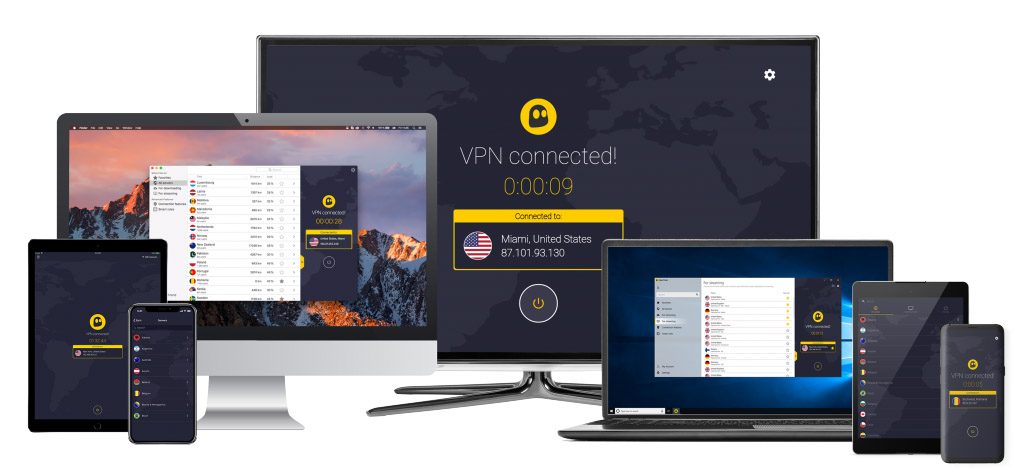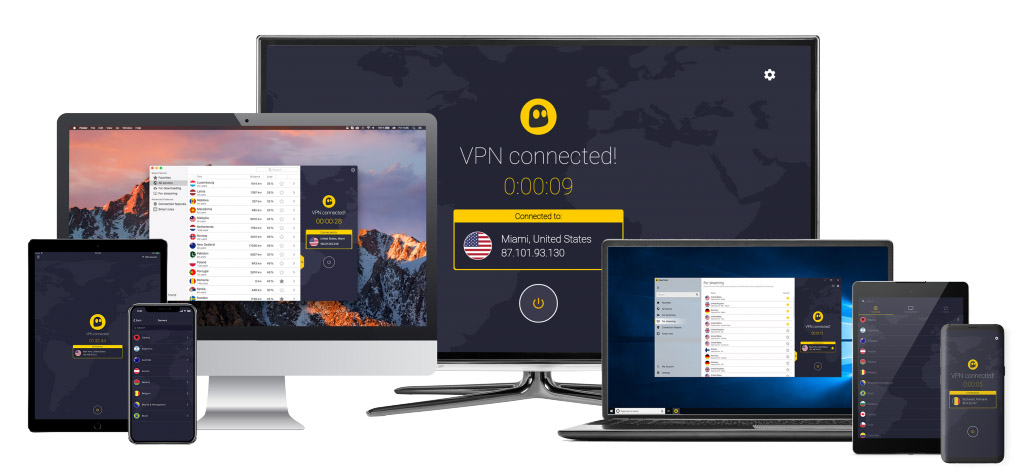 We always like to emphasize the importance of device compatibility and overall usability.
As we have mentioned above, TunnelBear has issues when it comes to router installation. This means that you will not be able to connect with a couple of devices at the same time if you go for their free plan.
Their paid plans allow up to 7 devices, but you still need to know a thing or two about how to configure the relevant files.
Additionally, the Mac app that is offered by this provider is not at an optimal level. That is why we present to you the fan-favorite, which comes in the form of CyberGhost.
It is one of the most affordable and reliable VPNs on the market.
First and foremost, it has a few standalone apps for iOS, Android, Windows, Linux, and macOS. These are made user-friendly and don't require any previous installation knowledge.
Plus you're able to protect up to 7 devices AT THE SAME TIME.
NordVPN: The Safer Option than TunnelBear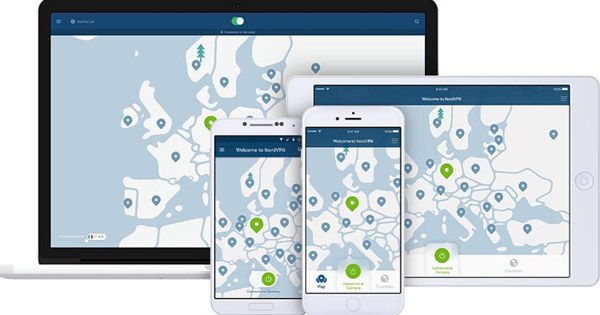 As we have mentioned above, TunnelBear adheres to Canadian jurisdiction. This means that it is not the most reliable provider in terms of safety or privacy.
Luckily, NordVPN does a great job in this aspect by being set in Panama and by ensuring a strict no-log policy.
Not only that, but you are also protected by many instruments, including 256-bit AES encryption, tunneling protocols, and shared IP address.
This lowers the chances of your true IP address being revealed. Probably the main reason why we would recommend this provider is for its ability to unblock streaming content.
It can bypass restrictions from more than 150 streaming sites and ensure that you enjoy your favorite TV show without a streaming error.
Last but not least, NordVPN offers more than 5,500+ servers in over 50 countries. This sets it in the group of providers that are global and allow optimal overall performance.
The Best Free Alternative to TunnelBear
While we mentioned that TunnelBear offers a free plan, the limitations that follow it make this option quite unreliable.
The fact that you can't exceed the limit of 500 MB means that you will not be able to use this VPN for anything other than a bit of average browsing activity.
Keep in mind that they do have a paid plan, but it is not worth it compared to the aforementioned alternatives. That is why we consider Windscribe to be your best bet if you don't have the funds but want to experience a good VPN service.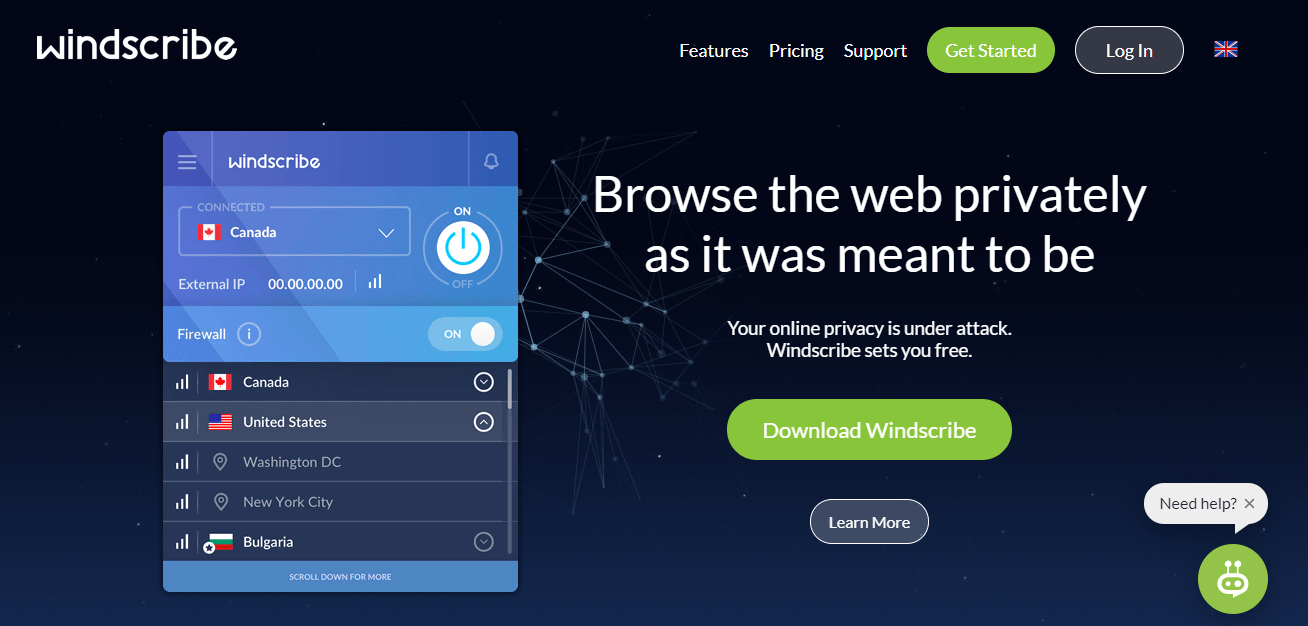 What we love is that you can still enjoy torrenting and even unblock Netflix in some locations. Yes, the 10 GB limit is still present, but it allows 20 times more data transfer than TunnelBear.
Thus, if you are looking to enjoy free service and you aren't obsessed with downloading files at lightning-fast speeds, Windscribe is a reliable solution.
Otherwise, we consider ExpressVPN, CyberGhost, and NordVPN to be the three providers that are hard to beat in terms of overall performance. Plus, it's hard to beat the price point that these come at!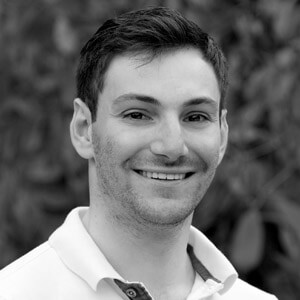 Flo is the founder of the-bestvpn.com. Really concerned about security on internet, he decided to create this website in order to help everyone find the best VPN. He's got a Business School background and now is 100% dedicated to keeping his website alive.