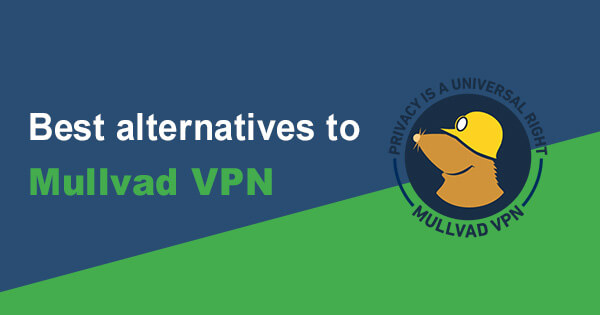 Looking at the market, there is a myriad of VPNs that seem to offer reliable performance. Among the most popular is Mullvad. It is not as known as some other providers, but its solution can be appealing to some, especially if you're looking for anonymity. Bearing that in mind, we did a thorough analysis to find out more about Mullvad and what are the best alternatives to this service. Let's take a look.
Why Can Mullvad VPN Be Disappointing?
Firstly, you shouldn't be surprised that this provider has its cons. This is perfectly normal, as paid and free VPNs alike lack in certain aspects.
If you want to find out more about both its strengths and weaknesses, you can read our full review about it. Otherwise, let's move on and talk about what could be better with this product.
Weakness #1: Sketchy Jurisdiction
The answer to where this provider is based is quite tricky. This service is set in Sweden and, as such, it obliges to the regulations of the 14 Eyes alliance.
Thus, any of the listed countries (US, UK, Australia, and more) are allowed to request data and privacy info from Mullvad VPN. The main issue here is that you can't get a relevant answer from their customer support.
This is something that we will be discussing down below. Overall, it is not the best solution if you were hoping for a friendly-VPN jurisdiction.
Weakness #2:  Ineffective Refund Policy
Just like any other VPN, Mullvad has its disadvantages. Therefore, you will want to be sure that there is an option to unsubscribe and get your money back. At first, the pricing options for this service seem to be friendly, and there is a myriad of payment methods available.
These include credit and debit cards, as well as PayPal, cheques, and even Bitcoin for those hoping to stay completely anonymous.
However, while their proclaimed refund policy is set at 30 days, that really doesn't seem to be the case. First and foremost, if you decide to pay by cash, you can essentially forget about getting your money back at any point.
The same goes for Bitcoin, for which the refund process is overly complicated.
Unfortunately, it gets even worse, given the fact that their customer service doesn't actually exist. We will talk about it right after.
Weakness #3: Non-Existent Customer Support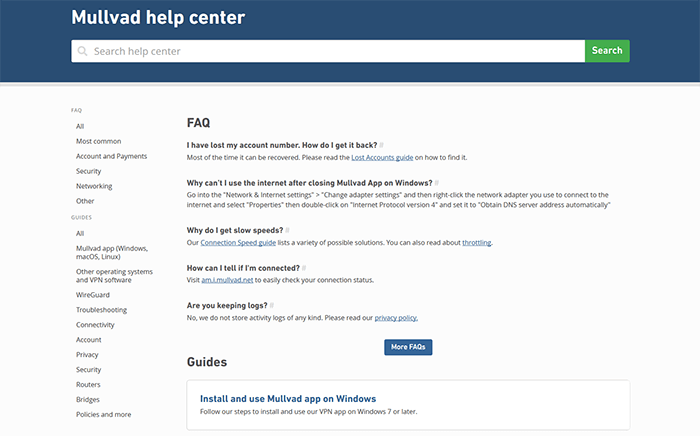 We always emphasize the relevance of effective customer support for a VPN.
It is a fact that, during your experience, you may come across connectivity issues. You may also think of questions that are not answered on the FAQs page.
While most leading names offer a 24/7 live chat feature, this one is seriously lacking. Not only are you not able to contact them through a chat form, but their email contact form is extremely slow and ineffective.
It took us more than three days to get a relevant answer, and even then, it was not useful. This leaves you with the FAQs page, which also seems to be lacking critical info.
Unfortunately, this page is incredibly vague and is not going to help you with any relevant issues.
Weakness #4: Device Compatibility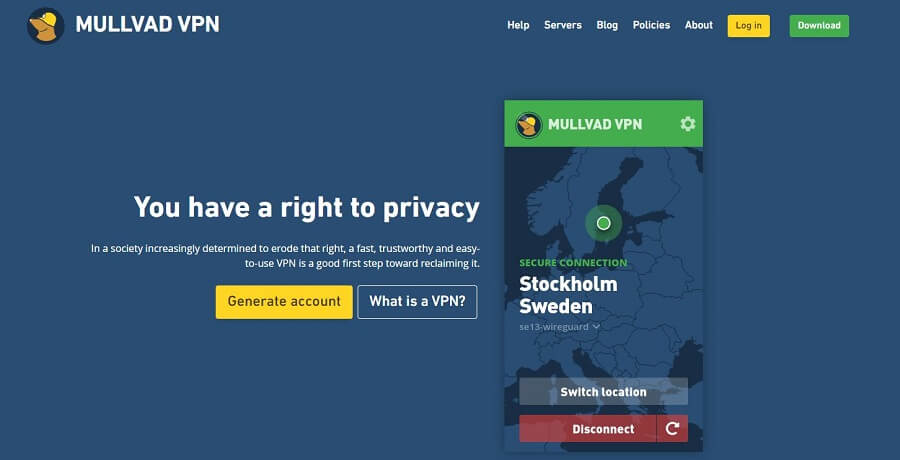 One of the elements we like to focus on is the ability to provide service to users of different operating systems.
This doesn't only contribute to its overall versatility but also gives an option to users who want to enjoy Mullvad VPN with a couple of devices at the same time.
Unfortunately, we were extremely disappointed to find out that this provider offers designated apps for just a couple of devices. You are looking at fair compatibility for Linux, Windows, and Android users. However, that is about it.
While it does allow for this service to be used by iOS users, you will have to go through a hefty installation process for this to be made possible.
Thus, it is safe to say that this VPN certainly doesn't stand out as the most user-friendly option on the market.
Additionally, it is far from the best to use on FireTV.
Weakness #5: Tiny Server Park
You can't truthfully call Mullvad VPN a global provider.
Yes, it does cover 36 countries with 764 different servers, but this number just doesn't do the job. The thing is, most of the servers aren't running 24/7.
Plus, the ones that are set in Asia are extremely slow and highlighted by an unstable connection.
Keep in mind that, although this provider comes with a Hong Kong server, any hopes of unblocking content in China aren't realistic.
Our Favorite Alternatives to Mullvad VPN: 3 Paid Providers
Unless you want to make yourself a clear target for hackers and third parties, you shouldn't use Mullvad VPN. While the browser itself is quite reliable, their proxy service simply doesn't do the trick.
That is why we researched the market and found the three VPNs to be great alternatives for a plethora of purposes.
ExpressVPN: The Best Alternative to Mullvad VPN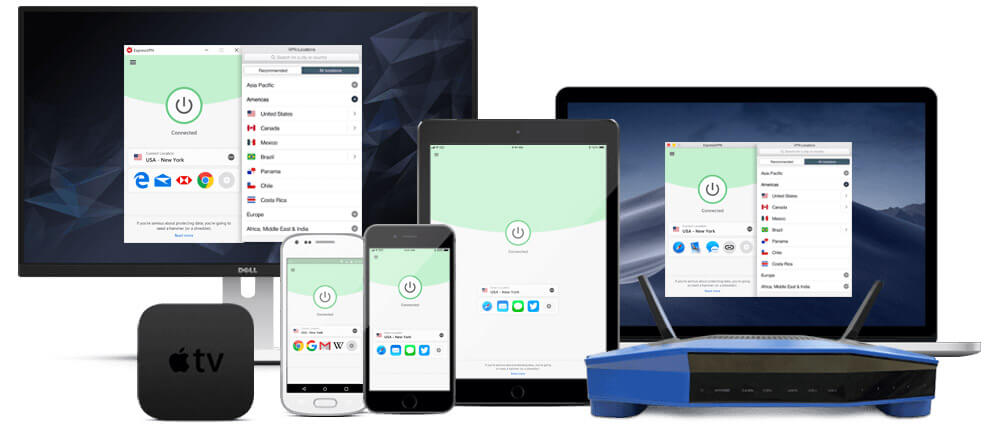 Among the many issues that we have listed above, the slow server speeds may worry you the most.
Yes, a virtual private network service does have to slow down your connection, but ExpressVPN shows that it doesn't have to be dramatic.
This provider offers service in more than 90 countries with over 3,000 locations. Plus, it makes sure that you can use most of these with huge success.
Being the skeptics that we are, we went ahead and tested the bold claims of ExpressVPN and found that it truly is incredibly fast.
We only encountered a 10% speed drop when connected to their US location, while it was almost unnoticeable while we were using the UK server. Additionally, the connection to their locations in India, Singapore, Australia, and Hong Kong was also quite good.
Keep in mind that this provider is also highlighted for its no-log policy, as well as a myriad of tunneling protocols. It also features the 256-bit AES encryption that is used by banks and secret intelligence organizations.
Furthermore, it works perfectly in China, which is one of the reasons why we see it as a fan favorite.
CyberGhost: A Great Replacement for Mullvad VPN, Particularly for Compatibility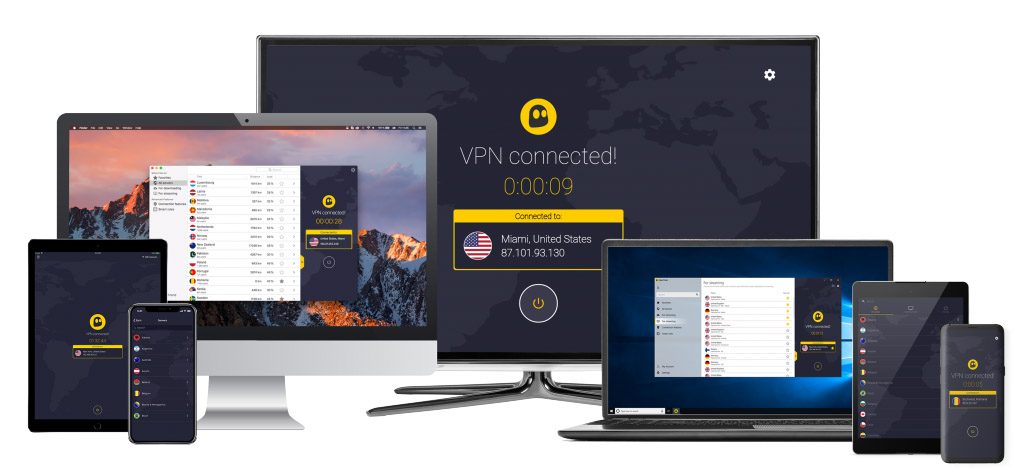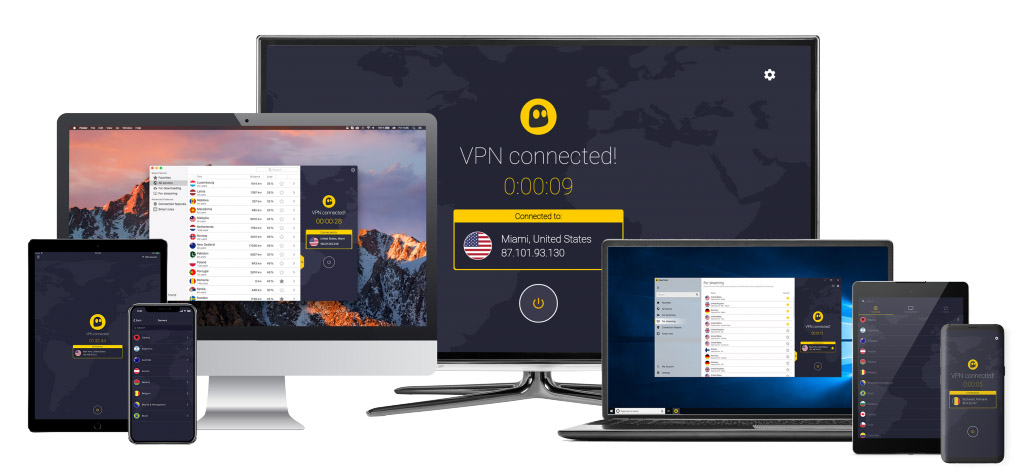 The fact that Mullvad VPN's proxy service doesn't work as a standalone but rather is built into the browser is a huge issue.
It is far from the best VPN to use on Fire TV. This limits the compatibility, as many of the devices, including Android, Linux, and Windows aren't going to run it smoothly.
Additionally, if you were hoping to install it on a smart TV or console, you should look towards CyberGhost as a relevant replacement.
Not only can you use it on Fire TV but also with most gaming consoles, including Xbox One and PlayStation 4. You can also use it with Windows, Android, Linux, iOS, and macOS devices.
The usability of this VPN is at a much higher level and doesn't require any previous installation knowledge.
Also, it is highlighted by 24/7 customer support, so if you do encounter any issues, you will know who to contact. This is all to say that paying the affordable price for CyberGhost is something you will not regret.
NordVPN: The Safer Option than Mullvad VPN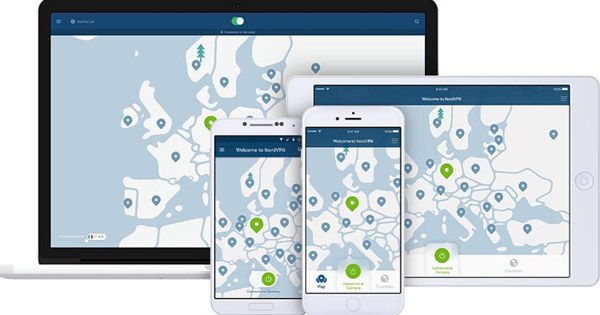 As mentioned earlier, Mullvad VPN is seriously lacking when it comes to security features, as well as the available server park.
This is where NordVPN comes in handy, featuring a large number of servers in the UK. These all offer great performance when it comes to unlocking streaming content. That means you will get to enjoy Netflix, BBC iPlayer, Hulu, and Amazon Prime without any issues.
This doesn't only stand for the EU servers but also for the ones in Asia, Canada, and the US. The thing that we love the most when it comes to this provider is the robust security aspect.
Thus, for anyone who was hoping to enjoy safe and anonymous browsing, NordVPN is the ideal choice. The fact that Panama doesn't have any data retention laws and is not a member of the aforementioned alliance will leave you worry-free.
While not free, this provider comes at an affordable price that is set at $3.71/month if you decide to go for the 2-year plan. Also, there is a 30-day refund window in case you don't like the service.
The Best Free Alternative to Mullvad VPN
We suggested a couple of times already that a free VPN is not the best option. This is because of the sketchy log policy and the potential that they might compromise your data to third parties for a profit.
It is also because of other limitations. Still, while Windscribe comes with its own cons, it's an OK free option. Hence, it can be an alternative to Mullvad VPN for some people. What you should keep in mind is that it allows torrenting, which is a huge plus for a free VPN.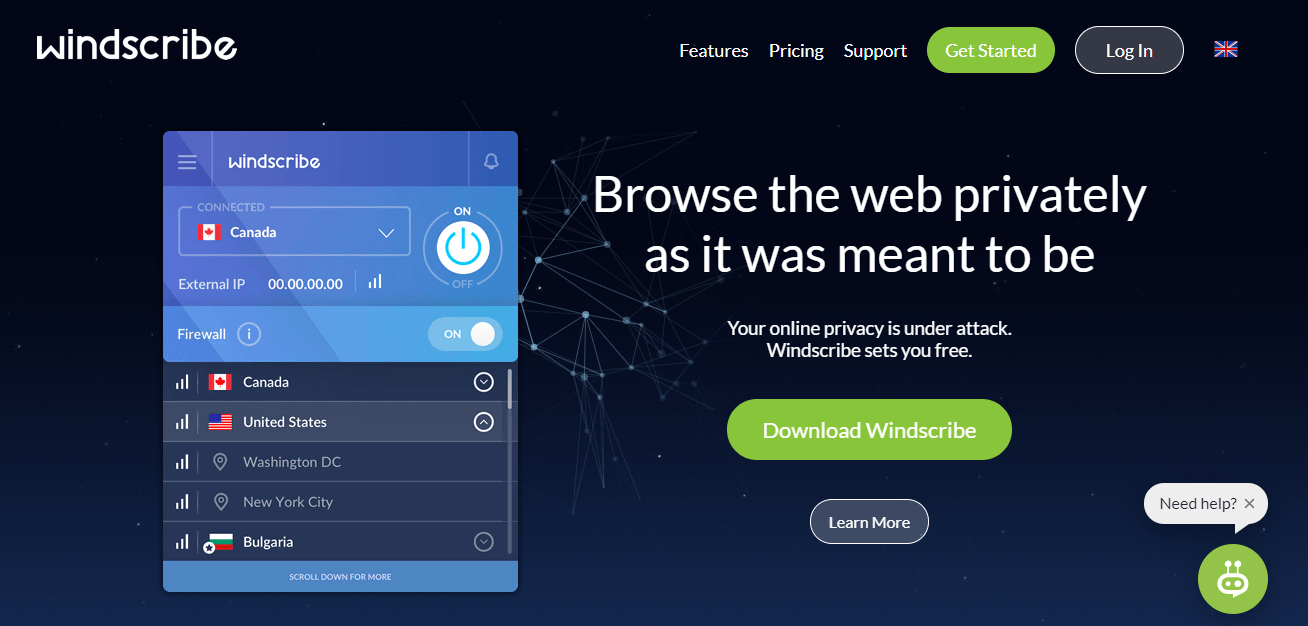 Additionally, there is an actual encryption system to keep you protected. However, you shouldn't forget that there is a 10 GB data transfer limitation for every 30 days that you use this service.
Also, there are no more than 14 locations available with this free plan. Thus, Windscribe may be suitable for someone with basic needs.
So, if you are hoping to use a VPN for streaming HD content, downloading, and gaming, the aforementioned paid providers are the way to go!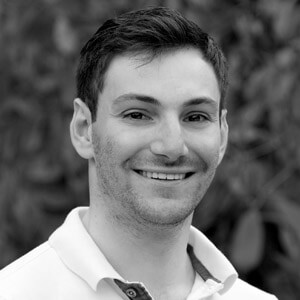 Flo is the founder of the-bestvpn.com. Really concerned about security on internet, he decided to create this website in order to help everyone find the best VPN. He's got a Business School background and now is 100% dedicated to keeping his website alive.