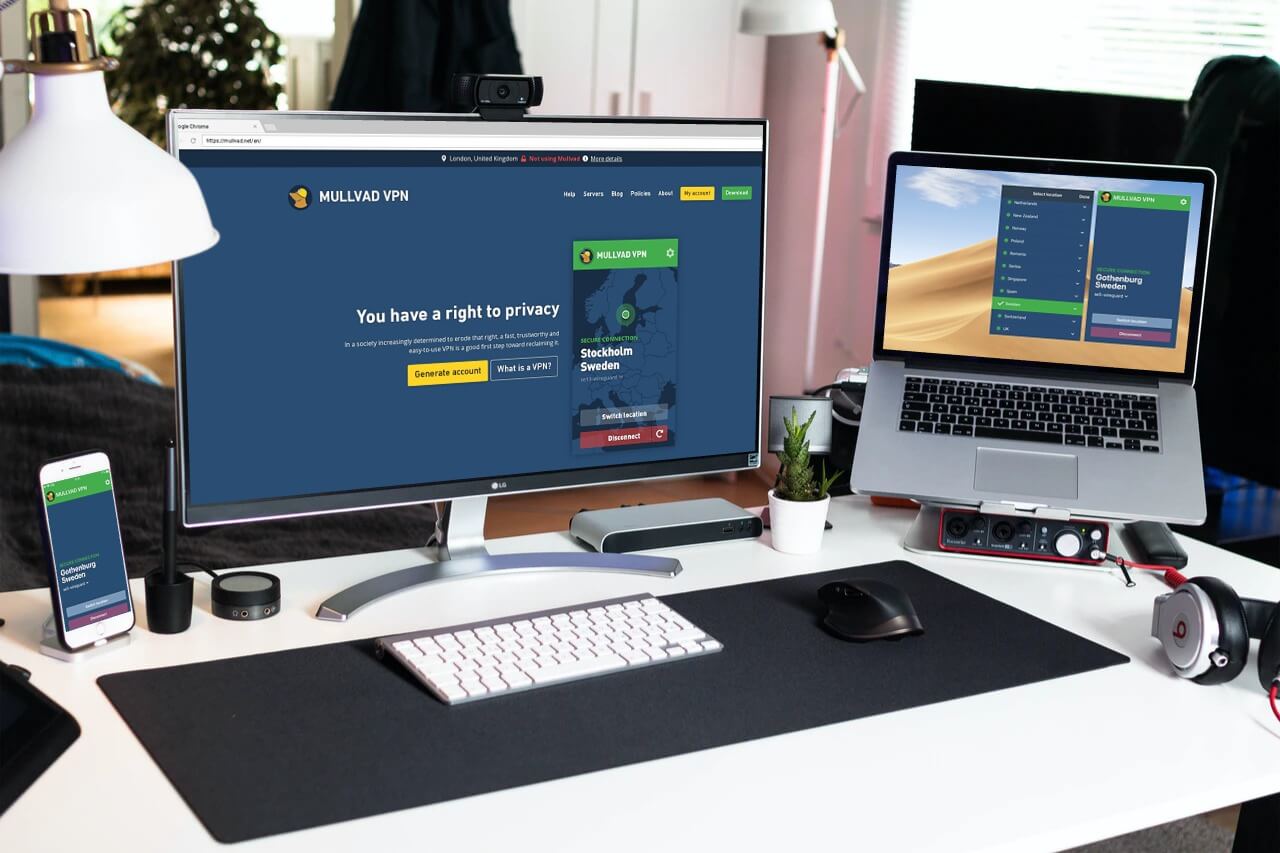 There has never been a period in history that online privacy has been so intensely debated. With ISPs misusing private data and other breaches happening daily, internet users are worried. In our hunt for a solution, Mullvad VPN comes to mind, being a service that focuses on privacy. If you didn't know about this service, pay attention to our review and test.
The truth is that the provider has been in the industry for a long, even before Virtual Private Network became so mainstream. While it's obviously not a match for the likes of ExpressVPN, NordVPN, and CyberGhost in terms of advanced features, its focus on privacy is quite commendable.
However, we'd like to note that this service seems to be designed for only beginners and basic users. It allows users to stay anonymous, but a Virtual Private Network is required to offer way more than that nowadays.
Unfortunately, you may as well stop reading if a service with state-of-the-art functions is what you're looking for.
If you're however curious to know more about the performance of this provider, we welcome you to our hands-on this 2023 Mullvad VPN review and test. Can this provider answer all your privacy and security requests?
Well, we've carried out an extensive test on its service to help you find out.
STRENGTHS:
Unblocks Netflix and BBC iPlayer
Uses strong encryption protocols
Supports torrenting
Has a 30-day money-back guarantee
WEAKNESSES:
Doesn't work in China
Limited network coverage
Poor customer support
Average speeds
Mullvad ranks #20 out of 104 VPNs tested. Here are the best alternatives :
---
Is it a paid or a free VPN?
Mullvad VPN is a paid service, but it is among the cheap VPNs on the market. While it offers a free trial, the free trial only lasts for 3 hours. In our opinion, the free trial period could be longer, as 3 hours are insufficient to properly test the service.
Performance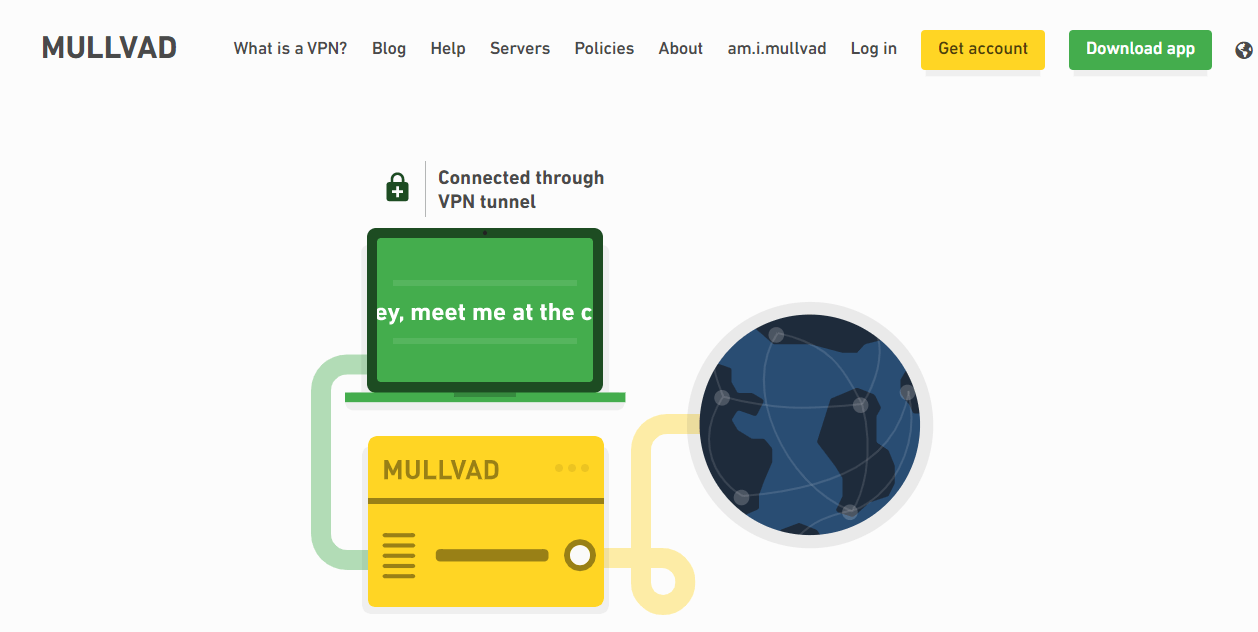 A service may have remarkable features, but all will be pointless if it doesn't offer reliable performance. Thus, we have connected to many of its servers and checked our connection speed every time. To find out how Mullvad VPN performs, let's take a look at the next section in this review.
Speed
Primarily, VPNs are designed to provide online security and privacy. Therefore, why do we really need to take speed into consideration? Well, it's simple. For instance, while a car's primary purpose is to convey you from one place to another, you will prefer to use a car that will convey you between two points in a speedy manner than one that'll take forever.
VPNs are usually slow due to the fact that all the encryption that happens impacts speed. However, a good service will only record minimal speed drops and a bad provider will significantly drop speeds to unbearable levels.
Of course, this is as useless as a vehicle that takes forever to travel from one place to the other.
The truth is that the provider doesn't offer an impressive performance when it comes to speed. We admit that some of the servers we used in our test were fast, others weren't really impressive, while some were even extremely slow.
Thus, if speed is a major concern for you, then this might be a deal-breaker.
Without VPN (we were located in London) :

EU Server (France) :


US Server :

Asia Server (Hong Kong) :


Stability
Another factor that helps in the appraisal of the performance of any Virtual Private Network is stability. A good Virtual Private Network has to be available almost at all times.
Even when it's not available, it's customer support has to be available to calm the nerves of users. Unfortunately, we don't think Mullvad VPN can be really considered as a stable service.
While it claims to be extremely stable like every other service, our test proved otherwise. Besides, we experienced a couple of drops in connection while writing the review, especially when choosing a city-level server instead of connecting a country.
We were very frustrated in general.
Streaming
Here comes the part where we put the ability of Mullvad VPN to unblock the most popular media streaming in the world to test. A service that wants to be placed at the top of the echelon has to offer great streaming performance. So, how did our provider in review perform?
Netflix
In truth, Mullvad VPN has never been the most dependable provider for unblocking streaming sites. In our recent test, however, it was able to unblock US Netflix. The provider does not have specialized streaming servers, which means we needed to test every server location one after the other.
Gladly, we were able to unblock Netflix through a few US servers, albeit after many attempts. While the speeds weren't out of the world, they were sufficient for HD streaming without buffering.
BBC iPlayer
While it's already impressive that Mullvad VPN unblocks Netflix, it's even more impressive that it unblocks BBC iPlayer as well. Like Netflix, BBC iPlayer is also a big media streaming service that has implemented strong anti-VPN systems.
While this service blocks most providers from accessing its geo-restricted content, it surprisingly didn't block Mullvad VPN.
However, keep in mind that there is no certainty when it comes to VPNs and media streaming services. In other words, the fact that this service unblocked BBC iPlayer during our test and review doesn't mean it'll unblock it tomorrow.
Others?
Considering that this provider performed well for Netflix and BBC iPlayer in our test, we expected other big streaming sites to be a walk in the park. Unfortunately, things didn't really go as well as we anticipated.
It was able to unblock Hulu and YouTube, but it failed against Amazon Prime Video and HBO.
However, it was able to unblock NBC Abroad as well, but this one isn't as prestigious as the two services it failed against. If you want to unblock everything, you should consider a provider like ExpressVPN.
Security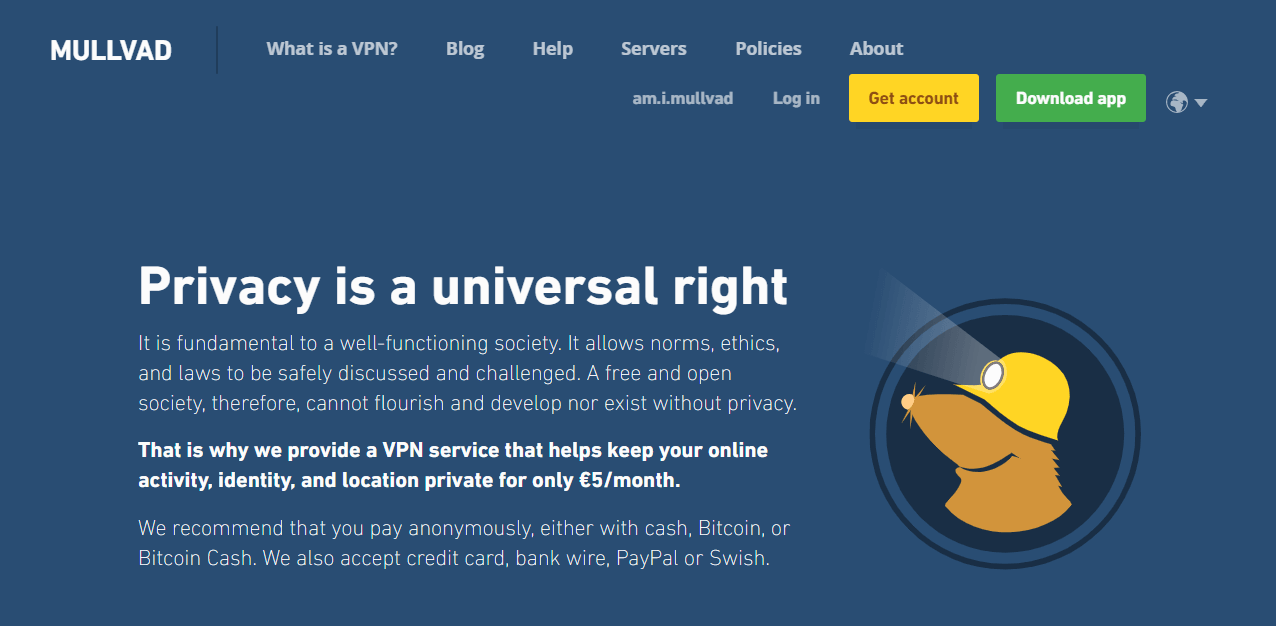 To see how well Mullvad VPN can protect you, we will review its security-related features. Of course, we will take a look at the privacy policy of the company as well. Thus, below is everything you need to know about the security of this service.
Where is it based?
The provider is based in Sweden, a country that is a member of the Fourteen Eyes. This is an alliance of very powerful countries that gather and share information about their citizens freely.
While this alliance was established with the aim of protecting and safeguarding their borders, the digital world of today has elaborated its role, as our test revealed.
Of course, the company also understands that some people may feel be wary about the fact that Sweden is their base. You should, however, know that the nation is an advanced country when it comes to personal data protection.
Firstly, all the members of the European Union share something called the General Data Protection Regulation act. Secondly, there is another thing called the Electronic Communications Act that covers the organizations that must keep and store data.
According to this regulation, VPNs are excluded. This is a way for this provider to avoid the collection of data.
As Mullvad VPN states, the secret to successfully running a VPN business is storing as little as possible data. If they don't have any of your personally identifiable data, then they will not be able to hand over anything to the government.
In the end, we conclude that this provider has adequately covered the fundamentals.
Log policy

Mullvad VPN is completely dedicated to privacy, maintaining a logging policy that allows the collection of only anonymous connection metadata that's relayed to the usage of servers.
You don't need to submit any personal data to create an account with them, and they just assign a randomly-generated account number to you. Apparently, this protects your identity further.
The provider doesn't store any user bandwidth, traffic, or IP addresses. While it keeps an eye on the total number of simultaneous connections of a user, they don't ever store the data.
Mullvad VPN collects some anonymous usage statistics like total bandwidth utilized per server and CPU load per core.
However, they only collect this data to maintain server performance and ensure reliability. Although they store this data indefinitely, it will not affect your privacy at all since it is not personally identifiable.
Without jeopardizing performance, the logging policy of Mullvad VPN is close to zero, as we found in our test and review.
Protocols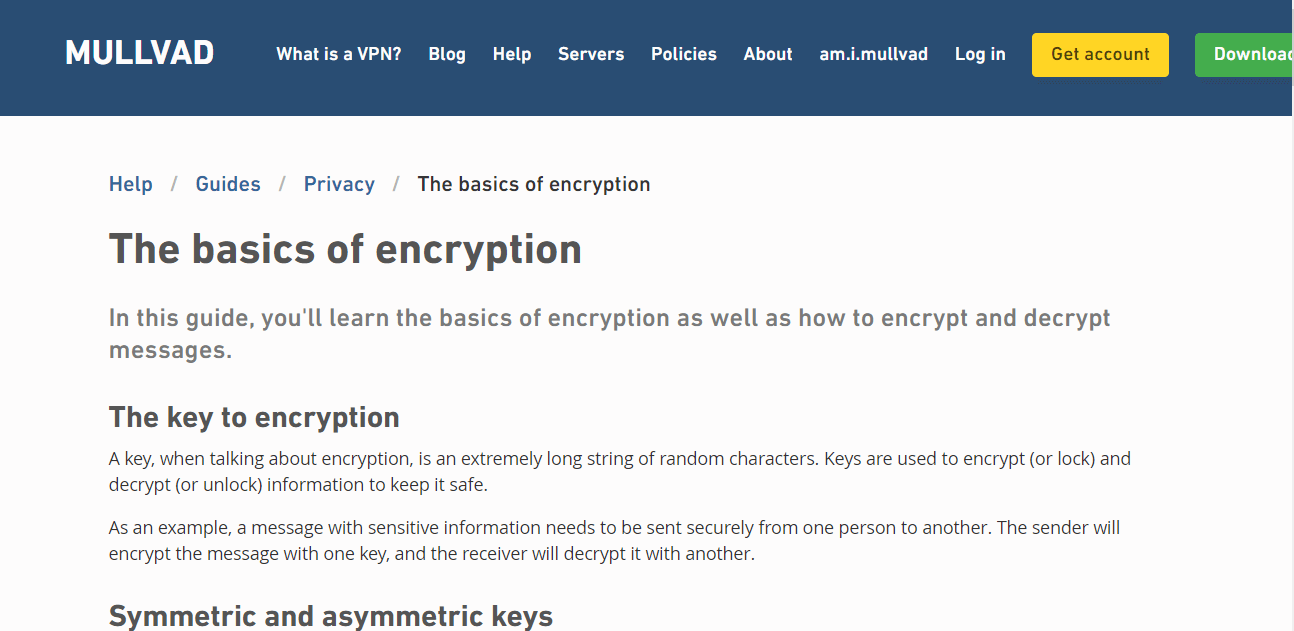 Most providers we have seen opt for regular options in terms of encryption and protocols. Normally, you get a combination of OpenVPN, L2TP, IPsec, and PPTP. However, Mullvad VPN takes a different approach.
It offers two protocol options – OpenVPN and WireGuard.
OpenVPN is the industry-standard protocol, so we don't think it needs much introduction. It is the most secure protocol available, keeping third-parties from accessing your data. While it affects your Web connection with some throttling, it allows you to be completely safe on the Internet.
WireGuard, on the other hand, is actually something that you rarely see. The protocol is a replacement for the popular IPsec and it is available in some Mullvad VPN versions.
WireGuard attempts to strike a perfect equilibrium between performance and security, keeping you safe without having a big negative impact on your connection speed.
To ensure that no one will be able to decipher your data, the provider uses military-grade AES 256-bit encryption. Most people consider this encryption to be the standard of VPNs today, as it is virtually uncrackable.
Most government agencies and major financial institutions use it, which speaks volumes about its effectiveness.
Protection against leaks
This provider also offers protection against DNS leaks. Those users with Linux and Windows operating systems can open the settings tab and tick "stop DNS leaks" to enable this feature.
For Mac users, however, the feature is enabled by default. It's even quite strange that the provider has given Windows and Linux users an option to disable the feature when it is a super-important feature.
Anyways, we checked for leaks during our test and we didn't find any.
Torrenting
There is no file-downloading method that is more popular than torrenting at the moment. Therefore, we thought our review wouldn't be complete if we didn't include this part about torrenting.
Is torrenting allowed?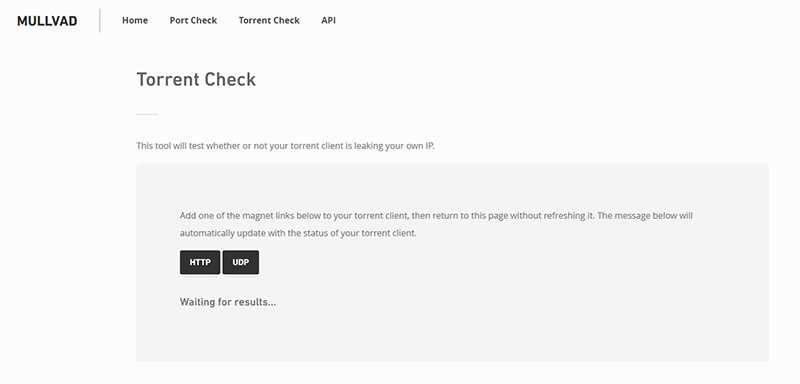 If sharing and downloading torrents is something that is important to you, this service is worth looking at. It comes with high-quality security features, which is all you need as a P2P user.
While it's a good piece of news that Mullvad VPN does not block P2P traffic, that news gets even better with their approach to P2P sharing.
Users can engage in P2P with peace of mind, thanks to OpenVPN that utilizes a 4096-bit RSA Handshake. Besides, they use AES 256-bit encryption to encrypt all data traffic running via the servers.
Remember that this encryption is the strongest in the world, so that alone is encouraging.
In addition, the provider provides users with a SOCKS5 proxy, which is an excellent way to give more security to your connection.
Is there a Kill switch?
The Kill Switch is a feature that helps block internet access when you have a break in the VPN connection. With this feature, you won't be able to connect to the naked internet without having the protection of your VPN.
Apparently, using the internet without your VPN could lead to the exposure of your IP and online activity to snoopers and your ISP.
It's not actually surprising that this provider has incorporated a Kill Switch into its service as it's a privacy-oriented provider. In fact, the feature has even been enabled by default, which is further testament to Mullvad VPN's commitment to privacy.
Since a VPN connection will certainly drop sometimes, any provider that doesn't have a Kill Switch is useless. We enjoyed how the Kill Switch performed during our test and review.
Bypassing Censorship
With many governments around the world joining the ugly trend of establishing censorships, a service that doesn't have the capability to bypass censorships nowadays is as good as useless. With that in mind, we've put the ability of Mullvad VPN to bypass censorship to test. Below are our results.
In censored countries
Thanks to the recent crackdown of the Chinese government on Virtual Private Network, it's difficult to recommend Mullvad VPN. However, while this provider won't work, top providers like ExpressVPN or NordVPN will definitely work.
While customer support advised us to use the Shadowsocks proxy during our test for this review, it is not ideal for privacy as it's not as secure and safe as a VPN connection.
Furthermore, there are some people claiming that the WireGuard protocols may work in China. However, that is not guaranteed, but it's worth trying. In truth, it is not one of the providers we would recommend for China.
Also, it is highly unlikely that the service will work in other high-censorship countries like Iran, Saudi Arabia, and Turkey.
If you want a service that works in high-censorship countries, you may turn to better alternatives.
In restricted networks
Some schools, businesses, and governments block websites to censor content, conserve bandwidth, and reduce distractions. If you're willing to circumvent limitations like that, you can try using Mullvad VPN.
However, bear in mind that you should only do this if you are willing to take up attendant risks.
This service helps create a secure channel between your computer and a server in a different location. Therefore, when you're connected to a server, your communication goes through that channel, so third parties cannot see it.
This setup will help anonymize your IP address and your online identity, and you can unblock blocked websites.
Countries and servers
It is important to know the number of servers you can connect to with Mullvad VPN. After all, you wish to have a lot of servers that could simultaneously host a large number of users, without having any negative impact on performance.
Countries covered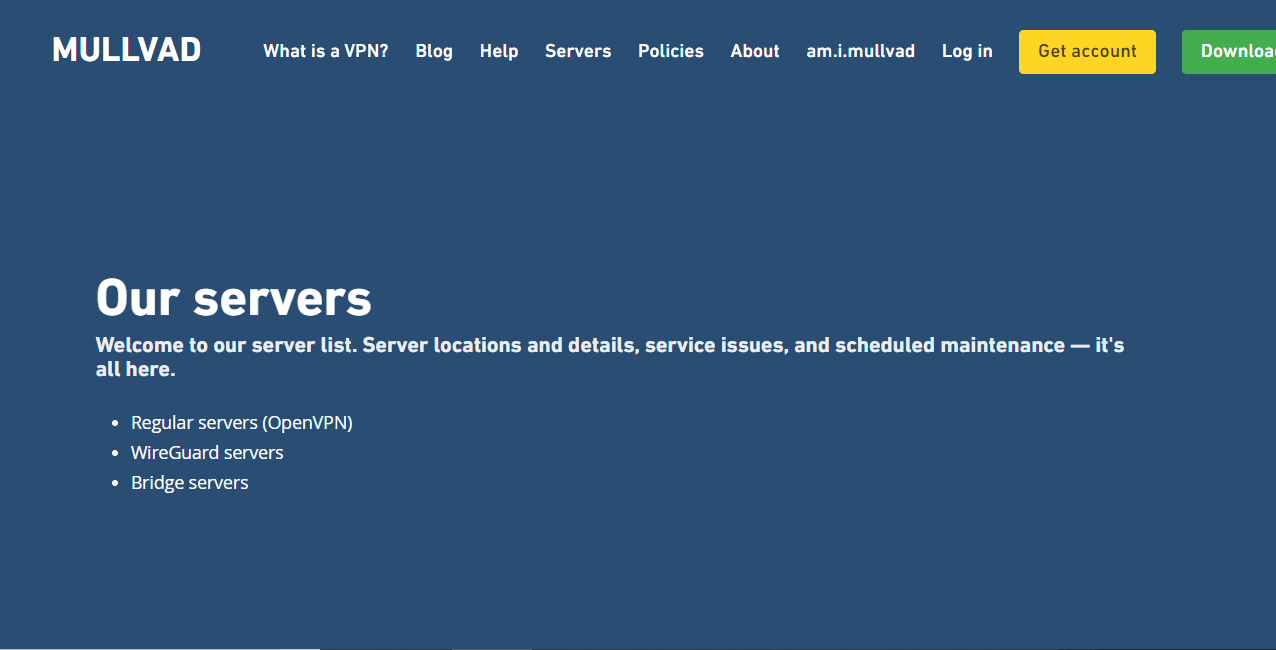 Mullvad VPN has come a long way since its inception. A few years back, we had to count their servers manually, which was frustrating. However, the provider clearly states its number of servers, countries, cities, and even server providers and ownership.
The number of servers and their geographical distribution is a super-important discussion of a Virtual Private Network. In terms of servers, the higher the number of servers a provider operates, the better.
Also, the more server locations, the more locations you will be able to pretend to be in. Besides, the higher your odds of finding a nearby server wherever you are.
In total, Mullvad VPN operates more than 775 servers in 35 countries. Out of their775 servers, 362 are regular servers, 374 WireGuard servers, and 39 bridge servers.
When compared with providers like NordVPN and ExpressVPN that operate 5,400+ and 3,000+ servers respectively, the servers of Mullvad VPN count pale.
The number of countries they cover is also considerably lower in comparison. This provider may claim that their limited network coverage is due to their decision not to use virtual servers.
However, they can do better than what they currently have. Apparently, the more the merrier.
In terms of geographical distribution, the servers of Mullvad VPN are concentrated in a couple of countries. For instance, the United States' 51, the United Kingdom's 35, and Sweden's 35 account for more than 50 percent of the server count.
There are no servers in the entire Middle East and Africa.
Meanwhile, they have only one server in South America, and it's located in Brazil. Repressive countries like Russia, Turkey, and China also have no coverage which is indeed quite normal.
Servers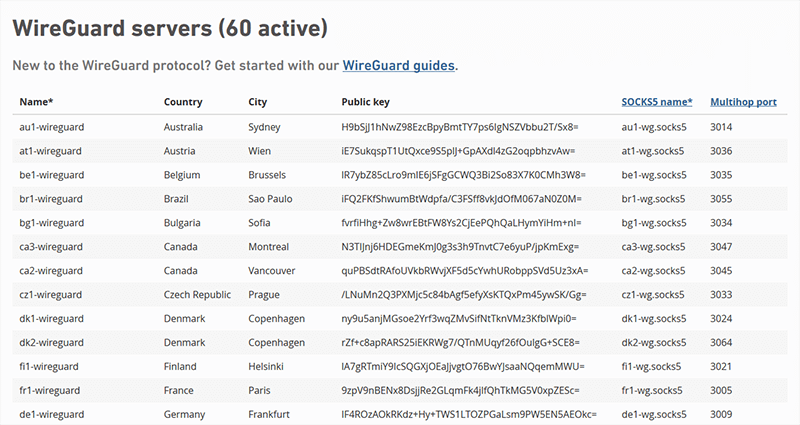 This provider has specialized servers, which are WireGuard servers and Bridge servers. WireGuard servers are designed for the WireGuard protocol, which we already mentioned earlier in the review.
It's believed that the WireGuard protocol offers some advantages over the other protocols.
Compatible devices and simultaneous connections
Compatible devices and the number of simultaneous connections a provider provides are important elements we also accounted for while writing this review and test. Our test findings below enable you to know if the service is compatible with your device or not.
What device can I use with Mullvad VPN?

When it comes to device compatibility, Mullvad VPN performs 'okay'. It provides native apps for every platform from the list, which is a far cry from its past, where it used to offer just apps for Windows and macOS.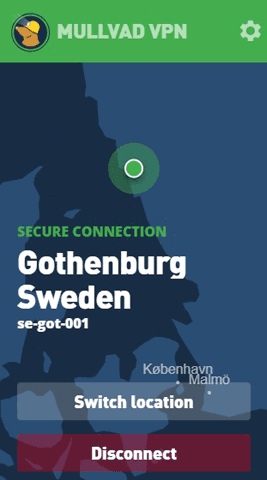 If you encounter issues while installing the service on any device, the provider's site offers useful step-by-step installation guides, which include resources to set up the service on routers (for example, DD-WRT and OpenWrt routers).
Additionally, this provider doesn't offer any extensions for popular browsers like Google Chrome, Safari, or Mozilla Firefox. If you're a heavy user and enjoy using browser extensions, you'd need to opt for another service.
It doesn't also offer custom clients for streaming devices and gaming consoles.
How many simultaneous connections?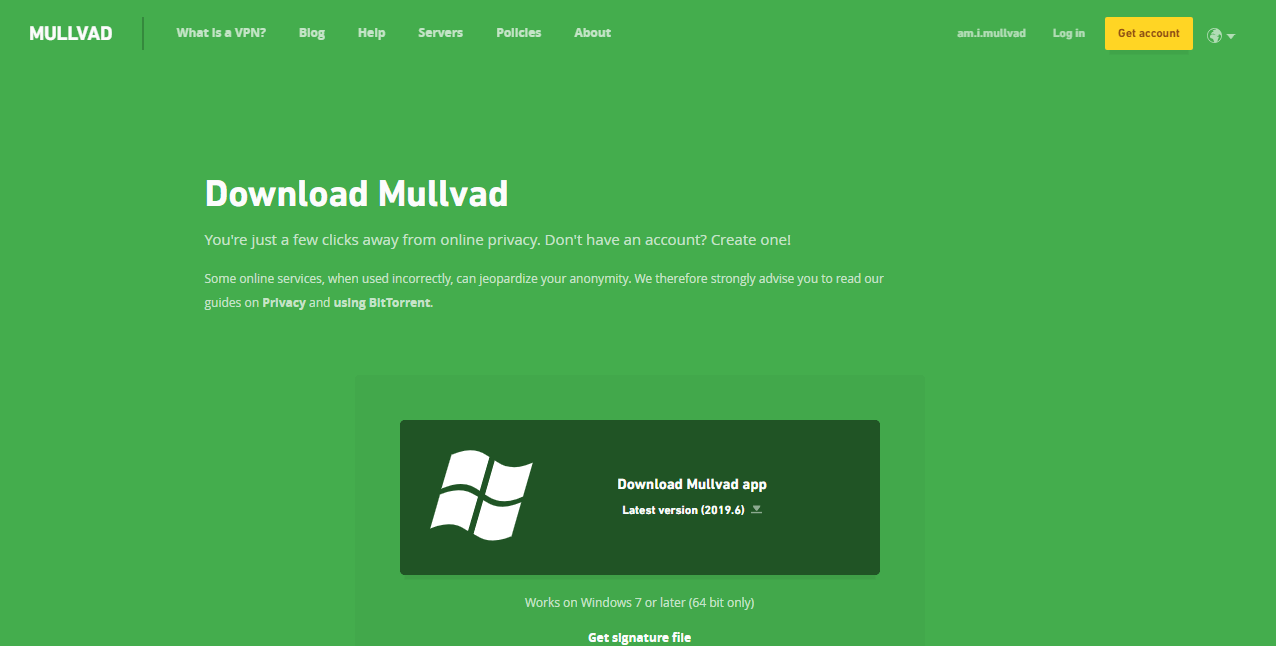 When it comes to the number of simultaneous connections, Mullvad VPN offers 5, which is quite decent. The industry standard is 5, so any provider that offers more than 5 is just being generous (it's the case of CyberGhost who offers 7).
With 5 simultaneous connections allowed, you can connect and protect all your devices.
You can even invite some members of your family to connect their devices as well. We connected more than one device simultaneously during our test and everything worked well.
Another middle-class provider that offers 5 is HideMyAss, as you might have seen in our HideMyAss review.
Client support
You can never overstate the importance of good client support. How do you have confidence in a provider that you can't rely on to come through for you in your times of need?
Well, we understand this, and we checked out the client support of Mullvad VPN while writing this review.
How to contact it?

It's always great to be able to use email-support as most people don't know how to express their issues via phone calls. It's also nice to able to get immediate support via a live chat feature.
Sadly, this provider offers client support via e-mail, and that is even a little of an exaggeration.
There is only one way to get in touch with this provider, and that's via their Bug Report feature. With this system, you can't tell for sure if the agent on the other end will be able to assist you.
While the site has an e-mail to get in touch with an admin, it is not clear whether it's for problems with the site or customer service.
For the purpose of thoroughness, we tried using both during our test and the results were terrible each time we did.
Is it good?
With everything we have said already in this review, it's safe to declare that Mullvad VPN doesn't have good client support. In fact, the client support is terrible, probably the worst of any provider we have ever had to review.
In all honesty, it'd be difficult to trust a service that doesn't offer a convenient way for its customers to reach it. Even we wouldn't recommend such a provider.
FAQ/tutorials

Mullvad VPN offers installation guides and a FAQ section, which makes up the major part of the support. However, the guides are very thorough, including step-by-step instructions, a directory, and even screenshots.
From configuring port forwarding to set the app up on Windows this provider provides everything in its guides.
In a lot of ways, the thorough guides somewhat make up for Mullvad's lack of advanced features in its interface. For example, there is no simple way to set up split tunneling, but the guides will teach you how to manually configure it.
We also had the guides to thank a lot of times during our test and review.
While the FAQ is nice as well, it is more suited for interpretations than troubleshooting. The provider covers subjects like the number of simultaneous connections an account has and how to know when they have processed your payment.
Value for money
The market is packed with many providers nowadays. However, there are lots of them that are in the business with the sole aim of ripping customers. To avoid getting into the hands of such a provider, it's important to read this part of the review.
Price comparison

When it comes to pricing, Mullvad VPN is a bit unusual, offering only one subscription plan for a flat rate:
1 Month  5€ ($5,50 approximately)
Mullvad VPN is as straightforward as possible in terms of pricing. As mentioned, the service costs only $5,50 per month, which is not the cheapest, but it's quite good.
Means of payment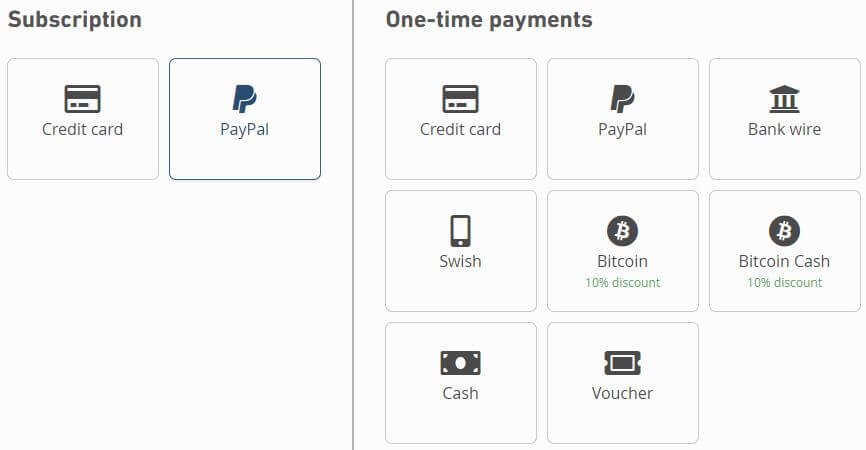 Considering the means of payments available, there is no doubt that this provider prioritizes convenience above everything. The following are some methods by which you can make payments.
Bitcoin
Bitcoin Cash
Cash
Bank Wire
PayPal
Swish (Swiss mobile payment tool)
Bankgiro (Norwegian giro system)
You can even pay with cash as the provider takes postal orders. You simply need to send your cash and account number to cover the length of the period for which you want the service to their address in an envelope.
For instance, you only need to send about 17 EUR for 100 days. However, keep in mind that there are no refunds when you pay with the case, thanks to AML regulations.
That's all you need to know for this part of our Mullvad VPN review.
Money-back guarantee
This is quickly becoming an important consideration for users as nobody wants to waste their money on a useless provider. Mullvad VPN offers refunds if you're not pleased with the service.
Like the majority of rival companies, they provide a 30-day money-back guarantee. This means that it must not exceed 30 days before you request a refund.
If you make payments through the normal payment means, refunds are simple. However, you might not easily get your refund if you paid through anonymous means of Bitcoins.
Meanwhile, forget about getting a refund if you paid with cash as the provider doesn't do refunds for cash payments.
Any extra?
Everybody likes extra features, as they determine the real value of a service. Does this provider offer anything apart from the basic features? Well, we checked during our test, and below is our result.
Split Tunneling
The one and only extra feature we found for this provider while writing this review is split tunneling. This feature allows you to choose some of your programs that you want the service to cover while letting the rest of your traffic travel through your normal Internet connection.
In fact, a lot of people left a good review of this service because of this feature, despite all its shortcomings.
Final Thoughts
In the end, we don't recommend Mullvad VPN for anyone looking for the best provider in 2023. While the service is a great option for people looking for a service that's focused on privacy, it doesn't do a lot more than that.
Meanwhile, the hot competition in the Virtual Private Network scene nowadays means a provider needs a lot more than security and privacy to thrive.
It offers decent streaming performance too, but its poor client support means you won't get any assistance. Speaking of client support, this provider has the worst client support we've encountered, as we noted in the review.
Besides, it doesn't work in China, lacks native clients for smartphones, and has very limited network coverage.
On top of all that, it's located in Sweden, which is a member of the Fourteen Eyes. While the provider does its best to guarantee privacy, we can't trust any provider that operates in such a country. Ultimately, we don't recommend this service, with all things considered.
If you want a provider that excels all around, we advise you to opt for ExpressVPN instead.
Opt for the best VPN on the market : ExpressVPN
Mullvad VPN Review and Test
We appreciated the simplicity of Mullvad's offer and the anonymity it guarantees. However, its features are too limited in our opinion. We also regret the lack of proper application for smartphones and tablets.
Add your review
|
Read reviews and comments

Michael is a talented writer who has dedicated a lot of time into making sure that everyone around the world can use the internet securely. Being an avid traveler, he has acquired a lot of experience while using different VPNs on his travels. When it comes to doing comprehensive "how to tutorials" or testing some VPN functionalities, he's always the best pick ! He's here to help you solve your VPN-related issues.