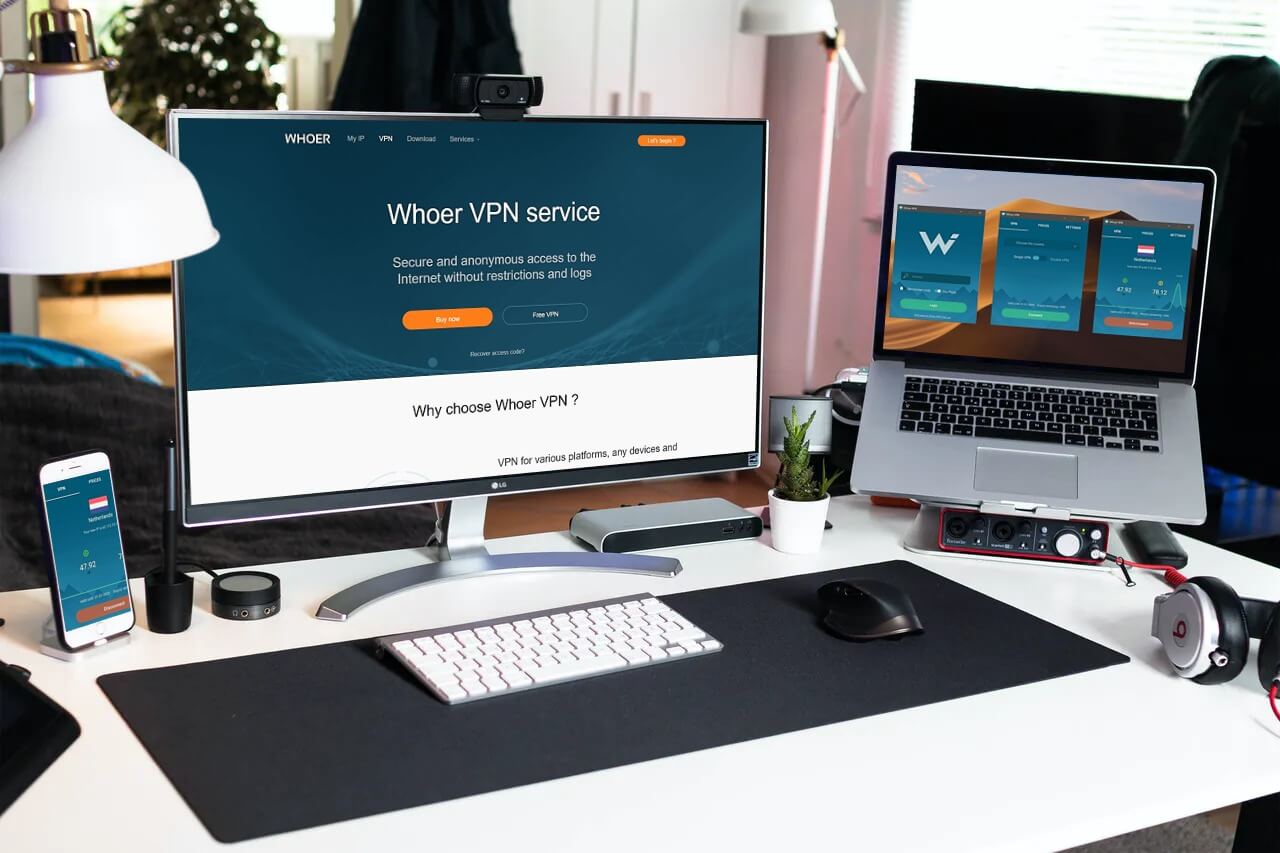 Whoer VPN is all but a popular option on the VPN market. However, that doesn't mean it doesn't have anything going on for itself. With a focus on privacy and security, this provider might be a good choice for those who want nothing more. If you're considering buying it, though, we recommend reading our Whoer VPN review first because the provider is far from being perfect. Our full review of Whoer VPN is below – keep reading!
STRENGTHS:
Zero-logging policy
Works with Netflix
Double VPN
WEAKNESSES:
Very slow speeds
Unstable connections
Small server network
Inability to get a refund if you don't like it
Buggy apps
---
Here are the best alternatives for Whoer VPN :
Is it a free or paid VPN?
Let's start our review and analysis with the most important question for many users – is Whoer VPN free or paid? Unfortunately, it's a paid provider, albeit, you have the chance to use a free trial, which is quite limited.
The reason we say "unfortunately" is that the provider isn't worth its price, despite being a generally cheap option. Nevertheless, it's important to know that, if you want to get it, you'll have to go for one of the three plans.
Should you decide to go with a free trial, you'll only get two servers from the Netherlands and that's not enough for streaming, torrenting, or bypassing geo-restrictions.
Whoer VPN Performance
Sometimes, the performance is a subjective thing. What's good for you might not be good for us and vice versa. The thing is, a VPN is either good-performing or not, and there isn't a place for subjectivity.
That's why we focus on analyzing the performance in-depth, to see if you can enjoy your favorite online activities with ease.
Speed
When talking about performance, speeds are the most important factor. Beware that it's very hard to do a speed test accurately, so we did 3 tests in 3 different parts of the day, and kept the best results for our Whoer VPN review.
Now, before we move on to final results, we want to point out that every VPN will reduce your speed to some extent. That might be 10% or 80%, depending on how good the provider is. Whoer VPN, as we said, isn't a very good option, so we didn't expect it to blow us away.
And of course… we were right! Here are our speed test results:
Without VPN (we were located in London) :

EU Server (UK) :


US Server :

Asia Server (Japan) :

Our native internet speed isn't the best in the world, but it's enough for streaming, torrenting, or browsing the web smoothly. Whereas ExpressVPN reduces it very slightly, Whoer VPN, on the other hand, beats it down to the core.
That's the difference between a premium and a non-premium brand.
Even when using the UK server, our speeds were drastically decreased. Not to mention servers in the US and Asia, which made our browsing experience as slow as a snail. For a paid provider like Whoer VPN, this level of performance is unacceptable.
Whoer VPN will have to do MUCH better to make its price justifiable.
Stability
Wait, that's not over – it was only the start of our review. Usually, VPNs have at least decent stability, so we can kinda forgive and move on. But not Whoer VPN, oh no! This provider gave us headaches when we tried to connect to the server, regardless of the location we chose.
We clicked on the connection button, only to see nothing happening. Again, again, and again, the same thing happened. On rare occasions, when the connection was successful, we experienced crashes and disconnects, which translates to mobile phones, as well!
If you don't believe us, feel free to read feedbacks on Apple Store or Google Play and you'll see what we're talking about. Not only is it slow but also unstable, which makes it a bad choice from the start.
Streaming
Nowadays, it's easy to stream your favorite shows. You jump on your sofa, and if you don't break it in half, you grab your remote and enjoy Netflix, Hulu, and other streaming platforms.
The problem, however, can appear in the form of geo-restrictions. In that case, you need a Virtual Private Network that will allow you to watch Netflix catalogs from anywhere in the world.
Speaking of Netflix, let's see how well it worked during our review of Whoer VPN.
Netflix
Surprisingly, Whoer VPN did unblock Netflix – hooray! Before you jump in excitement, let us remind you of slow speeds and poor connections. They will really hinder your streaming experience, making you regret giving your money to this provider.
We appreciate the fact that the provider works with Netflix but once again, with very slow speeds, streaming anything above 720p will practically be impossible.
Other streaming services tested with Whoer VPN
As always, our testing doesn't include only Netflix. We test a plethora of streaming platforms to see how well a provider performs. We'll include some screenshots of platforms we tested and discuss them below.
Amazon Prime Video :

Disney+ :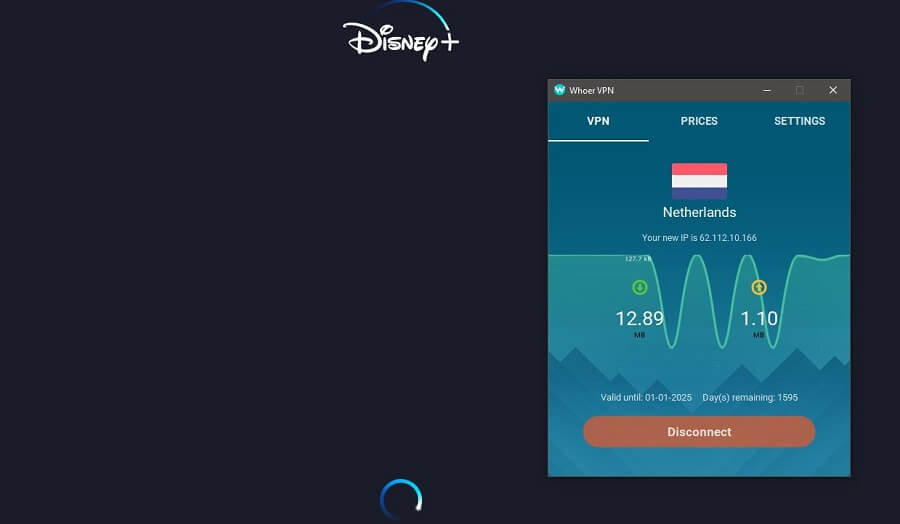 DAZN :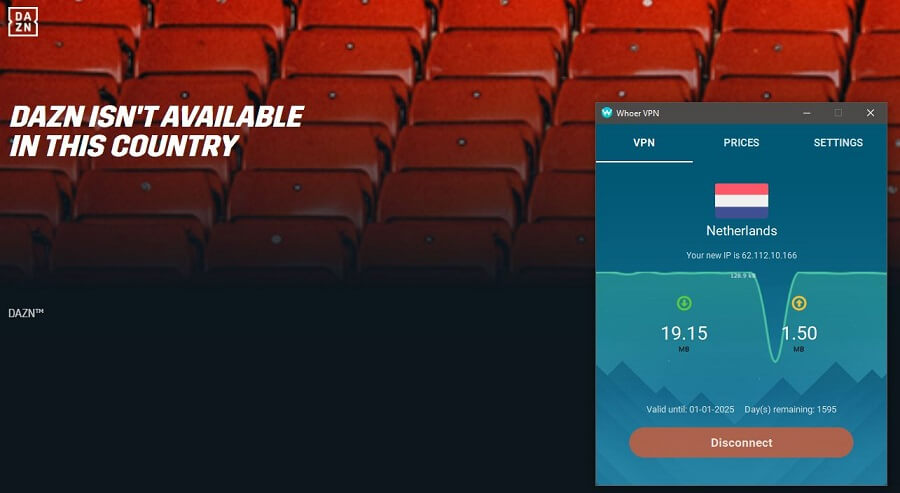 Neither of the three platforms above worked when we reviewed Whoer VPN. We also tested HBO GO, Hotstar, Hulu, and many other platforms, with little to no success. HBO GO, for instance, worked fine, and so did Hotstar, while Hulu detected that we're using a VPN.
All in all, streaming with Whoer VPN will not be up to your expectations. It can't unblock a majority of platforms and it has very slow speeds, which makes it obsolete. A much better choice in this regard is ExpressVPN.
Security offered by Whoer VPN
A poor-performing VPN can always redeem itself by being safe and secure. Not many providers on the market manage to offer satisfying speeds, but on the other side, their security and privacy are second to none.
Luckily for Whoer VPN, that may just be the case, and here's why.
Where is Whoer VPN based?
To determine if the provider can be safe and secure, we must check its jurisdiction. This is very important, as certain countries have data-retention always that will beat the purpose of this service.
Usually, it needs to be out of the 5 Eyes (USA, UK, New Zealand, etc) because these countries conduct government surveillance on a large scale. If they need users' data, they can easily get it out of the provider from the country.
Whoer VPN is based in Cyprus, which is far away from the 5/9/14 Eyes, making it extremely privacy-friendly.
Cyprus is a country of freedom, with no data-retention laws and government surveillance, making for a good base for this service.
Log policy
Logging policy, as expected, screams privacy. Let's take a look at it in this Whoer VPN review: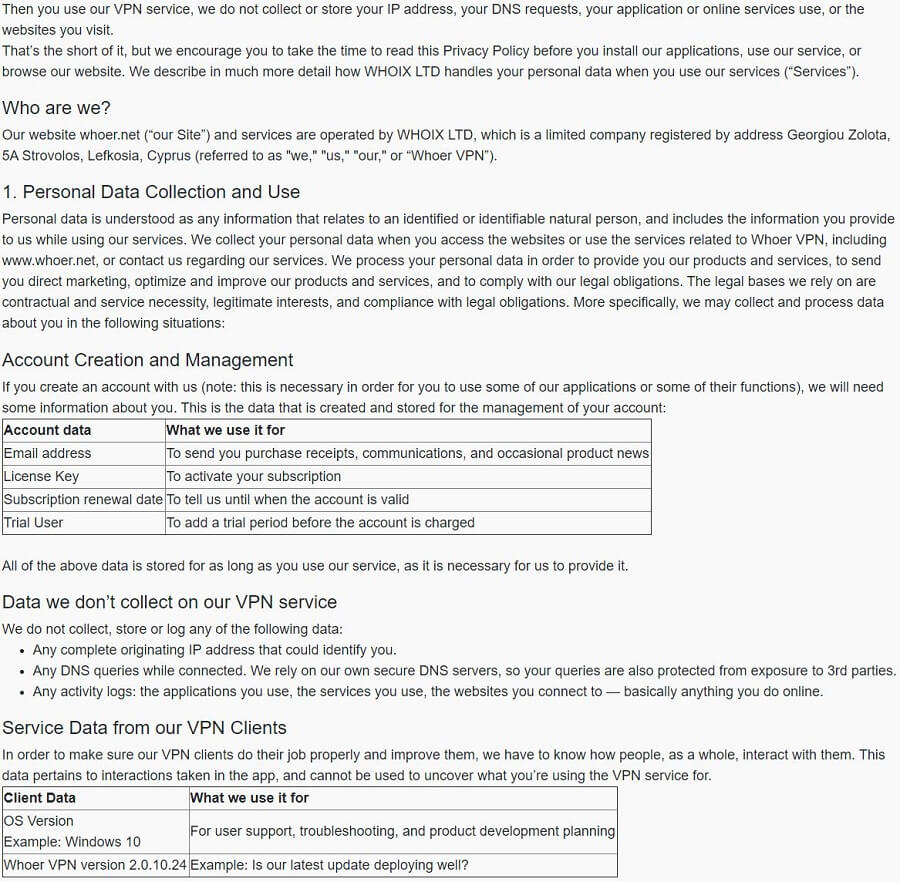 The provider stores only a minimum amount of data so that the service keeps running properly. This includes your email, license key, and subscription renewal date. After that, Whoer VPN clearly states that it doesn't store your IP address, DNS queries, activity logs, and so forth.
This is, by the way, almost the whole privacy policy. It's short, to the point, with a no-bullshit approach, which is how we like it.
Protocols offered by Whoer VPN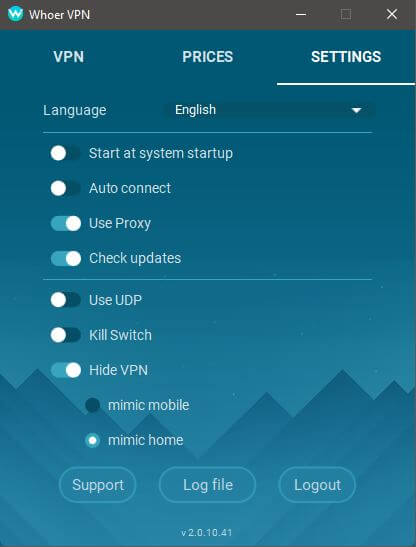 If we open the Settings menu of the app, we can see that the provider offers us to change from UDP to TCP and vice versa. The thing is that both UDP and TCP are OpenVPN protocols, with some differences between themselves.
For example, UDP is much faster, while TCP is better at bypassing firewalls and overall stability. You can change between the two but you can't change the OpenVPN protocol. This means that you can't use IKEv2, PPTP, SSTP, and other popular options.
Leak protection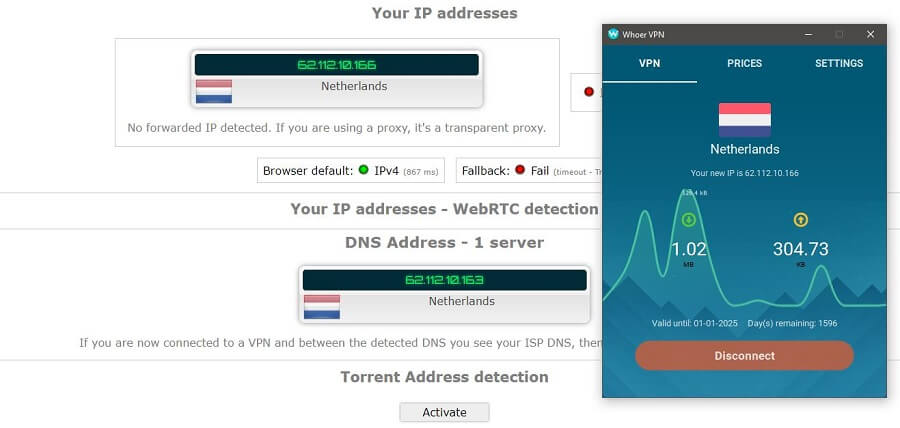 The last check we do is the IP and DNS leak test, which was quite successful. Remember – we're located in the UK, and as you can see, we tested it with the Dutch server. The IP leak test showed us a Dutch IP, with no DNS from our country.
To conclude this section of our review, Whoer VPN is impressively safe and secure, especially when we factor in its affordable price.
Torrenting
With a zero-log provider, it's easy to visit any torrent website and start downloading stuff. Whoer VPN is great for this purpose and it actually works, which is a welcome addition. The thing is that its connections are lackluster and that's what you want to avoid in this scenario.
We all know how it is when torrenting speeds are so slow, that you have to wait 3 days for a game to download. That's what may happen when using Whoer VPN and connect to a really distant server.
Even if you're using a server in your country, expect severe speed reductions that won't be very friendly to your torrenting activities. Whoer VPN is indeed safe for torrenting but not the best performer.
That would be ExpressVPN instead, with the fastest speeds around.
Bypassing censorship with Whoer VPN: what to expect?
If you live in China, UAE, Russia, Iran, or Iraq, you know what censorship is. And to be honest, you're probably annoyed by it.
Censorship is the prime means of blocking access to websites and platforms online, preventing people from using the internet freely. The most notable "offender" is China, with its impenetrable Great Firewall.
ExpressVPN is the best VPN to use in China, as it easily bypasses this firewall. But what about Whoer VPN? Is it any good? Our tests showed that it's not, and for the price, that's to be expected.
It doesn't have enough "firepower" to bypass censorship or any features like ShadowSocks and Obfuscated Servers for that matter. Those who plan on traveling to a censored country should NOT buy Whoer VPN.
Countries and servers covered by Whoer VPN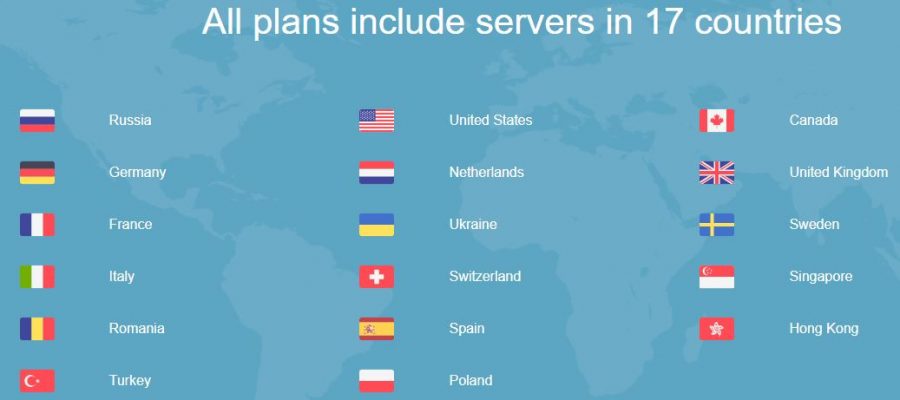 When we examine and review the number of countries and servers that Whoer VPN offers, it's easy to see why it has unstable connections and slow speeds. It has servers in 17 countries but it doesn't say anything about the server count.
Our approximation is that there are no more than 100 servers, which is still a very small number. If multiple people connect to all the servers, they become overcrowded, resulting in poor connections and snail-slow speeds.
It's baffling that there aren't VPN servers in India or Australia, for example. At least, UK, US, and Canadian servers are on the list but that's what almost every provider offers.
Compatible devices and connections
Cheap providers are never champs in terms of device support. Sure, you get your basic support for Windows/macOS and Android/iOS, and for some users, that's not enough.
Let's see in this part of our review which devices are supported by Whoer VPN and how many of them you can protect simultaneously.
Devices supported by Whoer VPN

Whoer VPN, at first, supports a lot of platforms. There's Windows, Linux, Android, iOS, Safari, Mozilla, Chrome, and Opera. Normally, the last 3 apps are extensions for the browsers, which always function as a proxy, instead of a full-fledged VPN.
The full-fledged apps are available on Windows, Linux, macOS, Android, and iOS and they're not very impressive, as seen on numerous reviews online.
Apps for routers, Apple TV, Roku, or Fire TV don't exist, so don't expect connecting Whoer VPN to your streaming devices.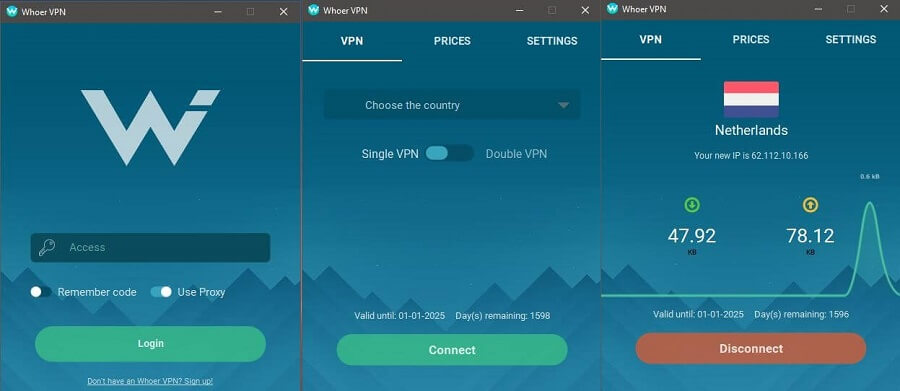 Here's how the Windows app looks. It's very simple to use, intuitive and lets you connect in two or three clicks of a mouse.
The Android app is very similar to the PC version, with the same colors and similar UI. We like the addition of the speed test here, which lets you vet out a particular server before connecting to it.
Simultaneous connections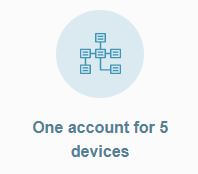 Registered users will be able to protect up to 5 devices on a single account. That's an industry-standard nowadays and it's great that Whoer VPN allows for such commodity. If you want more simultaneous connections, we recommend Surfshark.
It offers an unlimited number of them, allowing you to protect as many devices as you want simultaneously – on a single account!
Whoer VPN Client Support
Support on Whoer VPN is a hit and miss. There are two ways of contacting the support team – via email and live chat. Of course, we like live chat more, so we decided to test it out. Much to our surprise, it was pretty decent, responding in less than a minute, with a concise and direct answer.
The problem arises when you try to use email support. We wrote to Whoer VPN support about a free trial for review purposes, and to this day, we still haven't got a response. Because of that, we went right ahead and bought it.
We don't know why their email support isn't up to the task. It's mandatory that it works because that's how providers usually fix serious issues. Live chat is for general questions and small problems, and luckily, it works.
With support all over the place, you can't expect the provider to help you in a timely manner.
Value for money
Now that we're near the end of our Whoer VPN review, let's see if the provider is actually worth the price it imposes.
Price table of Whoer VPN

Looking at the pricing, Whoer VPN is indeed cheap if you don't count the monthly plan. A monthly plan here costs $9.90, which is, more or less, a standard nowadays. However, the cheapest plan is the annual one, at just $3.90 a month or $46.9 a year.
When compared to CyberGhost or NordVPN, for example, savings are huge. We can say the same about the performance, as it perfectly reflects the price. You pay less – you get less!
If you want a really cheap VPN, we recommend CyberGhost's 3-year plan or Surfshark's 2-year plan that costs just $1.99 a month. Of course, you'll get much better performance and larger server networks as well.
Payment methods

Still wanna buy it? Here's how you can pay – with credit cards, E-currencies, and cryptocurrencies. There's no PayPal but you get Bitcoin, Litecoin, and other cryptocurrencies instead. Is that a fair deal? Well… if you want to buy it, it surely is!
Whoer VPN Money-back guarantee

Whoer VPN offers a solid 30-day money-back guarantee for Windows users. Do you notice something? It's JUST for Windows users. Oh, and there are more conditions that make this refund promise a bit of a fraud.

Namely, you have to have a valid reason for requesting a refund and prove it with a screenshot. In other words, you can get a refund only if the VPN didn't work well from a technical standpoint.
Let's say you buy it and you're not satisfied. That's your fault, according to the provider, so you can't get your money back. On the flip side, if you encounter any problems, you can request a refund, and if the provider fails to fix it, you're eligible for a refund.
Extras
Being a cheap VPN, Whoer VPN, by default, isn't going to reinvent the wheel with its features. But that's not entirely true, as it offers a functionality called Double VPN, which we don't see often.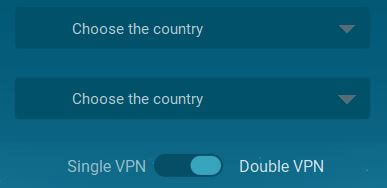 Double VPN is a feature found in NordVPN, as well. Basically, it allows you to route your traffic through two different servers, for added security and privacy. NordVPN gives you a few presets and you can't choose which servers and countries to use.
Here' that's not the case. Whoer VPN lets you choose the first and second servers and route your traffic through them. This is very useful for applying a double layer of encryption to your connection, granting complete anonymity online.
The downside is that Whoer VPN is already really slow and Double VPN is known to reduce speeds further because of stronger encryption. Therefore, don't expect your browsing or streaming experience to be on the same level as with NordVPN.
Final thoughts about Whoer VPN
Let's finalize our review with a proper verdict to everything we said about Whoer VPN.
Whoer VPN is an affordable provider whose price almost perfectly reflects the performance you get. It has slow speeds, it's not great for streaming, and its reliability is one of the worst we've seen so far.
The good things about this provider are its price, zero-logging policy, and jurisdiction. For that matter, Whoer VPN might be a decent option. But, as a whole package, it's not a provider we'd gladly recommend to our readers.
If it was a free VPN, it would probably be on our to-get list.
As things stand, it's not yet a worthy competition to other paid VPNs on the market. Our recommendation instead is ExpressVPN. With its 49% discount and 3 months free for an annual plan, it's more affordable than ever!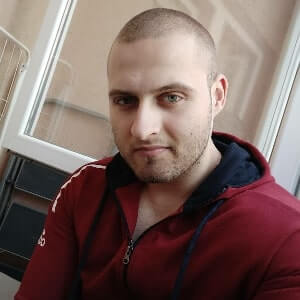 A professional writer with a Master's degree in Mechanical Engineering. Since his youngest age, he loves everything related to internet, technology, fitness, games, and dogs! He joined our team in order to bring his deep knowledge in security services, among which VPN is of course a key component.