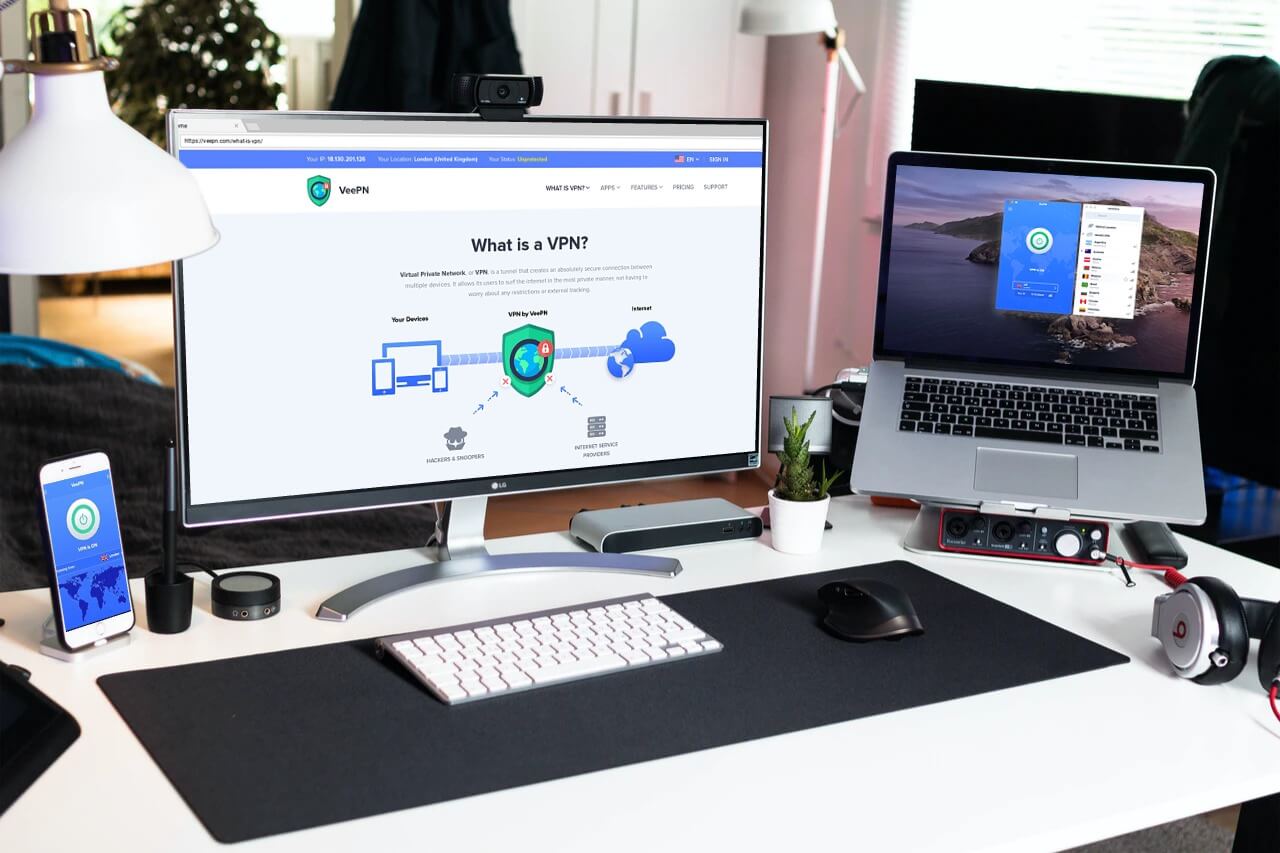 If you're familiar with the VPN scene, then you know that a new provider springs up almost weekly. However, while new providers are birthed frequently, only a couple of them measure up when and where it's really important – security, speed, and value for money. With that in mind, we've decided to review and test VeePN to see how it performs as a new entrant.
While we know it's going to require a lot of hard work to displace established providers such as ExpressVPN and NordVPN, it's nothing undoable. The question is – does VeePN have what it takes at all?
You'll find out in this review definitely. Upon looking at its official website, it is clear that this provider promises a lot.
It states that you can utilize the service across many platforms, access new security-related technologies, and effortlessly connect to every part of the world. But are all those claims really genuine? Can this VPN be a hidden jewel?
We've carried out an extensive test on the service for the answers. With that said, we welcome you to our hands-on 2023 VeePN review and test.
However, we will resist our very strong urge to jump into the review right away. First of all, we will do some initial introduction by listing some of the pros and cons below.
STRENGTHS:
Supports torrenting
Decent streaming performance
Good privacy policy
VPN-friendly jurisdiction
Good platform compatibility
Very affordable pricing
Decent network coverage
WEAKNESSES:
Doesn't have great client support
Doesn't reliably work in China
There is no SOCKS5 functionality
VeePN ranks #25 out of 104 VPNs tested. Here are the best alternatives :
---
It a paid or a free VPN?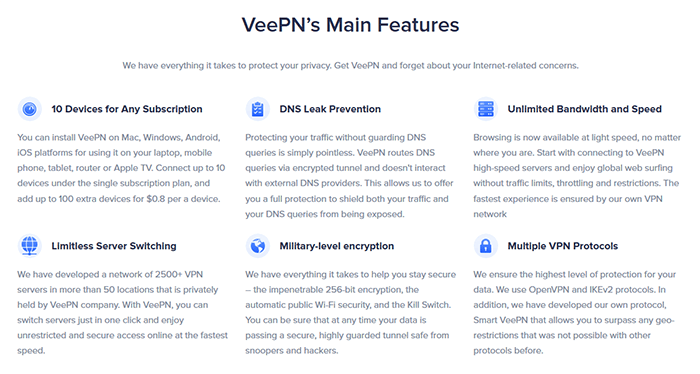 VeePN is a paid VPN, but that shouldn't be surprising. There is no free plan or free trial and you can't use the service for free in any capacity. Using a free VPN for Android is also impossible. However, it offers a money-back guarantee, which gives you a way to test the service before investing in it.
Is it worth the money or not? You won't find the answer to that question this soon. Continue reading the review to determine if it is worth your money or not.
Performance
When you hear about a VPN for the first time, most probably the first question you ask is "how does it perform?". Obviously, this is a clear indication that performance is the most important factor when it comes to VPNs.
To help determine the performance of VeePN for this review, we've used speed and stability as our basis for evaluation.
Speed
To some extent, VPNs always tend to slow down your internet connection. However, some services have done everything to reduce the compulsory speed reduction to the barest minimum in 2023.
As part of our VeePN review and test, we've checked the speed delivered by this VPN, using different servers around the world.
While the service isn't the slowest we have seen, it's not the fastest either. It's managed to somehow stay in the middle – not fast but not slow either. If you don't mind enduring some average speeds while you stream or download torrents, you won't have any problem.
Without VPN (we were located in London) :

EU Server (France) :


US Server :

Asia Server (Hong Kong) :


Stability
With a VPN-friendly jurisdiction and decent network coverage, VeePN is surprisingly a decently stable network. In other words, we are confident that it will always be available whenever you have a need for it.
Perhaps, you could experience a downtime sometimes during maintenance, but it's not likely to go on for long.
Generally, this is a VPN you can count on at all times. The only thing that could affect their stability negatively is their poor client support. We will talk about that later on in this review and test.
Streaming
You want to stream Hulu or Netflix abroad? Do you want to use the provider's app to unblock BBC iPlayer outside of the United Kingdom? If that is so, ensure you pay attention to this section of the review. We've put the service to test against the biggest streaming services, and below are the results.
Netflix

Despite the massive Netflix crackdown on VPNs, many of VeePN's servers still work for Netflix in 2023. This means you can easily stream the US Netflix from abroad with this service.
When doing this review, the provider allowed us to unblock Netflix in many different countries. While Netflix identified three of six servers we connected to, the issue was resolved quickly by picking a different server in the region.
In general, unblocking Netflix should work just great with this provider, as we didn't encounter any big issue with it in our test.
BBC iPlayer
To ensure you'll be able to stream British TV shows, we checked BBC iPlayer as well for all the lovers of "Doctor Who" out there.
According to the official website of the provider, you can rely on the service to help you unblock BBC iPlayer abroad. However, we cannot attest to those claims as the service was blocked during our test and review of VeePN. We attempted to use all of the protocols available, albeit unsuccessful.
Also, we tried using all the UK servers we found, with all our efforts proving to be futile. If unblocking BBC iPlayer is your top concern, you may want to look at a provider like ExpressVPN.
Others?
However, while the service wasn't able to unblock BBC iPlayer, it is capable of unblocking different services like Hulu, Amazon Prime Video, and HBO. If you fail in your attempt the first time, just select another server and retry.
Watch your favorite shows abroad >
Nevertheless, it's important to know that the majority of these streaming services are in an ongoing war with VPNs. Therefore, it's possible that the present situation regarding streaming can suddenly change, so we encourage you to enjoy it while it lasts.
Security
In this section of this review, we will discuss the most important thing about any VPN, which is security. We'll check out privacy policy, test the encryption and protocols supported, and more.
Where is it based?
While you won't probably find this information on their official website, VeePN is based in Panama. The most vital piece of information is that Panama is not a member of the Fourteen Eyes.
This is a group of powerful countries that have mass-surveillance programs that they share with other members of the coalition.
In its core are countries such as the US, the UK, New Zealand, Canada, and Australia leading the pack. Also, these countries are widely regarded as the worst regions for a VPN provider to base its operations.
However, Panama is a VPN-friendly country as the country does not have compulsory data retention laws.
Moreover, it is an offshore jurisdiction, as we found while writing this test and review. This means that it doesn't have overburdening or strict regulations that could compel VPN providers to store data intentionally.
More significantly, countries such as the UK and the US don't have the power to force any company that's based in Panama to hand over any kind of record.
Obviously, everything we've mentioned in this test is only applicable when the VPN hasn't been used for criminal activity. In the event of such an activity, the provider may be compelled to hand over users' personal data.
Thus, it is safe to say that this provider has made a pretty smart decision by making Panama its base. Just like NordVPN did!
Log policy

According to VeePN, the company operates a zero-logging policy and keeps no personal data. On their official website, the company claims that it doesn't collect information about downloads, browsing information, DNS data, devices metadata, or IP addresses.
A thorough look at the Privacy Policy of the company suggests that there is no foul play when it comes to logging. However, there are some things you need to be mindful of.
For starters, customers have to submit an email address, which is not always a requirement. Also, the provider admits to keeping information about the amount of data that users consume.
These are not huge issues, nonetheless.
In general, VeePN appears to provide solid privacy-friendly policies, even though there is one ultimate point to mention. The provider doesn't seem to be really transparent about its base, which might be a cause for concern.
In the end, we only got to find out their home country as Panama on CrunchBase, which is a third party.
While this may not seem significant to you, it's a quite big deal since the location of VPNs can considerably impact their security. For instance, you can't consider any VPN that is based in China or the US as a really secure provider.
Therefore, if it's difficult to tell anything about a VPN's location, we recommend you exercise caution. If VeePN is really based in Panama as we found while writing the review, then that's a great sign.
The country is not a member of any intelligence-sharing alliance and is a very friendly location for VPN providers.
Browse anonymously without your data being collected >
Protocols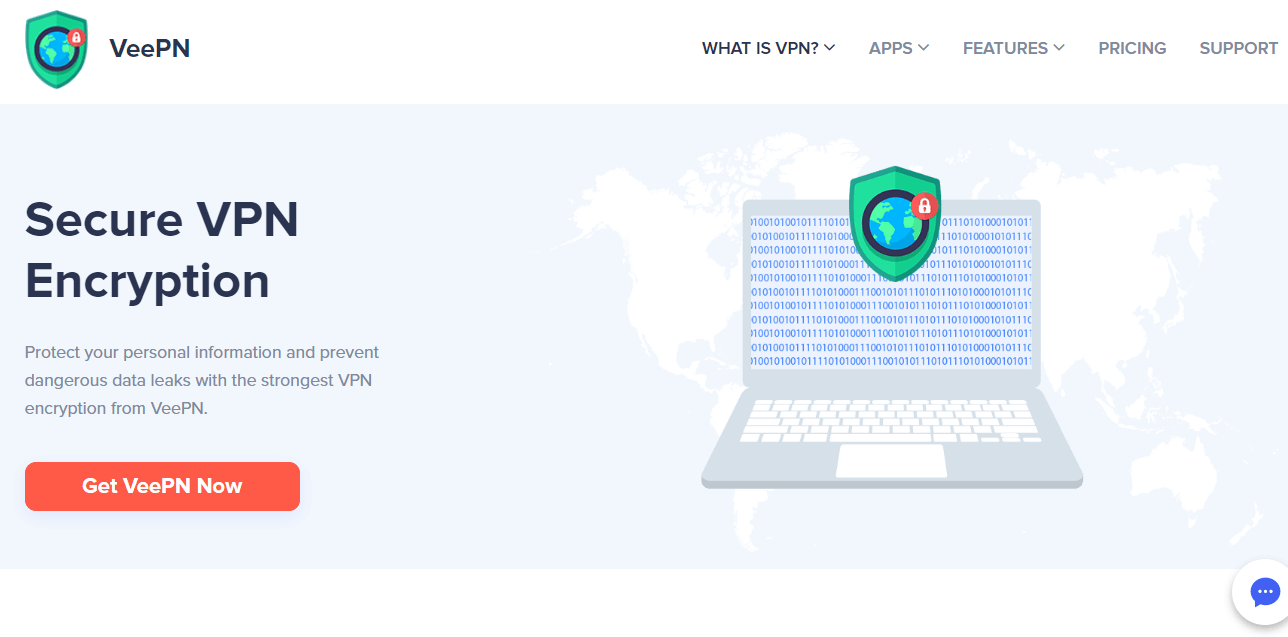 You need encryption protocols to encrypt your data traffic online. It helps to encrypt your data so that no one will be able to intercept, alter, and spy on it. Thankfully, it provides as many as four VPN protocols.
The service offers support for OpenVPN and IKEv2, which are the most popular protocols in the world. Besides, the provider has its own Smart VeePN UDP and Smart VeePN TCP. Offering stable and the most secure connections using the 256 or 160-bit encryption, OpenVPN is the strongest option among them.
Using only 256-bit encryption, IKEv2 is a little weaker in comparison to OpenVPN.
However, that's not a cause for alarm as the 256-bit encryption is military-grade and the highest encryption around.
OpenVPN relies on UDP and TCP protocols. While TCP offers more reliability, it is slower. UDP, on the other hand, is faster but it offers less reliability than TCP.
VeePN has done some modifications to the UDP and TCP protocols and renamed them Smart VeePN UDP/TCP, which makes them more powerful than the normal versions.
Protection against leaks
This VPN routes DNS queries through an encrypted channel, so there's no communication with outside DNS providers. Consequently, it provides its users with full protection guarding your DNS queries and traffic against exposure to your ISP or people with malicious intent.
Moreover, the service has a public Wi-Fi security feature, which helps to guard your data when you're on public networks.
Torrenting
Torrenting is not necessarily an illegal act, contrary to the claims of some people. If you're interested in P2P sharing, we accounted for you in our test, and below is our review of this service in terms of torrenting.
Is torrenting allowed?
Most users will want impermeable security and protection for each download they make when torrenting and engaging in P2P sharing. Fortunately, VeePN allows P2P downloads and sharing on all of its servers.
This is something most rivals won't be able to match. Plus, the provider operates no speed or download limits, which is a major plus when downloading games, music, or box sets.
On the flip side, there is no SOCKS5 functionality, which may raise security concerns. SOCKS5 helps to enhance P2P connection speeds whilst simultaneously guaranteeing secure torrenting.
However, there is a Kill Switch, but we will talk about this later in this review.
During our test, we managed to successfully create a couple of test torrents and the speeds were decent at times. However, they weren't sufficient to merit praise for the torrenting performance of this provider, unlike ExpressVPN for example.
Is there a Kill switch?

There is yet another threat that lots of users are even unaware of – the free public Wi-Fi. While it may sound really convenient, it poses a few security threats. Public Wi-Fi networks are rarely or never encrypted or protected.
The consequence of this is that each user on the network is capable of spoofing on other users with little effort.
Fortunately, VeePN provides a Kill Switch feature, which is the ultimate protection in these situations. When you browse on a free public Wi-Fi with this service, the VPN protects you at all times.
If the connection, however, begins to falter, your private data can be in the open.
Of course, the Kill Switch feature exists to prevent such from happening. If you lose your VPN connection, the feature automatically cuts the Wi-Fi also, which means you're protected all the time.
Bypassing Censorship
It's not easy surviving in a country with strict internet censorship, especially if you're an avid user of the internet. That said, we thought including this VPN's ability to bypass censorship in this review would make it very comprehensive.
In censored countries

In a strange manner, VeePN doesn't really include its anti-censorship features in its marketing writings.  That's strange as VPNs often use this ability to market their social purpose (and being an extremely helpful addition for individuals residing in countries like China or Saudi Arabia).
VeePN provides the AES 256-bit encryption and IP/DNS leak protection, which should unblock the Great Firewall and other similar systems. However, we didn't have a chance to test this directly while writing this review, but we didn't get many reports from people living in China about this VPN being effective there.
Theoretically, it should protect those living in repressive countries, but there is room for doubt. The service is not completely reliable, so you may want to turn to more reliable options like ExpressVPN and NordVPN.
In restricted networks
Even though the provider and its app don't work reliably in repressive countries, it works for unblocking restricted networks. Perhaps, your organization or school has restricted the use of some websites on their networks to maximize productivity.
With VeePN, you can easily unblock such websites. The internet is all about freedom, and once that freedom is compromised, there is nothing to enjoy.
Countries and servers
Some VPN providers will try to convince you that the server count and geographical distribution of servers are not important factors to consider, but don't allow them to deceive you. They are important, and we will review VeePN in this aspect here.
Countries covered

The more the countries a provider covers, the more options users get when it comes to IP addresses and location spoofing. While VeePN is behind some leading rivals like ExpressVPN, CyberGhost, and NordVPN in terms of this, it aces expectations.
Despite being a new entrant into the VPN market, it provides about 42 countries to select from, as our test revealed. That means you can pretend to be in 42 countries when accessing the Internet as a user of VeePN.
It's worth mentioning that it provides more than one IP address or location for a couple of countries.
Thus, you can connect to different IP addresses and locations in the same country. This will definitely be useful when accessing something that is only accessible from a particular country but cannot be accessed from your real country.
Furthermore, it'll come in handy when a geo-restricted site is also restricted in the number of times a user can access it daily. You can simply change your IP address and still use the IP address of the same country to bypass restrictions.
When it comes to the number of servers, the provider has more than 2,500 servers. This is obviously not as many as NordVPN's or ExpressVPN's, but it also means lesser congested traffic.
To be more specific, 1168 of its servers are spread across European countries, 1153 servers are dispersed over America, and 226 Servers are in Asia. The Middle East, India, and Africa enjoy the least concentration, with the three regions having only 100+ servers combined.
However, VeePN has great geographical distribution and users should always find a server wherever they go. By choosing to connect to Australia for instance, you'll easily find a server there.
Servers
In terms of specialized servers, VeePN offers none, as we found out during our test. This may not necessarily mean a bad thing, but most users like seeing that a VPN offers specialized servers for certain activities, like CyberGhost.
However, the provider still performs decently in all the activities that may require specialized servers such as torrenting and streaming. It doesn't perform well in terms of getting past strict censorship policies, but most providers don't, so it's nothing new.
Compatible devices and simultaneous connections
Some ignorant people may consider this part to be redundant in this review, but it's really important. Apart from knowing if the service is compatible with your device, you also need to know if it will protect all the devices at your home or office.
What device can I use VeePN?

The provider has ensured that you have as many as possible options when it comes to device compatibility. Do you want to connect your PS4 to a VPN? Super easy!
Regardless of how you wish to connect, this provider has sorted quite everything for you:
Windows
iOS
Android
Router
Linux
Mac
Chrome
Firefox
Opera
Download VeePN on any device >
How many simultaneous connections?
Only a couple of providers currently on the market offer up to 10 simultaneous connections. While the usual number often varies between 3 and 5, this doesn't seem to be enough anymore.
This is especially true as we tend to have more devices in our homes nowadays.
Impressively, VeePN allows its users to use up to 10 devices simultaneously. Connect all your browsing devices and those of your relatives at once, and ensure that everyone is protected and safe.
Client support
A real friend is one you can count on when you have problems. Thus, this is why it's important to test the client support of any VPN we review. How reliable is the client's support of VeePN?
Will they leave you stranded when you have problems or come through for you? Pay attention to this section.
How to contact it?
There are many channels through which you can get in touch with the provider. You can connect to the support team by creating a support ticket. This often takes an average of 24 hours to get a response.
However, it's unlikely that you will be able to resolve your issue on a first attempt. While they have a live chat feature also, it is mostly offline and often prompts you to drop your query and your email for a later response.
Is it good?
It's a mixed bag for this provider in terms of client support. While their support channels are mostly effective, the live chat option is not always available. We hope they will make it 24/7 like top providers such as ExpressVPN and CyberGhost.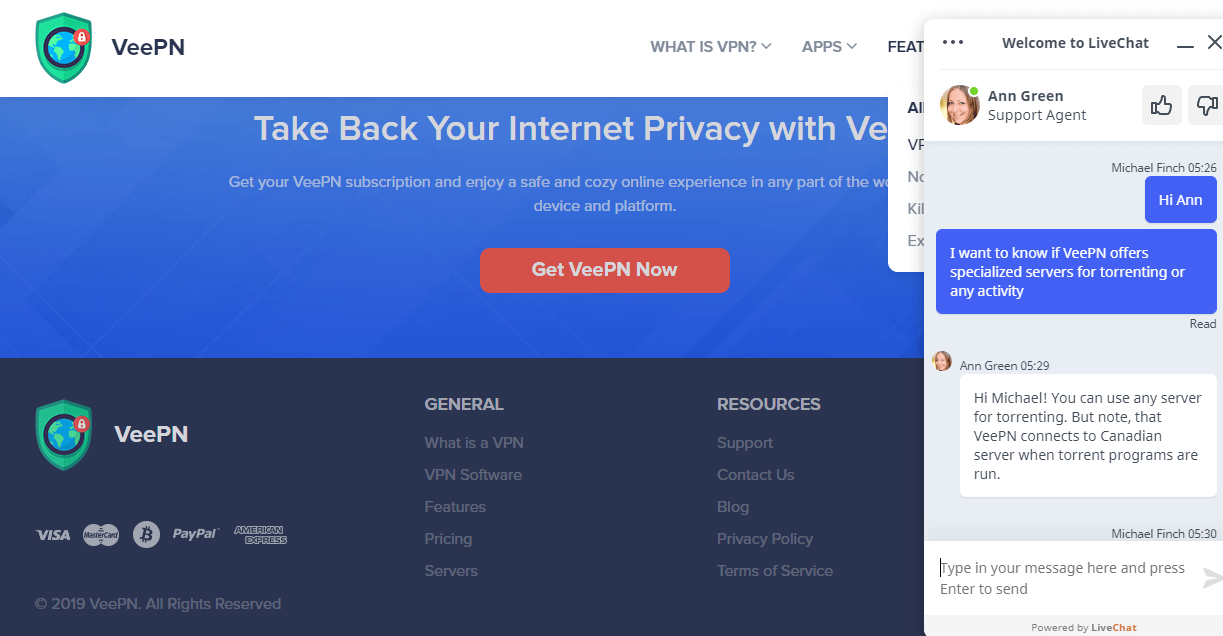 Moreover, we talked to their representatives on three different occasions during our test. They asked us to wait until they come up with a solution two times out of three. After a while, they told us that they would send our answer to our email.
We were expecting to get better support than this, so we weren't impressed for sure.
FAQ/tutorials
If you don't want to wait and want to resolve your problem on your own, there is a series of FAQs you can consult on the website.
In fact, they cover an extensive variety of topics and they are written nicely, for the most part. Also, there are installation guides that can come in handy if you encounter issues while installing the VPN on one of your devices.
Value for money
Thanks to the growing popularity of VPNs, using such kind of application is becoming increasingly affordable every day. With that said, a VPN provider must offer enough value for the money you're paying.
Thus, we've included this part to make this VeePN review very detailed.
Price comparison
The provider provides thee different subscription plans. It's more cost-efficient to buy the long-term plans of this provider. Below is a detailed overview.
1-month price plan: $10.99
1-year price plan: $5.83/month
5-year price plan: $1.67/month
If you wish to be paying per month, you will have to pay $10.99 every month. Taking everything mentioned in this review and test into consideration, this service is quite overpriced in our opinion.
For the same price, you can find better options with more advanced features.
When you choose VeePN's 1-year plan, you'll be saving 47 percent. This reduces the price to $69.99, which equals $5.83 per month. However, the plan with the best value for money is the 5-year plan, which lets you save 85 percent.
Nonetheless, we don't really advise you to make this long commitment as nobody knows how this service will develop later.
Means of payment

This provider accepts an extensive variety of payment mean, which we will list below for a clearer review:
PayPal
Credit cards
Debit cards
AliPay
Sofort
Union Pay
GiroPay
WebMoney
Since anonymity is probably the most important function of a VPN, this service also provides a couple of anonymous payment methods. With them, you can pay completely anonymously without divulging any personal data, using Bitcoin and a couple of other Cryptocurrencies like:
ETH
LTC
Ripple
NEO
Dash
Monero, etc.
The bottom line for this part of our VeePN review for 2023, is that it offers everything to make payment as convenient as possible for you.
Money-back guarantee
While there is no free plan or trial, there is a 30-day money-back guarantee if you have some issues. The money-back-guarantee allows you to test out the service and see if it measures up.
We checked thoroughly for annoying conditions but we didn't find anything alarming.
If anything, the provider even says that it might still give a refund after the 30-day window if you encountered technical problems, contacted the provider, and didn't get any helpful resolution for your problem.
Extras
Being a fairly cheap VPN, don't expect this provider to blow you away with its numerous features. However, we still found two bonus features that you'll probably like. Let's take a look at them below.
NetGuard

NetGuard is exactly what it sounds like – a reliable ad-blocker that blocks not only ads but also malware and trackers. Thus, we can't say it's as reliable as CyberSec. Still, we think that many non-demanding users will find it very convenient.
It's capable of blocking annoying ads and pop-ups, resulting in cleaner browsing experience. We recommend turning it on, as it will clear the web pages of unnecessary ads, providing much faster loading speeds.
Double VPN

If you ever used NordVPN, you know what Double VPN is. It's a feature that allows you to route your traffic through two different servers, making it untraceable to hackers, ISPs, and the governments.
Basically, it gives you two layers of encryption for double security. The downside is that it reduces your browsing speeds as well, but in most cases, this is not a drastic decrease.
Final Thoughts
It's really difficult to rate VeePN in this complete review. While it does a lot of things well, there are many things it doesn't do well. On top of that, it's somewhat overpriced, with only its long-term plan being relatively cheap.
In the end, this VPN should be enough for you if you're only looking for a VPN with basic features. However, it may not cut it for you if a service with advanced features is what you're looking for.
In that case, you may instead opt for ExpressVPN, which is a better provider with more sophisticated features. According to our test and review, this is only an average service at best in 2023.
VeePN Review and Test
VeePN can not be considered among the best yet, but this young supplier impressed us! It will therefore be necessary to follow very closely its future evolution.
Add your review
|
Read reviews and comments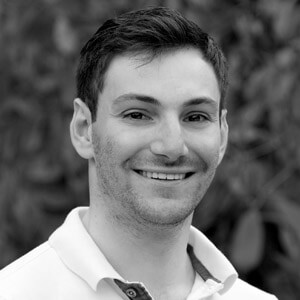 Flo is the founder of the-bestvpn.com. Really concerned about security on internet, he decided to create this website in order to help everyone find the best VPN. He's got a Business School background and now is 100% dedicated to keeping his website alive.