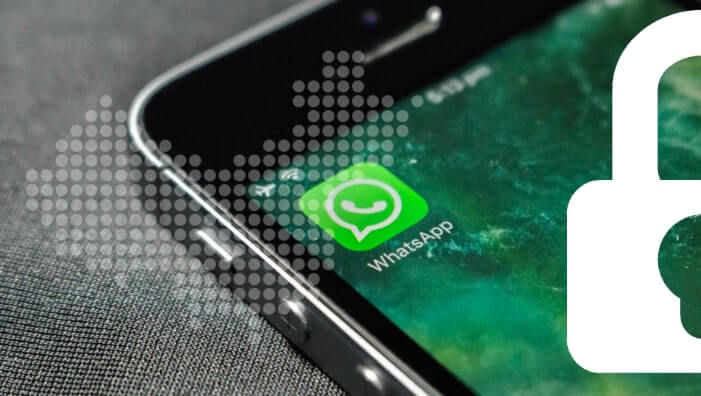 WhatsApp is among the thousands of apps and websites banned in China. While millions of people around the world use the app to keep in touch with family and friends, visit this country and it becomes impossible. That is, unless you are behind a VPN. This brings about the question of how to unblock and use WhatsApp in China with a VPN?
What's in this article? Understand in 30s!
1. Due to the Great Firewall, many apps are not available in China. This is the case of WhatsApp.
2. If you are in China, you can't chat with your friends and family using this app, because the firewall blocks all the content.
3. Using a VPN, you can unlock the restriction, faking a location outside China. You just have to open your provider's app and connect to one of its servers abroad.
4. But, it's not possible with every VPN. You have to check if it offers this solution. The best VPN providers will be presented in this article.
What is a VPN?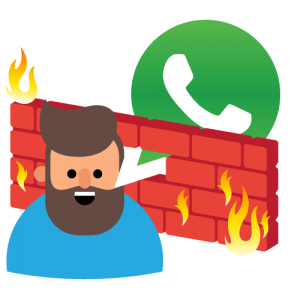 When behind a Virtual Private Network, your IP address is masked as you take on the one from another country. While you are located in China, if you connect to a server offered by the VPN, it looks like you are located in another country anywhere in the world.
It is important to bear in mind that if you are going to use a VPN in the country, you sign up and set it up outside of the country.
Yes, the use of Virtual Private Networks is discouraged and the government has stopped people selling VPN services unless they have government approval. With this in mind, you will find it very difficult, if not impossible, to sign up for a VPN once you are there.
So, if you are visiting the country in the future, choose a provider to take a subscription and sign up for the subscription in your own country. Three of the best VPN providers for overcoming the Great Firewall of China are ExpressVPN, CyberGhost, and NordVPN.
Use WhatsApp in China with ExpressVPN >
How to Unblock and Use WhatsApp in China?
Once you have chosen your plan, you can follow the steps below. Bear in mind that ExpressVPN offers 49% savings for a 12-month plan and gives you three months free.
Download apps onto the devices you will be taking with you. You can install as many apps as you want for different devices.
Install the app on your device.
Launch the application and sign in using your credentials.
Choose a server in the USA or UK and connect to that server.
Launch WhatsApp on your device.
It might be wise to test out the above before leaving home so that you know how to use WhatsApp in China correctly once you are in the country.
Once you have gotten used to connecting to the VPN in your own country, it will become second nature and when you travel abroad, you will instinctively use the Virtual Private Network before connecting to the internet.
Additional Steps
When you have touched down in the country and want to use the messaging app to let your family know you have arrived, it is simple to overcome the restrictions.
We have previously shown you how to access WhatsApp in China and you will have practiced the method at home. Now, when you arrive in the country, all you have to do is open the VPN software and choose a server from anywhere in the world. Of course, click the connection button after that.
Then, open WhatsApp and connect just as you would at home.
However, you might also want to take some additional steps when in the country. The first thing you should do is to make sure that the software automatically connects to the device, just in case you forget to do so.
To do this, you can:
Head to the main page of the software.
Click on the menu icon and choose options.
Under the General tab, tick the first two options.
If using a laptop, you might also want to tick to use the kill switch.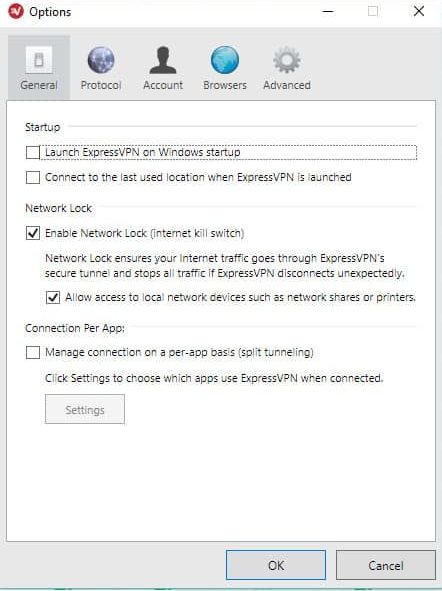 Then go to the advanced tab and:
Tick the boxes to use IPv6 protection along with DNS protection.
Click on the OK button to exit.
Issues With How to Use WhatsApp in China
Are you having issues when trying to use WhatsApp despite having connected to a VPN server? There are some things you can do to overcome them.
If you still cannot use the app, you should disconnect from the server and choose another one. This is the easiest way to overcome issues. As the government is so conscientious about blocking, it may be possible that they have blocked the server you are using.
Not to worry, ExpressVPN offers 3,000+ different servers so there is sure to be one that works.
Enjoy a 49% discount from ExpressVPN >
If issues persist, you can change the protocol used by the software. Again, go into the settings of the software as seen in the screenshot below.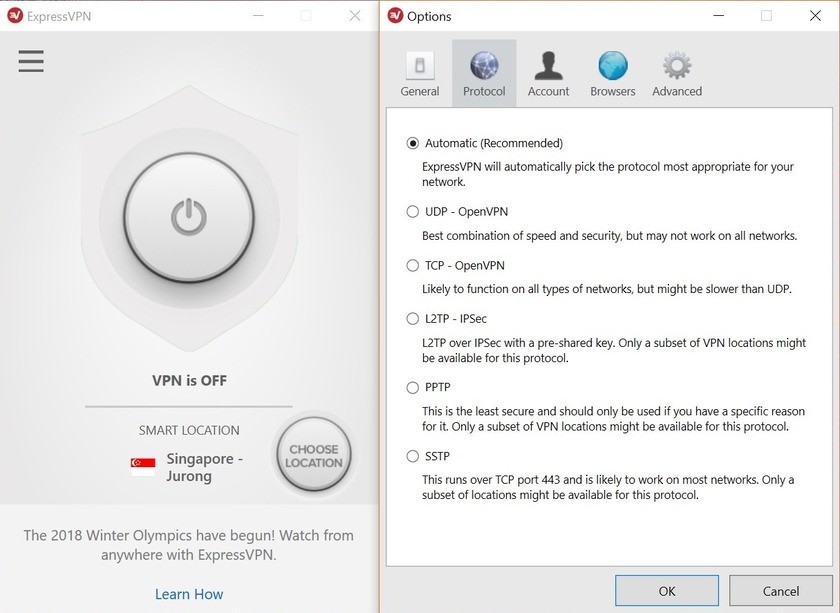 Hopefully, the above will remedy any issues that you might have come across and provide the answer to how to unblock and use WhatsApp in China.
You should now be able to connect to the app and share your adventures in the country by showing your family and friends photos and chatting with them. You will also be able to unblock Netflix and many other websites.
If you have more questions regarding this tutorial, don't hesitate to contact the online support of your provider!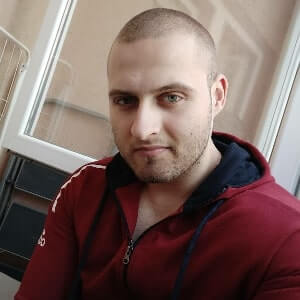 A professional writer with a Master's degree in Mechanical Engineering. Since his youngest age, he loves everything related to internet, technology, fitness, games, and dogs! He joined our team in order to bring his deep knowledge in security services, among which VPN is of course a key component.