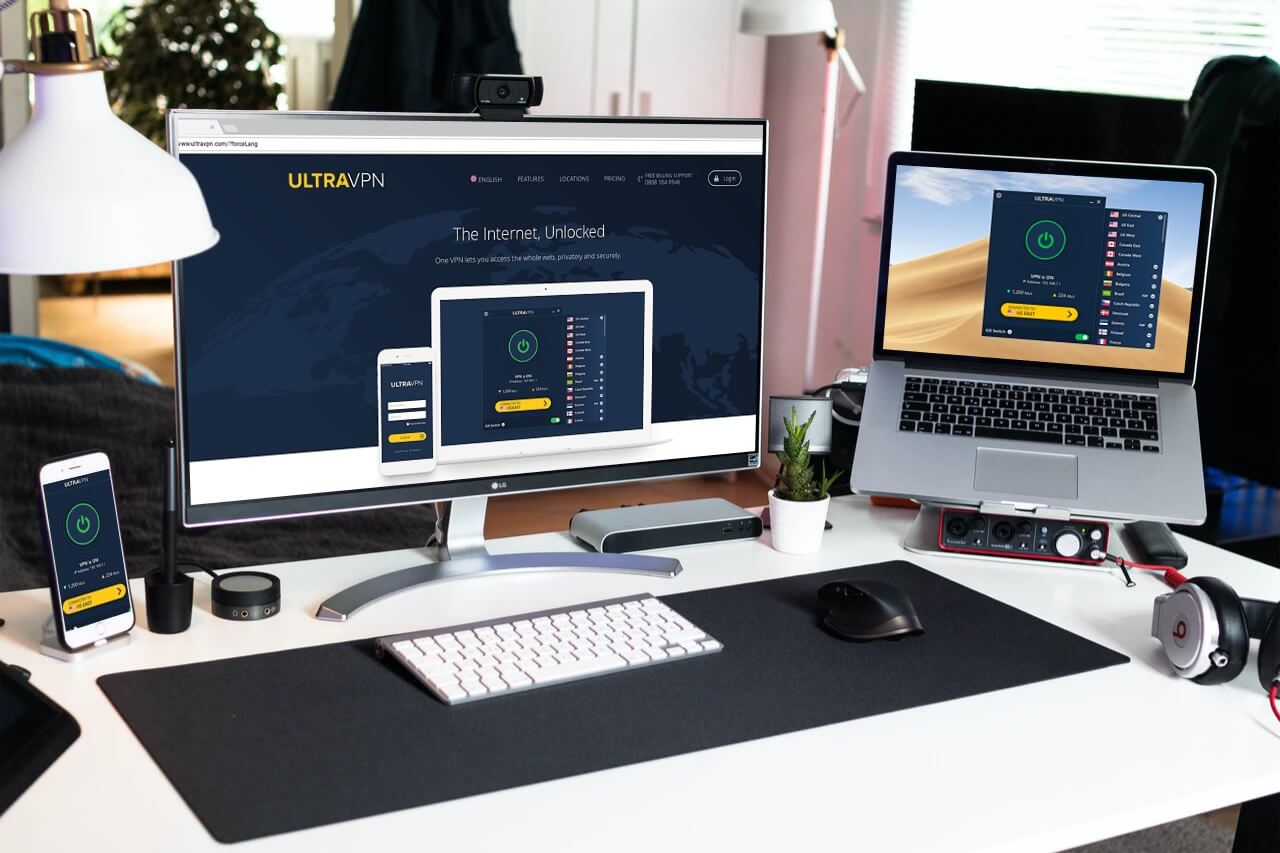 Finding an adequate provider for your needs depends on a few factors. While one group of people is interested in the no-log policy, the other is hoping for fast and reliable servers. If you would to ask us, we would say that a great value provider features both. Examples of these are the leading providers such as NordVPN, ExpressVPN, and CyberGhost. But what about the smaller names – is there any chance these can compete? Well, that is what we are looking to find out with our review for UltraVPN.
We have decided to look deeper into the matter, discussing aspects such as speed, stability, streaming, and security. While at first the user-friendly interface and good protection seem reliable, that is not enough to come up with an educated decision.
Without further ado, let's go ahead and get right to it!
STRENGTHS:
Unblocks Netflix
Good speed
WEAKNESSES:
Limited features
Doesn't work in China
Can't unblock BBC iPlayer
Doesn't feature OpenVPN
No ad-blocker
Issues with PayPal
---
UltraVPN ranks #46 out of 104 VPNs tested. Here are the best alternatives :
Is It a Paid or Free VPN?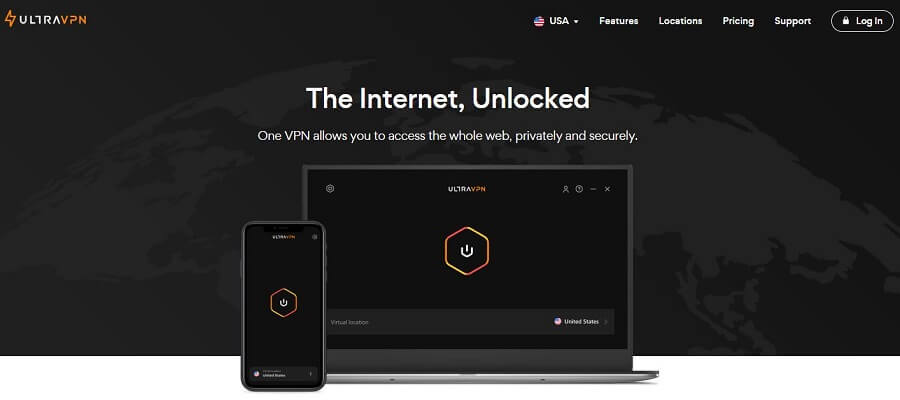 Among the many aspects to discuss, the first one is whether there is a free trial or not. Luckily, the answer is positive. For this UltraVPN review, we decided to try it out and came to a few conclusions.
First of all, the free service is quite limited. This is because you have just a 7-day period to try out the service.
Additionally, you can't really connect to all the servers. In fact, only the ones in Canada, Hong Kong, Netherlands, Norway, Switzerland. Romania, France, and Germany are available. Still, for a novice user, this can be more than enough to understand the capabilities of a VPN provider.
On the other hand, if you want to get a truly free VPN, we suggest Windscribe. It is not only one of the fastest, but also best provides in the number of servers that it offers – all for free!
Performance
A VPN is a very useful tool that enables you to do tons of things. Still, in order for any of these to work, you do need a fast and reliable connection.
It is known that any VPN will decrease your speed, but that is fine as long as it doesn't completely stagger it. To find out whether UltraVPN is something you should subscribe to or not, we performed a couple of tests during our complete review. Here we will see what we found.
Speed
What you should know is that the performance depends on what you are looking to do. Thus, if you don't want to stream, but just browse, we recommend connecting to the closest server. On the other hand, for accessing restricted content, you need a server that is in the relevant country.
Chances are that, in this scenario, you will have a significant speed drop.
We always start with a benchmark of 235 Mbps for download and 211 Mbps for upload speed.
Connecting to a server in France, we were happy to see that the decrease was not much to worry about. Thus, our download speed ended up at 150 Mbps, while our upload dropped by just 20%. Additionally, we didn't have much of a big ping – it was set to 50 ms.
Considering these results, we decided to move ahead and try out the US server. While somewhat slower, the results were still quite good.
Both download and upload speed have dropped by not more than 50% (which is OK, considering the distance). Still, it is the ping that worried us here. Why? Because it jumped to 175 ms, which can hinder any browsing activity, as well as streaming.
Last but not least for this UltraVPN review, we connected to a server in Australia but got not so reliable results. The ping was at 248 ms, the down speed at 40 Mbps, while the up was 35 Mbps.
Without VPN (we were located in London) :

EU Server :


US Server :

Australian Server :


Stability
Considering that the above results were quite motivating, we decided to spend more time and review the stability offered by UltraVPN. As expected, the servers in the EU were most reliable in terms of connection.
On the other hand, we did experience significant issues with the US ones. Still, this does depend on your starting location. The fact that we had a ping of 300 ms at the US server led to multiple connection time-outs.
Streaming
Among many uses of VPN, streaming is quite important. It is not a secret that platforms such as Netflix, Hulu, and BBC iPlayer offer limited content depending on your location.
This can be quite irritating if you are a TV series enthusiast and can't watch your favorite shows. A reliable provider can bypass the restrictions. Can UltraVPN be considered as one? Let's find out!
Netflix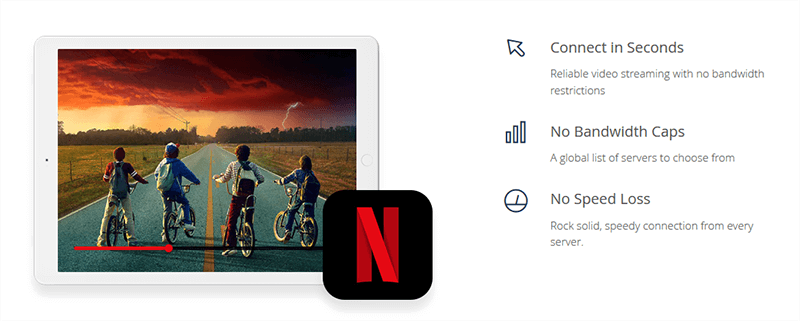 Before we can talk about whether it can unblock different catalogs in the EU and the US, we need to go back to speed. It is extremely important as to stream in HD, you need to have a fast and reliable connection. Bearing this in mind, we decided to go ahead and test out a few servers.
The results were quite surprising.
While Netflix has improved its restriction algorithm, we had almost no issues with unblocking any content. In fact, we were able to access the US, Canada, and France.
This is nearly as good as what ExpressVPN has to offer, though.
Other streaming services
Happy with being able to stream Netflix in HD, we moved on to try a few different platforms. Our success was partial. Thus, while we were able to unblock Hulu and HBO GO without any issues, we couldn't do it with a couple of others.
The main problem for UltraVPN is Amazon Prime Video and BBC iPlayer. While we can say that the latter is because of their lacking UK server, the Amazon Prime issues can't be justified.
Luckily, some alternatives offer reliable streaming on these platforms as well. Our personal recommendation? ExpressVPN and CyberGhost.
Security
What good is a VPN provider if it tracks your data and sells it to third-parties? Luckily, this is not something that UltraVPN does. Still, does that mean that you are completely 100% secure to enjoy anonymous browsing? Well, the answer depends on a few different elements.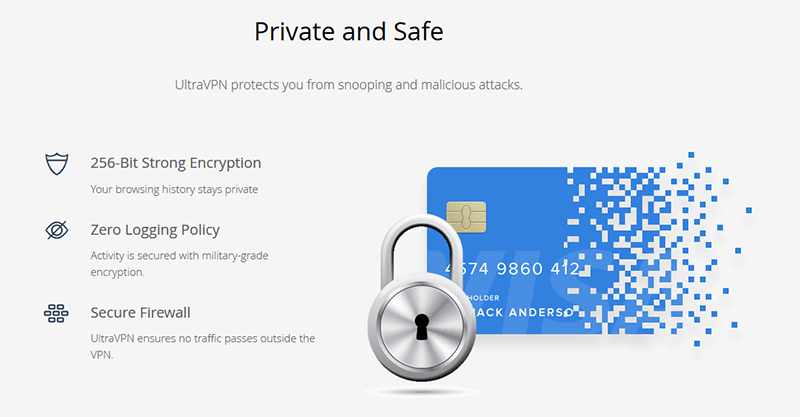 Where is it based?
The first thing that needs to be reviewed is the headquarters location. This is not a good start as UltraVPN is located in the US. Why do we say so? Well, as a part of the Five Eyes alliance, they would be obliged to hand over any info on your browsing activity.
To whom?
To the local authorities, as well as those in Canada, UK, Australia, and New Zealand. Still, things aren't as grey as they initially seem. How big the risk depends on whether this provider logs your data or not.
Log policy
It is not a secret that most providers claim that they don't log any of your data. This is true for only a few. That is why we were quite happy during our review to notice that UltraVPN is among these.
While they are a part of the alliance as mentioned above, they don't have any info to hand over.
Frankly, they don't even keep the basic info such as payment history, your email address as well as the history of your downloads. Thus, you are completely free to roam, without anyone finding out what you have been doing online.
Protocols

Another important feature is the tunneling protocols that a VPN provider uses. Unfortunately, UltraVPN doesn't feature OpenVPN, which is seen as the industry-standard. Still, we went ahead to review IKEv2, UDP, and TCP and found these quite reliable, especially for iOS users.
A good thing about it is that you can configure the ones that suit your device. Additionally, there is 256-bit AES encryption, which is the same one used by banks.
Leak protection
Moving on with our security review, we come to the most crucial part.
Whether your true IP address can be revealed to the ISP or not is something that can break the deal. We are off to a good start seeing that it features an automatic kill switch. It is quite reliable when it comes to protecting your data when the connection fails.
However, it is not as good as with ExpressVPN or NordVPN. These have a set of anti-leak weapons, which will leave you worry-free.
Torrenting
The answer to this question is quite tricky.
Looking at their official website, we couldn't find any relevant info on whether you can or can't perform P2P transfers. The only solution was to go ahead and ask via live chat. Surprisingly, we got the answer almost immediately.
It was positive and said that there were no restrictions. And we managed to confirm it by testing it by ourselves.

Considering the fact that the leak protection is fine, and servers are fast, UltraVPN can be used for this purpose. We did have a slightly better experience connecting to the EU, but once again, this depends on your location.
Bypass Censorship
If you don't know which VPN to choose, check here to find the answer you need. We do consider the ability to bypass censored sites as a trait of a great value provider. That is why we invested extra time in testing and reviewing how UltraVPN performed.

We found that it unblocked most censored websites in the USA and the EU. Still, we did have significant issues with doing that from Asian servers. While it does feature one in Hong Kong, it is not as reliable. The main issue we have with it is the lack of stealth features.
Thus, even if you break in the Great Chinese Firewall, you are unprotected.
We do hope that in the near future, this is something that the provider will fix. If you can't wait, then we suggest subscribing to ExpressVPN as it is THE best China-friendly providers.
Countries and Servers

Before we can reach a final verdict on UltraVPN, we need to discuss whether it can be considered global or not. While the answer is positive, it is nowhere as large as NordVPN and CyberGhost.
Why do we say this?
Well, it offers around 110+ servers in 58 different countries. This is very low, even considering that it covers the US, Canada, EU, Australia, and parts of Asia. Still, the connection to the latter ones is not something to be proud of.
Additionally, their free-trial is quite limited in terms of servers you can use.
Devices and Connections
This aspect is certainly not a strong point for this UltraVPN review for 2023.
Supported devices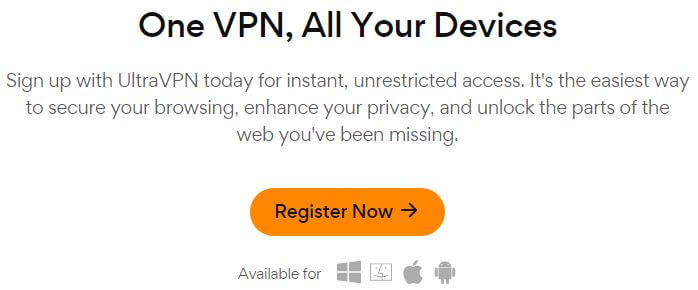 While it does support iOS, Android, Windows, and macOS, that is not enough. The thing is, if you are a Linux user, you will have to search elsewhere.
Additionally, enthusiasts who enjoy smart TVs, consoles, and routers can't use this service either. While the apps for the supported devices are user-friendly, the list simply is not large enough.
Simultaneous connections
Once again, the results are average. While top leading providers allow 5 devices or more at the same time, UltraVPN does not allow more than three. This can be an issue if you want to be protected while at your office and home simultaneously.
Customer Service
We were quite happy to see that UltraVPN did focus on providing reliable customer service. This is extremely important, considering that their service is quite new.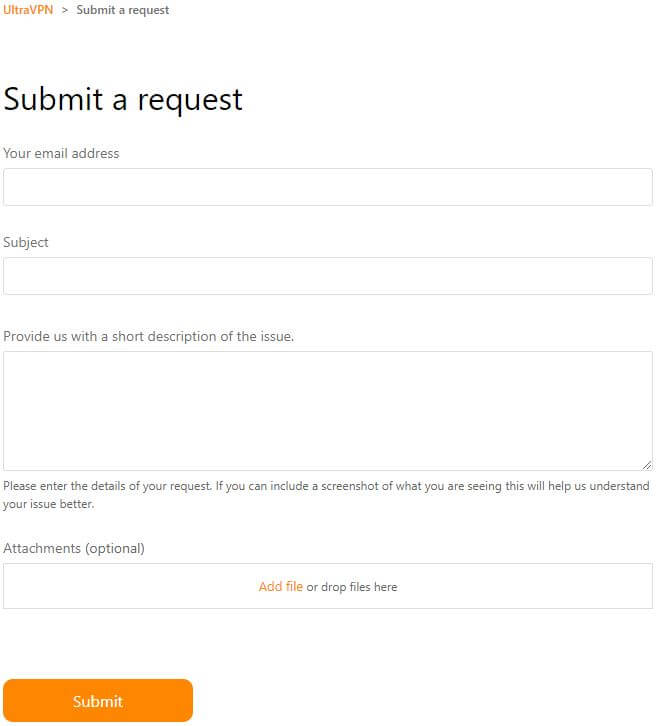 Additionally, being able to fulfill the 30-day refund policy without any issues is a positive trait. They do offer both the live chat and email response. Testing out the first one, we got to an operator within seconds.
Being very friendly, we received a professional and concise answer. We moved on to try out their email response, and it settled our issue within a couple of hours. Thus, we have nothing but words of praise for their customer support.
Value for Money
We already mentioned that they do offer a 7-day limited free trial during which you can test the service out. But how affordable is UltraVPN if you decide to subscribe to their premium package?
Price comparison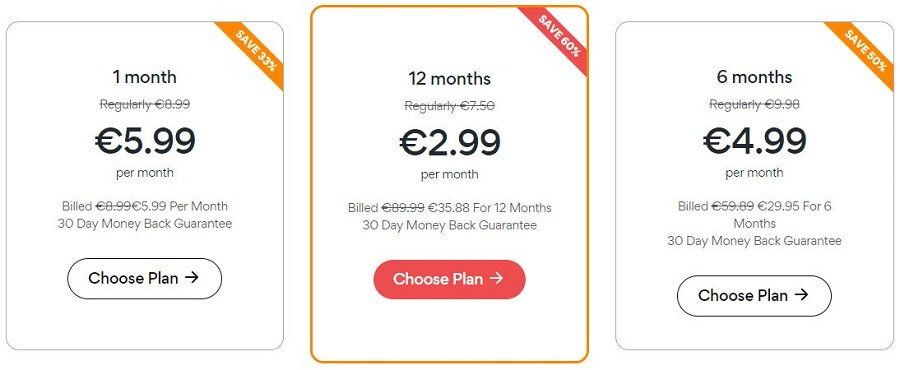 Well, the answer depends on the plan that you go to. Similar to NordVPN, the single-month fee is $7.09 It is somewhat lower if you choose the 6-months one with a price of $5.9 per 30 days.
In the end, the most affordable package is definitely the annual subscription, which would cost you $42 in total.
But is it worth this price? We are not sure, as better providers can offer similar or lower prices (NordVPN, CyberGhost, or Surfshark for example).
Payment types
We did notice during our review that UltraVPN is not the most versatile when it comes to payment methods. While supporting VISA, AMEX, and Mastercard, we did have significant issues with PayPal.
Additionally, cryptocurrencies aren't allowed.

Money-back guarantee
Considering the 30-day refund window, it is quite reliable, and you shouldn't have issues getting a full reimbursement.
To get it, you will just have to send a message to their client support!
Extras
We didn't come across any additional features that we would like to talk about or review at this point.
So, to be completely honest with you, it is very disappointing. We would have loved to find additional features such as an ad blocker, a leak detector, or a speed test tool during our review and test of UltraVPN.
Final Thoughts
If you liked this article, you could also like our review of Bitdefender. Looking up all the features mentioned above, we rank UltraVPN to be #46 out of 104 providers. While reliable and fast, it is nowhere as good in terms of bypassing geo-restrictions.
Additionally, it could use certain improvements when it comes to leaking protection and protocols.
That is why we consider ExpressVPN, CyberGhost, and NordVPN to be great alternatives for anyone looking to get stress-free service.
At the end of the day, we would not recommend this VPN as a top provider even though there are some tests that it performed well at. Overall, it is not up to the same standards as our top three options.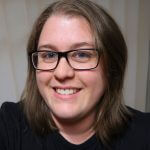 Thalia has been working in the online tech industry for over two years, after studying computer sciences at University. Her focus is primarily on VPNs, privacy, and online security.