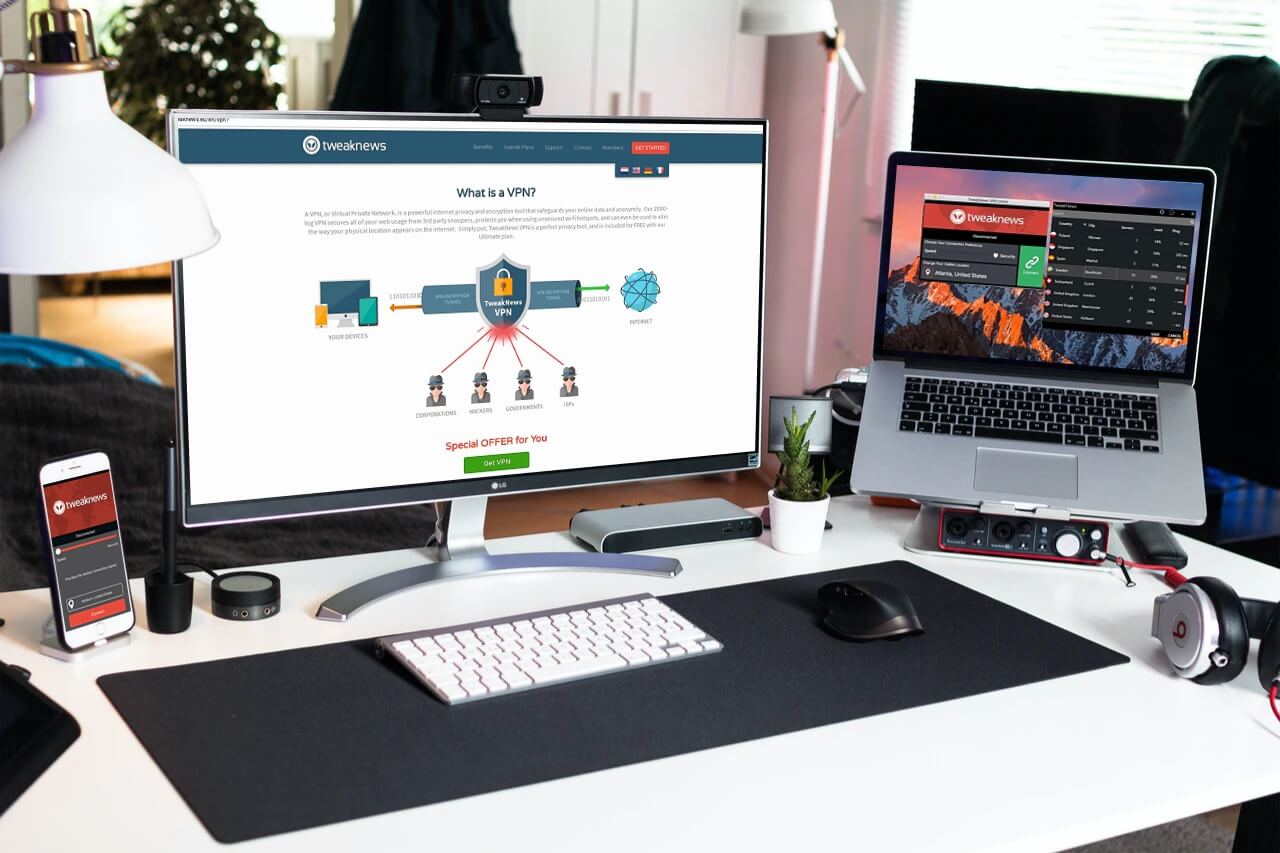 If you are a regular reader, you know that our goal is to discuss as many different VPNs as we can. While the market is full of providers that seem to offer a high quality virtual private network, in most cases, we find that it is not true. Either a VPN lacks security, or it simply doesn't have the ability to unblock censored content. Looking at new providers, we came across Tweaknews VPN, which is one of the most unique out there.
It was founded by a Netherlands news company and stands as one of the Usenet VPNs with the best retention and completion rate. Is this enough to make it a worthy choice? Not really.
The binary retention rate of this service is 3,400 days, which is quite impressive and is accompanied by a 99.99% completion rate. Unfortunately, this can't be the deciding factor. There is a myriad of other elements that influence the overall value of such a service.
These elements include the ability to unblock content, the privacy policy, as well as overall performance and the server park. Thus, if you were interested in subscribing to this provider, we suggest you read on and find out more about its pros and cons!
STRENGTHS:
Great completion rate/retention
Good server speed
WEAKNESSES:
Limited customer service
Limited torrenting
Device compatibility
Not working with Netflix
Unreliable customer service
Sketchy log-policy
---
Tweaknews VPN ranks #100 out of 104 VPNs tested. Here are the best alternatives :
Is It a Paid or Free VPN?
There are a couple of elements that we will be focusing on for this Tweaknews VPN review. The first one is whether there is such a thing as a free trial. There are a couple of paid subscription plans, but that is something that we will discuss down below.
For now, it is important to note that there is a free trial in the form of 10 GB for 10 days of regular use. This should be more than enough time to give you an idea of whether you like this service or not.
Still, after that time has passed, you will be enrolled in the automatic renewal.
Thus, we can't really consider it to be a truly free VPN.
If you are on a limited budget but you want the benefits of a secure and safe VPN, then we have you covered. Subscribe to TunnelBear or Windscribe, as these are two comprehensive providers that offer free service.
Performance
No one can deny that a service such as a VPN will badly affect the reliability and stability of your internet connection. Still, with a fast VPN, you won't notice any difference in your speed. Good examples of this are providers such as ExpressVPN and CyberGhost.
These two providers can offer thousands of fast servers for an affordable price. Bearing this in mind, our goal was to find out whether this Usenet service would be able to compete with that performance.
Speed
To get the most out of the aforementioned service, you will want it to offer reliable speed performance. We have performed a couple of tests to find out how big the drop in speed was.
Note that we started with a benchmark on 235 Mbps download and 211 Mbps upload speeds.
The first server that we connected to was the one in the UK. As expected, the ping performance was pretty close to our original one set at 25 ms. On the other hand, the drop in speed was 50% for both download and upload.
This is a great start because most average VPNs aren't able to provide these results. It is nowhere close to what ExpressVPN can do, but it is still fair enough.
The second location that we wanted to try out was Germany, and things were a bit different here.
Firstly, the ping spiked up to 100 ms, while the download speed went from 235 Mbps to 50 Mbps.
Additionally, our upload was decreased by over 90% and thus ended up in the area of 20 Mbps.
Last but not least, we tried the Singapore location that this Usenet provider offers. The ping was at 279 ms, while the speed decrease was just above the one that we experienced with the German location.
Without VPN (we were located in London) :

UK Server :


German Server :

Singapore Server :

Bearing this in mind, we can conclude that Tweaknews was able to provide a fair performance in terms of average browsing activity.
Still, it certainly may not be the best if you are planning to download efficiently. The main issue that we have with it is the fact that it doesn't feature a relevant US server.
Stability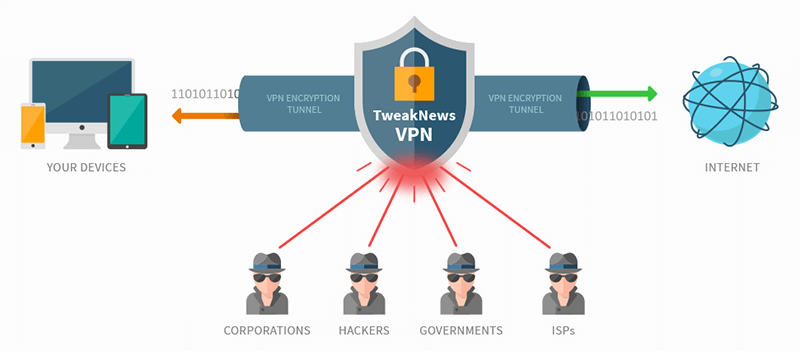 Because the speed results were "OK", we weren't surprised to see that the overall connectivity didn't cause many issues, either.
Of course, the performance depends on the type of subscription plan that you go for, as the few options vary in available bandwidth and data traffic.
Streaming
Since Tweaknews VPN has a specific design and is a part of the Usenet service, we couldn't expect it to do well with streaming suites. Thus, if you are interested in subscribing to a VPN for this purpose, we suggest you go with ExpressVPN.
It is considered to be the most reliable provider, unblocking over 150 services for a good price. Keep in mind that, since 2016, not many of the leading names have been able to do this without any issues.
Netflix
Considering the circumstances, we weren't able to test whether this provider can unblock service in the US or not. This may be the biggest con of Tweaknews VPN.
Millions of users are interested in what Netflix has to offer in the United States. Still, we moved on and tried it with the servers in the UK and Germany. Unfortunately, this didn't go well, either.
We also didn't have luck trying to unblock Netflix from their local servers in the Netherlands. While it is a reliable newsreader, it certainly is not the best when it comes to unblocking entertainment content.
Other streaming services
As expected, we didn't find any success trying to access Hulu, Amazon Prime, or BBC iPlayer, either.
Security
VPNs have become very popular and it is one option for people who want to download without risk of being watched. Still, this is not the case with all the providers, as many claim to have a no-log policy but actually store your data.
Not only this but whether a hacker will be able to break through and get a hold of your browsing data is relevant, as well. That is why we have invested extra time into doing a review of the security elements for Tweaknews VPN.
Where is it based?
It seems that we are off to a good start, considering this VPN has its headquarters located in the Netherlands.
As you may or may not know, this country is a part of the European Union, which has strict laws and regulations to protect your private info.
This is much better than if the provider was set in the US or UK, which are a part of the 5/9/14 Eyes alliance. That would seriously endanger your internet security.
Log policy
Tweaknews VPN claims that they don't store any logs. We investigated this issue further and found that they keep your location, as well as your email address and payment history.
However, the provider does defend themselves by suggesting they do this for security reasons.
Protocols

Looking at what kind of tunneling protocols this provider is using, we found that it supports OpenVPN, PPTP, L2TP, and IPSec.
On the other hand, it doesn't follow the industry standard in terms of encryption, but the SSL that Tweaknews VPN offers is still fine.
Leak protection
This is where we encountered the most issues since it doesn't offer a built-in kill switch or a shared IP address. What this means is that your true IP location may be revealed if the server crashes.
We tested this risk and found it to be roughly 25%, which is certainly not acceptable.
Torrenting

We can say with confidence that this newsreader is not your optimal choice for P2P transfers and BitTorrenting.
While the provider doesn't forbid this activity, the lacking leak protection is the main reason why you may want to look elsewhere.
Our personal recommendation is to subscribe to CyberGhost. This reputable VPN offers unlimited torrenting, great customer service, and an affordable price that will make your time and effort worth it!
Bypass Censorship
You may find that some famous bookmakers might not be available in your location if you are always on the go, but like to gamble. Luckily, this provider is a reliable solution for this issue, as it unblocks censored betting sites across the EU and Asia.
Still, we are not happy to inform you that it lacks a US server. This is a serious issue for anyone who wants to access entertainment and social network content there.
Additionally, this VPN is not able to bypass the Great Chinese Firewall. This is not a surprise, to be completely honest!
Countries and Servers
There is always the question of whether a certain VPN can provide an adequate number of locations you can connect from.
Unfortunately, compared to NordVPN, Tweaknews is seriously lacking in this area.
While it offers around 100 different servers, NordVPN allows more than 5,000 with superb speed and reliability. As we have mentioned above, the major disadvantage that you will experience with Tweaknews VPN is the missing US connectivity.
Devices and Connections
Moving on with our review, we aren't really satisfied with what this newsreader has to offer in terms of overall compatibility.
Supported devices
Unfortunately, you can't use this service if you are a user of iOS or Android. On the other hand, it is adequate for those who use Mac and Windows desktop computers.
As for whether you can use it with Linux or not, the answer is positive, as long as you are educated on how to config OpenVPN files.
Simultaneous connections
This certainly is not something Tweaknews is proud of, since you can connect with just two devices at a time. This is below the average of 3-5 that is common with most providers.
Customer Service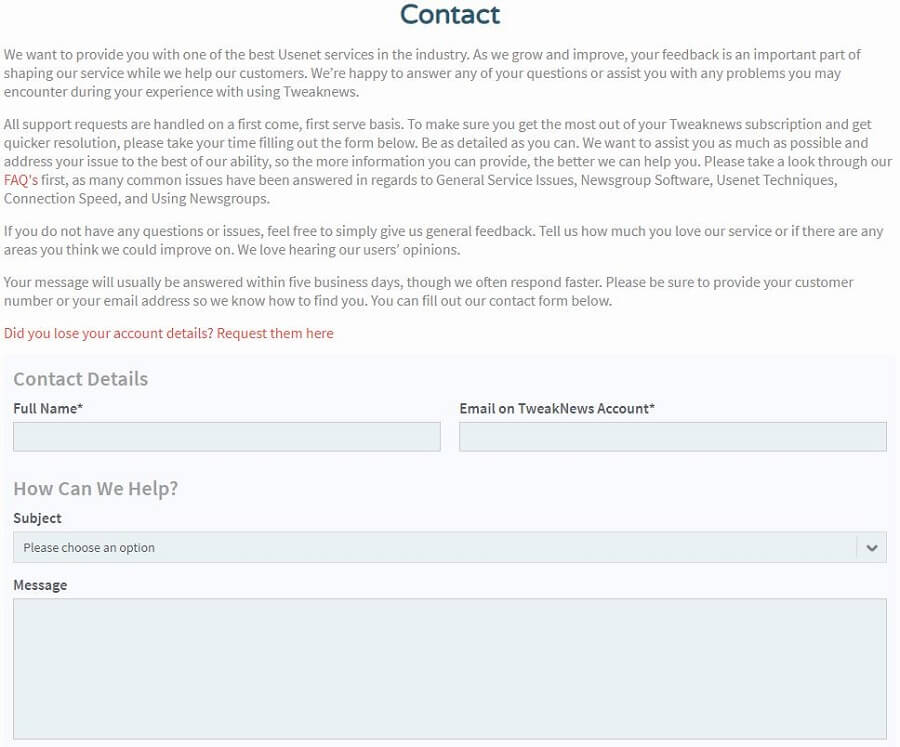 If nothing else, they do offer a fine customer service team. While it doesn't come in the form of a live chat that is available 24/7, at least you can send in an email inquiry.
Additionally, their knowledge base page addresses the general-purpose issues that you might encounter.
We sent them an email related to the payment problems that we had and received the answer within one business day, which is not that bad.
Value for the Money
When reviewing a virtual private network, it is important to determine whether what you pay is worth it. So let's check it out.
Price comparison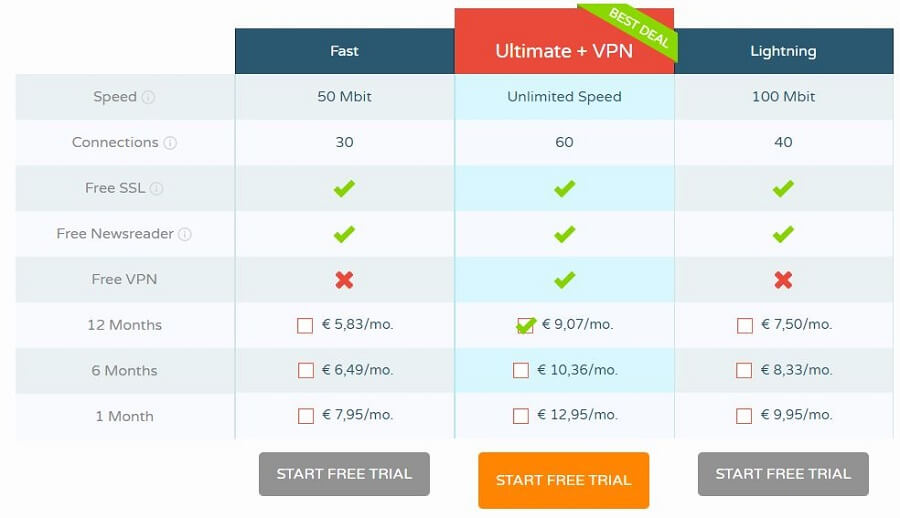 First, there is a beginner subscription plan, which comes with 4 threads and a speed of 1 Mbit. It is quite affordable, with a single month plan being set at 2.50 euros and the 12-month option being at 21 euros.
The more robust option is subscribing to the fast plan, which is at 50 Mbit and 30 threads. It costs 7.95 euros for 30 days and 69.99 euros for the whole year.
If you are really into premium VPN service, then the Ultimate subscription plan that they offer is adequate for you. Still, it is quite expensive and comes at 12.95 euros for a month or 108.78 for the whole year.
For around the same price, you could get a premium VPN service like ExpressVPN, which is far more recommended.
Payment types
You can use major credit cards, as well as Paysafe, Giropay, PayPal, and SOFORT.

We just regret the lack of Bitcoin payment. But this is only a minor issue in the case of our Tweaknews VPN review.
Money-back guarantee
We weren't able to find any info on whether there is a window for reimbursement or not.
Extras
It is among the better VPNs when it comes to fulfilling the purpose of a newsreader. Also, the interface is user-friendly and doesn't require a lot of tech knowledge.
Final Thoughts
In the end, we rate Tweaknews VPN pretty low.
The reason is that, while a veteran Usenet provider, it doesn't do much other than act as a reliable newsreader. It lacks US locations, and its ability to unblock censored content is not the best.
Additionally, the encryption provided by this VPN is not optimal. This is all to say that Tweaknews is not worth the money, considering you need to subscribe to more expensive plans for good performance.
Thus, stay away from it and subscribe to CyberGhost or ExpressVPN as great alternatives.
Our final verdict? This VPN is at the bottom of our recommendations list.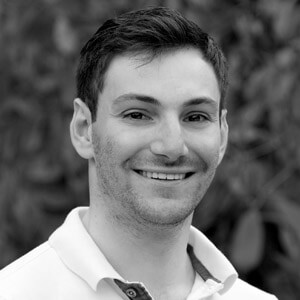 Flo is the founder of the-bestvpn.com. Really concerned about security on internet, he decided to create this website in order to help everyone find the best VPN. He's got a Business School background and now is 100% dedicated to keeping his website alive.