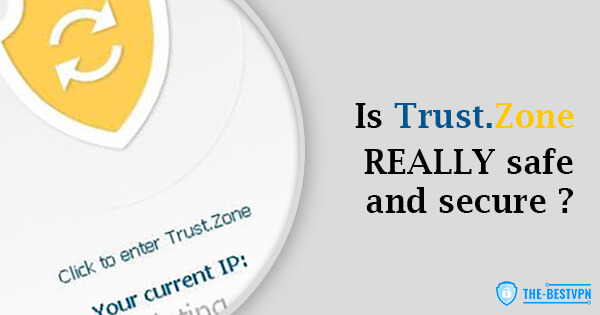 Your anonymity and privacy are important things to preserve, especially now, in an increasingly digitalized world. With the Age of the Internet, it is, unfortunately, becoming easier to sacrifice some much-needed security. We will be looking at the Trust.Zone VPN service. By the end of this article, you will know if you can trust it to keep your online activity safe and secure or not. But, to determine the safety of Trust.Zone, we will first need to look at all its available security features.
Read on further down below to find out what we discovered about this VPN.
Security: What Are the Security Tools in Trust.Zone?
Security is the most important thing to consider when choosing a VPN service – it is the main point of using a VPN. Trust.Zone promises to block your ISP from spying on you, hide your IP address and location, and protect your privacy.
But does it fulfill those promises? Let us find out by examining the service's security tools and features.
Reddit users agree that Trust.Zone offers the basic security and privacy measures, as well as a kill switch option, but their selection of additional protective features is, unfortunately, not as robust as other VPN services.
Kill Switch
Kill switches are an essential feature for any VPN service to have in the case of a dropped connection. In such an event, the user's connection to the service fails, which can leave all their information – their IP address and data traffic – fully exposed.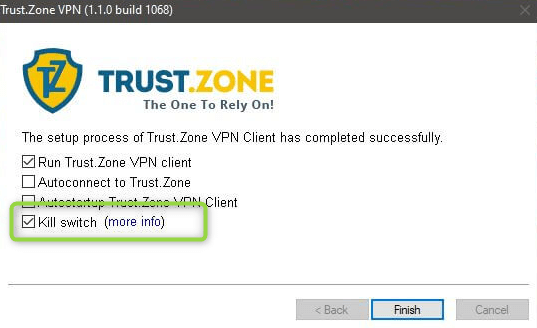 Fortunately, Trust.Zone does have a kill switch feature that can be enabled in the app or window. This will restrict your device's access to the internet until the VPN connection can be restored.
Encryption Protocols
All of the data you supply to the service gets fully encrypted using strong cryptographic protocols. This is to further ensure the privacy and protection of your important information.
DNS Leak Protection
Trust.Zone offers protection against DNS leaks, which can hinder your privacy. The setting is available in the app or the service's window and can be enabled at any time.
Trust.Zone's Privacy Policy: The Most Important Security Criterion
A VPN's privacy policy is probably the most important thing to consider. While all of its possible security tools and features are good – even necessary – to have, the privacy policy is what you really want to be looking at.
Here, we have looked at Trust.Zone's for you.
In the description of their privacy policy, Trust.Zone states that they endeavor to maximize your privacy and be totally transparent about what information is collected, processed, and stored.
Their policy is simple and straightforward, so let us break it down, bit by bit.
What Information Does Trust.Zone Collect?
During the registration for the service, Trust.Zone does collect and store a user's email address. But this is a pretty standard fare for VPNs. The email you provide is used as your identifier and is used to log-in to your account and receive notifications related to your subscription and any other promotions or additional services.
Furthermore, Trust.Zone does not store any log files. Your public IP address will not be linked to any user data. This ensures your anonymity and privacy.
Trust.Zone also mentions that they do not collect or monitor any information about online payments. A relevant third-party payment system will have a whole other privacy policy altogether.
Data Protection and Encryption
All the relevant data that you provide to the service – such as your email and account password – as well as any private and public access keys are stored in an encrypted format.
Trust.Zone uses strong cryptographic algorithms to ensure the protection of vital information against unwanted and unauthorized access, alteration, destruction, or disclosure.
Cookies
Trust.Zone does use cookies. But they are completely transparent about this. They highlight exactly what data they store and what they don't store. And it is safe to say that no personal information (including the email and password you have provided) is stored within.
The only thing these cookies contain is some tech information about your current session.
File-Sharing, DMCA notices, and Illegal Activities
When signing up for Trust.Zone's services, the user agrees that they will not engage in any illegal activities. This includes illegal file-sharing. An appropriate response should you violate this agreement will be issued by the VPN's security team.
However, since all the data that is collected and stored is anonymous, they would not be able to associate anything with a customer's identity – even if they are legally compelled to do so.
External Audit: Is Trust.Zone Safe?
Unfortunately, there have been no external auditors who have reviewed Trust.Zone as a VPN service. Of course, many people have reviewed the application.
But as many Reddit users have pointed out, without an official external audit, it can be hard to determine whether or not a VPN service can truly be trusted and called "safe".
It also can't be decided if all the features it provides are compliant with the law. This means that your identity, privacy, and security are all placed at risk.
Conclusion: Trust.Zone Can't Be Trusted
Unfortunately, we have to conclude that Trust.Zone – ironically – cannot be trusted. While its privacy policy is simple and transparent, it does not offer as much as other services of its kind.
While the service has not encountered any scandal as of yet, it remains to be seen whether or not they are genuinely as trustworthy as they set out to be.
And with no external auditing, it is not currently possible to know whether or not all the site's terms, conditions, and features can be fully trusted.
We have to recommend another VPN service over this one because ExpressVPN or even NordVPN is a way better option than Trust.Zone. Find out more about ExpressVPN using the button below.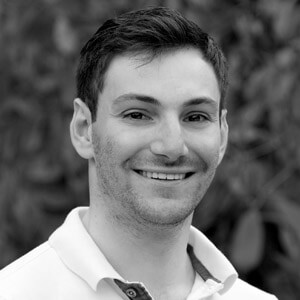 Flo is the founder of the-bestvpn.com. Really concerned about security on internet, he decided to create this website in order to help everyone find the best VPN. He's got a Business School background and now is 100% dedicated to keeping his website alive.