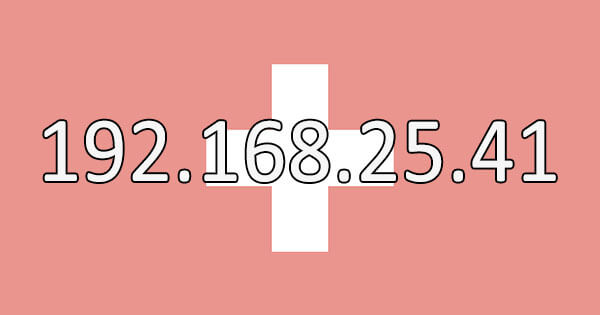 A Swiss IP address opens you up to home-grown TV channels, streaming sites, and banking services when you are abroad. We'll show you how to use a VPN to get an IP address from Switzerland and how to use it to stay safe online. We'll also recommend some providers that are worth checking out.
How to Use a VPN to Get a Swiss IP Address?
If you want to have a Swiss IP address, your best bet is to use a Virtual Private Network. This tool routes your online traffic through special servers that encrypt and hide your data from prying eyes.
Usually, when you connect to the internet, anyone including the government, ISPs, and even hackers can see what you are doing online.
By hiding your online activities, a VPN gives you peace of mind knowing that no one is spying on you.
In addition to encrypting your data, it also hides your real IP address. To get a different one, you would need to use a VPN to connect to the servers in your target country.
In this case, to obtain an IP from Switzerland when you are overseas, all you need to do is connect to Swiss servers. This will trick websites into thinking that you are browsing from Switzerland.
Easy Steps to Change Your IP Address
Follow these simple steps to obtain a Swiss IP:
Download and install the VPN app on your preferred device
Log in to the app using the appropriate details
Select a Swiss server from the list of available countries and connect
Access a geo-restricted site. This should be able to load as usual with no location restrictions!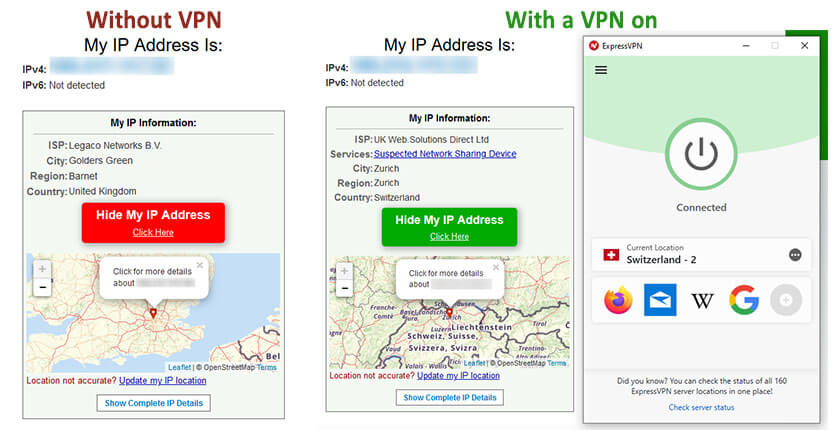 Why Do You Need a Swiss IP Address?
When you get a Swiss IP address, you'll enjoy several perks. Let's have a look at these in detail.
Access banking services
Would you like to access your Credit Suisse or Basler Kantonalbank account from abroad? When you try to log in to your bank accounts outside the country, you might receive an email warning asking you to verify that you are the rightful account holder.
In other instances, the bank could simply freeze your account for trying to access it outside the country. This is all for security purposes, of course, but it can be super annoying.
Fortunately, connecting to a VPN with servers in the country can help you get past these hurdles. With a Swiss IP address, your bank will not notice that you are abroad. It will seem as though you are accessing your accounts from inside the country.
Unblock geo-restricted content
Television channels such as SRF 1, ZDF, RTL, and Prosieben are blocked outside the country. The same goes for popular local streaming platforms such as Watchbox and Netzkino. This is because these sites use IP addresses to detect your location.
The best way to catch up with your favorite shows when you are abroad is to change your address to a Swiss one. You can also hide your location and watch the local Netflix catalog.
Snag better travel deals
Changing your IP address is also good for the pocket. For one, if you run a business in Switzerland from abroad, a VPN with servers in the country will let you access local marketing data, crucial websites, and other resources.
Other than this, it may allow you to save money on flight tickets. Travel sites use IP addresses to determine location, which influences the prices they show for flights.
By changing your IP to the airline country, you can save on costs. In this case, say you are using Swiss Air Lines to travel to the country. Changing to another address of the airline, i.e. getting a Swiss IP address will show you a different price than if you were using the IP from your current location.
The Best VPNs With Servers in Switzerland
Not all VPNs will consistently hide your IP address. We recommend that you avoid using free services as these have inconsistent encryption capabilities at best.
For best results when looking to change your IP to a Swiss one, opt for a premium provider. There are several good ones out there but if you're wondering which VPN to choose, our favorite is ExpressVPN.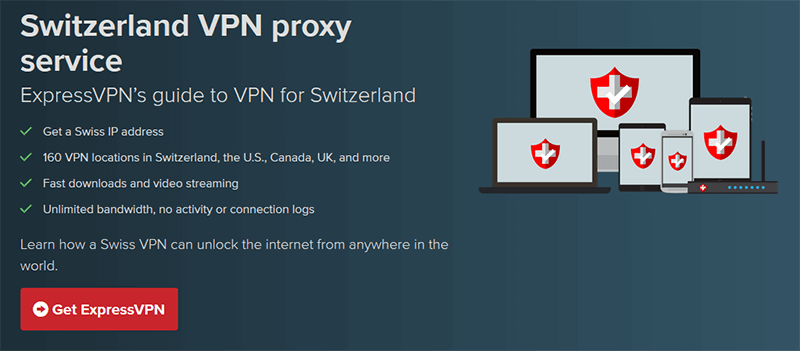 First, this provider has 3,000+ servers with tons of them in Switzerland. Whether it's for streaming, banking, or browsing, you will have no problem finding a suitable server inside the country.
Also, it offers best-in-class military-grade encryption. This helps to consistently hide your location and to completely mask your traffic. Privacy-conscious users will find this particularly helpful for accessing torrenting sites safely.
Enjoy a 30-day money-back guarantee
Right now, ExpressVPN is offering a 49% discount and 3 months free for every yearly subscription. The best part is that you can connect up to 5 devices simultaneously and hide your IP, which is great for families.
Other than ExpressVPN, there are other amazing providers you can use to get an IP from Switzerland. Our top picks are NordVPN and CyberGhost. As of the time of writing, each has 129 servers and 156 servers respectively inside the country.
Summary
Wondering how you can have a Swiss IP address? It's pretty simple—use a VPN with servers in the country. This way, you can bypass geo-blocked content, access banking services, and even conduct localized market research while abroad.
With so many providers in the market, we recommend going with ExpressVPN. It checks all the boxes with regard to online privacy and security. You can browse the internet with peace of mind knowing that your activities are completely anonymous.
Quentin is the co-founder of the-bestvpn.com. With several experiences as a System and Network Engineer, he is very knowledgeable when it comes to VPN, cybersecurity and the risks of using the Internet nowadays.