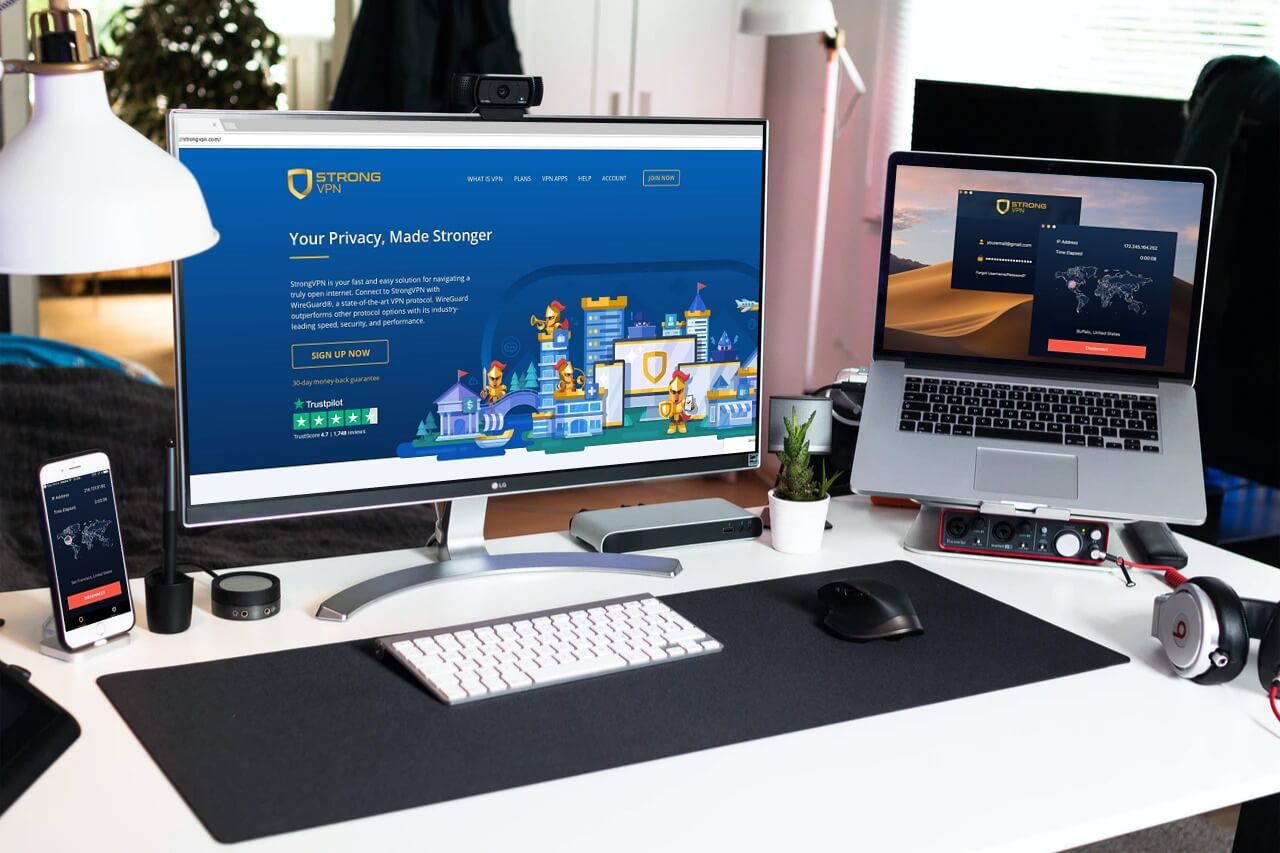 StrongVPN stands as one of the oldest providers on the market. In fact, it has been around for twice as long as NordVPN or ExpressVPN. This suggests that it offers exceptional service, as they have had more time to develop and improve over the years, right? Unfortunately, that is not the case. No one is saying that it is a complete miss. However, there are problems related to server speeds and the privacy policy as we're going to show you later on this StrongVPN review. Also, the price is much higher than for most market leaders.
We have decided to perform a thorough review and explain why you should or shouldn't subscribe to StrongVPN. We will discuss strengths and weaknesses and move on to the detailed analysis of features such as streaming, encryption, etc. Our team hopes this article will help you make an educated decision!
STRENGTHS:
Works with Netflix
Helpful customer service
Strong 256-bit encryption
WEAKNESSES:
Overpriced
Outdated interface
Speeds
Lacking a SOCKS5
Not adapted for gaming
---
StrongVPN ranks #55 out of 104 VPNs tested. Here are the best alternatives :
Is it a free or paid VPN?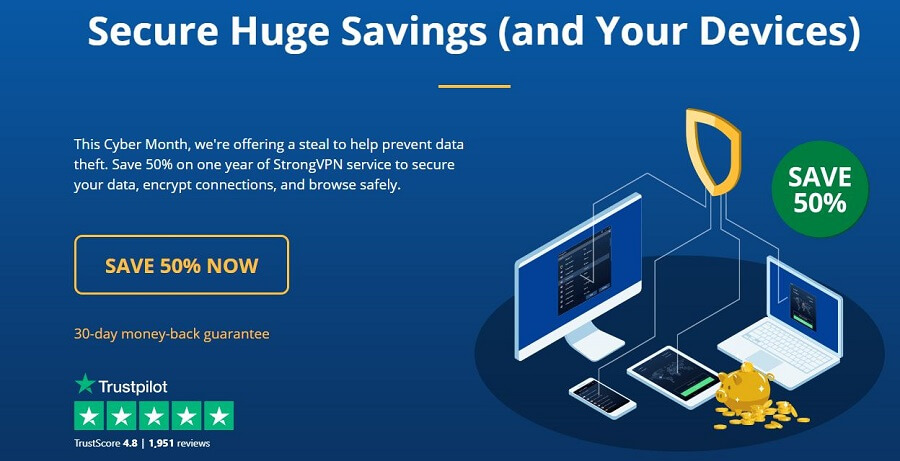 Well, here is the catch. While this US-based VPN company does have some pros, the main problem we have with it is the higher price.
However, the fact that their service is compatible with Netflix and they offer good customer service is a plus – our review will cover this more later. Most market leaders have issues with unblocking popular streaming platforms.
But that is where the upsides seem to end.
Frankly, StrongVPN could have really done well if they had put more thought into their subscription price. There is one good thing about their payment system, though, and that is that you don't get tracked.
How so?
Well, it supports Bitcoin, along with PayPal and credit cards for regular payments.
The price for a one-month subscription is $10, which comes out to $120 a year. On the other hand, if you decide to go for their 12-month package, then the total price is $34.99 but that's a price that's currently discounted.
While much better than paying one month at a time, this price is still pretty high, as it is $69.99 by default.
Looking at different brands and pricing options, this review can safely conclude that StrongVPN is more expensive than most of our alternatives. This includes both NordVPN and Surfshark.
ExpressVPN is just a tiny bit more expensive, but it is much faster and offers a more reliable interface.
You also have to consider that StrongVPN is offering a mid-quality service and is trying to sell it at a high-end price.
Performance
The most important factor in determining the overall value of a VPN provider is to analyze its performance aspects. These are factors such as speed and stability, which we will review below.
Speed
Before we get into the numbers, we should note that a few years ago, StrongVPN couldn't be used for most everyday activities.
This was due to the fact that the servers were immensely slow. Since then, things have improved, but it is still not good enough in our opinion. Much like iPredator and VPNBook, this provider is slow when it comes to both uploading and downloading.
Starting with the EU Server in Amsterdam, we received a ping of 57 ms. The download speed was just below 35 Mbps, and the upload speed was just above 5 Mbps, which is not ideal.
Once logged into the New York server in the US, the decrease in speed was significant. The ping registered at around 140ms, and the download speed was below 9 Mbps. As for the upload speed, it was at 2.8 Mbps.
Although this provider does allow unlimited bandwidth, it is safe to say that it may have no influence whatsoever considering how slow things can be.
The last server we received was Hong Kong, and it displayed a disastrous ping of 245ms! Additionally, the download was just shy of 20 Mbps, and the upload speed was only 2 Mbps.
While these numbers may vary depending on where you are logging in from, the average result is not impressive AT ALL.
Without VPN (we were located in London) :

EU Server (Amsterdam) :


US Server :

Asia Server (Hong Kong) :


Stability
We can't say we are impressed with this aspect either. Unfortunately, the servers seem to disconnect every now and then. Other VPN providers, like ExpressVPN and NordVPN, give you the complete freedom of choosing a specific location.
This is due to the presence of dedicated servers, which StrongVPN doesn't have. In our opinion, this is a great solution, especially if you want to do specific things!
Streaming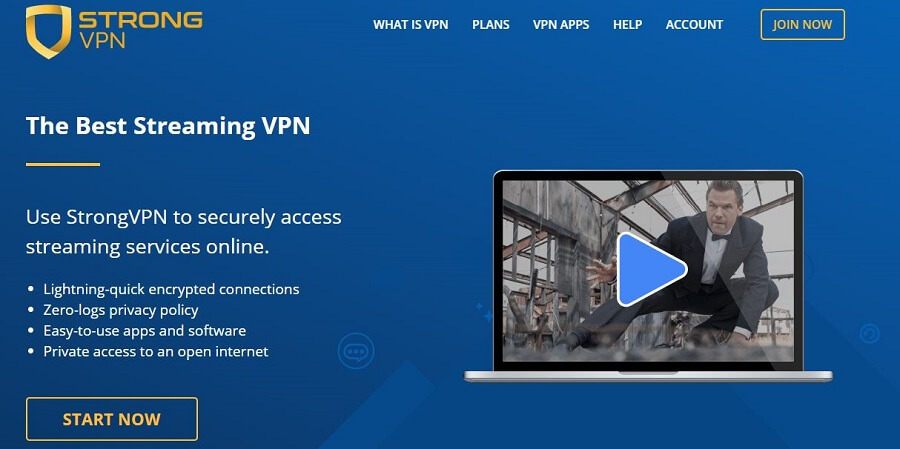 It is no secret that most people who subscribe to a VPN provider do so to have stable access to streaming platforms. These include Netflix and others such as Amazon Prime Video, Hulu, and more.
Let's go ahead and review how StrongVPN does in this arena.
Netflix
As we have mentioned above, the fact that it gets through the security of Netflix and allows buffer-free streaming is quite impressive, especially considering the low quality of most other features.
Once again, the company did improve from how it was a couple of years ago. At that time, most providers couldn't get through the banning policy that Netflix established.
Other streaming services
Many people also use a VPN to unblock YouTube videos. This provider seems to work quite well when it comes to those geo-restrictions. On the other hand, StrongVPN offers Hulu streaming only through some US servers.
Top players in the game, like NordVPN and CyberGhost, offer hundreds of servers from which you can access Hulu, but we highly recommend the fast servers and security features of ExpressVPN.
Security
What good is a VPN provider if it doesn't ensure adequate levels of security and anonymity? To find out whether StrongVPN can pass the test or not, we need to consider the location of its headquarters. We will also consider its encryption and no-log policy in our feedback.

Where is it based?
StrongVPN is a US-based company with its headquarters in Lake Tahoe. The main issue that we have with this is that it is subject to the so-called "Five Eyes" alliance.
Log policy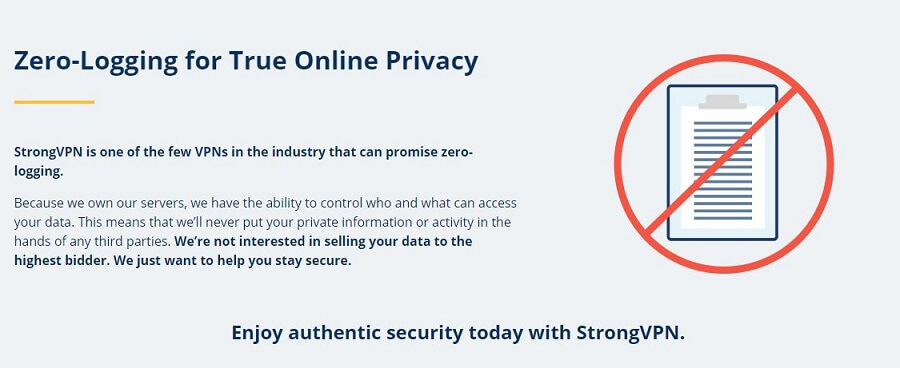 The provider itself claims that it has a strict no-log policy, which should help you sleep a bit better. However, we tested their service for this review for quite some time, and we concluded that some logs are still being stored.
While it is not as bad as with VPNBook, it is not as good as CyberGhost or ExpressVPN policies.
Protocols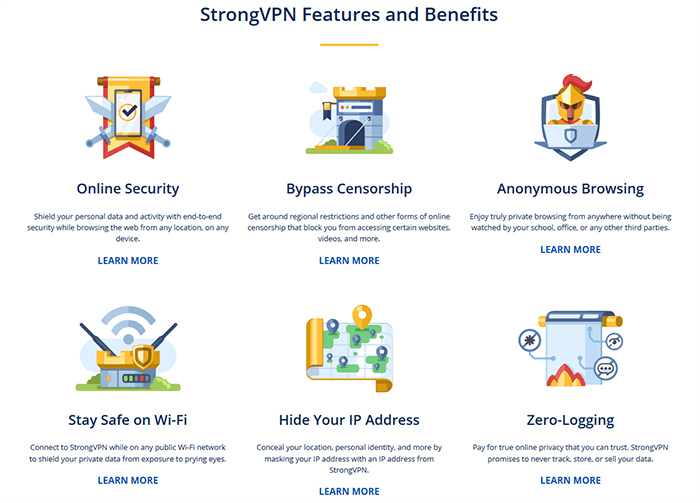 As for the protocols from which we were connecting, StrongVPN offers WireGuard, L2TP, SSTP, OpenVPN, IPSec, and IKEv2. These are all protocols that are reputable and are used in many market leaders, including ExpressVPN and CyberGhost.
We like the addition of WireGuard, as well. It's on par with OpenVPN, offering superb speeds and great security overall.
Leak protection
It is good to note that there was no leaking during the test period while preparing this StrongVPN review.
Torrenting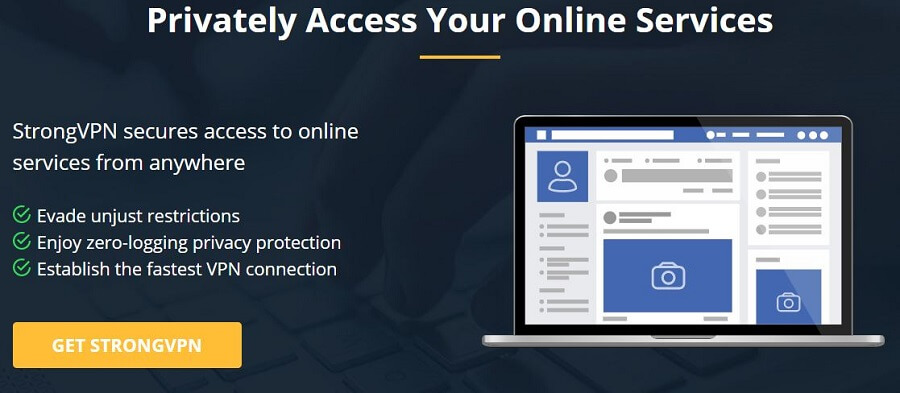 We already mentioned earlier in our review that StrongVPN does well when it comes to torrenting or file sharing. This is mostly due to 256-bit encryption as well as DNS leak protection.
Both keep you anonymous and make sure that no data is leaked.
On the other hand, ExpressVPN boasts super-fast speeds and is a much better option in terms of efficiency for torrenting. While StrongVPN can give you results, you will have to wait for quite some time.
This is especially true if you log in to servers in Europe or Asia.
Bypassing censorship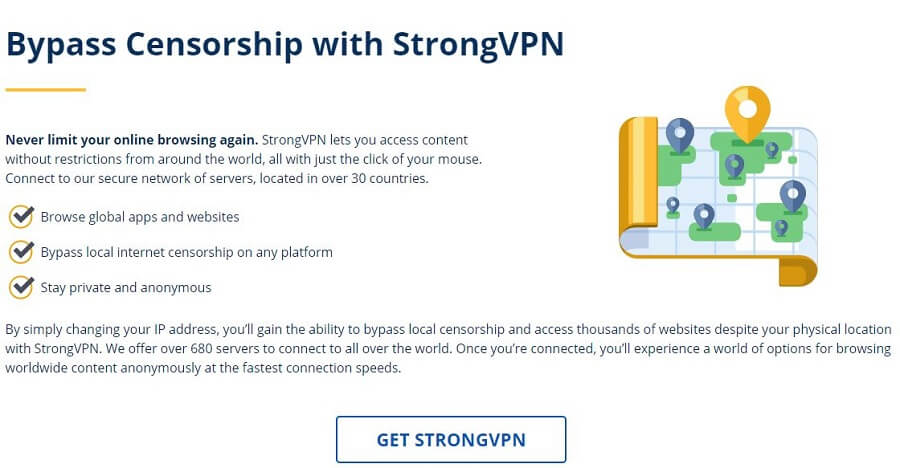 This is an important question in any VPN review, and the answer to this question depends on your location and what kind of firewall you are trying to bypass. You can use a VPN in any country, like Canada, for instance, but how well it works in the tougher locations is the true test.
It seems that this provider has issues with bypassing China's restrictions. This country keeps up to date with new protocols and VPN servers, thus making sure that it is very hard to get through.
The fact that StrongVPN has unreliable and unstable servers doesn't help either. For this part, our review of StrongVPN is far from being positive. You should definitely consider other options if you want to bypass strong censorship.
Countries and servers

StrongVPN is a global provider that covers 30 countries, including the Netherlands, Hong Kong, UK, USA, and Brazil. That being said, it is not as good as CyberGhost, which has servers in more than 90 countries.
The total number of StrongVPN servers is 950. This is not very impressive considering the amount of time that this provider has been on the market.
Locations are spread throughout the Americas, Asia, and Europe, as well as one in Australia. The servers are most reliable in North America, though. If you are connecting from the USA to a server in London (and vice versa), chances are you will have a ping that is above 100ms with a 60-70% decrease in speed.
Thus, if you are a gamer or you are looking to enjoy an HD streaming service, look elsewhere. NordVPN or ExpressVPN would both be better options.
Compatible devices and connections
Among the best things about this provider is the connectivity that it offers. This is true in terms of the operating systems it is compatible with. It is also true in terms of the number of devices that can run at the same time.
Devices supported

As we have mentioned above, StrongVPN supports everything but FireTV and Linux. By that, we refer to native apps. Sure, StrongVPN will offer setup guides for systems like Ubuntu, Kodi, Amazon Kindle, and others.
However, don't expect any native apps since many of those devices are missing support for one or two protocols. For example, you can't use OpenVPN on Amazon Kindle, but you can on Ubuntu.
What this means is that you can run Android, Windows, macOS, and iOS with native apps.
Unfortunately, the interface for apps on any of the four operating systems is not the most user-friendly. On the other hand, downloading from a Play Store or an Apple Store shouldn't cause any issues.
Simultaneous connections
The other important thing is that you can protect up to 12 different devices at the same time.
This is what we would expect from most VPN providers, but it is good to note that Surfshark allows you to use the service on an unlimited number of devices simultaneously.
Support
One of the major services that any provider needs to offer to be trusted is excellent customer service. There has been a huge change in StrongVPN's service throughout the past few years as we saw during our review.
Although it can't be compared to ExpressVPN's excellent support, this VPN isn't too shabby (although not awesome). 

In 2017, the refund policy only allowed you to have 7 days to ask for reimbursement if you were not satisfied or had logging issues. Today, things are a bit different, as the provider decided to improve to a 30-day money-back guarantee.
Regarding canceling the subscription and getting a refund, this provider stands strong in terms of interaction with customers.
In the image above, you see a glimpse of StrongVPN's support center. But that's not all. Apart from email support, which is decent, you get a live chat functionality. Our experience showed that StrongVPN is fast to respond, with the support team being great overall.
Value for money
Before we move on to the final verdict, we want to discuss whether this is a worthy investment or not.
Price comparison
We already listed the few payment plans that StrongVPN offers. We can't say we are satisfied with either of the two. The cheapest plan, which is $34.99 for a year of service. This is not very expensive.
On the other hand, you could decide to go for the $10 one-month plan. However, that is just two dollars cheaper than ExpressVPN, which is much faster and more reliable.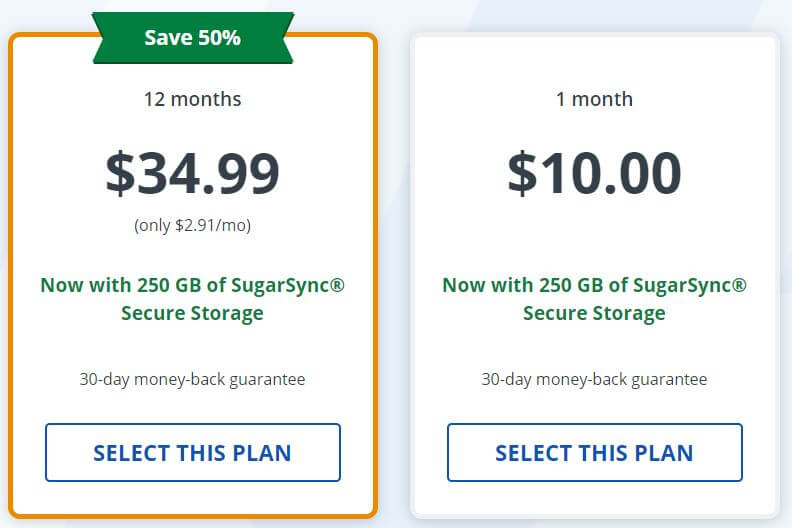 Payment types

As we can see, StrongVPN isn't really generous when it comes to payment methods. However, that's not a bad thing given that PayPal, credit cards, and AliPay are all here. If you're an average user, you probably won't see that as a flaw.
For us, though, we dislike the lack of Bitcoin or any crypto payment.
Money-back guarantee
As mentioned, StrongVPN offers a fine refund policy. You have a one-month window to ask for full reimbursement, much like the unconditional 30-day money-back guarantee offered by ExpressVPN.
Extras
The last thing that we ought to discuss is the interface that this provider offers. Frankly, we are not satisfied with it. If you are feeling nostalgic for the 2000s, then this might be the right choice for you.
If not, then it will probably cause you significant irritation every time you use it.
The layout is not up to date. While it is suitable to use with Android, Windows, macOS, and iOS, the performance is nowhere as reliable as it should be. To be honest, even if you are an experienced VPN user, the lack of intuitive design is going to be frustrating.
Final thoughts
There are a couple of things we would like to say for this StrongVPN review wrap up.
First, as you can see from the review above, there is no doubt that StrongVPN has improved over time. This includes a better money-back guarantee, more reliable torrenting performance, and somewhat faster servers.
Still, for the price that you will be paying, this is simply not enough.
Top providers such as ExpressVPN, NordVPN, and CyberGhost stand far above it and have much better pricing, as well.
StrongVPN has been on the market for more than 2 decades, and, for that, we simply expect more. Therefore, we would not recommend it over other top VPN options available.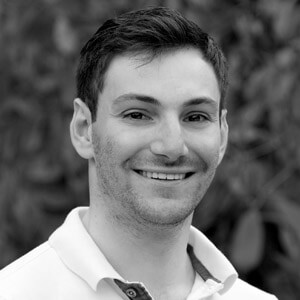 Flo is the founder of the-bestvpn.com. Really concerned about security on internet, he decided to create this website in order to help everyone find the best VPN. He's got a Business School background and now is 100% dedicated to keeping his website alive.