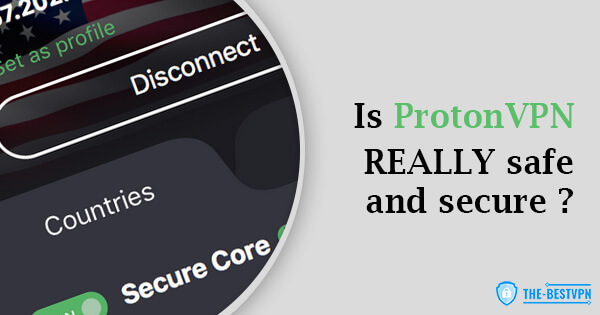 To be a high performing VPN, there needs to be a focus on security and privacy. This will keep the user completely anonymous. The user should have the ability to feel safe in the knowledge that their information will not be stolen. Backed by the technology from its sister company, ProtonMail, ProtonVPN has tons of features that aim to give its user just that, but is it really safe?
We checked it out for you – our goal is to offer you an objective analysis. Here is what we found. If you have more questions, make sure to check out ProtonVPN's Reddit page. There is a lot of great information there, as well.
Security: What Are the Security Tools In the Apps?
This easy and reliable piece of security technology is designed with features that will keep your data and information very safe. These trustworthy features include:
Kill Switch
There are two options when it comes to kill switches when a user goes with ProtonVPN. There is a built-in kill switch feature that works like any other kill switch. When a loss of connection is detected, to make sure your information is secure from any dangerous leakage of information, it severs the internet connection.
There is also the Always-On VPN feature. To make sure it is safe to use, your internet automatically connects to a new server once the connection to the previous one has been lost.
DNS & Leak Protection
ProtonVPN service has optimized DNS and leak protection. The system not only protects your browsing, but it protects you from DNS inquiries, as well.
To avoid any danger of potential leakage of your information, any queries are sent through an encrypted tunnel. This leaves the VPN with high-performance protection that will keep your location reliably safe no matter what.
Encryption
There are several components to ProtonVPN's high-strength encryption system. To keep your information and data safe from scammers, the company starts with a 256-bit AES encryption cipher.
That is coupled with a 4096-bit RSA key exchange cipher and a message authentication system cipher that is powered by an HMAC with SHA384.
All of the encryption ciphers chosen are fitted with a Perfect Forward Secrecy. This helps generate new encryption keys if your session gets compromised.
There is also an additional feature called Secure Core. This system pushes your tunnel through multiple different servers in countries that are privacy-friendly before reaching the final server.
Find out more about Secure Core >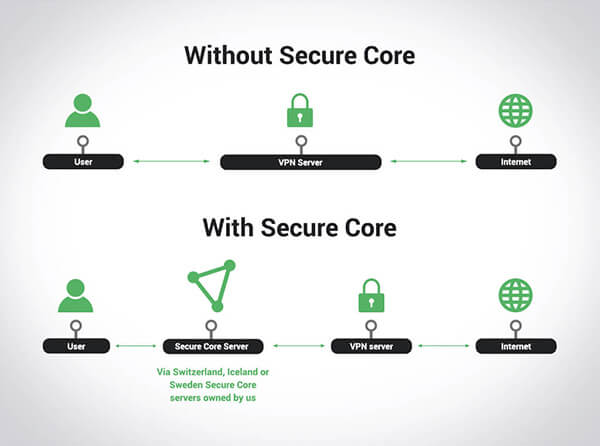 Tor Support
This VPN comes with built-in support for the Tor network, which allows the user to access the Tor network to add an elevated level of anonymity. ProtonVPN's built-in support will give the user access to even the most hidden sites while keeping their information safe from third-party marketers or even the government.
Protocols
ProtonVPN also uses premium-grade protocols that enhance the security and safety of its user's data. It uses both IKEv2/IPsec and OpenVPN. Both of these are reliable and trustworthy protocols when it comes to protecting your VPN tunnel.
This, coupled with the heightened encryption system, is sure to keep everything safe and secure so that you can feel confident in this trustworthy and reliable service.
ProtonVPN Privacy Policy: The Most Important Security Criterion
ProtonVPN is very privacy-friendly as Switzerland is its base. The privacy policy is very straightforward. Additionally, no logs are kept. The VPN has a strict and clear no-logging policy.
Swiss law backs this process. Therefore, it doesn't log any user information. They can't deliver any information to authorities or third-party companies thanks to this.
In line with its passion and focus on keeping your data and information safe, ProtonVPN also outfitted its product with a feature called Tor Over VPN (as discussed previously).
This allows the user to funnel their traffic through the Tor network, elevating the level of security. This is something that a lot of Reddit users who follow the company's page really appreciate.
External Audit: Is ProtonVPN Safe?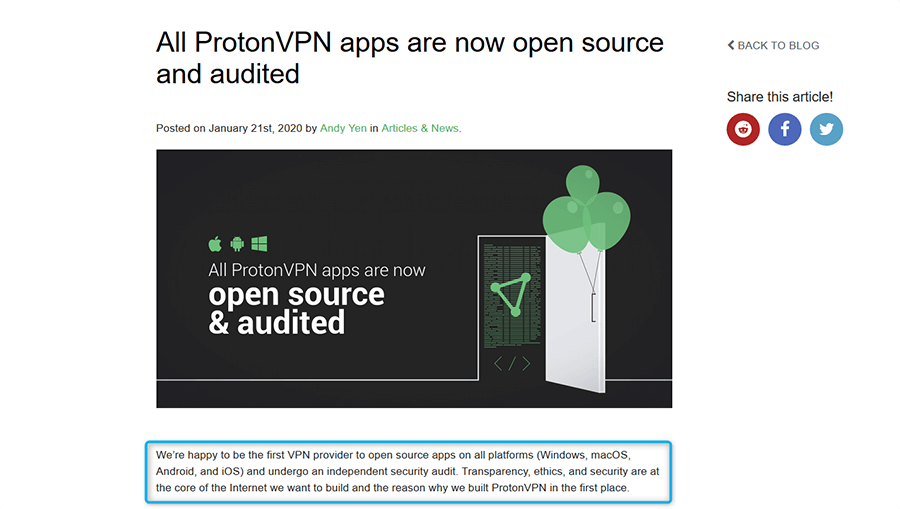 Unlike many of its competitors, ProtonVPN has done several external audits to maintain its transparency. Mozilla did the first external audit. They looked at everything and determined ProtonVPN to be safe to use and well-structured.
Plus, they went on to form a partnership together.
Apparently, this was not thorough enough. So the swiss provider enlisted the help of SEC Consult, one of the world's top-notch security firms, to test their product out. The process was in-depth and thorough.
SEC Consult found the VPN to do everything it states it does. ProtonVPN even states on its website that the provider will continue to do external third-party audits. This is to keep its clients safe and the product up to date with privacy and security needs.
And since a few months, all their apps are 100% open-source! This is really good news, for sure!
Conclusion: ProtonVPN Can Be Trusted
The provider inspires confidence with its security measures.
Everything from the high-quality encryptions system to the inclusion of built-in support for the Tor network shows potential users that this Swiss-based VPN means business. The careful and constant updating of the VPN's features and network shows a dedication and passion to its clients' online security.
Along with that, the very rigid no-log policy elevates and enhances its ability to keep clients safe. Backed by a very privacy-friendly Swiss jurisdiction, its clients can sleep better knowing that this company will not hand over personal data or information to any third-party entity.
With an active Reddit presence, ProtonVPN also shows a passion for keeping clients in the loop on what is going on, as well as answering any questions or technical issues that may arise.
You can definitely trust ProtonVPN. Thus, the person looking for a high-quality, superior VPN may just want to take a look at it. ProtonVPN is safe and trustworthy.
This is exactly what a good Virtual Private Network should be!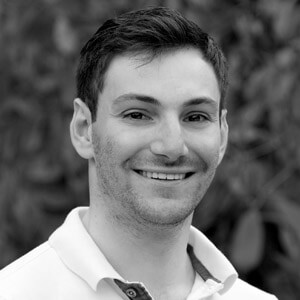 Flo is the founder of the-bestvpn.com. Really concerned about security on internet, he decided to create this website in order to help everyone find the best VPN. He's got a Business School background and now is 100% dedicated to keeping his website alive.