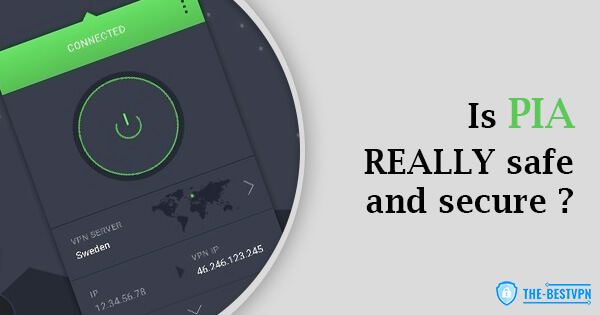 Private Internet Access is one of the oldest providers on the market. On Reddit, this provider is very popular, counting thousands of users. While it's not among our favorite VPNs, we must admit that it has some features that many users will value. So, for that reason, we've decided to check if PIA is as reliable and safe as many users online claim. Be sure to read everything carefully before you buy the provider so that you avoid wasting money.
Security: What Are the Security Tools in the Apps?

To make a VPN even more secure, providers often throw in some additional security features. While NordVPN packs tons of them, other providers on the market always seem to fall short of these features. Let's see what security tools can be found in the PIA app:
Automatic kill switch
For us, the base for every Virtual Private Network is an automatic kill switch. Without this feature, this service loses its purpose. Do you know how it works? Let's say you connect to the server and use it for quite some time.
At some moment, for whatever reason, the connection drops, and you're immediately disconnected from the server. That way, you expose your true IP and DNS, leaving you vulnerable online. A kill switch is here to prevent that from happening.
It blocks your internet connections as soon as the VPN connection drops, making it impossible to leak your IP accidentally. And of course, Private Internet Access offers one on their apps to keep you safe.
OpenVPN support
OpenVPN is an industry-standard nowadays. In short, it's the fastest and the most secure protocol available. However, PIA also offers a few more encryption protocols. These include PPTP and L2TP/IPSec.
More protocols are always welcome, as they allow you to experiment and tweak them if something doesn't work.
Ad-blocker
An ad-blocker is surely a decent addition to every provider. PIA doesn't use the classic ad-blocker, though. Instead, it blocks malware and trackers, too, making you far more secure online.
Military-grade encryption
By default, Private Internet Access uses 128-bit encryption. Those who know about encryption know that this is also very secure. But, the provider offers you 256-bit encryption if you want to feel more safe and secure.
This encryption is also known as military-grade, and as such, it's the last word of technology available commercially.
Private Internet Access Privacy Policy: The Most Important Security Criterion
PIA is a company located in the United States, which may be a reason for concern for more experienced users. To be honest, we also don't like the USA in this regard. It's a part of the 5 Eyes alliance and is known for extensive government surveillance.
However, the provider claims to NOT keep any compromising logs, so we decided to put it to the test. Thankfully, the privacy policy is short and to the point, so we can show you everything we want in one image: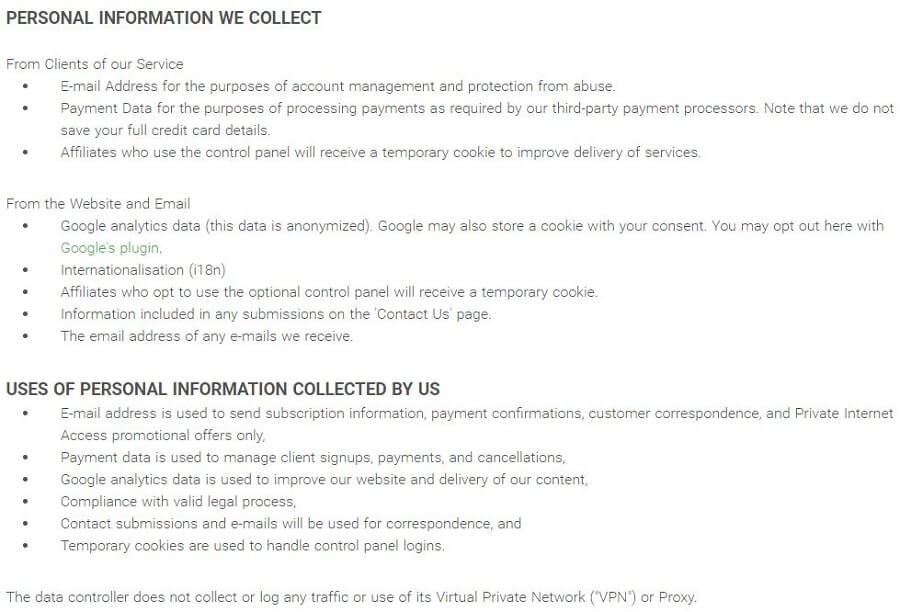 Taking a closer look, we can see that Private Internet Access holds to its words, as said on Reddit. Sure, some basic info is here, such as email, payment data, and so forth. But, this information is necessary for the service to function properly.
Generally speaking, they collect mostly the contact info that YOU gave them, and not something behind your back. Furthermore, PIA uses some cookies, too, which is also normal, and even better, you can opt-out of this if you want.
Finally, if we take a look at the reasons for collecting the data we mentioned, nothing malicious can be found. It's mostly about making the service better and more user-oriented. So, Private Internet Access definitely passes our privacy policy test with flying colors, which is very good news for your safety.
Keep in mind that the provider is from the USA, though. We don't know if that's ever going to influence the provider, but in this day and age, everything is possible.
External Audit: Is Private Internet Access Safe?
Getting an external audit in the VPN world is pretty hard. It's not strange that only a few companies like ExpressVPN and NordVPN have them. Despite being in the business for very long, PIA didn't manage to get it, which is a shame.
However, that doesn't mean that it's a scam or untrustworthy.
Simply put, the provider isn't as big as some of the names we mentioned, despite being almost worshipped at Reddit. If you want a provider with an external audit, our suggestion is ExpressVPN, with its PwC (PricewaterhouseCoopers) audited servers.
Issues and Scandals the Company Has Faced in the Past
Unlike IPVanish that infringed its zero-log policy at one point, Private Internet Access didn't have any similar issues. But, there's one thing that we're cautious about. Recently, in 2019, the company that owns CyberGhost, Kape Technologies, bought this provider.
While CyberGhost is one of the best choices on the market, it received a huge backlash when Kape Technologies bought it. Many users stopped using the provider and boycotted this decision. The question is – why?
Well, because the company was once called Crossrider, and this company got a bad reputation for its malware distribution. Users on Reddit seem to pretty much despise this company, although we haven't noticed any irregularities since it acquired CyberGhost and ZenMate.
In fact, CyberGhost saw massive growth in server count and its privacy policy didn't change. The same applies to PIA, which also didn't change a thing in its privacy policy. So, despite Crossrider/Kape Technologies' involvement, Private Internet Access still didn't change the way it operates.
Conclusion: Private Internet Access Can Be Trusted
Private Internet Access went through a lot during its long-lasting career. In our opinion, the company can definitely be trusted, but not to a complete extent. Sure, it doesn't store logs and has rock-solid security, but we must not forget its headquarters in the US, as well as the parent company.
Users definitely value the provider less as of recently because of that, and in the future, this might not be the greatest option. Our suggestion is to skip PIA completely and buy a reliable VPN such as ExpressVPN.
So far, ExpressVPN showed amazing results, even proving its zero-log policy at one point. It offers a 49% discount and 3 months free for an annual plan, making it an excellent deal to stay safe online.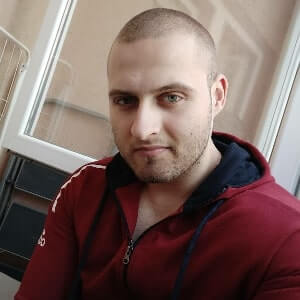 A professional writer with a Master's degree in Mechanical Engineering. Since his youngest age, he loves everything related to internet, technology, fitness, games, and dogs! He joined our team in order to bring his deep knowledge in security services, among which VPN is of course a key component.