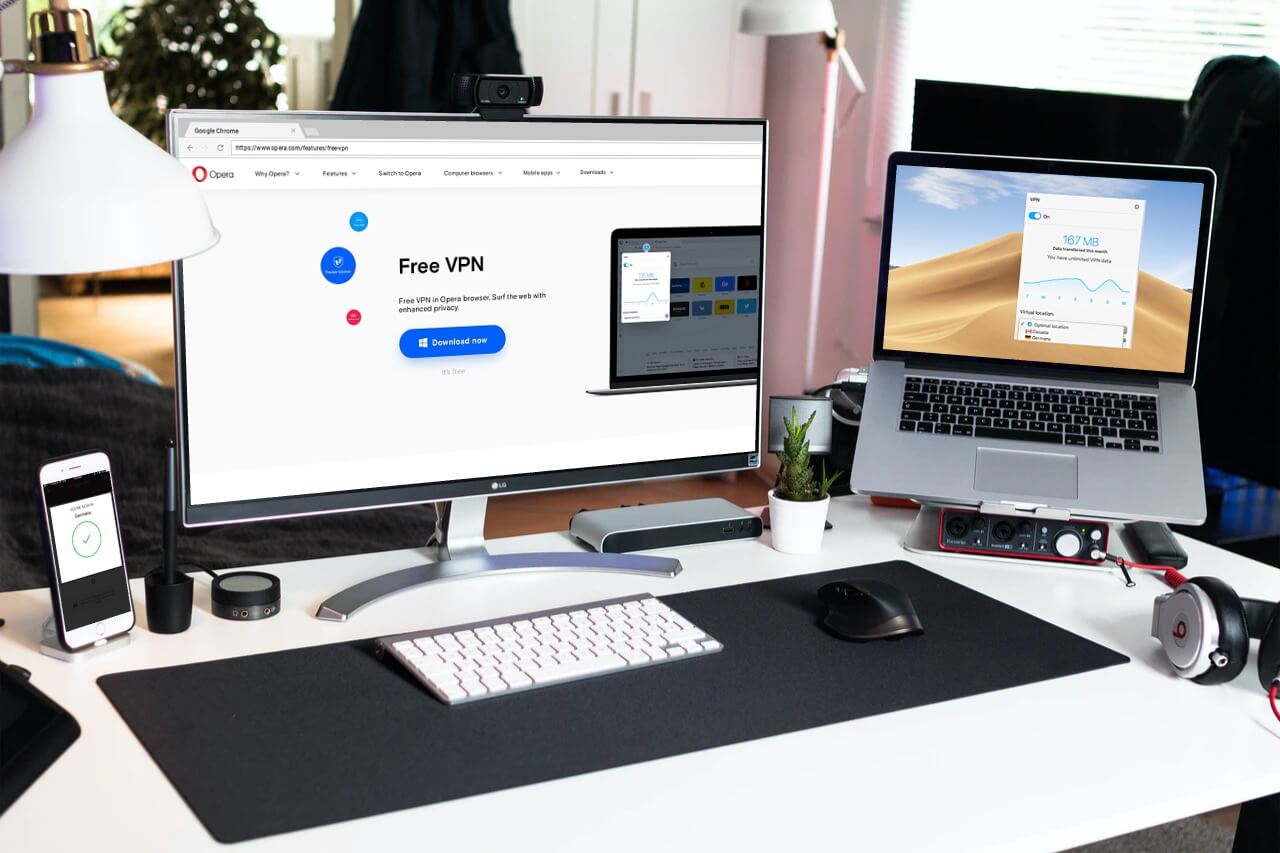 With Opera being one of the most popular browsers in the world and boasting around 350 million users worldwide, their products always attract attention. Of course, this is completely understandable. Some of the other products the company offers include Opera Turbo, Opera News, and Opera VPN, which we're here to test and review. We want to see if it matches the Opera browser in terms of performance.
As we've already mentioned, Opera VPN is the brainchild of a company that created the 5th most popular browser in the world. This explains why lots of people are curious to see how it performs, given the company's already solid reputation.
Besides that, however, there's another reason why this service is grabbing the attention recently – the service is completely free.
Now, it's always an enticing idea to opt for a free provider instead of a paid one. But we all know that free services always come with security concerns, right? We wish we could promise you that Opera VPN would do better, but we'd be lying if we said that.
Being a free service, the truth is that this provider doesn't offer anything to write home about.
In fact, there are very cheap solutions you could opt for instead of this almost good-for-nothing service. While the Opera browser is one amazing browser that almost everyone enjoys using, sadly, the Opera VPN is the opposite of amazing.
That said, welcome to our 2023 Opera VPN review and test.
WEAKNESSES:
Poor streaming performance.
Slow speeds.
Ambiguous privacy policy.
It doesn't mention anything about protocols
The service doesn't encrypt your data.
It doesn't support torrenting.
No Kill Switch.
Limited server network.
Limited to just the Opera browser.
Poor client support.
OperaVPN ranks #77 out of 104 VPNs tested. Here are the best alternatives :
---
Is it a paid or a free VPN ?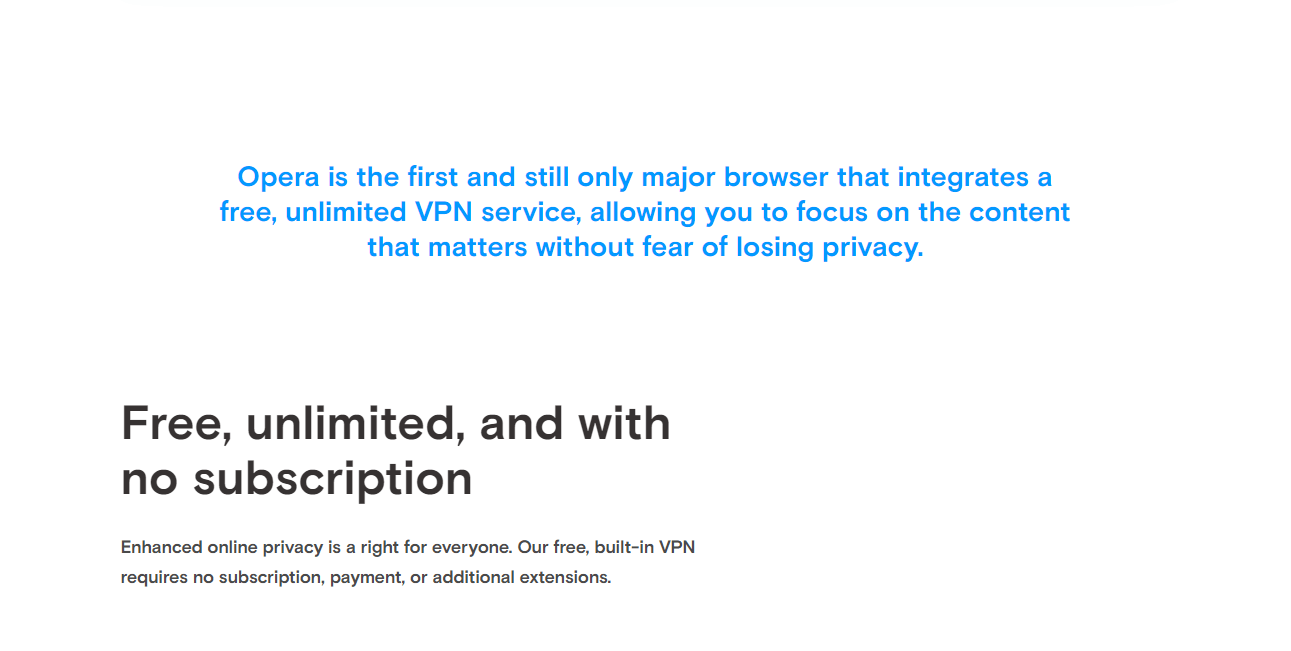 Opera VPN is a completely free service, but don't get carried away by that.
To be honest, we're not sure anyone would have been willing to pay for this worthless service even if they offered a premium service. In fact, some people are of the opinion that Opera should probably pay users for subjecting them to this annoying service that they call a VPN.
From its poor streaming performance to its porous security, to its lack of support for torrenting, it works for almost nothing. You'd see what we're talking about later on in this review and test, for sure.
Performance
Whenever we review any free service, performance is always the first thing we look at. Meanwhile, speed and stability are the primary perimeters we base our evaluation on. Thus, take a look at the following paragraphs.
Speed
Normally, we know we will be trading off connection speed for a VPN connection or secure proxy. However, when your internet starts moving like a snail all in the name of using a VPN, it turns into a problem.
There are VPN providers out there that are still capable of achieving fast speeds whilst concealing your activity.
Therefore, all we are saying is that you must not settle for slowness or sluggishness. However, Opera VPN reduces your system a bit, which is very depressive. We tested the provider's European server and an American server, recording the levels of the speeds as we browsed.
Sadly, the results weren't impressive at all.
Without VPN (we were located in London) :

EU Server (France) :


US Server :

Asia Server :

Stability
Stability is another important factor you must take into account. For all its shortcomings, Opera VPN offers a lot of stability. Being a service that is based on the Opera browser, we understand why it is so stable.
However, if you were expecting it to also be stable in terms of client support, then we are afraid to tell you that you may be left disappointed.
To be honest, saying that this provider doesn't have stable client support might be an understatement. It basically has no client support whatsoever. We will talk about this later in this review.
Streaming
Streaming is probably the most common activity VPN users engage in these days. Therefore, it's understandable that it's one of the first things readers look at when reading any review.
Of course, we also understand that, which is why we have put some of the most popular streaming sites in the world to test.
Netflix
Surprisingly, you can actually access Netflix using Opera VPN. However, the bad news is that you won't be able to access either Japan or the US library as there is no way to pick a country on the service.
During our test, we accessed Netflix in all of the three regions provided by Opera.
While Europe provided us with the Netherlands library, the server in the Americas was able to load Netflix Swedish version. In the end, we were led to the Singaporean version of Netflix when we selected Asia.
That's because this is the only country in which Opera VPN has a server.
To sum everything up, this service can only be suitable for accessing Netflix if you do not require country-specific content.
BBC iPlayer
Opera VPN doesn't work with BBC iPlayer. During our test, we tried to access the British streaming site multiple times and our attempts were met with error messages each time.
Others?
We also tried to unblock other streaming sites like Hulu, HBO, Fox, and Amazon Prime Video. Sadly, all of them were also blocked, which shows how poor Opera VPN is when it comes to streaming.
Security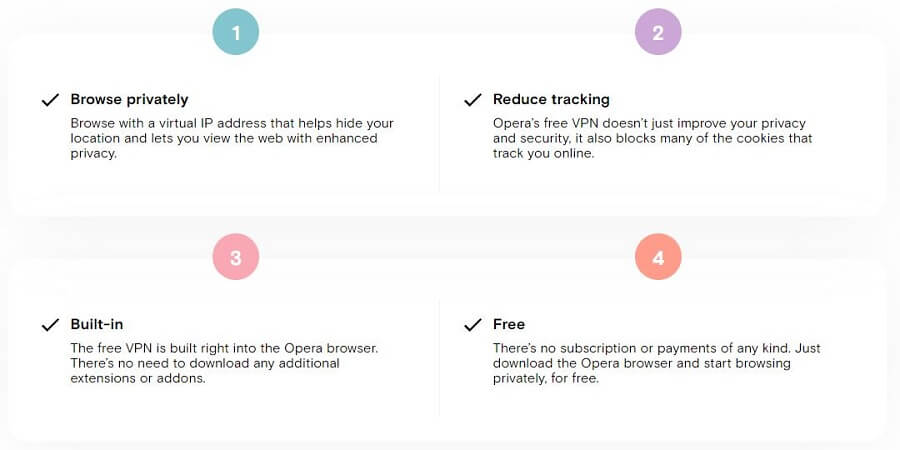 While there are many things that make a good VPN service, none of them is as important as security. The first motive behind the creation of this technology in the first place was to secure data.
Thus, it is such an important factor. That said, we've broken down the security details of Opera VPN in this part of the review and test.
Where is it based?
Opera Browser is, technically, a Norwegian company. However, their VPN service is managed by SurfEasy, which is a Canadian provider that Opera acquired a couple of years ago. Meanwhile, Canada is a key member of the Five Eyes Alliance, which is a coalition between the five powerful countries.
The countries include the Great White North, the United States, the United Kingdom, New Zealand, and Australia.
The alliance share intelligence with each other, which means if one of the countries has a thing for you, it will be shared with the other four countries. Subsequently, apart from the fact that Opera VPN logs all of your information and activity, they're under an obligation to hand it over if requested by the Canadian government.
During our test for this review, we spoke with an agent, albeit after a lot of troubles. The agent then confirmed that the company is actually a Norwegian company, ruled by the stringent privacy laws of Norway.
As we already noted in the review, Opera is based in Norway, but they acquired SurfEasy a couple of years ago. Plus, SurfEasy was recently acquired by Symantec. Regardless, SurfEasy is still registered as a Canadian firm.
However, there were some reports last year that Opera PR told Android Police that, "Opera VPN is an app owned by SurfEasy, which is no longer part of Opera Software." We know that this is confusing, but that's not surprising.
That's how confusing everything is with this service. It's difficult to be certain about anything. The company could be more transparent about who owns the product actually.
Log policy
Opera VPN has a lengthy privacy policy with several interesting clauses, as we found during our test and review.
On the other side, the privacy policy is packed with many interesting clauses and conditions. For example, the service may clearly collect "usage data, like web addresses (but not the content of the web pages) and IP address locations."
While that is more than what most services collect, remember that Opera VPN is not connecting this with your sensitive details like name, email address, and other personal data.
Although this service is building browsing histories, they are fairly anonymous and cannot be connected to you easily.
The mobile application takes device-related info like your device, browser, and type of operating system, IP address with a timestamp, and device advertising ID. Note that the IP address they will collect will be your original IP address.
Of course, this can be, over time, used to find a device. However, the service doesn't have any data about who the device belongs to.
Opera VPN utilizes several other services, which include Crashlytics for crash reporting, Mixpanel for notifications, and Google Analytics. Any of this doesn't involve revealing personally identifiable data, though, mostly due to the fact that Opera doesn't have any.
There are other small problems, which include annoying ads, which often invites you to install other applications. If you do that, you may be giving some of your information away with the second application, which may just be the link to your Opera VPN device.
That is no massive surprise, though, and if you can ignore the ads, it shouldn't be a problem.
When you put everything together, Opera VPN appears to be doing just everything we normally expect from free services – storing anonymous browsing data to share or sell to others. If complete anonymity is your top priority, that might be an issue.
Plus, you will surely get more privacy-inclined privacy from better providers like ExpressVPN and NordVPN.
However, if you are only using a Virtual Private Network to secure your normal web shopping or browsing, and probably unlocking some sites, this service should be good enough.
Protocols
There is basically nothing mentioned about the encryptions or protocols used by Opera VPN on any of their pages. What this means is that this service is a proxy rather than a Virtual Private Network, and the only thing it does is hiding your IP.
This makes it totally worthless if you need high-grade security and protection online.
Therefore, if you're intending to use Opera VPN for protection while you're doing a delicate financial transaction, it's at your own peril. We didn't even try such during our test for this review.
Protection against leaks
With its low speeds, we were hoping that this service will not leak our information, at least. However, it completely dashed our hopes during our test. We ran a number of DNS leak tests, and we found leaks each time we did.
Regardless of what location we used, we always found DNS leaks. Once again, this proves that Opera VPN is not a service you can trust with your privacy.
In case you don't know what a DNS leak means, it's quite simple. It means that while you can access a geo-blocked site with a VPN service, your original IP address will still be detectable in the endpoint.
Sadly, this undermines the entire point of using a Virtual Private Network, which is to protect the anonymity of users. With this service, your chances of being anonymous are extremely slim.
Torrenting
Whether you admit it or not, there're chances that you are here just to know if Opera VPN supports torrenting. We understand, and that's why we have discussed the service's torrenting support in this part of your review and test.
Is torrenting allowed?
Opera VPN doesn't allow any kind of torrenting, and that shouldn't be surprising. Plus, it might be a good thing actually given their weak security. The primary reason for using a Virtual Private Network for P2P is for protecting your data from getting into the hands of malicious hackers.
When you engage in torrenting, you're connecting to other users' systems and allowing them to access your own system as well. This should be something normal and beneficial.
However, hackers often use this avenue to commit crimes only, so a VPN's job is to protect you.
Opera VPN does not encrypt your data, which means even if it allowed torrenting, it wouldn't be incapable of protecting you. Also, we should mention that when you utilize a VPN, it will protect all of your data.
However, a browser-based proxy such as this only can only hide your IP address for activities that occur on the main browser.
Simply put, if you try to use an external program like uTorrent while connected to this service, you won't have any protection. Again, we didn't even bother to try engaging in torrenting during our test for this review.
The truth is that if you want to be torrenting safely, you'd need to choose a provider that actually invests enough in security, like ExpressVPN.
Is there a Kill switch?
It doesn't matter how stable service is – a time will come when it will be down.
That's why no provider can ever guarantee an uptime of 100 percent. They just can't. With that in mind, most top-rated providers usually feature a feature known as the Kill Switch.
This feature is probably the most talked-about feature in the world of VPNs nowadays.
To what it does, it is extremely important. Once it detects that you have lost your VPN connection, it automatically cuts off your internet connection. This way, your personal data won't get into the hands of prying eyes who might have been waiting.
Sadly, there is nothing like a Kill Switch on this service and that's very disappointing.
Bypassing Censorship
Censorships is a growing menace in the internet space nowadays. Countries like China, Iran, Turkey, Iraq, and Saudi Arabia are among those with strict censorship policies. That's why it's important to invest in a service that can bypass these restrictions, especially if you live in a high-censorship country.
Keeping people in those countries in mind, we also made sure to include this part in our test and review of Opera VPN.
In censored countries
The big question when it comes to the internet is, can Opera VPN bypass the Great Firewall of China? Sadly, the answer, as you might have guessed, is no. The provider was reported a few years ago to be working in Southern China.
However, the country has completely blocked the service since then. If you are in a country such as Saudi Arabia, North Korea, or Iran, we advise you to stay away from this service.
In fact, this service has appeared in numerous lists of the worst VPNs out there. Since your privacy and online security ought to be your primary priority, we can't recommend this service for China.
Despite the fact that that it was created by a very reputable company, it can hardly be recommended for anything, to be honest.
While it will hopefully hide your IP address, it won't encrypt your traffic. Moreover, it has little chance of getting past the Deep Packet Inspection you will be subjected to in order to bypass the Great Firewall of China.
In the end, let's not forget about the dubious privacy policy of this provider. This further shows why you need to totally stay away from it.
In restricted networks
It is commonplace for school and works Wi-Fi networks to be severally limited when it comes to the sites you can access, and for the length of time for which you can access them.
Fortunately, you can effortlessly get past these restrictions with Opera VPN.
While the service is not equipped enough to match the anti-VPN systems of the Great Firewall of China, we're pleased to find out that it can finally do something. Of course, we tried this during our test and review and we were able to bypass the restricted networks.
Countries and servers
One thing is for a provider to have a high number of servers, while another thing is for the servers to be distributed excellently. You must consider both factors in your search for the ideal service for your needs, just like we did during our test and review.
Countries covered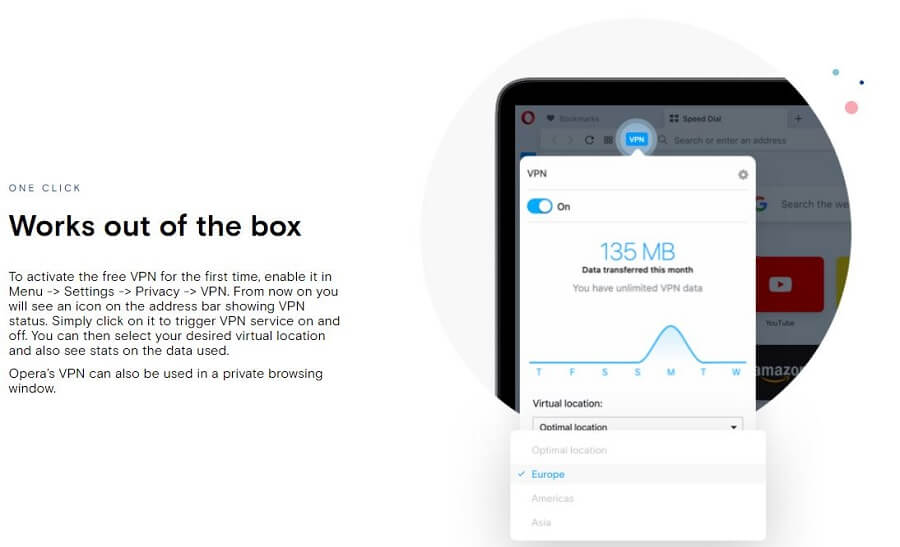 When choosing a service, it is very important to consider the ratio of servers to countries. In fact, you can get in trouble if you consider only the number of servers or locations.
Generally, more servers result in faster speeds. Ideally, you need a provider that has lots of servers across numerous locations around the world. with that, you will not need to worry that the server or country you're choosing will be running slow due to overburden.
For one, the server list of Opera VPN is very ambiguous. While there is nothing mentioned about the number of servers they have, we are very certain that it is a small number.
The only options available for users to choose from are the Americas, Asia, and Europe. Meanwhile, the optimal location will choose the closest country for you – the United States, the Netherlands, Sweden, Singapore, or Canada.
Besides, it is not even known if Opera owns all the servers. However, we don't think that they do as they would have boasted about it if they did. To sum it up, this service has very poor server coverage.
They don't have any server in Africa, Australia, the Middle East, and South America, while they only have one server location in the whole of Asia.
Servers
To be honest, we didn't find that much information about this service to know if they offer specialized servers or not. however, based on everything we have learned about them during our test and review, they don't seem like they offer anything specialized server.
Compatible devices and simultaneous connections
It is important to also make sure the service you are paying for will be compatible with your device. Not finding that out could make you end up paying for a service you won't be able to use on your device.
You don't want that, we also don't want that.
That's why we have discussed the devices that this service is compatible with in this part of our review.
What device can I use with it?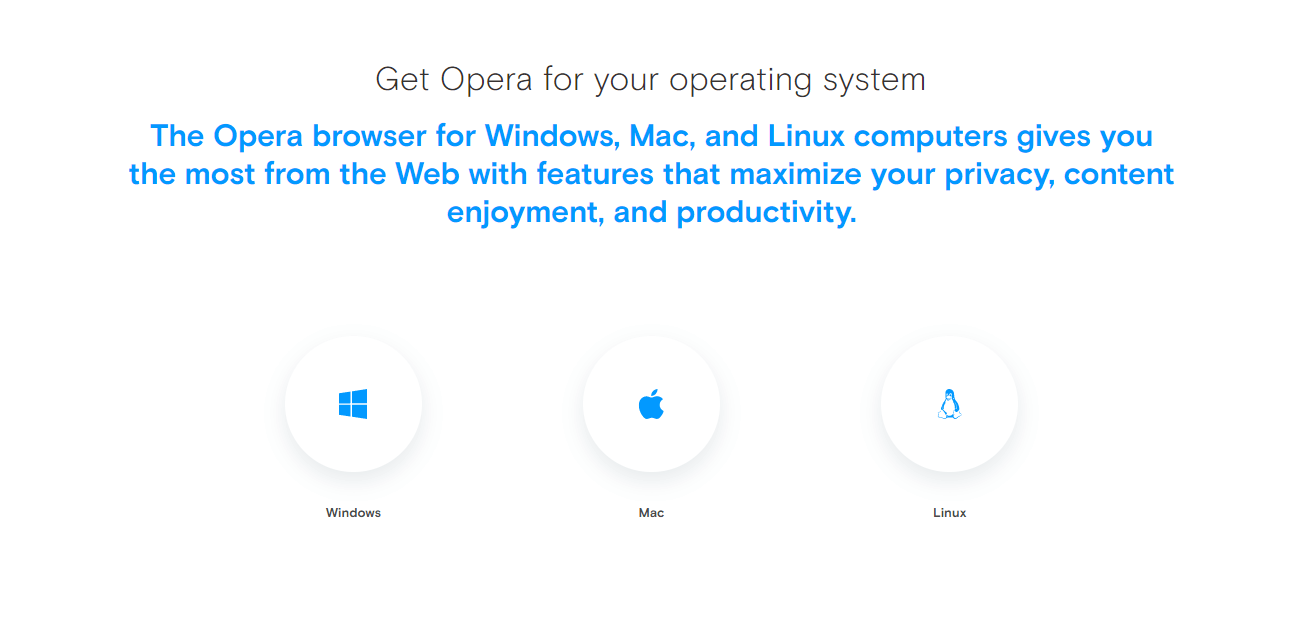 It only works with its browser, which strictly reduces its growth potential and audience. At the moment, you can only use the service on:
Since it is a free browser-based service that doesn't require any login,  you can use Opera VPN wherever and whenever. And the good news is that it is super easy to download, install, and use this proxy.
Apparently, this means that this service will look too basic for advanced users.
First of all, you'll require the Opera browser. You can easily install it on its official website – just click the green Download button.
Note that this service is by default turned off, so when you launch on your Opera browser, just navigate your way to Settings. Once you get there, go to Advanced -> Privacy & security.
Then, scroll down a bit and you will find the VPN toggle button. Turn it on and you're good to go.
We followed all these steps during our test for this review and it was quite straightforward.
How many simultaneous connections?
Opera VPN offers just a single simultaneous connection, but it's not even like that question needed an answer. It is clear already, isn't it? You don't even need to create an account to use it.
Just download an Opera browser and you're good to go.
Client support
For the times you will encounter issues with the service, it is important to find a company with high-quality client support. In terms of client support, let's see how Opera VPN ranks in our review.
How to contact it?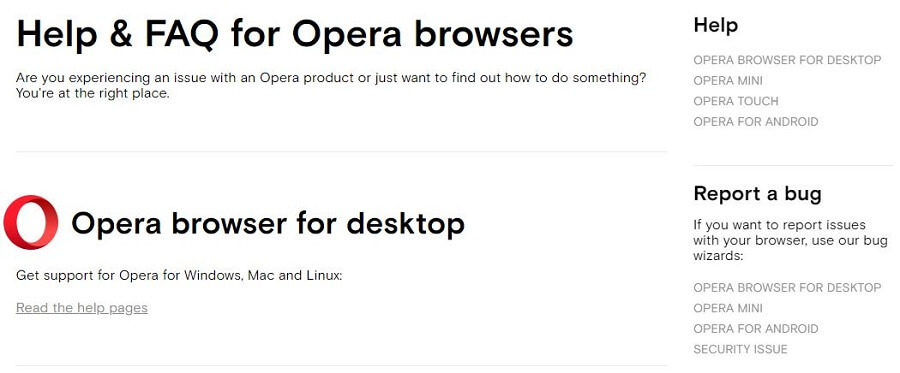 When it comes to client support, there is a couple of options you can choose from. But to be frank, the service is so intuitive that you don't probably need anybody's help to use it.
If you are still keen on contacting the company, however, there is a "contact us" page with different phone numbers along with some email addresses.
There, you can ask whatever question you may be having and get support from either the company or users on the forums. Besides, the company has a Bug Report Wizard and Help pages on the browser.
However, it must be said that these support channels are not strictly dedicated to Opera VPN.
Therefore, don't be surprised if you don't get the help you need. We didn't actually use support during our test and review as we actually found the service too basic for all that.
Is it good?
While there is no separate customer support, they have a Help page for people who use the browser. Also, they have a section for privacy and security, which explains how to use the Virtual Private Network also.
It is rather comprehensive, easy to navigate, and comes with extra support through their blogs and forums.
However, it is worth noting that all this is for the Opera browser as a whole, and not strictly the VPN. To be honest, we are not sure if we should say it's good or not because this provider simply doesn't have any client support.
If you are lucky, you could get the help you need on the general Help page.
FAQ/tutorials
As you can see in the image above, Opera VPN comes with an FAQ section, addressing some of the frequently asked questions. This section isn't going to win any awards, but you can find some pretty useful solutions.
Again, the VPN is very simple, so much so, that you probably won't need any help.
Value for money
For every product you buy, it is important to make sure it is giving you good value for your investment. In this regard, there is an interesting thing to know about Opera VPN. Keep reading our review to find out.
Price comparison
There is no way to do better than free, of course. Opera VPN is a completely free service and you don't need to pay anything to use it. Just download and install the Opera browser and you're good to go.
Means of payment
Since it is a free provider, then you don't need to pay. And since you don't need to pay anything, then there is no way of making a payment.
Money-back guarantee
There is no money-back guarantee because you actually don't have to pay anything.
Final Thoughts
Opera VPN, at first glance, seems quite like a catch, given its completely free unlimited service. However, it is a shame that the service is available only with Opera. This puts it inside a box and under a lot of restrictions.
In our opinion, you can only use this for Netflix and light browsing, based on everything we have seen in our test and review.
If you are looking to be totally anonymous on the internet, then you may need to choose a better provider. That's because it doesn't encrypt your traffic, and it's based in a country that is a member of an intelligence alliance.
The risk is just too high with this service, which works very differently from other services.
If you're looking for serious security or if you're wondering about what are the best VPNs on Android, we advise you to go for ExpressVPN, the world's leading provider.
Choose ExpressVPN for complete protection and privacy >
Opera VPN Review and Test
A VPN included with Opera browser that works more like a Proxy that like a real VPN. If you're looking for security and high-speed, it's not the right call to make.
Add your review
|
Read reviews and comments

Michael is a talented writer who has dedicated a lot of time into making sure that everyone around the world can use the internet securely. Being an avid traveler, he has acquired a lot of experience while using different VPNs on his travels. When it comes to doing comprehensive "how to tutorials" or testing some VPN functionalities, he's always the best pick ! He's here to help you solve your VPN-related issues.