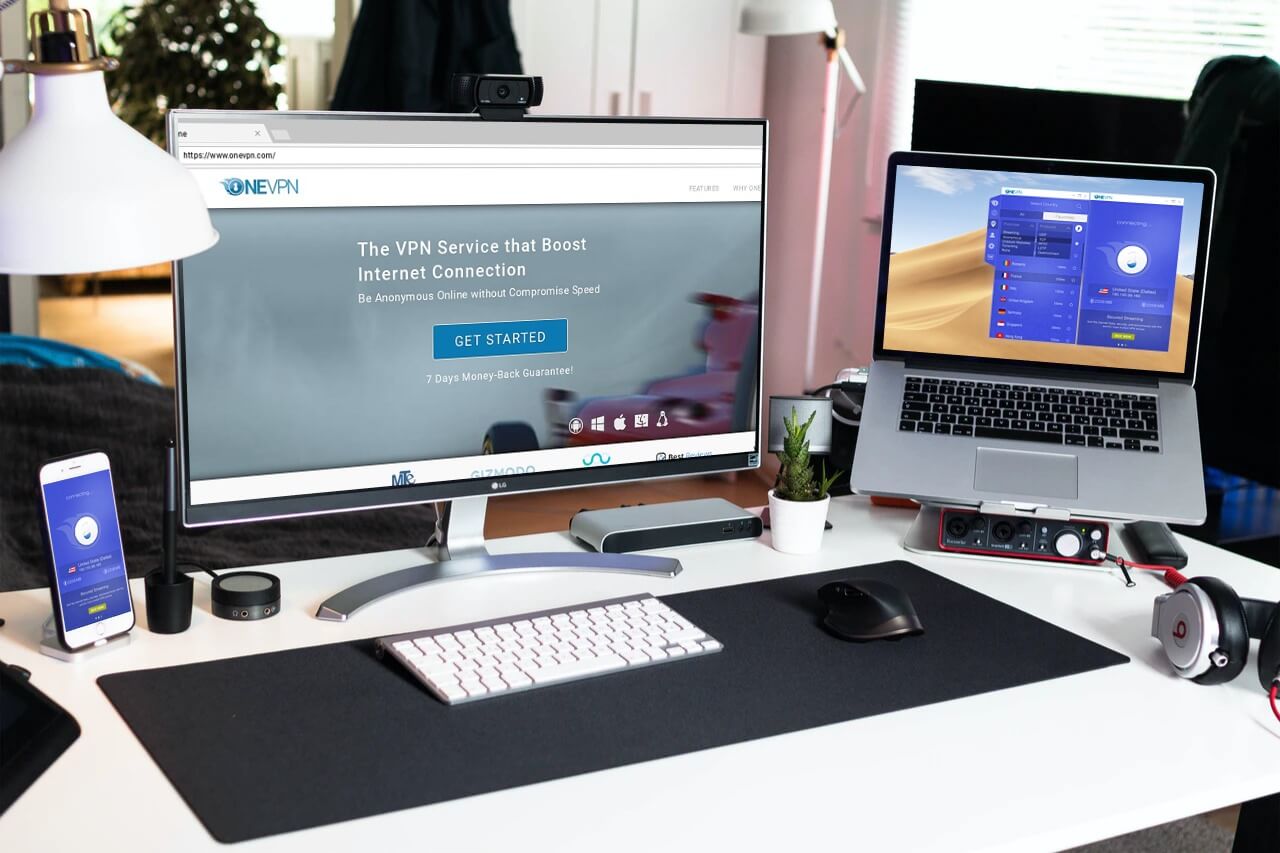 Today, many different VPN providers claim to offer robust security features and reliable anonymous browsing. Among these is OneVPN, which has been around for a couple of years. At first, it looks like OneVPN has great potential because the company did a great job of marketing the overall value. Still, are the claims of one provider enough for you to put trust in their service? We wouldn't say so. Our review for OneVPN will be focused on discussing why we do not consider it to be very reliable.
We are not saying that it has no positive features, but it certainly lacks a performance and fast servers. Beginning our review with pros and cons, we will be going through all the most important elements of a VPN, and more precisely, OneVPN.
WEAKNESSES:
Unreliable customer support
Slow servers
Controlled in China
Outdated interface
Limited device support
Blocked by Netflix
---
OneVPN ranks #57 out of 104 VPNs tested. Here are the best alternatives :
Is It a Paid or Free VPN?

Among the most important questions for this OneVPN review is whether it offers any service free of charge. Unfortunately, for those of you who were hoping to enjoy free anonymous browsing, look elsewhere. This provider does not offer a free trial.
However, there are a couple of pricing plans that we will be discussing below. The fact that it is a paid VPN is not the end of the world. In fact, most free VPNs are selling your browsing data to make a profit. Still, there are a couple of examples where that is not the case.
If you want a truly free VPN, we suggest that you try your luck with Windscribe or TunnelBear.
Performance
Before we can get into whether this provider is worth its price or not, we need to discuss a couple of crucial elements. The first one is the overall performance. While it does offer a significant number of servers, that does not mean that this service is reliable and fast.
However, reliability and speed are exactly what you are looking for to access different censored sites and stream HD. Additionally, without fast and reliable servers, you can not expect to enjoy torrenting, either.
Thus, we performed a couple of test sessions to get a realistic idea of whether you can rely on OneVPN or not.
Speed
When subscribing to a VPN, you should not expect to get a faster internet connection. The reason for this is that you will be browsing from a server that is outside of your primary location. Additionally, hefty encryption and tunneling protocols play a role in slowing down your connection.
Still, how big the drop in speed is, determines whether you should or should not trust a provider. Frankly, we were quite disappointed with OneVPN's results.
We always start our speed review with a benchmark of 235 Mbps for download and 211 Mbps for upload speed.
The first server we connected to was set in New York. We experienced a huge rise in the ping at 172 ms. This made the session almost unusable, as we definitely were not able to stream HD content.
As for the speed, both the download and upload speed dropped by 80%. Once again, this is not something you are looking to get out of a provider that should ensure reliable and anonymous browsing.
We then connected to a European server, expecting to get better results considering our closer proximity to the server location.
The server in Germany experienced a 75% drop in the download speed, which was 63 Mbps. On the other hand, the ping was somewhat better at 76 ms, while the upload speed dropped to 58 Mbps.
This goes to prove that OneVPN may allow a better connection when it comes to EU servers.
Without VPN (we were located in London) :

EU Server :


US Server :

Asian Server :

Still, it was not as good as ExpressVPN, which is considered to be the leading provider when it comes to server performance.
Stability
There are a couple of issues that we have with this aspect.
First and foremost, once we subscribed to do this OneVPN review, we were surprised to find out that most servers were down. After contacting customer support, they said it was due to regular maintenance and those servers should be back up in a couple of days.
Additionally, while claiming to offer more than 360 servers, we could not find the locations for all of the claimed servers. As we have mentioned above, the focus of our review was on German and US servers.
We did experience numerous disconnections with both servers, which means that OneVPN is unusable for streaming HD and torrenting.
Streaming
Most people subscribe to a VPN to bypass the common geo-restrictions. If this is the case with you, as well, then determining whether OneVPN can be used to stream or not is quite important.
Netflix
In the past, numerous providers were able to unblock different Netflix catalogs. Today, things are different. Just a couple of names, including NordVPN and CyberGhost, can give you access to this platform.
We did hope to get at least some results when we reviewed the number of servers offered by OneVPN.
Sadly, we had no success. After testing multiple servers, we found that none were able to unblock Netflix. This includes both the EU and US servers. On the other hand, we can at least say that OneVPN was not lying, as they never said they could do this before us doing our detailed review.
Let's see what OneVPN can do with other streaming platforms.
Other streaming services

Unfortunately, things do not look that great here, either. While their service apparently supports BBC iPlayer and Hulu, we experienced severe connection issues and could not use these from the UK or US server.
You will be able to unblock some videos on YouTube, though. However, if you were hoping to stream Amazon Prime or US TV channels, that will not be possible.
We recommend NordVPN, CyberGhost, and ExpressVPN as great alternatives for this purpose.
Security
Many different factors affect the privacy policy of any VPN. Most providers swear to have robust security features and a no-log policy. However, it is hard to believe that all providers can fulfill this.
Where is it based?
The parent company of this provider is called Unravel Technologies, Ltd., and it is based in Hong Kong. This is great, right? They do not belong to the 5/9/14 Eyes alliance and thus will not give your data to any governments.
While this is true, things are not so simple.

The main problem with this is that this provider is still controlled by Chinese jurisdiction. The Chinese government has imposed an array of restrictions when it comes to VPNs. This is why the situation is quite complex.
Log policy

On the other hand, we have to say that OneVPN did not lie when they claimed not to store your data. Yes, they will keep your email address for security reasons, but other than that, no information will be kept by the provider.
This is incredibly important, as you will not be bombarded by third-party ads.
Protocols

We were pleased to notice that this provider was highlighted by industry-standard encryption. Once again, this contributes to overall security and allows you to be worry-free when it comes to anonymous browsing.
Additionally, it features an array of reliable protocols, including PPTP and L2TP. This is good news in the case of this OneVPN review and test.
Leak protection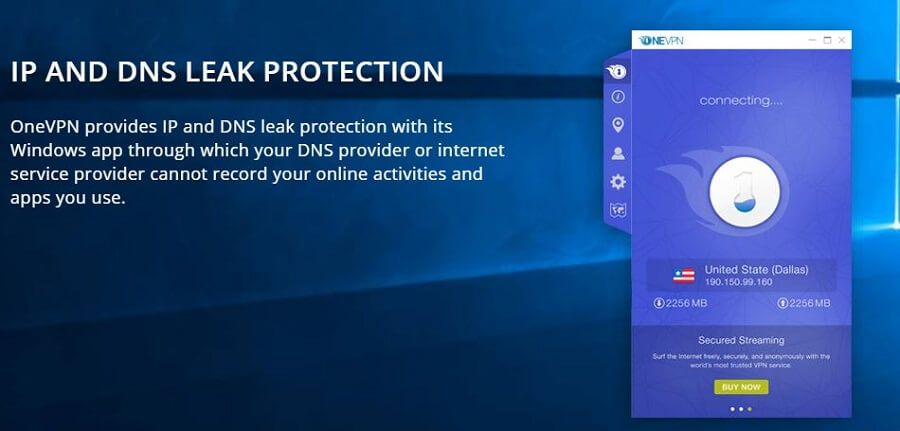 Finally, there is a built-in kill switch that should protect your true IP address. There is also a number of other instruments that should make sure that you are not affected by malware or DNS/WebRTC leaks.
This is incredibly important, considering the overall unreliability of OneVPN's servers.
Torrenting
The first thing that we want to say in this part of our review is that torrenting is allowed by OneVPN. Still, this does not mean that it is the best option out there.
While featuring proper leak protection, the servers are quite unreliable in terms of speed and overall performance. Do not use it on torrent sites unless you want to experience a lot of stress and waste your time.
We would suggest ExpressVPN as the best alternative for torrenting. This is due to its incredibly fast servers, as well as the good leak protection offered by this provider.
Bypass Censorship
We are pretty happy to see that OneVPN is set in China, as it should be able to bypass the Great Chinese Firewall. Still, whether you will be able to connect to and use their server in Hong Kong depends on your primary location and internet connection reliability.
As for legal betting websites, as well as social networks, we had no issue connecting. Additionally, if you do not want to miss the Super Bowl while being abroad, you should get a VPN like this one.
Overall, OneVPN has a fine ability to bypass geo-restrictions and thus give you a good experience.
Countries and Servers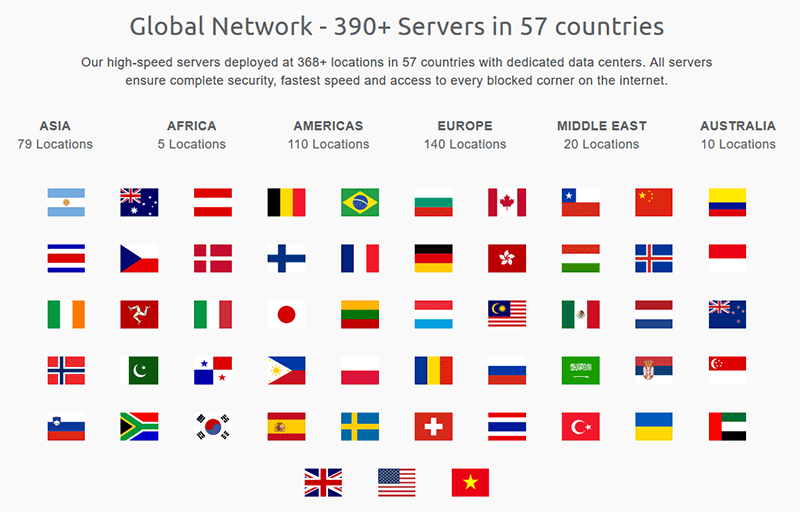 While we may call this provider a global one, that does not necessarily mean we are too happy with the offered servers. Looking at their different subscription options, there are 368 servers set in just below 60 countries.
This can not be compared with NordVPN or CyberGhost, which both offer over 5,000 reliable servers.
Additionally, the lack of transparency when it comes to the server locations makes us doubt whether the server number is true. Needless to say, our review and opinion on OneVPN at this level, is more than mixed.
Devices and Connections
Another important aspect of any VPN review is how compatible their service is.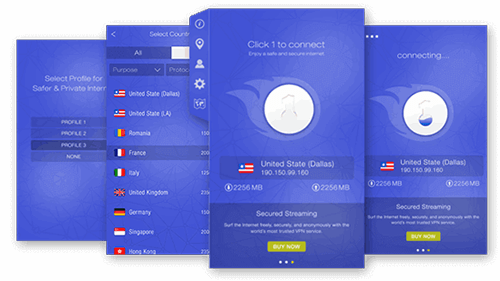 Supported devices
The main issue that we have here is that you will need to manually install PPTP for most devices. Thus, apart from Android, Windows, and macOS, using this provider on other devices is quite complicated.

This includes Linux, Ubuntu, and consoles. We did not like its application on iPad and iOS, either.
It is safe to say that OneVPN certainly is not the most versatile provider on the market.
Simultaneous connections
We were not thrilled with what they offer when it comes to simultaneous connections, either. Even with their most expensive subscription plan, you are limited to up to 3 devices at a time.
Customer Service
Even if this provider offered reliable servers, the fact that their customer service is not good would drive us away.
The first issue is that there is not a live chat option. The second one is that their FAQs page is quite vague, and you can not find a relevant answer for most issues.
And finally, the third and biggest problem we had during this review and test of OneVPN is that their email response is incredibly inefficient.
They give you an automatic reply when you fill out a request, but you will have to wait a couple of business days to get a relevant response. Which is far from acceptable when you're paying for something.
Value for Money
We did our best to review and discuss all the important elements that make a good VPN provider. The last thing is whether it is worth the money or not.
Price comparison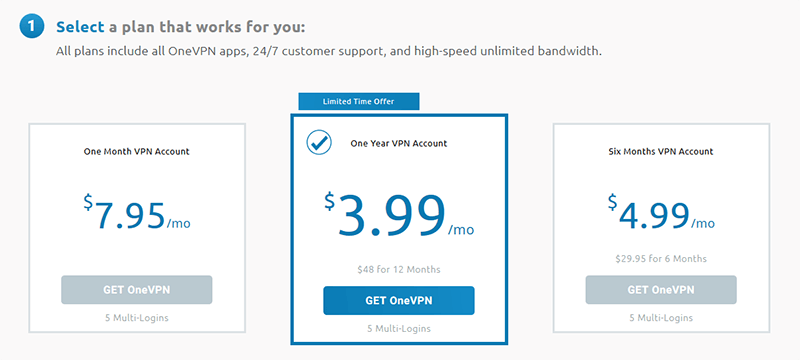 There are a couple of subscription options, depending on how long you want to use their service.
A basic plan is a single-month option, and it costs $7.95, which is pretty decent, to be honest (most of the time, the 1-month subscription is over $10).
The second one is a 6-month option and comes at $4.99 per month. Last but not least is the annual plan, which is the most affordable and comes for $3.99 per month.
Payment types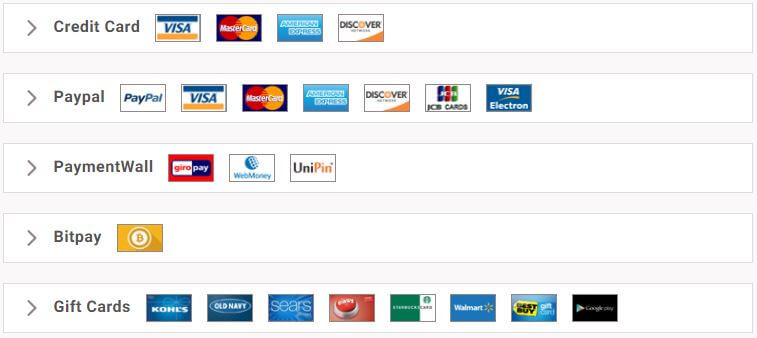 OneVPN did a great job of making sure that different payment methods are included. Thus, you can use all major debit and credit cards for this service.
Additionally, Alipay and PayPal are available. Also, you can use Bitcoin to stay completely anonymous.
Money-back guarantee
There is a 7-day refund policy. Still, considering how unreliable their customer service is, you should not expect the reimbursement process to be a fast and simple one.
Extras
There are two last things we would like to mention before we conclude this OneVPN review.
They certainly should invest extra time and money into updating the user interface.
Also, the installation process is quite tricky, and the fact that you need to manually set up a PPTP for most devices is not user-friendly.
Final Thoughts
While it has fair potential in terms of anonymous browsing, the speed and overall performance make it an unreliable choice. On the other hand, subscribing to ExpressVPN or NordVPN will allow you to enjoy browsing activity without any stress.
Our final verdict on this provider is that it is certainly not worth the time or the money.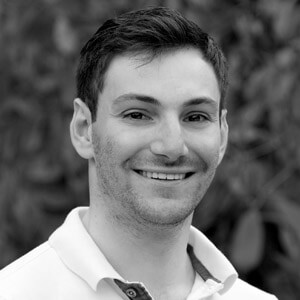 Flo is the founder of the-bestvpn.com. Really concerned about security on internet, he decided to create this website in order to help everyone find the best VPN. He's got a Business School background and now is 100% dedicated to keeping his website alive.