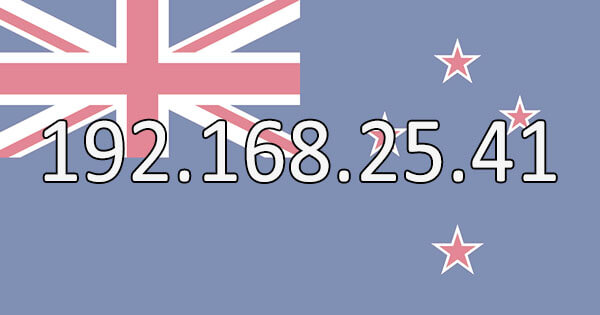 Geo-restrictions can make it hard for Kiwis abroad to access home-based websites, TV channels, and even bank accounts. However, with a solid VPN, you can change your IP address and virtual location to overcome these restrictions fast and conveniently. We'll show you how to use one to get a New Zealand IP address for your needs.
How to Get a New Zealand IP address?
Streaming sites, online banking portals, travel sites, and online shopping platforms all use IP addresses to determine your geographical location.
If you are outside New Zealand, you might find it difficult to access these homegrown platforms because of geo-restrictions created by your IP.
It goes without saying that, to get around these blocks, you would need an IP address from the country. The best way to do this is to use a Virtual Private Network. This will hide your actual IP and location, and assign you a new one.
A VPN works by routing your online traffic through servers in your target country. In this case, to get a New Zealand IP address, the VPN will pass your traffic through servers in this particular country. As such, it will look like you are browsing from inside when you're actually abroad.
Other than assigning you a new IP, a Virtual Private Network also encrypts your traffic by passing it through a secure tunnel of servers. This way, no one would be able to see what you are doing online.
Easy Steps to Use a VPN
Follow these simple steps to obtain a New Zealand IP:
Download and install the app on your device of choice (we recommend ExpressVPN)
Use your credentials to log in to the app
Choose the New Zealand server from the list and connect
You should be able to access any geo-restricted sites!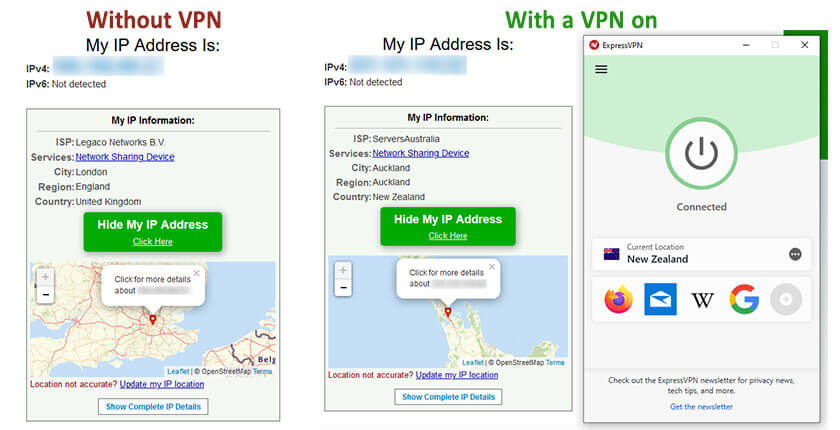 Why Do You Need to Have a New Zealand IP Address?
There are several great reasons why you would want to get a New Zealand IP address. Let's have a look at the benefits in detail.
Access localized sites and content
If you are a Kiwi living or traveling abroad, being able to change your location can be a lifesaver. First, by connecting to servers in New Zealand, you'd be able to seamlessly stream the likes of TVNZ OnDemand and Freeview On Demand.
Other than that, it would be possible for you to access websites that are only available in the country. This particularly comes in handy if you are conducting local market research or running a remote business.
With a local IP, you can get the same Google results as someone in Auckland or Wellington.
Enjoy your favorite online shopping sites
Shopping platforms such as Fishpond, Price Spy, and others use your IP address to detect your location. As a result, people in different locations looking at the same website will likely see different prices.
Want to snag the best prices on Kiwi products while shopping from abroad? Your best bet is to change your IP and get one from New Zealand. This way, it will seem like you are visiting local shopping sites like someone in the country so you can enjoy local, pocket-friendly prices.
Log in to your banking accounts
Accessing your ANZ, ABS, or Kiwi bank accounts from outside the country can trigger a fraud warning. In other instances, your account could be frozen. This is just a security measure by banks to ensure that you are logging into the account as the rightful owner.
The easiest way to avoid being locked out of your account when you are abroad is to use the best VPN for New Zealand. This way, your bank will not notice that you are accessing your account from abroad.
Next, let's look at some Virtual Private Network providers that are worth checking out.
The Best VPNs With Servers in New Zealand
With so many providers in the market, choosing one can be a bit overwhelming. But, not to worry, we'll make it easy for you.
For starters, you want to pick one with the best-in-class security features. Examples of these features include military-grade encryption, automatic kill switch, no-logs, and the ability to bypass geo-blocks.
We strongly advise against using so-called free providers. These lack strong encryption and there is a high risk of exposing your real address.
The best VPN for getting a New Zealand IP address
Our top recommended VPN with servers in New Zealand is ExpressVPN.
This provider has wide server coverage consisting of more than 3,000 servers with tons of them in the country. You will definitely find suitable servers whether you want to access websites in Wellington, Auckland, or Christchurch among other cities.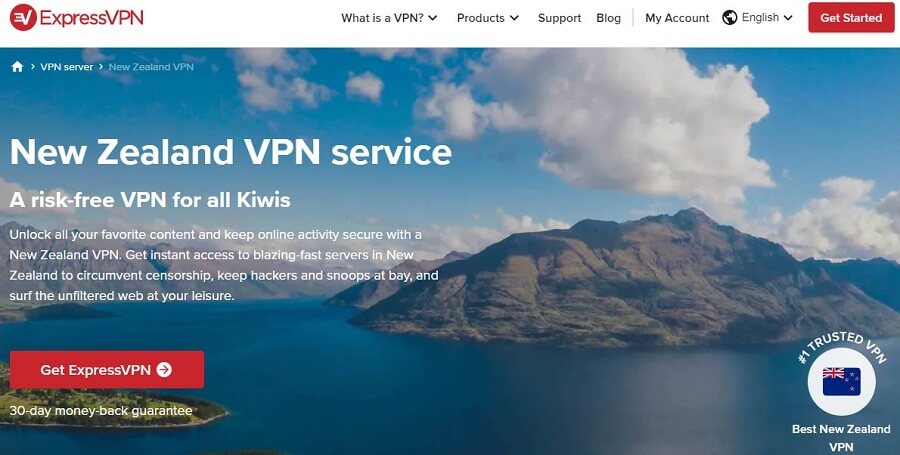 Other than that, it has AES-256 encryption and OpenVPN. These completely conceal your traffic, IP, and location, allowing you to browse anonymously. You can connect up to five devices to the VPN service including your Android, macOS, Windows, and Linux.
It is even possible to use it on your iPad.
Impressively, if you sign up for the 12-month plan you can enjoy a 49% discount and 3 months free. And, of course, all plans have a 30-day money-back guarantee so you can try ExpressVPN completely risk-free.
Other providers worth checking out are CyberGhost and NordVPN. These offer equally strong military-grade encryption and boast hundreds of servers inside New Zealand.
They also have fast speeds and are crowd-favorites for bypassing geo-blocks and streaming.
Still on the fence? Check out our ranking regarding who's the best VPN in New Zealand.
Summary
The easiest, safest, and most convenient way to get an IP address for New Zealand is to use a premium Virtual Private Network.
All you need to do is download the app on any of your devices, connect to the appropriate servers, and browse like someone who is in Wellington or Auckland.
While there are several good choices, ExpressVPN gives you value for money while fully encrypting your online traffic. With many ultra-fast servers in the country, it is excellent for streaming and browsing while you are abroad.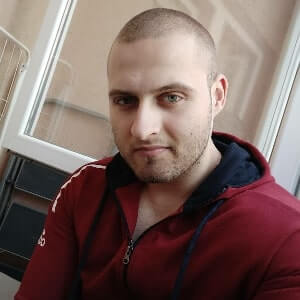 A professional writer with a Master's degree in Mechanical Engineering. Since his youngest age, he loves everything related to internet, technology, fitness, games, and dogs! He joined our team in order to bring his deep knowledge in security services, among which VPN is of course a key component.