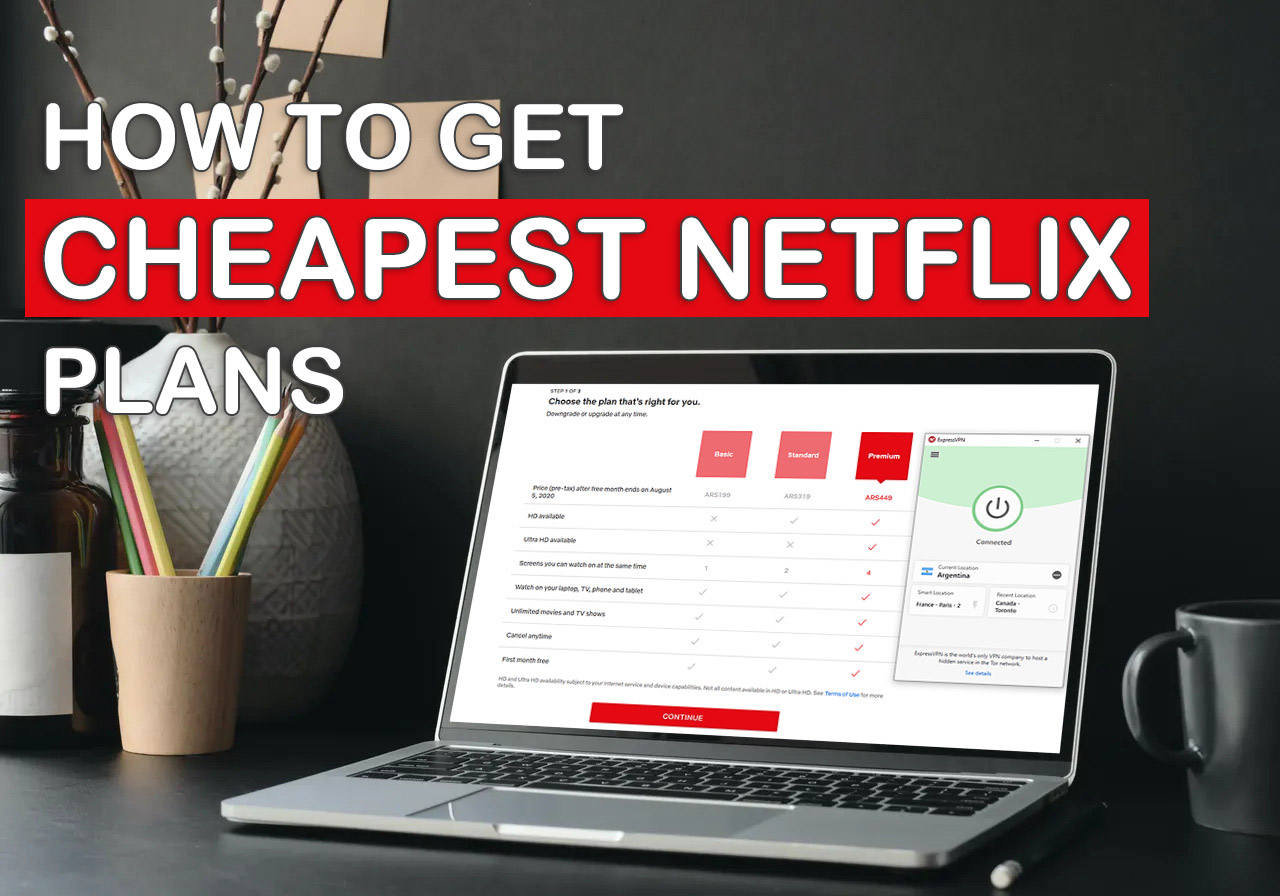 Netflix is the most popular streaming platform on the planet for multiple reasons. First, it offers the largest movie and series database, and second, it's very cheap to get. The thing with the price is that it can vary from country to country, and sometimes, it can vary quite a lot. Luckily, there is a way to save a good amount of money with a simple trick. Wondering how to get Netflix cheaper? Let's get straight to the point!
How Much Does a Netflix Subscription Cost?
Before we talk about savings in regards to Netflix subscription, we need to check the standard price monthly. We're located in the United States, so we'll use the prices in our country.
Netflix offers three subscriptions that give you different possibilities. For now, we'll just count them, and later, we'll see what each of them offers:
Basic ($8.99 a month)
Standard ($12.99 a month)
Premium ($15.99 a month)
We can see that Netflix isn't very expensive, in general, especially since many users go for a Standard version. The Premium version is a bit more expensive but it also packs the most features for the price.
If you're really hell-bent on saving as much money as you can, the Basic version is okay but know that it's pretty limited.
How Much Can I Save on a Netflix Subscription?
Before we delve deeper into our guide, we want to say that at the end of it, you'll be happy that you can save more than $100 a year. We've done thorough research on where this streaming service is the cheapest and the answer might surprise you – Argentina.
Here's our price comparison to the USA:
Basic Subscription:

$2.83 (ARS 199)

vs

$8.99

Standard Subscription:

$4.53 (ARS 319)

vs

$12.99

Premium Subscription:

$6.38 (ARS 449)

vs

$15.99
Should you decide to go for a premium subscription, you can save exactly $9.61 monthly. If we multiply it by 12 months, you get around $115 worth of savings on an annual basis.
Now, we know that many of you aren't from this country. Some of you are probably jumping in excitement right now and some of you are wondering how to save money on Netflix if you're not from Argentina.
Well, Argentinian residents, you can stop reading now and get a subscription already. Others – stay with us. Our step-by-step guide is below.
How to Get Netflix for a Cheaper Price?
Without further ado, let's see how to save money on this awesome streaming platform.
1) Get a VPN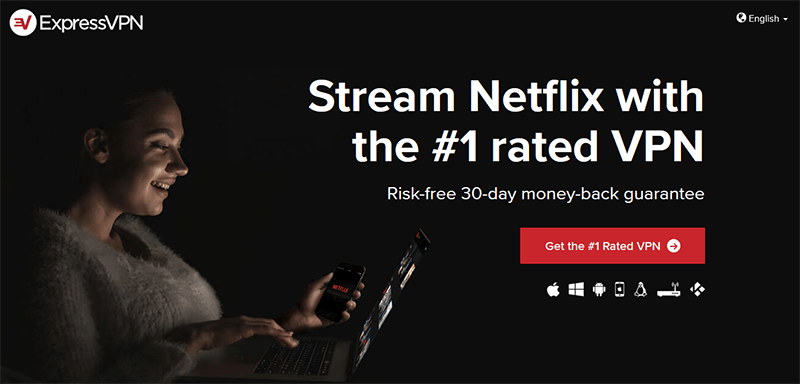 The first step in this guide is to buy a VPN subscription. We know there are at least 100 options on the market and getting the right one is hard. However, our team of experts concluded that the best VPN to use on Netflix is ExpressVPN.
We went for it because it's the best provider overall. ExpressVPN offers 3,000+ servers in 94 countries, has the fastest speeds, and is a champ when it comes to unblocking streaming platforms.
Right now, it even offers a 49% discount and 3 months free for an annual plan, so it's the right time to get it.
2) Connect to the Argentinian Server
Once you buy a subscription, install the app on your PC, smartphone, or whatever device you're using. Sign in with your credentials and you'll get to the home screen. Underneath the connection button which looks like a power button, there's a randomly-generated country.
Click on it to open the server list. Look for Argentina, click on it, and see which servers are available. Click on the server you want and use the connection button to change your IP address to the Argentinian one.
You'll now trick Netflix into thinking that you're from that country. Albeit, that's not all. We still have one crucial process to go through. Pay close attention!
3) Obtain an Argentinian Phone Number
Netflix isn't on the market for two or three days and it knows all the tricks people are using to get it for a cheaper price. Changing your IP might work with certain VPNs but what about owning an Argentinian phone number? Well, that's where things start to get tricky.
When you register your account, the site asks you to confirm it with a phone number from this country. If you don't have any friends from there, the best solution is the website called smscodes.io. We tested it and it worked flawlessly for this purpose.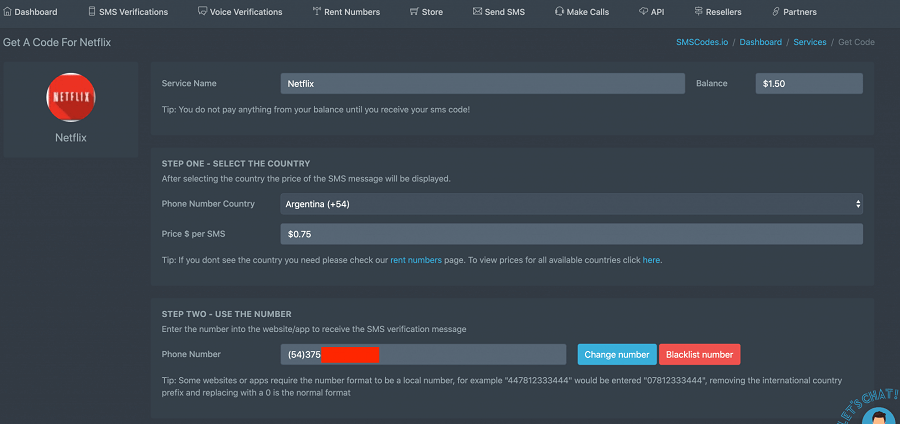 First, sign in with a valid email and password, and choose a payment method (yes, there's a small charge). In the upper portion of the site, click SMS Verifications and the menu in the image above will open.
In the Service Name field, type Netflix because this is the service you want to use. For the Phone Number Country, choose Argentina and as you can see, the site will charge your just $0.75. Even with this charge on top, you STILL save a lot of money. After all, this is a one-time process.
The site will then give you the number that you need to enter when registering on Netflix. Get a hold of that number and move on to the next step.
4) Register on Netflix
With everything in place, you can now register a new account on Netflix at a very cheap price! Fill out the necessary info, make a payment, and when the site requests a mobile phone, just paste the one that you got from smscodes.io.
For just $0.75, you got a confirmation email, which will unlock your account and let you watch your favorite content.
5) Enjoy Netflix For a Cheaper Price!
Now that you've obtained an account for a cheap price, it's time to sit down, relax, and binge-watch your favorite shows or movies on Netflix.
Which Netflix Subscription Should I Get?
As we promised, we'll talk about each Netflix subscription and see which one is right for you. One that we surely won't recommend is Basic. The reason being is because it allows you to watch content only on a single screen at a time and the footage is in SD resolution, rather than HD.
The Standard subscription is a whole different ballpark. With it, you can watch on two screens simultaneously in HD. If you think that difference between SD and HD is small, just try running a YouTube video at 480p and 720p. You'll notice a huge difference.
Lastly, we have a Premium subscription that is very cheap if you've paid in Argentinian Pesos. This is our recommended choice. It allows you to watch on four screens simultaneously, and if available, stream in 4K UHD resolution.
It's a useful family plan that will effectively cover all your needs.
Final Thoughts
Beware that with a VPN connected to Argentina, you'll see the Argentinian Netflix catalog. However, since your account is already registered in this country, feel free to try other catalogs. For instance, you can use the US catalog by connecting to an American server.
And if you're from the USA, you practically don't need a VPN for this purpose, as the US catalog is the largest one.
Generally speaking, we recommend keeping your ExpressVPN subscription. A VPN like this will help you stay anonymous online and unblock websites like Netflix, Hulu, HBO GO, and many others when you are abroad.
Oh, and one last thing. Wherever you go, each month, Netflix will charge you in Argentinian Pesos and not US Dollars. This means that you get this cheaper price FOREVER.
FAQ
? In which country Netflix is the cheapest?
Currently, the country in which the Netflix subscription is the cheapest is Argentina.
To give you an idea, the Standard subscription is available for $4.53/month (while it costs $12.99 in the US) and the Premium subscription for $6.38 (against $15.99 normally).
⚠️ Is it mandatory to use a VPN to get Netflix cheaper?
Yes, you will have to use a VPN to access the Argentina version of the Netflix site to take your subscription at a reduced price. Once you have subscribed, it will no longer be mandatory to use your VPN!
For us, the best VPN to carry out this mission is ExpressVPN.
? Can I use a free VPN?
Unfortunately not because no free VPN is capable of fooling Netflix. The streaming platform will immediately detect that you are using a free VPN, and will thus block you.
? What to do if Netflix asks for my phone number to send a message?
If Netflix wants to send to you a message by phone to validate your registration, you can use the site smscodes.io. It costs you only $0,75 and you will be able to get a number in the country of your choice.
Admit that it is rather practical and inexpensive when you know that right after, you will be able to save dozens of dollars on your Netflix subscription.
Quentin is the co-founder of the-bestvpn.com. With several experiences as a System and Network Engineer, he is very knowledgeable when it comes to VPN, cybersecurity and the risks of using the Internet nowadays.