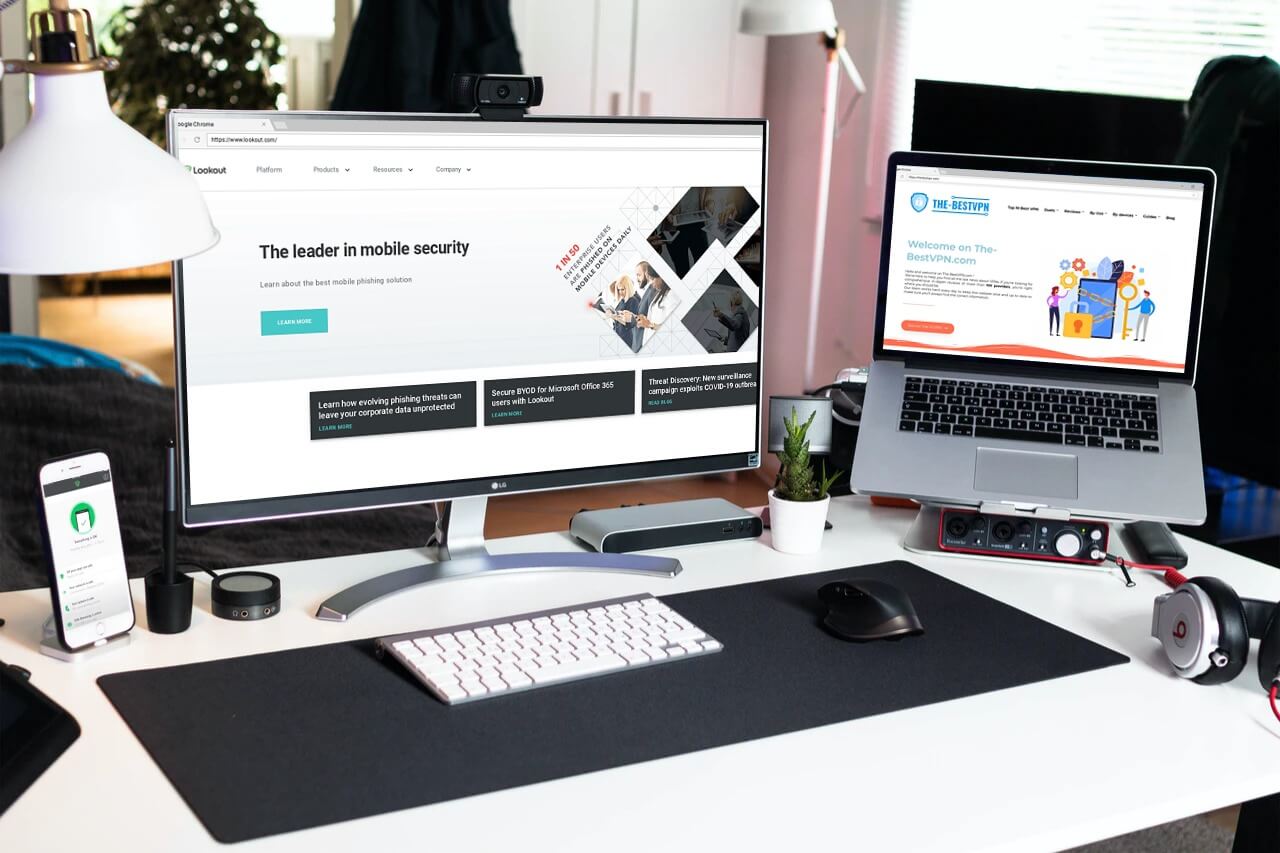 While certain software companies specialize in VPN, others make this service just a part of their business. A great example is the Lookout provider, which released the so-called Safe Browsing feature a couple of years ago. While it doesn't come in the traditional form of a VPN, it serves the same purpose. Does this mean that it can stand up to par with the leading names, such as ExpressVPN and NordVPN? We truly doubt it. Still, we can't reach a verdict without going through and reviewing a couple of important aspects. That is exactly what we have done with our review for Lookout VPN.
Focusing on safety, performance, and customer service, we have reached a few conclusions. Additionally, we highlighted the advantages and disadvantages of subscribing to Lookout VPN. Without further ado, let's go ahead and discuss the matter!
STRENGTHS:
No-log policy
Good customer support
WEAKNESSES:
US jurisdiction
Slow speed
Blocked Netflix
Blocked torrenting
Complicated installation process
Available only on Android
---
Lookout VPN ranks #69 out of 104 VPNs tested. Here are the best alternatives :
Is It a Paid or Free VPN?
When debating whether a service is worth your money, you need to consider whether you will have to pay for it or not. Looking at this provider, we can safely say that it is a paid VPN. Because it is only available to users of premium accounts, there is no option of a free trial.
Additionally, their refund policy is not that reliable, but that is something we will mention later. On the other hand, you can check out our review of TunnelBear if you're looking for an easy-to-use VPN provider that is completely free.
A good thing about TunnelBear is that it doesn't sell your data to gain a profit.
Performance
For this Lookout VPN review, we have decided to review a couple of different servers to get a relevant idea of how effective it is. Honestly, we don't expect that it can be as good as ExpressVPN. Even the best provider will reduce your internet speed, which is fine as long as it doesn't completely hinder your browsing activity.
Speed
This provider has just a couple of servers set in the UK and the US, so we didn't have high expectations in the first place.
First, we used a benchmark of 235 Mbps for download speed and 211 Mbps for upload speed. Both were decreased by a whopping 70% when connected to a UK Safe Browsing server. Luckily, the ping was not that high, sitting at 64 ms.
On the other hand, the results were dramatically changed once connected to its main server in Florida. What we got was a ping of 180 ms. Additionally, the download speed dropped to 15 Mbps, while the upload dropped to 5 Mbps. This doesn't look good at all, especially if you were hoping to do online gaming or HD streaming using Lookout VPN.
Without VPN (we were located in London) :

EU Server :


US Server :

Meanwhile, ExpressVPN will increase your chances of having a reliable connection to thousands of servers across the globe.
Stability
We already mentioned that our experience with US servers was far from ideal. For decreasing your ping when gaming, we suggest you install an extension, as well as turn off any background apps.
The fact that we couldn't enjoy a session for more than 20 minutes at a time greatly affects the overall value of this Safe Browsing feature.
Streaming
Moving on with our review, whether a VPN can unblock streaming content or not plays an important role.
You shouldn't be surprised to hear that, in the past few years, things have dramatically changed. Today, not many providers can stand up to user expectations. Bearing this in mind, we wanted to see how Lookout VPN copes with relevant restrictions during our complete review.
Netflix
We already mentioned that this feature offers just a few servers in the UK and the US. Thus, our testing didn't require a lot of time. We connected to the main server in Florida and were instantly redirected to an error page. The same happened when we tested their New York server.
Thus, it was quite apparent that unblocking Netflix with Lookout VPN is not possible. With the US catalog being blocked, the UK servers didn't give us high hopes, either. We were right, and while the connection itself was somewhat better, it didn't affect the success rate, which was 0.
Other streaming services
However, the whole experience was a tiny bit better when testing other streaming platforms, such as Hulu and Amazon Prime.
We could unblock the content for these in both the UK and the US (for Hyky). But watching US TV channels was made impossible through the server in California and the one in New York.
Security
So far, Lookout VPN is not off to a good start in this review and test. The fact that their servers dramatically decrease your internet connection affects the overall performance.
However, while this plays an important role, so do robust security features. Thus, if the aforementioned provider would be able to provide 100% anonymous browsing, then we would gain some trust in it.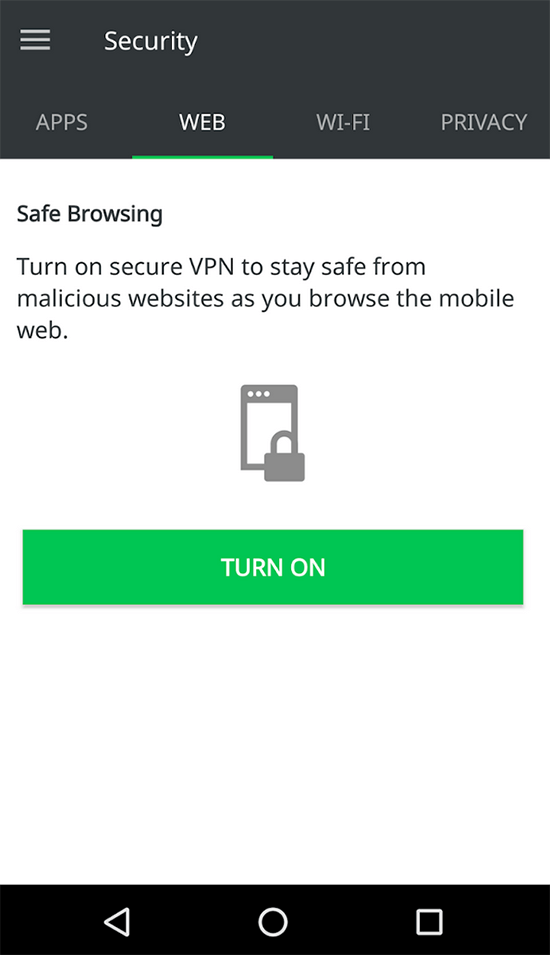 Where is it based?
The first important question is where the company is based. Lookout VPN has headquarters in San Francisco, California. Founded over a decade ago, it has been one of the most trusted names when it comes to ensuring private browsing.
Still, this doesn't mean that it can avoid regulations of the Five Eyes alliance.
The UK, the US, Canada, Australia, and New Zealand are the five countries that make up this alliance. This means that if the government of the relevant countries needs your browsing history, the provider will have to produce it.
Therefore, you aren't actually safe from your info and location being revealed when necessary.
Luckily, there are great alternatives, such as NordVPN and CyberGhost, that are set out of this jurisdiction.
Log policy
At first, while doing our review, it doesn't seem like Lookout VPN has a transparent log policy. Still, we went to their Privacy Policy section on the official website and were quite surprised.
The fact that they don't store most of the relevant data reduces the potential damage. Thus, if requested, the provider will have nothing apart from payment history and email address to hand out.
Still, this is not ideal, as you do not want your payment information and email address given out. This is why you want a VPN in the first place – for online privacy and anonymity.
Protocols
When it comes to tunneling and encryption, we had high hopes. Lookout VPN is highlighted by an OpenVPN as its main feature. It is the ideal choice for Android devices, which is exactly what Safe Browsing targets.
Additionally, the provider boldly states they offer bank-grade encryption that comes in the form of 256-bit AES. This is considered to be an industry-standard compared to 4096-RSA, which is outdated and not present in good VPN providers.
Leak protection
Last but not least is whether you are at risk of DNS/WebRTC leaks. This is where things get quite tricky in this Lookout Security review. While the app itself doesn't feature a built-in kill switch, you can always install one.
Additionally, Lookout ensures that there are many relevant instruments to prevent your IP address from being revealed to an ISP.
Also, you can always set up a Google Chrome extension that should work to prevent both malware and leak risks. While this sounds quite good when it comes to torrenting, the question is whether Lookout permits torrenting or not.
Torrenting
Unfortunately, this provider has strict regulations against torrenting. This means that, if you have subscribed for P2P transfers, you will need to look elsewhere.
Not only that but, even if their US and UK servers were to allow torrenting, you probably wouldn't enjoy an optimal experience. This is because of the high ping and slow speeds that we have reviewed above.
Still, there is no reason to put out a white flag just yet, as other providers such as ExpressVPN and NordVPN perform well in this aspect. Just make sure that you read the precautions of using Safe Browsing with another VPN app.
The installation process is not as simple as you would think.
Bypass Censorship
Whether a provider can unblock content across the globe or not can be a deal-breaker. Unfortunately, you shouldn't expect it to work through the Great Chinese Firewall.
It is well-known that China blocks many websites, taking away your freedom online. To bypass this, a provider would need to offer good stealth protection and a reliable Hong Kong server (to be connected to a close server).
On the other hand, we had more success with unblocking censored websites such as bookmakers during this review of Lookout VPN. Additionally, we were happy to see that we could change our primary IP address and buy an airplane ticket from a different country.
If you want, this will allow you to get better prices.
Countries and Servers
We mentioned a few times that Lookout VPN is not and shouldn't be considered a global provider. The thing is, the whole idea of Safe Browsing is not to allow thousands of locations across the globe.
The main concept is that it should provide you with secure browsing using servers that are mostly set in the US.
Considering this, the total number of locations is six, two of which are in the UK. The other four are set in California, Florida, New York, and Texas.
Devices and Connections
Another important aspect to review is whether you can use Lookout Security with different devices or not. We found the situation to be quite tricky and not that promising for Lookout VPN.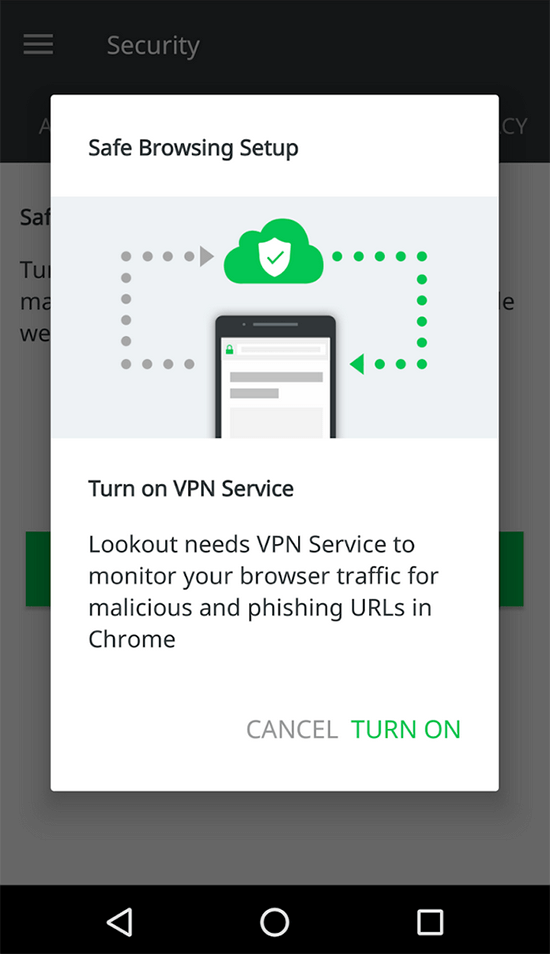 Supported devices
Unfortunately, the Safe Browsing feature is compatible with nothing but Android. Yes, it allows Google Chrome extensions, but, once again, it's solely for a mobile device.
Thus, if you are a Linux, macOS, Windows, or iOS user, you will have to look elsewhere. We would recommend ExpressVPN, which doesn't only support many devices but also features unlimited connections, as well.
Simultaneous connections
We didn't have high expectations for the number of simultaneously connected devices, either. We were quite right, as you can connect only a single Android phone at the same time.
Customer service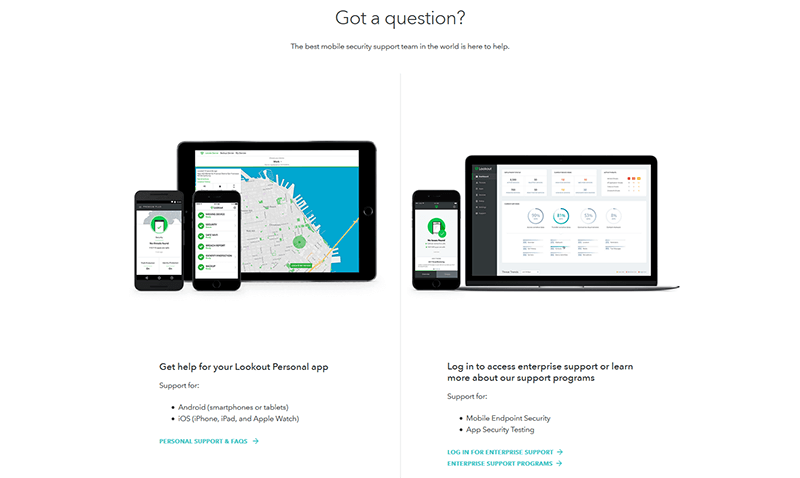 A major strong point for the Lookout VPN is the customer service that it offers. This doesn't come as a huge surprise. The company has been around for over a decade, focusing on customer satisfaction.
Thus, we decided to try out their live chat feature. It is available 24/7 and you should get a concise and professional answer within minutes of starting the session. You also have an option to send an email inquiry.
It is quite effective and, unlike with some other providers, the response should be there within a couple of hours. Lastly, their FAQ page covers a variety of scenarios in which you may find yourself.
Value for Money
Unlike Strong VPN or ActiVPN, this provider doesn't offer a complicated payment system.
Price comparison
There is just a single option, and it is for one month of the Safe Browsing feature. To be honest, the price is quite affordable and set at $2.99.
Payment methods
Another important question is whether you can pay anonymously or not. Luckily, Bitcoin is supported by Lookout VPN. This is good, considering that your payment history would otherwise be stored.
Money-back guarantee
They do offer a 7-day refund window. While their customer service is incredibly effective, getting a full reimbursement depends on whether you have a valid reason or not.
Extras
We searched both their main page and FAQs without finding any additional features to review. Still, we want to emphasize that installing Safe Browsing along with another VPN app is not that simple and might affect the overall performance.
Final Thoughts
In the end, we are not happy at all with the service offered by Lookout VPN. That is why we rank it #69 out of 104.
Our expectations were quite high after considering the parent company, but the Safe Browsing feature can't be considered a true VPN. It lacks the ability to torrent, stream, and unblock content across the globe.
Luckily, the market is highly competitive, and there are many providers that you can benefit from. Our personal favorites are ExpressVPN, CyberGhost, and NordVPN!
We would not recommend Lookout VPN to anyone, and highly suggest taking a look at our favorites above.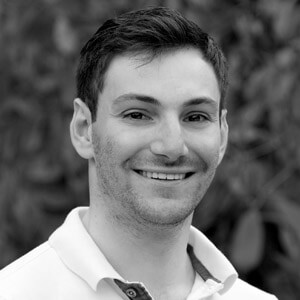 Flo is the founder of the-bestvpn.com. Really concerned about security on internet, he decided to create this website in order to help everyone find the best VPN. He's got a Business School background and now is 100% dedicated to keeping his website alive.