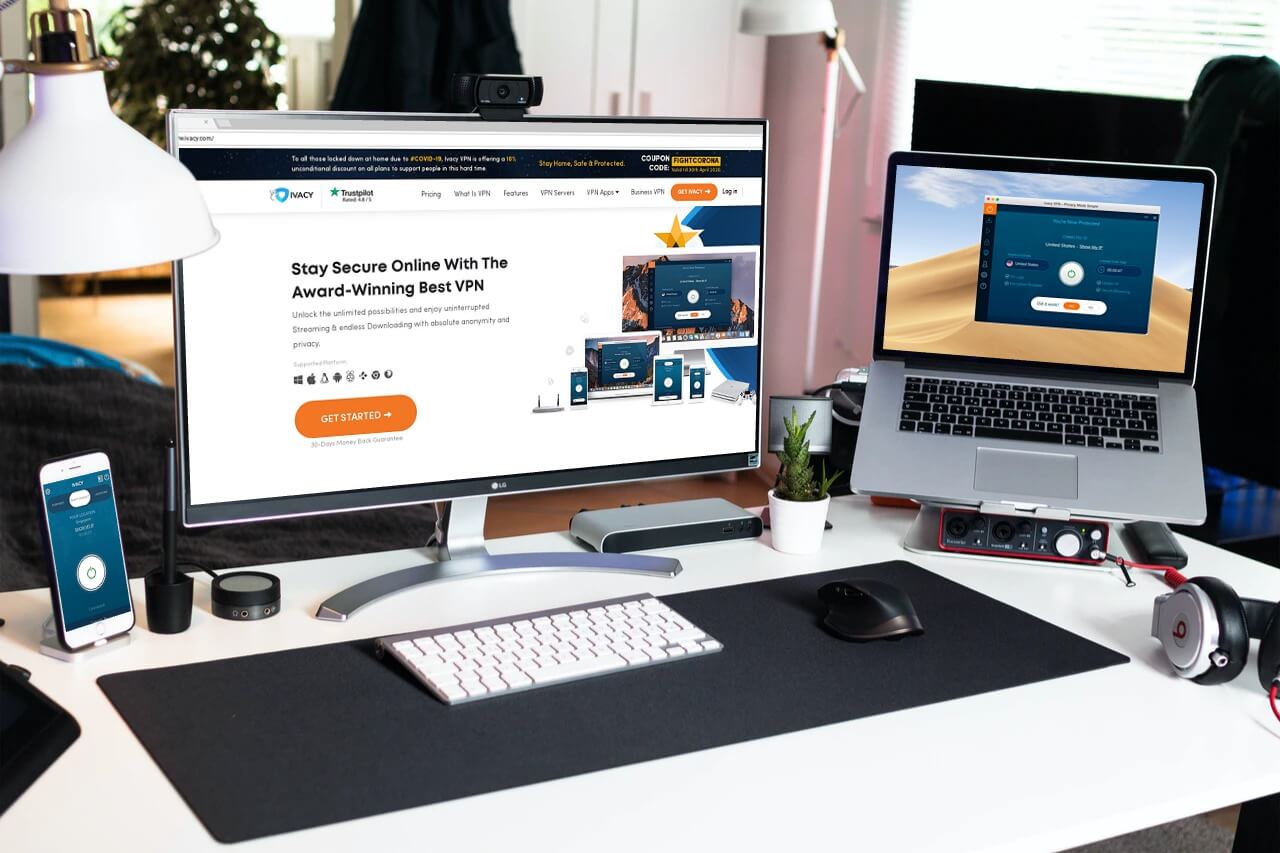 The VPN technology has advanced tremendously recently, so encrypting users' personal data is now a basic function of a VPN. For real experts to consider a provider as truly outstanding nowadays, it has to offer an all-in-one solution. Ivacy VPN claims to be outstanding, so we've created this comprehensive review to test that claim's authenticity.
Apart from securing the personal data of its users, a good provider has to offer much more in 2023. It has to offer specialized servers, unblock websites, and feature a wide range of servers. We understand that this is what Ivacy VPN is attempting to do, so we've tested the service to the limit.
While our findings aren't entirely satisfying, we can't deny that the service has a lot up its sleeves.
Like we usually do with every service we review and test, we've spent some time on research for this guide. Therefore, you can be confident that we have prepared a lot of information, based on real hands-on tests.
However, we will start off by listing the pros and cons of the service, which will give you an idea of what to expect in the full review.
This Ivacy VPN review will show you if it's a provider you can trust or one you should completely stay away from. For one, we know that you can change your IP in order to save money on your flight tickets with this VPN, but let's see if it offers more.
STRENGTHS:
Works in China
Offers a free version
Good client support
WEAKNESSES:
Average speeds
Doesn't unblock BBC iPlayer
Limited server network
The location is not ideal
The guarantee comes with conditions
They collect some logs
Ivacy ranks #18 out of 104 VPNs tested. Here are the best alternatives :
---
Is it a paid or a free VPN?
Ivacy VPN is both in 2023, which is great. While the company started off as a completely paid provider, it recently announced a free version, which is dubbed as Ivacy Lite.
Impressively, the free version has no bandwidth cap, unlike what we see on its rivals' free version. For the paid version, Ivacy is quite cheap, so it's generally a service for the masses.
Performance
While it's important to check a provider's security and server network, performance is probably the first factor to consider. The reason is simple – everything always boils down to performance in the end.
Having said that, we have hinged the evaluation of the performance of Ivacy VPN on speed and stability.
Speed
Using a Virtual Private Network almost surely means you have to sacrifice some internet speed as your data is taking a longer route than usual. While we know that for a fact, most users still cringe at slow speeds.
Thankfully, most top providers have found a way to reduce the impact of VPNs on internet speed in 2023. This means you don't have to put up with a service that reduces your internet speed to that of a snail.
To its credit, Ivacy VPN offers above-average speeds.
While you can't compare it to ExpressVPN when it comes to speeds, it's still a little bit above average, which is sufficient for users to enjoy streaming channels such as Netflix, BBC iPlayer, and Hulu without buffering.
Admittedly, we weren't totally satisfied with the speed during our test for this review. But, we can't say we're completely dissatisfied either.
Without VPN (we were located in London) :

EU Server (France) :


US Server :

Asia Server (Hong Kong) :


Stability
The provider also excels in terms of stability. Promising an uptime of 99.99 percent, there's no doubt that you can count on this service almost at all times.
On top of that, it offers more than 1,000+ servers dispersed across the globe, so you can always find a server to connect to whenever you want. We will talk more about its network of servers later on in this review of the Ivacy VPN.
Streaming

Considering the significance of streaming in 2023, we'd like to let you know about the capabilities of Ivacy VPN to unblock the most popular streaming sites in the world. Thus, we've detailed the result of every test we did on each of the big streaming sites in this review.
Netflix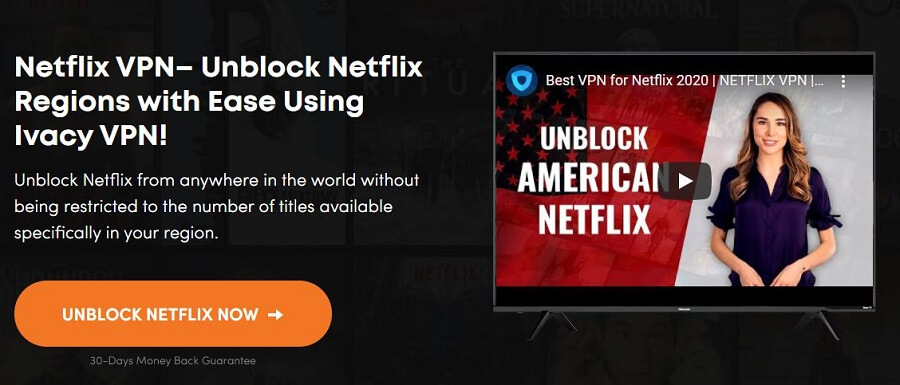 At first, we attempted to connect to multiple US Netflix servers with no luck. However, we contacted the company through their live chat support and we were able to access the service within minutes. It's no news that Netflix has been cracking down on VPNs use, so it is becoming harder for providers to keep up.
Consequently, it is commonplace to need to ask client support for particular servers, since the ones listed publicly are often blocked already.
BBC iPlayer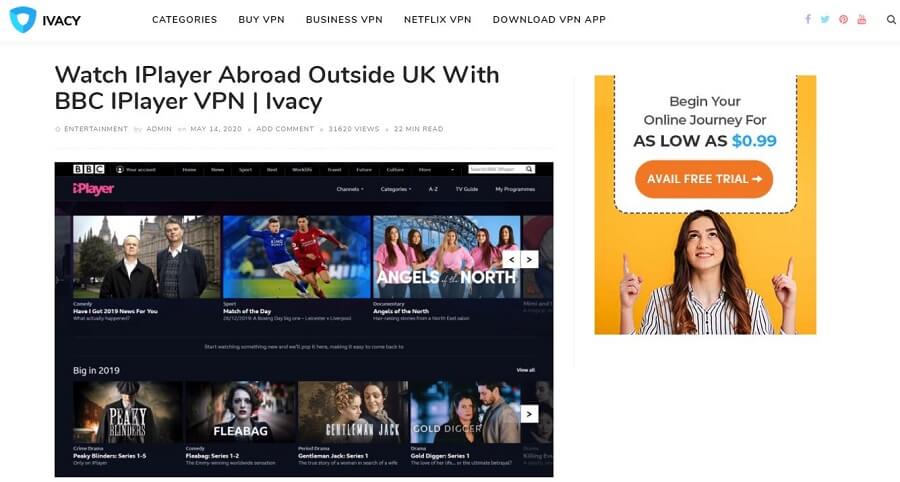 After our Netflix test, we then attempted to unblock BBC iPlayer as well, but unfortunately, our multiple attempts were unsuccessful. Apart from not giving us access to the site, it took out our internet access totally.
Fortunately, we were able to resolve that issue by closing and restarting the client and allowing it to access the UK servers.
While we still got the dreaded error message of "this content is not available in your location," we were able to get online this time. Eventually, we concluded that Ivacy VPN is not capable of unblocking BBC iPlayer.
Others?
With its dedicated streaming servers, the provider is actually one of the best VPNs for streaming in recent times. However, it's worth noting in this Ivacy VPN review that not all of its dedicated streaming servers work, so don't be surprised if you connect to one and you're bounced.
After being bounced by BBC iPlayer, we proceeded to test other big streaming sites like Hulu, ABC, SKY, Amazon Prime Video, and Youtube. To our relief, the service worked this time, offering us access to all of them.
In fact, we were also able to get access to The CW outside of the US with this service.
So, it turned out that BBC iPlayer was the only streaming site we couldn't unblock, and that's forgivable – at least for us!
Security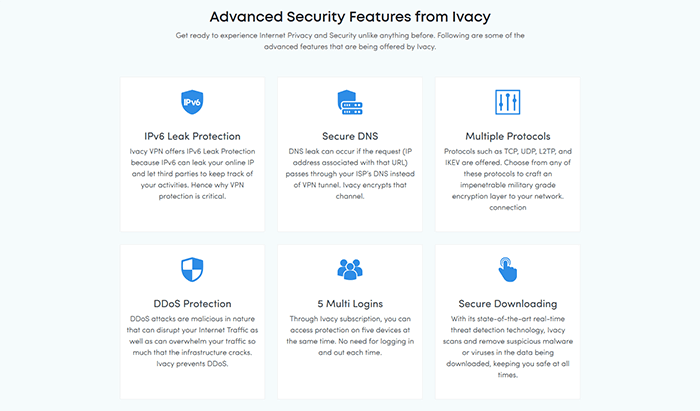 Security is always a top consideration when buying a Virtual Private Network. But that's expected since security is one of the reasons for the invention of the technology in the first place.
That said, we looked into Ivacy's security features and we have detailed our findings in this part of the review.
Where is it based?
To begin with, there are two key pieces of information. According to Ivacy VPN, the service doesn't collect any kind of private data or information about its users. Secondly, it states clearly that it's based in Singapore, and even reveals its exact location – South Beach Tower, Singapore.
Therefore, let's look at what this information really means.
Since Ivacy VPN is headquartered in Singapore, it's normal to believe that the company has carefully chosen its location. However, you'll be surprised to realize that the country has proven to be a vital ally to the Five Eyes.
There were leaked Edward Snowden's documents recently that revealed that Singapore has utilized one of the most prevalent mobile carriers in the country to access traffic carried by key optical cables connecting the Middle East and Asia with Europe.
Moreover, the nation cooperated with Japan and Australia by gathering and transferring various types of data.
While we actually know this information might sound disturbing, it's not actually something you should be concerned about with Ivacy VPN.  This is because of the no-logging policy of the company.
The provider doesn't collect any data that can be traced back to you and even has an immaculate reputation.
Apparently, it would have been ideal for the provider to be located in a country with impartial diplomatic relationships. Nonetheless, nearly every provider is looking for legal loopholes to offer its customers complete protection.
Based on everything we've found in our research for this test and review, we think Ivacy VPN is also doing that.
Log policy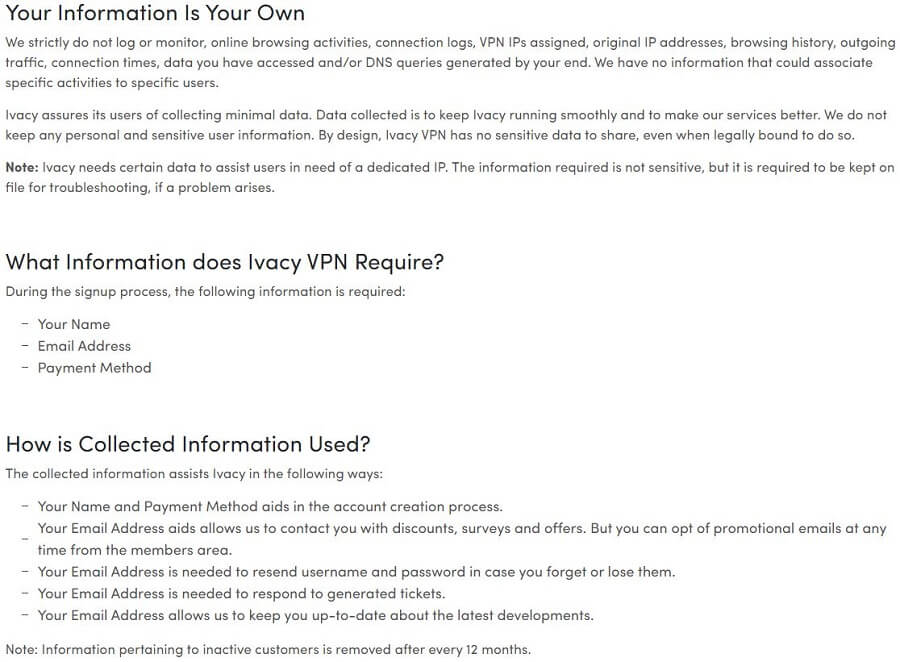 Nearly all providers go about claiming that they don't keep logs, and there is no exception with Ivacy VPN. The provider states that in order to ensure your full anonymity and security, they don't keep any logs.
They even went ahead to state that storing logs is like going against their own privacy policy.
However, we have actually seen lots of providers that have no issues with going against their own privacy policy, so we know readers will actually be interested in knowing where Ivacy VPN stands exactly and what we found in our test.
First of all, it's important to note that Ivacy VPN collects some data, as we found while writing the review. During sign-up, it collects your name, email address, and payment method.
They also keep a record of all communications when you contact their client support.
However, bear in mind that it is a standard practice for providers to collect email address, payment methods, and keep records of correspondence. If you don't want any of this, you can pay with an anonymous method and stay away from client support.
It can, however, be argued that the collection of users' names during sign-up is excessive, and something that Ivacy VPN needs to stop.
In terms of the usage of the service, Ivacy is a no-logging provider as they maintain a strict no-logging policy. They don't store or monitor users' connection logs or activity logs.
Furthermore, they never log or monitor your connections log like the times you connect and disconnect from the service, your genuine and assigned IP address, and bandwidth usage.
There is no data that could be directly linked to specific users when using Ivacy VPN.
While that's some good news, they would be left with no choice if law enforcement agencies come knocking.
Protocols
There are many protocols available for your security, as we found out in our test for this Ivacy VPN review. Typically, the app defaults to OpenVPN, which is the most secure protocol on the market.
OpenVPN utilizes SSL certificate technology to conceal your internet activity from prying eyes.
In fact, the technology is the same one adopted by banking sites to ensure that nobody is watching you while you make transactions or check your balance. The whole session on the site is encrypted, and Ivacy VPN does a similar thing by encrypting access points.
In most cases, OpenVPN is the protocol Ivacy VPN uses by default. The service, however, also uses SSTP, L2TP, IKEv2, and PPTP. The provider uses IPsec for the macOS client, which puts your data through an authentication suite and also a separate tunneling protocol like IKEv2 or L2TP.
In terms of encryption, Ivacy VPN uses military-grade AES 256-bit encryption. Note that this is the most secure type of encryption in the world and is nearly impossible to crack.
All those headlines you see about big sites getting hacked, it's usually because they use substandard encryption methods. Basically, hackers will utilize software to try to access accounts.
The software will run through every letter and number combination possible until it's able to access the account. However, 256-bit encryption is so complex that figuring out the right combination can take many decades.
Protection against leaks
Virtual Private Networks operate by encrypting your IP before it's sent out to the bare internet while browsing the web. While a Virtual Private Network is normally designed to do this, leaks do occur, unfortunately.
When a leak happens, your Internet Service Provider knows what websites you've visited.
Thankfully, Ivacy VPN performs wonderfully well when it comes to preventing leaks. Every time you visit a site, it routes your DNS requests through the VPN's server before sending them to a third-party service.
Subsequently, that request looks to be coming from the VPN's server to the DNS service, which effectively helps to prevent leaks. While IPv6 leaks are pretty common, this technique from this provider helps to reduce its chances.
After digging thoroughly during our test, we found other features for leak prevention. Leak protection is built into the regular macOS and Windows client, but the provider has extensions for Firefox and Chrome.
In fact, the provider recommends that users use the browser for superior protection.
Torrenting
Torrenting compatibility is an extremely important part and our review and test of Ivacy VPN would be incomplete without it. That said, we didn't forget to test its torrenting abilities, and below are our findings.
Is torrenting allowed?

Many providers usually back away in terms of torrenting support. Since peer-to-peer sharing is not legal in several countries, it actually takes some courage to offer this support.
Ivacy VPN is one of the few providers that completely allow peer-to-peer sharing and torrenting on their network, offering P2P-optimized servers for fast and safe P2P file-sharing services.
Their P2P-optimized servers are available in Canada and the United States.
Additionally, they enable their customers to use all key protocols such as IKEv2, OpenVPN, PPTP, and SSTP protocols while connecting to the P2P optimized servers. We have already talked about the available protocols up in this review but we hope you get our point.
Is there a Kill switch?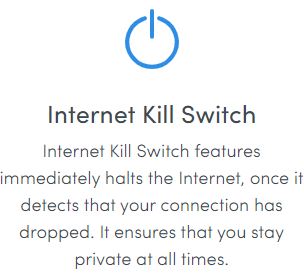 The features of a Virtual Private Network are effective only if you are connected to its servers. All that anonymity goes away as soon as you lose your VPN connection.
To Ivacy's credit, the service is equipped with a Kill Switch feature that ensures that you don't get suddenly vulnerable and exposed while browsing. Excellently, you can easily turn the Kill Switch on within the app.
In case you lose your connection, the feature will immediately shut down your online activity to prevent prying eyes from seeing or even logging your real IP address.
Ivacy VPN offers the Kill Switch feature on every platform, except iOS. This is, however, due to Apple's stringent app guidelines.
In an impressive manner, the Kill Switch feature on this service alters firewall settings on your computer. Thanks to that, your IP address remains concealed even if the service crashes.
We were really impressed with how this feature worked during our test and review.
Bypassing Censorship
Any provider that wants to sit on the same table with the likes of ExpressVPN and NordVPN has to be able to bypass censorship. The issue of censorship is becoming a growing concern for internet users, and a VPN is meant to eliminate it.
In censored countries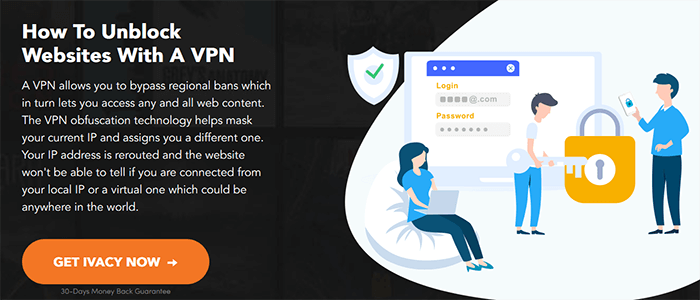 Many governments around the world, especially the Chinese government, are infamous for banning every top site on the internet. That's why people who are residing in China often need VPNs for the maintenance of internet freedom.
To its credit, Ivacy VPN is still working in China, despite all odds. The only problem is that the Great Firewall has banned its website, making it difficult for users to download the service when in the country.
Chinese residents can set the service up manually – they simply need to follow the guide on the website of the provider. Tourists, on the other hand, can bypass this problem by installing the service before getting into the country.
While we weren't able to test its ability to bypass the Great Firewall of China by ourselves while writing this review, we got several positive reports from Chinese residents.
In restricted networks
If you're at work or school, there're chances that you can't access lots of the websites you normally access. Social media sites like Twitter, YouTube, Facebook, and others are restricted in schools or workplaces to prevent students and employees from spending too much time on unproductive stuff.
It might look oppressive to utilize network firewalls, but it is vital to maintain discipline at workplaces and in schools. Having said that, there is no reason why you can't access social media sites during your break or lunch.
After all, everyone needs to blow off steam on a regular basis.
Apparently, that's what Ivacy VPN thought as well. With the service, you can unblock any kind of restricted site either at your school or work without much hassle. We also put this feature to test while writing this review and it worked.
However, we advise you to ensure that the authorities don't catch you as it could attract damning consequences.
Countries and servers
When looking for the ideal provider for you, you must pay attention to the number of servers it has. More precisely, you must know its server count, where they are located, and if there're any specialized servers.
To keep you as enlightened as possible, this review and test of Ivacy VPN has addressed all of these in this section.
Countries covered

When comparing providers, it's important to consider the number of servers the provider offers and their locations. Generally, the closer a server is to you, the better the performance you will experience.
Thus, having lots of servers in a lot of locations means that there are more chances of you having a better experience, regardless of where you may go.
In terms of server count, Ivacy VPN offers 1,000+ servers, which is a little below what most top providers offer. In fact, big players like ExpressVPN, NordVPN, and CyberGhost all offer more than 3,000+ servers in multiple locations.
This indicates that Ivacy has lots of work to do to catch up with these providers as they're far ahead.
While this provider is lacking in terms of sheer numbers, its servers are actually well spread. The company provides 50+ countries, which is more than what a lot of providers offer.
However, it's still below what a company like PureVPN offers, as you can see in our PureVPN's review. Nonetheless, Ivacy VPN has some extremely strategically located servers.
Even though most companies completely ignore Africa, Ivacy VPN offers six locations there. Central and South America is another often-overlooked region by several providers, but that's not the provider's case.
Also, it provides servers in countries with repressive internet laws, such as Russia, Turkey, and China.
However, the server count can be deceptive as some providers use virtual servers extensively. Virtual servers are physical servers designed to seem as if they're actually many servers in various locations.
For people concerned about the exact route of their data, this may be an issue.
It may actually be annoying to realize that even though you chose a server in Iceland, your data was being transferred via a virtual server in China. Ivacy VPN doesn't use many virtual servers, fortunately.
Servers
Whether you are new to utilizing a VPN or you just don't want to configure settings for the performance, this provider is capable of making things much easier. The provider offers specialized servers depending on the particular activity you want to engage in.
Also, smart features are available, which makes it simple to configure the service without needing to get into the details.
There are many providers in the world that frown at torrenting or partially allow it, but that's not Ivacy VPN's case. This provider doesn't only allow torrenting, it also provides users with tools to efficiently share files.
This provider provides several P2P optimized servers for fast and safe torrenting.
These servers are capable of offering users the best speeds while downloading files. Indeed, the provider in question makes torrenting as easy as it gets.
Compatible devices and simultaneous connections
It is important to test and review device compatibility with the provider you're looking at before making any commitment. In the same vein, you need to know the number of simultaneous connections it allows for, especially if you have many devices in your household.
What device can I use with Ivacy VPN?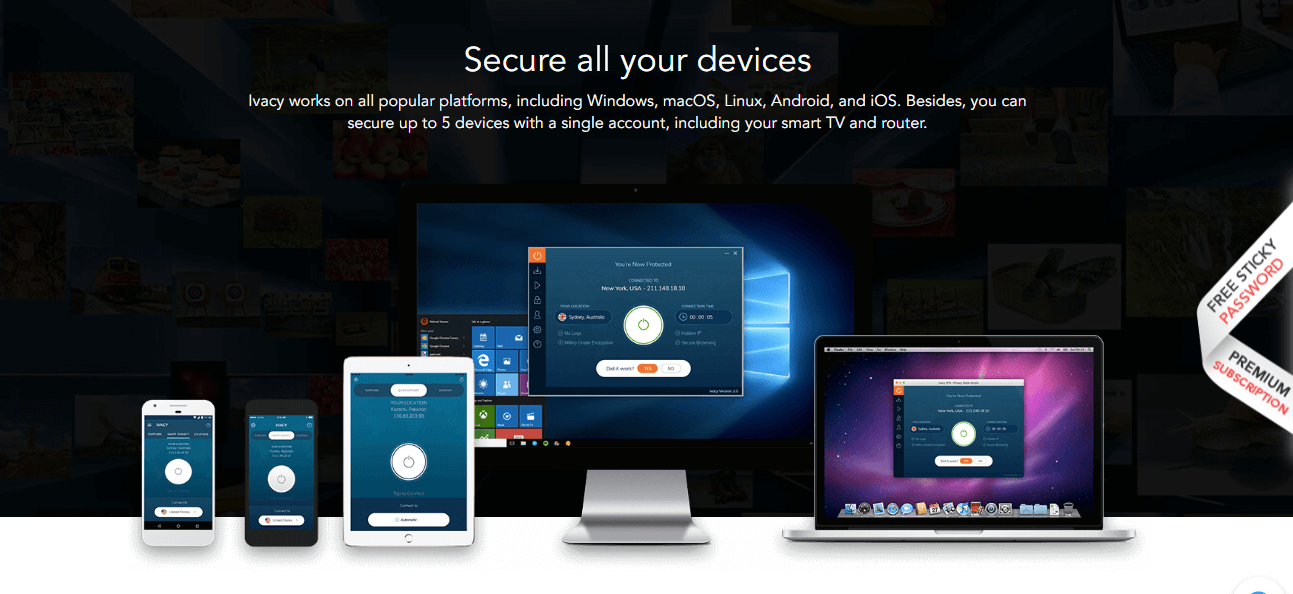 The company offers compatibility with almost all popular operating systems via its dedicated app repository. At the moment, the service offers these dedicated apps:
Windows
Mac
Android
iOS
Browser Extension for Chrome
Browser Extension for Mozilla
Linux
Android TV
Kodi
FireStick
Router
Xbox
PS3/PS4
All of their dedicated clients are designed deftly, with careful attention paid to details. There is also less unnecessary cluttering on their apps than you see on the apps of rivals.
You can set the service up on other dedicated platforms such as Smart TVs, Linux, Consoles, OpenELEC, and Blackberry.
How many simultaneous connections?

Users typically have more than one device and having to purchase multiple accounts to protect their many devices can be very costly. Thus, it is insufficient that service works on many devices – it is vital to also consider the number of simultaneous connections it allows.
Ivacy VPN supports up to five connections at the same time on a single account. This is great as it means you can share a single account with family or friends. However, this is an industry-standard and is nothing extraordinary at all.
Industry leaders like NordVPN and CyberGhost offer more – 6 and 7 simultaneous connections respectively.
Protect all your devices at once >
Client support
Don't let anyone deceive you into believing that client support is not an important factor. While it may seem like it's insignificant, it speaks volumes. You don't want to entrust a provider you can't contact whenever you want with your security, right?
We thought as much, and that's why we've included this part in this review and in our overall test.
How to contact it?

First of all, the provider offers a modern live chat feature on its website. While writing this review and test of Ivacy VPN, we talked to the representatives of the company a couple of times, and at no time was there ever a long queue.
Additionally, we were always able to get helpful information.
You can also send an email within the application itself, and they will treat it as a support ticket. You can expect the support to respond within 24 hours if you take this route.
We used this route to ask about some Ivacy VPN features during our test and we got a response with a lot of online resources.
The last support channel is email contact, which allows you to send an email depending on your kind of question. There is a dedicated 'Contact Us' page on their website, where you will also find an online form.
Is it good?
To be honest, Ivacy VPN, for all its shortcomings, has excellent client support. The response time we got with the live chat support made us feel initially as though it was a chatbot. The truth is the response was too fast and there was no queue.
After talking with the agent and asking technical questions, we realized that it wasn't actually a chatbot. The email ticketing system was also very efficient, providing us with lots of online resources.
FAQ/tutorials

Installing the VPN on both mobile and desktop platforms is very straightforward. You, however, need a step-by-step guide for setting it up on routers. Thus, it's nice to know that the company offers installation guides to walk you through the entire process.
There is also a FAQ section, which consists of about 45 questions. With this section, there are chances that you will even find an answer to your question without needing to contact support.
This section was particularly helpful during our test and review.
Value for money
Good value for money is a hallmark of good VPNs. While this doesn't necessarily refer to cheap pricing, it's a question asking if the value the service delivers is equivalent to its price. In that case, we thought including this segment would make this review very detailed.
Price comparison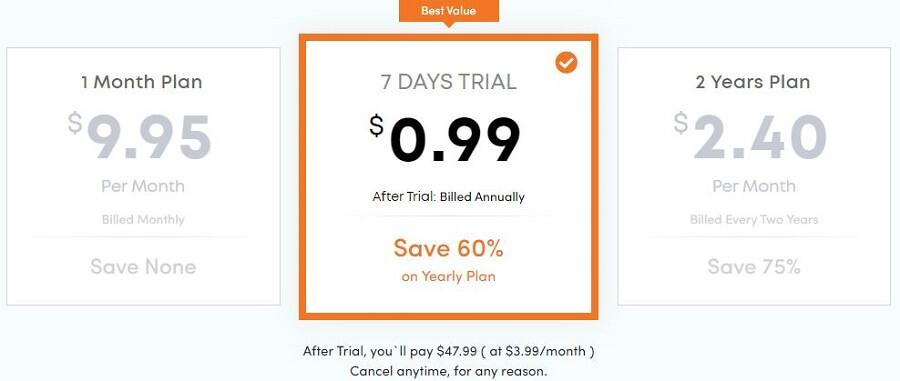 Ivacy VPN has kept its pricing very affordable. Generally, it offers three subscription plans, which are;
Monthly – $9.95/month
Yearly – $3.99/month ($47.99 a year)
Two Years – $2.40/month
Ivacy's monthly subscription plan is expensive, just like every other provider. At $9.95/month, their month package is costly, so we will give it a pass. The yearly deal is actually cheaper, costing $47.99 per year, which is an equivalent of $3.99/month.
The icing on the cake, however, is the two-year plan, which costs $57.6 every two years, which is an equivalent of $2.40 per month.
This price is one of the best deals you will find on the market today, so we actually give a thump up to Ivacy VPN for that. It is one of the cheapest VPN providers in the world actually, and it's always been like that since it came into the scene.
Enjoy the cheapest pricing with Ivacy VPN >
Means of payment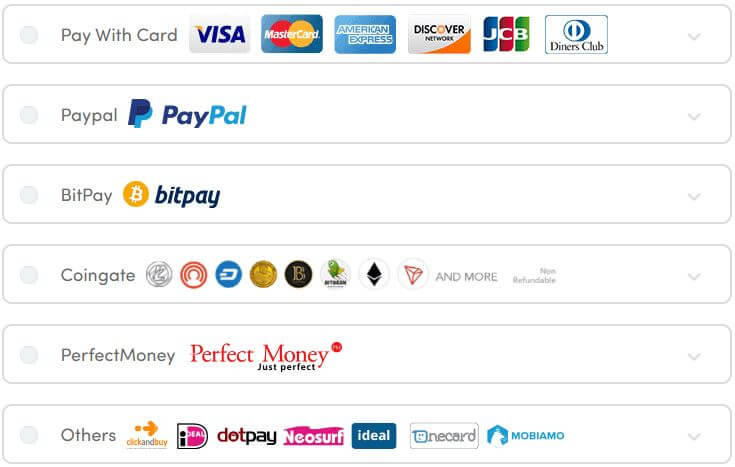 As for the payment means, the provider offers a full array of payment options for users to consider. Some of them include:
Credit Card
Bitcoin
PayPal
Paymentwall
Perfect Money
Web Money
It's nice to see a lot of payment means, allowing payment to be very convenient for users. In fact, they even anonymous payment means, which will especially be appealing for privacy-conscious users.
Money-back guarantee

If a provider doesn't meet some expectations you set for it, there is no need to be stuck with something you don't like. Many providers make sure of this by offering a money-back guarantee. This enables subscribers to test out the service and request a refund if they don't like it.
As we have come to expect from big providers, Ivacy VPN do refunds as well. While subscribers to the one-month plan are offered a 7-day money-back guarantee, other subscribers are offered a 30-day money-back guarantee.
If you must get a refund, make sure you request it within thirty days or seven days for monthly subscribers. It's certain that they will give you back your complete payment, no questions asked.
The 7-day refund window is definitely fair enough for one-month subscribers, as it's a quarter of the duration of their plan. Meanwhile, the 30-day window is a very generous offer on the part of the provider.
However, generous offers often come with a condition or two. In this case, the condition set is that you mustn't exceed 30 sessions or 500 MB bandwidth. This will actually come as a drawback to the majority of customers who hate when refund policies come with conditions.
Any extra?
We have reached that part of the Ivacy VPN review where prospective buyers need to really pay attention. One of the easiest ways to know a provider with good value for money is by looking at how rich it is in features.
So, what are the extra features we found in our test for this review? We've included all of them in this section.
Split Tunneling Feature

This is the first extra feature we found in our test for this review, but it's not a new feature. However, that doesn't take anything away from its usefulness, as it's a very helpful feature.
It is capable of helping users to reduce the load of the service, by cutting down on the apps that put an additional burden on speed.
Choose the apps you want to cover >
You can opt to route your app or traffic with Split Tunneling by choosing to exclude some apps. While the apps will still be running in the background, it will be without the security of the service.
In other words, the feature enables you to customize the service to prioritize the apps that mostly require security.
Virus and Malware Protection
You can never be too protected from malware and viruses, especially if you are downloading files. Ivacy VPN offers a special feature that provides an extra layer of protection to ensure that your computer is safe.
The feature scans each file you download automatically, which is something you will not see with many providers.
The advanced Virus and Malware Protection feature comes with every subscription package at no extra fee. It scans the files in real-time and can detect more than four million various virus signatures.
It doesn't take away the need for your own antivirus software, but this extra perk surely sets the provider apart. Lots of users have a good review of the VPN because of this feature and we liked it during our test.
Final Thoughts
It's difficult to rate Ivacy VPN. Being a provider that has spent more than a decade in the industry, we definitely expected more from it. If our test and review are anything to go by, the service hasn't quite reached expectations.
While it comes with many upsides, it equally comes with many shortcomings, some of which we only expect from new providers.
We don't recommend this service and we advise you to go for a better performer like ExpressVPN if you're really serious about protecting your identity and benefiting from geo-restricted contents.
Ivacy VPN Review and Test
We were not convinced by the performance and features offered by Ivacy VPN. Its price is attractive but you should rather turn to more complete solutions. It is valid that you seek to enjoy geo-restricted content, anonymous torrenting ...
Add your review
|
Read reviews and comments

Michael is a talented writer who has dedicated a lot of time into making sure that everyone around the world can use the internet securely. Being an avid traveler, he has acquired a lot of experience while using different VPNs on his travels. When it comes to doing comprehensive "how to tutorials" or testing some VPN functionalities, he's always the best pick ! He's here to help you solve your VPN-related issues.