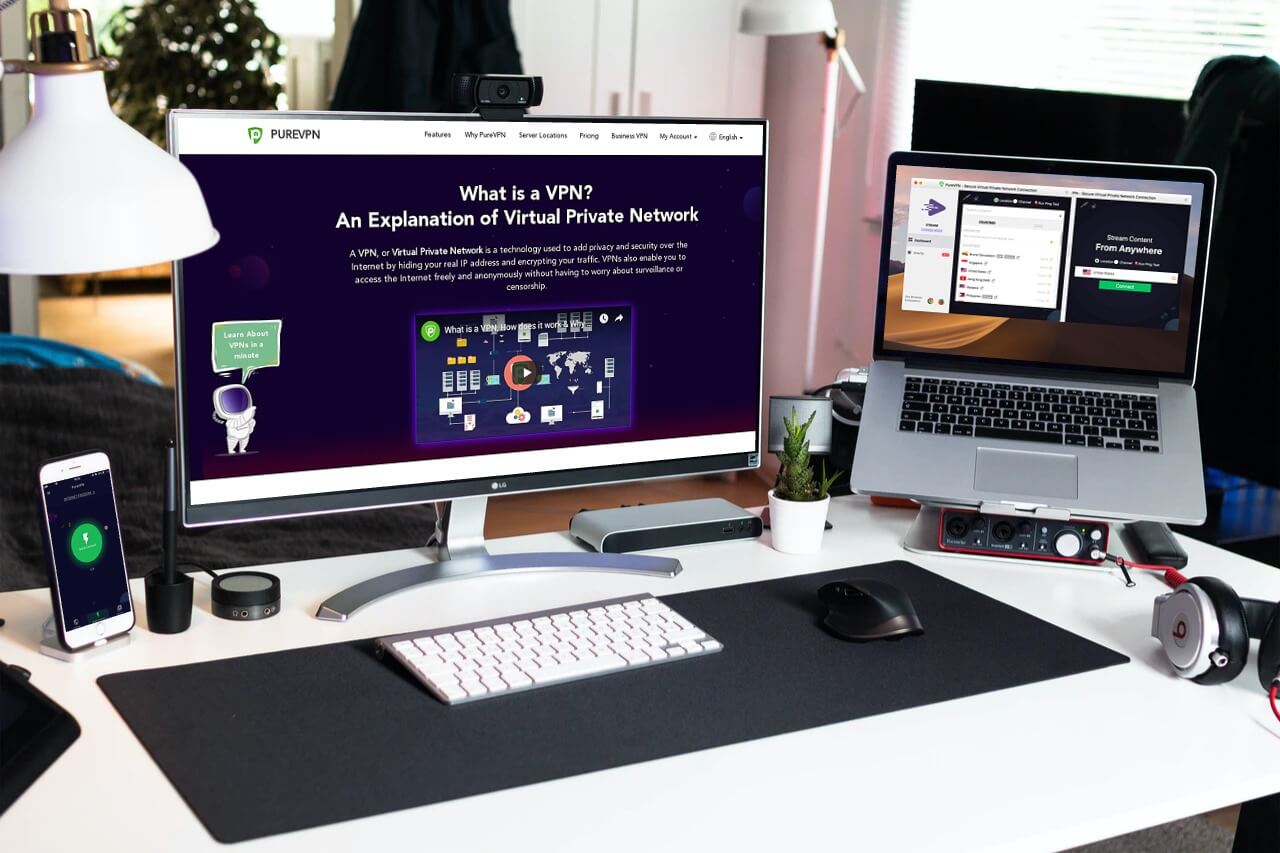 Having been in the industry for some time now, PurePVN is a company that has garnered some reputation, even though it's a bad one. In past years, the company was renowned for its poor encryption, slow speeds, horrible customer service, DNS leaks, and most significantly, terrible privacy, and many more you'll discover in this review. However, the company is back with new claims in recent times, boasting of how their service has seen a considerable all-around improvement.
Obviously, the team behind the VPN has been working hard and it seems the service is finally ready to share a table with the biggest VPNs in the industry in 2023. While the provider may still be a long way behind top-rated services like ExpressVPN and NordVPN, we're quite confident it could now be useful for some people.
For one, the company has a wide server network. Moreover, the price is very cheap for individuals who're looking for a long-term investment. If you are, however, curious to see how much PureVPN has improved over the last few years before making a decision, continue reading as we review and test the service.
STRENGTHS:
A large server network
10 simultaneous connections
Offers dedicated servers for torrenting
Unblocks US Netflix
Compatible with a wide range of devices
Protects against leaks
Cheap prices
Strong encryption
The audited privacy policy as of 2019
WEAKNESSES:
Violation of the zero-logging policy a few years ago
Poor English across the website
Poor speeds
No BBC iPlayer
Few servers access Netflix
PureVPN ranks #12 out of 104 VPNs tested. Here are the best alternatives :
---
Is it a paid or a free VPN?
PureVPN is definitely a paid VPN. Apart from its questionable past and jurisdiction, it's a decent service with a few great features. However, this service offers some of the cheapest plans around, so it's ideal for people on a budget.
Performance
It is very important to test how a VPN performs before shelling your money on it. With that said, the two criteria you must review when evaluating the performance of a VPN are speed and stability. Continue reading as we lift the hood and kick the tires.
Speed
Regardless of the kind of VPN you are using, the additional security measures usually put in place will likely affect your speed performance adversely.
Most times though, it's often a slight reduction in speed for the best VPNs, so you shouldn't still put up with a VPN that moves like a snail.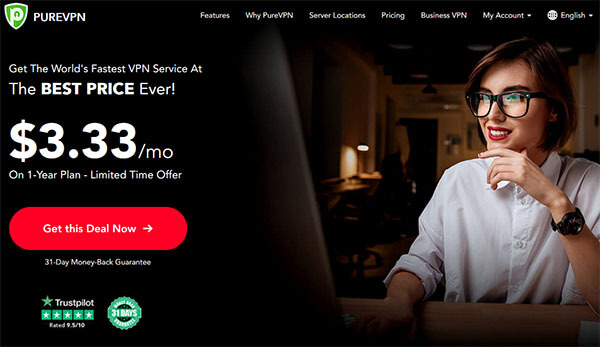 Speed-wise, PureVPN delivered very slow speeds during our test, better than what it used to deliver in the past, but still very slow. However, the speed increase may be partially down to the provider's use of a speedy protocol by default.
Besides, connections were often unreliable as we were always experiencing slowdowns unexpectedly while bringing this review together.
We've run some speed tests, and here are the results.
Without VPN (we were located in London) :

EU Server (Paris) :


US Server (New York) :

Asia Server (Hong Kong) :


We see a significant drop in download and upload. You've understood. If you want good speeds, PureVPN should not be your pick. A provider like ExpressVPN delivered way better speeds in our test.
Stability
Providing an uptime of 99.99 percent, PureVPN seems to be delivering on its claim to be a reliable service. Not only that, but it also has unlimited data transfer, unlimited bandwidth, and unlimited server switching.
During our test, we did not face any connection lost, yet, it is hard to tell how it will behave in the long run. But, while we were using it, we had no issue, so maybe it will be the same in the long-term.
We need to mention again that speeds are very slow, so don't expect rock-solid connections. As for connection losses, we didn't experience them. Keep in mind that you won't enjoy streaming or high-speed torrenting with PureVPN, though!
Streaming
Of course, a large percentage of VPN users are into streaming. This is why we thought it would be vital to include this part in this review.
Netflix

One of the things people usually complain about when it comes to PureVPN is its numerous fake claims.
Although the provider advertises itself as an excellent option for streaming, our test has revealed that this is actually not the case.
During the compilation of this review, we checked many Netflix-optimized servers and just one of them worked. While the one that worked was moderately fast, this result is still not sufficient to rank this VPN as a great option for streaming Netflix.
Albeit, the US server worked fine, so this might be a silver lining for those interested in that catalog. And surprisingly, we had a decent streaming experience but not in 4K.
1080p streaming was solid, but don't go over this resolution if you don't want your dreams crushed like a bug under your foot.
Unblock US Netflix with PureVPN >
BBC iPlayer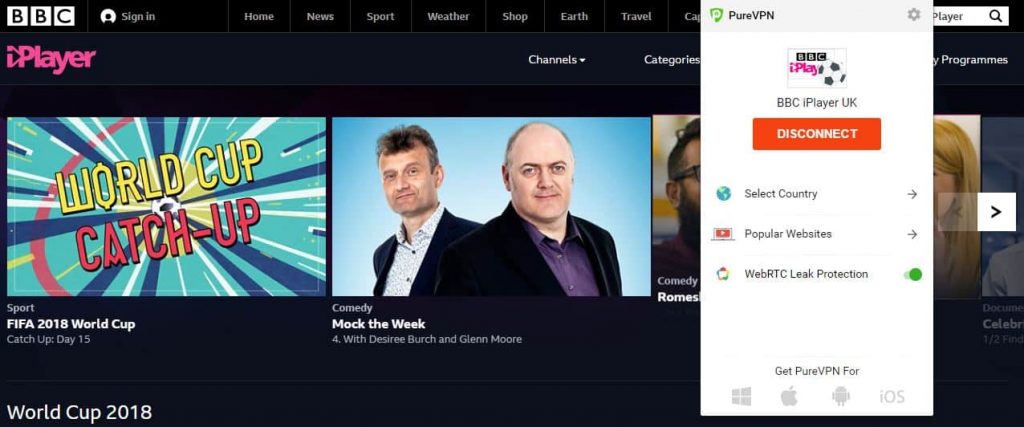 If you are also searching for the most suitable VPN to unblock BBC iPlayer, we recommend you to continue searching.
When you attempt to watch shows like BBC original series or Match of the Day with this VPN, you won't get anything more than a sorry message saying you are outside the United Kingdom.
Obviously, we also got this kind of message during our test for this review.
Others?
Despite just being partially able to unblock Netflix and not being able to unblock BBC iPlayer, PureVPN actually unblocks other streaming services like Hulu and HBO.
While you may get error messages while attempting to unblock these services sometimes, you're bound to be successful after a few failed attempts.
Security
When choosing a VPN, most people often pay a lot of attention to safety and secrecy issues. Truly, it's the primary reason why a lot of them started using a VPN in the first place.
Therefore, you may be wondering if PureVPN is actually a tool that is capable of protecting your data and securing your privacy. Read the review below to find out.
Where is it based?
Owned by GZ Systems and based in Hong Kong, which is a territory ruled by China, you would be forgiven for believing that PureVPN would be under China's stringent VPN-related rules.
Thankfully, this is far from the truth. Despite China's strict reputation when it comes to internet privacy laws, Hong Kong isn't governed by the same draconian laws. In fact, the territory enjoys similar levels of internet freedom as some of the major countries in Europe.
In addition, Hong Kong isn't bound by any data sharing or gathering agreement or alliances such as the Five Eyes or the Fourteen Eyes. Thus, PureVPN is not under any obligation to share the data of its users with any government agency.
That all sounds perfectly fine in theory, all until you check the provider's history. Its history was pretty rumbunctious, with PureVPN having violated its zero-logging policy a few times, installing malware on users' devices, and so forth.
Log policy

Based in Hong Kong, which isn't within the jurisdiction of the Five or the Fourteen Eyes, users didn't have any cause to doubt or review PureVPN's strict no-logs claims.
However, the company helped the FBI to apprehend a cyberstalker who was troubling a woman and her family in 2016. And that raised eyebrows among their users, obviously.
According to the court documents, PureVPN was responsible for supplying data that helped identify the cyberstalker's workplace and home IP addresses.
While their action was seemingly good, it was understandably a cause of concern for VPN users as it indicated that they were keeping logs, contrary to their claims.
Upon the conclusion of the case, the company updated its privacy policy to give its users a sort of reassurance:
"We DO NOT keep any record of your browsing activities, connection logs, records of the VPN IPs assigned to you, your original IPs, your connection time, the history of your browsing, the sites you visited, your outgoing traffic, the content or data you accessed, or the DNS queries generated by you."
At first, we were a bit hesitant and we refused to believe what's written in the updated policy. But, after browsing the site a little, we came across this part: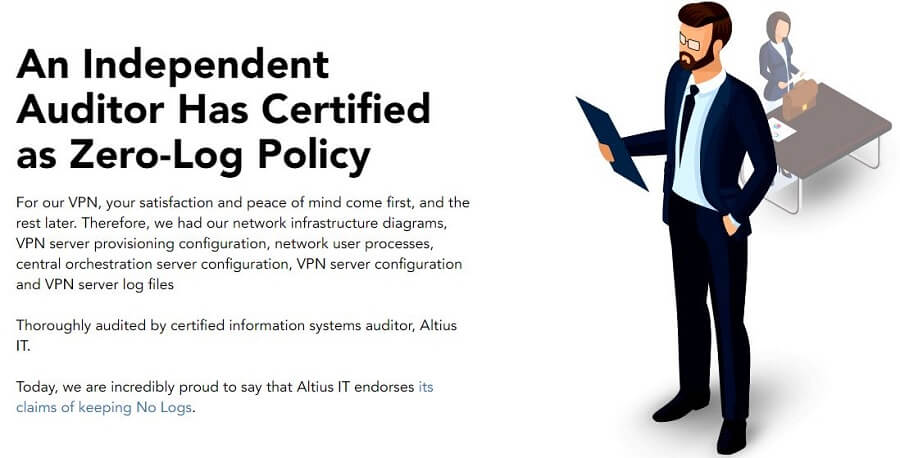 Allegedly, PureVPN has its zero-logging policy audited by Altius IT, which is a HUGE step for the company. Audits are a pretty big thing in the VPN world and usually drastically increase the providers' trustworthiness.
For comparison, ExpressVPN has an external audit, NordVPN, and VyprVPN, as well. Now that PureVPN is on this list, it seems like their zero-logging policy and aforementioned claims are genuine, after all.
Protocols
In a way to completely protect users from malicious attacks, PureVPN uses OpenVPN, which is the most secure and robust protocol in the industry in 2023. However, in the event that you want your connection to be faster or your device doesn't support OpenVPN, the provider also supports other protocols such as PP2P and L2TP, as we found out in our test.
Enjoy the strongest protection >
In terms of encryption, the company uses military-grade AES-256 encryption. Undoubtedly, this level of encryption can't be penetrated by even the most skilled hackers in the world.
For this reason, this encryption is referred to as "Military-Grade," as its ciphers enable it to be adopted by military and sensitive government agencies around the world.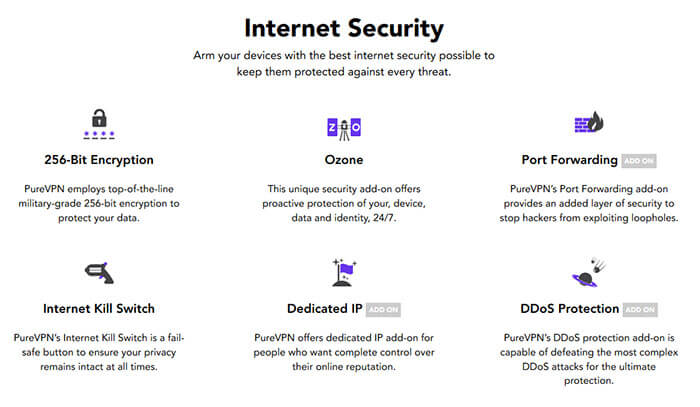 However, despite providing such high-grade security tools to ensure users enjoy the strongest security systems, the provider's shady past means it still can't be regarded as a safe VPN for sensitive activities.
While it offers sufficient protection for activities such as torrenting, it's not ideal for people looking to escape the prying eyes of a government agency. Therefore, we advise you to seriously review this option if you're the sort of person that's always particular about security and privacy.
Protection against leaks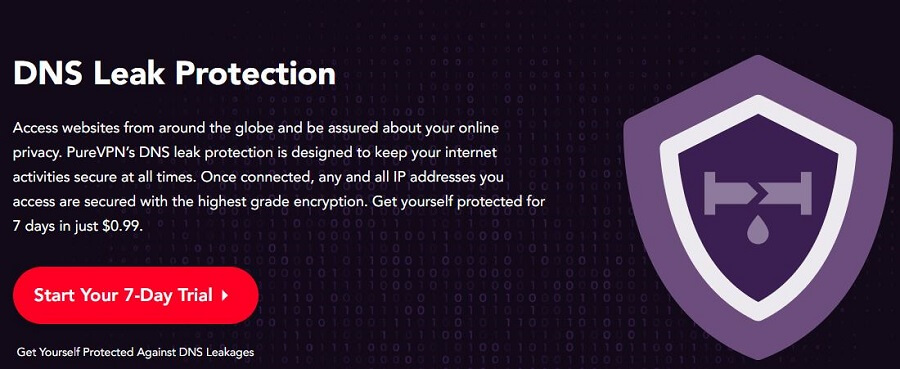 In its bid to offer you complete anonymity online, PureVPN provides DNS leak protection so that your online traffic will be protected from the eyes of your Internet Service Provider or the government.
Bear in mind that there are a lot of VPNs with DNS leak issues that could expose the real identity of their users, but PureVPN thrives in this regard, at least.
Torrenting
Torrenting is another popular reason for which people invest in VPNs in 2023. Therefore, we thought it would be unreasonable if we didn't test it for this review.
Is torrenting allowed?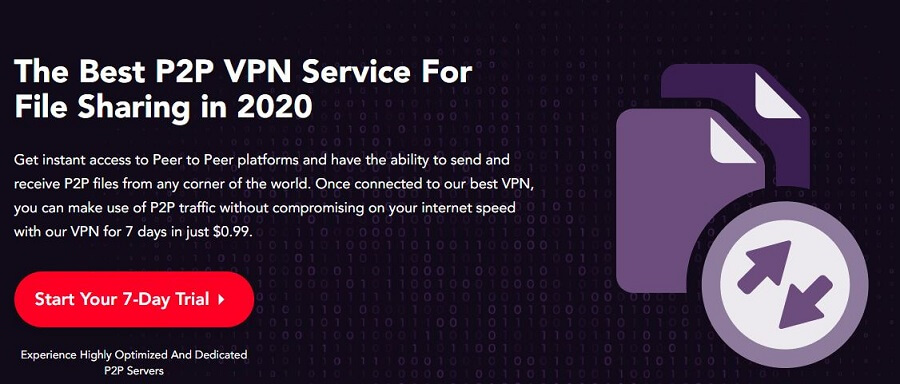 The short answer to this question is YES.
However, while PureVPN allows users to download torrents and be involved in peer-to-peer sharing, it can only be done via torrenting-designated servers located in some countries.
There are actually numerous countries to select from. Some of them include Algeria, Armenia, Afghanistan, Bahrain, Bangladesh, Belgium, Barbados, The Bahamas, Bermuda, The British Virgin Islands, Bolivia, and a lot more.
You can visit the provider's official website if you want to see the full list of the countries where they set up torrenting-specialized servers.
Sadly, PureVPN has blocked peer-to-peer on servers located within countries with stringent torrenting laws, including Australia, Canada, the United Kingdom, the United States, and more.
Is there a Kill Switch?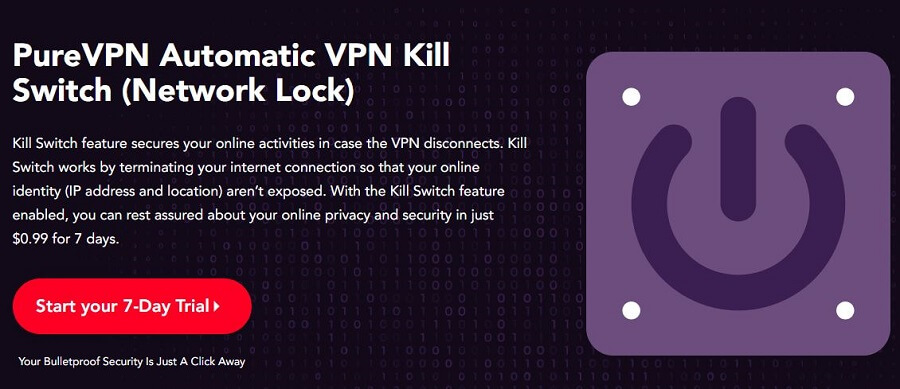 Just like it sounds, the Kill Switch is a feature that helps kill the whole internet connection if something suddenly interrupts your connection. With this feature, there are no chances of your sensitive data or information getting leaked.
If you are very concerned about privacy and want to ensure that every data sent over your connection is encrypted, then this is a hugely important feature for you. The feature is especially important for torrenting users, as even an accidental download of a copyrighted file over a connection that is unsecured can still land you in trouble.
Unfortunately, this feature is currently not available on iOS yet. During our test for this review, however, we asked a company's representative about this. The representative told us that the provider is working on introducing the Kill Switch on iOS devices in the future.
Bypassing Censorship
Another popular reason for which people buy VPNs is to bypass censorship.
With some of the most powerful countries in the world implementing strong censorship policies, we understand that a lot of people may be looking for a working VPN. How does PureVPN perform in this regard? Let's find out in this review.
In censored countries

Surprisingly, PureVPN offers a strong performance when it comes to bypassing censorship.
The provider operates servers in countries with repressive internet policies and can easily bypass the Great Firewall of China.
Not only that, but they also offer numerous features to improve the Internet security of users in countries with strict censorship policies like China.
Interestingly, the provider removed its servers based in China and we're pretty sure they were there. Moreover, servers in Hong Kong aren't available anymore, so if you want to watch Hong Kong TV abroad, you can forget about this benefit.
We can't blame them, though, given Chinese strict laws that enforce data retention and collection.
Bypass the Great Firewall of China >
In restricted networks
Whether you're a student or an employee, PureVPN can also help you to unblock restricted networks effortlessly.
The service will encrypt the data, in that way disabling the network from seeing what you are trying to access. In fact, a lot of users have a good review of this provider just because of this ability.
Countries and servers
The number of servers a company has and its geographic distribution are good indicators of how good the service is.
With that in mind, we researched the servers of this VPN during our test for this review and our result is sort of a mixed bag.
Countries covered
While VPN services tend to add or remove servers according to demand, the number and geographic distribution of servers are helpful indicators of the robustness of a VPN. The more the servers a provider has, the more bandwidth every user will get on every server.
The more the server locations a company has, the higher the chances of you finding a fast connection while abroad.
With that said, PureVPN boasts more than 2,000 servers in over 140 countries. In our guide to help you know which VPN to choose, it, therefore, ranks super high for its wide country coverage.
While this is some thousands fewer than NordVPN's total of more than 5,000, it is still decent.
However, most of the exotic locations (including Myanmar, Madagascar, and Papua New Guinea) are virtual servers, which may prompt security concerns for some people. To the provider's credit, nonetheless, they mark the virtual servers clearly.
But, while the majority of other VPNs keep most of their servers in Europe and North America, PureVPN doesn't neglect Latin America, Oceania, or Africa. This means that the provider does a quite good job when it comes to server distribution, for all its faults.
Bear in mind that the provider also provides servers in Russia, Turkey, and China. This is especially noteworthy as these countries have repressive internet laws. Although many VPNs have even given up on trying to bypass the Great Firewall of China especially, this one in our review still has servers specialized for it.
Servers
To PureVPN's credit, they also offer specialized servers for torrenting, so that users can enjoy the fastest and most secure connection. That apart, they also run specialized servers for the majority of popular sites. In fact, they offer designated servers to stream a range of channels, including Netflix.
However, only the US Netflix is available at the moment, as we found out during our test.
Compatible devices and simultaneous connections
Before choosing a particular VPN, it's important to ensure it works with all your devices.
Not only that, but it's also important to know the number of simultaneous connections it allows. For PureVPN, we have dug everything during our test and we have included all we found in this review.
What device can I use with PureVPN?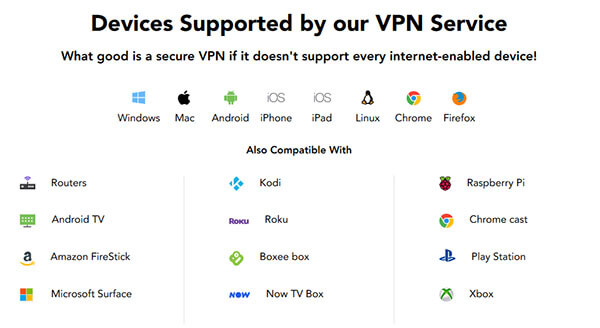 For all its faults, PureVPN supports a wide range of platforms and operating systems, which include:
Windows
Mac
iOS
Android
Chrome
Firefox
Routers
Play Station
Xbox
Android TV
Amazon FireStick
How many simultaneous connections?
This VPN was designed with the family of its users in mind as well. It's worth noting that PureVPN allows up to ten simultaneous connections, which is more than an industry standard.
You can also use it on a router to expand the number of connections, as a router counts as just a single device regardless of the number of devices you connect to it. With this, you have plenty of empty slots, so you can even protect yourself on the go.
Client support
One of the most frustrating things in life is reaching a stumbling block with your VPN and getting no assistance from the support of the company.
In order to avoid being in such a situation, ensure the VPN you choose has good client support. This is a very important part, which is why we've included it in this review.
How to contact it?
Apart from the traditional email ticket support system, PureVPN also offers a 24/7 support through a live chat option shown in the form of a pop-up on the website.
However, there are many questions users are asking over the effectiveness of both channels, so we thought it would make more sense to test the support for this review.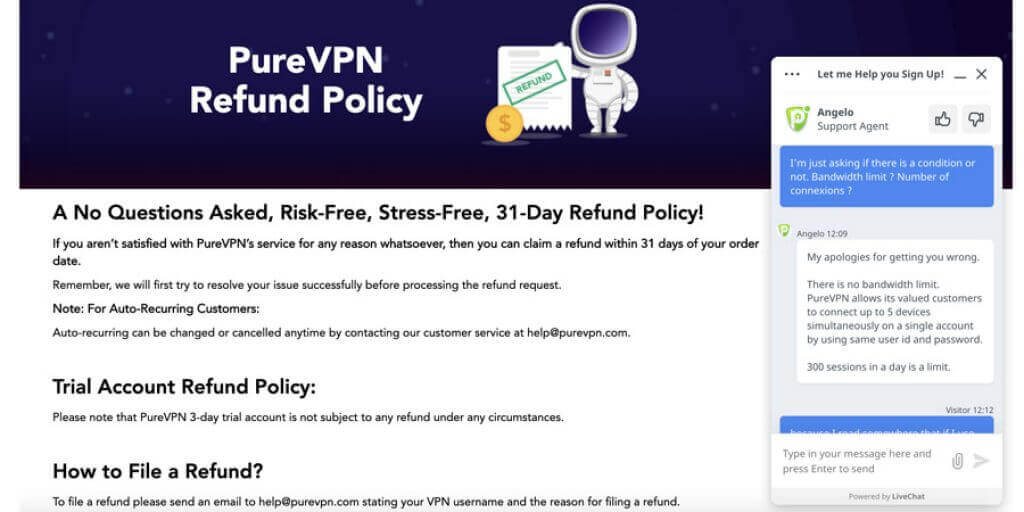 Is it good?
If you are looking for a provider with responsive customer support and a broad knowledge base, we advise you to stay away from PureVPN.
While we did chat with support staff during our test, the technical side of the exchange left much to desire. Most of the time we asked technical questions, we were referred to the FAQ section by the staff.
While the representative is rather pleasant and willing to assist, they seem to be quite incompetent as far as the technical part is concerned.
On top of that, the staff's poor level of English can also be very annoying. Of course, we know that everybody can't be a native speaker of English, but it would be better if the company could be represented by people with a better command of English.
FAQ/Tutorials
There are setup guides on the company's website which could assist you with the installation of the VPN. Perhaps, this may not be needed when setting it up on macOS or Windows. However, you will find the resources helpful when setting it up on a router.
In addition, PureVPN offers a couple of guides for bypassing the Great Firewall of China, unblocking Netflix geo-restrictions, and a lot more.
Apart from the guides, there is also a FAQ section on the website, where you can find answers to some of your questions. In fact, we also consulted this section a few times during our test for this review and we found useful answers.
Value for money
The importance of finding a VPN that offers great value for money can't be overstated.
VPN services are usually not very expensive, but still, make sure you will be getting the equivalence of your investment in values.
Price comparison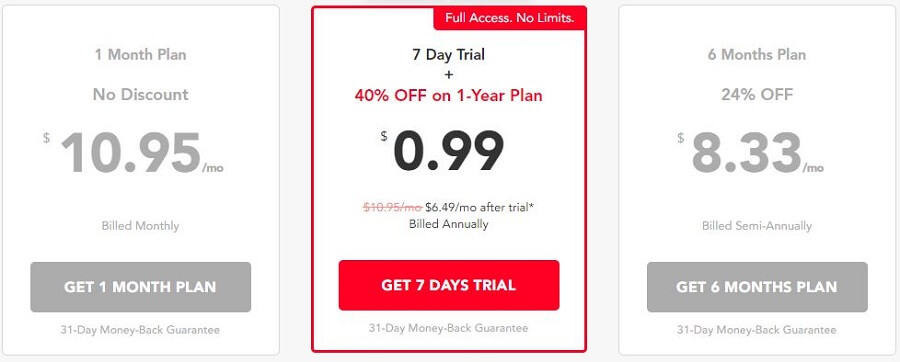 Before we dive into the pricing, we'd like to note that this provider regularly switches their pricing up. They would advertise extremely cheap prices before increasing the prices all of a sudden.
Therefore, make sure you check the website of the provider for their latest pricing as what we have listed below is only the regular pricing of the company.
1-month plan – $10.95 per month
6-month plan – $8.33 per month
1-year plan + 7-day trial – $0.99, billed $6.49 a month after trial
See how shady this one-year plan looks? They say that it's $0.99 but if you look closer, that's actually a trial. As soon as the trial expires, you need to pay $6.49 a month for an annual plan, which is a little too much.
ExpressVPN, the best provider on the market, costs $6.67 a month in the same plan. It's marginally more expensive and honestly, it would wipe the floor with PureVPN. So, why take PureVPN then?
Don't take it – simple as that!
Means of payment

PureVPN makes paying for the service very easy if you have one, or both of these payment methods:
No Bitcoin payments here or any other service to cater to customers' needs. At least, we all have a credit card (do you have it?!), so it's not a big deal. Admittedly, we'd like a bit more payment methods but hey, that's what you get here – deal with it!
Money-back guarantee

Like most other providers, PurePVN provides users with a refund policy, which allows you to test the service. In this case, it is a 31-day money-back guarantee, which is a day more than the 30 days offered by the majority of its rivals.
However, the money-back guarantee isn't without a catch. You won't be able to get a refund if you have paid with Google Play Store or Apple Store. Just be careful about this.
Any extra?
During our test for this review, we found out about some unique features built into this VPN.
Split Tunneling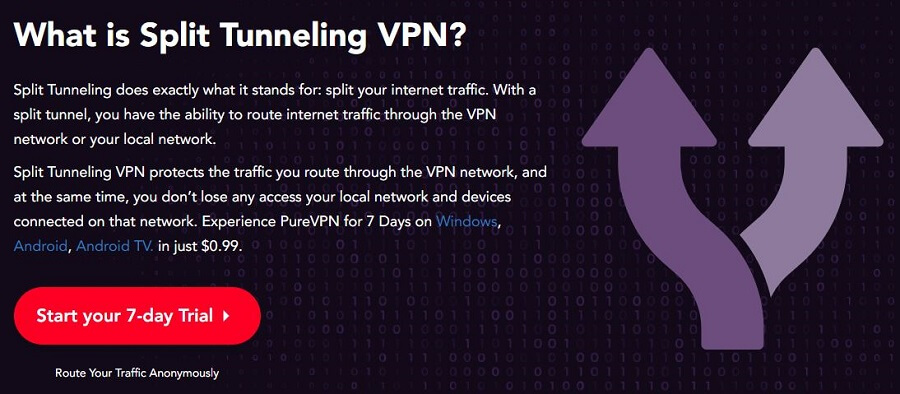 Split Tunneling is a feature that enables you to choose which activities the VPN covers and which ones it doesn't. With this feature, if you want maximum speeds without anything holding you back, you can run these activities without protecting them with a VPN.
Note that other activities that aren't selected will continue to be protected by PureVPN while you're at this.
Speed test tool
Another fantastic feature we found while compiling this review is the speed test tool. With this feature, users can easily find the most ideal servers based on their requirements and current location. The company has different lists of servers suitable for different activities so that you can get the best VPN experience.
Choose the most suitable server for your needs >
This is super important for most people as it will show you how to obtain the speediest streaming, the best privacy, the tightest security, and the most secure torrenting. Anyone using a Mac, Windows, iOS, or Android app can benefit from this tool.
Virtual Router Feature
The provider offers an exclusive feature, which literally enables you to turn your laptop or desktop computer into a router. You can then use the computer to connect as many as ten devices.
The only drawback with this feature is that only Windows supports it as the company hasn't introduced it for Mac yet.
PureVPN WiFi Security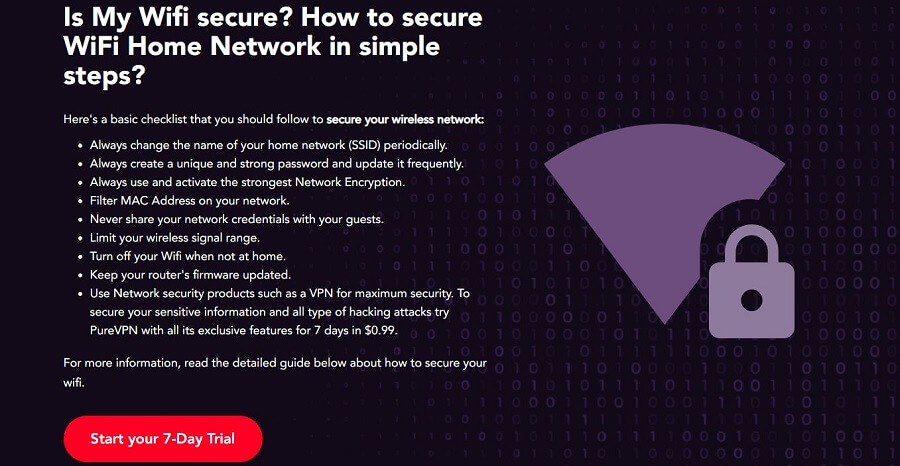 This neat feature automatically detects when you connect to an unrecognized Wi-Fi network and then turn the VPN on. This is an excellent way to ensure you never browse the net on an insecure Wi-Fi without a VPN's protection.
A lot of users have a great review of this VPN just because of this feature. In fact, we also checked it out during our test and we were impressed.
Dedicated IP addresses and port forwarding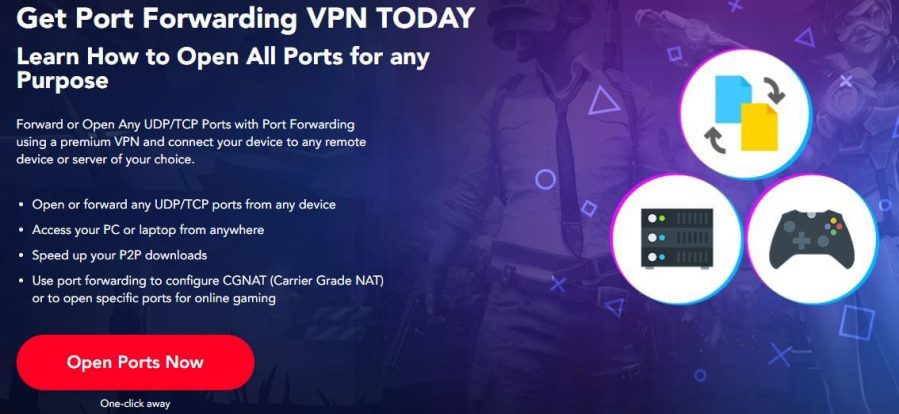 With PureVPN, you can add to your subscription dedicated IP addresses and port forwarding. While most people won't require these features, businesses, and people who tend to use a VPN with a device that wouldn't support a VPN ordinarily, it could be very useful.
Yet, these options are very expensive from our point of view. This VPN provider would then very swiftly turn very expensive and it's already not THAT cheap, like Surfshark, for example.
Final Thoughts
To be honest, privacy is often the number one reason why most people invest in VPNs. Therefore, when a VPN provider can't offer this, then the primary purpose of buying a VPN has been defeated.
Offering a wide network coverage, using a strong encryption protocol, and operating servers specifically designed to unblock the Great Firewall of China, PureVPN ordinarily seems like a decent VPN.
However, the fact that the company controversially helped the FBI to apprehend one of its users means doubts will always remain over its privacy policy.
So, do we recommend PureVPN for anyone looking for a VPN in 2023? Well, it totally depends on how important privacy is to you. If we erase what we know about it and have in mind its audited zero-logging policy, PureVPN seems like a decent option.
If not, we have a shadow of doubt looming over our heads, whether or not the provider will share our personal info with third parties. Plus, taking into account its not-so-cheap price at the moment, it's hard to recommend it over ExpressVPN, which is only a tad bit expensive.
Therefore, our conclusion is that you should NOT buy PureVPN. Not because it's extremely bad. In fact, it's solid, but not for the price. Buy ExpressVPN instead and forget about all the aforementioned issues!

Michael is a talented writer who has dedicated a lot of time into making sure that everyone around the world can use the internet securely. Being an avid traveler, he has acquired a lot of experience while using different VPNs on his travels. When it comes to doing comprehensive "how to tutorials" or testing some VPN functionalities, he's always the best pick ! He's here to help you solve your VPN-related issues.