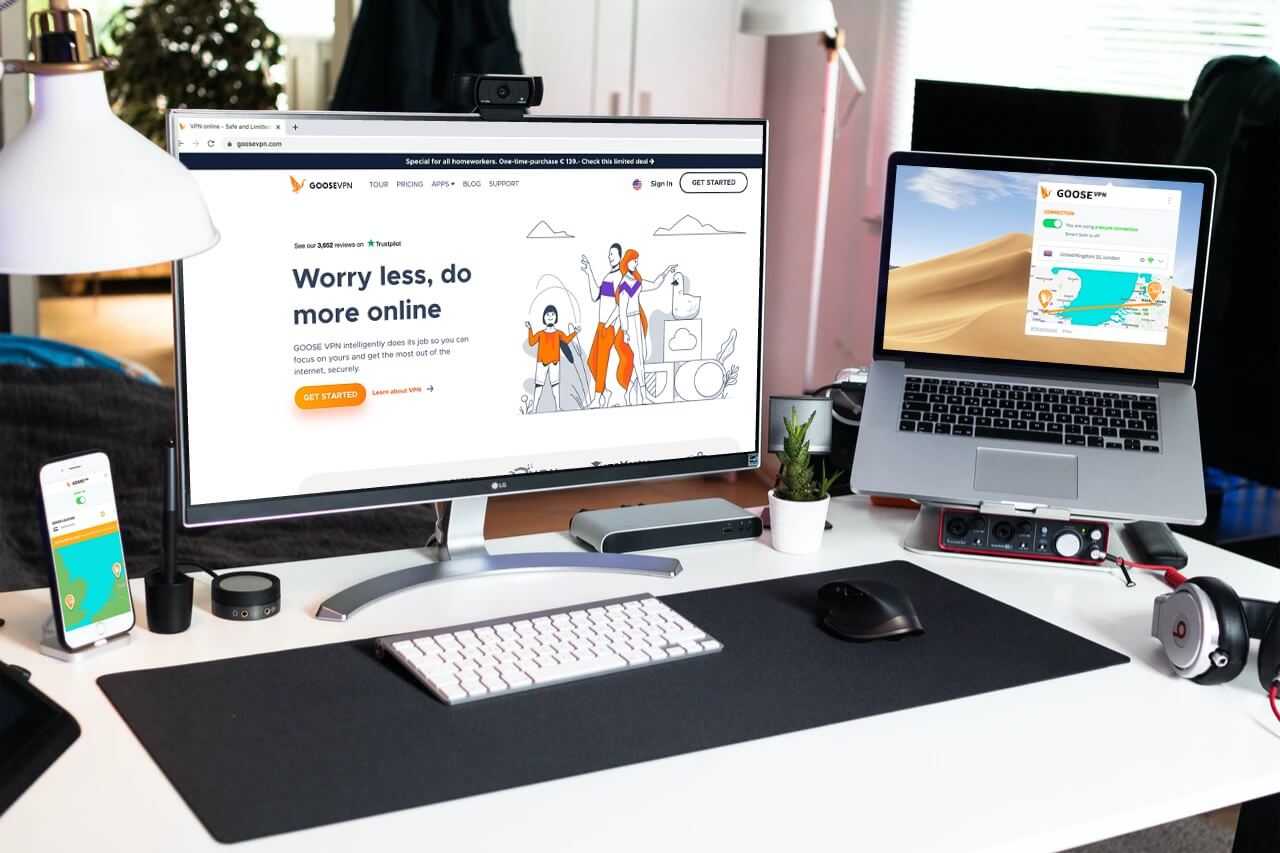 The number of online dangers has increased over the years. Thus, internet users need security more than ever. While there have always been dangers of hackers, restrictive online laws are the growing issues now. Either way, internet users are always the ones at the receiving end. That's why we've created this Goose VPN review and test.
Of course, there has been a rapid surge in the popularity of VPN services in recent years, but that shouldn't come as a surprise considering the increasing menace of censorship, restrictions, and cybercriminals.
That said, this is a new provider with some promising features. While the company was created back in 2016, it's been making waves recently in the world of Virtual Private Network.
To be honest, the provider doesn't really leave a good first impression considering its small server network. However, it promises good speeds, unlimited simultaneous connections, and most importantly, high-security levels.
But are those promises really genuine or are they just bluffs? Well, we've written this review to answer that question.
If you're wondering which VPN you should choose, we welcome you to our 2023 hands-on Goose VPN review and test. We haven't only read the opinions of other users, but we have also tested the service comprehensively.
STRENGTHS:
Solid security and encryption
Supports torrenting
Good streaming performance
Unlimited simultaneous connections
WEAKNESSES:
Slow speeds
Based in a controversial location
Small server network
Not completely zero logs
Money-back guarantee has conditions
Goose VPN ranks #21 out of 104 VPNs tested. Here are the best alternatives :
---
Is it a paid or a free VPN?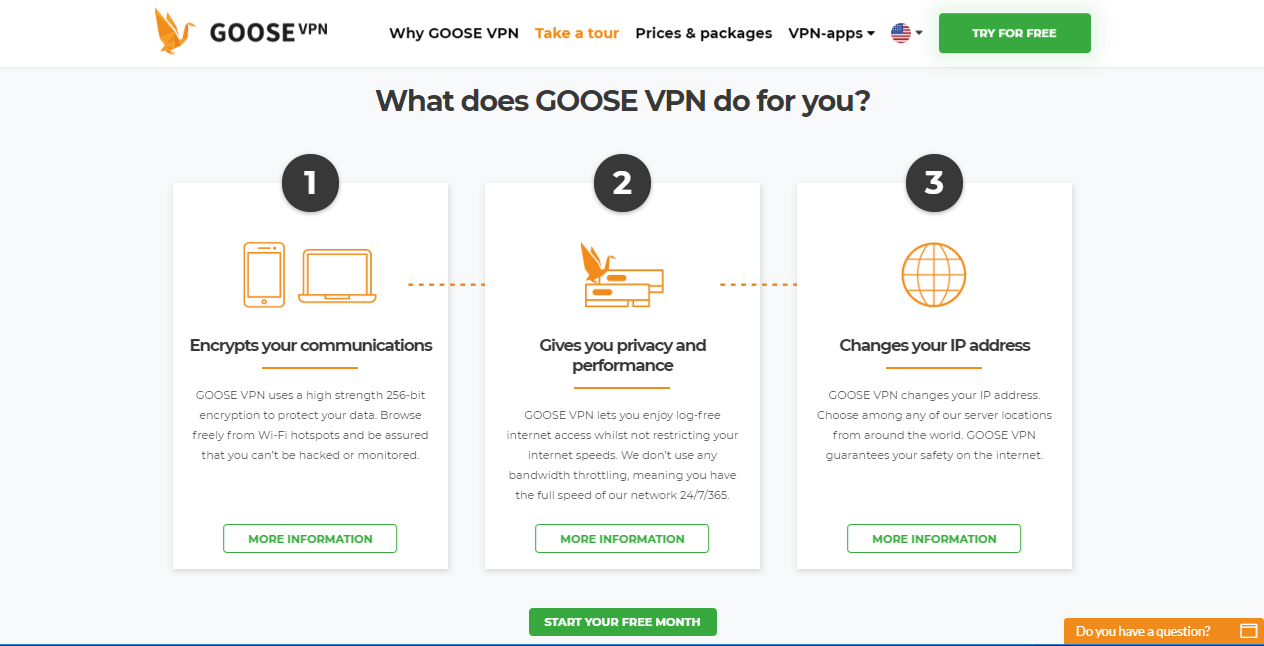 Even though it offers a 30-day free trial, Goose VPN is a paid service and an expensive one at that. However, the free trial is a full-featured service, which means it comes with no restrictions or limits.
It allows you to test out the service for 30 days but at the end of the 30 days, you will be automatically upgraded to a premium version. We will talk more about this later on in this review.
Performance
The evaluation of the performance of a provider usually depends primarily on how fast or slow it is and how stable or unstable it is. That said, we accounted for both factors in our test and review, and below are the results.
Speed
It's a mixed bag in terms of speed, as we found in while writing this Goose VPN review. While it was really fast sometimes during our test, there were times where it was extremely mediocre.
Connecting to nearly any European server gave us decent speeds sufficient for HD streaming, but the performance wasn't as promising on more distant servers.
High latencies and inconsistent uploads make it difficult for us to recommend this provider to torrenters and gamers, particularly as Peer-to-Peer sharing is only allowed on a few servers.
Being a new VPN provider though, Goose VPN offers decent speed performance. However, its speeds don't measure up to those provided by an industry leader like ExpressVPN.
Without VPN (we were located in London) :

EU Server (France) :


US Server :

Asia Server :


Stability
Despite being a new kid on the block, this provider offers stability, which is impressive. Like the top-tier providers, it also offers a 99.99 percent uptime, so it is rarely unavailable. In fact, if you find out that it's not available at any point in time, you don't need to fret as the downtime is most likely to be for maintenance.
Streaming

Of course, you are probably curious to find out whether this provider works with Netflix or not. Well, we have put it to test against some of the most popular streaming platforms in the world, and below are our results.
Netflix
We tested access to the US version of Netflix using the USA streaming server option and we were able to effortlessly stream shows without problems. However, we wanted to quench our curiosity fully, so we tried accessing US Netflix through the normal US server option.
As you might have guessed, we couldn't even access the site.
With dedicated streaming servers, there is no doubt that this provider is totally focused on making sure that users are able to access popular websites. Netflix has been waging a war on VPN providers by blocking traffic from recognized IP addresses of VPNs.
A lot of providers have struggled to bypass these blocks, with some even giving up and instead focusing on other things. Therefore, it is nice to see how the app easily lets us into Netflix during our test for this Goose VPN review.
BBC iPlayer
For BBC iPlayer, we didn't enjoy a really smooth ride. The service struggled to unblock the website, despite us connecting to UK servers. This provider has unblocked BBC iPlayer in the past, so we wouldn't be surprised if it unblocks it again in our next test.
Others?
As you already know, streaming providers are in a cat-and-mouse game with VPN providers. Therefore, the site you are able to access today may be blocked tomorrow. We experienced something like that with BBC iPlayer, of course.
However, Goose VPN gave us access to other popular streaming sites like Hulu, HBO, Amazon Prime Video, and Youtube. The streaming performance of this service is generally good.
In fact, watching UK TV anywhere in the world is a breeze with this service. Although the speeds were not quite good and we had to deal with a lot of buffering.
Security

It's always about security when it comes to VPNs, but that shouldn't be anything surprising now, should it? Security concerns were one of the primary reasons these tools got popular in the first place. With that said, we have broken down Goose VPN's security details in this part of the review.
Where is it based?
Goose VPN is based in the Netherlands. More precisely, this service is a brainchild of a company known as Goose BV, based in Dordrecht, the Netherlands. So, what does this mean for its users based in the Netherlands and in other countries?
Let's see what we've put together in the review.
First of all, it's worth noting that the Netherlands is a part of the EU since the EU's inception. So, as you probably know already, the Dutch government was one of the first European countries to implement GDPR.
This means that your personal data is protected against exploitation and illegal collection.
Of course, these laws are already active, and we have seen cases of courts protecting the privacy of Internet users in the country.
On the flip side, the Netherlands is an active member of the Nine Eyes, whose primary mission is to gather data/information on a wide scale and share intelligence among the other countries in the alliance.
Generally, that is why most people believe that companies that originate from such regions aren't ideal. Apparently, there're always some expectations and it is vital to conclude only after carrying out comprehensive research.
Log policy
The logging policy of this provider is almost as close to no-logging as you can get, as we discovered in our research for this Goose VPN review. The best part about this is that they still maintain a great level of server performance.
This service doesn't "track, collect or store any data from servers of the network", which include originating IP, your selected VPN server, and your online activity.
The only data it takes is "actual bandwidth usage per user account." It takes this so that it can keep track of accounts with data limitations and also reduce server congestion.
When we spoke to the client support during our test, they informed us that Goose VPN can keep activity logs if a government agency suspects one of their users of criminal activity.
However, they will only keep the activity logs on that particular user. While this seems reasonable, we don't really like the fact that the provider advertises itself as 100 percent no-logs when this isn't the case, clearly.
Protocols
This service employs the best protocol and encryption methods in the world, thereby guaranteeing the safety of your personal data. In terms of encryption, it uses military-grade AES-256 encryption, which is currently one of the best kinds of encryption available.
The encryption has been tested and proven to be hack-proof, which means that, if a hacker was invited, he wouldn't be able to access your data.
As for protocols, the provider utilizes OpenVPN, IKEv2, PPTP, and LTP/IPSec. IKEv2 is the standard high-speed protocol of Goose VPN and it's supported on nearly every device.
While it is a high-speed protocol that works best on more recent devices, it is blocked easily.
Meanwhile, OpenVPN is a more popular protocol that is ideal for quality and hard to block. It looks exactly like a regular HTTPS connection, making it difficult to pick out from a real HTTPS.
LTP/IPSec, on the other hand, is an average protocol with regular speeds. PPTP is the same as LTP/IPSec as well, but it has average security. It is a bit older too, making it ideal for older devices.
Protection against leaks
Goose VPN protects you against IPv4 and DNS leaks. However, it looks like it doesn't support IPv6 just yet, so we advise you to disable this protocol completely on your device.
With that, you will be able to downgrade to IPv4 without suffering any speed loss or other consequences, whilst ensuring that your data is always safe.
Torrenting
Torrenting is an important part of the Internet, despite the best effort of many authorities. So, we thought this review wouldn't be incomplete if we didn't dedicate a section to it.
Is torrenting allowed?
Yes, you can engage in torrenting with Goose VPN, but it is only available on some servers. To find out the servers on which you can engage in torrenting, open your Goose application, and click on the "country" tab.
A drop-down list will then pop up, so you just need to find servers marked for Peer-to-Peer sharing.
Don't worry – you will easily recognize them. They will have a little "P2P" icon right beside the signal strength gauge. Just bear in mind that the country you pick will affect your download speeds, so ensure you choose one that is closer to your own location.
Is there a Kill switch?

To guarantee your online privacy and safety, the provider has introduced a new feature – the Kill Switch. With this feature, your online privacy and security are completely assured at all times.
If for any reason, your VPN connection fails, Goose VPN guarantees that no data will go online without encryption.
But how does the Kill Switch manage to do this? Quite simple. Once it detects that there is an interruption in your VPN connection, it immediately cuts your Internet connection. This way, none of your data will get exposed online without being covered by a VPN, which means prying eyes won't be able to see anything.
While the feature is not turned on by default, we think that it's a feature that should always be turned on. You can easily activate it in the app menu. In fact, we didn't have any problem finding it during our test for this Goose VPN review.
Bypassing Censorship
With many countries getting stricter with internet restrictions, it's high time providers too also stepped up. Having said that, we've taken a thorough look at Goose VPN's obfuscating capabilities in this review and test.
In censored countries

Unfortunately, Goose VPN is not a reliable choice for people looking to bypass censorship policies. At least, not anymore. Because of a lack of extra obfuscating tools like TCP Port 443, it is extremely easy for the censors to sense that you are using a VPN to connect and thereby block all your attempts to connect to the web.
It also doesn't help that this provider has a very small server network, as performance will even be too slow and almost unusable if you were even able to connect. If you are looking for a provider you can rely on for bypassing the internet restrictions in China, take a look at either ExpressVPN or NordVPN.
Unfortunately, Goose VPN is not ideal for people in other high-censorship countries such as Iran, Turkey, and Saudi Arabia.
If you are intending to travel to any of these countries or you even live there, we advise you to review your choices and look for a provider that provides some sort of 'scramble' tool or stealth protocol to conceal the fact that you are using a Virtual Private Network.
In restricted networks
Social media has become an addiction in modern-day. Nowadays, you have a break, no matter how short, you are already on your Facebook, Twitter, or Instagram page.
The truth is, it is hard to ignore this addiction even at school or work, which may result in low productivity.
This is why most school authorities and employers often place restrictions on certain websites like Facebook, Twitter, and Instagram.
Thankfully, Goose VPN offers a reliable solution to bypass these restrictions and continue surfing on your social media. Just make sure you don't ever get caught.
We tried this feature during our test and it worked quite alright.
Countries and servers
The server count and geographical distribution of servers are also important factors that you need to consider in your search for the ideal provider. Therefore, we thought it was important to include this part in this Goose VPN review.
Countries covered
With only 25 countries, the server network of the provider is very small. While they have servers in the most popular places, we advise you to check the list of servers to ensure that they cover the locations you desire.
If they are not, you could review your options and consider providers like ExpressVPN and NordVPN or even CyberGhost.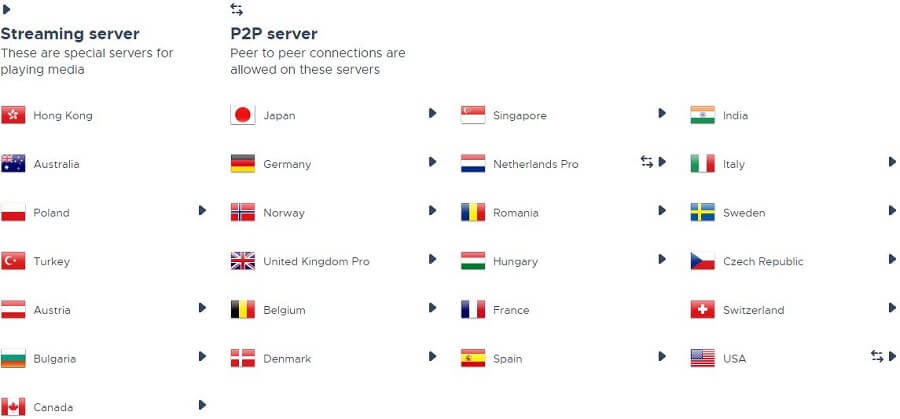 It didn't come as a surprise that Goose VPN does not offer a large number of individual IPs, with only 100+ servers making up the whole network. Of course, this is nothing compared to NordVPN's 5,000+ servers.
And apparently, this could cause server congestion and consequently reduced performance at peak times, particularly on the specialized streaming/P2P servers.
Impressively, the service has servers in six different cities in the United States, despite its relatively small size. In addition to that, you'll have some servers in Canada and the United Kingdom.
They also provide city-level servers in countries like the Netherlands, France, and Germany.
Even though they offer only one server in Africa,  we like that they cover the continent. There is a pretty decent spread everywhere else, which includes locations like India, Israel, Singapore, and Chile.
Servers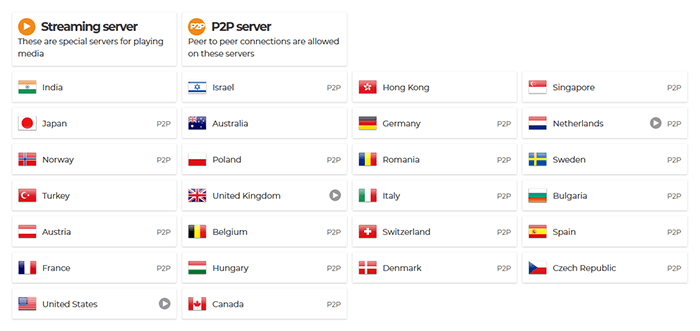 In terms of specialized servers, Goose VPN offers plenty. With the provider providing dedicated servers for some activities like streaming and torrenting, it's little surprise that it performs quite decently at both streaming and torrenting.
While there are not many servers available for Peer-to-Peer sharing, you should still be able to find a match. We had such a good torrenting experience with this service during our test and it's a great choice for torrenting.
Compatible devices and simultaneous connections
What shall it profit a man to buy a service just to find out that it's not compatible with his device? It makes no sense whatsoever. That's why we have discussed the device compatibility of this provider in this part of the Goose VPN review.
What device can I use with my protection?

Goose VPN offers a regular range of custom clients for popular platforms, including:
Mac
iOS
Microsoft Windows
Android
Routers
Linux
Android TV
On the company's official website, there are instructions for manual setup on devices like Kodi and Linux. The instructions are easy to follow and feature tons of useful screenshots so you'd start on a soft note, as we did during our test.
Furthermore, you can configure your router manually to support the software, but not every router is compatible yet – visit the official website of the provider to find the complete list of routers that are compatible.
One vital advantage of manually configuring your router is that it will allow you to protect all the devices on your network without downloading individual clients for everyone.
How many simultaneous connections?
In an unusual fashion, there is no device limit with this Dutch provider. If you happen to have about 5, 10, 15, or more devices you want to simultaneous connect, you can easily do it.
However, this does not mean the whole family can be downloading simultaneously – your account is only for a single person. But we are still glad to see them ditch this restriction.
Client support
VPNs can be a little overwhelming, particularly if you are a beginner. That's why you will need reliable customer support. Having said that, here is how this provider can help you in case of any technical troubles or questions.
How to contact it?
Finally, Goose has got up to speed with its competitors and now provides 24/7 live chat support, which we enjoyed using during our test. Replies were extremely helpful and snappy without feeling scripted, and our problems were solved in minutes.
Unfortunately, their support over email leaves a lot to be desired, with the agent telling us to attempt connecting again. While there is a contact phone number on their client support page, Goose VPN advises that they do not offer phone support.
This begs the question – why did they provide the number if they don't offer phone support?
There is also a contact form you can fill in on the site, but we just found the live chat option a lot faster and easier to use.
Is it good?
Goose VPN promises "timely high-quality support", and they deliver on their promise.
While the client support may still be some way behind the support of an established company like ExpressVPN, it was really helpful while compiling this review of Goose VPN. Not only were the responses fast, but they were also detailed as well.
We even got prompt solutions to our technical issues during our test.
FAQ/tutorials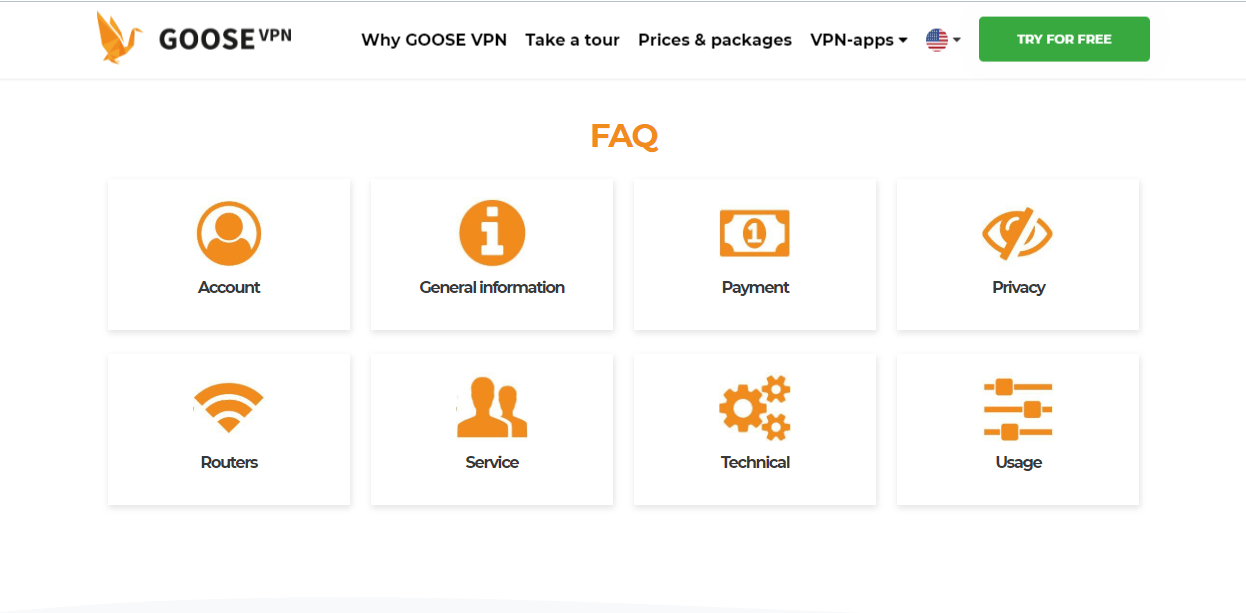 The provider has a knowledge base on its official website. However, while the knowledge base is equipped enough for simple FAQs, it is generally extremely limited.
But it's great to see that they've introduced some video tutorials recently.
The layout of the client support section also leaves a lot to be desired, as you're forced to click through to a particular page for each FAQ rather than accessing all of them in a drop-down menu.
Value for money
One of the questions often on the minds of buyers is – does it offer enough value for money. To help you answer that question, we've detailed the pricing of this service in this Goose VPN review.
Price comparison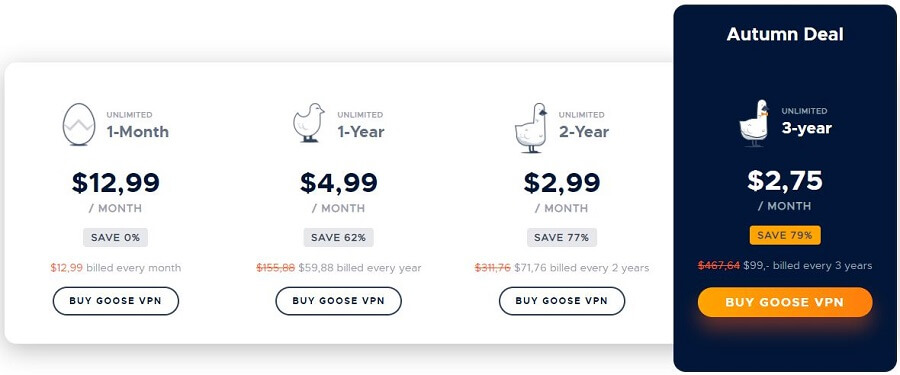 This provider offers four different plans from which users can choose. Below are the details:
1 Month Plan – $12.99
1-Year Plan – $4.99/month (Billed $59.88 every year)
2-Year Plan – $2.99/month (Billed $71.66 every 2 years)
3 -Year Plan – $2.75/month (Billed $99 every 3 years)
The first plan offered by Goose VPN is the monthly plan, which costs $12.99 per month. This means you might need to review your choices if you need a VPN only for a month. ExpressVPN, for example, costs $12.95 a month, which is a tad cheaper, but the service quality is much higher.
To enjoy lower prices and discounts, you may opt for their one-year plan or three-year plan. The one-year plan costs $59.88 per year, which equals $4.99 per month only.
Meanwhile, the three-year plan costs $99 every 3 years, which equals to $2.75 every month. Note that all four plans come with unlimited bandwidth usage.
Means of payment
The Dutch provider offers the payment options below:
Major credit cards (Visa, MasterCard, etc.)
PayPal
MINT (prepaid card system) – annual subscriptions only
iDeal
While Goose VPN offers a couple of other payment options, locating them is a bit tricky. In the past, the provider used to support Bitcoin payments for annual plans. This method of payment appears to have been deleted now. In this case, your best option for anonymity is MINT.
However, it is not as anonymous as cryptocurrency options.
Money-back guarantee

Goose VPN provides both a 30-day money-back guarantee and a 30-day free trial for you to test the service. While the free trial on offer is a full-featured service, you need to provide your payment details before signing up.
This means that you will be upgraded to the premium version automatically after 30 days unless you cancel before the trial period ends.
On the other hand, while the money-back guarantee is said to be "no questions asked", we found out that this is not the case during our test for this review. It comes with a very stingy 100 MB bandwidth data cap.
This means that you will easily exceed the limit and won't be eligible for a refund.
Thankfully, it states in the Policy that refunds will be issued to users experiencing 'ongoing unresolved technical problems', regardless of the amount of bandwidth they have used.
It is, however, not the sort of risk-free guarantee that top-tier providers like ExpressVPN and CyberGhost offer.
Any extra?
While Goose VPN doesn't offer many extra features, that's not to say they don't offer any extra features.
Supports Tor Browser
Goose VPN takes online security to the next level as the provider wants the data and identity of their customers to stay hidden at all times.
That's why the provider provides a Tor Browser that serves as an extra security shield. It anonymizes web traffic by routing your signals from many points, which makes your traffic secure.
We liked using this feature during our test and review.
Final Thoughts
The provider is average at best, and a long mile behind the industry leaders. While we found some positive takeaways from our test and review of Goose VPN, the general results just point to one thing – this service is not yet ready to compete against the big boys.
Sadly, it might never just measure up.
While it's good streaming performance, solid encryption, and good client support are impressive, the fact that it's based in the Netherlands will always be a huge concern for users.
Besides, it has a small server network, which makes it not suitable for people who're always traveling around the world. That is why we advise you to opt for ExpressVPN instead.
Opt for the best VPN of the moment: ExpressVPN
Goose VPN Review and Test
Goose VPN has significant assets, that's for sure. However, we still find it very tender concerning, among other things, its number of servers, countries covered or its ability to circumvent censorship in some countries.
Add your review
|
Read reviews and comments

Michael is a talented writer who has dedicated a lot of time into making sure that everyone around the world can use the internet securely. Being an avid traveler, he has acquired a lot of experience while using different VPNs on his travels. When it comes to doing comprehensive "how to tutorials" or testing some VPN functionalities, he's always the best pick ! He's here to help you solve your VPN-related issues.