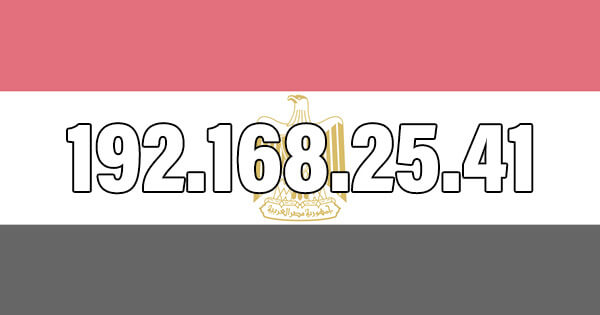 If you're often traveling abroad, it will come in handy to have an Egyptian IP address. This address will help you gain access to local content from abroad, use your online bank account, or watch live local TV from anywhere in the world. In this guide, we'll see how to get an Egyptian IP address easily in order to enjoy all of its benefits.
How to use a VPN to get an Egyptian IP address?
A VPN is a very useful service that comes with multiple benefits. One of the benefits is the ability to bypass geo-restrictions. Essentially, it allows you to connect to a server in another country, after which you get an IP from that country.
Now, if you need an IP from Egypt, getting it is possible. That way, the sites you visit will "think" that you're from Egypt, letting you access the content tailored to that country. While doing so, a VPN will encrypt your connection using military-grade encryption.
As a result, you'll be anonymous online, away from ISP and government surveillance, for maximum privacy.
Easy steps to use a VPN app to change your IP address:
Whether you use a VPN on Mac, Windows, or Android, getting a foreign IP address is a child's play. Here's our simple step-by-step guide on how to accomplish it:
Choose a provider that has servers in Egypt. We recommend ExpressVPN due to its outstanding performance and speeds.
Subscribe and download the app on the device of your choice.
Open the app and sign in with the credentials provided upon registration.
Connect to a server in Egypt.
With everything in place, you can now open your browser and enjoy browsing the web as an Egyptian resident.
Why it helps to have an Egyptian IP address?
Getting a new IP address is always helpful if you want to expand your online capabilities. An IP from this country comes with the following benefits:
Watch live Egyptian TV
Traveling abroad often means missing out on your favorite shows and movies back at home. Channels like CTV, CBC, Aghapy, and Al Ahly won't be available abroad, but with a VPN, this problem can easily be bypassed.
Once you get an Egyptian IP, you can watch all of them from abroad, regardless of your location. The same will apply to the users living in this country, as they can unblock Netflix US, Hulu, BBC iPlayer, Hotstar, and many other geo-restricted websites.
Safely access online banking
Online banking can sometimes get very tricky, especially if you access your bank account from a different country. Banks will restrict your access based on your location, similarly to what Hulu and BBC iPlayer would do.
For security purposes, the bank might lock you out of your account and deem you a fraud, even if you aren't. The silver lining is that a VPN will help you avoid this issue. Simply get an IP from Egypt and connect to your bank account from anywhere.
The best VPN to get an Egyptian IP address
You'll agree that the VPN market is a cesspool of providers that sometimes aren't worth your time. In other words, not every provider will provide enough security and performance for your needs.
We recommend avoiding free proxies and free VPNs that often come with limits, both in terms of bandwidth and security. Instead, our recommended choice is ExpressVPN.
Our top recommended VPN for Egypt: ExpressVPN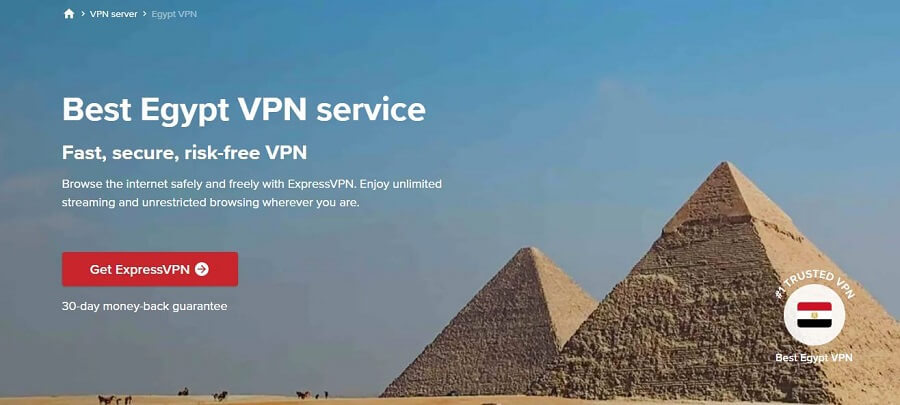 ExpressVPN is the best choice for getting an Egyptian IP safely. It comes with 3,000+ servers in 94 countries, some of which are in this country. The servers are plenty fast, offering top-notch performance regardless of your location and internet speed.
Egyptian users will like that it comes with 256-bit encryption as a means of security. This encryption is coupled with an automatic kill switch that will effectively prevent any accidental IP or DNS leaks.
If bypassing geo-restrictions is what you want, ExpressVPN will fulfill your needs. It can unblock TV channels from this country, as well as platforms like Netflix, Disney+, DAZN, HBO GO, and BBC iPlayer.
Since it's from the BVI, its zero-logging policy is one of the best on the market. ExpressVPN won't store any logs, hence it'll keep your privacy intact. Lastly, there's a 49% discount and 3 months free for an annual plan, should you decide to get it.
And if you don't like it, you'll be able to take advantage of its 30-day money-back guarantee. That probably won't happen, but hey – it's good to know!
Get an Egyptian IP Address With ExpressVPN >
Summary
Now that you know how to get an Egyptian IP, accessing local TV channels or online banking will be a breeze. Make sure that you go for our recommended option, though, because we tested it numerous times and can confirm its overwhelming quality.
ExpressVPN's discount makes it much cheaper than it actually is, so it's more affordable than ever. With its strong security and blazing-fast speeds, this is, without a doubt, the best VPN you can get.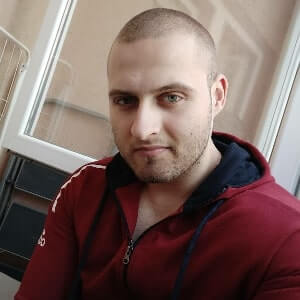 A professional writer with a Master's degree in Mechanical Engineering. Since his youngest age, he loves everything related to internet, technology, fitness, games, and dogs! He joined our team in order to bring his deep knowledge in security services, among which VPN is of course a key component.