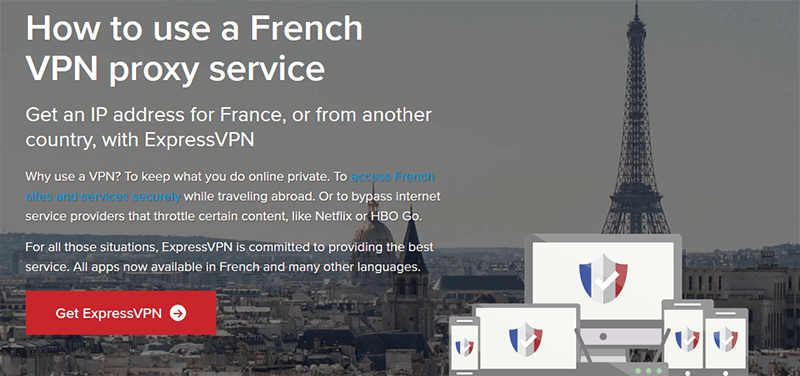 Whether you want to watch Netflix France or to access your Crédit Agricole account from abroad, a VPN can help. It is the easiest, safest, and most convenient way to get a French IP address. This will, in turn, allow you to bypass geo-restrictions. In this article, we'll show you how to obtain an IP from France and even recommend VPN providers worth checking out.
How to Use a VPN to Get a French IP Address?
If you are a resident of France traveling or vacationing abroad, you might find it difficult to access certain sites outside the country. These include bank accounts, home-based shopping platforms, localized websites, and even TV channels.
These sites use IP addresses to detect a person's location. Once you are outside the country, your IP changes, and therefore, you can't access French sites and content.
Fortunately, there is a way to have an IP address from France even when you are overseas. You can do this simply by connecting to a Virtual Private Network app with servers inside the country.
When you connect to the app, it channels your traffic to servers in France. This is a way of getting past blocked sites, so you can visit any platform and it will seem as though you are browsing from inside the country.
Indeed, you would be able to access French geo-blocked sites while you are in the US, UK, Australia, Canada, or any country in the world.
In addition to this, the app helps to encrypt your online activities. Once you are connected, you can surf the internet privately even when you are visiting your favorite betting or adult sites.
Easy Steps to Change Your IP address
Follow these simple steps to obtain a French IP address:
Install the VPN app on your computer, tablet, smartphone, or any preferred device (on our side, we really like ExpressVPN).
Use your login credentials to access the app.
Select French servers from the list of available servers and connect.
Try browsing a geo-blocked site such as Netflix France. The site should be able to load with no restrictions!
As you can see, these steps are quite straightforward. However, if you need help setting up your VPN, check our complete guide for additional information.
Why Does It Help to Have a French IP Address?
Changing your virtual location to appear as if you are in France comes with several benefits. Let's have a look at these in detail:
Watch French TV abroad
Are you looking to watch the French Netflix catalog abroad? Getting an IP address from the country can help.
A top-quality Virtual Private Network will also help you change your location and let you stream your favorite shows on Canal+, Eurosport, France TV, and TF1.
Log in to your bank account
Accessing your bank account from outside the country might trigger a fraud warning. Sometimes, your bank may even freeze your account but that's only because of security purposes.
Fortunately, using a VPN to change your location can give you easy access to your Société Générale, Crédit Agricole, and any other French bank account. Your bank will not even notice that you are accessing the account from abroad.
Access French search engines and sites
When you get a French IP address, you can gain unlimited access to local sites, including shopping platforms, social media, and utility sites.
Also, you can surf using French-based search engines. This is especially helpful if you want to conduct localized marketing research or boost your language learning skills.
The Best VPN With Servers in France
You will come across so many Virtual Private Network providers. However, not all of them will consistently encrypt your traffic and hide your real IP address.
Free services might claim to get the job done. But, in reality, these services have weak security protocols and there is a real risk of having your traffic exposed to prying eyes.
We recommend using a premium provider with a solid track record of protecting users' security and privacy. Our favorite VPN for France is ExpressVPN and for good reason.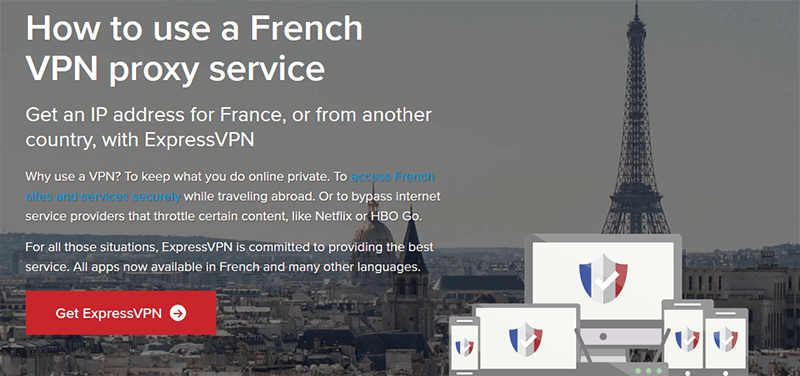 For one, it offers excellent security features to keep your traffic entirely anonymous. These include military-grade encryption, automatic kill switch, and IP leak protection.
Also, it keeps no logs of your online activities. This way, you can log into your Netflix or bank account from abroad completely anonymously.
Currently, the provider has over 3,000 ultra-fast servers with tons of them in France. It is a crowd-favorite for streaming geo-restricted content and uninterrupted browsing of popular French sites.
Best of all, you can try ExpressVPN risk-free thanks to its no-questions-asked 30-day money-back guarantee. What's more, when you sign up for the 12-month plan, you qualify for a 49% discount and 3 months free. So what are you waiting for?
Summary
If you wish to get a French IP address, all you need is a Virtual Private Network. A good one will let you stream Netflix, Canal, Ligue 1, and all your favorite shows from abroad.
It will also help you get around any geo-blocks imposed by your French-based bank account.
Not all providers are the same though. For complete anonymity and online safety, we recommend going with ExpressVPN. Its security features are unmatched and its super-fast servers based in the country make it an ideal choice for anonymous and buffering-free streaming.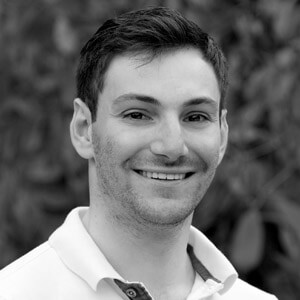 Flo is the founder of the-bestvpn.com. Really concerned about security on internet, he decided to create this website in order to help everyone find the best VPN. He's got a Business School background and now is 100% dedicated to keeping his website alive.