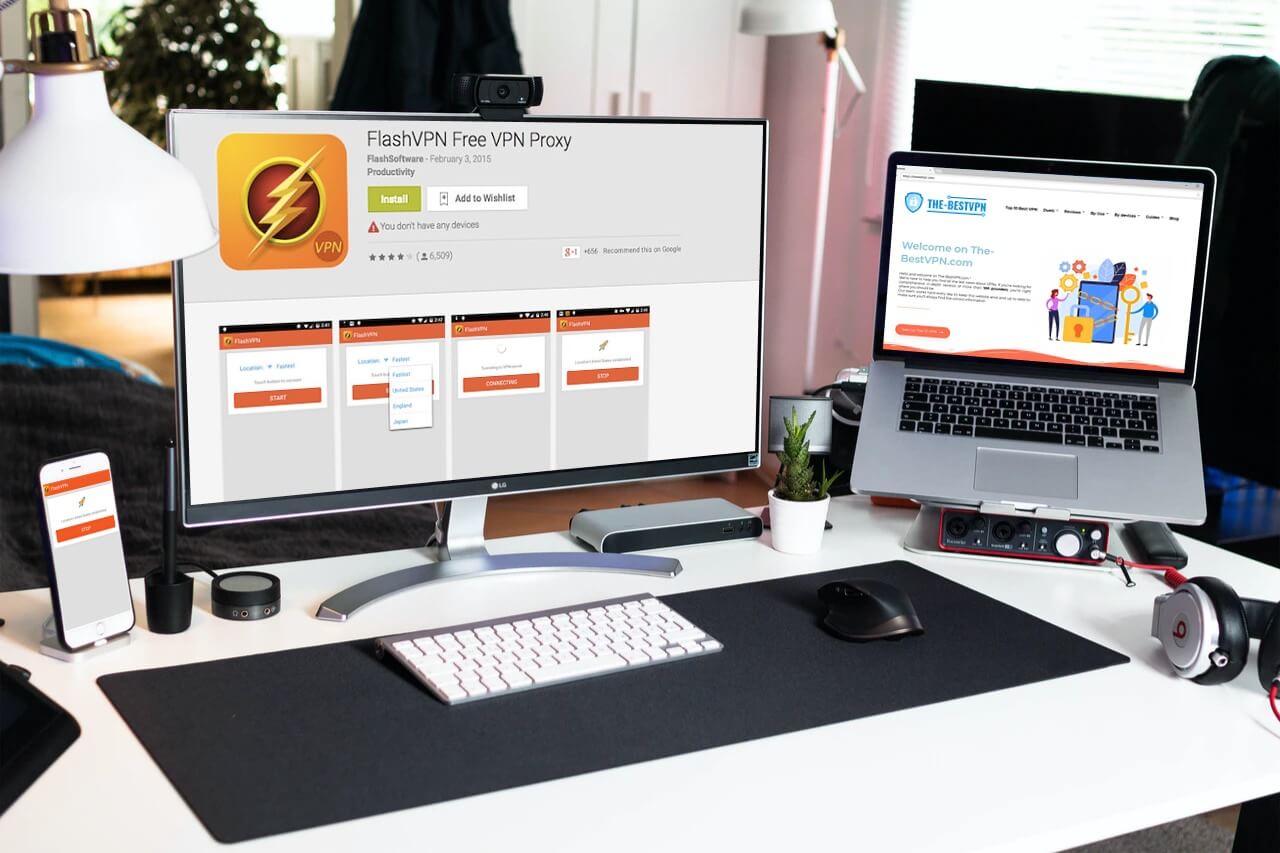 While there are lots of Android-specialized VPNs, not many can ensure the service that you might be looking for. A good VPN should be highlighted by a no-log privacy policy, the ability to bypass common geo-restrictions, and reliable customer service. Considering these factors, we strive to be as objective as possible when discussing the value of the VPNs that are offered on the market. For this review and test, we will be going through the main elements of FlashVPN to see whether it meets the industry standards or not.
At first glance, it looks like this provider has good potential, considering the claims that it is completely free and anonymous. Additionally, looking at the description of the app, we find that it is quite easy to navigate.
Also, it doesn't require rooting to ensure robust security features. Whether any of this is true is something that we are looking to find out with our review for FlashVPN. Hop on to the discussion and review train and let's get right to it!
STRENGTHS:
User-friendly
Unblocks Netflix
WEAKNESSES:
Limited server park
Unreliable connectivity
Sketchy log policy
Chinese jurisdiction
Slow speeds
Limited torrenting
Unreliable customer service
---
FlashVPN ranks #101 out of 104 VPNs tested. Here are the best alternatives :
Is It a Paid or Free VPN?
The idea of our review articles is that we help you compare and choose your VPN here to keep you safe online. Among the different factors that influence the overall value of a certain provider is whether you will be paying for the service or not.
Maybe the biggest stronghold of this VPN is the fact that it is completely free of charge. As FlashVPN claims, they offer just a free plan. Some of its competitors offer a free plan that is quite limited, and you get the real deal once you subscribe to the Premium option.
Still, while the fact that you will not have to pay anything is quite cool, it does come with a few cons. First and foremost, the server park is extremely limited, with only 8 different locations allowed.
Additionally, you can't be sure whether they are selling your browsing data or not.
Looking at their privacy policy, the doubts for this are highly justified. Thus, if you were hoping to enjoy a 100% safe and secure browsing experience, then you might be better off elsewhere.
We suggest TunnelBear as a superb free VPN alternative that offers hundreds of servers and comprehensive service.
Performance
This section of the review is meant to give you a realistic verdict on whether FlashVPN can allow fast performance or not. No one says that a VPN or a proxy server is supposed to speed up your connection, but it shouldn't completely hinder it, either.
If you have read a couple of our reviews and tests, you know that there are examples of providers that still offer fast and reliable connection. The best example is ExpressVPN.
Unfortunately, FlashVPN is nowhere close to ExpressVPN in terms of overall performance.
Speed
We did our best to stay as objective as we possibly could. Unfortunately, the speed test results that we got didn't allow us to praise this service.
Firstly, we connected to the UK server, as it was the closest to our primary location. As expected, the ping was quite low and set at 32 ms.
Still, that was the only truly positive thing. The speed that we got was nowhere close to impressive, considering that the drop in both download and upload was more than 60%.
Almost the same happened while we were using the server in France, though the ping was a bit higher and set at 50 ms.
We were quite skeptical when testing the server that this provider has in the US. It seems that our low expectations were justified.
Firstly, the ping was incredibly high, and, at 150 ms, the connection was almost unusable. Additionally, the download speed went from 235 Mbps to 40 Mbps, while the upload went from 211 Mbps to 20 Mbps.
This reminded us of the review that we did of Hot VPN. Things went from not promising to bad, as we connected to the Singapore server, which was almost unusable.
Why do we say this? Well, the incredibly high ping was set at 300 ms, the same that we got when logged to Japan. The speed decrease in both locations was around 90%.
Without VPN (we were located in London) :

EU Server :


US Server :

Asian Server :

Thus, if you were hoping to watch your favorite show in HD resolution or play your favorite MOBA game, you will have to search elsewhere.
Stability
Speed is not always our major concern. We had significant issues with the stability of the connection in general. Thus, we experienced random redirection to other servers.
This is not something that you want out of a VPN.
Not only that, but during our sessions with the US, Japan, and Singapore servers, we were timed out multiple times. This carries a huge risk of your true location being revealed to the ISP operator.
Imagine that you are performing P2P transfers and suddenly the server crashes. You will be exposed not only to DMCA sanctions but also to hackers and third parties that are looking to steal your info.
Streaming
The restrictions most streaming sites have been imposing since 2016 have been quite hard on providers. Thus, it is not easy to find a VPN that can unblock streaming content without any issue. NordVPN is a good choice if this is the main thing you are looking for out of a VPN service.
Netflix
The overall performance results were quite dramatic, so we had low to zero expectations that FlashVPN would be able to access Netflix catalogs.
To our great surprise, we were wrong. From what it seems, this provider can access the streaming content in the US, the UK, France, and even Singapore.
At first, it seems like this is a great advantage and a potential deal-breaker for people who enjoy watching their favorite TV shows around the world.
Unfortunately, you shouldn't rush with your subscription decision, as the bad reliability and slow speeds of the aforementioned servers mess this ability up.
Other streaming services
Much like with Netflix, FlashVPN was able to give access to the content that is offered by Hulu, Amazon Prime, and BBC iPlayer.
Additionally, some free TV channels will enable you to watch Moto GP without paying for anything.
Still, much like as we have mentioned above, it all depends on how strong your primary internet connection is.
Security
What good is a flawless ability to unblock streaming content if your data and IP address will be revealed? This is why the security aspect is so important.
We did our best to review the features and privacy policy that FlashVPN is highlighted by. However, this provider is not as transparent when it comes to security matters.
Where is it based?
Googling its headquarters location, we managed to find that this provider is set in Hong Kong. That is a good thing, right? From one perspective it surely is.
It is not a part of the 5/9/14 Eyes alliance. This means that this provider is not obliged to hand over your browsing data and private info to any of those authorities.
On the other hand, due to strict Chinese regulations about VPNs, chances are that the local government may have a hand in this matter already.
Log policy
Unfortunately, it seems that FlashVPN does store some logs. They don't keep all info on your browsing data, and your downloaded files aren't tracked.
However, payment history, email address, and your primary location are a part of their sketchy log policy. Thus, if you were hoping to enjoy secure and safe anonymous browsing you may need to search elsewhere.
Our personal recommendation is NordVPN which is not only superb in terms of the no-log policy but also because it adheres to Finnish jurisdiction.
Protocols
As we have mentioned above, FlashVPN simply is not transparent enough when it comes to security matters.
That is why we had no luck finding out whether they use 128-bit AES, 256-bit AES, or some other form of encryption. Additionally, there is no info on the used tunneling protocols, either.
Leak protection
If nothing else, this provider does include a kill switch that should keep your true location from being revealed to the operator.
Additionally, there is a thing called a shared IP address. This should make it even harder for hackers and third parties to access your browsing history.
We tested the leak protection on a couple of websites, and this service passed it with flying colors.
Torrenting
Because it offers fair protection from WebRTC and DNS leaks, you might say that it is adequate for torrenting. Unfortunately, you would be quite wrong.
We tested this and found the servers to be completely unreliable for this purpose.
As a great alternative, we recommend ExpressVPN and CyberGhost. These leading names offer thousands of reliable servers that will allow you to enjoy BitTorrenting without the risk of DMCA sanctions.
Bypass Censorship
Given its limited server park, it would be wrong to expect that FlashVPN is the best at unblocking censored content around the world.
First, you shouldn't expect it to work in countries like Saudi Arabia, China, and Russia – all known for strict internet regulations.
On the other hand, it can unblock most legal gambling sites in the server locations that it offers.
Additionally, if you were hoping to buy cheap flight tickets, you can connect to a server that is at your wanted destination and get great offers.
Countries and Servers
Did you know that there are more than 1 billion people in India and many of them use a VPN? So, having access to an Indian server or two is vital.
Unfortunately, FlashVPN doesn't cover this country.
From what we were able to find, they claim to offer 8 servers in 8 countries. However, we couldn't find one missing country.
We subscribed to the servers in Germany, France, the UK, the US, Canada, Japan, and Singapore.
Keep in mind that, when compared to CyberGhost and its 6,000+ servers, 8 servers is really low. Upgrading their server park would be a good start to become competitive in the relevant market once again.
Devices and Connections
FlashVPN is another free service that is simply not able to fulfill the industry standards when it comes to overall compatibility. Here is why.
Supported devices
First, the only operating system that it supports is Android. What this means is that if you are an iOS, macOS, Windows, or Linux user, you will need to find another free VPN that will work. Windscribe is a good alternative.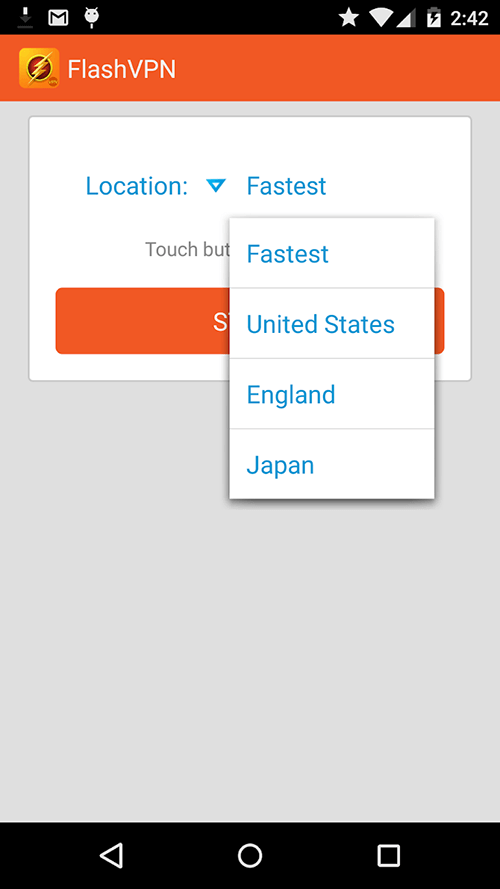 Simultaneous connections
Not only this, but this provider seriously lacks in overall usability, as well. This is because it offers no more than a single device to be connected at the same time.
Customer Service
Rarely do you find a free Android VPN that has proper customer service. This was the case with this provider, as well.
Frankly, there is not a single reliable form of contact.
It lacks a live chat feature, and the knowledge base includes no answers that can help you with relevant issues.
From what it seems, the only option is feedback email inquiry. We tried it and, to this day, we are awaiting a response.
Value for the Money
The fact that FlashVPN is completely free of charge means that you will not have to worry about price comparison or different payment methods.
Final Thoughts
Would we recommend FlashVPN? Absolutely not.
Among the many review articles that we have done, this is the first one where we can't find a single positive point. Yes, it unblocks Netflix, but the servers are completely unreliable for you to watch a show.
That is why we suggest that you consider ExpressVPN and CyberGhost as great alternatives that will allow a stress-free VPN experience!
Bearing this in mind, wasting your time on this VPN would be a huge mistake and we do not recommend this virtual private network provider at all.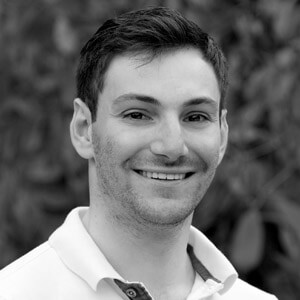 Flo is the founder of the-bestvpn.com. Really concerned about security on internet, he decided to create this website in order to help everyone find the best VPN. He's got a Business School background and now is 100% dedicated to keeping his website alive.