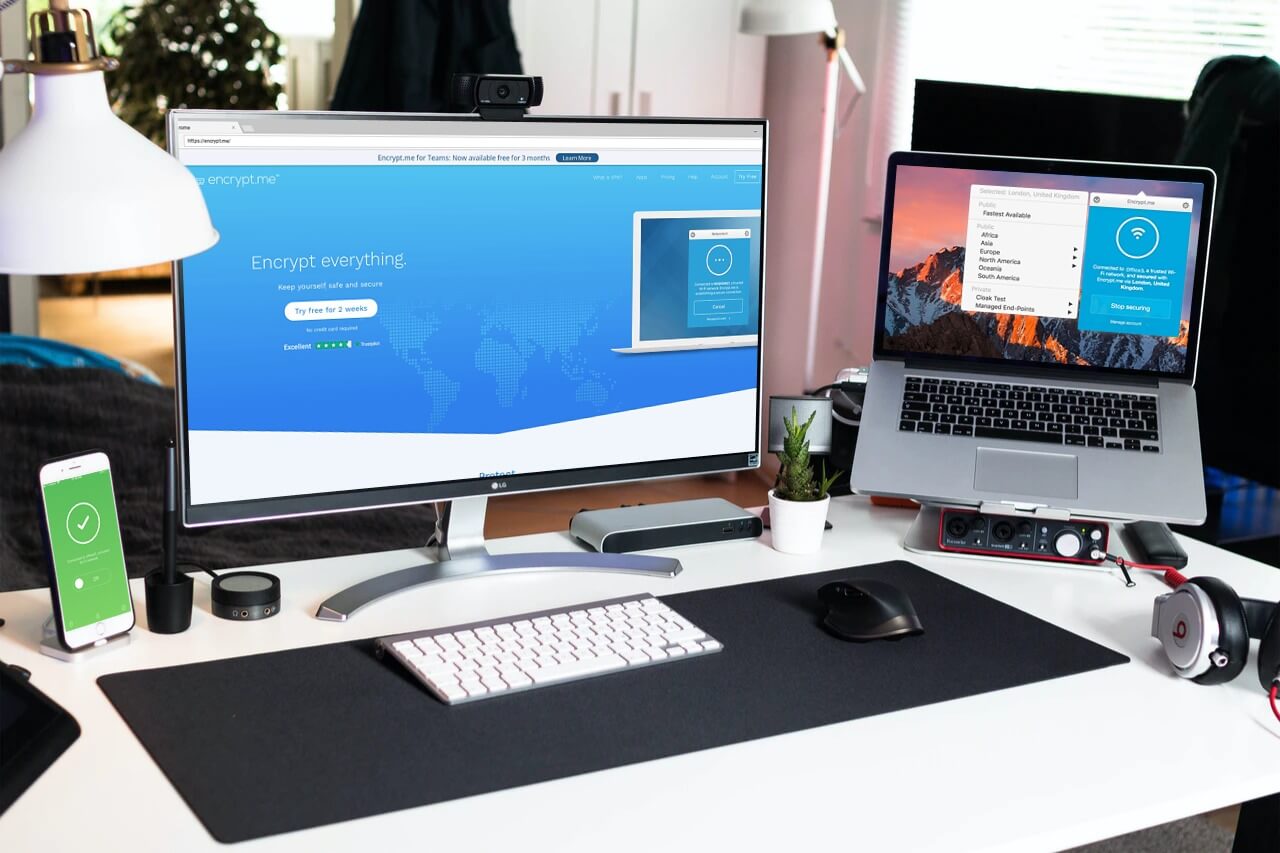 It is not uncommon for a VPN service to be a part of a larger security enterprise. A perfect example is Encrypt.me, which was founded in 2011 by its parent company, SlackPath. It just recently changed its name, as before, it was known as Cloak VPN. The main question is whether this VPN can actually protect you from internet threats and give you anonymous browsing or not. Considering that it is nowhere near as big as some of the leading names, including NordVPN and CyberGhost, we were quite skeptical. Still, we didn't want to draw any conclusions before doing a thorough review.
To determine whether it is worth your time and money, we performed a series of tests to determine overall performance and reliability. Additionally, we did our best to highlight both the advantages and potential disadvantages of using this service.
What are you waiting for? Check out our review for Encrypt.me VPN and get closer to making an educated decision!
STRENGTHS:
Good leak protection
Unblocks Netflix
Allows torrenting
WEAKNESSES:
Sketchy log policy
Five Eyes jurisdiction
Slow servers
Unreliable connectivity
Limited number of servers
Unreliable customer service
Pricey compared to other VPNs
---
Encrypt.me VPN ranks #56 out of 104 VPNs tested. Here are the best alternatives :
Is It a Paid or Free VPN?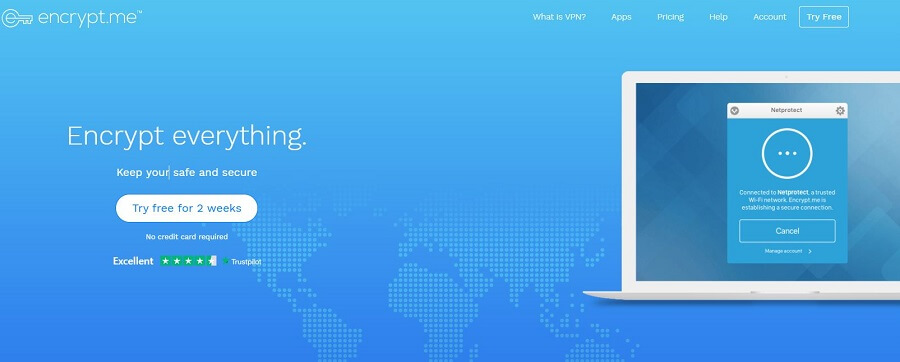 For this Encrypt.me VPN review, we will be starting by discussing whether it offers a virtual private network service that is free of charge or not. After looking up their official website, we found that they do offer a free trial.
You will have 14 days to try out their service without paying anything.
While this sounds good, keep in mind that this package is quite limited and features just a couple of servers. It also lacks unlimited data transfer. Additionally, you can never be sure whether they are selling your data to third parties during that time or not.
That is why we suggest you subscribe to the premium package if you already want their full service.
On the other hand, a superb, free VPN option is Windscribe. This name has been around for a couple of years and doesn't compromise your data.
Performance
We assume that you are aware of the impact that a VPN has on your internet connection. There is no way that it will be as fast as it initially was. The reason for this is encryption and tunneling protocols used to hide your IP address and provide you with a new one.
While you can't avoid this, there are still great providers that offer thousands of servers with a fast and reliable connection. The best one is ExpressVPN!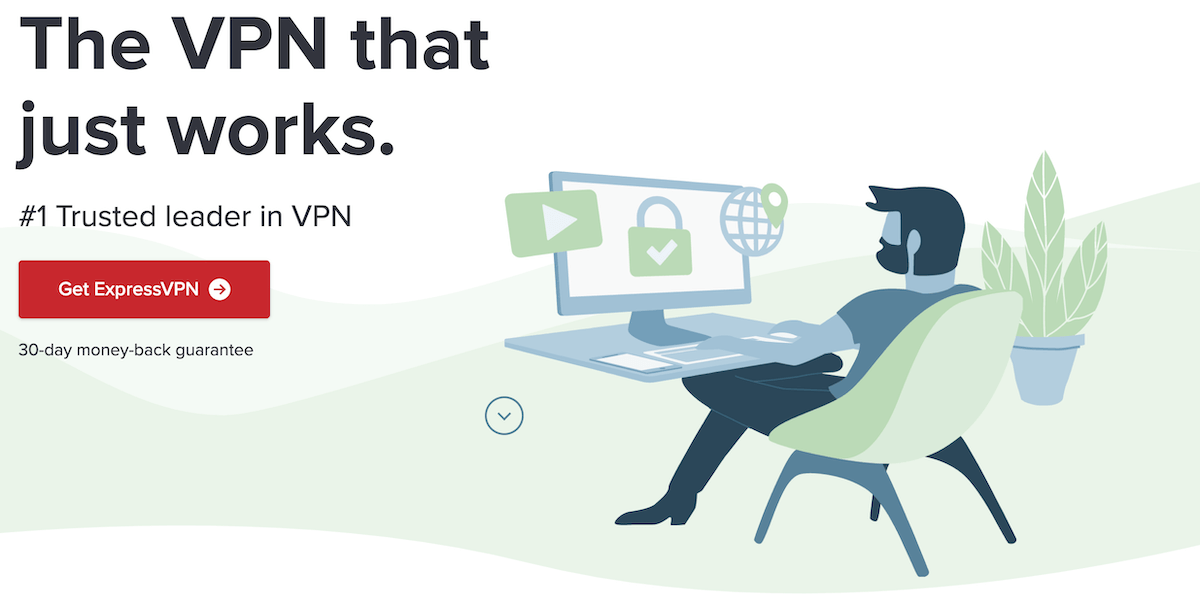 Whether Encryption.me was able to compare to it or not is something we will review below.
Speed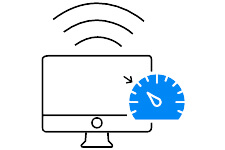 We already mentioned that this VPN is highlighted by a limited number of servers. Thus, we didn't have to invest a lot of time to figure out whether it allows reliable connections or not. As always, we tested the speed with a benchmark of 235 Mbps for download speed and 211 Mbps for upload speed.
The first server that we connected to was in Europe. Off to a good start with a low ping of 39 ms, we were hoping to get decent performance. However, as soon as we started browsing and trying to watch entertainment content in HD, the internet connection dropped by 50%.
Thus, our download speed was at 50 Mbps and our upload at 25 Mbps. While this is not necessarily bad, it is not great and may not allow you to enjoy a stress-free browsing session.
The second server we tested was the one set in the US, and the results were much more dramatic. The ping was at 140the, which is quite high by any standards. Thus, if you are an online gamer, using this VPN is not an option.
Additionally, our download speed was decreased by 65%, while our upload speed was decreased by 75%.
This made the server almost unusable for anything other than Googling and social networks. While it may not be as slow as StrongVPN, Encrypt.me definitely can't claim to be among the fastest providers on the market.
Stability
After reviewing the speed, we wanted to check out the overall reliability of the connection. Sadly, we weren't very satisfied. We didn't experience any time out issues with the EU server, but we certainly did while we were connected to the US location.
Honestly, we couldn't browse without getting kicked out every 15 minutes. This was quite irritating and not something you want from a high-priced VPN.
Streaming
One of the things that we consider extremely important is whether a VPN can unblock streaming content or not. In the past few years, many popular names stopped claiming that they have the ability to do so.
This is because Netflix has imposed new restrictions that most providers can't bypass. This is why we were quite surprised to find the following results.
Netflix

We know you look forward to enjoying your favorite TV show wherever you are but is that really possible? Surprisingly, Encrypt.me does a rather good job of unblocking the different catalogs.
This was to our great surprise because it is not a big provider and has just above 40 servers.
We found 2 out of the 4 servers we tested to work. While the one in France experienced a 'Streaming Error', we had much better luck with the US and the UK servers.
We can say that this could be a strong point for the aforementioned VPN if it puts some more time and effort into it.
Other streaming services
On the other hand, don't count on it to follow the MotoGP season. This is the sad truth that we found out while trying to unblock UK and US sport TV channels.
However, we could access content from Hulu and BBC iPlayer, so we were quite satisfied with the overall unblocking ability of Encrypt.me.
Security
What good is a provider that can unblock streaming content if you are not protected by reliable instruments? Most people subscribe to a VPN to enjoy anonymous browsing and get the opportunity to avoid trackers and ads.
Whether a VPN can ensure this or not affects the overall value and, in most cases, is the deal-breaker.
Where is it based?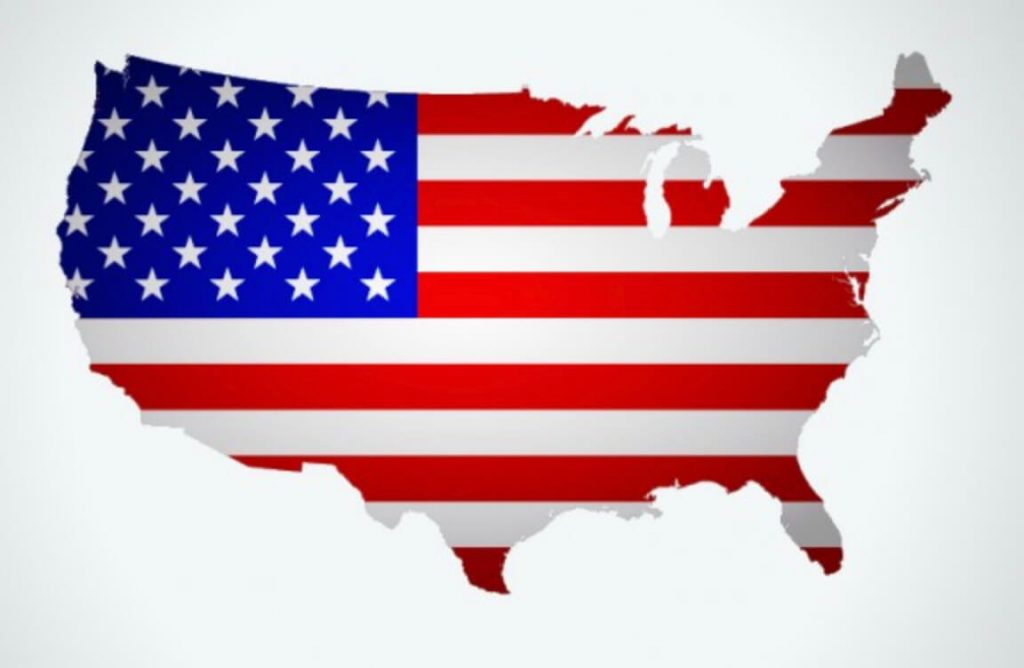 The answer to this question is the first issue. As you would expect, the big network security enterprise, SlackPath, is based in the United States of America. Thus, you shouldn't expect optimal security features because they are a part of the Five Eyes alliance.
If any of the local authorities ask for info on your browsing activity, Encrypt.me would have to hand it over. This is true for the authorities from New Zealand, Australia, the UK, and Canada, as well.
Needless to say, this is one of the main issues people have with VPNs, as no one is looking to have their privacy compromised.
On the other hand, the damage wouldn't be substantial if the logging policy was on point, but is it?
Log policy
The answer to the last question is unfortunately not. While they try to mask their sketchy log policy, things are quite clear. The number of bytes, duration of your connection, location, source port, email address, and payment history will be stored for up to 16 days.
They claim this to be 'personal session information', which is why we have major privacy concerns.
Protocols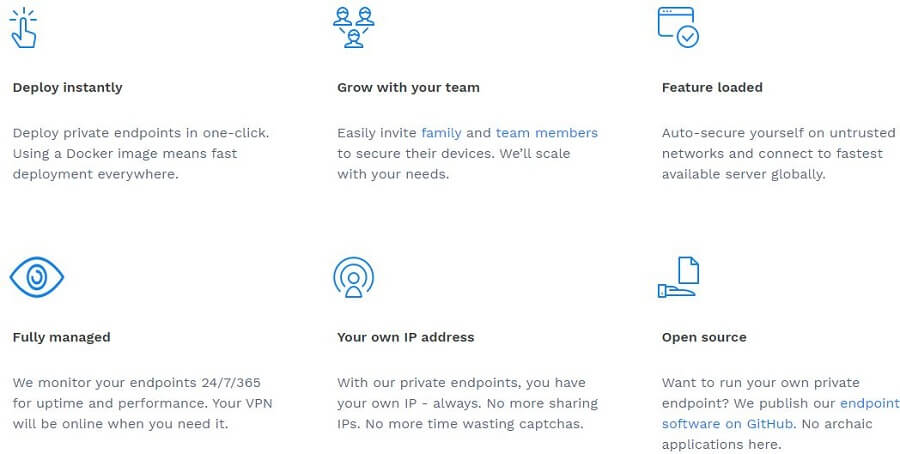 Encrypt.me doesn't do the best in terms of encryption, either, as it lacks 256-bit AES. As an alternative, it uses 1536-bit and 2048-bit DH, which were reliable once upon a time. Today, they are prone to be broken into by more experienced hackers.
A good thing is that it uses a group ID address, which means that it is not that easy to access your information and location. As for the protocols, it is highlighted by OpenVPN and strongSwan.
Leak protection
Last but not least, when talking about security features, you should know about your true IP address being revealed or not.
Luckily, Encrypt.me did quite a good job making the risk of this quite low.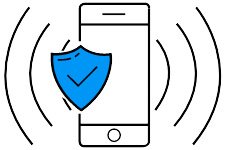 This is mostly due to the built-in kill switch. We tested this and found it to have a green light on all 6 malware and leak sites.
Torrenting
We want to start this by highlighting that Encrypt.me does allow and endorse P2P transfers. This is a good thing, considering that their leak protection is reliable.
Still, it does not have all the aspects necessary to prevent you from a DMCA sanction. Additionally, the servers don't offer the best speed and lack optimal connectivity.
If you want to enjoy a VPN that supports torrenting and offers secure performance, we suggest CyberGhost!
Bypass Censorship
We already discussed the ability of this provider to go through the hefty Netflix sanctions. Additionally, it did quite a good job of unblocking other streaming services, as well. That is why it didn't surprise us that we could access most censored sites in Europe and the US, including the legal gambling ones.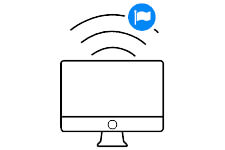 Also, we could switch our IP address to get airplane tickets for a better price. However, it couldn't do much when it comes to unblocking content in China. This didn't surprise us, because they don't feature a reliable and stealthy Hong Kong server.
Countries and Servers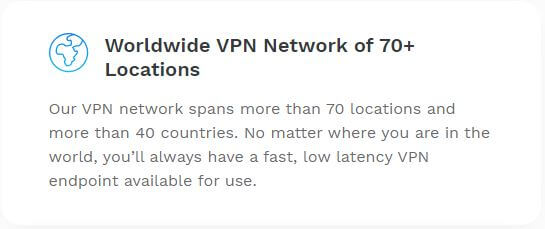 While it claims to offer locations across the globe, we wouldn't agree. The number of 40 countries and 43 servers is simply not enough.
Compared to NordVPN, which offers over 5,500 servers on 5 different continents, it is not really reliable. Are you looking for the best VPN with servers in India? If that is the case, we suggest subscribing to ExpressVPN.
Devices and Connections
Moving on with our review, we have to mention the overall compatibility. This seems to be a strong point for Encrypt.me.
Supported devices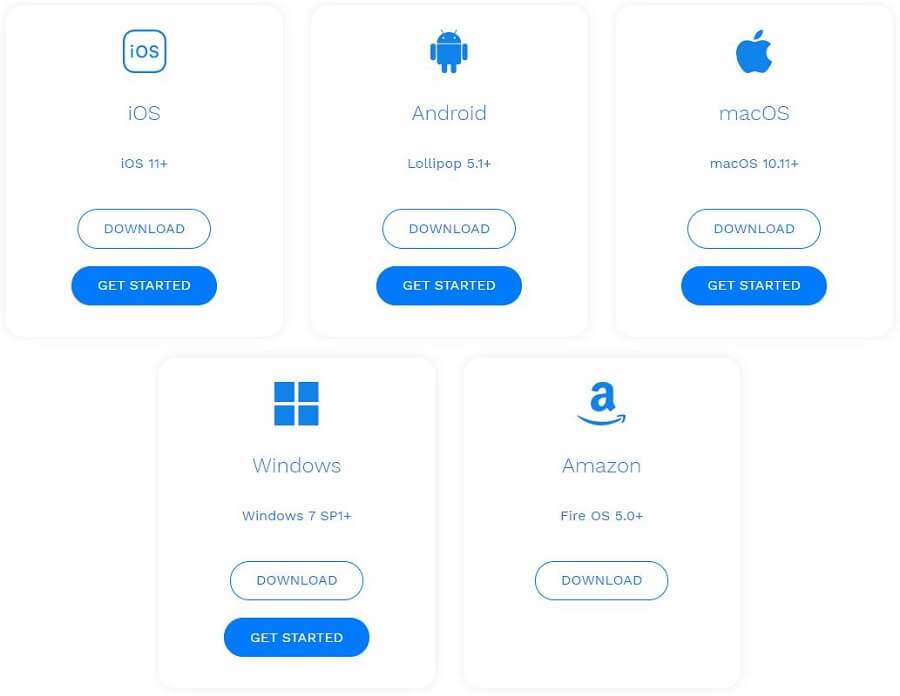 Things look quite good here. You can connect with an Android, iOS, macOS, and Windows device without much trouble.
Additionally, it supports Amazon FireStick TV. However, Linux and TOR are still waiting for the necessary log files that will make these devices compatible with Encrypt.me.
Simultaneous connections
Surprisingly, this provider allows an unlimited number of devices to be connected at the same time.
Customer Service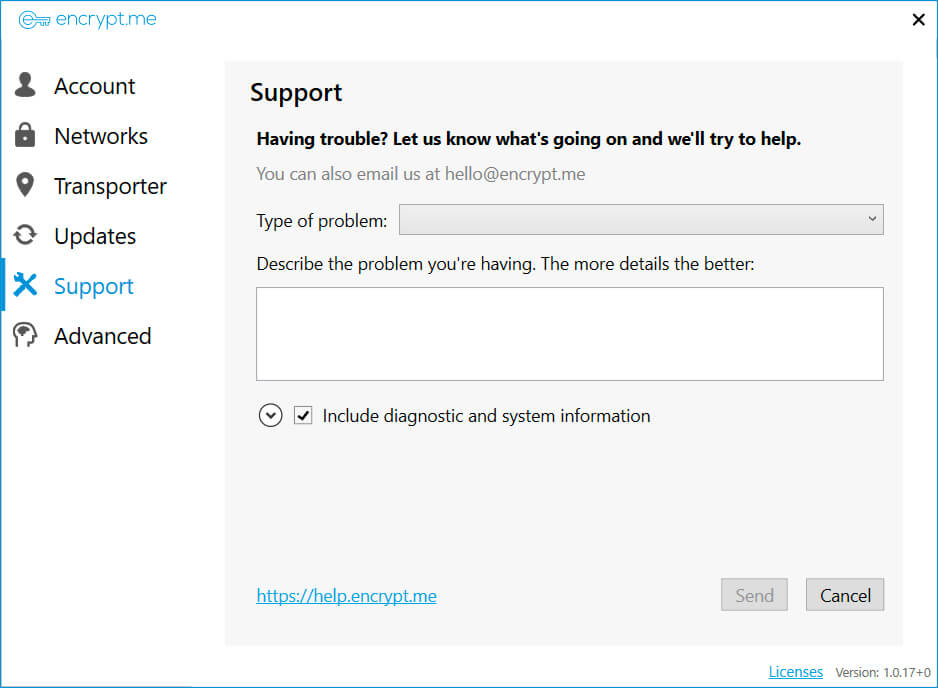 Right from the start, their customer team didn't look that promising. Although live chat is here, the support team took a little bit more time to respond, and its FAQ section isn't the best we've seen.
We went ahead and tried the 'Contact Us' option and were redirected to a ZenDesk request. While we did get a response after just a couple of hours, we were quite disappointed.
It gave us a general-purpose answer, as well as the recommendation that we try and find a solution on their FAQs page.
Value for the Money
Before we wrap this review up, we need to discuss the different subscription options.
Price comparison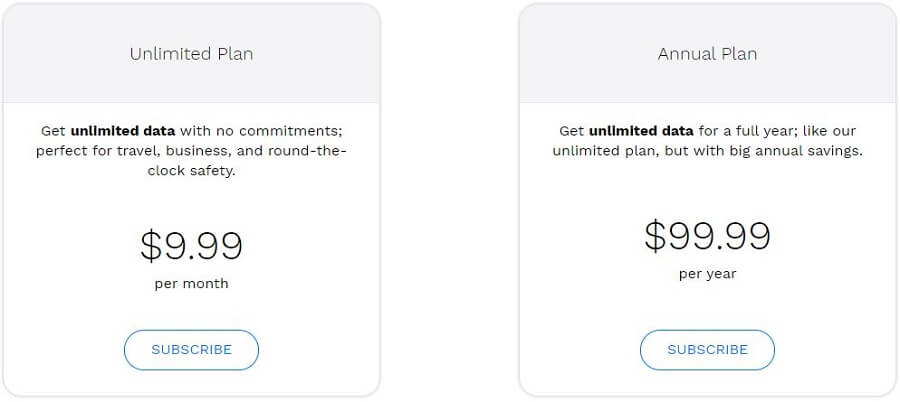 If you are looking to get unlimited data transfer and optimal security features, this provider offers two plans.
The first one is for 30 days and will cost you $9.99. The second one is an annual plan that is set at $99.99.
Other than these two, there are a couple of limited subscription options. Thus, you can pay $2.99 per month and get 5GB of data transfer, or get a one-off weekly plan for $3.99.
Also, there are a couple of plans for group subscriptions, with $12.99 per month for five members looking the most affordable.
There are much better VPN providers that offer top-quality features at more competitive rates. Try taking a look at CyberGhost or NordVPN instead.
Payment types
Unfortunately, apart from major debit and credit cards, you don't really have much freedom. It doesn't support PayPal or any of the cryptocurrencies that would help you stay anonymous.
Money-back guarantee
Luckily, there is a 30-day refund policy that shouldn't be that hard to utilize if necessary.
Final Thoughts
Would we recommend Encrypt.me? Unfortunately not, and that is why we rate it #74 out of 104.
Yes, it does have a set of pros, including the fact that it unblocks Netflix and allows torrenting, but that's where it ends. The security features simply aren't good enough, and you can't rely on a limited number of servers.
Thus, if you want to enjoy a true VPN without all the fuss, we suggest subscribing to NordVPN or ExpressVPN!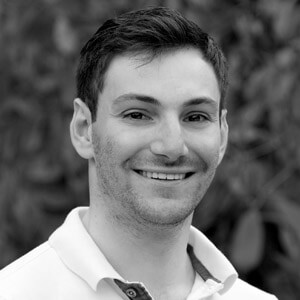 Flo is the founder of the-bestvpn.com. Really concerned about security on internet, he decided to create this website in order to help everyone find the best VPN. He's got a Business School background and now is 100% dedicated to keeping his website alive.