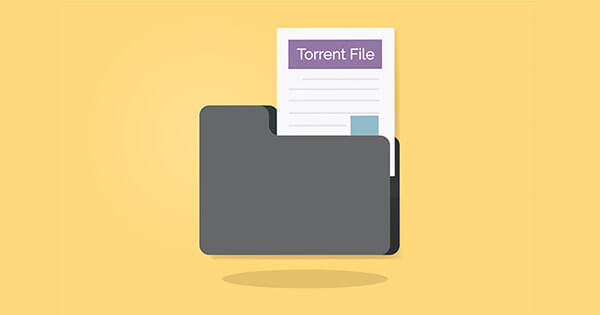 The use of torrent clients is very popular online. Whether or not torrenting is illegal depends on what you are using clients for and what you are downloading. If you want to download risk-free on uTorrent, Vuze, Transmission, or any other torrent client, you might consider using a VPN. Here's why!

What is Torrenting?
Torrenting is a type of P2P file sharing, also known as peer-to-peer file sharing. Users connect and share files among themselves.
To share files this way, people use popular torrent clients. These include uTorrent, Vuze, and Transmission. These are available as downloads for devices.
The system works as you download a file from others that already have the file. This means you can connect to numerous people's computers, called peers, to get the file you want.
If you remain connected to the torrent client, other people can download files that you have already downloaded. You, therefore, share with others and this is called seeding.
The more peers and seeders online using the client software, the better the chance of people completing downloads. If you are trying to download a file with just a few peers, seeders and they go offline, your download stops.
Is torrenting illegal?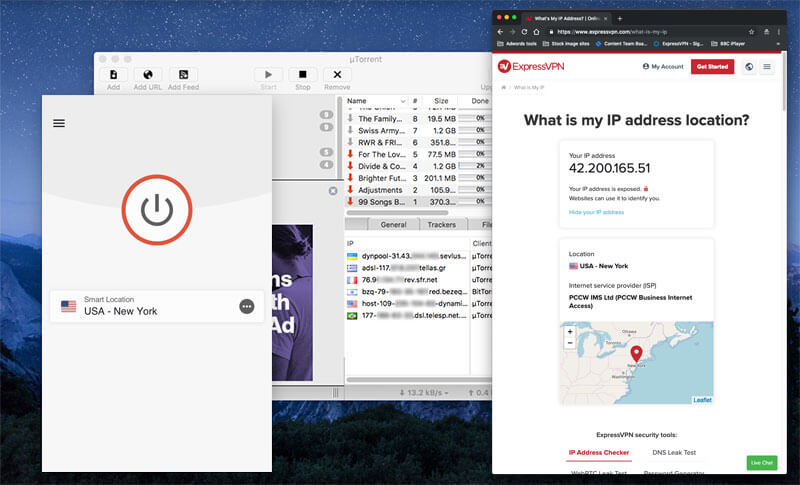 While many people associate torrenting with illegal downloading, some people do use file sharing for legal uses. Searching torrent sites may be the only way to find a rare e-book or music that is not copyrighted, even software or an app.
However, if you use a torrent client to download copyrighted content, you are torrenting illegally and you can get into trouble. If you want to download risk-free, use a VPN.
How a VPN Protects You When Torrenting?

So, how does a VPN protect you when torrenting? A plan from a Virtual Private Network provider offers protection in two ways.
The first thing is that you can connect to an alternative server and mask your own IP address. When you mask your own IP address, a VPN will make you anonymous online.
Torrent anonymously with ExpressVPN >
For instance, you might be located in the United States but connect to a server halfway around the world. You gain an IP address from whatever country you chose to connect to, so websites and apps believe you are actually located in another country.
You are anonymous as no one knows where you are actually located.
Secondly, a virtual tunnel is put between your device and the internet. Any data that passes along the tunnel is encrypted, so no one can read it even if intercepted.
This means your ISP does not know what you are doing online. This includes that, with a VPN, you can download risk-free and safely using uTorrent, Vuze, Transmission, or any other torrent client.
Without a VPN and the encryption provided, your ISP can see what sites you visit, what you download, the device you used to download on, and even when you downloaded the file.
Protection from hackers
Many people use and share files innocently, however, hackers might share files this way as a way of infecting the devices of others giving them access to personal information.
Again, with a VPN in place, any data sent from the device is encrypted, which means it is unreadable. Some software even provides malware security to stop your device from malware infection.
Use uTorrent With a VPN
One of the most popular torrent clients is uTorrent, with more than 150 million users around the world. However, bear in mind that many countries make sure that ISPs block access to torrent websites.

For instance, in Australia, the government has made sure that ISPs block access to torrent websites that are illegal so you'll use need to use a VPN in Australia to download risk-free using uTorrent.
ExpressVPN is a great choice. The provider offers thousands of worldwide servers ensuring that, no matter where you are located in the world, you can connect to a fast server.
Use ExpressVPN with uTorrent >
The client is popular due to many reasons, including the ability to search for torrents very easily using the web version. You can also stream torrents and magnet links instantly when using the web version.
Using the classic version, you can download in bulk, plus the app is packed with features for more users, while the file is light on system resources.
uTorrent is available free of charge but there are also paid plans. There is an ad-free version with premium support and streamlined torrenting. The pro version offers additional security, no ads, and premium support.
The client also has extensive support and forum pages.
This means newbies and veterans can use uTorrent, as it is a suitable option for everyone to get files safely. Note that uTorrent is available on Windows, macOS, Linux, and Android.
Download Safely With Vuze and a VPN
The Vuze torrent client is a feature-rich and powerful client and you can search for torrents easily on the webpage using the search bar. Searches can also be made within the app.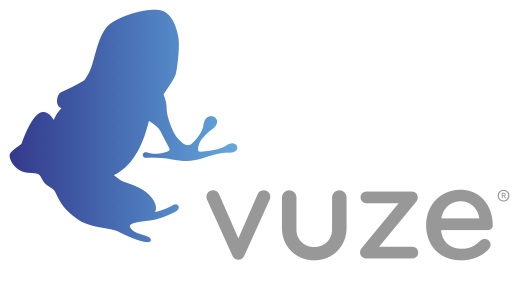 There is a free and paid version available, with the free version offering a wide range of features. The plus version adds in antivirus and no ads. Both versions support a range of plugins, which can be downloaded from the site, which boosts the client in different ways.
For instance, a speed scheduler to schedule uploads and downloads based on time or day. Indecently, IPVanish is quite good as far as speed is concerned to use to download risk-free on Vuze with a VPN.
Torrent download subscriptions are available. When you have found the content you like, subscriptions easily help you to find similar content, along with delivering content to your sidebar directly.
With the plus version of Vuze, you can watch in 1080p full screen while downloading with zero buffering. Drag and drop are also available to play content on any device.
Vuze offers multiple downloading, priority downloading, fast start extension, state-of-the-art tracking support, and local peer-to-peer sharing.
The client also has Vuze Remote, an app for Android providing remote access to the desktop client from any Android device.
Downloads are available for Windows, macOS, and Android.
Download Risk-free Using Transmission and a VPN
Transmission is a fast, easy, and free torrent client said to use a lot fewer resources than other torrent clients use. The client is the choice of home device manufacturers, including Belin, Fon, and Networked Media Tank.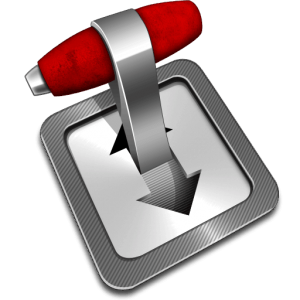 It is an open-source client run by volunteers, designed to be easy to use, yet powerful, and it works right out of the box. However, more advanced features can be enabled if required.
More advanced features include encryption, peer exchange, magnet links, NAT-PMP port forwarding, tracker editing, and more.
Transmission supports third-party projects and add-ons. These include Android remote controls, iOS remote controls, standalone remote controls, RSS tools, browser add-ons, and more.
Downloads are available for Windows, macOS X, Ubuntu, Arch Linux, and more.
The torrent client works great alongside a VPN, so you can download it risk-free.
How to Download Risk-free Using a VPN?
It is extremely easy to protect yourself when torrenting and download safely without your ISP knowing what you are doing online. Just follow the steps below to use a Virtual Private Network with your favorite torrent client.
Choose a provider and sign up for a plan.
Download apps to any devices that you use for torrenting. All providers support a wide range of devices.
Install apps and sign in to your account using the credentials made when signing up.
Use the dashboard offered by the provider to choose a server.
Connect to that server and your IP address is masked. You are now behind a virtual encrypted tunnel.
Open up your favorite torrent client and share files anonymously.
Top VPN Providers to Download Safely
We recommend the following Virtual Private Network providers when torrenting. They all offer features needed when you want to avoid ISP spying and remain anonymous, plus many more, so check them out.
ExpressVPN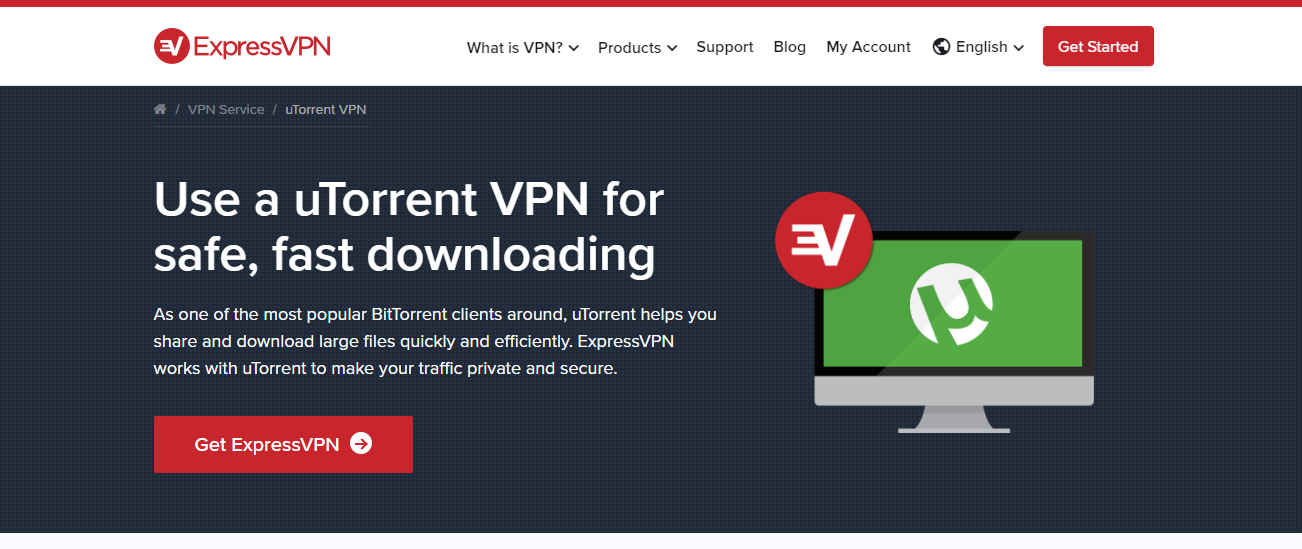 ExpressVPN is our first recommendation for torrenting. The provider offers apps that work seamlessly with devices and torrent clients, and they have a no-logging policy.
The provider helps you to avoid detection from your ISP along with providing protection by keeping you anonymous to other users. With ExpressVPN, you can choose from 3,000+ servers to take on an alternative IP address and mask your own.
This means other users on uTorrent or any other client cannot see your true IP address.
ExpressVPN is one of the fastest providers out there, offering unlimited bandwidth and speed. This makes them a great choice when using the uTorrent web client to stream in HD while downloading.
Your true location is unknown, so other users cannot track you online. Along with this, as you take on a shared IP address, your ISP cannot track you and find out what you are downloading.
ExpressVPN also offers a Kill Switch (Network Lock). If the connection is lost, the download ceases and you retain your privacy.
The provider offers a yearly plan, which helps you to save 49% compared to paying monthly and they give you three months free, making a total plan of 15 months.
PROS:
The best speed
3,000+ servers in 94 countries
Unblock Netflix
P2P allowed
Kill Switch
No logs policy
Very easy-to-use application
Get unlimited bandwidth with ExpressVPN now >
---
NordVPN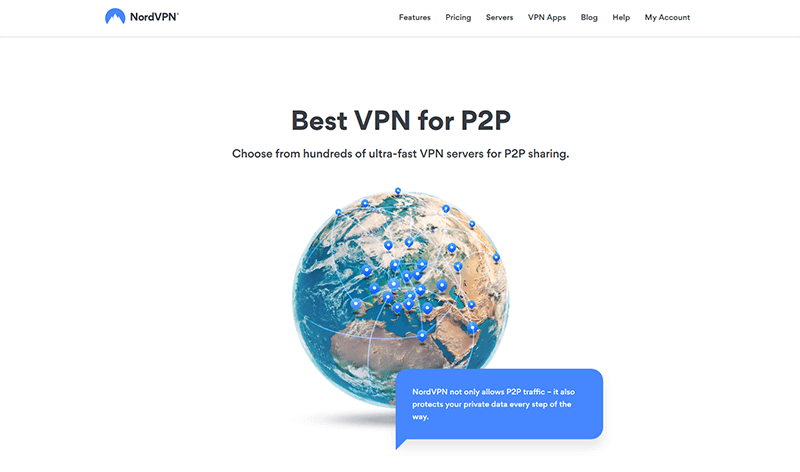 NordVPN can help you to download risk-free using torrent clients and it stands out by offering dedicated servers for torrenting and P2P traffic in general.
The provider offers a Kill Switch, which closes the internet connection if the server connection is dropped. This ensures you remain safe.
To make use of this feature, simply apply the Kill Switch. You can also use it for a specific app, such as your torrent client. Just choose App Kill Switch in Settings and pick your app.
NordVPN also includes a security suite of features that come in handy when torrenting. The suite includes protection from malware and phishing attempts.
The provider offers access to thousands of servers and while some speed drop is expected, the servers are extremely fast. The provider also has a no-logging policy.
PROS:
Servers optimized for P2P
5,600+ servers in 60 countries
Double data encryption
Works with Netflix/Hulu/HBO
Live chat support
Very simple to use
CON:
PayPal isn't supported
Exprensive short-term plans
Enjoy anonymity and security with NordVPN now >
---
CyberGhost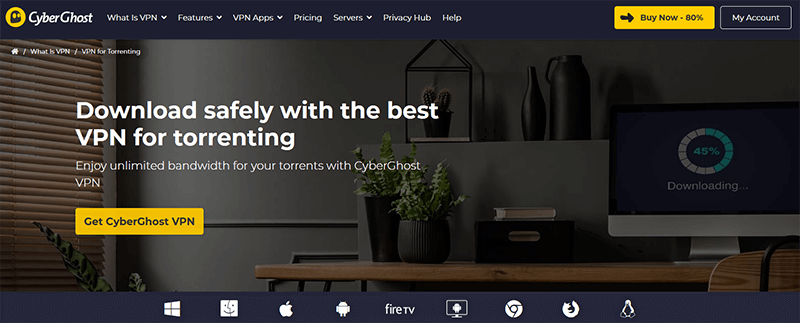 CyberGhost is another superb choice for protection and anonymity when torrenting online.
The provider offers torrent users an easy way to remain anonymous while downloading. There are profiles, which, when clicked, set up the app specifically for that task. In this case, choose the "Torrent Anonymously" button.
Once you click the button, you can use the service as it is or go ahead and add-in some settings. You can set it up to launch your torrent client automatically when you click on the torrent anonymously button.
You might also choose extra speed, block online tracking, and block malicious websites.
CyberGhost also offers features such as Kill Switch, DNS and port forwarding leaks, and IP sharing as an added security layer, so you can download risk-free using torrent clients.
Once connected using the "Torrent Anonymously" button, you are shown current download speed information, amount downloaded, time, and maximum speed. When downloads have been completed, simply click on the Stop button.
As they have a no-logging policy, they do not collect information about how you use the service. Needless to say, this is crucial for torrenting.
PROS:
7 simultaneous connections
45-day money-back guarantee
7,000 servers in 90 countries
Ad-blocker included
Servers for P2P and streaming
Competitive prices
Automatic anonymous torrenting with CyberGhost>
---
Surfshark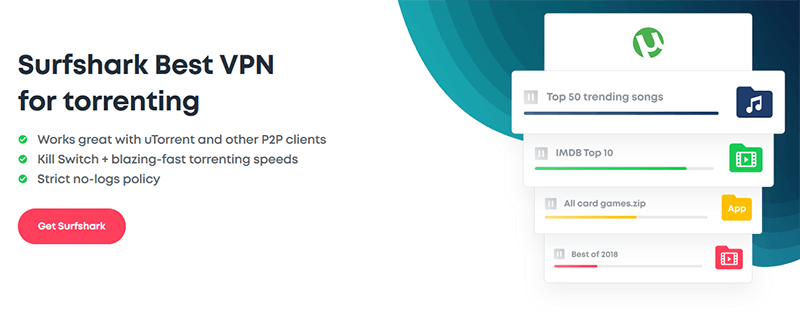 Surfshark is another great and affordable choice for torrenting safely online.
The provider offers high bandwidth speeds and no throttling, has a strict no-logging policy, Kill Switch, and offers some of the most affordable plans.
Surfshark offers apps that work great with uTorrent, Vuze, Transmission and other clients. Also, Surfshark comes with 1,700 servers in 63 countries around the world with fast secure protocols and AES-256-GCM encryption.
PROS:
Unlimited devices
Torrenting allowed
Very low prices
Tons of features
CON:
Smaller server network
Speeds aren't the best
Affordable torrenting protection from Surfshark >
---
IPVanish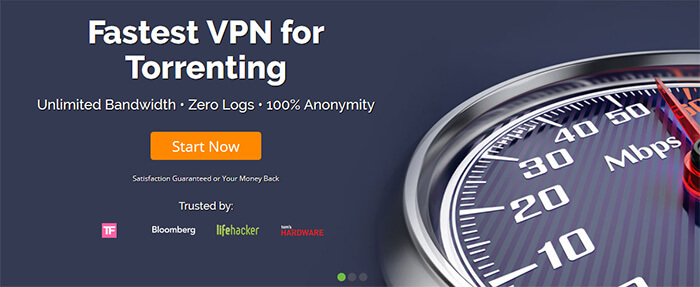 IPVanish is worth considering to ensure you can download risk-free using a torrent client.
The provider offers intuitive apps for various devices, has a no-logging policy, and lightning-fast servers to ensure fast download speeds and no buffering when playing HD content.
IPVanish supports P2P file sharing, including torrenting, and does not throttle download speed. This is essential if you want to download large files.
The provider has support for numerous security protocols, including OpenVPN, L2TP and IKEv2. This ensures good security measures are in place for a wide range of devices.
PROS:
Donwload speed is OK
Strong encryption
Zero-logging policy
75 countries covered
Excellent Kill Switch
CON:
US-based company
"Only" 1,500 servers worldwide
Get IPVanish for P2P file sharing protection>
---
More VPN Uses
While a Virtual Private Network is a great tool for ensuring ISPs cannot spy on you when torrenting, this software also has many more uses.
Security to speak with an open mind online
Along with providing anonymity when torrenting, the same applies to whatever you do online. Many journalists use a VPN to provide protection to ensure freedom of speech without retaliation. It can also come in handy if you speak your mind in forums or when using social media.
Beat geo-restrictions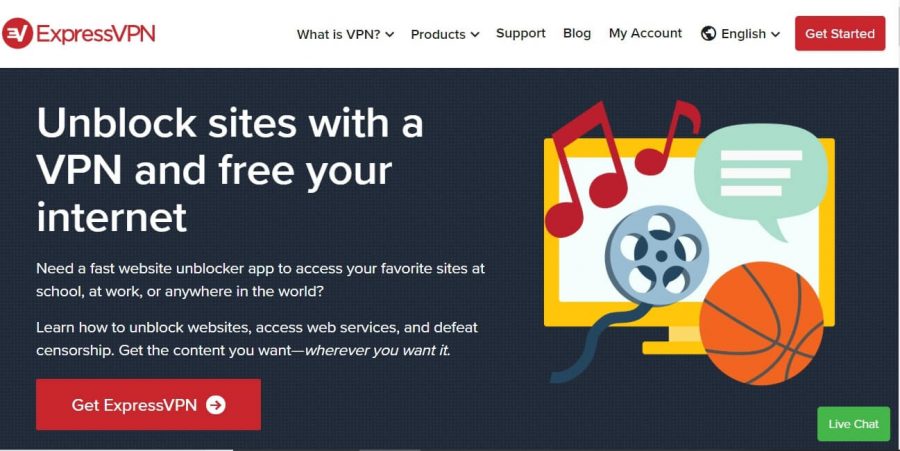 A VPN plan overcomes geo-restrictions as you can mask your IP address and connect to a server from any country anywhere in the world. By doing so, websites believe you are located in that country.
Overcome censorship
It is easy to overcome censorship and gain access to sites and apps blocked due to your location.
Once a virtual tunnel is in place, your ISP will not know what websites you want to visit and so they cannot block them.
Making savings online on flights
You can take advantage of masking your own IP address by taking one on from a country where the cost of living is lower than your own to make savings online. This applies when comparing flights, hotel rooms, and car rental.
In Summary
There is absolutely nothing illegal about using a VPN. There is also nothing illegal about using a torrent client providing you are using it only to download content without copyright.
With a VPN, you can download risk-free on uTorrent, Vuze, Transmission, or any other client as your ISP will have no idea what you are doing online thanks to encryption.
To download risk-free using a VPN simply choose a provider, and sign up for a plan. Download an app and sign in to that app, then choose a server and connect.
You are now behind a virtual tunnel that encrypts data between you and the web and you have an alternate IP address. Your ISP will be in the dark about what you are doing online and you remain anonymous to other people using torrent clients.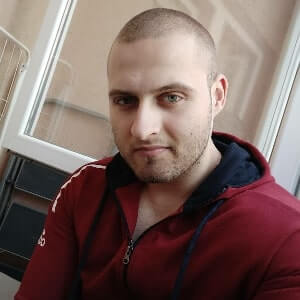 A professional writer with a Master's degree in Mechanical Engineering. Since his youngest age, he loves everything related to internet, technology, fitness, games, and dogs! He joined our team in order to bring his deep knowledge in security services, among which VPN is of course a key component.