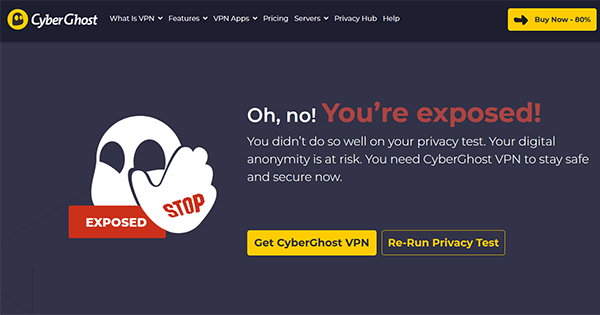 Are you looking for a quick way to find out if your online privacy and security is at risk? Well, there is actually a no-strings-attached method to do it and this is through CyberGhost's privacy tool. This nifty test tool is accurate, reveals a ton of useful information about your online anonymity, and best of all, it is free. We'll show you how to use this handy tool to instantly find out if you are safe or exposed.
What is CyberGhost's Privacy Tool?
CyberGhost is one of the leading Virtual Private Networks (VPNs).
With a reputation for fast speeds, unlimited bandwidth, strong security features, and wide server coverage, it isn't surprising that many privacy-conscious users trust it as their go-to VPN.
You can find much more information about CyberGhost in our in-depth review of the provider.
An interesting and probably lesser-known perk is the privacy test tool that CyberGhost offers for free. You do not need to sign up or subscribe to anything to check whether your online activities are safe and anonymized.
With a single click, the tool aggregates critical stats pertaining to your IP address, location, and even your internet service provider (ISP). It also checks for possible DNS and webRTC leaks.
How to Use the CyberGhost Privacy Tool?
Using this nifty tool is super easy. Simply head over to the privacy tools page—a quick Google search using the entry 'privacy tools CyberGhost' will lead you to the relevant page.
At the top of the page, you will automatically see a quick breakdown of your online status. If you are not using a VPN, you'll see your IP address, name of your ISP, and a warning that your status is exposed.
Click the 'Test your privacy' button to begin the actual test. You should be able to see a comprehensive report in just a few seconds. In particular, you will see details about:
Your IP address
Your geographical location
WebRTC IP leaks
DNS leaks
Anonymous torrenting
IP address
Each device connected to the internet has an IP address. Without a virtual private network to hide your IP, anyone from your ISP to hackers can use this address to spy on the websites you visit.
If you haven't installed a VPN, the test tool will reveal your true IP address, plus the name of your ISP.
Geographical location
If you are exposed, the tool will show your geographical location with considerable accuracy. In particular, it will reveal your country, city, region, as well as your current location's longitude and latitude details.
A VPN hides your true location from the prying eyes of hackers and spies. What's more, when you want to unblock a blocked website, for example, Netflix, you will need a privacy app to mask your location too.
DNS and webRTC leaks
A domain name server (DNS) translates domain names into IP addresses. As you might have guessed, when your DNS is exposed, your IP will be exposed too. Anyone who might be looking would be able to track your location and browsing history, which can easily expose you to potential hacker attacks.
In addition, your browser can expose your IP address to the websites you visit. This is known as a webRTC leak and results from browsing without a VPN.
Anonymous torrenting
When you visit torrent sites, you expose yourself to several risks. First, without a VPN, your ISP can track your activity on these sites and even intentionally throttle your internet speeds.
Also, you could expose your IP and location to copyright trolls and hackers who can attack your computer with devastating malware. The CyberGhost test tool will let you know if you face any risks associated with torrenting.

Protect Yourself With a VPN
A virtual private network is a must-have if you want to hide your IP address, mask your location, torrent anonymously, and protect yourself from potential hacker attacks.
CyberGhost VPN is definitely worth checking out, especially if you are looking for a low-cost provider with premium features.
Quentin is the co-founder of the-bestvpn.com. With several experiences as a System and Network Engineer, he is very knowledgeable when it comes to VPN, cybersecurity and the risks of using the Internet nowadays.