Deciding whether a certain provider is a good option or not depends on more than just a single factor. BulletVPN seems to be quite good in terms of overall performance. This is due to its unlimited bandwidth and good encryption, as well as the variety of devices that it supports. Still, these are not the only relevant categories. A major disadvantage that we notice immediately is the limited number of servers. Bearing this in mind, for our 2023 review of BulletVPN, we decided to focus on more than just privacy. We want to determine the overall usability.
Therefore, we did this by putting their service to a series of tests in order to figure out how it performs. We looked at several factors, such as stability, geo-restrictions, and many others. Is this provider something you should try your luck with, or is it a waste of time and money?
Let's go ahead and take a look!
STRENGTHS:
Unlimited bandwidth
Free DNS service
Multiplatform
WEAKNESSES:
Limited number of servers
Slow speeds overall
Customer service is not very efficient
Limited torrenting
Logs some data
Pricey
---
BulletVPN ranks #61 out of 104 VPNs tested. Here are the best alternatives :
Is It a Paid or Free VPN?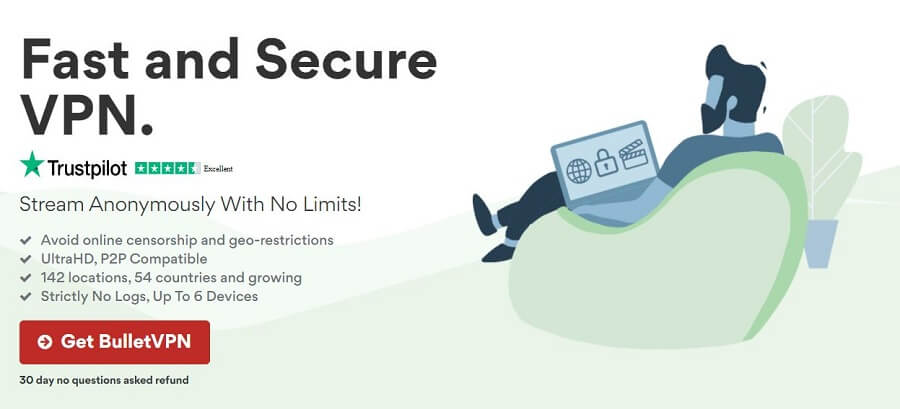 We begin our BulletVPN review with the basic question, does it offer a service free of charge or not? The answer is quite simple – it does not.
However, there is a 30-day refund policy, which is something that we will be discussing later in the article. The fact that it is not a free VPN doesn't necessarily mean that it is not worth your money, though.
In fact, many paid VPNs are much better in terms of anonymous browsing activity. The reason for this is because they don't have to profit by selling your info to third parties.
Performance
Moving on with our review and test of BulletVPN, we can't talk about the potential for streaming or torrenting without discussing its speed. BulletVPN has just more than 142 servers across the globe. This is far from being a lot, but if they are fast, we would still consider the provider to be quite reliable.
Speed
Things got pretty tricky when we decided to test the overall speed of this provider. BulletVPN has five separate servers that they claim are incredibly fast. We managed to connect to these and got a 30% drop in both our download and upload speed.
Keep in mind that the benchmark was 235 Mbps for down and 211 Mbps for up (as you can see on screenshots below). Still, we experienced a ping that was above 100 ms, which might lower the chance of long, steady sessions.
Additionally, in order to connect to their fast servers, you need a great internet connection.
An average user might not be able to meet all these requirements, so we decided to test a random server. Unfortunately, the results were not good. Logging on to an eastern US server, we experienced a ping of well over 200 ms.
Additionally, the download speed was 35 Mbps, while the upload dropped down to 20 Mbps.
Bearing this in mind, we were not too happy with the overall performance. And we're not even mentioning the results we've got with servers in Asia (Hong Kong and Singapore).
Without VPN (we were located in London) :

EU Server :


US Server :

Asia Server :


Thus, if you are looking for a provider that performs well in this regard, we suggest ExpressVPN. Also, NordVPN and CyberGhost are reliable alternatives.
Stability
As you might have guessed with this first part of our review, BulletVPN is not the most reliable provider on the market. One reason for this is that they seem to have trouble with high pings. While this depends on your specific location, the average results weren't good.
Additionally, we were redirected to the closest servers multiple times without being asked. This is not something you are looking to get out of a steady VPN service.
Streaming
You certainly want to look for a provider that can unblock Netflix and other streaming platforms. Once, this was a feature that almost any bigger name in the industry could claim.
Today, not many providers other than NordVPN, ExpressVPN, and Surfshark have this ability. That is why we entered this review quite skeptical, unsure that BulletVPN would be able to bypass the restrictions.
Netflix
To be honest, we were quite surprised to see that at least some servers were able to unblock Netflix. As you already know, it is the most popular streaming platform and the primary reason most people subscribe to a VPN.
We didn't only do a single test – we did MANY, so we could share accurate feedback and results.
We searched to see how well it does in large quantities, and we experienced partial success. Frankly, the EU servers seem to do much better than the US ones. We were able to unblock catalogs in both the Netherlands and France.
Additionally, we had luck with the UK servers, as well.
Still, while it did better than an average provider, it was nowhere near as good as ExpressVPN. This leading name offers over 3,000 servers, with access to Netflix on all of these.
Other streaming services

BulletVPN has a Smart DNS feature that comes for free. It doesn't hide your IP address per se, but it helps unblock streaming content from across the globe.
This is the reason why we had a great experience with Hulu and Amazon Prime Video.
But it was not the same with streaming platforms such as Fox, CBS, and BBC iPlayer. Because of that, we cannot recommend this provider if your main goal is to get access to any streaming platforms wherever you're in the world.
Security
If you are looking to subscribe to a VPN provider, chances are it is because of the security features. We would all like to enjoy anonymous browsing, and a reliable company can offer this.
There are a couple of elements that affect this, including the headquarters location and the logging policy. Let's review the results we found during our testing of BulletVPN!
Where is it based?
The good thing about this provider is that it is outside of the 5/9/14 Eyes Alliance. It is based in Estonia, which means it only has to adhere to its own national jurisdiction.
Additionally, much like Finland, this country takes privacy regulations quite seriously. This means that the provider will not hand over your data and info, even when asked by the authorities.
Log policy
While this provider claims to have a strict no-log policy, we decided to do some further investigation. As expected, we found it to be untrue after looking into their privacy policy.
Apparently, they do collect some of your data, including email addresses and payment history.
BulletVPN doesn't log data for the purpose of selling your info, but rather for their own use. Thus, considering that they don't include an ad blocker, chances are you might be bombarded by relevant ads.
Still, this is much better than if your info was at risk of being obtained by third parties or foreign governments.
Protocols
Moving on with our review of the security features offered by BulletVPN, we are happy to note that there are a number of protocols to choose from. The best one is OpenVPN, which is perfect for devices such as Android, Windows, and macOS.
Additionally, there are alternatives that come in the form of L2TP and IPSec, which are more suitable for iOS devices. Also, TCP, UDP, and PPTP may help you get through more complex geo-restrictions.
Finally, 256-bit AES, industry-standard encryption is something that this provider can be proud of.
Leak protection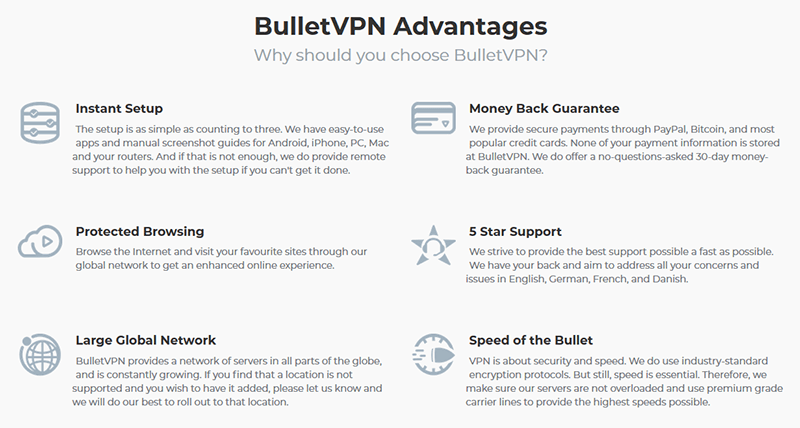 Last but not least we reviewed whether BulletVPN is safe or not. We are confident when we say that there were no leaks during our tests.
This was due to two robust features. The first one is Bullet Shield, which ensures that all your browsing activity is completely secured. Additionally, you need a kill switch to avoid DMCA sanctions, and that is exactly what you get.
Torrenting
A good thing is that both Android and iOS apps are compatible with BitTorrent. Moreover, the aforementioned leak protection and kill switch contribute to the torrenting performance. Also, the provider claims that it supports P2P transfers and do all in their power to ensure your security.
After testing, we noticed that the performance is much better with the EU servers than with the US ones. That is due to both the lower ping and better overall speeds.
But overall, with a big decrease in speeds, we're not convinced by the fact that BulletVPN is THE right choice for torrenting. For us, it is better to choose a provider like ExpressVPN, which is fast, reliable, and secure!
Bypass Censorship
We already mentioned that BulletVPN is not among the best providers when it comes to streaming content. Is it as good when it comes to accessing censored websites? Well, that depends.
For countries in Europe and the US, it does quite a good job of unblocking content, including betting sites.
Additionally, it will also allow you to change your IP address in order to get cheaper flight tickets. Still, the most important question is whether it can work in China or not. The answer is somewhat complex.
This provider comes with a reliable Hong Kong server, which is an essential location for unblocking content in China.
The main issue that we have with it is the fact that it is lacking a stealth protocol. Being aware of how strong the Great Chinese Firewall is, this might put your privacy at risk.
That is why we recommend ExpressVPN or NordVPN as great alternatives to breaking through the Great Firewall safely and securely.
Countries and Servers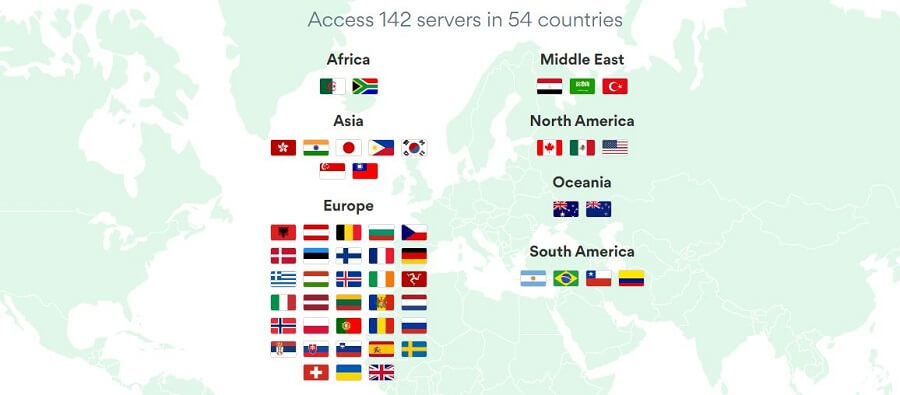 Anyone who has ever done a review of a VPN provider knows that the number of available servers is extremely important. Not only does this contribute to overall usability, but it also increases the content that you can freely access.
Looking at BulletVPN, we can see that it covers only 54 different countries with 142 server locations. Most servers are located in the EU and the US. However, we see the servers in Germany, the Netherlands, and France as the most reliable.
Additionally, the Hong Kong server has the potential to unblock content in China (but still comes short most of the time). Thus, while limited, BulletVPN can be considered a global provider.
Devices and Connections
A major strong point for BulletVPN in this review is its overall compatibility.
Supported devices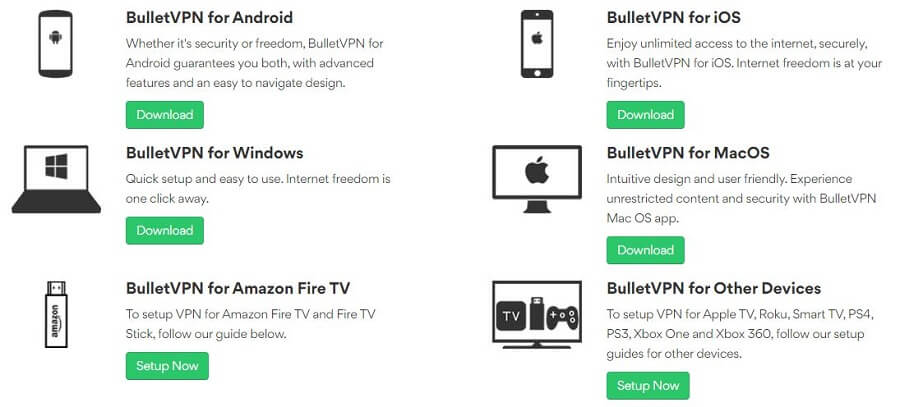 We weren't surprised to see that it can be used with macOS, Android, iOS, and Windows. From the testing that we have performed, all the apps are user-friendly, and the installation is quite simple. However, that was not all.
This provider also made their service compatible with Linux users. Not only that, but BulletVPN can be used with smart TVs, consoles, and routers. Still, it is far from being one of the best solutions to use with Roku.
Simultaneous connections
Considering the variety of devices that it supports, we expected good results in this aspect, as well. And we were not disappointed to notice that it allows six devices to be protected at the same time.
Customer service
The main issue that we have with their customer team is that they offer a live chat option, but you don't get the fastest answers. This is a common option for many leading providers, such as NordVPN, ExpressVPN, or CyberGhost, yet they do it much better.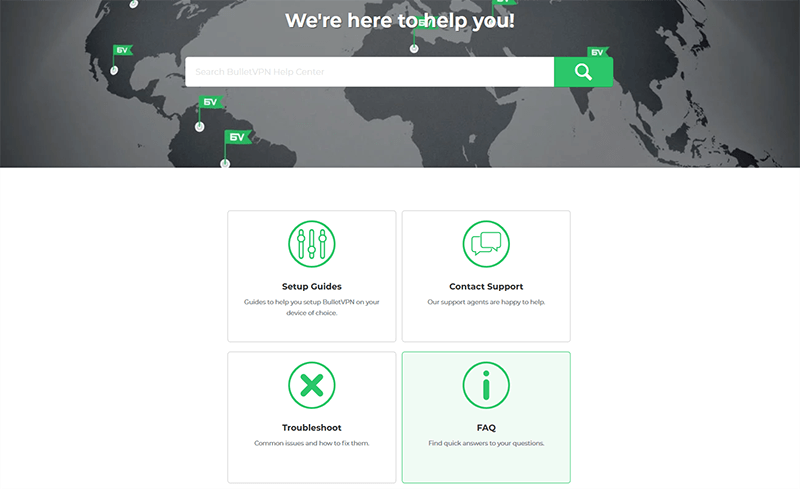 Still, their email responses were clear. We tested it a couple of times, and we always received an answer within one day. Additionally, there is a helpful option called remote support, which can help you with the installation process.
If you need it only… of course 😉
Value for Money
We already reviewed that BulletVPN doesn't offer any services free of charge. This would be fine as long as their subscription is affordable. But is it?
Price comparison

There are three different subscription options including 1-month, 1-year, and 3-year.
The first one comes at a costly price of $5.49. The second one is somewhat discounted and is set to $3.75 per month.
Out of all, the most affordable one is the 3-year plan, which costs you $1.98 per month. However, this is quite a long time period for you to need to rely on their service, especially if you do not like it.
Payment types

BulletVPN allows a couple of different payment methods. Apart from credit cards and Paypal, it also supports Bitcoin subscriptions. This is ideal for people who want to stay anonymous.
And it's very well seen from our side in the context of this BulletVPN opinion.
Money-back guarantee
In the end, we are happy to note that their 30-day refund policy is quite easy to request and fulfill. It shouldn't take more than a few business days to get full reimbursement. Of course, you need to have a valid reason.
Extras
While we did a search, we didn't find any extras to review during our tests of BulletVPN. This is always a bit disappointing as we're looking for more and more! For example, we would have loved to see an ad-blocker included and a speed-test feature.
Final Thoughts
The decision is all yours. After we did a thorough review of BulletVPN, we think there are better options. Rating it #61 out of 104, our main concern is the server reliability, as well as the high price point.
For an alternative that is not only more affordable but offers thousands of servers, we would suggest CyberGhost. The best thing about it is it offers cheap and reliable service!
Overall, while not the worst on the market, it is far from the best. We would not recommend this VPN provider in a hurry.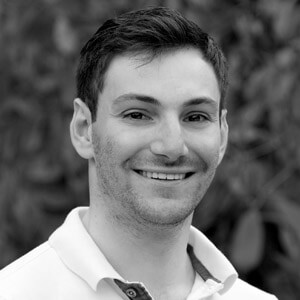 Flo is the founder of the-bestvpn.com. Really concerned about security on internet, he decided to create this website in order to help everyone find the best VPN. He's got a Business School background and now is 100% dedicated to keeping his website alive.