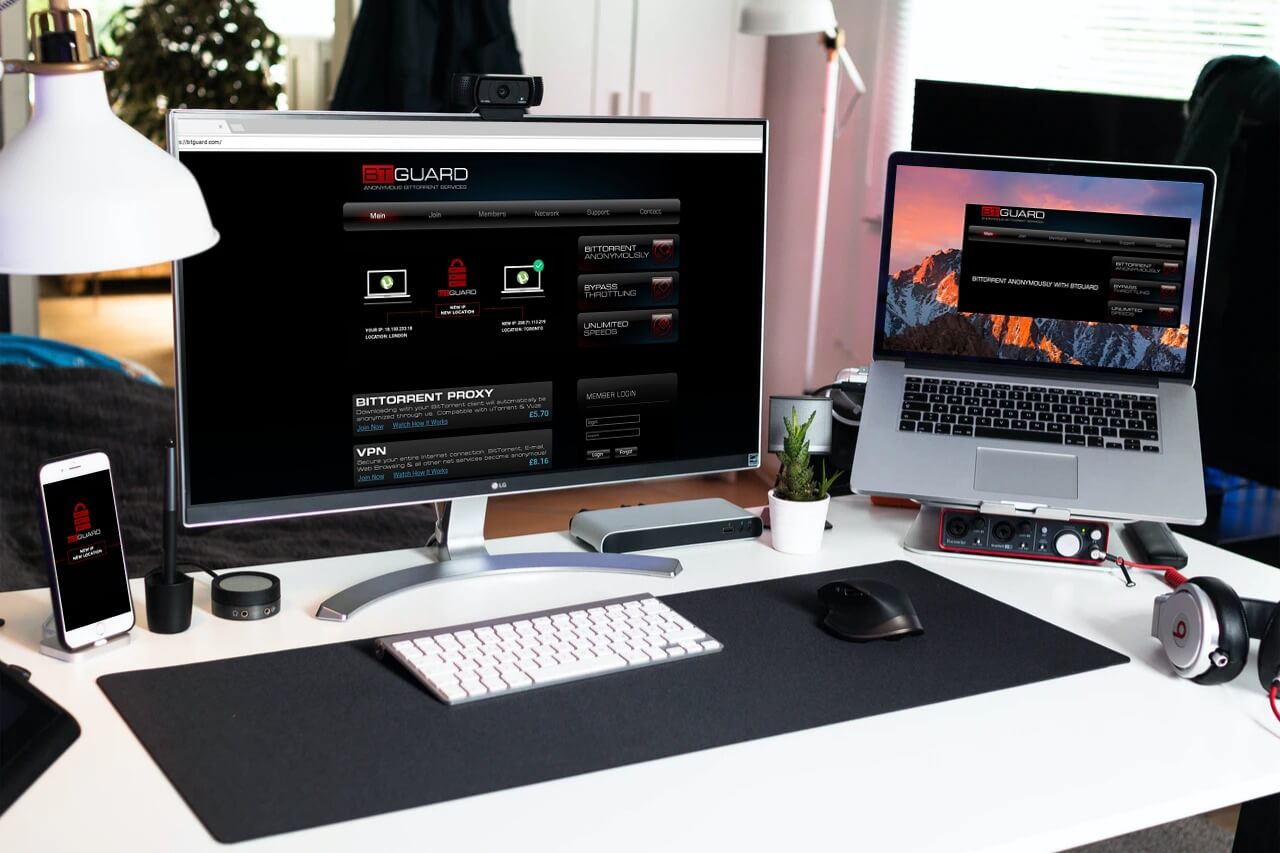 Different VPNs focus on different aspects. Still, in most cases, a provider will claim to offer immense speed and robust security features. Whether this is true or not is determined by analyzing the overall performance and discussing the privacy system of a VPN. One of the main reasons why people install this service is to perform anonymous P2P transfers. On the other hand, it is a fact that not many providers can provide reliable torrenting performance. Looking at the market, there is a single one that puts great focus on this aspect. Yes, we are talking about the provider we will review here: BTGuard.
BT stands for BitTorrent, making the intentions of the company behind this service quite clear. However, does this mean that this service is worth your time and money? That depends on many factors, including speed, customer service, and the ability to bypass geo-restrictions.
Our review for BTGuard VPN will be focused on performing a series of tests to determine the place of this provider on our ranking board. What are you waiting for? Let's get right to it!
STRENGTHS:
Strong encryption/protocols
Allows torrenting
User-friendly interface
WEAKNESSES:
Sketchy log policy
Canadian jurisdiction
IP leak risk
Unreliable customer service
Limited device support
Number of servers
Doesn't work with Netflix
---
BTGuard ranks #90 out of 104 VPNs tested. Here are the best alternatives :
Is It a Paid or Free VPN?
One of the most common questions when doing a review for a Virtual Private Network is whether there is a free trial or not. Unfortunately, BTGuard doesn't offer this kind of service.
Thus, to use their features and unlimited torrenting, you will need to pay for a premium subscription.
It is quite expensive and can't stand up to ExpressVPN and CyberGhost. We will discuss this down below.
On the other hand, we would suggest Windscribe and TunnelBear as two VPNs that are completely free and don't sell your data for a profit.
Performance
For this BTGuard review, we have decided to focus on both overall performance and additional features to determine the overall value. The most important thing is how much it will slow down your internet speed.
It has to happen, but the question is whether the performance will remain acceptable or not.
Speed
The best example of a provider that sacrifices speed but still allows reliable internet connection is ExpressVPN. It is a worthy choice that will allow you to stream and torrent without any performance issues. In most cases, we review servers in the EU and US and make a comparison between the two results.
Considering our primary location in the UK, the latter is usually much slower. Still, with BTGuard, we had to change our ways since they offer a Canadian server instead of a US one.
Our internet connection is offering 235 Mbps for download speed and 211 Mbps for upload speed.
We were surprised to see how slow the EU server was. Moreover, we experienced a decrease in download speed by 80% and upload speed dropped by 75%. At least the ping wasn't high (35ms). We then tested the main server based on the company's location (Toronto).
Unfortunately, the ping immediately spiked to 150 ms and made almost any browsing activity impossible. Thus, if you were hoping to play online, a speed of 10 Mbps download and 12 Mbps upload will not let that happen.
Our conclusion for this part of our review is that BTGuard doesn't offer reliable performance and is similar to StrongVPN and ActiVPN, considering the decrease in both ups and downs.
Without VPN (we were located in London) :

EU Server :


Canadian Server :

Asia Server :

Stability
After our speed review, we moved on to test the overall reliability of the connection.
We didn't have much success in this aspect, either. The main problem with the EU servers was a huge decrease in speed that led to many buffering issues.
As for the connection to the Canadian server, we were timed out more than once during our 20-minute session. It is quite clear that, if you want a VPN that will offer stable performance, BTGuard is not a good choice of VPN.
Streaming
Along with speed, the ability to stream and unblock entertainment content contributes to the overall value of a VPN. For anyone who knows a thing or two about this service, it is no secret that many providers have stopped boasting about their streaming ability.
This is because most of the popular platforms imposed a series of sanctions that resulted in blocked VPNs. Thus, considering the previous results that we got with BTGuard, our expectations weren't high.
Netflix
The first issue that we have with this provider is that it offers service in just three different locations. This means that the chance that any Netflix catalog can be unblocked is quite low.
We tested all three servers and found none of them to work. The one in Canada showed a streaming error, while the other two were stuck on the buffering screen.
However, this doesn't mean that you should lose all hopes when it comes to streaming Netflix content HD. We suggest you take a look here and find out more about what providers are eligible for this and how to do it.
Other streaming services

Considering the results that we got with Netflix, we didn't expect much of anything from Hulu and BBC iPlayer.
Unfortunately, we were completely right to doubt the streaming ability of BTGuard. It seems like you are only able to unblock Canadian TV channels, and that comes with connection issues, as well.
Security
We all know what a VPN does. It hides your original IP address and allows you to connect from an alternative location. Still, not every provider can ensure 100% anonymous protection and a strict no-log policy.
Where is it based?
The fact that BTGuard was run by a successful internet security company called Netcrawled LLC could have been a plus during our complete review. Unfortunately, because it is based in Canada, we are off to a sketchy start.
The main issue with this is that the country is part of the Five Eyes alliance.
This basically means that, if any of the relevant authorities ask for your private info or data, the provider will hand it over. Thus, not only does the government in Canada have the right to ask for this, but also in New Zealand, Australia, the UK, and, of course, the USA.
However, if this VPN does not collect any logs, there should be nothing to hand over, right? Well, let's see how they did in that regard.
Log policy
Much like many other VPNs, BTGuard claims to keep no logs of your browsing activity. Unfortunately, this is not true. We read their privacy policy and found that they do keep some of your personal information. The details aren't disclosed.
Thus, we can only assume that they might store your address, phone number, credit card number, bank records, and even downloaded files.
This is certainly not ideal if you were hoping for 100% anonymous browsing.
Protocols
One of the strong points of this provider is the industry-standard encryption and protocols. You are looking at a 256-bit AES protection that is used by the military and banks.
Additionally, it offers two options for tunneling protocols. While the PPTP is outdated and is not an ideal choice, especially for Windows and Android, OpenVPN is considered the best out there.
Leak protection
Last but not least when it comes to security features is whether the risk of DNS/WebRTC is high or not. We did a series of tests, and, while it could have been worse, the results still showed room for concern.
Out of four sites that we used to test leak protection, it failed on two. The same happened when it comes to malware risks.
This is all to say that, for security and privacy, BTGuard is not an ideal privacy and security provider.
We would suggest you consider NordVPN or ExpressVPN as great alternatives that come at a more reasonable price.
Torrenting
We introduced this provider in our BTGuard review by highlighting its unlimited torrenting ability.
It would be quite surprising if there were issues in this aspect, considering that BTGuard's main purpose is ensuring smooth P2P transfers.
A unique thing is that this provider doesn't only allow for torrenting, but it also endorses it.
Still, we do have issues with the reliability of their servers, as well as the fact that leak protection is not at an optimal level.
Bypass Censorship
The ability to go through different geo-restrictions is certainly not something that BTGuard can be proud of. We already discussed how it does in terms of streaming and unblocking different platforms.
When it comes to unblocking censored websites, we did have some success accessing local bank accounts.
Still, we had significant issues with running legal gambling sites, as well as buying airplane tickets from alternative locations. The main issue is that the number of servers is extremely limited.
Thus, if you were hoping to access content in China, forget about it.
BTGuard doesn't have a Hong Kong server or the adequate stealth mode to make this happen.
On the other hand, we suggest you consider ExpressVPN as one of the leading names when it comes to bypassing the Great Chinese Firewall.
Countries and Servers
Does it have servers in the US? Unsurprisingly, it doesn't. As we have mentioned above, the server number of this provider is incredibly small. Thus, you are allowed to connect to a server in Canada, the Netherlands, and Singapore.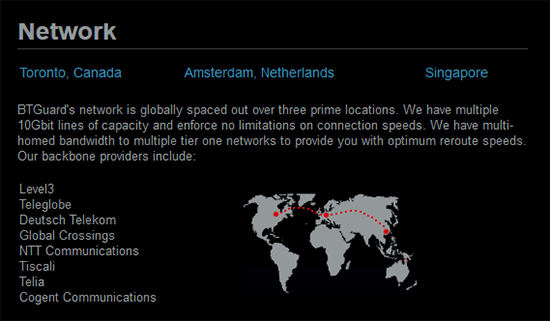 Yes, it is just these three different locations. This, compared to ExpressVPN that allows 160 reliable spots, makes BTGuard look like a waste of time and money.
Devices and Connections
Things are quite tricky when it comes to the overall compatibility of BTGuard.
Supported devices
Surprisingly, this provider doesn't offer any mobile device apps. Thus, you will not be able to run this service via an iPhone or an Android. Additionally, if you were hoping to connect using a console, router, or a smart TV, you will need to look elsewhere.
However, it supports desktop computers. There is an app for Windows users, as well as those that enjoy Linux and Mac operating systems.
Simultaneous connections
One of the best things about this provider is that it allows unlimited connections. This, compared to the average number of 3, is a huge plus.
Still, it is not enough to be a deal-breaker in favor of BTGuard in our review.
Customer Service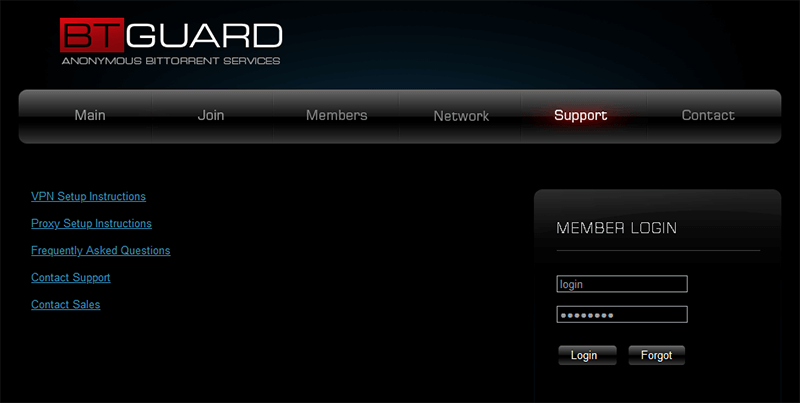 We have a couple of complaints here. First, there is no such thing as a live chat feature or a regular contact form.
Additionally, their FAQs page deals with just the basic issues and will not really be of help.
Thus, we put all of our hopes in the question-submitting form. Unfortunately, we tried to do this a couple of times and we received a red alert message that there was an error processing our request.
If this is true, then it is safe to say that BTGuard doesn't offer any kind of customer support.
Value for the Money
Before we conclude whether you should waste your time with this VPN, we need to take a look at the payment options.
Price comparison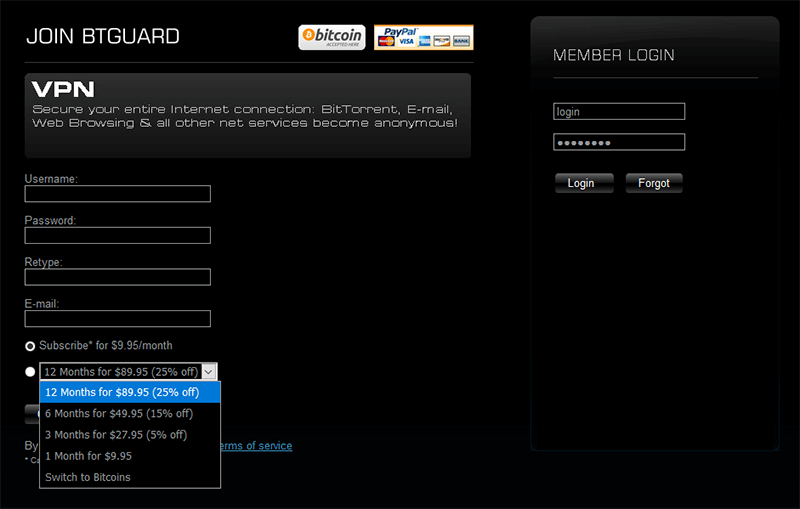 During this BTGuard review, we found out that they do not offer a wide variety of subscription options. In fact, there are just two. The first one is a single-month plan that would cost you $9.95, which is quite high considering the features that they are offering.
If you decide to go for an annual plan, you will get a 25% discount.
But honestly, we wouldn't even both when you could get excellent VPN providers like NordVPN or CyberGhost for a similar price.
Payment types
If nothing else, at least they allow an array of different payment methods. Thus, you can subscribe using major debit or credit cards, PayPal, and Bitcoin for staying anonymous.
Money-back guarantee
Along with not offering a free trial or a free version of their VPN service, BTGuard also does not offer a money-back guarantee.
Final Thoughts
In the end, we rate this provider to be at the bottom of our ranking. While it offers robust torrenting performance, that is about it. The number of servers is incredibly limited, while their customer support is almost non-existent.
Additionally, nobody likes to have their data stored, and that is what BTGuard does with some personal info.
Thus, instead of paying the high price for this unreliable service, we suggest you subscribe to ExpressVPN or CyberGhost and enjoy a stress-free VPN!
Our final verdict is that this virtual private network is not one that we would recommend to anyone, even in desperate situations.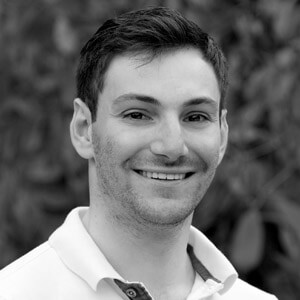 Flo is the founder of the-bestvpn.com. Really concerned about security on internet, he decided to create this website in order to help everyone find the best VPN. He's got a Business School background and now is 100% dedicated to keeping his website alive.