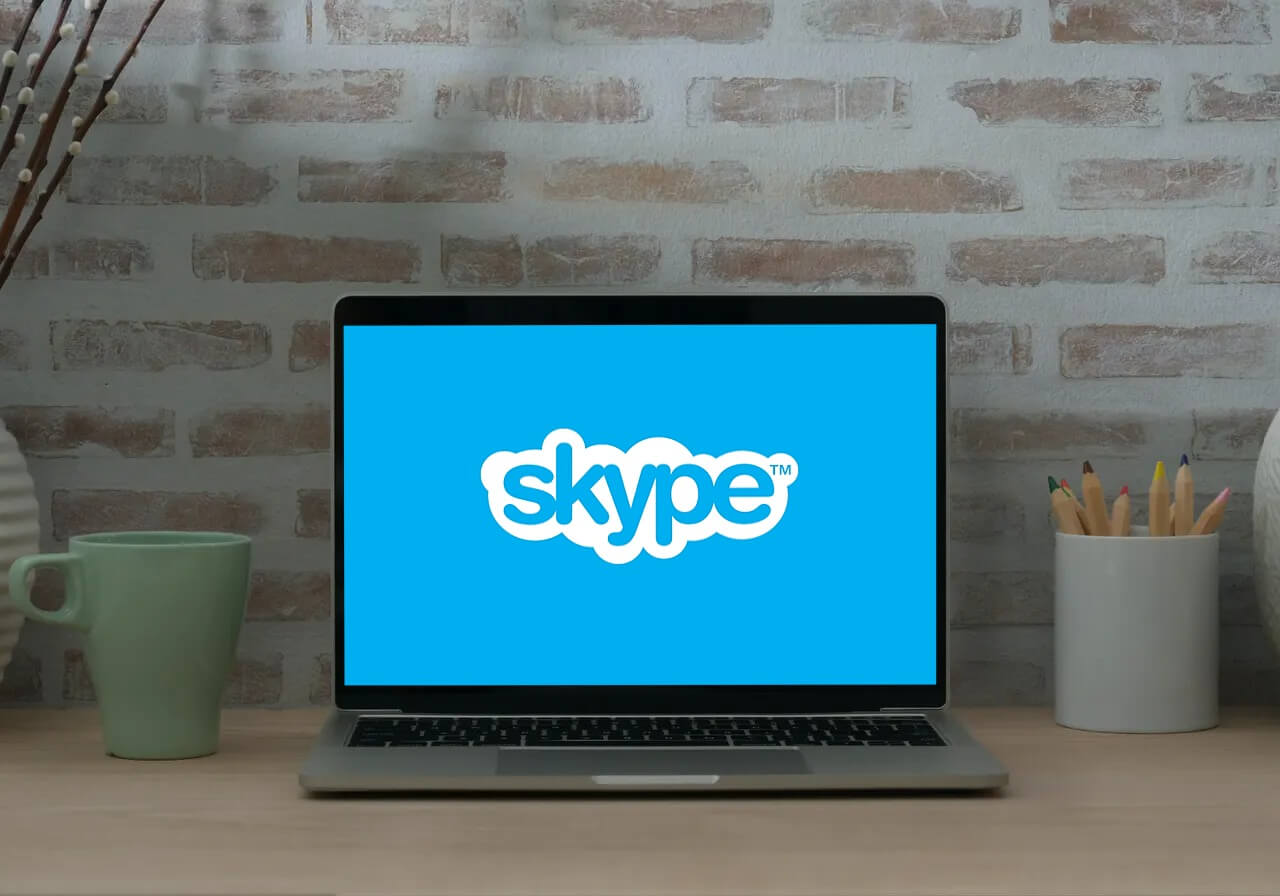 Skype is now a synonym of a VoIP service that many people worldwide enjoy to this day. However, in recent years, governments around the world started to block it, making it inaccessible for numerous countries. On top of that, the platform has other privacy-related issues that require the use of a VPN. Without further ado, let's see what are the best VPNs for Skype in 2023.
Best VPNs for Skype
To avoid wasting your time, we're going to jump right into the topic. Our top 3 VPNs for this VoIP service are waiting for you below:
1. ExpressVPN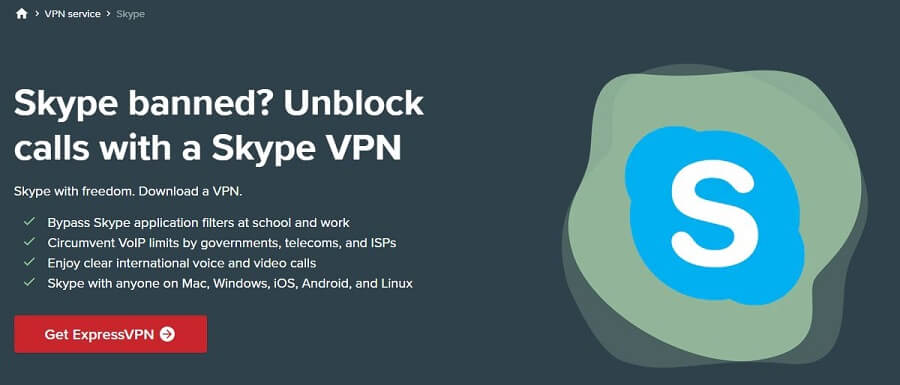 ExpressVPN is the best VPN choice for Skype, for many reasons. First of all, when using this service, you'll need privacy and security, which the provider offers. It's from the BVI, out of the 14 Eyes, meaning that it isn't forced to store logs. With a zero-log policy, your privacy will be untouched.
Second, ExpressVPN employs 256-bit AES encryption for your connection, which is an impenetrable security measure. A kill switch is there, making sure that your IP or DNS never leaks accidentally.
On top of that, the provider packs 3,000+ servers in 94 countries, allowing you to swiftly change your online location. This will allow you to access Skype in many countries, so you'll never be cut out from your business deals or family abroad.
Using a VPN is legal in most countries, so you don't have to worry about that. ExpressVPN gives up to 5 simultaneous connections on a single account, meaning that you can enjoy Skype on your smartphone, tablet, or laptop at the same time.
Those who get it now will be able to get a 49% discount and 3 months free for a 12-month subscription plan. This makes the provider extremely affordable.
Enjoy Skype Calls With ExpressVPN >
2. NordVPN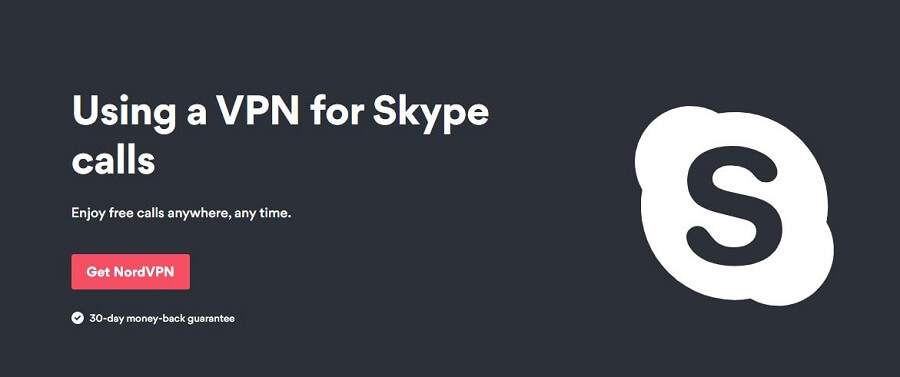 The second option we recommend is NordVPN. This provider is perfect when it comes to privacy, security, and unblocking sites and platforms. NordVPN reliably works with Skype, and due to its military-grade encryption, staying secure is guaranteed.
Our tests showed that it unblocks this platform even in the UAE and China, and these are the harshest censored countries around the world. Furthermore, the provider offers features like Double VPN and obfuscated servers, which further enhance privacy and security while exchanging messages.
The server count is pretty large, as well. There are more than 5,600 servers in 60 countries – an impressive number! NordVPN lets you use your VPN on Windows but also platforms like iOS, Android, macOS, and Linux.
Lastly, you get up to 6 simultaneous connections and unlimited bandwidth. There's 24/7 support, too, and it's ready to fix all the VPN-related issues you might encounter. All in all, it's one of the best VPN options on the market if you're looking for a way to unblock and make calls on Skype.
3. CyberGhost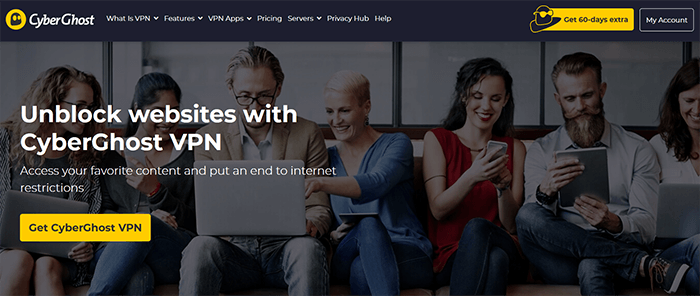 For those who value every penny or dollar, CyberGhost is a God-give solution. This provider is very cheap, and you don't get what you pay for. Instead, you get MORE, which makes it an extremely popular option.
This provider is stationed in Romania. For many, this is the best location for a VPN. It's outside the 14 Eyes so you instantly avoid government surveillance. Apart from that, a zero-logging policy is in place, so your privacy won't be endangered.
CyberGhost offers dedicated servers for increased functionality, but also 256-bit encryption for security. You get an ad-blocker as well, which blocks trackers, preventing advertisers from tracking you online.
Accessing Skype will be a breeze, as the VPN provider unblocks it in a single click. You can also watch the Champions League live with dedicated servers, or enjoy Netflix and Hulu while you're not chatting with your friends.
With 7 simultaneous connections, CyberGhost is above the majority of the competition. And price-wise, we recommend a 3-year plan, which is the cheapest one and gives you a 45-day money-back guarantee.
Unblock Skype With CyberGhost >
Which Countries Can't Use Skype?
In 2023, this VoIP service is blocked in more countries than you might think. On the list, we can find more than 15 countries from different continents, excluding Europe. The countries that strictly block Skype are:
Libya
Kuwait
Guyana
UAE
Qatar
North Korea
Oman
There are more countries where Skype isn't completely blocked. Instead, some ISPs ban it and some block it from time to time, depending on numerous factors. These countries include:
Brazil
China
Cuba
Mexico
Thailand
Singapore
Venezuela
Yemen
Vietnam
Pakistan
Russia
Turkey
Myanmar
Morocco
Bahrain
Iran
Saudi Arabia, and many more.
Can Free VPN Providers Unblock Skype?
Technically, a free VPN provider would work with Skype but we're not keen on recommending it. Skype isn't hard to unblock, even by free providers, but with the limits these providers impose, you'll find it hard to enjoy the app fully.
Free VPNs offer limited bandwidth, so you're doomed in a way that you won't be able to enjoy video or voice calls. These calls are bandwidth-hungry, so you'll quickly run out of 1, 2, or 3 GB that the provider gives you monthly.
The worst thing about free providers, for us, is the fact that they store logs of your connections and share your personal info with third parties. This means that you can say goodbye to your privacy, as advertisers and third parties will know your web-browsing habits.
We suggest avoiding free providers whenever you can and get a premium one. After all, premium providers aren't very expensive. For just a few bucks a month, you get complete protection and the ability to unblock Skype and other platforms in a blink of an eye.
Will I Be Able to Bypass Government Surveillance With a VPN on Skype?
This is a question that can't be answered directly. We'll have to inspect this app and see if a VPN can help you iron out its security flaws. Skype claims that its conversations are encrypted with 256-bit AES encryption with 2,048 keys.
However, this is not end-to-end encryption, which makes the existing encryption sort of useless.
In 2011, Microsoft bought Skype, and Microsoft is a company known for its surveillance. A few years later, NSA said that they DO monitor Skype video and voice calls, which were allegedly encrypted.
At the moment, the US government can freely monitor your chats, video, and voice calls on Skype, but so can the Chinese and Russian governments.
A VPN will NOT be able to protect you from this aspect of surveillance. After all, the Skype traffic goes first through Microsoft's servers, and then, the government can decrypt and read it.
One solution would be to avoid US, Chinese, and Russian servers, but then again, Microsoft collects data wherever you're located and will hand it to the government as per its request.
So, if this privacy issue bothers you, it's better to use another encrypted VoIP service.
How to Use Skype in China?
At first, Skype seems to work great in China. You visit the Microsoft Store, download it, and use it freely. However, this is only a Chinese version of the app called TOM-Skype. Why does it exist?
Simply put, it exists to allow the government to spy on your conversations, whether it's chat, video, or audio call. To avoid getting this version of the app, you need to connect to a VPN server in another country.
Once you do so, visit the Microsoft Store and download Skype. You should now have the international version which will prevent the Chinese government from spying on you.
Quentin is the co-founder of the-bestvpn.com. With several experiences as a System and Network Engineer, he is very knowledgeable when it comes to VPN, cybersecurity and the risks of using the Internet nowadays.