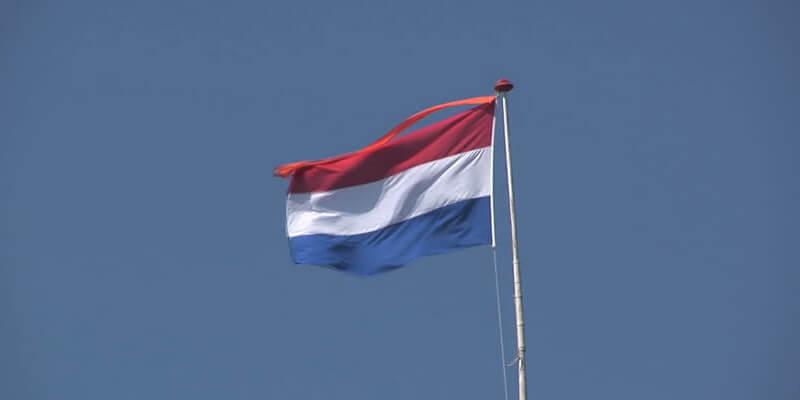 The Netherlands isn't the largest and most popular country in Europe. But, those who travel here can expect some decent cuisine, lots of interesting sights to see, and a welcoming atmosphere. One thing where this country has some flaws is internet access. You're free to enjoy almost all the websites and platforms but with some limits that aren't negligible. Therefore, let's see which VPN providers are the best for the Netherlands.
Best VPNs With Servers in the Netherlands
The best VPNs on the market can take pride in having hundreds of servers worldwide. Some of them even cover the entirety of the planet, like HideMyAss, allowing you to bypass geo-restrictions easily, wherever you are.
Luckily, almost every decent VPN provider has at least one server in the Netherlands. This is important for this country's residents who are often traveling alone and want to enjoy local content from abroad.
Furthermore, the Dutch IP will allow you to use your local bank account from another country, making it easy to control your funds from everywhere.
Here are our top 3 picks with VPN servers in the Netherlands:
ExpressVPN: ExpressVPN is the best provider on the market. It graced the Netherlands with more than a few high-speed, high-security servers. With this provider, users from this country can enjoy safe internet browsing and fully utilize its 3,000+ servers and rock-solid protection.
NordVPN: A bit cheaper option is NordVPN, which is a resounding name on the market. It's great for every purpose, including streaming, torrenting, or just surfing the internet. With more than 230 servers in this country, you'll enjoy local content from abroad in a snap of a finger.
CyberGhost: CyberGhost is the largest provider on the market, boasting 7,000+ servers in total. These are high-speed servers perfect for whatever crosses your mind. Now that it has 136 servers in Amsterdam, you'll feel at home online even in a foreign country.
Using the provider of your choice is quite easy. You just need to click on the one you want, get a subscription, download the respective apps, and you're good to go.
Why People in the Netherlands Use a VPN?
Do people in the Netherlands use a Virtual Private Network? Our research shows that they do. Why do they use it? Well, let's find out now:
Bypassing Geo-Restrictions
Bypassing geo-blocks is a present issue from the inception of the internet. In today's day and age, it's mostly a problem for different streaming platforms, such as Netflix, Hulu, HBO GO, and so forth. This country is lucky to have a solid Netflix catalog, but when compared to the US one, it's minuscule.
On average, people outside the US enjoy only about 40% of the site's offerings, yet they pay the same amount of money – think about that!
This service lets you change your IP easily, "fooling" the platform you want to unblock by thinking that you're from the required country. If you're located in the Netherlands, just connect to the US server and enjoy a full Netflix catalog!
Or perhaps, if you want to unblock any geo-blocked site, this service will let you do so in two simple clicks.
Avoiding Government Surveillance
Up until recently, the Netherlands was a rest haven for privacy and security online. A few years ago, the new legislation arrived, threatening to stomp over the resident's privacy and make the whole internet browsing thing unsafe.
In Dutch, it's called Wet op de inlichtingen- en veiligheidsdiensten 2017 which basically means Intelligence and Security Services Act 2017.
This act allows the government to fully monitor what's happening online and preserve data if needed. Although it's debated since 2017, it started taking effect in the Spring of 2018. So far, there are no indications that something's going to change.
The Netherlands is, in this state, far from being the safest country in terms of internet access. And for that reason, you MUST use a VPN in the Netherlands.
Torrenting Safely
Lastly, you'll need this service if you want to download torrents safely. The country is an avid fighter against copyright infringement, punishing those who do it violently. They're not going to break your bones, that's for sure.
But, be ready to pay a hefty fine if you're caught downloading movies, music, or games illegally.
Even if you plan on using it solely for you, that's not going to cut it. A Virtual Private Network will obfuscate your connection and hide you from your ISP. In return, you get to torrent safely, with no one seeing what you're doing.
The Best VPNs for People Living in the Netherlands
Perhaps, you're not traveling that often. Perhaps, you just live in the Netherlands and you need a reliable VPN provider for day-to-day use. We got you covered, here are the  best providers for this country:
1. ExpressVPN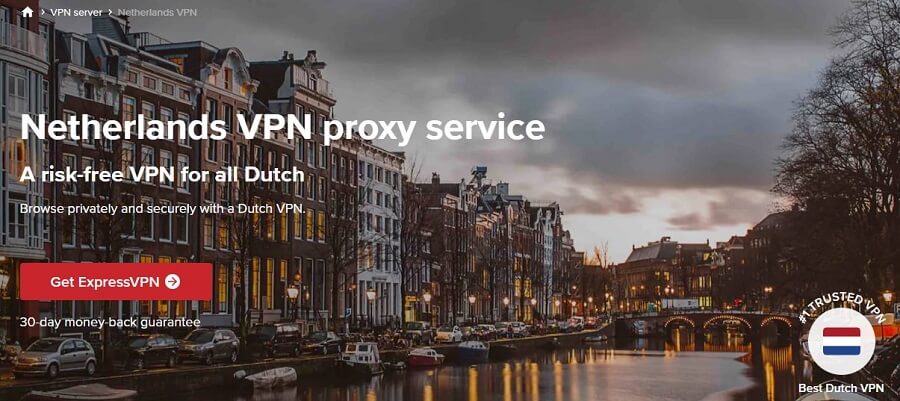 ExpressVPN is your best option for browsing the internet safely. It's a really good VPN to use on Kodi, and for streaming, in general, which Dutch residents will appreciate. Our tests showed that it boasts the fastest speeds, making every online activity a breeze.
In terms of security, ExpressVPN is a true champ. It packs 256-bit AES encryption and uses an automatic kill switch if the connection drops. Moreover, you get split tunneling as a special feature, accompanied by 3,000+ servers in 94 countries worldwide.
For streaming, you'll be glad that the provider can unblock sites like Netflix, Hulu, HBO GO, Disney+, and DAZN. ExpressVPN is also a no-logs VPN, meaning that it doesn't store logs of your info and browsing history.
Finally, you get up to 5 simultaneous connections and 24/7 customer support. If you decide to buy it, use the button below to get a 49% discount and 3 months free for a 12-month subscription plan.
Get ExpressVPN for the Netherlands >
2. NordVPN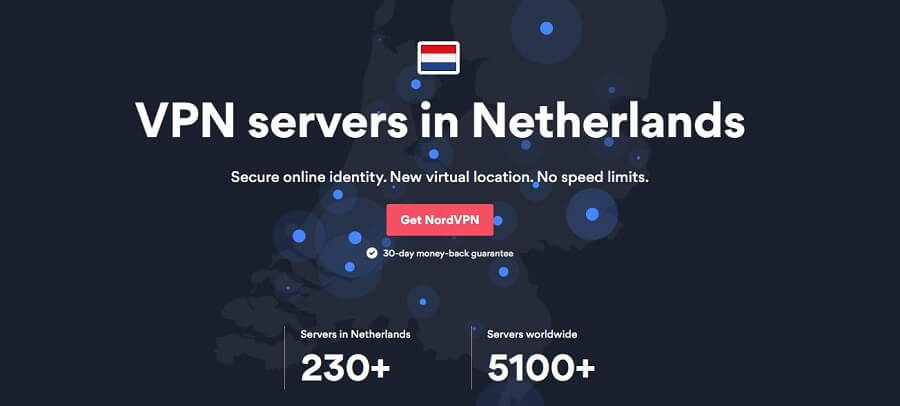 NordVPN packs quite a punch for the price. It's nearly as good as ExpressVPN, yet it costs a bit less. One of the best features of NordVPN is its server count – 5,600+ servers in 59 countries around the globe.
Recently, the company launched a new NordLynx protocol, which makes it even safer to use. Speaking of safety, the provider uses military-grade encryption with superb IP leak protection. The addition of an ad-blocker called CyberSec is definitely a good one, while obfuscated servers let you use the provider in China.
Dutch residents will love that it also unblocks Netflix US. With a provider like this, the possibilities are endless. You're free to stream, torrent, or casually browse the internet to your heart's contempt.
Enjoy NordVPN for the Netherlands >
3. CyberGhost

CyberGhost is an affordable provider that crams all the features for a silly price. It's a Romanian provider with more than 6,800 servers at your disposal. We like that it offers dedicated servers for streaming and torrenting, allowing you to easily use the one for the purpose.
Torrenting can be dangerous in the Netherlands, but not with the help of CyberGhost VPN.
Speed-wise, it's at the top, sharing the crown with both NordVPN and ExpressVPN. This grants you a fluid and hassle-free web-browsing experience. CyberGhost allows for up to 7 simultaneous connections and has 24/7 live chat support as well.
The best thing is that it's REALLY cheap. Its 3-year plan is the best option, and if you buy it, you'll save more than 80% on the initial price.
Enjoy Online Freedom With CyberGhost >
Summary
To summarize, the Netherlands won't be as safe as you'd expect it to be internet-wise. With constant government surveillance and copyright issues, you'll want to use a quality VPN provider in the Netherlands.
Our recommended choice is ExpressVPN, which is the best provider your money can buy. With it, you'll not just enjoy privacy but also unblock sites, download torrents, and access the Darkweb if you want.
This 49% discount can be yours if you buy ExpressVPN now. They'll also give you a 30-day money-back guarantee in case you don't like it. But let's face it – that's not gonna happen!
Quentin is the co-founder of the-bestvpn.com. With several experiences as a System and Network Engineer, he is very knowledgeable when it comes to VPN, cybersecurity and the risks of using the Internet nowadays.