When we talk about IP addresses, they're one of the most important factors of a VPN connection. The whole point of this service is to mask your IP, give you a new one, thus letting you browse the internet anonymously. There are several types of IP address that providers assign, some of them being dedicated, static, and dynamic. We're going to discuss each of them as well as give you VPNs that give you these functionalities. Our best dedicated IP and static IP address VPNs are below.
Dedicated, Static IP, and Dynamic IP – What's the Difference?
Before we move on to the best providers that offer these functionalities, we feel the need to explain what they are exactly. Many users fail to differentiate these types of IPs when in reality, they're much different when compared to each other.
Therefore, we suggest carefully reading this section before buying a provider that offers the IP addresses we're going to mention below.
Dynamic IP
The dynamic IP address is what you always get when you connect to a VPN server. This is how all VPNs operate. Basically, every time you connect to a server, you get a different IP. Your address might be one during a particular connection, but when you disconnect and connect again, you get another one.
For comparison, your Internet Service Provider (we'll call it ISP) gives you a dedicated address. If you check your IP online, it's always going to be the same, which allows your ISP to monitors your traffic and control what you can access online.
That's what they often do, by the way.
VPNs, on the other hand, always use dynamic addresses, meaning that they connect you to a random server every time you access one. For people who use a VPN casually, that's not a problem, but for those who want more out of it… well, that's where things change.
Static IP
Logically, a static IP is widely different from a dynamic one. It's static, which means that it never changes. If a provider offers a static IP, when you connect to it, your address will always be THE SAME.
However, static IPs are almost always shared on a VPN. To translate, a couple of users can connect to the same address and use the internet freely. When compared to dynamic IP, it has a slight advantage.
For example, this address is used by a small minority of people, so it's less likely to get blacklisted if some of the users decide to "act a fool" on the internet. And there, we arrive at the third type of address, which is our primary focus – a dedicated IP.
Dedicated IP
Dedicated IP is a dream come true for many VPN users. It's always a premium feature that you need to pay for, in addition to your basic subscription. Some dedicated IPs can cost you up to $6 a month PLUS the monthly subscription.
As you can see, having such luxury costs $50 to $72 a year, which isn't very cheap when paired with the subscription you pay for a provider. Dedicated IP is also a static IP but it's not shared by other VPN users. Only you get to use it.
It has many advantages, except for privacy, which isn't the main focus here. Usually, business owners use it for running the company, and their goal isn't anonymity. In fact, they want others to know about the server.
But, with a dedicated IP, you can always access the sites or platforms you've used since they won't block you because of the IP that they don't recognize.
Best VPNs that Offer Dedicated or Static IP Addresses
Now that we made everything clear, we can briefly talk about the few VPN providers that will give you one of these functionalities. Here's our list of the best dedicated IP providers on the market.
1. CyberGhost

When it comes to VPNs with dedicated IP addresses, CyberGhost is a clear winner. This Romanian provider packs 7,000+ servers in 90+ countries worldwide, which is the largest server network you can get. It's one of our favorite providers due to its speeds, reliability, and ability to unblock sites.
Users who want to get more out of it can enjoy an IP address specially dedicated to them. This option costs $5 a month, so you'll pay $60 a year. If you're a business owner, that's probably not going to be a big deal for you.
CyberGhost is very affordable but also very rich feature-wise. Apart from solid speeds, the provider unblocks sites like Netflix and Hulu and allows for torrenting with its dedicated servers. Furthermore, you get 256-bit AES encryption, an automatic kill switch, and a reliable ad-blocker.
Last but not least, the provider allows for up to 7 simultaneous connections, which is an impressive number for the price. Even 24/7 support is here. You can expect it to fix the potential issues in no time!
Get a Dedicated IP From CyberGhost >
2. NordVPN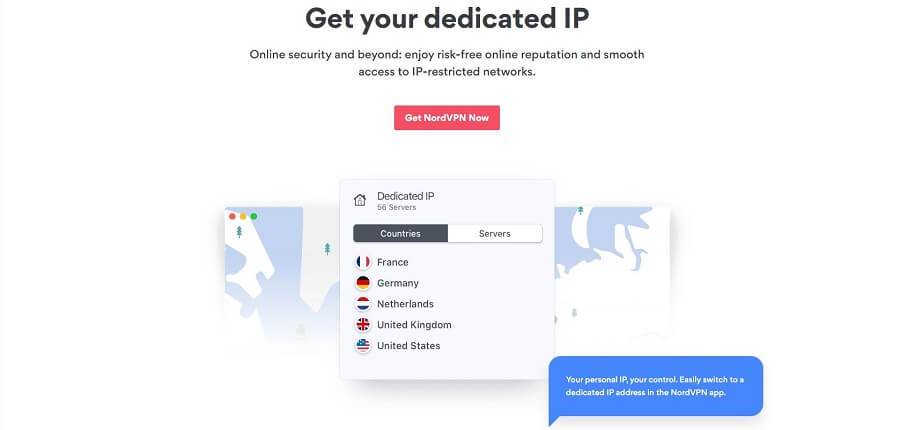 Changing servers in a huge server network is always a breeze, and NordVPN knows that. If you want to get a cheaper flight ticket or unblock sites, NordVPN offers more than 5,600 servers in 60 countries. These servers are blazing-fast, allowing for a smooth and enjoyable browsing experience.
Unlike CyberGhost, this VPN provider offers both shared and dedicated static IP addresses. Shared IPs can be used with a basic subscription but be aware that they're not as good as the dedicated ones. The latter will cost you $5 per month, again, but you only get 4 countries to choose from.
NordVPN encrypts your dedicated connection with 256-bit encryption and if the connection drops, a kill switch is here to put a stop to it. The provider is extremely secure as it keeps a no-log policy and has military-grade encryption.
Additions like CyberSec, Double VPN, and obfuscated serves are definitely welcome. They greatly enhance how the provider works, granting total security and privacy for your and your business, in case you own it.
Get a Dedicated IP From NordVPN >
3. Surfshark (Static IP)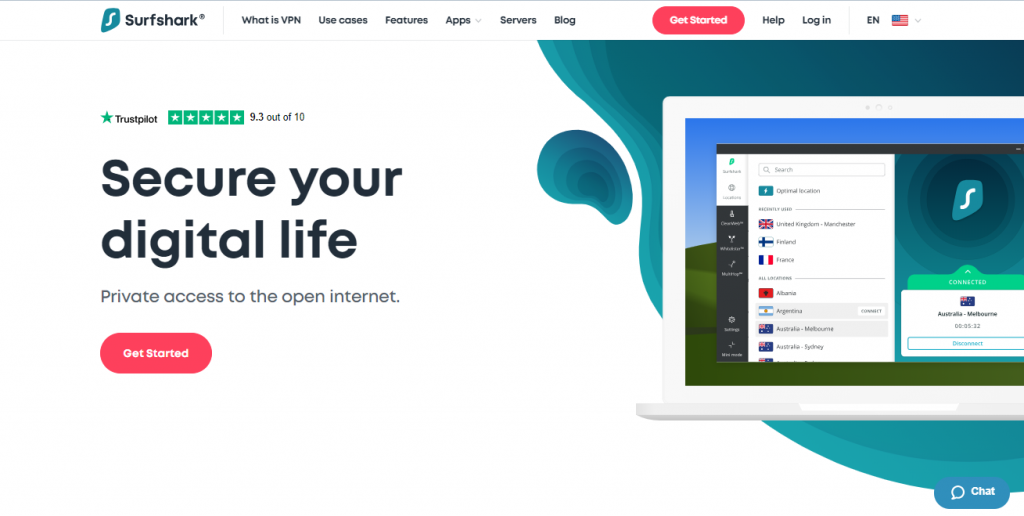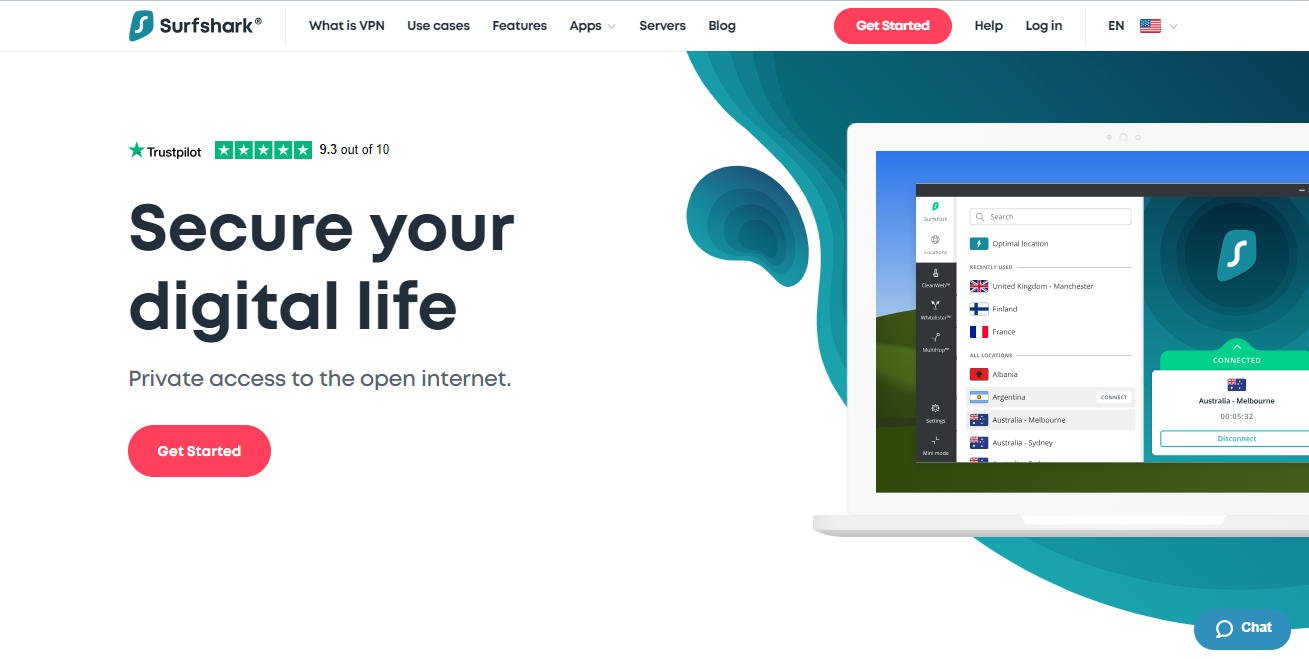 Surfshark is an amazing provider from the British Virgin Islands that focuses on rock-solid security and privacy. Unlike the previous two VPN providers, it doesn't offer a dedicated IP but a static IP, which is shared.
As we explained, this is the same IP address that multiple users can connect to and use. If that's what you need, we recommend getting this provider, although NordVPN gives the same functionality, as well.
Features-wise, Surfshark has a lot to offer for the price, which is very low, by the way (around $2 each month). 3,200+ servers are here, coupled with military-grade encryption and more advanced features if you pay a bit more.
There's NoBorders mode for bypassing deep-packet inspections but you can also use MultiHop for more privacy.
We like that it keeps a strict zero-logging policy, and that's thanks to its out of 14 Eyes jurisdiction. The highlight of the provider is its price. However, we also must mention that it gives unlimited simultaneous connections, despite being dirt-cheap.
It's significantly more than NordVPN or CyberGhost! We implore you to read our Surfshark review and see how good it is.
Grab a Static IP From Surfshark >
What Are the Pros/Cons of a VPN With a Dedicated IP Address?
A dedicated IP address is, as we said, a premium feature offered by some Virtual Private Networks. That's not for no reason.
When you share the address with someone else, that IP might get banned from websites for some reason that's beyond your reach. For instance, you can get an IP ban on a gaming server, or banned by your bank, if another user behaved inappropriately.
If only YOU are using the address, you control what you do, and you can avoid a situation like this. Not to mention that it's great for avoiding captchas on Google and other big websites. This is quite important because it will prevent the site from locking you out due to a different IP.
There are some drawbacks, one of them being the additional price you have to pay. Dedicated IPs are very expensive and not everyone can afford them. Anonymity is another problem, or should we say – the lack of anonymity.
Since you're the only one using the dedicated IP, that address is registered to your name.
The last drawback is vulnerability to DoS and DDoS attacks. Sure, you can equip your server with protection but it's easier to target your device given that you're the one using the address.
Summary
If you never tried a dedicated IP address (or static IP), we strongly recommend doing so. That is if you need it for whatever purpose. The benefits of this type of address severely outweigh the drawbacks, making it well worth the money.
Before you ask, we want to mention that you can't get this functionality for free. It's ALWAYS paid, and free providers do NOT offer it. That's why, if you're interested in it, we recommend a premium provider like CyberGhost.
Apart from the 7,000 servers it offers, you'll be able to have your own IP and avoid slow and unstable connections when sharing it. Should you decide to get it, we recommend a 3-year plan that gives you 2 months free and a 45-day money-back guarantee.
For the price, you won't find a better VPN!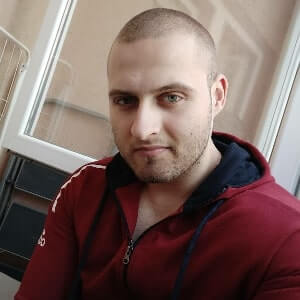 A professional writer with a Master's degree in Mechanical Engineering. Since his youngest age, he loves everything related to internet, technology, fitness, games, and dogs! He joined our team in order to bring his deep knowledge in security services, among which VPN is of course a key component.