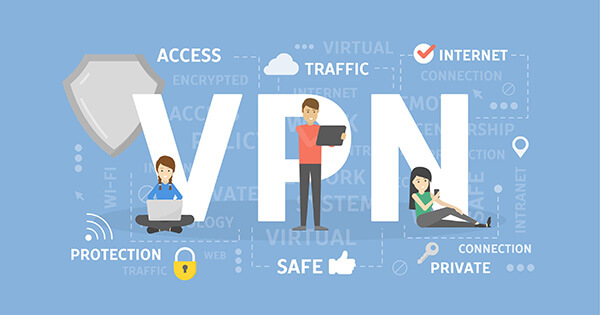 When owning a business, being it large or small, you need protection from online threats. That's why many companies use VPNs, in order to prevent hackers and other threats from compromising important data. With so many providers on the market, it's very hard to pick the one that will suit your business needs. But, today, we're going to give you our top 5 choices for this purpose so that you can enjoy safety and security online.
Business vs Traditional VPN – What's the Difference?
Before we talk about the best VPN solutions for a small business, or perhaps, a bigger one, we need to mention the complete definition of what is a VPN. Basically, a VPN is software for online protection that lets you browse the web anonymously.
This way, you're hidden from the prying eyes of the government, ISP, and hackers that might try to access your personal information. Although it lets you bypass geo-restrictions and unblock sites, business owners will be interested mostly in the first definition.
Having a business is no joke, hence you need every means of protection you can get. Now, business and traditional VPN solutions are almost the same in terms of how they work. However, business VPNs are here to protect the whole business, adding advanced hacking and surveillance protection.
Furthermore, these VPNs will often offer a dedicated IP address, which is strictly used by a particular company. Since the company is comprised of multiple employees, a business provider will let you keep everyone safe.
How do Business VPNs Work?
If you're looking to get a corporate VPN, you need to know how it works. First, you, as a company representative, have to get a subscription and tell the provider how many employees you have. Once you do so, the provider will activate an account for the whole company.
This means that your whole business will rely on that single account, including your employees. With this universal account, you (or someone else) will have to be an account manager. You'll have full control and you'll also be able to see what websites your employees visit.
As for the installation, it can sometimes be different, depending on the scope of your work.
Best Business VPNs
To protect your enterprise and online business, getting help from a Virtual Private Network provider is mandatory. But which one should you get? Well, to find that out, you might wanna scroll down and find out more about our top 5 picks!
List of the best VPNs for Business in 2023:
NordVPN Teams
ExpressVPN
CyberGhost
Surfshark
IPVanish
1. NordVPN Teams (Large Business)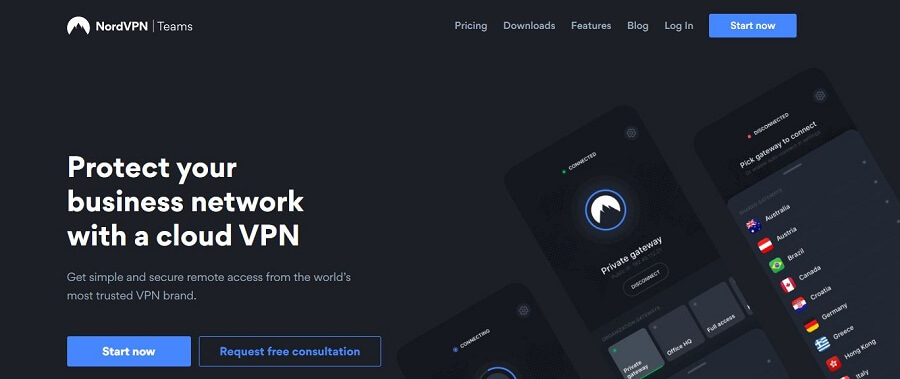 We all know NordVPN as one of the top names in the cybersecurity world, and when it comes to this area, things are no different. The provider built its name upon the sheer quality, stable connections, and blazing-fast speeds, almost unparalleled by anyone else.
The question is – what makes NordVPN Teams so special? For the start, it offers everything you need, from an automatic kill switch, centralized billing, and control panel to priority support, dedicated servers, and account management.
Depending on the plan you go for, you'll have access to all of the aforementioned features. For smaller businesses, NordVPN has a cheap Basic plan. And if you're growing fast, the Advanced plan will be your best bet. The most expensive, however, is the Enterprise plan.
It lets you build and control your own cybersecurity platform with all the cutting-edge security features. Speaking of security, NordVPN has 256-bit AES encryption and protects even your IPv6 address.
Moreover, it's from Panama, far from the 14 Eyes, so it has a zero-logging policy. We like the addition of third-party authentication that works with Azure, Okta, OneLogin, and GSuite. Also, its apps are available for every platform, including macOS, Windows, iOS, and Android.
In this "Teams" edition, NordVPN offers around 1,100 servers in 35 countries. That's not very impressive, but for business, it's more than enough to fulfill your needs. Of course, a 30-day money-back guarantee is in place if you don't like it.
Get NordVPN for Your Large Business >
2. ExpressVPN (Small Business)

ExpressVPN is one of the best VPN solutions for small business. Yes – it's a consumer VPN, but if your business has no more than 5 people involved, it could work great. The reason why we say this is that it comes with 5 simultaneous connections.
But, that shouldn't be an obstacle given ExpressVPN's thorough router support. If you're working under the same roof with your employees, you can connect it to a router and protect up to 16 or 32 devices simultaneously. This will let you increase the scope of protection by a huge margin.
Another great thing about it is its speed. It's the fastest provider out there, making it great for multiple-people use. Should you have to send an urgent email or you're short on time, ExpressVPN won't disappoint you.
Security-wise, you can expect the standard treatment. There's 256-bit AES encryption coupled with a reliable kill switch (Network Lock). IP/DNS protection is also here, so you won't get exposed to the prying eyes by no stretch of the imagination.
The server count here is drastically higher than NordVPN Teams'. You get 3,000+ servers in 94 countries, and that's amazing for bypassing geo-restrictions and unblocking sites. On top of that, downloading the apps for every platform is a breeze, thanks to its intuitiveness and user-friendliness.
On a monthly basis, ExpressVPN is more on the expensive side. However, if you need a long-term solution, we advise you to get its 1-year plan that comes with a 49% discount and 3 months free.
Manage Your Smaller Business With ExpressVPN >
3. CyberGhost (Small Business)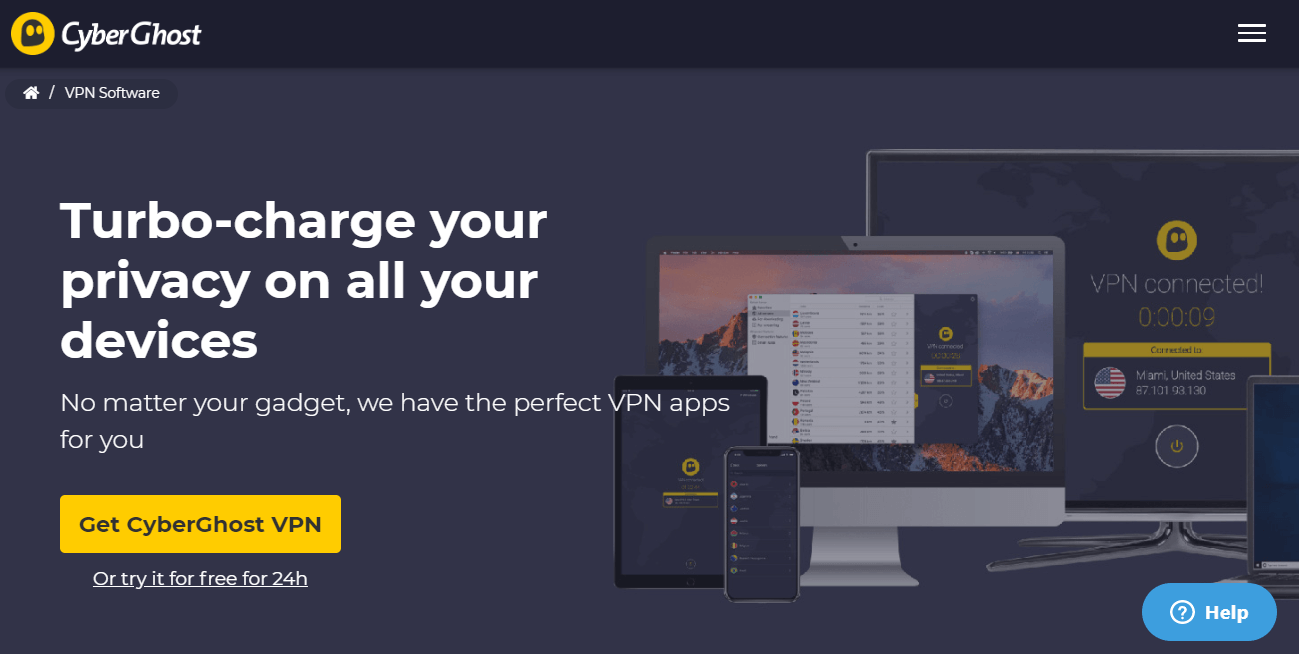 CyberGhost is another provider that will let you manage and protect your small business. The reason we decided to put it on the list is its cheap price. Truly, it's impressive what a cheap provider can give you, both in terms of performance and security.
If you just started developing your field of work, this small investment will be a huge deal in the next few years. The provider will let you protect up to 7 devices simultaneously, so if you're working with up to 6 more employees, there's your perfect solution!
Depending on your line of work, you might want to take advantage of dedicated servers. They're here for torrenting and streaming, just in case you want to have fun during your lunch break. CyberGhost also supports routers, letting you protect many more devices, but only under the same roof.
Companies worried about security shouldn't worry anymore. CyberGhost packs rock-solid 256-bit encryption, an automatic Kill Switch, and IP/DNS leak protection. Its OpenVPN protocol adds to security further, and on iOS and Linux devices, you can even use WireGuard.
Being from Romania, the provider will take care of your privacy, as well. It's far from the 5 Eyes, allowing it to maintain and adhere to a zero-logging policy. Although it doesn't have an external audit, it's proven to be genuine year after year.
Those interested in CyberGhost should go for its 3-year plan. It's much cheaper on a monthly basis, yet there's a 45-day money-back guarantee. In short, this is an investment that will surely pay off!
Get CyberGhost VPN for Protecting Your Business >
4. Surfshark (Large Business)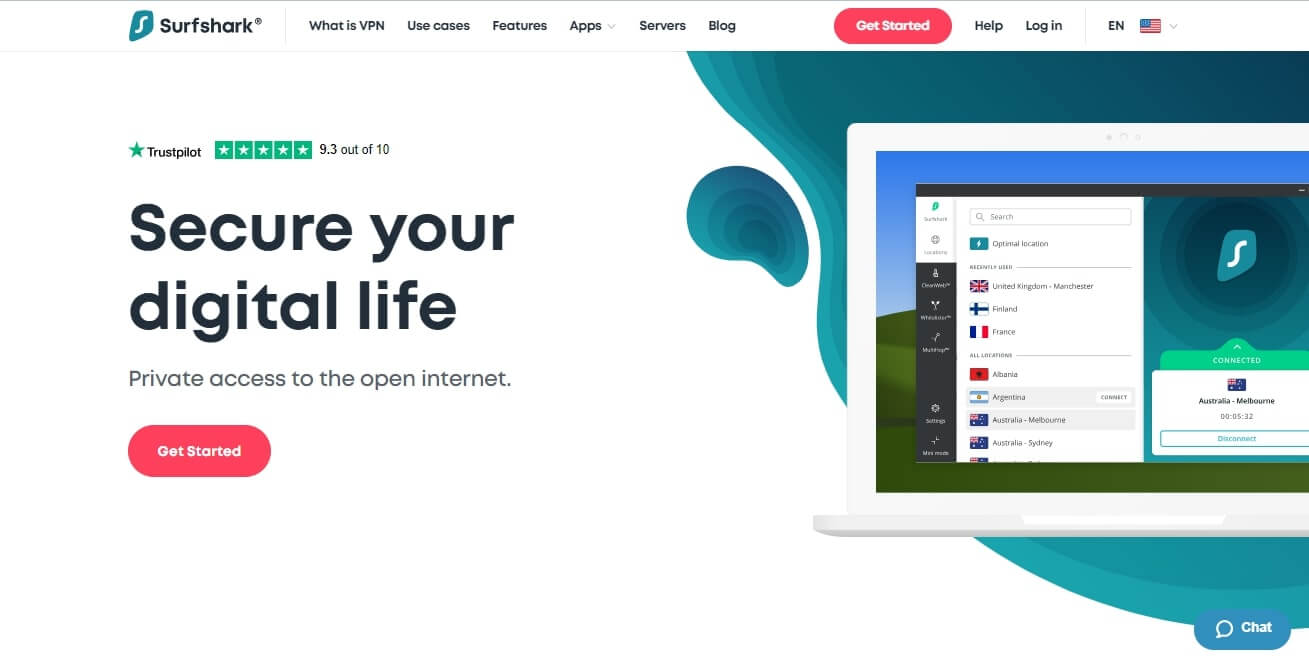 Surfshark comes at an even lower price than CyberGhost and it comes as a surprise that it's a great enterprise VPN service. The reason for that lies in its number of simultaneous connections. You get unlimited connections on the same account, with only ONE subscription!
Oh, and if we didn't mention – it's VERY cheap. Buying just one subscription will let you protect as many employees as you want, and to make things better, Surfshark works with routers, too! Sounds good? It's like music to our ears.
We like that Surfshark goes guns-blazing on all fronts. Apart from this functionality, you can also enjoy its 1,700+ fast-speed servers in 60 countries. Each server is stable and offers reliable connections that won't let you down in important moments.
For companies trying to stay anonymous, there's a feature called HackLock, acting as a true incognito mode. Surfshark also offers a static IP address and a MultiHop feature that works wonderfully for keeping you away from the watchful eyes.
Its apps are very simple to use and they look really good. This trend is continued on every mobile platform, which your employees will surely like. Yet another great thing worth mentioning is Whitelister.
Essentially, it's split tunneling, letting you decide which site will use tunneling, and which won't. There are many more features and functionalities that would make a business owner happy. And you know what? A 30-day money-back guarantee is in place, so you can get a refund in a blink of an eye!
Protect Your Business With Surfshark VPN >
5. IPVanish (Small Business)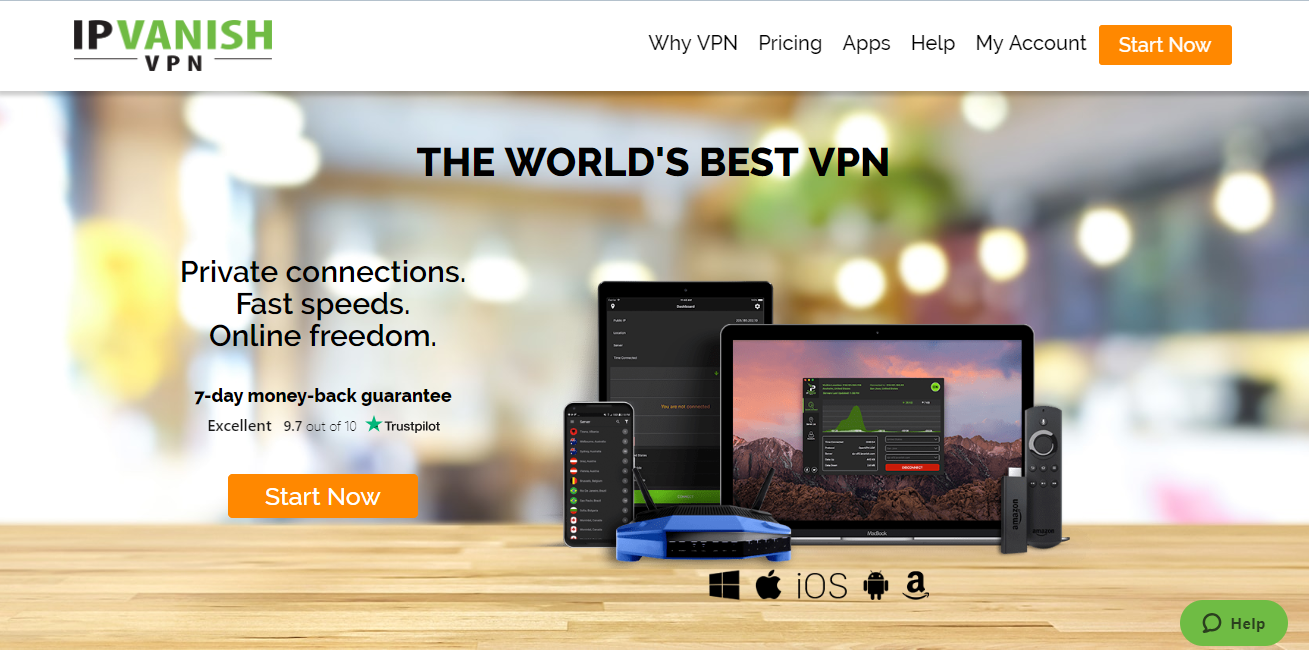 We want to close our list of the best VPNs for Businesses with IPVanish, a provider that made significant progress in the past couple of years. Yes, it's a US-based provider, and that's not trustworthy, but as of recently, the provider switched to a zero-logging policy, making things much better.
For small business owners, IPVanish will work wonders, especially since it allows for up to 10 simultaneous connections. It's double the ExpressVPN's offer, yet it costs significantly less. Whatever plan you get, the provider gives you 250 GB of FREE SugarSync cloud space.
You can use it to store some important files and documents for maximum security and encryption. Performance-wise, IPVanish won't win any medals. Since it's very cheap, that's to be expected. However, if you want to unblock sites and bypassing geo-restrictions, it will perform great.
On your lunch break, you can watch Netflix or Hulu, but also stream sports and read foreign news. IPVanish comes with 1,300+ servers in 75 locations that will allow you to unblock online content in a snap of a finger.
Unlimited bandwidth is mandatory, of course, as well as IPVanish's SOCKS5 web proxy. You also get to enjoy 256-bit AES encryption and an array of protocols. These include IKEv2, OpenVPN, and L2TP/IPSec solutions.
What you'll probably like is 24/7 customer support. You can contact it using live chat and get the much-needed help in a matter of minutes. As of 2023, IPVanish offers a 30-day refund period, unlike the 7-day one, which used to be the main offer a few years back.
Buy IPVanish for Business Protection >
Should I Get a Free VPN for My Business?
When starting your own company or business, you're looking to invest smartly, but not end up in bankruptcy. Getting a premium VPN is never going to be a failed investment and business owners will need to come to terms with that.
Securing your online property is of the utmost importance, and sadly, free solutions won't be enough for that. To maintain a heap of VPN servers, you need a LOT of money, and free providers earn it by selling your data to third parties.
They basically collect your personal information, browsing habits, device info, and so forth, which later ends who knows where. Another thing to point out is the presence of ads. This is another way of earning money while giving you free service.
Free VPN apps are littered with ads that will hinder your browsing experience. All of this is accompanied by poor performance all across the board. Slow speeds, limited bandwidth, and inability to bypass geo-restrictions are only some of the problems.
We can even mention two free providers that you should AVOID if you're a business owner.
Hola VPN
A provider that bases its service on the free VPN Chrome extension. It's very popular for mobile users, although its detrimental to your privacy and security. Hola VPN takes advantage of users' bandwidth to distribute its service.
By doing so, at one point, the provider organized a massive DDoS attack, disrupting millions of users' networks who used it. Not to mention its involvement with promoting child porn, pirated content, and all of that without users' consent.
In short, it's a very evil and cunning company that you should not engage with under no circumstances.
Betternet
Betternet is a typical example of a cliche free provider. As such, it's an embodiment of why you should away free solutions at all costs. During our time with it, we found several malware files on our computer, implying that it's probably collecting your data or mining Bitcoin using your computer's resources.
Moreover, Betternet violated its privacy policy numerous times and sold users' information to third parties. Its performance is poor, with connections that often break and snail-slow speeds. Whether you're an individual or a business user, avoid it at all costs.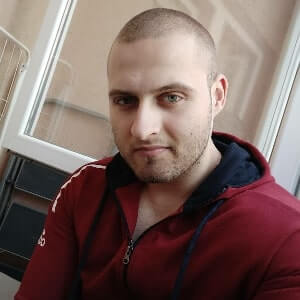 A professional writer with a Master's degree in Mechanical Engineering. Since his youngest age, he loves everything related to internet, technology, fitness, games, and dogs! He joined our team in order to bring his deep knowledge in security services, among which VPN is of course a key component.