Getting a Virtual Private Network is one of the best investments you can make. You get to preserve your privacy online and experience the internet at its fullest, all for a silly price of a few bucks a month. Usually, when we recommend buying a VPN, we recommend doing so in the long run. But what if you prefer doing so monthly? Well, that's not a problem – some providers give excellent value for your money, despite being more expensive this way.
Are Monthly Plans Better than Long-Term Plans?
When you visit the website of the provider you want to get, it'll usually recommend to you a long-term plan. Looking at the prices, this long-term plan seems more affordable. For instance, this plan might cost just $3 a month, while the monthly plan is usually somewhere around $10.
What's the catch?
The catch is that you pay for the whole plan immediately. If a plan is a 2-year one, you multiply $3 with 24 months and you get to pay $72 right away. With a monthly plan, though, you pay only for the month you're going to use a VPN.
So, what's better? Monthly or a long-term solution?
Both!
If your budget is limited like a terrace, you won't have enough money to buy an annual plan. But, you can buy a monthly plan, test the VPN provider a bit, and see if you're ever going to go long-term with it.
Plus, if you don't need the service, in the long run, you can avoid paying for something that you aren't going to use. Let's say you're traveling to China for 2 months. Logically, you'll buy a provider and use it in that period. Why would you buy an annual plan then, right?
Conversely, if you live in a censored country inside the 5/9/14 Eyes jurisdictions, you're going to need it every day, hence a long-term solution is better.
Best Monthly VPNs – Our Top 3 Picks
Before we move on to the list, we want to give you a quick disclaimer.
VPNs you're going to see below are NOT the CHEAPEST monthly. Instead, we focused on balancing the quality and the price, to give you the best possible outcome. If a provider is very cheap, yet doesn't hold up to a certain level, we aren't going to list it.
So, this is a list of the BEST monthly VPNs when we take into account all that the provider offers and not just the price.
Did you make up your mind yet? Are you in a dire need of a monthly VPN plan? If so, here are our top 3 picks that will give you the most value for invested money: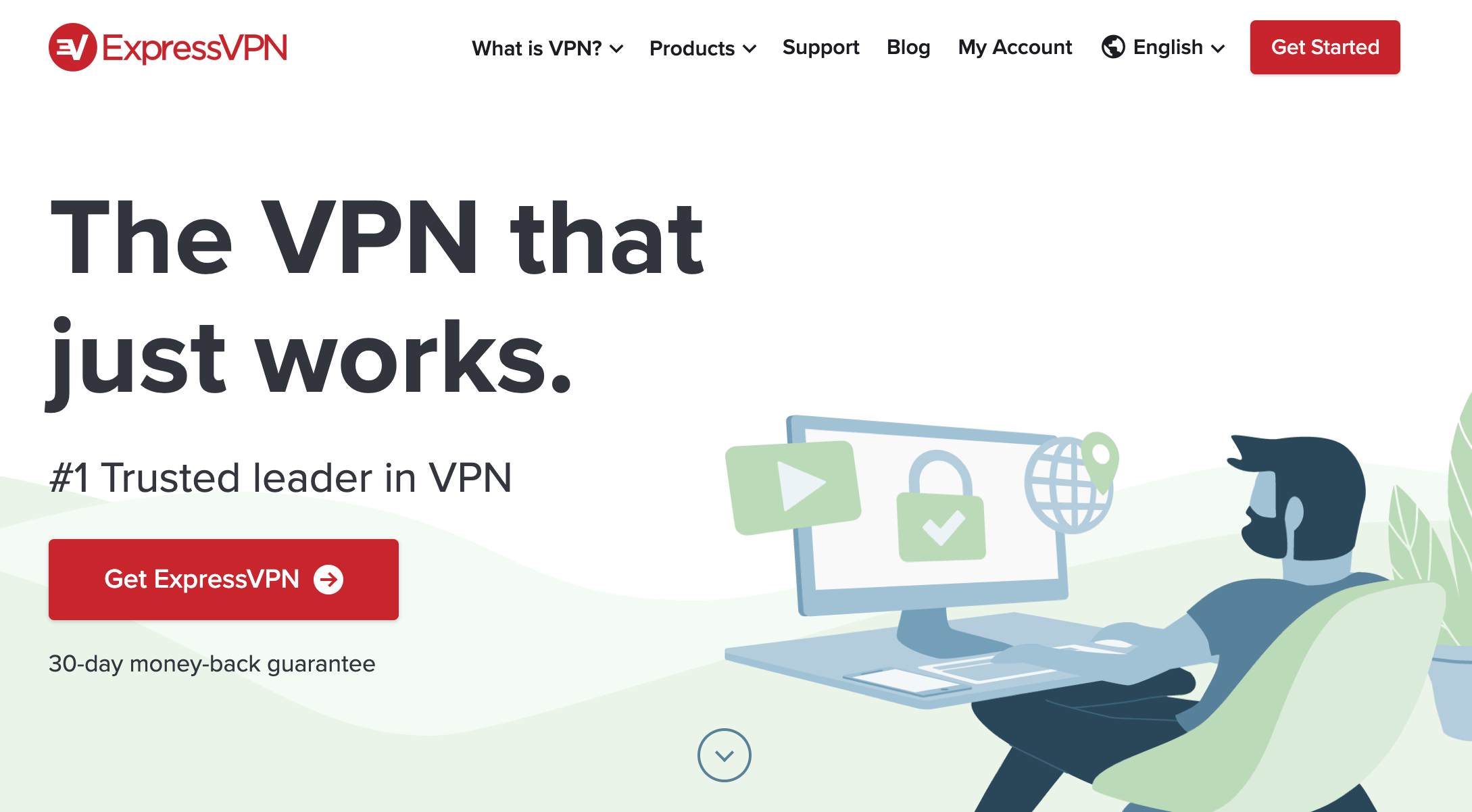 For some, ExpressVPN isn't the most affordable provider on the market. And we agree. However, this is an exceptional provider that can help you unblock any website in a blink of an eye. Don't believe us? Well, we recommend trying it 30 days risk-free and see it for yourself.
ExpressVPN is based in the BVI, and from there, it controls 3,000+ servers in 94 countries. That's a pretty impressive number, given that the servers cover half of the globe. What you'll like about this VPN is that it unblocks streaming platforms such as Netflix, HBO GO, Hulu, and Amazon Prime Video.
This means that you get to enjoy a surprisingly good streaming experience, thanks to the fastest speeds on the market. For security, ExpressVPN uses 256-bit AES encryption paired with a kill switch. It's outside the 5/9/14 Eyes, so it doesn't store logs. In other words, it maintains a clear zero-log policy.
A provider like this opens up tons of possibilities. Visiting the Dark web, torrenting, streaming, browsing – all of that can be yours. The monthly plan is priced at $12.95 and it's a decent bang for your buck.
Despite what we said, if you can, go for its one-year subscription plan. The reason being is because it offers a 49% discount and 3 months FREE for it. For the price, you get 5 simultaneous connections and 24/7 customer support on top of everything. Let's see if you have anything to complain about now…
Get ExpressVPN for $12.95 a Month >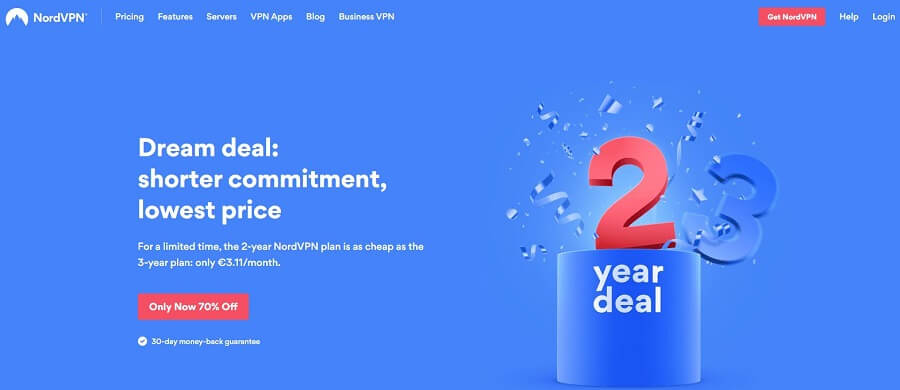 NordVPN isn't known as the most affordable provider out there but its performance is enough to make you pay whatever the cost. It's a perfect VPN to watch Amazon Prime Video or enjoy streaming, torrenting, and casual browsing, thanks to 5,000+ servers in 60 countries.
NordVPN is one of our favorite providers due to its fast speed and great performance overall.
Its monthly price is $11.95 and you'll agree that this isn't very cheap. But, before you complain, know that we didn't rank these VPNs only according to the price. Instead, we took into account everything they offer and ranked them in that order. We mentioned that above.
Back to NordVPN, we need to talk about its security. The provider uses 256-bit AES encryption to secure your connection, accompanied by an automatic kill switch. Recently, it added a new security protocol called NordLynx, which is based on the WireGuard protocol, for impressive speeds and security.
For streaming lovers, NordVPN is capable of unblocking pretty much every streaming service. We tested it on Netflix US and it worked well. Other platforms that it will unblock include Hulu, HBO GO, DAZN, Disney+, and BBC iPlayer.
The provider offers up to 6 simultaneous connections on a single account, as well. On top of that, you can connect it to a router and protect every device in your home. If you don't like it, there's a 30-day money-back guarantee even for a monthly plan.
This means that you can use it risk-free for an entire month, without losing a single dollar if it's not to your liking!
Get NordVPN for $11.95 a Month >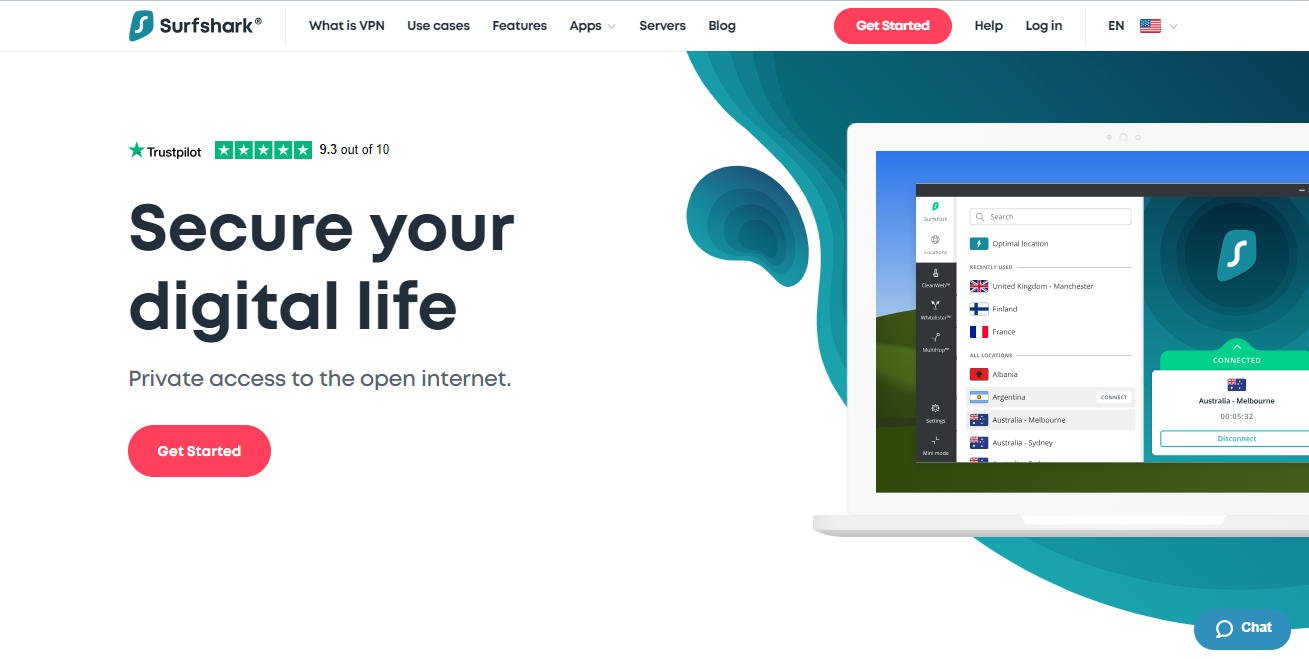 Much like NordVPN, Surfshark is another feature-filled provider that sells its services for a small price. Surfshark is based in the British Virgin Islands and from there, it operates more than 3,200 servers in 65 countries.
Recently, the provider had "only" 1,700 of them but with the recent improvement, the server network is much larger.
This provider is known for its intuitive apps, ease of use, and solid performance for the price. The speeds are, more or less, excellent, while privacy and security are impeccable. Surfshark has a no-log policy and to keep you secure online, it employs military-grade encryption.
There are multiple ways to connect to a VPN server, thanks to the support of multiple protocols – OpenVPN, WireGuard, and IKEv2. Surfshark has a NoBorders mode that will work in China, and for a more secure connection, MultiHop is here.
Our tests showed that Surfshark works with Netflix and allows you to enjoy other premium platforms, such as HBO GO, Hotstar, and Hulu. For the price, the provider offers impressive performance, going so far as offering unlimited simultaneous connections on a single account.
Users who don't find Surfshark decent enough can request a refund in the first 30 days, regardless of the plan.
Get Surfshark for $12.95 a Month >
Summary
These were our best monthly VPNs – ExpressVPN, NordVPN, and Surfshark. We think that they will fulfill your needs in pretty much every sense. They offer fast speeds, unblock almost all the streaming platforms, and can easily bypass censorship!.
If you buy any of them via our website, you'll get significant discounts that will save you additional money, so don't wait – get a VPN and enjoy safe and secure web browsing for a month or more!
FAQ
? Can I pay monthly for a VPN?
Of course! Almost all VPN providers offer a monthly plan. Be aware, however, that it will cost you more than if you sign up for 1, 2, or 3 years.
⚠️ Is it worth paying for a VPN?
No matter what you plan to do with it, we believe paying for a VPN is more than beneficial.
For example, you will be able to access content that would normally be inaccessible (on Netflix, Amazon Prime, Hulu, and so forth), you will be able to download anonymously, or even increase your online privacy.
? How much does a VPN cost per month?
The price per month will depend on the duration of the engagement. The longer you commit, the better the prices. As an example, ExpressVPN costs $12.95 if you take a monthly subscription, while the monthly price will drop to $6.67 if you sign up for 1 year!
❓ What are the disadvantages of using a VPN?
Using a VPN doesn't have a lot of disadvantages. However, be aware that a VPN will tend to slow down your Internet speed a bit (because of encryption and the fact that you will be able to connect to remote servers).
Besides, you may have to fill more captchas on the Internet because the IPs of the VPN servers are used a lot.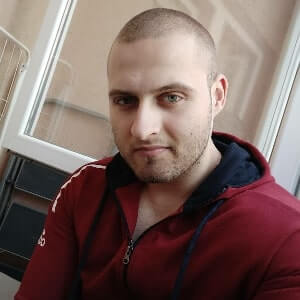 A professional writer with a Master's degree in Mechanical Engineering. Since his youngest age, he loves everything related to internet, technology, fitness, games, and dogs! He joined our team in order to bring his deep knowledge in security services, among which VPN is of course a key component.