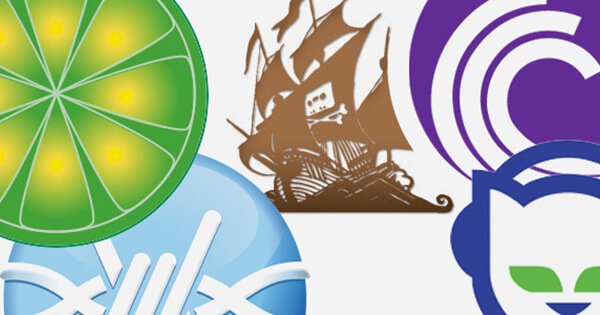 Torrenting is something we often use as a shortcut to our favorite movies, games, music, and e-books. However, with ever-growing anti-torrenting laws worldwide, people are getting concerned about their privacy while performing this activity. By using a VPN, you can easily stay off the radar and become invisible to the prying eyes of your ISP and the government. But can free VPNs help you do so? And what are the best choices for that matter? Let's find out below.
Free VPNs – Can They Match Premium VPNs for Torrenting?
Before we delve deeper into the subject, we need to clarify a few things. On the market, there are two types of VPNs – free and premium. Some premium providers offer their free versions but as expected, they're quite inferior, to make you go for a premium variant.
You need to remember one thing, though – free providers are ALWAYS inferior to paid ones.
There are many reasons for that. However, since we're focused on torrenting in this article, we'll talk about issues that will have a direct impact on your P2P activities if you go for a free VPN, even if it is the best one.
Slow Speeds
Every free VPN provider will give you very slow speeds whether you are torrenting or watching videos. Now, all providers reduce your native internet speed to some extent. This is a small price to pay for all the security features and military-grade encryption you get.
In many cases, this reduction can be as low as 10%, depending on the location of the server you are connected to.
On the other hand, we have free solutions that take this to 70% or 90% in some cases. Just imagine having a download speed of 200 Mb/s. A 90% reduction will lower you to only 20 Mb/s, making you wait ten times longer for a torrent file to download.
For torrenting, speeds are almost everything. And without them, you'll have to live with more compromises than you'd normally accept. That is the first reason why you should avoid free VPNs when torrenting.
Limited Bandwidth
Wait, do free providers really have limited bandwidth? Unfortunately, yes. And if they don't have, it's usually another issue that makes things a living hell. Whatever your limit is when using a free VPN provider, you won't be able to enjoy torrenting to a full extent.
TunnelBear, for example, gives you only 500 MB a month, which is minuscule even for browsing, let alone using BitTorrent. Windscribe, the provider we mentioned below, also imposes limits. But, you have 10 GB instead of 500 MB. That's a bit better, right?
Well, it is, if you're planning to download only small torrent files. Nowadays, movies take more than 1 GB and games can go up to 100+ GB (Gears of War 5, for example). Modest users probably won't care too much, but with growing file sizes, these limits will quickly become obsolete.
Weak Security & Encryption
The last, and probably the most important point is this one. When engaging in P2P activities, you MUST make sure that your connection is secure. It rhymes well, by the way – sure & secure.
Nevertheless, torrenting is very dangerous if you're from the USA, Germany, Italy, Spain, France, and other countries that are against this activity. They monitor your online activities and if they found that you've violated copyright, you can get a pretty harsh punishment in the form of a fine.
Fines for this case can go well over $1,000 and sometimes, even $2,000. Paid providers use military-grade encryption and IP/DNS leak protection to prevent your ISP from monitoring your online activity.
A majority of free VPN providers don't do that while you download torrent or browse the internet.
Their encryption is weaker and in many cases, they collect logs of your personal info and browsing history, which is later sold to third parties. This way, they can endanger your privacy and make you a potential target for something you've done 3, 5, or 12 months ago on the internet.
So? Can They?
Let's answer the question from above. No, free VPNs can't match paid ones for torrenting and P2P activities. Even if a free provider doesn't store logs, you'll still face at least one of the problems from above.
A provider might be safe and secure but offer slow speeds. Or it can give unlimited bandwidth, but prohibit torrenting, which is the case with ProtonVPN. ProtonVPN has a free plan with unlimited bandwidth, where it doesn't allow for torrenting.
Whenever you use a free provider for this purpose, be ready to face one, two, or ALL of the three issues from above.
Get a Premium VPN Provider for FREE to Download Torrents
What if we told you that you can get a premium provider absolutely free? It will allow you to access websites to download torrents safely, securely, and with the fastest speeds on the market.
The provider we're talking about is ExpressVPN, so before we describe it further, let's see how to get it free for a limited period.
ExpressVPN is a paid provider that offers a monthly, six-month, and annual subscription plan. All of the plans have a 30-day money-back guarantee. If you get it and you don't like it, you can get your money back effortlessly in the first 30 days.
So, to get it, just go for a monthly plan that costs a few bucks. Buy it and you'll be able to use it for one month. Right before that period expires, request your money back, so you don't lose a single dollar.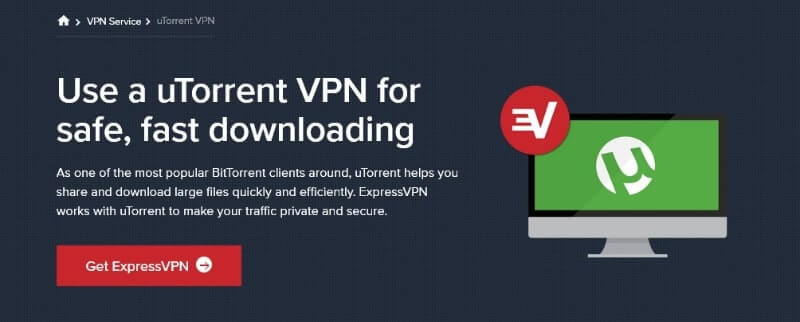 More About ExpressVPN
ExpressVPN is the best VPN for torrenting due to its fast speeds and rock-solid security (even though it's not totally free). The provider packs 3,000+ servers in 94 countries, which will allow you to obfuscate your IP address in a matter of seconds.
All of the servers are P2P-ready, so you don't have to worry about connecting to the right one. As mentioned. ExpressVPN offers the fastest speeds on the market. This is crucial for minimal speed losses during torrenting and even online gaming if this activity is on your to-do list.
Enjoy Torrenting for FREE With ExpressVPN >
The possibilities of the provider extend to a much wider degree. Apart from torrenting, you can use this VPN to unblock streaming sites like Netflix, HBO GO, and Hulu, but also access the Darkweb safely. Speaking of safety, ExpressVPN uses 256-bit AES encryption and a Kill Switch.
For additional privacy, you get a crystal-clear zero-logging policy that screams trustworthiness. After all, it's audited by PwC time and time again. ExpressVPN has apps for all devices and supports up to 5 simultaneous connections on a single account.
And if something goes wrong, its 24/7 support is here to back you up. Should you decide to buy it, there's a 49% discount and 3 months free for an annual subscription plan, making it more affordable than ever! Read our ExpressVPN review here for even more info.
3 REALLY Free VPNs That Support Torrenting in 2023
Okay now. We know what you came for. You want REALLY free VPN providers for torrenting. If that's still your choice after everything you've read above, that's not a problem. Here are our top 3 free providers for this purpose:
1. Windscribe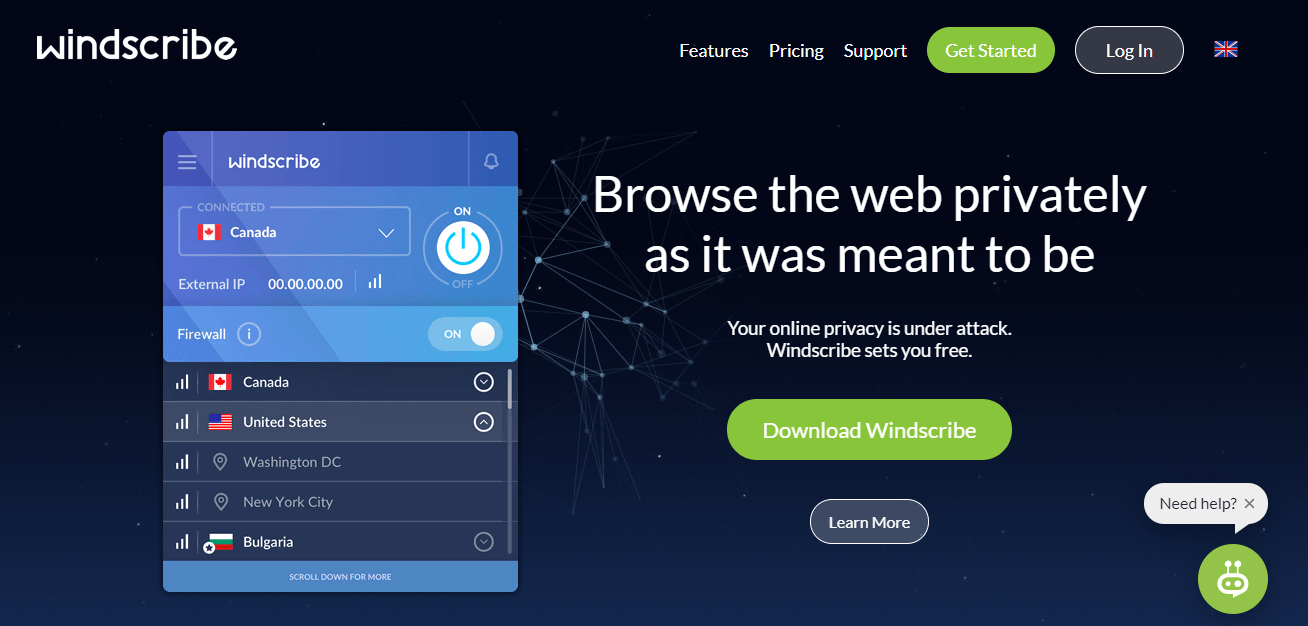 Windscribe is the best free VPN provider on the market, popular due to its user-friendliness and simplistic apps. When you visit its website, you won't even notice that it's free, mainly because everything looks and feels premium.
However, the provider lets you use 5 GB a month without registering, or 10 GB if you make an account. The free version allows you to access 11 countries, which is a great deal, given that countries like the UK, US, France, Germany, and Norway are on the list.
In terms of performance, Windscribe won't win any medals. Its speeds are average, although good for this kind of product. The bandwidth limitation is what'll bother you the most, limiting your torrenting capabilities greatly.
Furthermore, the provider is stationed in Canada, which is a member of the 5 Eyes – a no-go area! Interestingly, Windscribe has a very good zero-log policy, but the previous fact doesn't help to back that up.
If the government requests users' logs, chances are that Windscribe is going to comply at some point.
Other than that, the VPN provider is really good security-wise, which is good regarding torrenting. 256-bit AES encryption is here, as well as a kill switch, even for the free version. This is really the best free provider out there, and if you want, you can get a premium plan.
Windscribe will allow you to build your own plan, add, and discard the features you want, to make it more affordable for you.
Use Windscribe free VPN for Torrenting >
2. Hide.me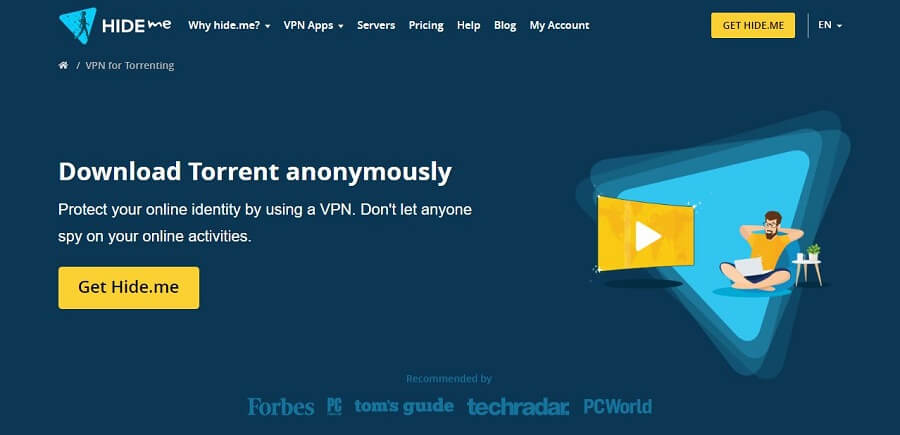 Hide.me is a great premium provider with even better jurisdiction – Malaysia. By default, it's a premium VPN, and it doesn't offer a free trial. Instead, you get a free plan that you can use indefinitely but is quite limited and inferior to Windscribe.
That's why it's on the second spot of our ranking for the best free VPN for torrenting.
The provider has a great no-logging policy, basically proving that it doesn't monitor any activity or collect personal information. It's yet another condition that it fulfills for torrenting. When we get to the performance, things start to get a bit… well, tricky!
Hide.me gives you only 2 GB a month and three countries to connect to – Canada, Singapore, and the Netherlands. This can be a big deal – actually, both can be issues. Your bandwidth is pretty limited and if you're not close to any of the countries, you'll have issues trying to achieve the maximum possible speed.
It doesn't help that Hide.me isn't the fastest provider, yet it gives you the speeds of around 3 Mbps for a free plan – more or less. For torrenting, this is an extremely slow speed, but on the other side, if you download smaller files such as songs, you probably won't care that much.
The provider has more than 1,400+ servers worldwide if you decide to buy it. But, 256-bit encryption remains even for free users, accompanied by OpenVPN and IKEv2 protocols. All in all, a pretty good provider, although not worth the high price.
You better stay on the "free" side of it, but not too much if you want to download torrents.
Download Torrents With Hide Me >
3. Hotspot Shield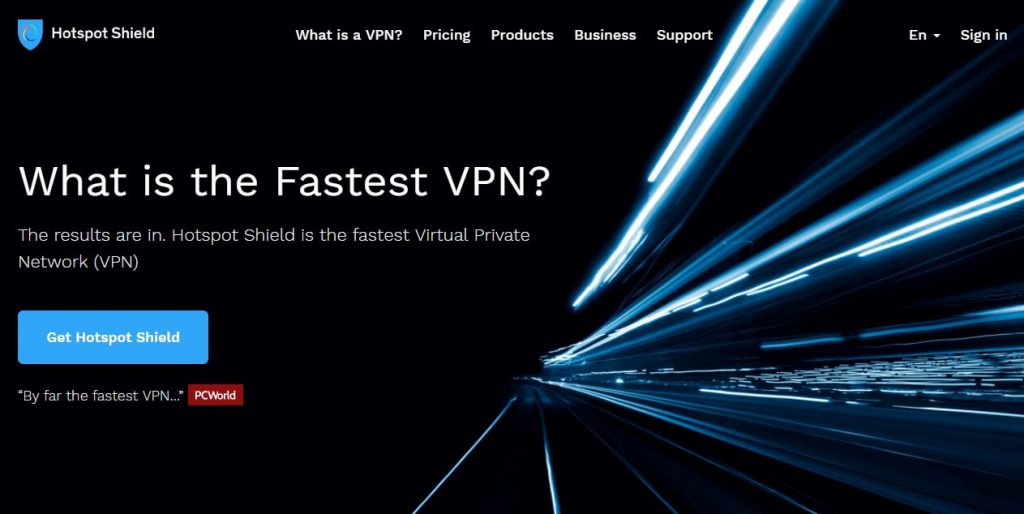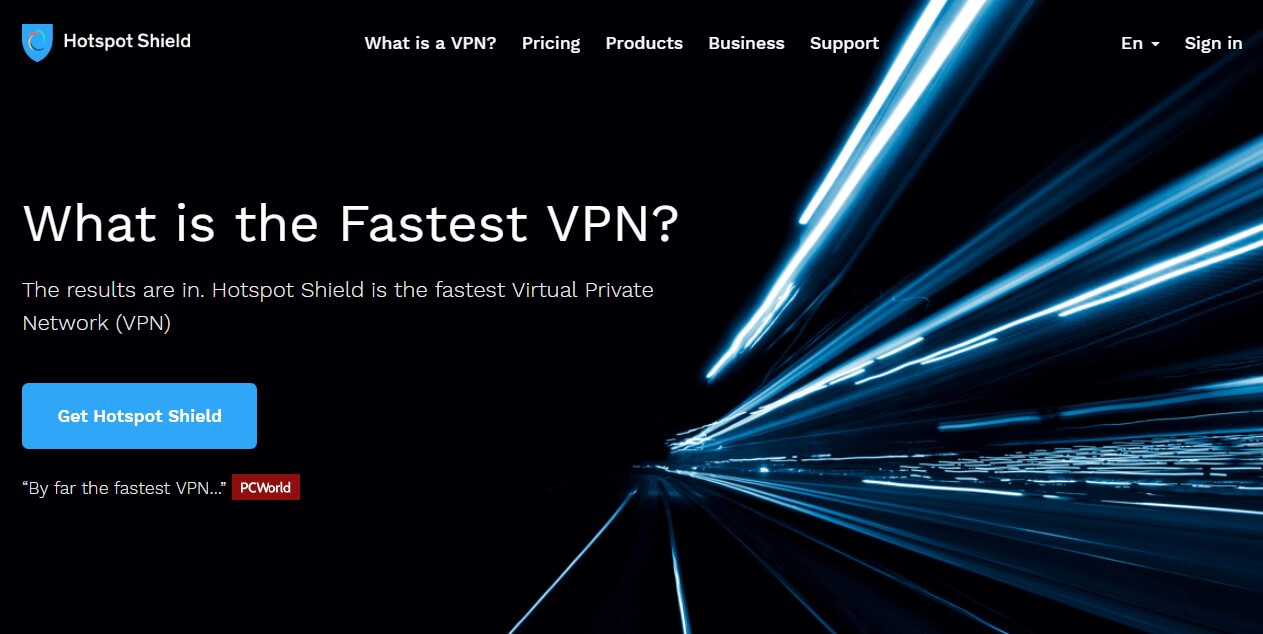 Hotspot Shield is another provider from the so-called grey area. It's a company from the USA, which is basically the center of government surveillance. To make things worse, its privacy policy isn't exactly privacy-friendly.
They do collect some data and that's something you want to avoid for torrenting. On the other side, they have multiple guides on torrenting on their website, so they support this activity. Now, whether or not it's going to comply with the government when push comes to shove, we don't know.
But, given how strict the US government is, they may give out some of your personal info and browsing history. In terms of performance, Hotspot Shield is decent. The apps look gorgeous, they're easy to use and can be installed on every major platform.
Furthermore, you get 5 simultaneous connections, so you can protect multiple devices in your household. The speeds aren't that bad, but in a free package, you get 750 MB of data daily – that's around 23 GB a month.
This is not that great for torrenting!
Even though it's a free VPN, you get military-grade encryption and IP/DNS leak protection. The major flaw is that it offers only the US servers. And as we said, torrenting in this country is the devil's business. We're glad that it allows torrenting, though, making it a good short-term solution.
Enjoy Torrenting With Hotspot Shield free VPN >
FAQ
Let's wrap things up with a short FAQ section to cover the questions we haven't addressed in this article about the best free VPNs for torrenting:
⚠️ Is using a VPN legal for torrenting?
Yes, using a VPN is completely legal, even for this purpose. Basically, for whatever purpose you're using it, it's legal, as long as you don't perform any criminal activities online. Under criminal activities, we mean selling drugs, uploading child porn, etc, etc.
Torrenting, unblocking sites, and visiting the Darkweb is indeed legal.
⁉️ Which protocol should I use for torrenting?
When using a free VPN provider for torrenting, you won't get an extensive choice of protocols. They're usually locked to either OpenVPN or IKEv2. Luckily, both of these protocols are more than enough for safe torrenting, although we give a slight advantage to OpenVPN.
It's a bit faster and offers slightly better security, hence it's the best option for torrenting.
✅ Is OpenVPN a great protocol to use for downloading torrents?
Yes, the OpenVPN protocol is a great choice if you are looking to download torrents. It offers very good speed, well above average security, which will greatly improve your experience. On this subject, you should know that ExpressVPN supports OpenVPN protocol and is currently free for 30 days!
? What is the best free VPN for downloading torrents?
The best free VPN for P2P activities is Windscribe. It has okay speeds and a limit of 10 GB a month. However, if you're willing to go with a paid provider, our recommendation would be ExpressVPN. You'll be amazed at how big a difference between these two is.
Quentin is the co-founder of the-bestvpn.com. With several experiences as a System and Network Engineer, he is very knowledgeable when it comes to VPN, cybersecurity and the risks of using the Internet nowadays.