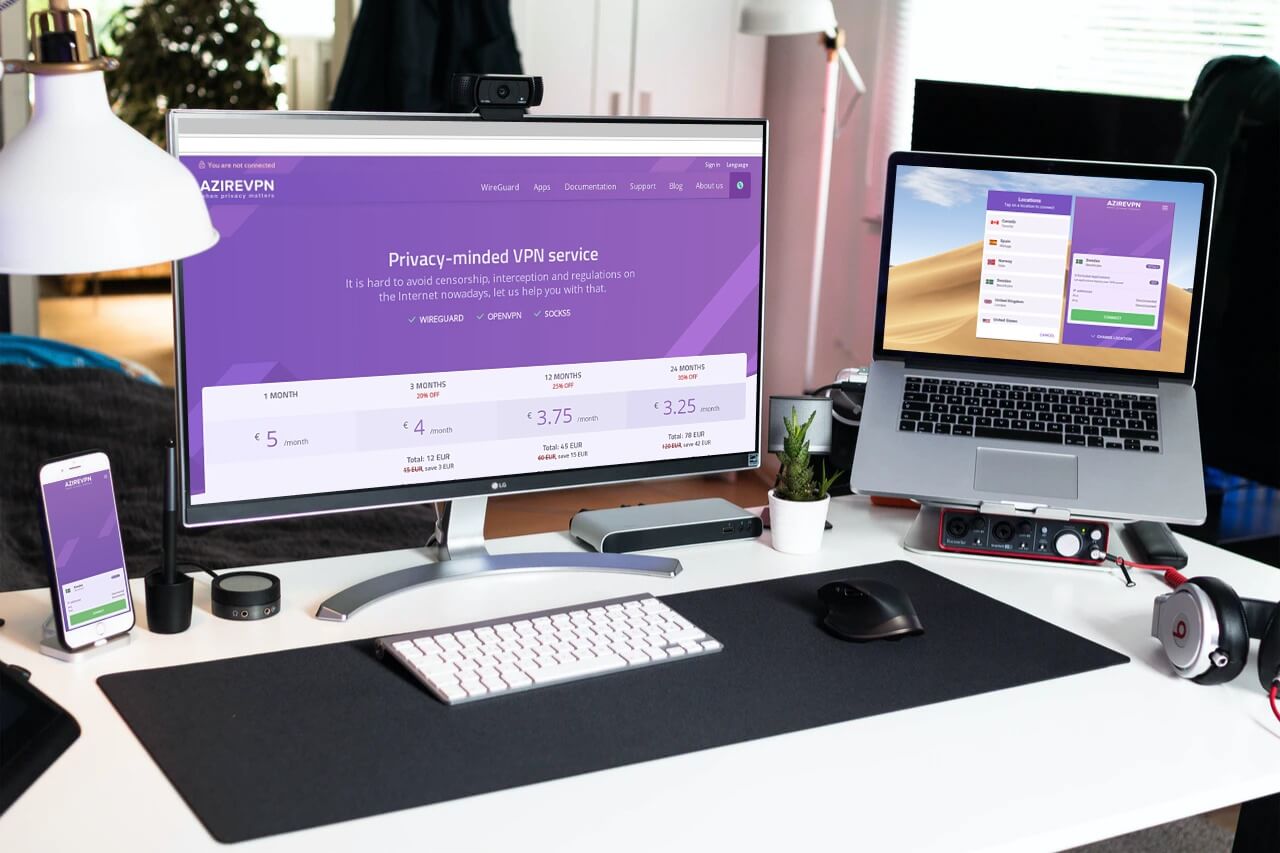 You are probably aware of the elements that make a good VPN. These features include reliable performance, robust security features, and customer service that can settle any issue within a couple of hours. To be honest, there are not many VPNs that can offer this. Right off the bat, we can think of just a few, such as ExpressVPN, NordVPN, and CyberGhost. Surely, those are not the only ones, right? Looking at the market, we came across AzireVPN, which claims to offer the best privacy policy available, as well as a flawless ability to bypass restrictions. Is that true? Finding that out is the goal of our review of AzireVPN.
As always, we will be going through different elements, including speed, streaming ability, torrenting, and whether it logs your data or not. The whole idea is to supply you with enough relevant information that you can make the right decision.
What are you waiting for? Let's get right to it!
STRENGTHS:
No activity logging
Protocols and encryption
Torrenting allowed
WEAKNESSES:
Swedish jurisdiction
IP leaks
Malware risks
Slow servers
Limited number of servers
---
AzireVPN ranks #40 out of 104 VPNs tested. Here are the best alternatives :
Is It a Paid or Free VPN?
For this AzireVPN review, we will be focusing mostly on whether the included features are worth your money or not. Still, before we get to that, we want to discuss if there is a free trial that you might use to test their service.
Sadly, the answer is no.
Honestly, this didn't come as much of a surprise, considering the fact that this VPN is relatively small. On the other hand, it may be better this way, because small VPNs that are free of charge usually sell your data to turn a profit.
While AzireVPN doesn't offer a free trial, there is a 7-day refund policy on all subscription options.
We will get to that a bit later. Meanwhile, if you want to try a true VPN for which you don't have to pay anything, then we suggest subscribing to TunnelBear!
Performance
Among the most important elements in determining the overall value is how well it performs. Now, you shouldn't be surprised that your internet connection is going to be slower than before. The reason for this is because all of your private communication has to be encrypted and sent to an alternative IP address.
This affects the stability and speed, but it doesn't have to mean that you will not be able to perform your typical browsing activities. To answer the question of whether AzireVPN is reliable or not, we performed a couple of tests while doing our in-depth review. Let's take a look.
Speed
If you are reading our articles, you probably know that our primary location is in the UK. This means that the EU servers should work better than US servers. Luckily, while featuring a limited number of locations, AzireVPN gave us the chance to try out both.
For instance, our internet connection is offering 235 Mbps for download speed and 211 Mbps for upload speed.
We tried their local Swedish server and had a fair experience. The ping was set to ~40 ms, which was average and would allow you to stream HD or play online games without any connectivity issues. As for the speed, we weren't very satisfied.
The download speed dropped to 98 Mbps, while the upload went to 105 Mbps. Still, it could have been worse, so we gave it a pass.
Unfortunately, the results that we had with the US server actually were worse. Much like with StrongVPN and ActiVPN, we experienced a drop of nearly 80% in both the up and download speeds. Additionally, the ping spiked to a dramatic 168 ms, which made the server almost unusable.
This is far behind the speeds of some competitors.
Without VPN (we were located in London) :

EU Server :


US Server :

Australian Server :

If you want a reliable, fast provider that can support streaming HD, torrenting, and online gaming, we suggest CyberGhost or ExpressVPN.
Stability
Since the speed AzireVPN offered was not ideal, we didn't have high expectations when it came to stability, either. Unfortunately, we were right. There were no connection timeouts while using the Swedish server, but it still should have offered better connection support.
On the other hand, the US server kicked us out not only once but multiple times. We also didn't like the fact that this VPN has a random redirection feature.
Thus, if the connection is not good enough at a certain location, it will randomly connect you to the closest one. The main issue with this is that you are not asked about it. Which is definitely not a good point for our complete AzireVPN review.
Streaming
To be honest, you should be quite happy if you find a VPN provider that is able to unblock different streaming platforms. As you probably know, since 2016, many streaming services declared war on VPNs. These platforms made most of their content inaccessible, even if you were using an alternative IP address.
Today, a couple of leading names, like ExpressVPN and NordVPN, are able to unblock Netflix and other services. What about AzireVPN?
Netflix
Considering the fact that this streaming platform is quite serious when it comes to blocking VPNs, we didn't have high expectations. That is why we were quite surprised when it was able to unblock the Netflix catalog in Stockholm, Sweden.
However, this is where our success came to an end. We then tested the servers in the UK and the US and had no luck whatsoever. In most cases, we were simply redirected to a "streaming error" page, which is the same thing you get when trying to connect from your primary location.
Thus, it is safe to say that while AzireVPN does allow Netflix in its country of origin, that is about it.
Other streaming services
On the other hand, we had better success when it comes to unblocking BBC iPlayer and Amazon Prime Video. We managed to stream a couple of our favorite shows without experiencing connection timeouts and other errors.
Still, this was mostly with EU servers, as the ones in the US were not reliable or fast enough (exit Hulu or HBO in this case)
Security
What to know about how to remain anonymous on the internet? It is the primary purpose of using a VPN. Still, not many providers are able to provide all the necessary security features to ensure that no one breaches your privacy.
There are a couple of different elements that affect the security aspect, including the headquarters location, log policy, and overall protection.
Where is it based?
The parent company of AzireVPN is based in Sweden as stated previously in this complete review of the service. At first, this might sound like a positive thing, as most Scandinavian countries have strict regulations when it comes to private info.
Unfortunately, you will be surprised to find out that Sweden is a part of the 14 Eyes alliance. Thus, the provider is obliged to give any of the relevant info and data related to your browsing activity to the authorities from the alliance.
Log policy
We aren't off to a good start, considering the fact that AzireVPN obliges to Swedish jurisdiction. Still, the damage could be minimized if the provider offered a strict no-log policy.
Thankfully, that is exactly the case, as other than payment history and your email address info, AzireVPN doesn't keep anything else.

They back this claim by highlighting the blind operator system that they use. Also, they use the WireGuard protocol, which prevents anyone from tracking and breaching your browsing data.
Protocols

Another positive thing when talking about AzireVPN is that they are highlighted by a set of industry-standard protocols, including OpenVPN and WireGuard. These work together to ensure great protection and allow you to bypass geo-restrictions.
Another reliable instrument for this is the SOCKS5. This is a proxy service that can be used in combination with the aforementioned tunneling protocols.
Additionally, the fact that they use bank-grade encryption in the form of 256-bit AES makes us believe that they keep you anonymous.
Leak protection
Unfortunately, during our review, we were not happy to see that AzireVPN doesn't feature all the necessities to ensure proper leak protection.
We tested our claim a couple of times and noted that their algorithm is not bulletproof. Thus, if there happens to be a sudden connection surge, your IP address may be revealed.
Additionally, we detected an array of malware risks connected to AzireVPN.
Torrenting
The good news is that the provider doesn't forbid P2P transfers and torrenting. The bad news is that you can't really enjoy it, considering the reliability, as well as the slow speed of the servers.
Also, AzireVPN doesn't offer optimal leak protection.
Thus, you may be at risk of DMCA sanctions. If you want to enjoy torrenting without all this stress, we suggest you subscribe to CyberGhost!
Bypass Censorship
We mentioned that AzireVPN has a fair ability to go through most geo-restrictions. This is due to the SOCKS5 proxy, along with the industry-standard tunneling protocols.
So, if you were hoping to access legal gambling websites or buy a ticket for a cheaper price, you will be able to do that. Additionally, it unblocks social network restrictions in most countries.
On the other hand, we didn't have any luck trying to access content while in China. The service was always completely shut down by the Great Firewall!
Countries and Servers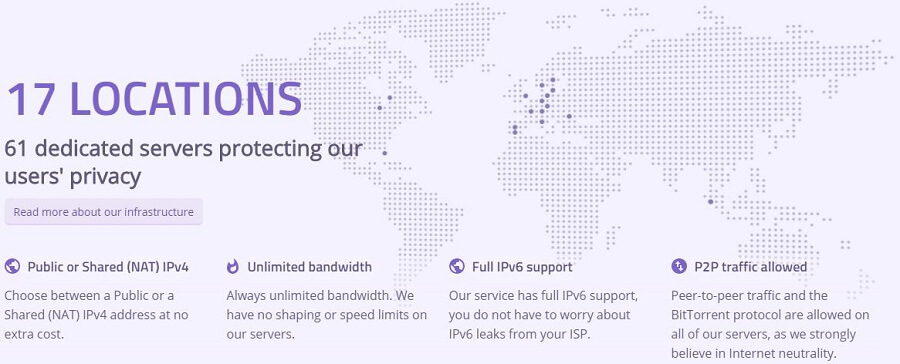 The service that AzireVPN offers is quite limited as we saw during our review and test. They don't offer more than 61 servers in just 17 locations.
This would be fine if it was a free-of-charge VPN that didn't sell your data for a profit. Still, we are talking about a provider for which you pay a monthly fee.
Therefore, CyberGhost and NordVPN look like much better alternatives, considering the thousands of servers that they offer. Plus, they do so for almost the same monthly price.
Devices and Connections
The overall device compatibility certainly is not a strong point for this provider.
Supported devices

We will start off by saying that it does support iOS, Android, macOS, Windows, and Linux. Additionally, it can be connected with OpenWRT and LuCI routers, but that is about it.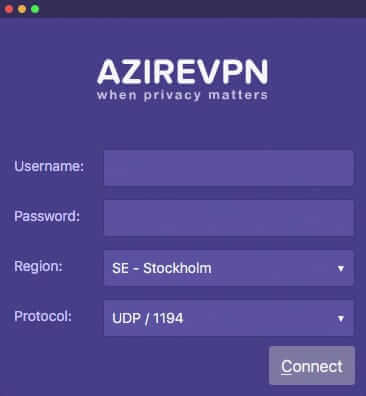 If you were hoping to enjoy a VPN from your Apple TV, Amazon FireStickTV, or gaming console, you will have to search elsewhere.
Simultaneous connections
We discovered during this in-depth review, that AzireVPN allows just 3 devices to be connected at the same time.
Customer Service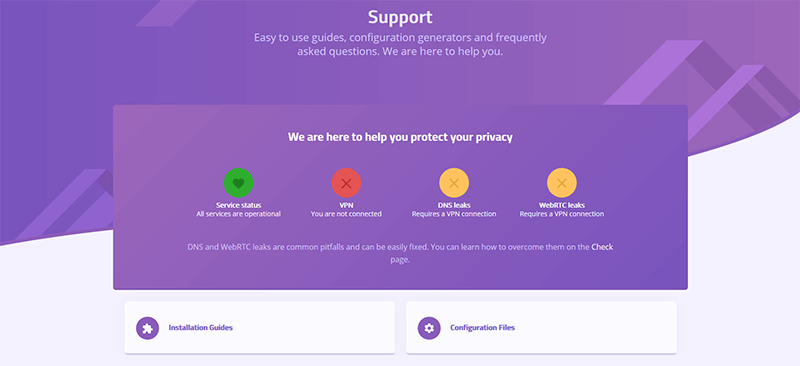 Considering the fact that AzireVPN is a small provider, one wouldn't expect to get reliable customer service. However, the company proved most of us wrong.
Now, we couldn't find the live chat option, but their email inquiry was more than efficient. We received a relevant answer within just a couple of hours.
We can say with confidence that the customer service of this provider is professional and very friendly.
Value for the Money
In the end, we will review the different subscription options offered by AzireVPN to find out which one is the most affordable.
Price comparison

The single-month plan will cost you $5. Meanwhile, the 3-month plan comes at a somewhat discounted price of $4.54 per month. There is also an annual plan for $4.26 per month, as well as the most affordable 2-year plan, which is $3.69 per month.
We have to say that, while the costs are not too high, there are other VPNs that would be much better to spend your money on.
Payment types

You will not only be able to subscribe using major debit and credit cards but also PayPal and eight different cryptocurrencies.
Money-back guarantee
Keep in mind that their refund policy is limited to 7 days. Also, it is not available to those who have subscribed to the one-month plan or those who used BitCoin as a payment method.
Final Thoughts
Do we think AzireVPN is worth your money? Unfortunately not, and that is why we rank it pretty low in our complete ranking.
We understand that it is a small provider and thus offers limited features, but the performance needs to be better. The servers aren't reliable enough, and you can't be sure that your IP address will not be leaked.
You are better off subscribing to some of the leading providers, including ExpressVPN and CyberGhost!
With that in mind, we have to say that we do not recommend this provider, especially when you have so many other great options available.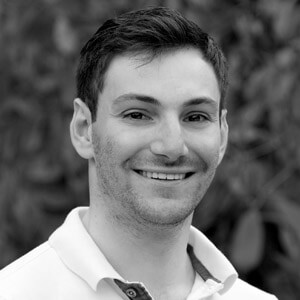 Flo is the founder of the-bestvpn.com. Really concerned about security on internet, he decided to create this website in order to help everyone find the best VPN. He's got a Business School background and now is 100% dedicated to keeping his website alive.